Do you want to sell your products online but struggling to find the right platform for building your website store?
At the moment, when the online market is abundant with various website builders, taking even the first step of choosing which one will work best for you is strenuous and time-consuming.
The reason is that all website builders do not offer the same functionalities. They have some similar tools and features but they are distinctive and offer many unique features to their customers.
So, how will you identify that a particular platform is compatible with your requirements?
No worries, I am here to help.
In this post, I will make a Duda Vs Shopify comparison to help you answer the question of which business web design platform is best for you.
But before starting the comparison, let's take a quick look at Duda and Shopify platforms and their benefits.
Duda Vs Shopify 2022– Detailed Comparison
Overview of Duda
Duda is a professional website builder platform for Agencies, Saas platforms, and hosts. Also known to be one of the fastest website builders.
Duda has optimized every stage during the process of site-building to provide high speed and efficiency to its customers.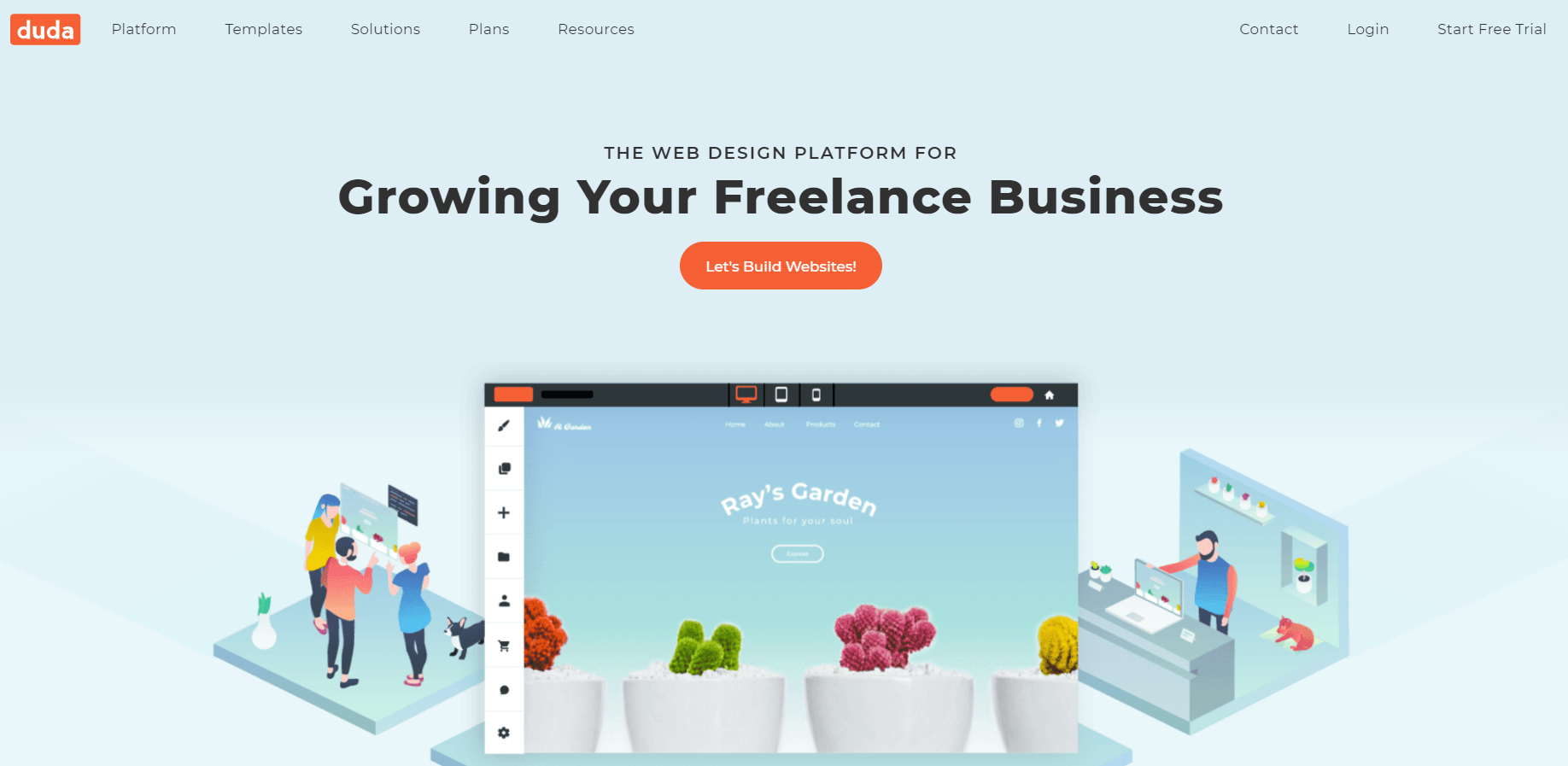 Pros:
Duda website builder is straightforward to use, even for beginners.
It provides numerous easily customizable templates.
Its drag-and-drop builder does the difficult work of modifying different elements of your website very simply.
It provides the facility of automatic backup whenever any change is done to your website.
It offers an Analytics tool to monitor your website visits and other data.
Cons:
It does not provide an option for creating a newsletter.
It is comparatively expensive to its other competitors.
If you want to have your server and have full control over it, it is not for you.
Overview of Shopify:
Shopify is an excellent platform for bringing your business online. It is a commercial platform that allows you to sell your product online, to anyone, and anywhere.
It has many powerful tools to help you find new customers, increase your sales, and manage your everyday sales.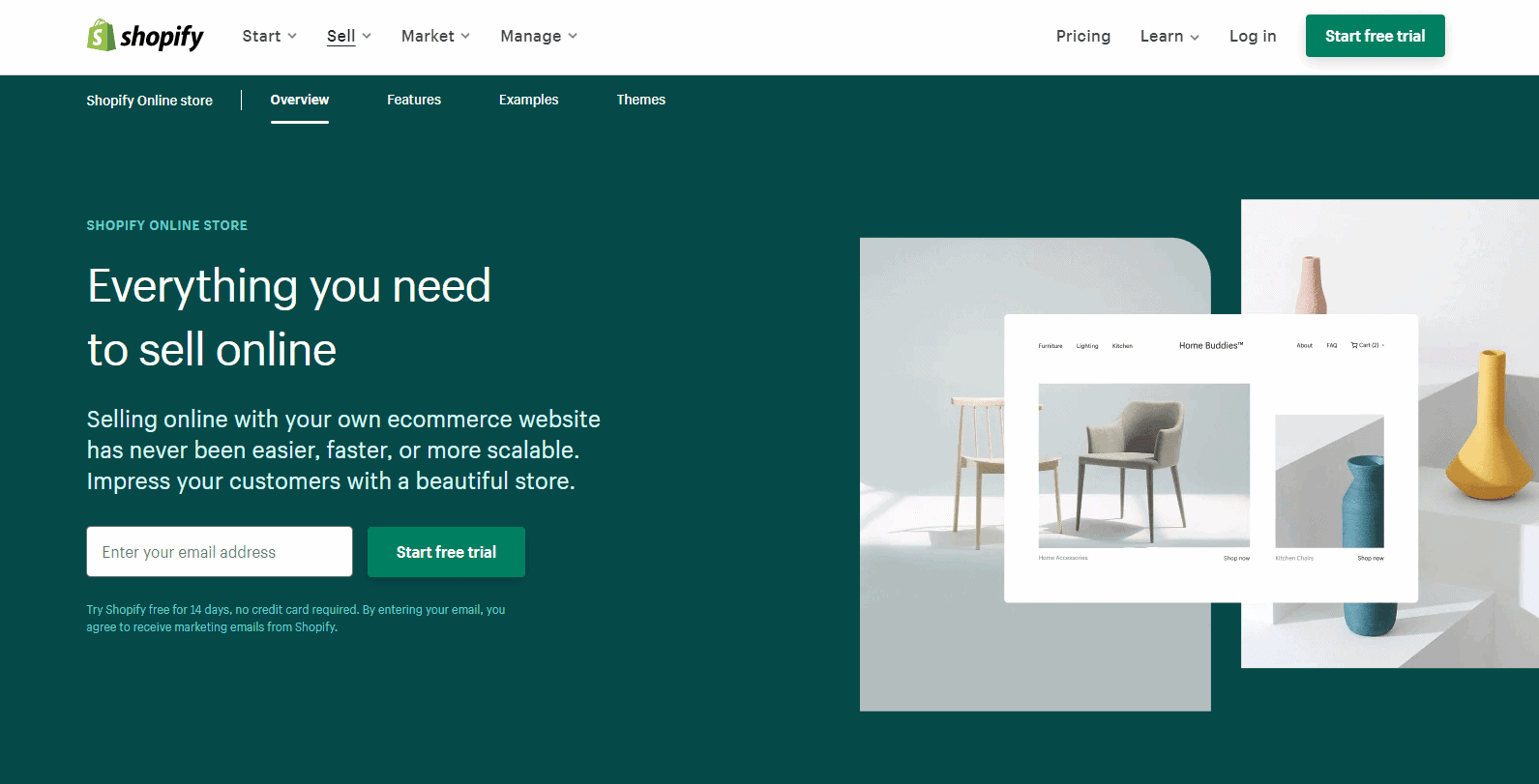 Pros:
It has a clean and comprehensive interface and is simple to use.
Shopify has a sound support system for customers.
Efficient speed and security mechanisms.
It has many themes for the storefront.
Shopify offers its own App Store to provide features according to different business needs.
Cons:
It lags in terms of SEO.
Does not have a good Content Management System.
It is not easily scalable for future requirements.
Now, we will compare Duda vs Shopify based on their usability, features, integrations, customer support, and pricing plans. So, let's start.
What Features Do They Provide?
Features of a website-builder should match with the needs of your website, as every website-builder is not made to create a website of all categories.
Duda
Duda provides the following features in different categories to its client:-
Design Control Features
Device-based editing, Developer mode for modifying HTML, CSS, Shrinking headers, Copying and pasting elements, Content importing, Text Link Customization, Favicons, And customized 404 pages are some of the designs features offered by Duda.
Team Collaboration tools
Duda offers many features to successfully collaborate with your team for a particular project in Duda.
These tools help you in quickly incorporating your thoughts and modifications to all your team members. These include Team Member Feedback, Comment notifications, and comment logs.
Client Management Features
White label editing for your brand's logo, automatic messages, Content collection forms, and SSL certificates.
Multilingual Support
Duda supports multiple languages for increasing the reach of your website to an audience globally.
eCommerce and Blogging
Duda also supports setting up an eCommerce store with Ecwid in its paid plan. You can add blog elements on your website with just one click using Duda.
It provides comments on blog posts through Facebook only.
Shopify
Shopify offers the following features:-
Themes & Templates
Shopify provides more than 70 professional themes produced by world-famous designers like Clearcraft and PixelUnion.
These are easily customizable, and you have the option for editing HTML and CSS too. You can take support from a Shopify expert also in setting up and designing your storefront.
Shopping Cart
With every Shopify store, you get a free 256-bit SSL certificate, which helps protect all types of information like credit card details, bank details, etc., on your website.
Under this category, other functionalities are abandoned checkout recovery, nearly 100 payment gateways, and flexible shipping rates.
Store Management
To swiftly run your online store on Shopify, it provides many store management facilities like Customer Groups to categorize your customer, Dropshipping, Refunds, and Manage on the go, which lets you manage your store using your phone.
It also provides customized email templates.
Marketing and SEO
Shopify sites are search engine optimized. It automatically creates sitemap.xml for your products and webpages.
Some features of Shopify under this category are Discounts, sales on Facebook, and Gift cards.
Inventory Management
Shopify offers the option for managing your inventory with it. It keeps track of your stock counts and automatically stops you from selling a product when it gets out of stock.
Winner
In this case, both Shopify and Duda are winners in their aspects; Duda has excellent features for building any type of website;
However, if we talk about eCommerce-related websites, no one can beat Shopify.
Click and grab huge savings with the Duda coupon now, these deals are exclusive only here.
Duda vs Shopify: What Integrations are available?
It is necessary for any website builder that provides integration with multiple tools and features available in the market to boost the visibility and conversion from your website.
Duda
Duda provides integrations with various Business and site management tools like voice, AudioEye, Agendize, Paypal, and Google Calendar.
It also provides integration with Uberall, Yext, and Mailchimp for generating leads.
You can also integrate Social Media platforms like Facebook, Instagram, Pinterest, Whatsapp, Reddit, etc.
Shopify
Shopify also offers multiple third-party integrations, which you can find from the Shopify app store.
Hubspot plugin helps you in getting more traffic to your store, while Shoelace is an integration that lets you create targeted ads for your particular customers to keep them engaged with your website.
Klaviyo is a marketing tool that you can integrate to boost your sales. It also provides integration of multiple social media platforms.
Winner
Both Duda and Shopify provide several integrations; still, Shopify wins this race.
Duda vs Shopify: How good is their Customer Support System?
Having a sound support system is essential.
If you get stuck at any step during your project's development, then your website builder should be such that it provides channels for immediate help.
Duda
Duda provides a number of paths to reach out to its customers to help them. It has an extensive knowledge base for a detailed understanding of its working and features.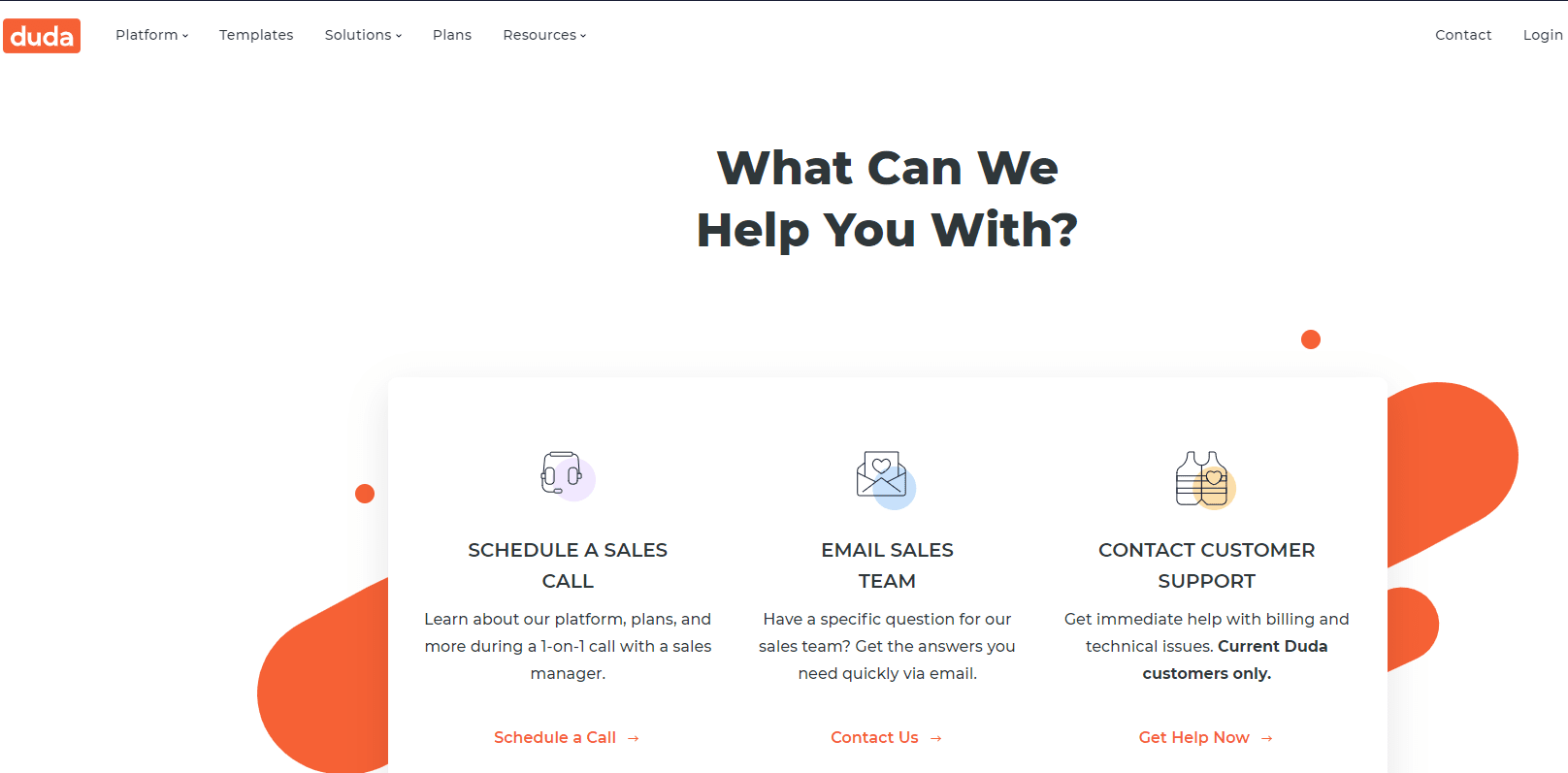 It also gives the option to submit a request if you need some personal guidance for your problem. Phone and live chat support are also available under fixed hours.
Shopify
Shopify provides 24/7 phone support to its customers. You can also contact it through social media platforms and email. 24/7 live chat support is also available if you require quick replies.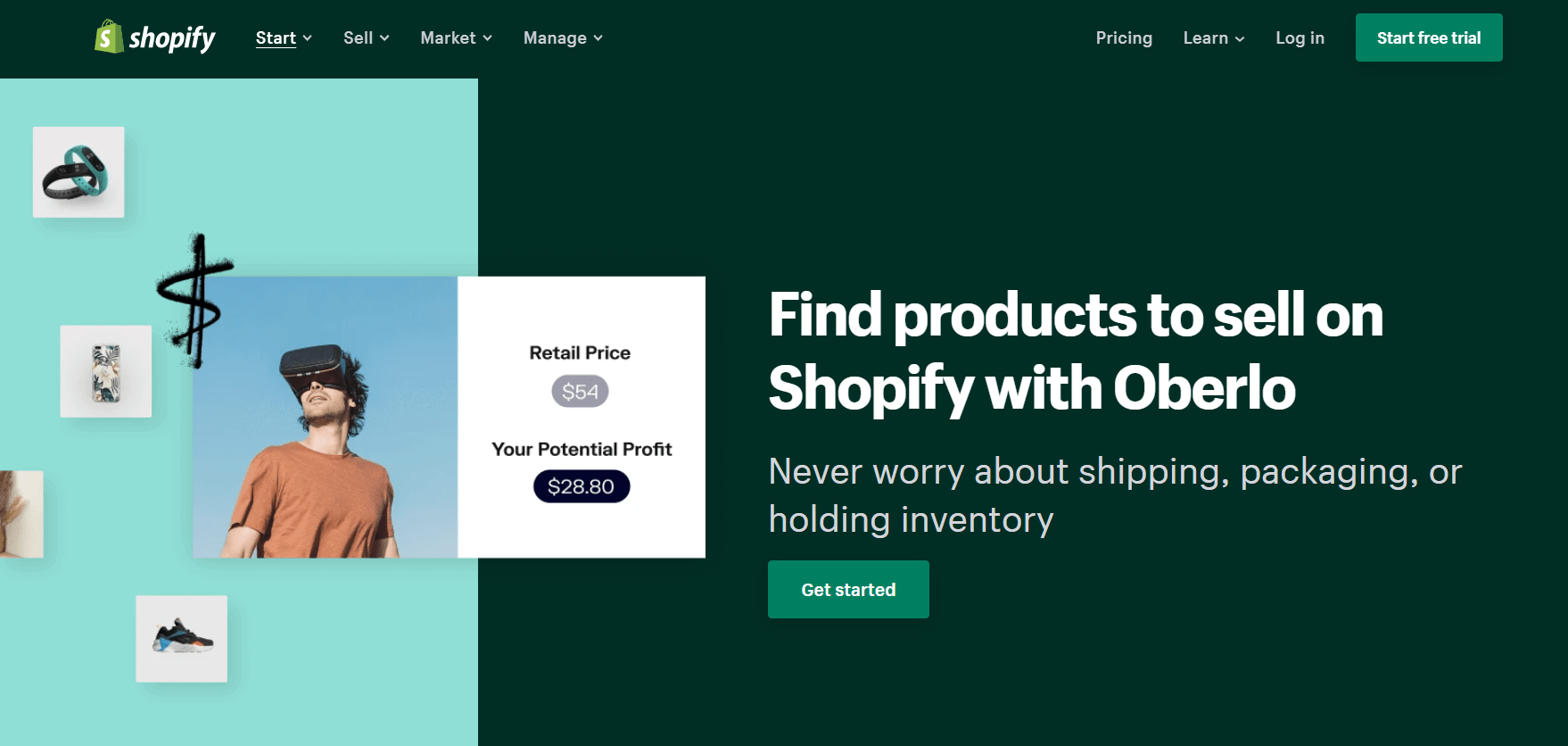 They also have a help center consisting of various tips and information to guide you throughout the process.
Winner
Both provide massive support to their customers, but due to the availability of contacting Shopify anytime, it is one step ahead of Duda.
Also read: Woocommerce vs Shopify
Which is More Affordable?
Pricing is one of the first things that comes to mind when you decide to buy any website builder plan.
It should be such that it fits into your budget and provides all the necessary features you require.
Duda
At present, Duda offers three plans for pricing and an additional plan for your purchase's full customization. The three plans are:
1. Basic: $19/month and offers one website with email support available.
2. Team: $29/month with an availability of email and chat support. You can implement your own brand's logo, and it includes all features of the basic plan. It gives access to client and team management tools also.
3. Agency: This plan is for agencies who do the work of designing websites for their clients. It costs $59/month and offers four websites, and you can host your website on AWS.
Shopify
Along with offering a free trial for a certain period, it provides the following plans:
1. Basic Shopify: It costs $29/month. This plan consists of all the essential features that will help you in starting your new business online. It offers two staff accounts.
2. Shopify: It costs $79/month. This plan contains all the features which a growing business will require to increase its reach to customers and generate high conversion. Staff accounts increase to 5 in this plan.
3. Advanced Shopify: This plan is for $299/month. This plan opens the gate for all the advanced features and tools of Shopify. This plan is suitable for already established businesses that are moving towards scaling themselves.
Winner
It can be seen from Duda and Shopify's pricing plans that Duda is more affordable than Shopify.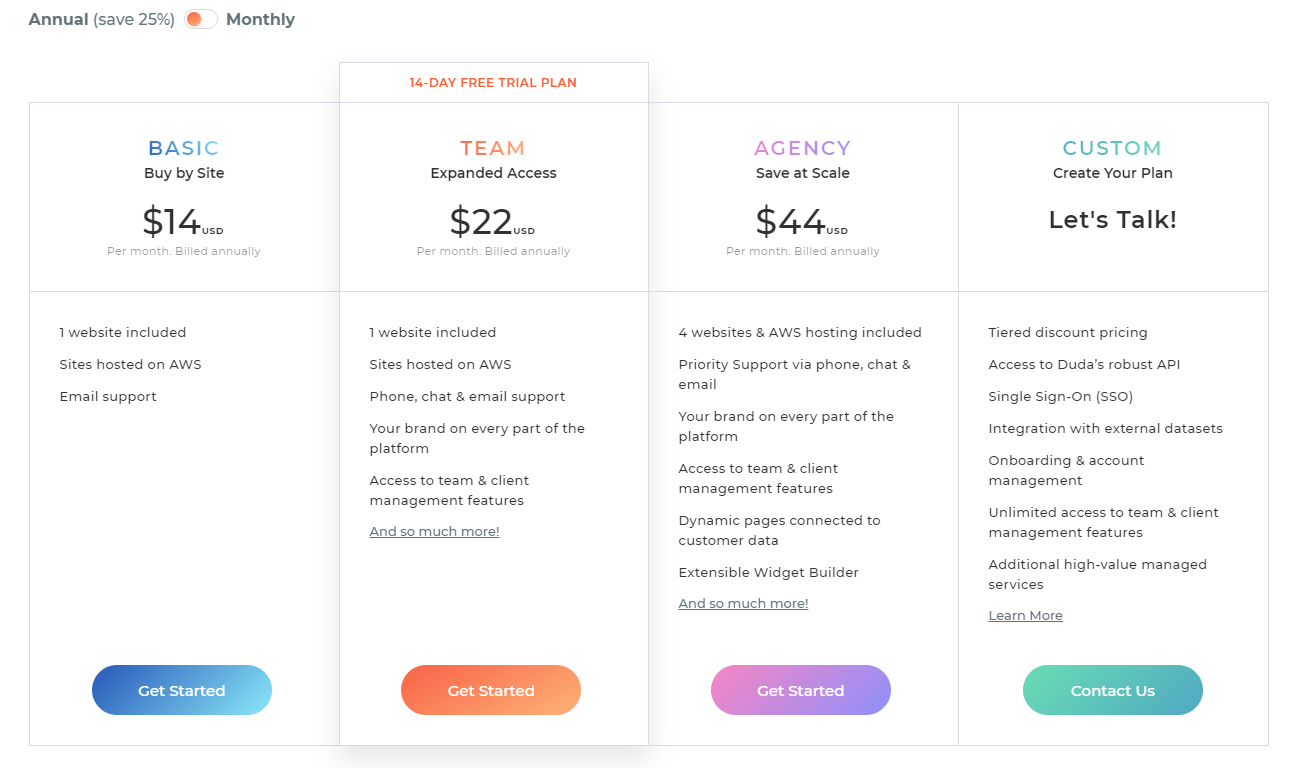 The reason for it is that Duda offers options for building different types of websites, while Shopify is specifically for launching businesses online.
Still, the winner is Duda in terms of pricing plans.
FAQs on Duda vs Shopify
👉Does Shopify support multiple languages?
Yes, Shopify offers to make the websites appearing in the native languages of your customers.
🙋‍♀️Is Shopify suitable for beginners?
Definitely, Shopify is easy to learn and provides a lot of help and support in starting with it.
🤷‍♂️Can I migrate my existing site to Duda?
You can recreate your website using Duda but can't migrate.
Quick Links:
Conclusion: Duda vs Shopify 2022
In this comparison of Duda vs Shopify, the final thought we can draw is that both the platforms are best on their own terms.
The focus of both the websites is similar to an extent but not the same.
Duda website builder is for those who want to build a personalized website for professional reasons, build a business online, or for agencies that offer the services of website designing.
On the other hand, Shopify's focus is mainly building an online store for increasing the reach of your business and scaling it. That is why the features it provides are mostly business-oriented.
Thus, both Duda and Shopify are the best website builders in their tracks.
Shopify is best for eCommerce websites, and Duda is best for designing personal, professional, and small-medium business websites.
So, if you want to design a website for any reason other than building a store online, you can go for Duda.
And if you want to launch, grow, and scale your online store, then you can definitely go for Shopify.
If you think this review is appropriate, then please like and share it. And comment your views on my take on these platforms in the comment section below.