In this blog, I am going to discuss WordPress vs Duda vs Wix vs Weebly 2022
So, you have decided to build a website but don't know which platform to use?
The market is full of different website builders and hosting platforms, which also magnifies your problem.
From WordPress to Drupal, and Squarespace, Wix, Duda, and Weebly, an enormous amount of options are available.
All have some advantages and disadvantages. Thus, identifying which one to use can be a time-consuming and stressful decision for you.
To make your work easy, in this post, I am doing a comparison between WordPress vs. Duda vs. Wix vs. Weebly, which are majorly used website builders and provide hosting services as well.
Let's start with an overview of each Service.
Overview of WordPress vs Duda vs Wix vs Weebly
WordPress
WordPress is one of the most common and widely used Content Management Services.
Out of all the websites on the Internet, there is an estimate that 25% of those are using WordPress.
It provides alternatives for building a site either by installing this platform on your web server or by going to WordPress.com and building your website online.
Duda
Duda is a web designing platform that was initially a platform for developing mobile sites from desktop sites only.
But now, it also provides the service of building responsive websites using various templates that are fully customizable.
It creates a website without any requirement of programming language. Duda-built websites are in-built optimized for SEO.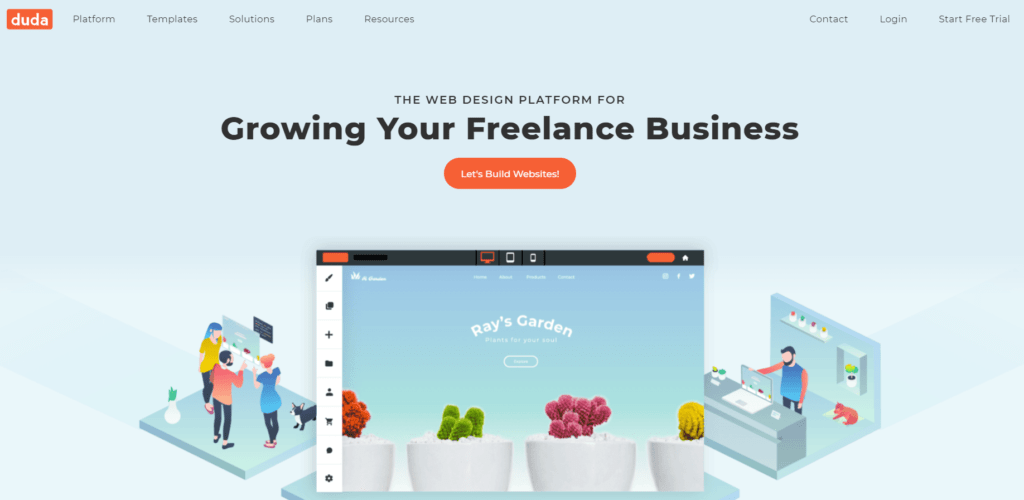 Wix
Wix is another commonly used platform for building websites and providing web development services that are cloud-based.
You can build a website either by yourself using the templates it offers and customizing them or by using Wix ADI through which Wix creates the website for you.
It also offers the alternative of coding for its technically skilled users.
Weebly
Weebly is a known website builder and web hosting platform that powers nearly 50 million websites, including eCommerce and simple websites for many other services.
It is free and comparatively easy to use, even for beginners. It offers a drag-and-drop builder for editing your website and provides many Analytics and eCommerce tools to simplify your work.
Let us now compare these four website builders on the basis of ease of use, design, functionality, performance, and pricing.
Ease of Use
This aspect of a website builder tells us about how simple it is to interact with the platform, make changes to your website, and quickly grasp its working.
WordPress
To start using WordPress, first, you have to register yourself on WordPress.com, and it will ask you some questions.
Then you are asked to choose a URL for the site and if you opt for a paid version, then you will get a free domain name.
Your site will get created, and on one side, you will see a wizard that contains many options to help you in publishing your site.
Now comes the complicated part. While creating your contact page, you are provided with some kind of code that is not easy to understand without any instructions.
After this, when you go to your website's main page, it becomes quite ambiguous as to how to move forward and what to do.
Duda
With Duda, it is quite easy to build a beautiful-looking website. You have to choose a template first in Duda, unlike WordPress.
Duda provides several designers and business templates to choose from.
After choosing anyone, you have to enter your site's name, and Duda will create the site for you, which you can customize and edit using the drag-and-drop editor.
There is no doubt that Duda provides a higher level of graphical content than all its competitors in the market.
To add them, you just have to go to the sidebar, select an element from the widgets menu and drag it to the required place.
Wix
Wix provides you with two options for building your website with it. You can choose either a Drag-and-drop GUI editor, or you can go with a Q and A type builder.
If you have chosen the Q and A option, it will ask you some questions like what kind of site you want to build and give you several options.
After this, you have to select a theme for your website out of nearly 30 themes that Wix offers.
Once you decide on the template, you can edit the design and make changes to your website's content.
With the option of making your website using GUI, you have full control over your website's design and look, which you can customize using a drag-and-drop editor.
This GUI editor gives you more than 600 options for templates.
But customizing Wix's templates is not as easy as that of Duda, and it may not give you the exact result you want unless you are an experienced graphics designer.
However, Wix offers the highest number of options for widgets, buttons, etc.
So, the conclusion is that GUI gives you complete control, but it is hard to make a good-looking website with it.
In contrast, Q and A builder is very easy to use but is restricted in providing editing options and designs.
Weebly
Starting the creation of your website with Weebly is somewhat similar to Duda.
You have to select a theme, pick a name for your site, and then you can start customizing it by the drag-and-drop editor.
Its editing tool is the easiest of all and closest to Duda. If you have used Powerpoint then you will be able to understand it quickly.
Adding new pages is quite simple, and they are automatically linked accurately. However, Weebly does not provide as many numbers of editing options as Duda provides for designing.
It has all the general widgets you may require but do not have the specialized and more advanced ones you will have with Duda.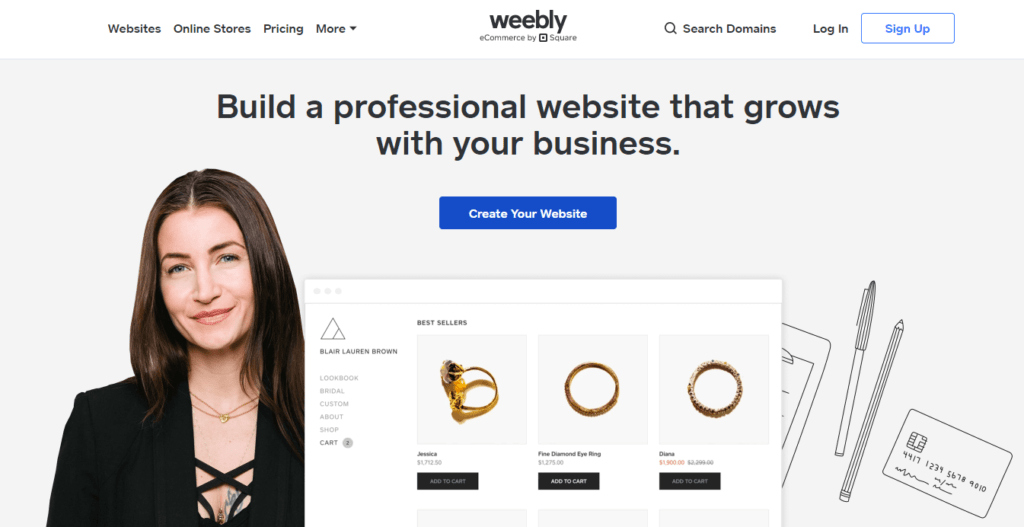 Winner
From the above discussion, it is clear that Weebly and Duda are the easiest to use amongst all aforementioned, and Duda provides some very advanced design editing features as well.
WordPress and Wix are also easy but they get complicated when we move down deeper into customizations.
Quality and Functionality
Quality means design, functionality, and performance. WordPress, Wix, Weebly, and Duda all provide good quality websites, but one outbounds the other in some aspects.
WordPress
WordPress is one of the most stable sites out of all. It has an enormous library of templates and plugins, which you can quickly install with just one click.
All of this makes the customization limitless for WordPress. But, for using this much customization, you are required to have high technical skills and experience.
On the other hand, WordPress in-built themes are neither as appealing as some of its competitors like Duda and Weebly nor have much relatedness in its designs.
Widgets are also not available as much as that in the Wix website builder. Instead, there are only standard blocks, which you have to style yourself in WordPress.
Duda
The main thing that makes Duda stand out from others is its ability to provide beautifully designed websites along with advanced functionalities without needing much effort from your side.
Although it provides lesser themes than some other website builders, you will still find one in your niche; all themes have beautiful animations that give a beautiful look and feel to your site.
It also offers many in-built widgets like social feed, online scheduler, etc., to be added to your site and that too, with automatic editing and formatting that matches your theme's color and styling.
It also offers customizing CSS and HTML code if you want to make additional changes to your design that can't be done using the editor.
Duda does not have a market for third-party apps like others, but it provides so many built-in functionalities that you will anyway do not need those apps.
It also provides excellent support for importing content from your existing website automatically.
Some other tools you get with Duda are the White label tool, Google Analytics tool, team, and project management tools.
Wix
Out of all these builders, Wix provides the most liberty. It has more than 600 templates and hundreds of additional apps with which you can do nearly anything.
Some exceptional features that Wix provides consist of an SEO wizard that lets you audit your site by yourself and will provide a complete and in-depth report of SEO issues that you can encounter along with their solution.
There is a special module in Wix that allows you to completely convert your site into a social media platform consisting of posts, users, profiles, messages, etc.
Wix also offers a third-party analytics tool with every plan, which you can use for good-quality analysis.
However, there are some aspects in which Wix lags. Like there is no way through Wix that you can export or import your content to and from any other site.
Also, there are many chances of getting design errors while using widgets as they are not automatically customized to match your website's look and feel.
Weebly
Weebly is more like Duda. Even beginners can build an excellent-looking site with it. It offers very high-quality themes, although they are limited in numbers.
Its web design elements are intuitive, and you will not get into any kind of trouble while using it.
Adding widgets is also effortless, and they are styled automatically in a way that they will not distort your website's look and feel.
It arranges content in an excellent manner by itself whenever you add any new widget to your page, modifying the margins and paddings automatically to set all different elements on the site to look one unit.
One negative aspect about Weebly is that you may not be able to find themes related to some niche, as they are limited to Weebly.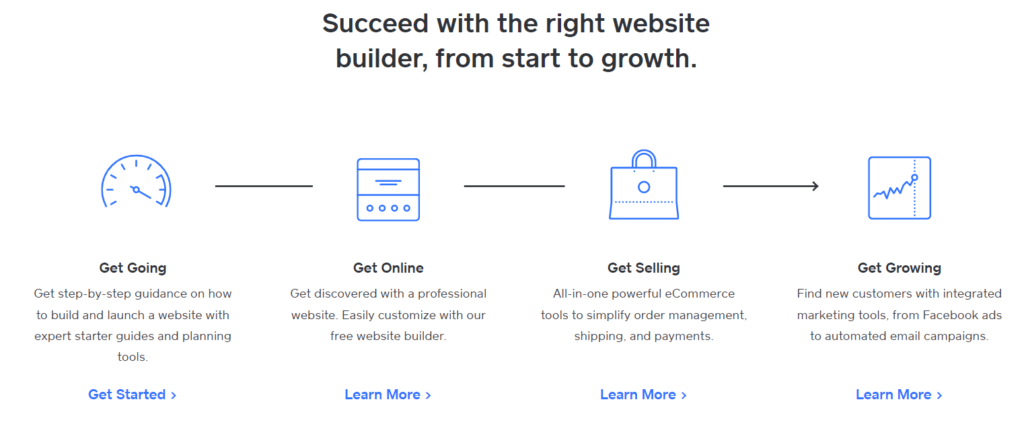 Winner
After comparing these platforms on the basis of the quality and functionality they provide to their customers, we can say that Duda is relatively better in most of the terms.
FAQs | WordPress vs Duda vs Wix vs Weebly
🤔 Is Duda a good option for SEO?
It is not bad. If your focus is SEO, then you may find Duda a little bit frustrating. Your Duda based website will get found for sure but may not rank as high on search engines as you want.
🤷‍♂️ Can I go from Wix to WordPress?
Yes, you can transfer your content from Wix to WordPress. For this, you can employ the RSS feed through which you can fastly import all your data, including pages, images, etc., manually. Another option is to use an automated migration plugin.
🙋‍♀️ Can Wix handle high traffic?
Yes, websites based on Wix can even handle thousands of visitors at the same moment. You can go for the premium plan of Wix that offers you more bandwidth whenever needed. It also alerts you whenever you reach the limit of your data transfers on your site.
👉 Which one is better, Wix, or WordPress?
WordPress is superior to Wix as it provides a lot more functionality and customizations than Wix. However, Wix is easier to use than WordPress and user-friendly.
Quick Links
Conclusion | WordPress vs Duda vs Wix vs Weebly 2022
From this comparison of WordPress vs. Duda vs. Wix vs. Weebly, you can clearly see that selecting any of them for building your website mostly depends on your website's requirements.
However, there are some factors that you can look after in a website builder to shorten the process of choosing a website builder.
If you want a platform that does most of the work for you automatically, then you can select either Duda or Weebly.
If you want a simple blogging kind of website then WordPress is the best option, to begin with.
Wix is best for building photography, blogs, events, and portfolio websites quickly and easily.
In terms of performance, all are winners. All have fast load time and facilities for handling multiple users at the same time.
So, do you find this review helpful?
If yes, then please like and share this with everyone and let me know what you think about these awesome website-building platforms in the comment section below.