Duda Vs Elementor: Ease of use & Functionalities 
Here are some ease of use and functionalities provided below:
Duda
Duda and Elementor are both designed in a way that they provide so many features to make them easy to use. Using Duda is simpler; I assure you, you will love this website builder for its ease of use.
When I started using it, I fell in love with it. You don't need to have any coding knowledge for it. It comes with a drag and drops editor and many amazing pre-built elements. 
Drag and drop editor is also provided by other website designers like Weebly, Wix, and Elementor; Duda offers some more complex tools in it. It is a perfect amalgamation of user-friendliness and diverse functionality.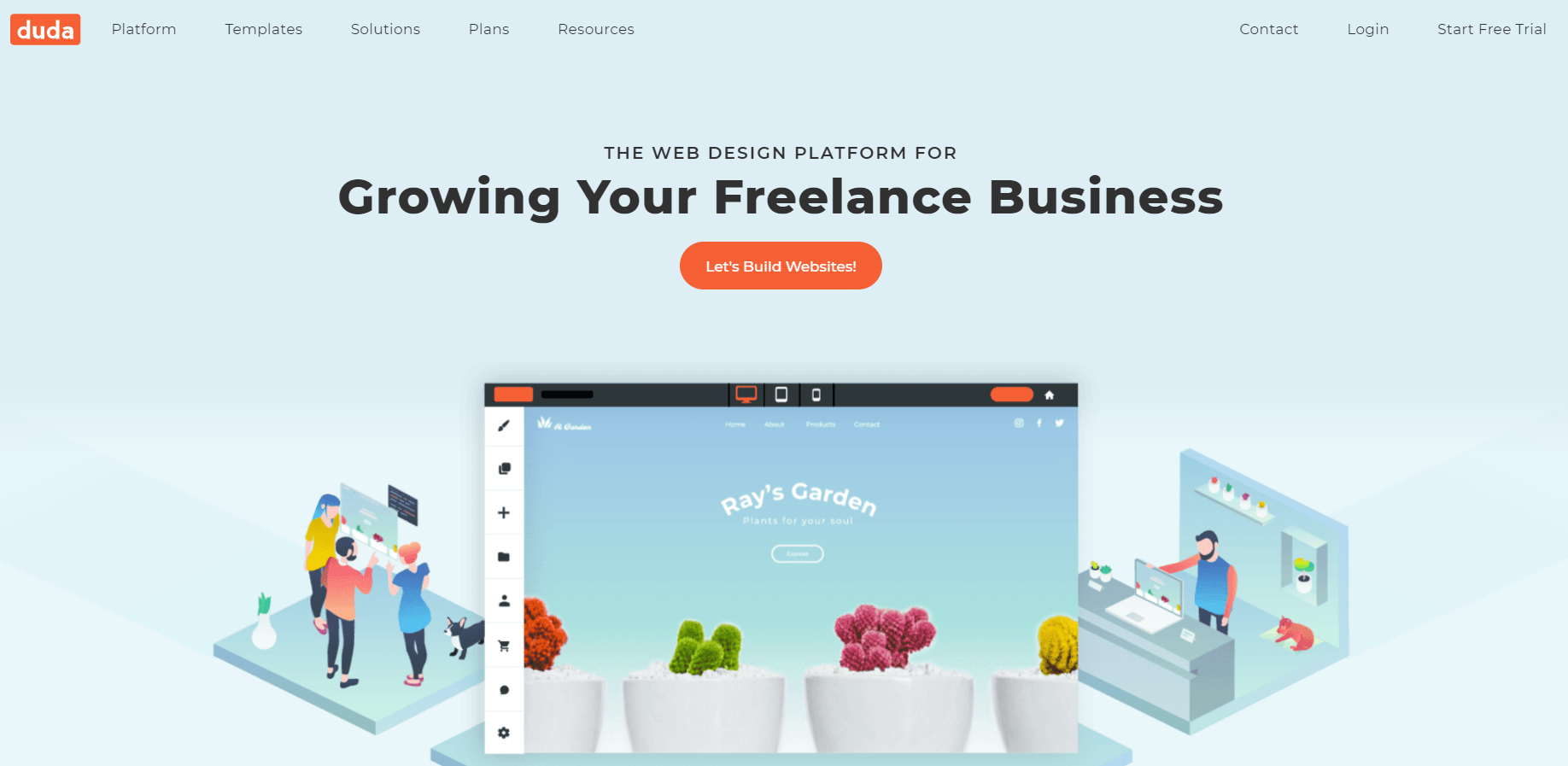 In Duda, you will find a 'New Section' button; clicking it takes you to a wide variety of ready-made options, like FAQs, Testimonials, About Us, Contact Us, Text Blocks, Footers, Tabs, Pricing Plans, and Teams. You can choose what you want to add to your site out of all these offered pre-built options.
All this really simplifies the building process, and you can customize the content block as well. Except for the pre-built sections, you have the choice of making sections as per your needs, which can be used on the other pages later on.
You can also add widgets to pages in some clicks, which includes primary elements like icons, titles, rows, texts, buttons, and more complex features like photo galleries and call-to-action buttons.
As soon as you are done building and customizing your website, just publish it. You need no other technical issue or something else, as Duda will host your site.
Elementor
Talking about Elementor is a website builder plugin provided by WordPress. It has a drag and drops editor similar to Duda.
When I first used Elementor, I was unsure whether I would like it or not, but it was fun designing pages using Elementor.
If you want to work using Elementor, you need to choose a pre-designed template. In case you don't want to use built-in templates, you can design your page starting from scratch.
Elementor is 'WHAT YOU SEE IS WHAT YOU GET' editor. This means you can see the changes you are making to your page simultaneously. Now, you must be thinking that they are being shown to the site visitors too simultaneously as it happens with tools like Google Docs. 

If you thought the same, you are wrong. Until you click the 'publish' button, the changes cannot be seen by anyone else.
There is a special mode in Elementor called 'Maintenance Mode.' This mode is useful when you are building or renovating your website. It shows a temporary page to the public and sets the applicable HTTP code. 
This prevents you from the possibility of accidentally publishing your site's content while it is still in the building process. You can disable it when your site is ready to be shown to the visitors.
You can also read this in-depth review of Elementor.
You will also find an Advanced Tab, which you should explore for some enthralling choices as follows:
You can attach super-amazing advanced motion and hover effects to make your site more appealing to visitors.

You have the option to position widgets, text, or images within columns.

You can also add custom widths to elements and set fixed page positions.

You can modify the width and space between columns as per your comfort.

You have the choice of adding custom widths to elements and setting fixed page positions.

You can also redo and undo changes (For Windows: Ctrl+Z and Shift+Ctrl+Z)(For Mac: Cmd+Z and Shift+Cmd+Z)
Range of Templates Offered:
Duda Templates
Duda provides you with about 90 responsive and customizable templates. The templates are built to look beautiful no matter whether you view the site on whichever device (desktops, smartphones, or tablets).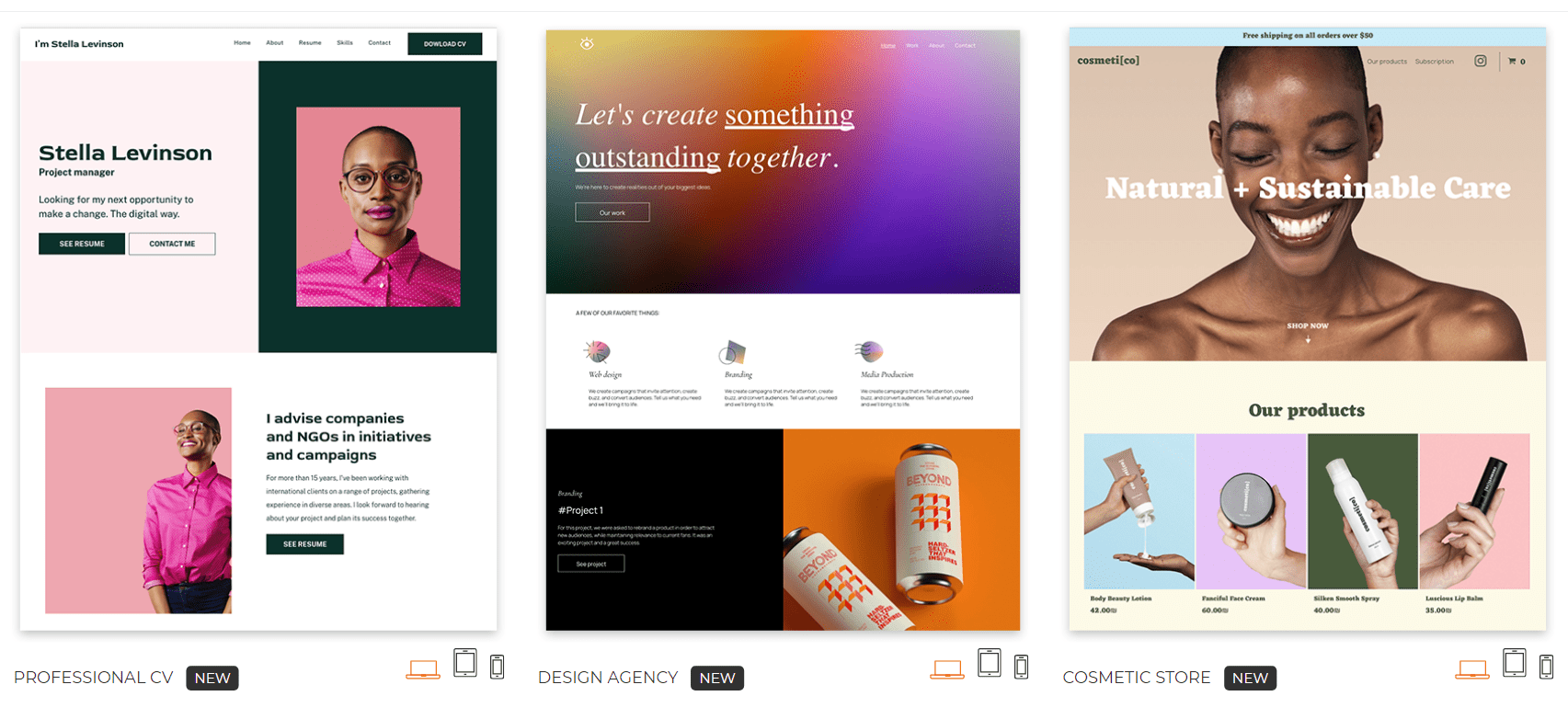 You can edit the templates as per your needs if you don't want to use the premade template. Duda also provides you blank templates, which you can modify as per your needs and liking.
Elementor Templates
Elementor is surprising when it comes to the range of templates it offers. The templates are termed 'themes' on WordPress. However, I have used the term' template' and will use the same throughout the article.
Elementor has more than 150 templates, out of which 40 you can access without any money. For accessing other templates, you need to purchase Elementor Pro. 

While browsing the templates, you will see all the templates, whether free or pro altogether. The "Pro" tag distinguishes the free and pro templates in the right-hand corner of the templates.
You can also download templates from other sites like TemplateMonster and ThemeForest.
There are also blocks (smaller elements) available on Elementor. You will get more than 200 built-in blocks for testimonials, pricing tables, portfolios, "meet the team" layouts, etc. Some are free, while others are available to only 'Pro' users.

Elementor also provides you with 30 free-to-use widgets and more than 50 widgets available to only 'Pro' users. 
In the end, I want to clarify that don't think Duda is any less because it provides you with lesser templates. Duda's templates are eye-catching and provide you with the option of designing your own templates starting from a blank template.
Duda vs Elementor Pricing Plans: Which One Offers Better Plans?
The most important thing we as a user wants is that the tool we are using should be worth it. It must provide us the value equivalent to the money we are paying for it.
I will tell you in detail about the pricing plans offered by both of these website builder tools.
Duda Pricing Plans
Duda has three plans: Basic Plan, Team Plan, and Agency Plans. A Custom Plan is also there, but it is basically for those who look for a quite high volume of traffic on their site.
Custom Plan is the premium plan.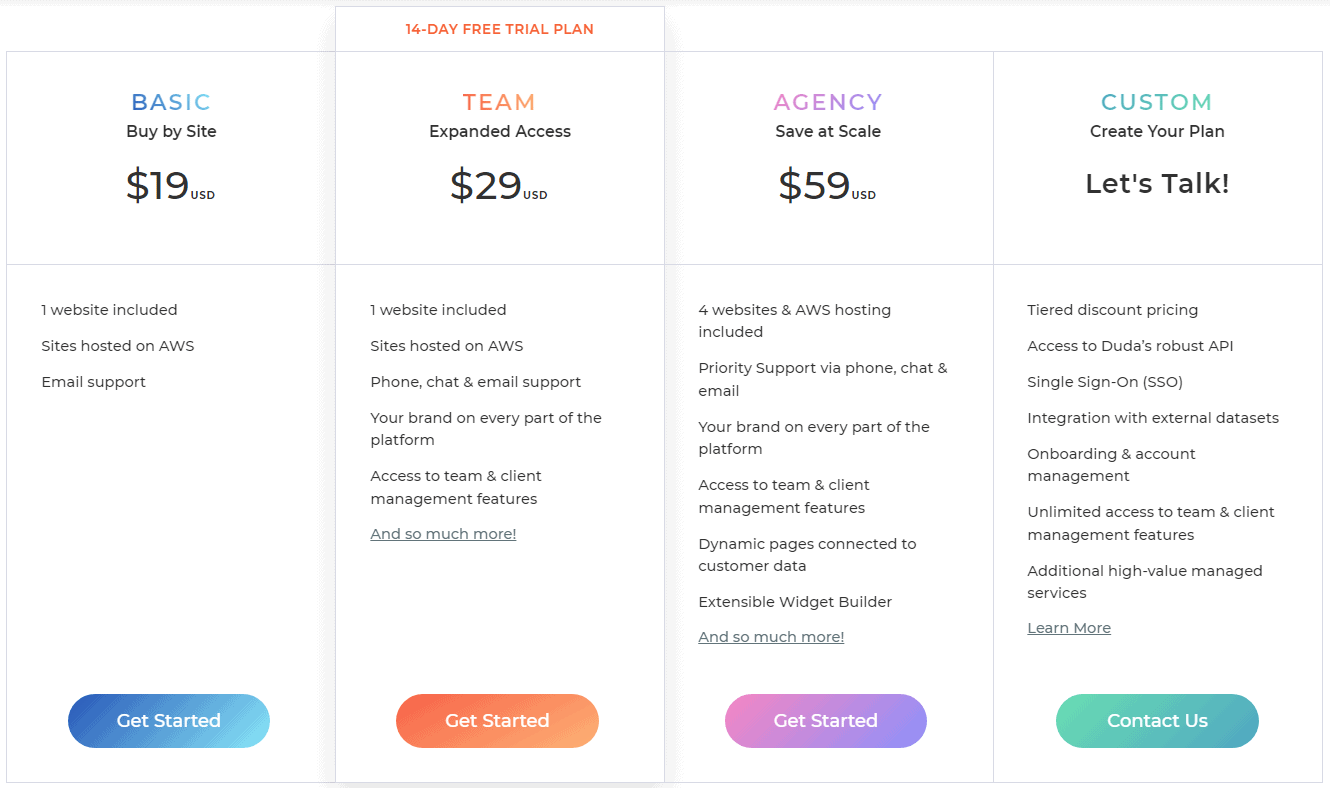 1. Basic Plan
The basic plan provides you with basic-level options. It offers access to Duda's content library and multi-language website features. It costs $19.00 per month. You will get:
Includes One website 

Websites hosted on Amazon Web Services

Email support provided
2. Team Plan
Moving ahead, the Team Plan costs $29.00 per month. In this plan, you will get:
Includes One website 

Phone, E-mail & chat support provided

Your brand on each part of the Platform

Includes Access to client & team management features
3. Agency Plan
Now, coming to the Agency Plan costs $59.00 per month. In this plan, you will get:
Include four websites and AWS hosting 

Provides Priority Support via chat, phone, and E-mail

Your brand on each part of the platform

Includes access to client & team management features

Dynamic pages will be connected to the customer data

Includes Widget Builder
4. Custom Plan
Prices of the Custom plan are negotiable. You can create and modify this plan as per your requirements. In this plan, you can get:
Discount pricing on a tiered basis

Duda's robust Application Programming Interface access provided

Single Sign-On (SSO)

The integration provided with the external datasets

Onboarding and account management

Includes limitless access to client & team management features

Complimentary premium managed service.
You can get Duda free trial for the first 14 days here. After the trial period, you can upgrade to a paid plan and continue using Duda. 
If you wish to start an online store, you'll need to purchase an E-commerce plan. You will receive the first ten products for free, but you will have to pay for additional items (like from 100 products to 2500).
The paid plan provides you with an unlimited number of categories, while the free one only provides you with two categories. You will get limitless storage in all the plans.
While a free plan offers you limited features, switching to a paid plan is amazing. You will get options like tracking and reporting, catalog management, order and data management, payment options, and promotions.
Elementor Pricing Plans
Elementor is a free plugin, but Elementor Pro is a premium plugin.
The Elementor Free Plan comes with a lot of useful features out of the box. Most clients don't see the need in paying for a subscription plan because the free one meets all of their needs.
If you want a license for more than one site, you'll need to upgrade to a paid plan.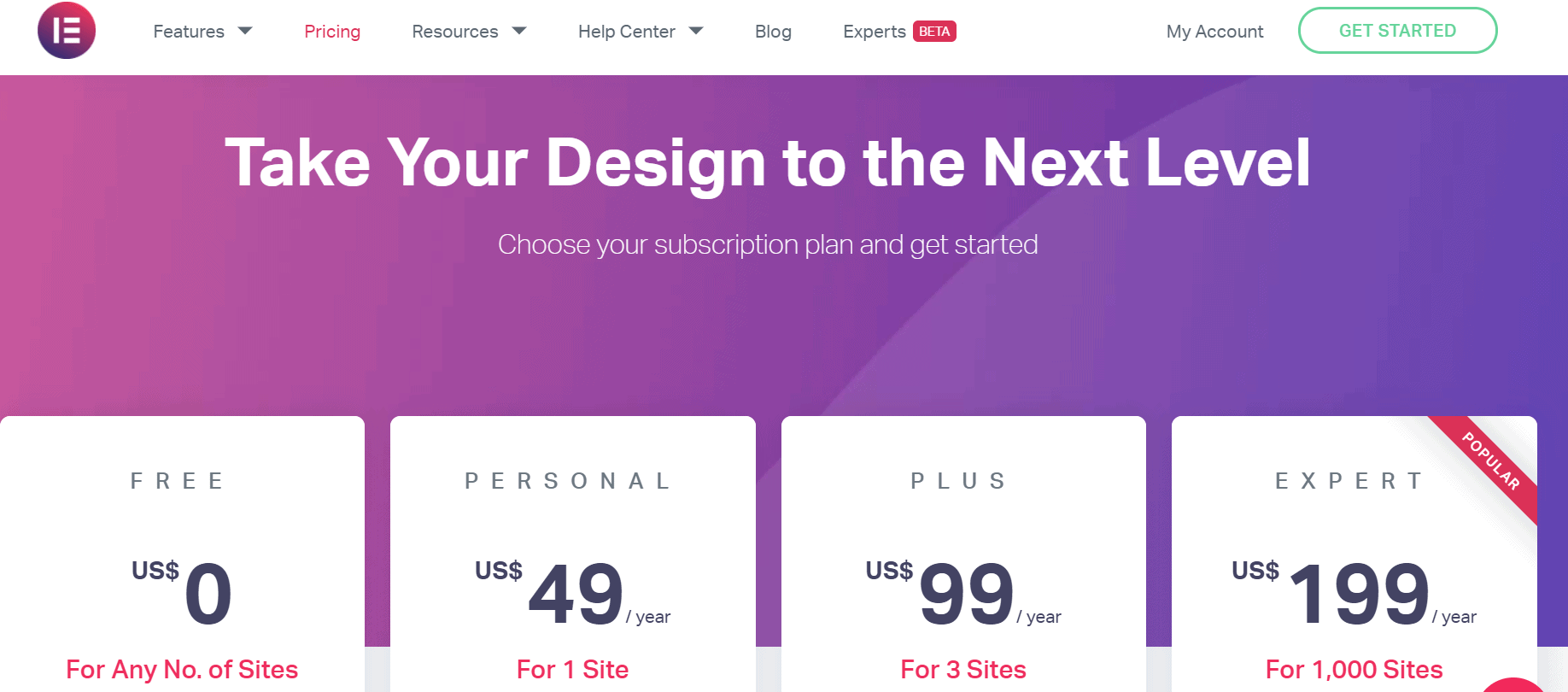 Paid Plans and Free Plans differ only in terms of the number of sites you want to get licensed for and some extra widgets, blocks, and templates.
In the free version of Elementor, you will get:
Drag and drop editor

More than 40-page templates

More than 40 Widgets for maps, audio files, images, text boxes, etc.

More than 100 Block Templates for testimonials, features, FAQs, and so many others.

Complete access to the Building platform with all the basic and advanced options.
I have built a site with the free plan features, and believe me, I didn't feel any need for the Paid Plan of Elementor.
You should switch to the Pro plan if you have multiple businesses to look after or to build multiple sites for clients.
In Elementor Pro, you have three paid plans: 
Personal Plan
Plus Plan
Expert Plan
A personal plan costs $49 per year for one website.
Plus plan costs $99 per year for three sites.
Expert Plan costs $199 per year for 1000 sites.
In all the paid plans, you will get:
More than 300 Pro Templates

More than 50 Pro Widgets

More than 10 Full Websites

Template Kits

Form Builder

Theme Builder ( You can design your themes from scratch using this builder.)

WooCommerce Builder( You can add 18 WooCommerce widgets to an online shop with this.)

Pop up Builder

Site's CSS code

24/7 Premium Customer Support for one year.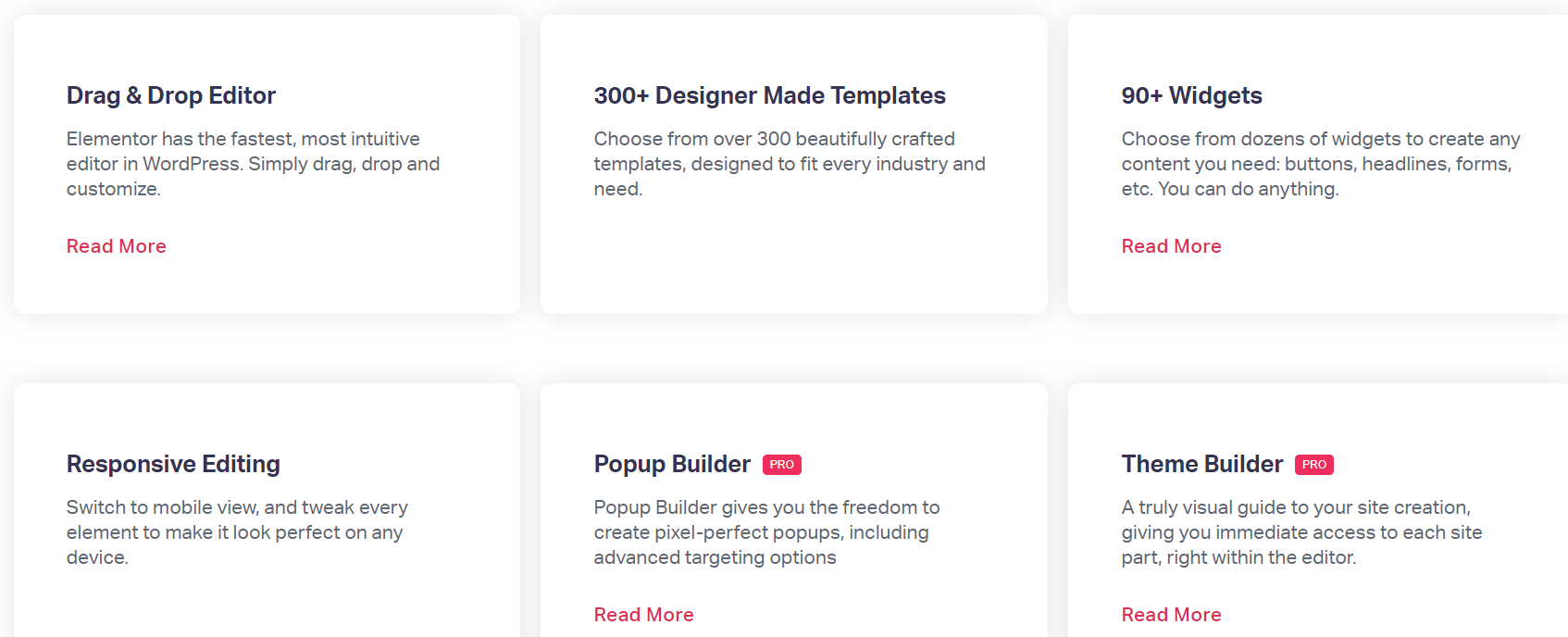 FAQs On Duda Vs Elementor
Is there any customer support facility for Duda?
Yes, there is a Live Chat option on Duda's portal. You can contact their technical experts whenever you are in doubt. You can also E-mail them.
🤷 Does Duda support multiple languages?
Yes, you can build your websites on Duda using more than 55 International languages.
🙎I want to add banners to my site. Does Duda allow that?
Absolutely! you can do that. You can easily add AdSense & other third party ads by accessing their HTML feature.
🙇 Can I build E-commerce sites using Duda?
Yes, Duda allows you to design powerful E-Commerce websites.
🙎‍♂️ Is Elementor Pro's demo version available for trial?
No demo version is available. But there is a policy by which you can use it for 30 days and then cancel your subscription and you will get your refund.
💁 What are the payment modes I can use while paying for Elementor Pro?
You can pay using PayPal, Stripe, or Credit Card.
🤷‍♀️ Is Elementor compatible with all the other WordPress plugins?
Absolutely! In case, you face any issue with any of the plugins, just contact Elementor support.
Quick Links:
Conclusion: Duda Vs Elementor 2022
In this Elementor vs Duda, both of these tools have their upsides and downsides. Everything depends on your needs, the volume of traffic, budget, and many such factors. 
Here, I'm concluding some points about both the site builders:
If you want to enjoy working on an easy-to-use drag and drop editor combined with ready-made sections, go for Duda.  

If you are looking for a flexible and powerful website builder, go for Duda.

If you are going to build a blogging site, go for Elementor. You will love it.

If you want to get access to unlimited unique free features, i.e., you are short on budget, go for Elementor.
Hope you enjoyed reading this article :).
Please LIKE, COMMENT, AND SHARE this article.