Looking for more conversions on your site?
Then, Unbounce may be the right choice for you. Why do I say Maybe? Because, let's face it, in 2023 there are a lot of landing page builders to choose from.
The list is long and includes Unbounce, Landen, Instapage, Landingi, and ClickFunnels.
But one builder has been around longer than many of these and has some pretty powerful features. Unbounce is what I'm talking about.
And in this article, I break down the pros and cons so you can know for sure if Unbounce is the best landing page builder in 2023 or not.
Unbounce Review 2023: What Is Unbounce?
Let's start with the most important things. What is Unbounce, and how can it help you make landing pages?
Unbounce is a landing page builder that lets you drag and drop elements. It was started in 2009 by a group of 6 people.
They were tired of having to wait for developers to build landing pages for every new marketing campaign. They thought, "There must be a better way!"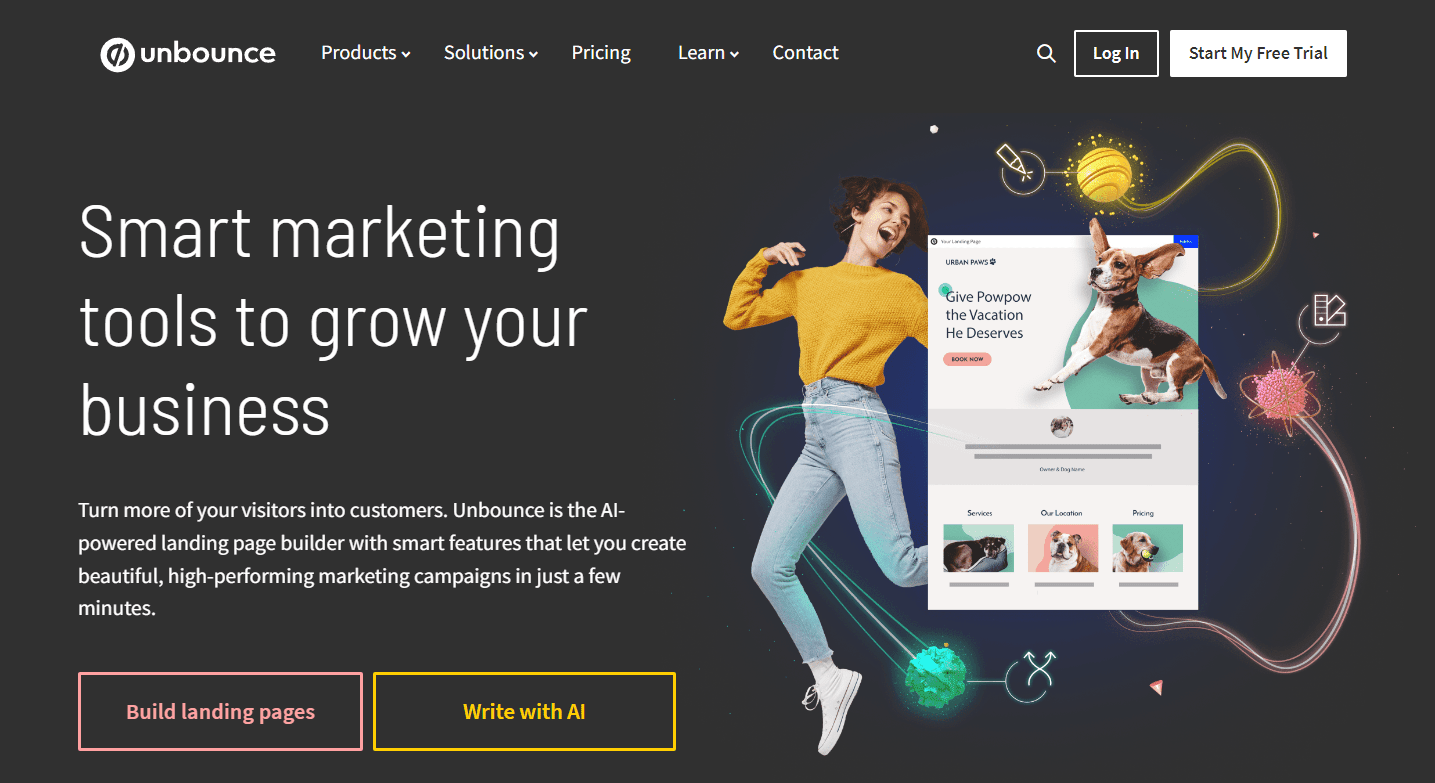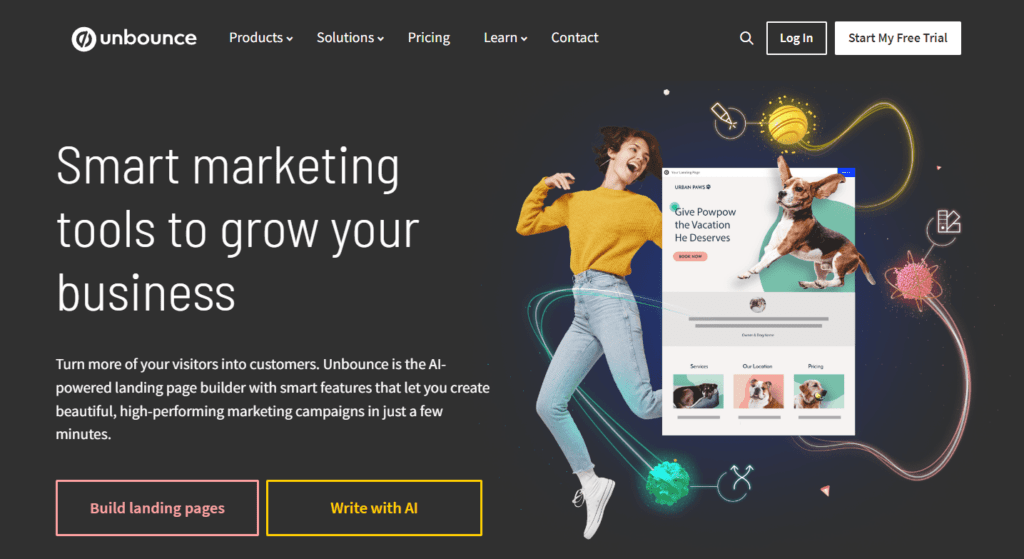 Boom! Unbounce was made, and it came out before any of the other tools above. So you could say that Unbounce was the first landing page builder.
Later, Unbounce added the ability to make popups and sticky bars, turning it into a full-featured platform for optimizing conversions.
And the best part is that they built A/B testing right into every product. So, if you want to test your landing pages, popups, or sticky bars, Unbounce makes it easy.
How much does Unbounce cost?
There are currently 3 main Unbounce plans available: Launch, Optimize, and Accelerate.
There are major differences between the 3 plans based on conversions, visitors, and the total number of websites connected.
As of January 2023, when I'm writing this, Unbounce's prices start at $99/month if you pay monthly or $74/month if you pay yearly.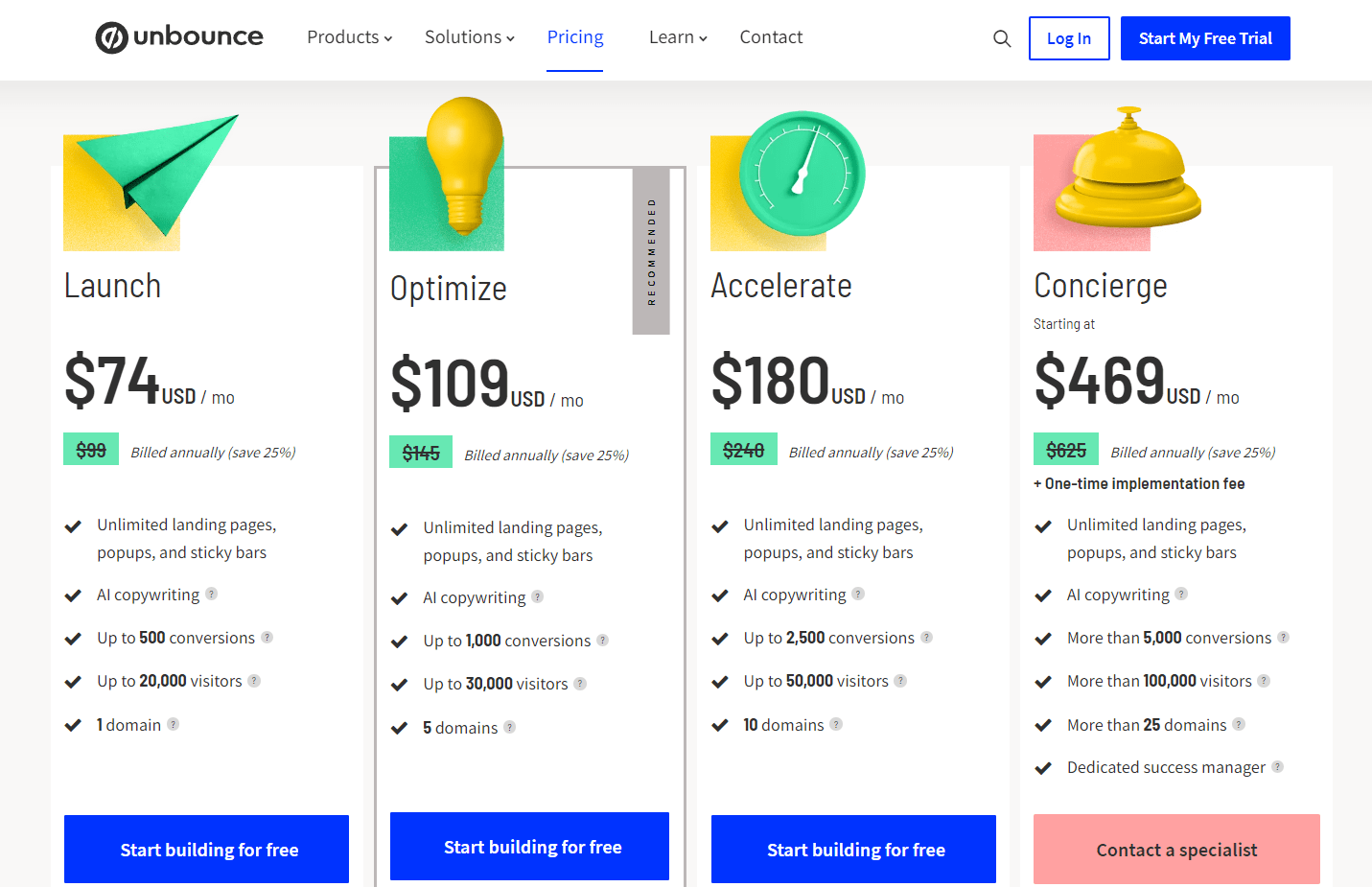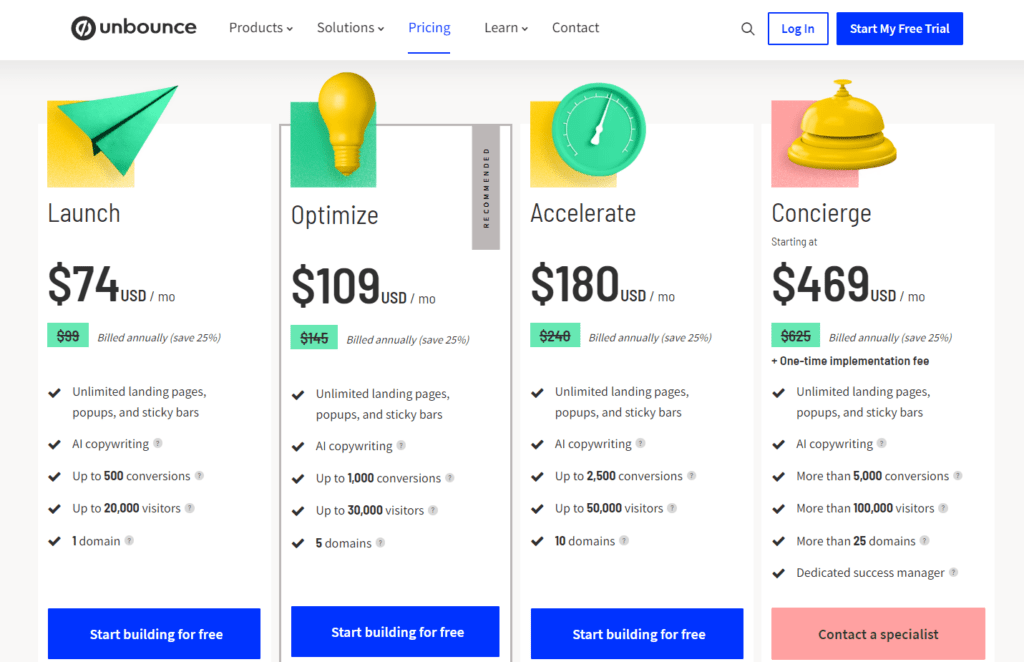 There are a few other differences between the plans, so here's a list of all the details from the Unbounce pricing page:
As a result, I would recommend that you start with the Optimize plan if you are trying to decide which plan is best for you unless you are sure that you will have more than 1,000 conversions and 30,000 visitors at the beginning.
You can always change it later if you don't like it.
Also, there are two ways to save more money if you want.
You can save 25% if you pay for a year's worth of service at once, and if you use my partner link, you can save another 25% on your first three months.
Does Unbounce have a free trial?
Yes, Unbounce has a 14-day trial that is risk-free and lets you use the whole platform with very few limits.
You have to put in your credit card information, but you won't be charged if you cancel within 14 days. You can cancel without having to get in touch with support (unlike some other landing page tools).
Unbounce Platform Security
A company that takes data security seriously is a welcome sight for online businesses.
Keeping your data and your visitors' data secure is a top priority with Unbounce. In the following list, you will find additional features available to enterprise customers.
SSL Encryption: Unbounce secures data with HTTPS and displays the lock icon in the URL bar.

GDPR Compliance: Every page is GDPR compliant.

IP Filters: Blocking IP addresses you know will prevent you from messing up your tracking. Also helps keep conversion data clean and correct.

2 Factor Authentication: In addition to requiring a single password, it also needs a trusted device. Customers with an Enterprise license only.

Automatic Backups & Audit Logs: This feature is only available to Enterprise customers.
Unbounce Client Support and Resources
There are a lot of self-help resources available in Unbounce's Help Center. The documentation is divided into topics such as Getting Started, Integrations, Community, and Ecourses.
There is a problem with the search function. My questions were answered, but they were often buried deep in the search results.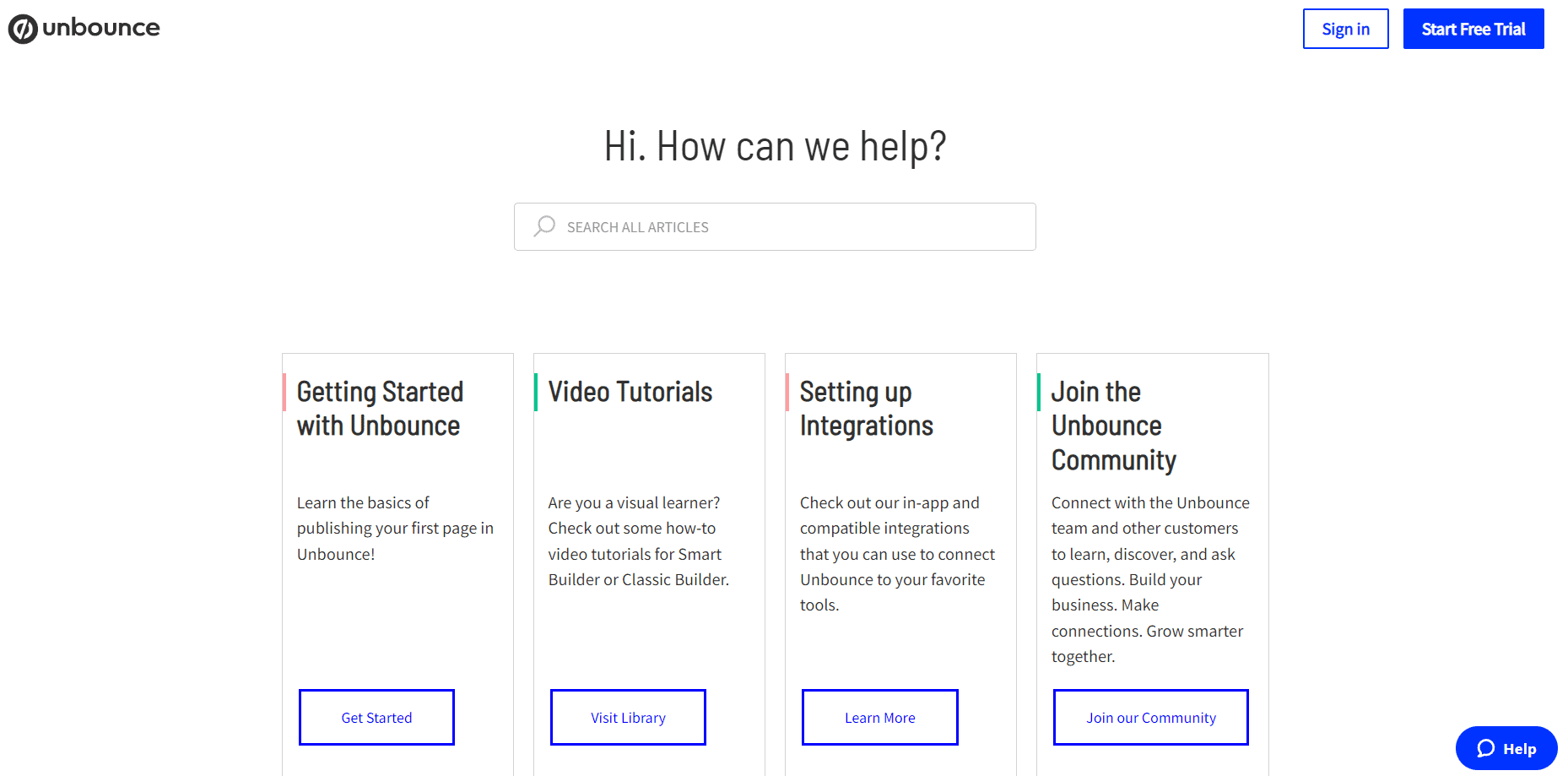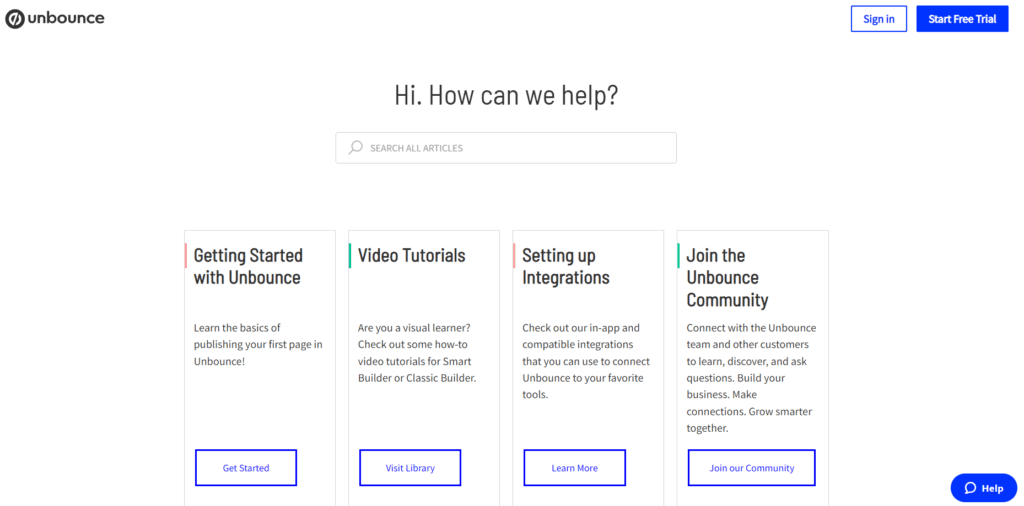 Unbounce also offers live support through its Help Center:
A customer service representative will be available Monday through Friday during "business hours," but it is unclear whether this is Pacific Standard Time, Central European Time (for the Berlin office), or both.
Unbounce's Live Chat Support In Action
The live chat support worked well for me. You are told where you stand in the queue after you type in your query.
I really liked that, so you exactly know the time it will take. The support is able to answer your query precisely as they did for me. 
How easy is it to learn Unbounce?
To begin, you are undoubtedly curious about how simple or challenging it would be to actually build a landing page using Unbounce.
I am neither a programmer nor a designer, but I was able to learn how to use Unbounce in a matter of hours despite the fact that I am neither of those things.
The interface of the builder may appear to be complicated at first sight; nevertheless, it is actually extremely easy to comprehend, and each widget, button, and element serves a valuable purpose to assist you in developing the very best landing page that is humanly possible.
Quick Links:
Conclusion: Unbounce Review 2023
The landing page builder Unbounce is my number one choice for 2023 after I have personally evaluated all major landing page builders available on the market, including Instapage, Leadpages, ClickFunnels, and Landingi.
I keep coming back to Unbounce in 2023 as my number one choice.
Why? because of its user-friendliness combined with a rich set of possibilities for customization.
In this day and age, there isn't much that I can't accomplish with the help of Unbounce.
In addition, now that it also includes sticky bars and popups, it's almost like having three tools in one.
Since Unbounce's popups and sticky bars operate everywhere, including on my WordPress website, I no longer need to pay for a popup solution such as OptinMonster or Sumo.
You need not look any further than Unbounce if you are interested in a landing page builder that is both simple to use and packed full of capabilities hidden away behind the scenes.
Additionally, Unbounce is supported by a helpful team based in Canada that offers support of the highest caliber.
Official Videos Of Unbounce