In choosing an e-commerce platform, Thrivecart is such a platform that you must consider.
With ThriveCart, you get access to an all-in-one e-commerce platform that makes it easy and convenient to start selling online.
Whether you are a beginner or an experienced user, there is something for everyone in terms of pricing plans.
Each plan comes with its own set of features and benefits that make it easier to manage your business. From the basic starter plan to the powerful lifetime license, ThriveCart has everything you need to run a successful online store.
So, let me dive into the details of Thrivecart Pricing so that it is easier to decide for you.
Thrivecart Standard Plan For $495 (One Time Payment)
The Standard Plan from Thrivecart has a special one-time fee of $495, which is only charged once.
If you buy this limited account for life, Thrivecart won't charge you any more monthly or yearly fees in the future.
If you don't know how to make the best checkout pages, you can start with Thrivecart's conversion-tested checkout page templates and drag-and-drop page builder.
The checkout templates can also be embedded, which means they can be shown as a pop-up or put right into the content of a page.
Also, if you search for "Thrivecart checkout pages" on Google, you can find hundreds more that can be shared.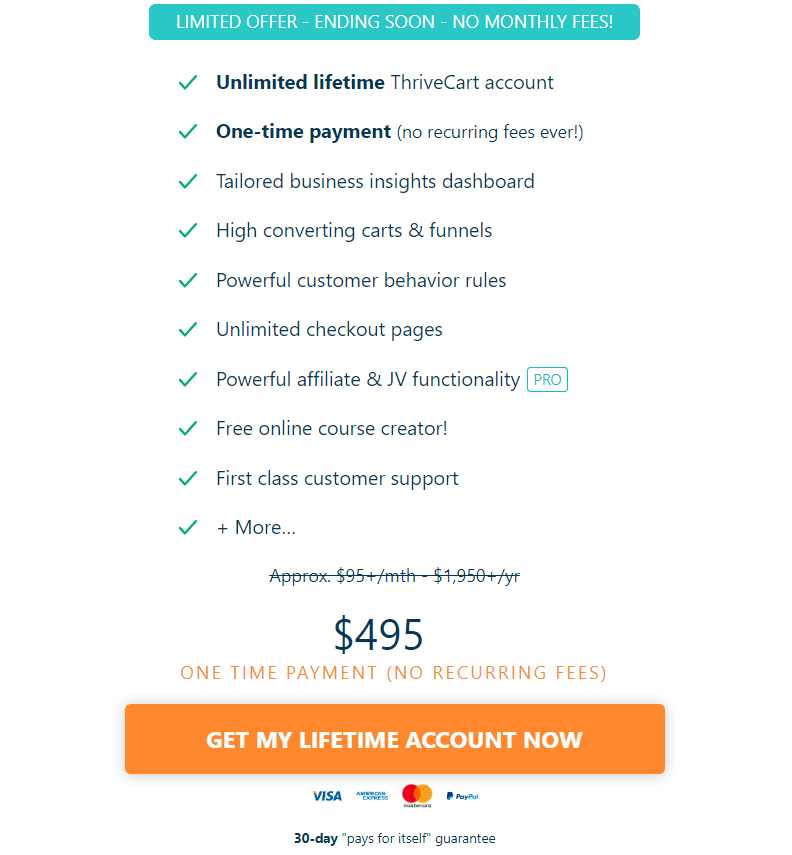 When you use the Standard Lifetime package from Thrivecart, you can accept all of the most common payment methods, and you can mix and match them as needed.
Tripwires, 1-click bump offers, multi-subscriptions, upsell funnels, and "pay what you want" pricing are all examples of these types of marketing strategies.
Learn is an online course builder that doesn't require you to know how to code, use CSS, or write HTML.
Thrivecart just started offering this feature. You can build and offer flexible courses and training quickly, and Thrivecart's checkout system works well with it.
You can give your students access to the content on certain days or after they've done certain tasks, or you can give them access as soon as they've paid for it, depending on what you'd like to do.
If you want to give students access to more than one course, you can sell the courses they need as part of a package deal.
The Standard Plan of Thrivecart includes automatic reminders for subscriptions that are overdue and follow-ups for shopping carts that were left empty.
Thrivecart Pro Plan For $690 (One Time Payment)
Thrivecart's Pro plan costs $195 as an upgrade to its Standard Plan. The lifetime license for Thrivecart is $690 ($495 + $195).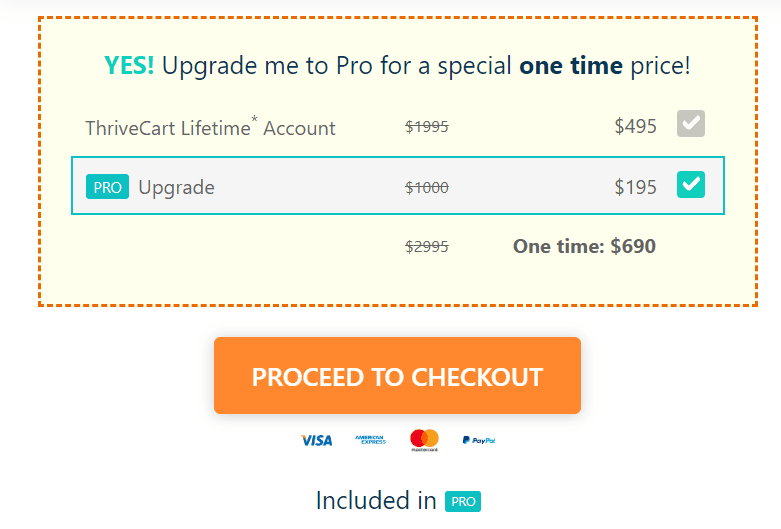 What are the benefits of upgrading to the Pro Plan?
There are seven upgrades in total. The following are some of the key features:
There is also an affiliate center, which lets your audience use affiliate links to promote your product in exchange for a commission. A group of affiliates can help you get a fast return on investment (ROI) because they can make targeted sales to their existing audiences.

The "Subscription Saver" (Dunning) feature of Thrivecart protects your subscriptions from declined payments and credit cards that have expired or been canceled. The Thrivecart Pro Plan will send emails to your customers on your behalf when these things go wrong.

Thrivecart automatically figures out how much sales tax to add to each customer's order based on where they live and other factors.

With Advanced User Management, you can let other people on your team manage your Thrivecart account and make changes to billings, subscriptions, pages, etc. You can add up to five more users with the Thrivecart Pro Plan.

The Intelligent Business Projections platform lets you track customer lifetime values, conversion rates, and other business metrics in real-time.

With a JV (Joint Venture) contract, you and another person can share the sales money from each product. This revenue split can be tracked by ThriveCart, which can also make the sales contract.

With Client Usage Rights, you can use your own account to power and sell your clients' products through their carts and funnels. Clients can also log in to your account.

You don't have to use Thrivecart's branded domain because you can use your own domain name. You can use your own brand instead of product.thrivecart.com, like product.yourwebsite.com.
Is ThriveCart Customer Care Support good?
Yes, Thrivecart's customer care support is highly rated. Customers report positive experiences with the company's helpful and knowledgeable customer care team.
They can provide quick answers to any questions or issues you have with their platform, as well as step-by-step guidance on how to take advantage of its features.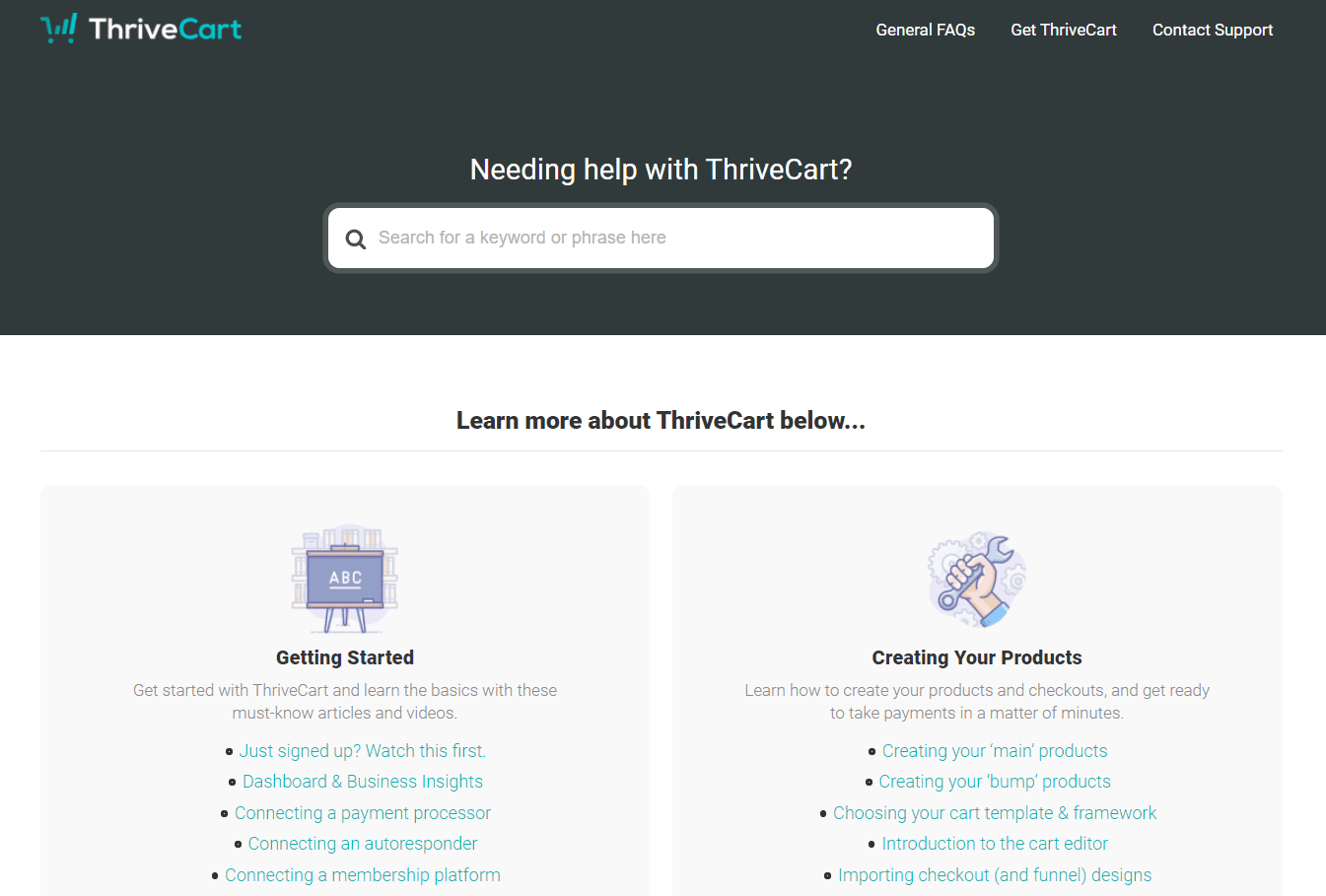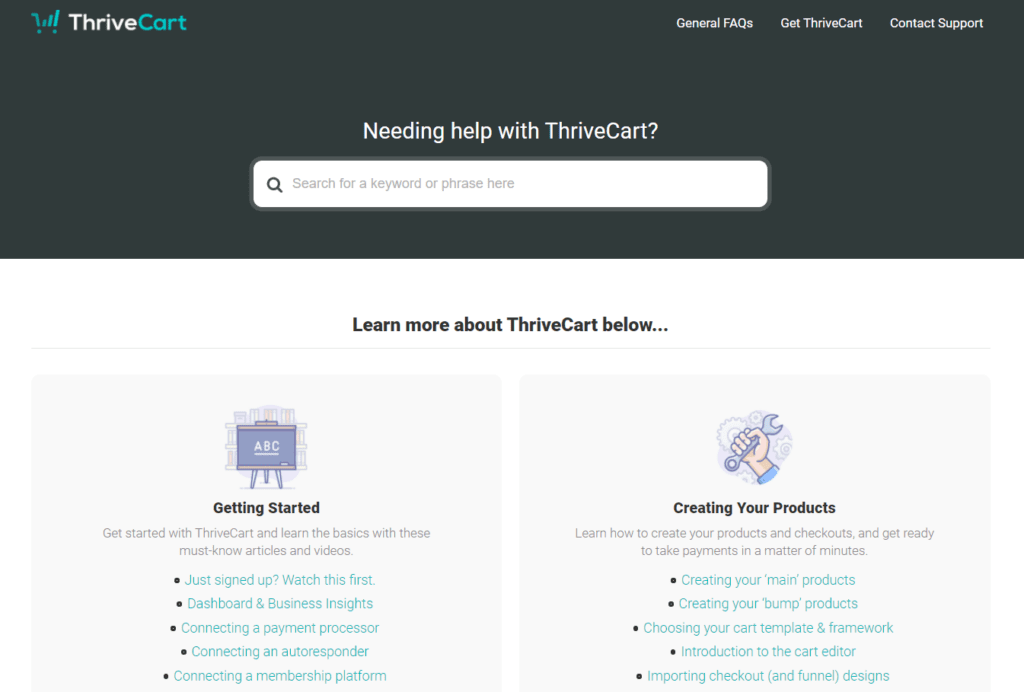 Additionally, ThriveCart offers a variety of resources, from frequently asked questions to tutorials, that can help customers get the most out of their plans.
With this excellent customer care support, ThriveCart makes for a great choice for users looking for an all-in-one e-commerce solution.
Are You Ready for Your Lifetime License?
Absolutely! ThriveCart Lifetime License is the perfect plan for businesses that want to maximize their potential and leverage Thrivecart's powerful features.
With the Lifetime License, you'll get access to all of Thrivecart's features for life and won't have to pay any additional fees or costs.
You'll also get lifetime upgrades and updates as new features become available.
This makes it a great choice for users who want peace of mind that they will always have access to the latest version of ThriveCart.
Quick Links:
Conclusion: Thrivecart Pricing 2023
In conclusion, ThriveCart offers an all-in-one e-commerce platform that makes it easy for businesses to get up and running.
It also provides outstanding customer care support and a variety of plans to choose from.
Whether you are a beginner or an experienced user, there is sure to be a plan that fits your needs.
Even better, the ThriveCart Lifetime License provides access to all features for life, making it an ideal choice for those who want long-term value for their money.