This article is based on Best ClickFunnels Alternatives. If you want to know the same then read this complete article and find your idol.
The marketing technology environment is continually evolving, making it cheaper and simpler for marketers to conduct effective campaigns on their websites or via other channels. So, what do you need to create a successful inbound marketing engine? To begin, you'll need a website.
Dedicated landing sites, sales pages, splash pages, and lead capture forms are also beneficial. You'll also need communications methods to interact with your leads and prospects, such as email, push notifications, or SMS.
All of these technologies are essential for establishing effective inbound marketing platforms and generating consistent income.
There are sophisticated suites like ClickFunnels that you may check out to help you combine all of these marketing aspects in one place and test new campaigns — but ClickFunnels isn't for everyone.
What is ClickFunnels & how does it work?
At its heart, ClickFunnels is a business that aims to assist you with all of the aforementioned tasks. It's a full-featured sales and website funnel creation tool that focuses on landing pages and basic marketing automation.
The secret is that you can create sophisticated processes and funnels without the assistance of programmers. As a result, you'll be able to move more quickly, test new campaigns more quickly, and generate more income.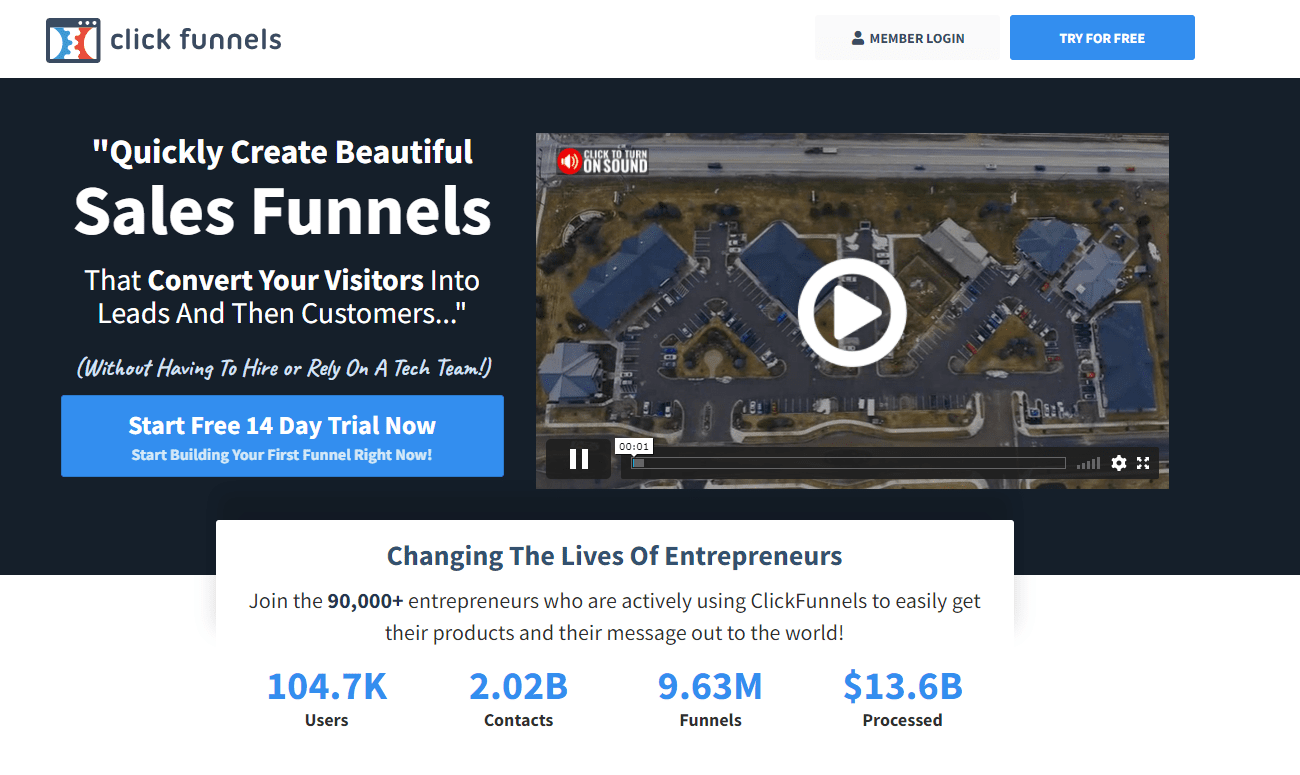 ClickFunnels has a rabid fan base. This makes it simple to get assistance when necessary. However, the tool isn't for everyone, and not everyone is a fan.
While it contains a lot of functions, you may not want or need them all, or you might choose to utilize a more capable tool for a certain task (such as email or landing pages). In addition, for a given feature, there are often stronger point solutions.
5 Best ClickFunnels Alternatives 2023
Let's dive into the alternatives which give equal competition to ClickFunnels.
1. Leadpages
Leadpages is a prominent landing page builder and a significant competitor in the marketing technology field. It essentially enables you to create websites and landing pages with no (or very little) coding.
Popup forms, alert bars, and an extensive range of native connectors are among the useful features for lead collection and funnel construction.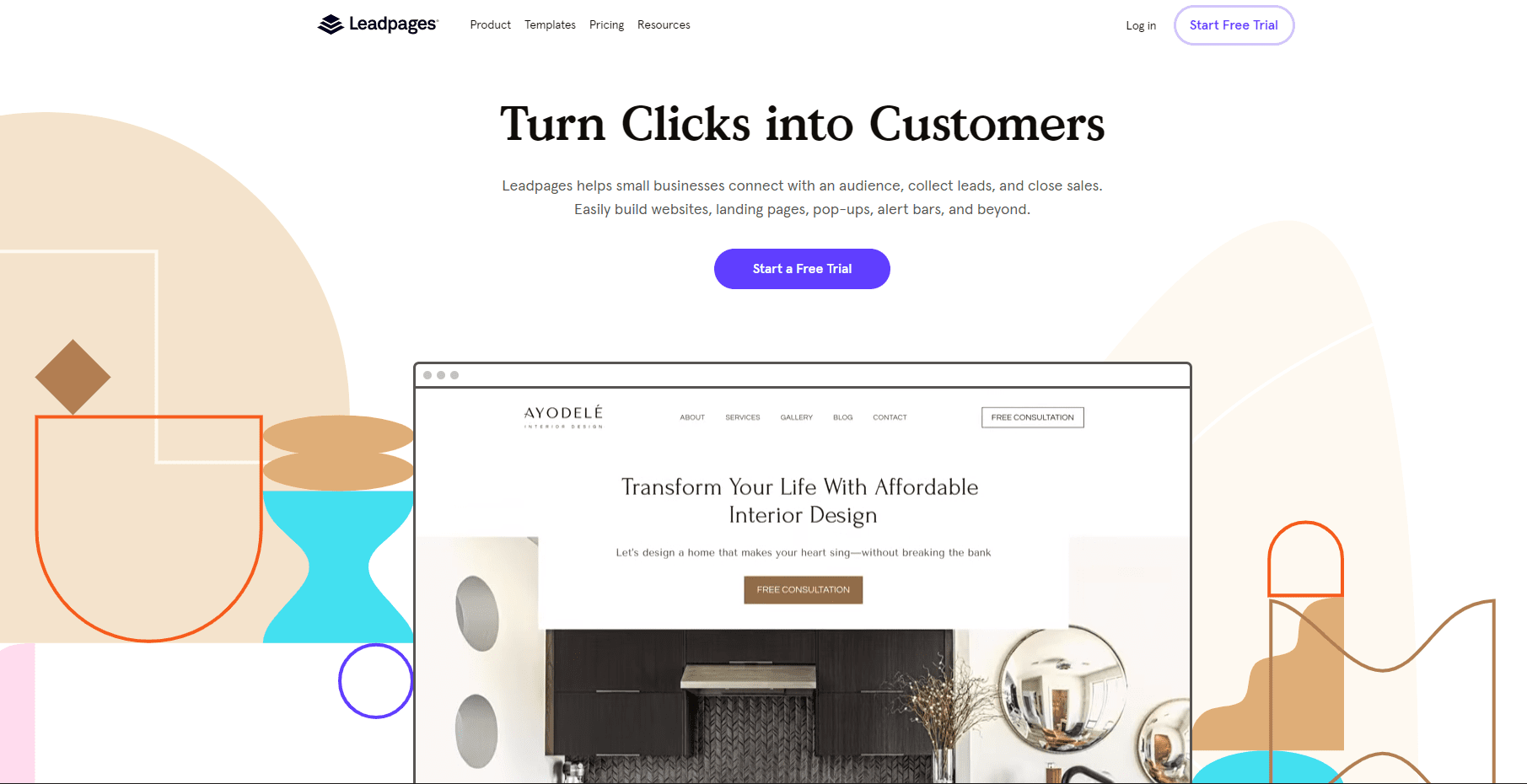 Leadpages once owned Drip, a marketing automation tool, however, the two platforms have since split as a result of Leadpages' latest transaction. Even yet, Drip and Leadpages are simple to combine (or basically whatever marketing automation tool you use).
Pros
Page editors with a beautiful drag-and-drop interface
The ability to create a whole website or a series of landing pages
Excellent lead generation software
Reasonable price
Cons
There is no email or campaign capability available.
There aren't any powerful native analytics reports available.
The feature set isn't the most adjustable or complicated.
2. Instapage
Instapage is one of the most widely used landing page builders. They're well-liked by marketers, and they provide one of the most scalable alternatives for high-budget growth marketing campaigns.
This features programmatic personalization, built-in experimental tools, and AdMaps, which illustrate the relationship between your pre-click ad experience and your post-click landing page experience.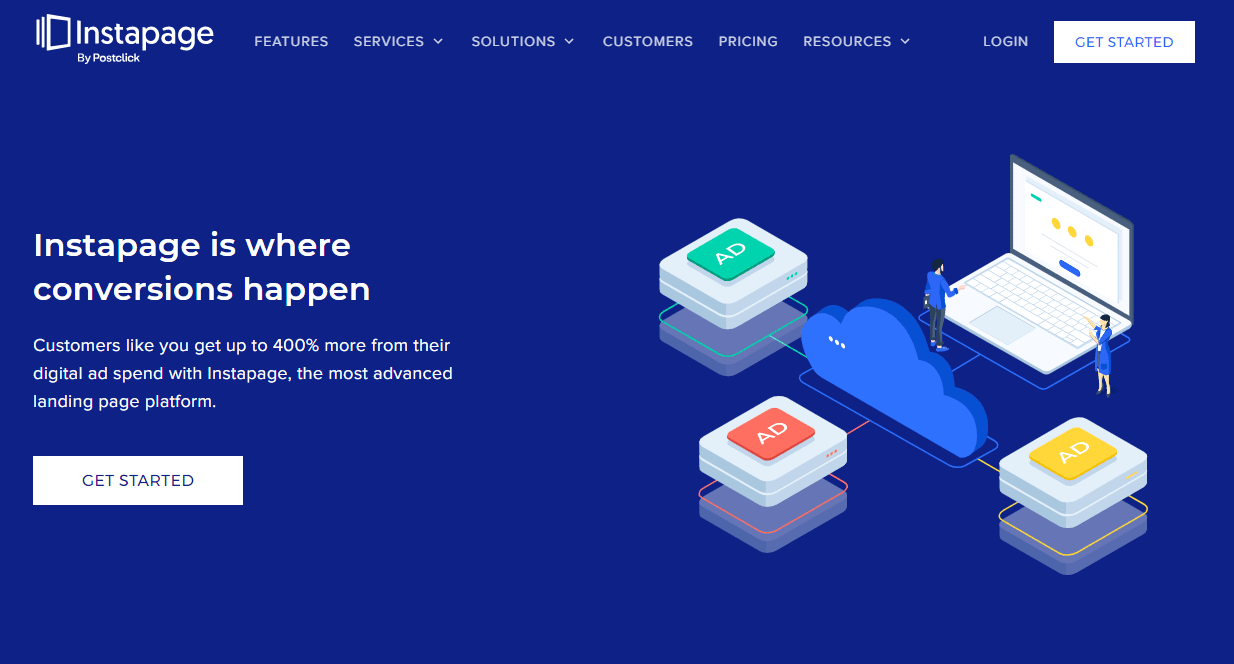 A user-friendly page builder underpins all of this powerful technology, making it simple for any marketer to learn.
Pros:
A powerful feature set that is ideal for large marketing teams.
Visualizations using AdMap to connect ad creative to landing pages
Product personalization and experimentation are built-in.
Reputation for lightning-quick website load times
Cons:
Expenses are higher than those of other options.
There is a scarcity of native messaging and marketing tools.
3. Elementor
Elementor is a WordPress page builder that has exploded in popularity. While several of the ClickFunnels competitors on this list are full-featured marketing systems, WordPress, a website builder like Elementor, and a messaging service may go you a long way (there are many free email marketing tools).
It's simple to understand why Elementor has over 5 million active installs on WordPress. It's a really simple landing page builder that any marketer can use to get started fast creating stunning sites.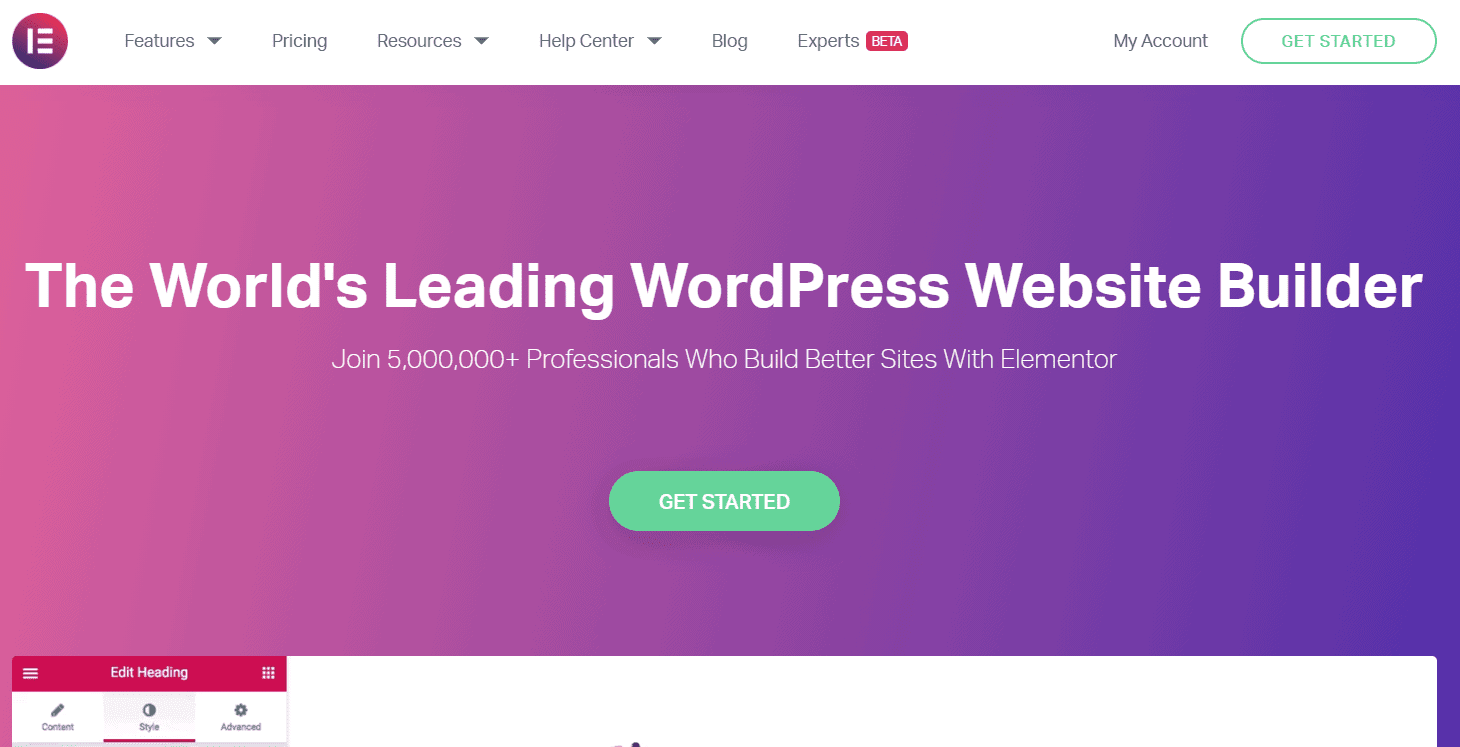 Furthermore, it is free, to begin with, and remains reasonably priced even at the higher levels. Elementor is an excellent alternative if you require a simple and efficient page builder that can also serve as a funnel builder.
Pros
The drag-and-drop editor that is simple to use
Hundreds more premium templates are available.
There are many embedded widgets to choose from.
Affordable
Plug-and-play with WordPress
Cons
Because it just creates pages, you'll need to rely on other technologies for messaging and automation.
Flexibility and customization are sometimes lacking.
4. HubSpot Marketing Hub
HubSpot's Marketing Hub offers a variety of free tools to assist marketers with anything from paid ad management to lead generation, landing page creation, and email marketing campaigns.
The best aspect is that the free CRM stores all of your contact's data, allowing you to quickly access insights and utilize CRM data to optimize and tailor your campaigns. HubSpot's all-in-one feature is a significant selling factor as an alternative to ClickFunnels.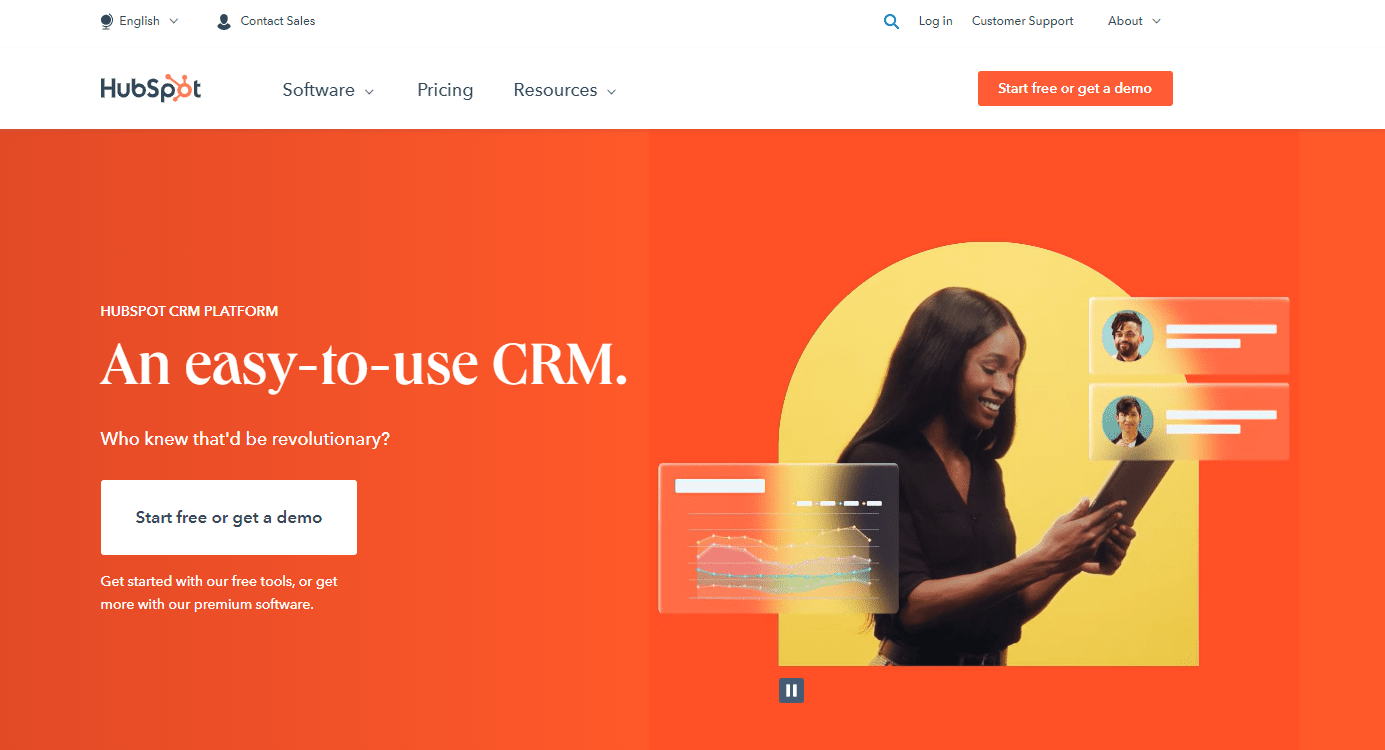 You may use the easy drag-and-drop editor to create stunning pages – sales pages, squeeze pages, downsell pages, upsells, webinar funnels, and so on — using the landing pages capabilities. There are also various landing page templates to help you get started.
Pros
A simple drag-and-drop builder is available.
All-in-one platform with free CRM integration
Get started with no cost.
Most functions have A/B testing capability.
Customer service and documentation are excellent.
Freely embed a calendar on your landing page to schedule meetings.
Cons
On the free plan, there are use restrictions.
There are no free custom modules.
There isn't as much of a template library as there is with other options.
5. Unbounce
One of my favorite landing page builders is Unbounce. Their landing page editor is simple to use, but it's also one of the most powerful and versatile I've seen.
Whether you're a marketer who can't code, a marketer who can code, a designer, or a developer, you'll be happy with the product. It's a fantastic solution for large-scale landing pages.
While landing pages are their bread and butter, they also offer a number of excellent lead collecting tools. The pop-up editor employs the same WYSIWYG editor as their landing page editor, making it simple to create attractive pop-ups (not to mention, that they have some amazing templates).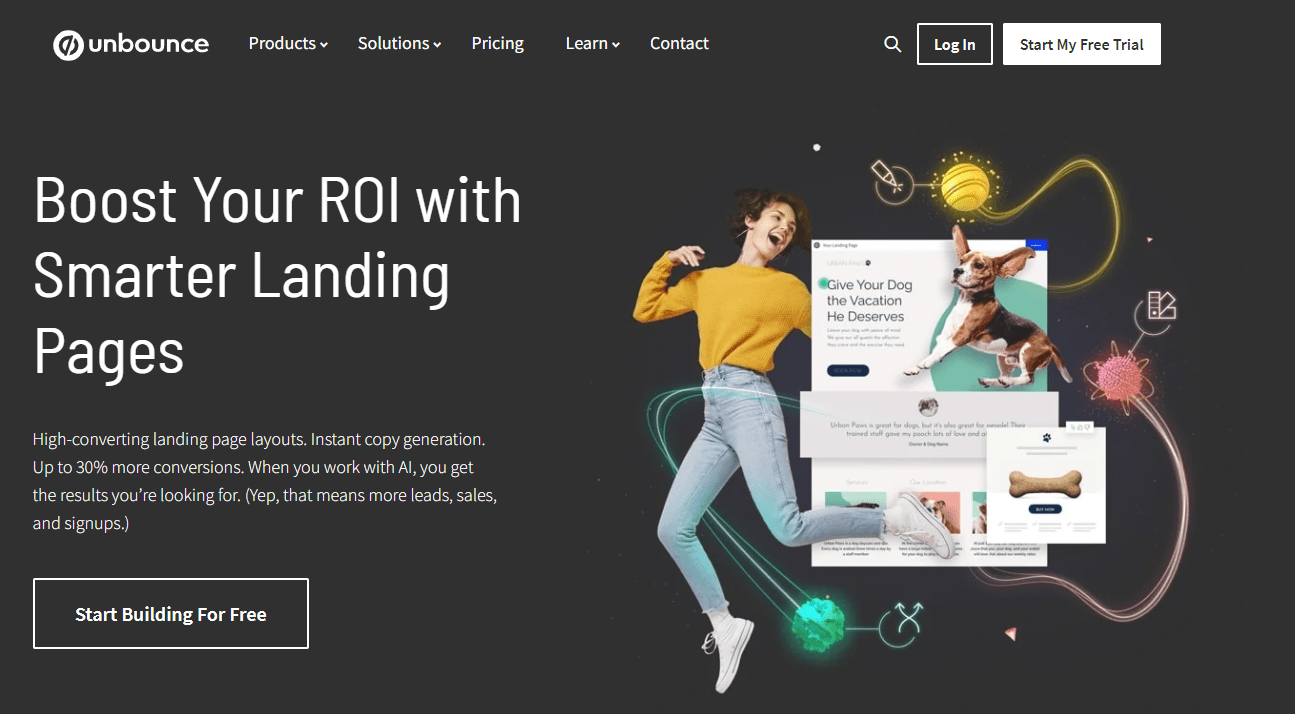 Unbounce has also amassed a sizable user, agency, and development community. So, whether you need assistance with design, SEO, or PPC campaigns, there are a plethora of Unbounce-specific services.
"Smart traffic" is one of the best things they've lately introduced. This feature uses machine learning to give the appropriate landing page to the appropriate traffic (my guess is through reinforcement learning, but who knows).
Pros
Simple to use WYSIWYG (What You See Is What You Get) editor
Huge brand and community support
Excellent client service
The editor that works well on mobile devices
Lead capture techniques that are effective
Smart traffic makes a difference. Landing page automation using machine learning
Cons
The starting price is a little more than the competition.
Because drag-and-drop capabilities may be finicky, working with a developer or designer is your best bet.
Quick links:
Conclusion: Best ClickFunnels Alternatives 2023
Whatever your motivation for looking for a ClickFunnels replacement, be aware that there are a plethora of possibilities available right now, and there will almost certainly be more in the future. The marketing technology environment is evolving, providing marketers with more alternatives as well as better and more effective tools.
Some of the tools on this list specialize in certain areas, such as landing pages (Unbounce, Instapage, and so on), while others are all-in-one platforms that include all of the functions ClickFunnels does, plus a lot more.
HubSpot's Marketing Hub is a terrific option for an all-around successful growth platform. Many of the products, such as the landing page builder, form builder, CRM, and email marketing platform, are free to use.
Aside from that, the premium levels expand the breadth and capability of what you can do. The possibilities are endless.