Are you looking for the best website-building tool?
Alternatively, do you have a variety of website builder choices, such as Webflow, Webnode, Duda, etc., but are unsure which one to choose?
You have come to the right place, as you will find the solution to your dilemma here in this Webflow vs Webnode vs Duda article.
I recently experienced the same confusion, so I thought it would be reasonable to research my options and pick the best one.
Quick Review:
If you are in a hurry and want to just know what is best for what, then this quick review is for you.
Let's now discuss each feature in detail and how it differs from the others.
Webflow vs Webnode vs Duda: Comparison of Website Builder
1. Simplicity In Usage
The Duda website builder takes the top spot in this factor. For its users, it has a straightforward and logically designed menu.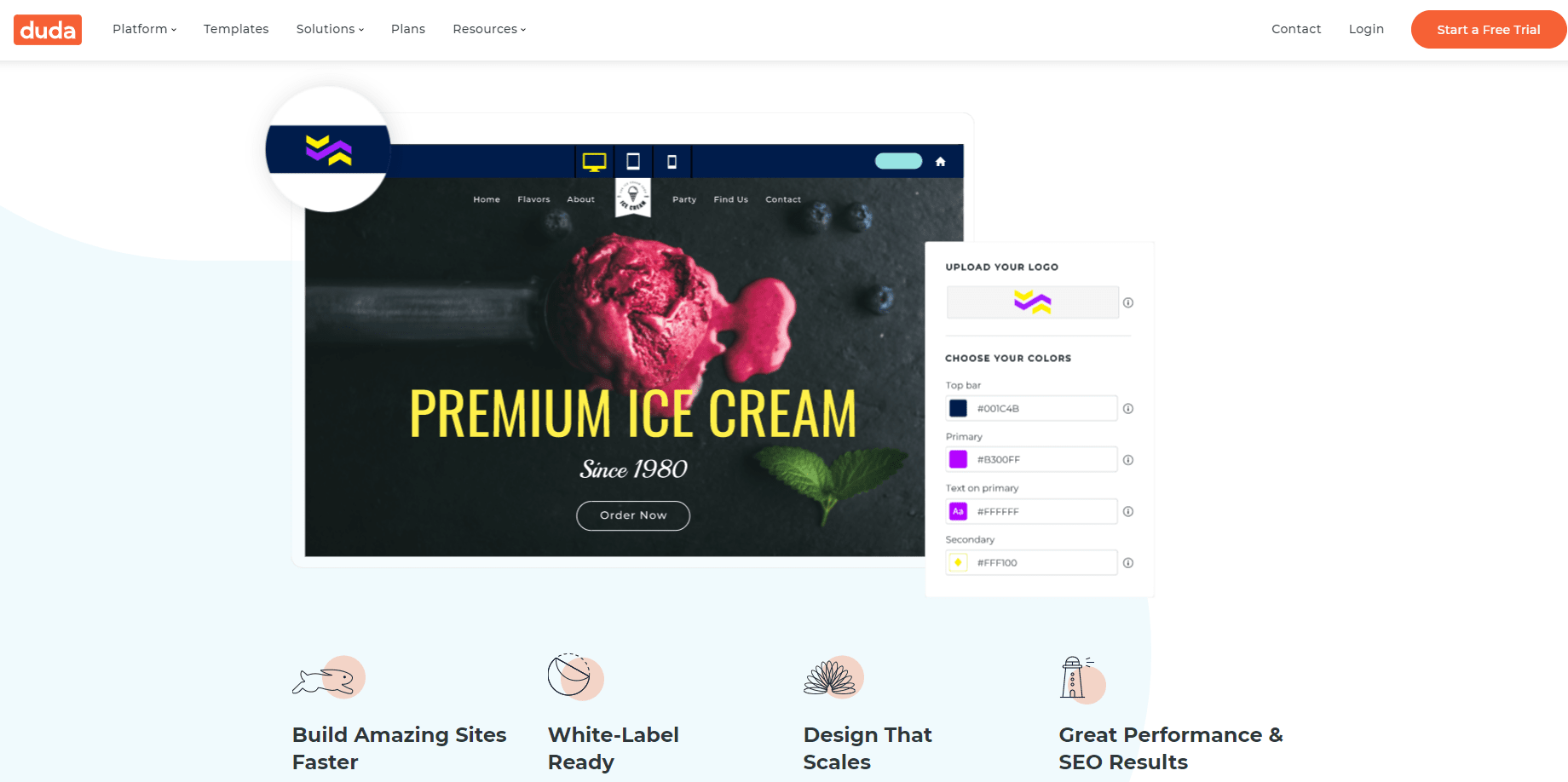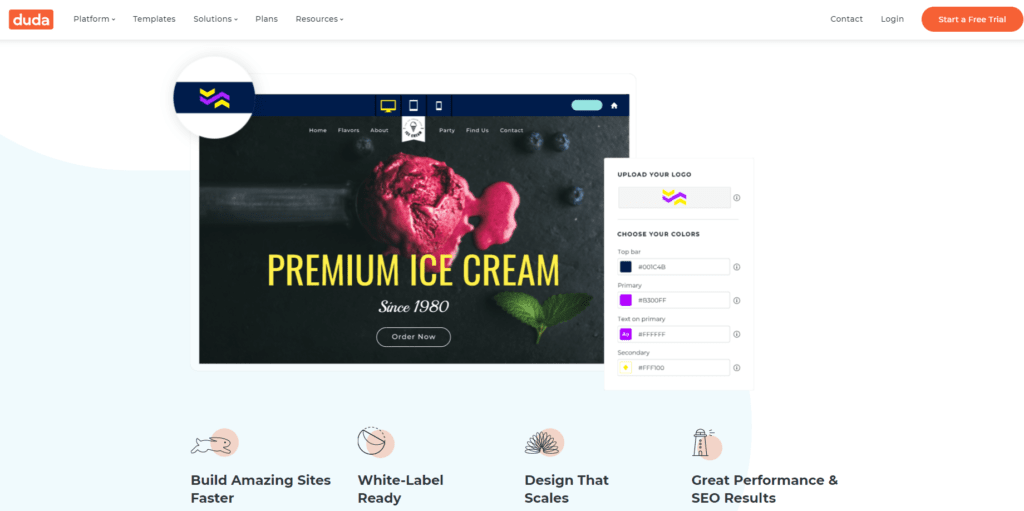 Even a quick preview is accessible in editor mode, in addition to thoughtful previews for laptop, smartphone, and tablet display screens.
The editing task for Webnode will take some time to complete because the solution's structure leaves nothing to the imagination.
The Webflow editor, on the other hand, is more similar to Photoshop and has a lengthy feature list that may be too complex for some users.
2. Flexibility for choosing and Designing Templates
Webnode and Duda compete in this area, but Webnode is comparatively superior because it gives users more freedom to select and customize templates.
Using the range of responsive designs the Website builder offers, you can design any template from scratch.
Its unique feature is the ability to change the background color theme, which gives each segment a distinctive appearance.
With its distinctive attributes of responsive, mobile-friendly designs, Duda is in a comparable position. On every kind of device, this editor provides template previews.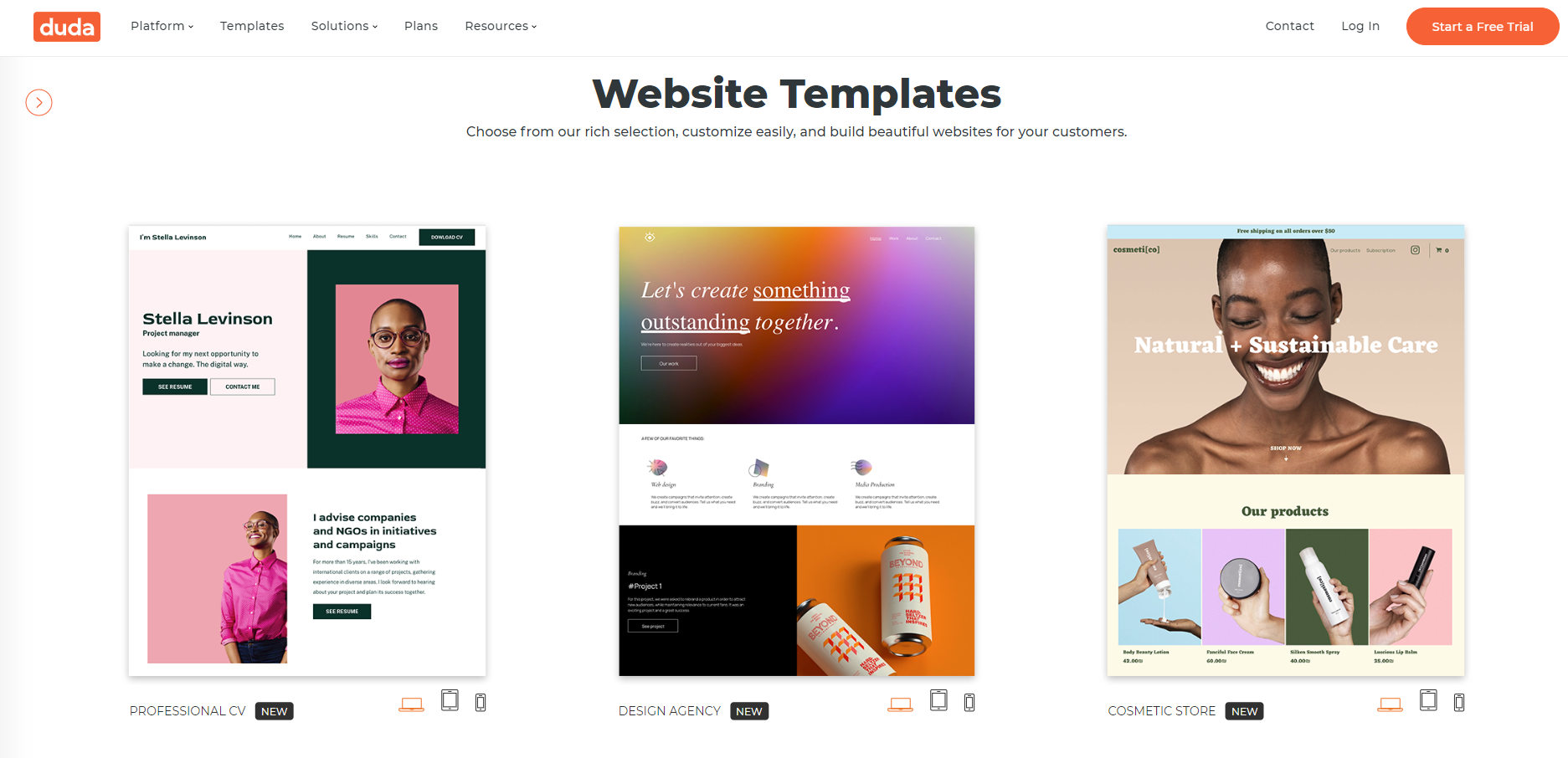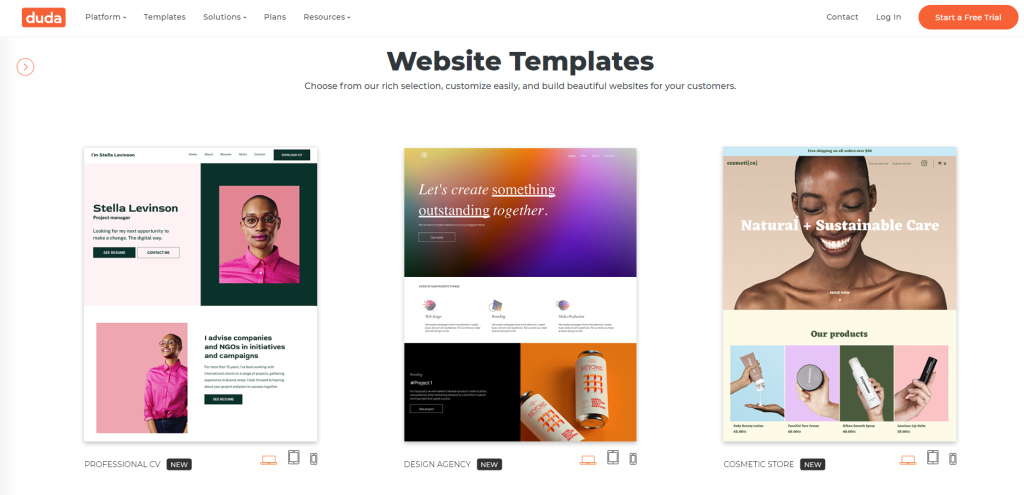 Webflow is ranked weakly as the majority of the templates are not free. Additionally, they don't provide a huge selection for their users to choose from so they can select the template they need.
3. Languages
Duda allows you to add more languages as it supports the majority of international languages, including Asian languages.
Webnode and Duda are tied for first place once more. Both of the editors are offering the best language support to their users.
However, Webnode appears to be superior to Duda. More than 20 languages are supported by Webnode, which encourages users to create multilingual websites.
Even so, the website will be able to support multiple languages thanks to its multilingual feature. Additionally, this feature is offered in each and every plan they provide.
A multilingual website can be made at Webflow editor, but it takes a lot of technical work.
4. Navigation Depth
Webflow is finally the first website builder that comes to mind when discussing the depth of the navigation. The primary strength of this editor is this feature.
You can save web pages in folders for organizing them on your website, and you can also add a drop-down menu to your navigation bar. 
Depending on your price plan, you may add up to 10,000 dynamic pages and up to 100 static pages if you host our website using the Webflow editor.
In contrast, Duda and Webnode only allow you to navigate up to three levels, which may be sufficient for the majority of projects but may be too few for others.
5. Widgets: A small tool to add some extra Functionality
Duda is in the lead in this comparison. Although this editor lacks an app store, it still has a wide range of helpful features.
You can even use the website personalization tool to add interactive features like pop-up windows, special offers, information bars, etc. to your website. 
The Webnode editor did, however, fail to note some of the most crucial widgets, such as site search boxes, social share and like buttons, and more.
Webflow, on the other hand, does not provide built-in widgets and instead focuses more on manual customization. Like other website builders, neither of them has an app store.
6. Blogging Perspectives
Comparatively speaking, Webnode is the best of the bunch. To make blogging activities for their users as simple as possible, Webnode offers fundamental and adaptable features like categories and comments. 
Duda and Webflow are both user-friendly alternatives to Webnode, albeit not quite as much so. You can include a blog with just one click. They also provide the Facebook commenting function.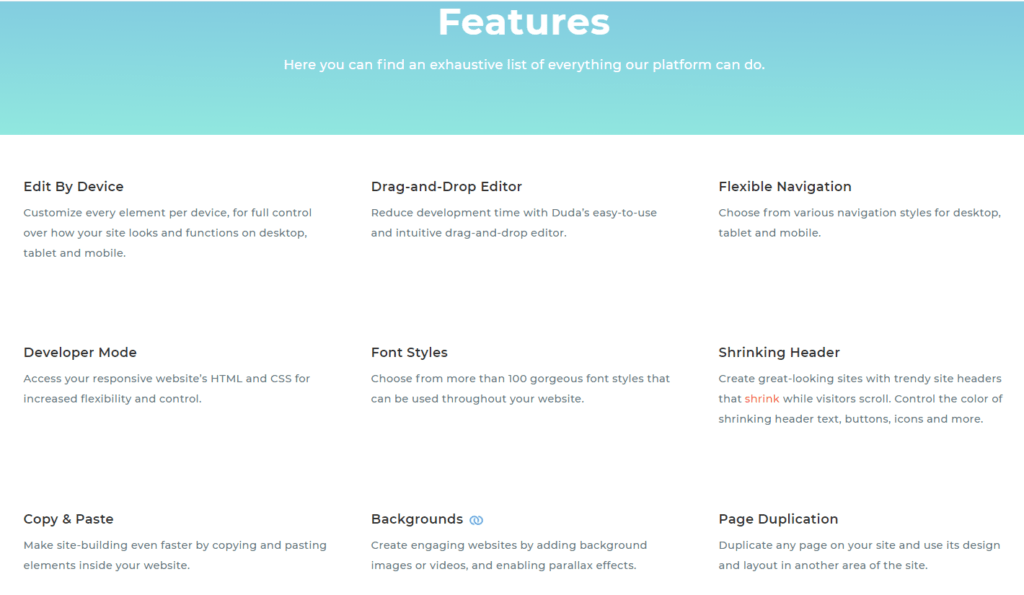 The Webflow editor can also be used to create blogs, but you will have to manually add extra features like social sharing, comments, etc.
7. SEO (Search Engine Optimization) Functions
Duda The best SEO function performer is a website builder. The editor modifies each relevant setting in accordance with your requirements.
Duda is identical to Photoshop webpage, which will be appreciated by Google and result in high rankings for your website. 
You can insert dynamic text to change titles, descriptions, and URLs in Webflow and Webnode.
Contrary to Webnode, Webflow editors are capable of performing complex tasks like setting up 301 redirects.
But both of them allow you to add meta descriptions, customize title tags, and build a site map. The user might find it challenging to alter these settings on their own, though.
8. Security of Webpages
For a user, the website's security is vital because there may be a greater risk of data theft. However, Webnode guarantees the best security features to its users.
Webnode Editor supports user registration. Users can create usernames and passwords to access premium content on their websites, to put it briefly. However, this feature is available to Standard and Profi Plan subscribers.
The Webflow editor, in contrast, ensures the security of a single or collection of web pages using a password, and you can even customize the appearance of your password protection page.
Duda also gives users the option to password-protect specific users. But neither editor allows for the setup of a user account.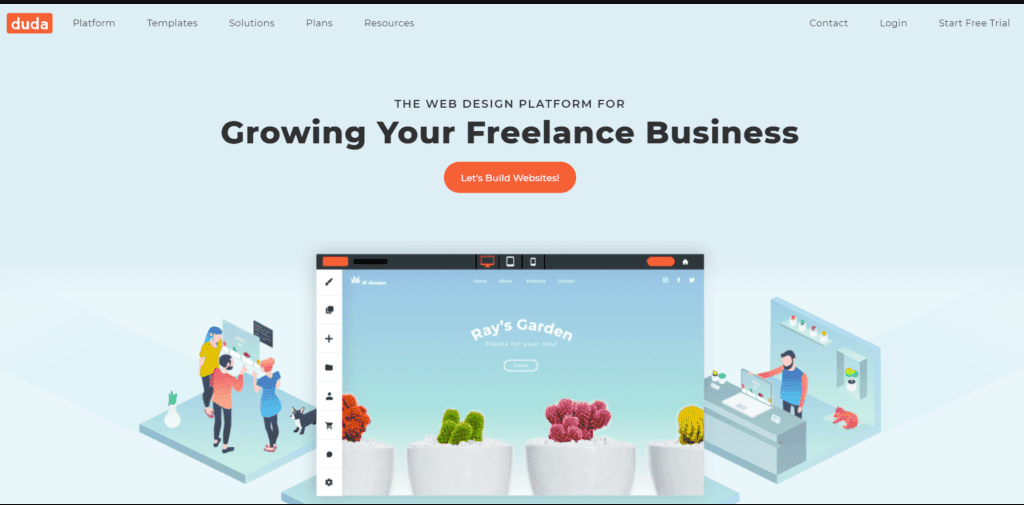 9. Restoration and Backup Features
One of the best website builders among its competitors is Webnode, which gives users the option to return a website to its previous state.
Standard and Profi users, however, are limited to five and unlimited backup tasks, respectively.
Contrarily, Duda offers backup, and even your published website can generate its backup automatically.
The built-in backup feature of Webflow, however, allows for two backups for starter plans and an infinite number of times for its Pro Plan.
10. Additional Support & Factors
The winner here is Duda. The editor will offer FAQ, phone, chat, and email support to give their users the best support possible.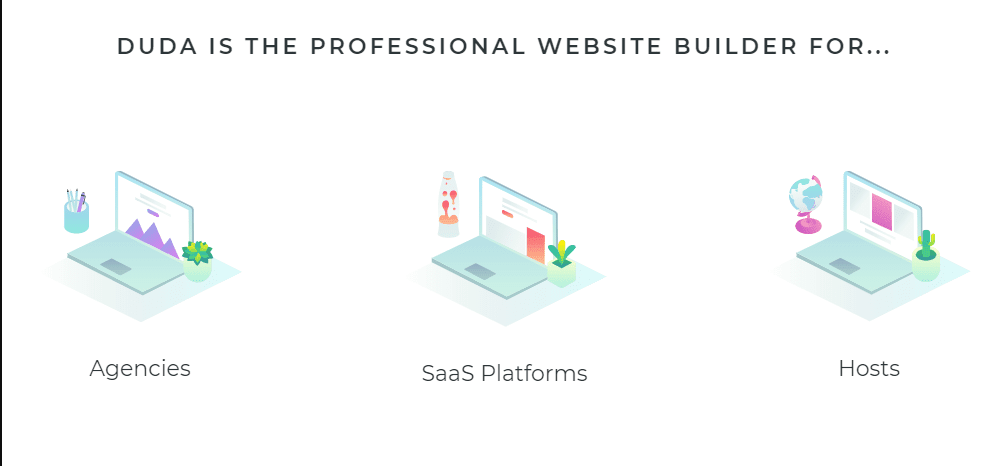 Users of Webflow are not given access to telephone support. However, they can reach out to the customer service team through chat, email, and an extensive FAQ page. 
Webnode has a significant disadvantage in that it only offers FAQ and email support.
Note: All website builders provide extra features, such as contact forms and the ability to add HTML code, among others.
The editors also offer monetization services, such as adding Google AD sense advertisements and other forms of advertising. You can even acquire domain names with the aid of website builders, which also provide free promotions.
FAQs on Webflow Vs Webnode Vs Duda
What are the essential factors that need to be considered while comparing multiple Website Builders?
The selection and consideration of factors depend on the importance of features you require or prefer. If you are planning an online website for e-commerce purposes, then e-commerce-related features are a must while building a website. Moreover, you can add blogging as a must-have feature if you desire to start your blogging page. Besides this Customer support, pricing, and Security of the website are the most critical factors for every type of website.
Why does every website builder emphasize Mobile Responsive Websites?
If you are not making mobile responsive websites, then your user easily believes that the website builder is not updated with the technologies. Even most of the survey results reveal that more than 65% of digital media is accessible via mobile and the rest approx.—35% via desktop or laptops. Even studies state that mobile phones achieved their turning points in late 2016 which means most people around the world prefer using mobile over laptops or desktops. Thus, we can say that if you are offering a Mobile responsive website, then only you can survive in the market.
Will these Website builders will provide technology for website creation that lasts for years?
Yes, of course, nowadays website builder provides the latest technology and features to their users for building their websites. However, if an unexpectedly new technology comes out, then, later on, they will assist you with the same by launching an updated version of the website.
Do I need to learn special skills for using these programs for building websites?
No, you are not required to learn special skills for using these website building programs. Even, these editors are uniquely designed to assist non-developers or beginners in creating websites. Moreover, they have various video tutorials and customer support features that will help you.
Do I need to hire any professional for creating and designing my website if I am using website builders like Webnode, Webflow, or Duda?
No, not. You are required to hire any professional for website creation. All you need to visit the website builder's pages there you will get tutorials for creating a website. Also, you can take guidance from their technical experts. And, if still, you face any issues then you can consult a professional. But, it would help if you tried firstly by yourself.
Quick Links:
Conclusion: Webflow Vs Webnode Vs Duda 2023
Following a thorough and functional analysis, we came to the conclusion that Webnode is the best option available. 
However, the market offers a wide range of choices. But Webnode has been able to refine its features to outperform rivals in the website-building industry.
Duda is challenging Webnode in the majority of areas, particularly customer service. However, the final results table shows that Webnode has triumphed.