Duda and WordPress are both state-of-the-art website builders with lots of advanced features.
WordPress is a free and open-source platform that can be used by anyone. It provides a large marketplace of plugins from third parties that you can easily integrate with your website.
Duda is not an open-source platform; you have to subscribe to its services for using its website builder.
Both platforms offer some great features and are widely used by people worldwide. So, it can be a strenuous situation for you to decide which website builder will work best.
After going through this in-depth review, you will be able to decide which website builder platform is right for you. So, let's jump in and explore both platforms in some detail.
Duda Vs WordPress: Overview
Below we are going to tell you top to toe information about Duda Vs WordPress which will surely help you to make a decision.
Overview of Duda:
Duda is a leading online website builder and hosting platform. It offers various advanced features to build your websites and pages.
It also provides several templates that are highly customizable. For using Duda, you need to become a subscriber of it. Duda is not available for free as it is not an open-source platform.
It can be used for building blogs, business websites, online stores, etc.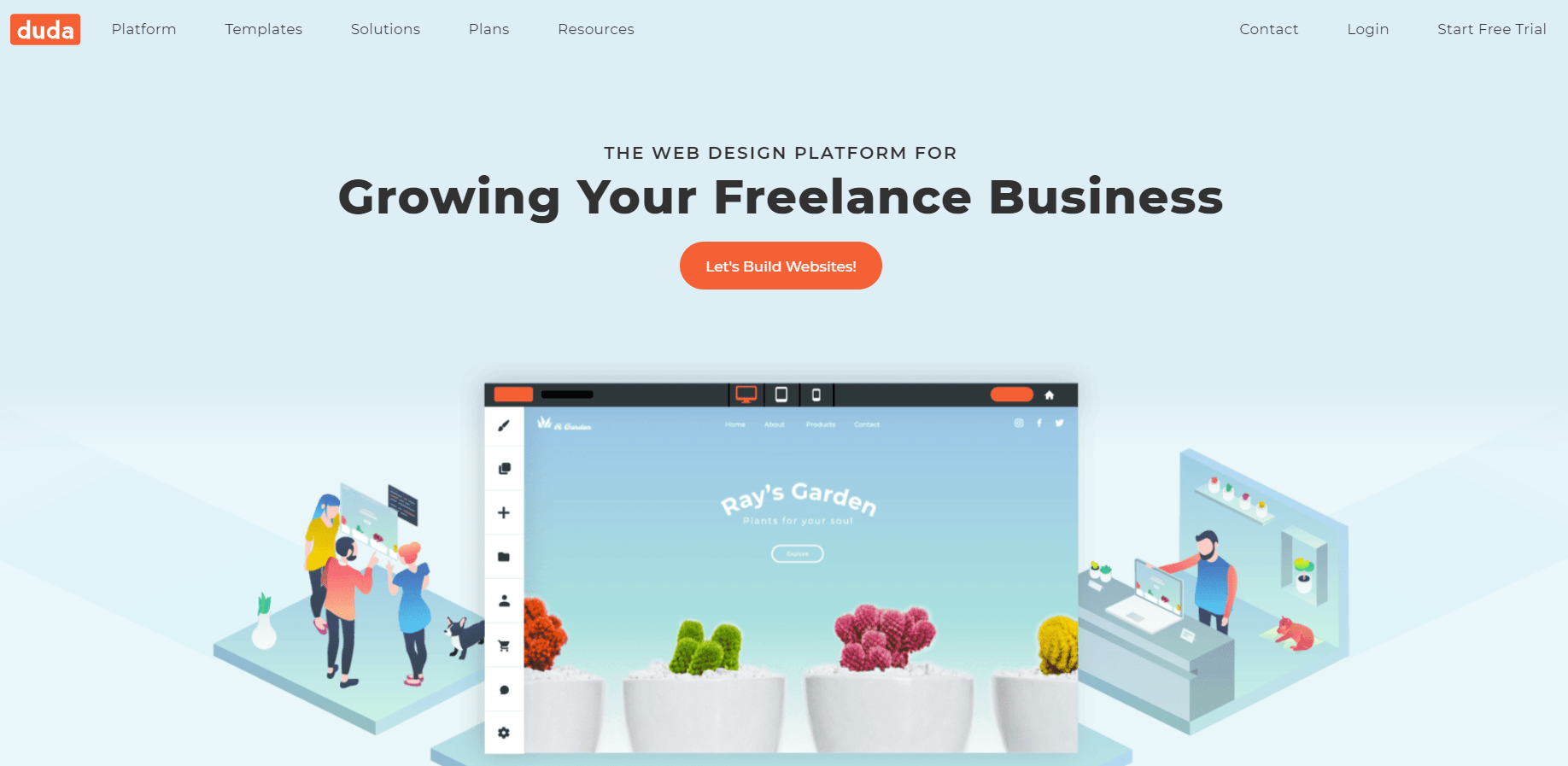 Overview of WordPress:
WordPress is a Content Management System developed using PHP and MySQL or MariaDB database. It is a free and open-source platform.
WordPress consists of a plugin architecture and has a template system, which is known as "Themes" inside WordPress.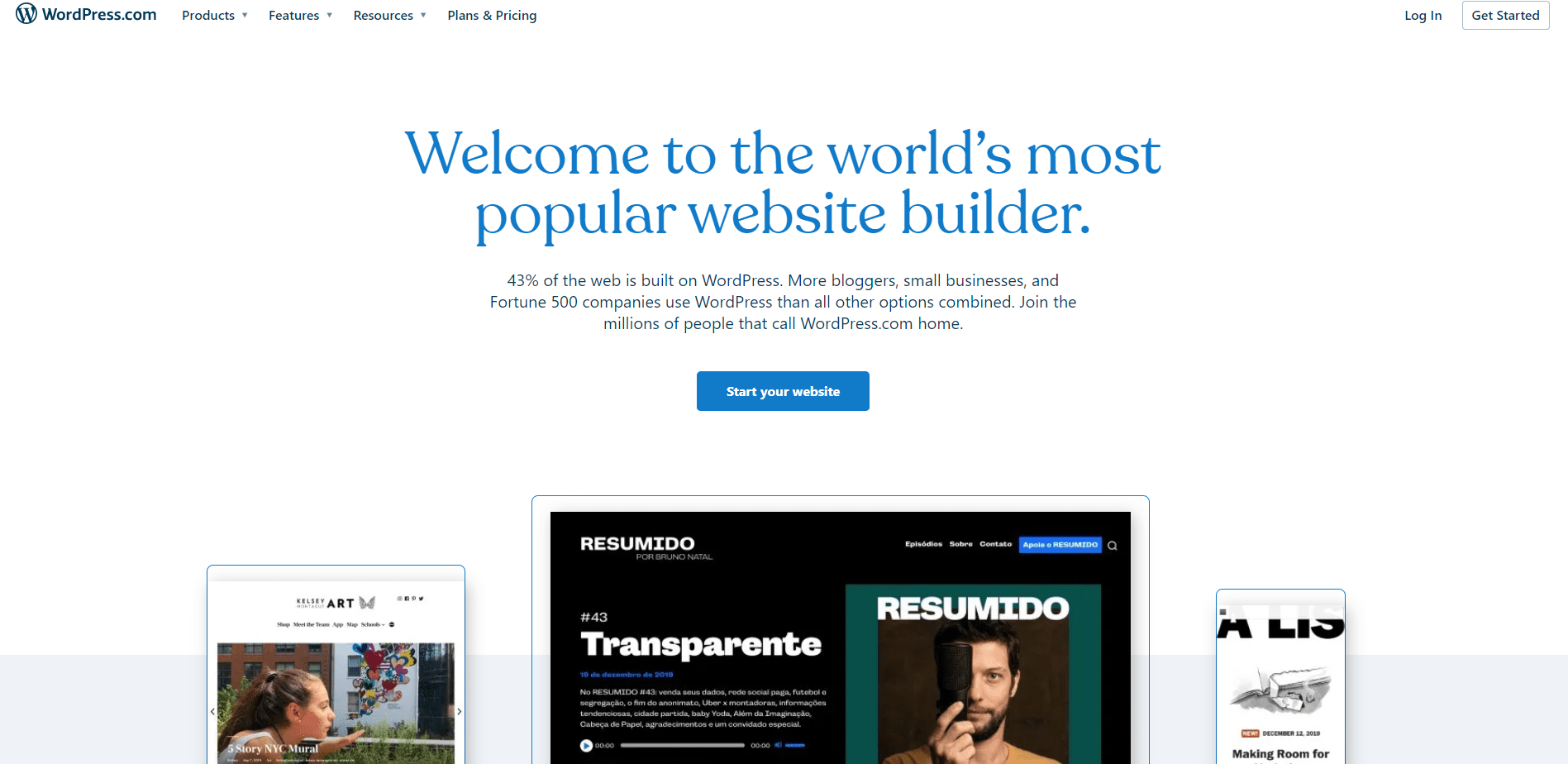 Duda Vs WordPress: Design Options & Templates
WordPress:
It provides over 130+ free templates and 180+ premium templates. These templates are easily customizable without any limitations, as it is open source and are known as themes in WordPress.
Its business plan, also allows you to use templates from third-party vendors.
Duda:
It provides you with more than 90 mobile-responsive templates. These designs can be found according to different categories on Duda. It also offers blank templates if you want to design templates from scratch.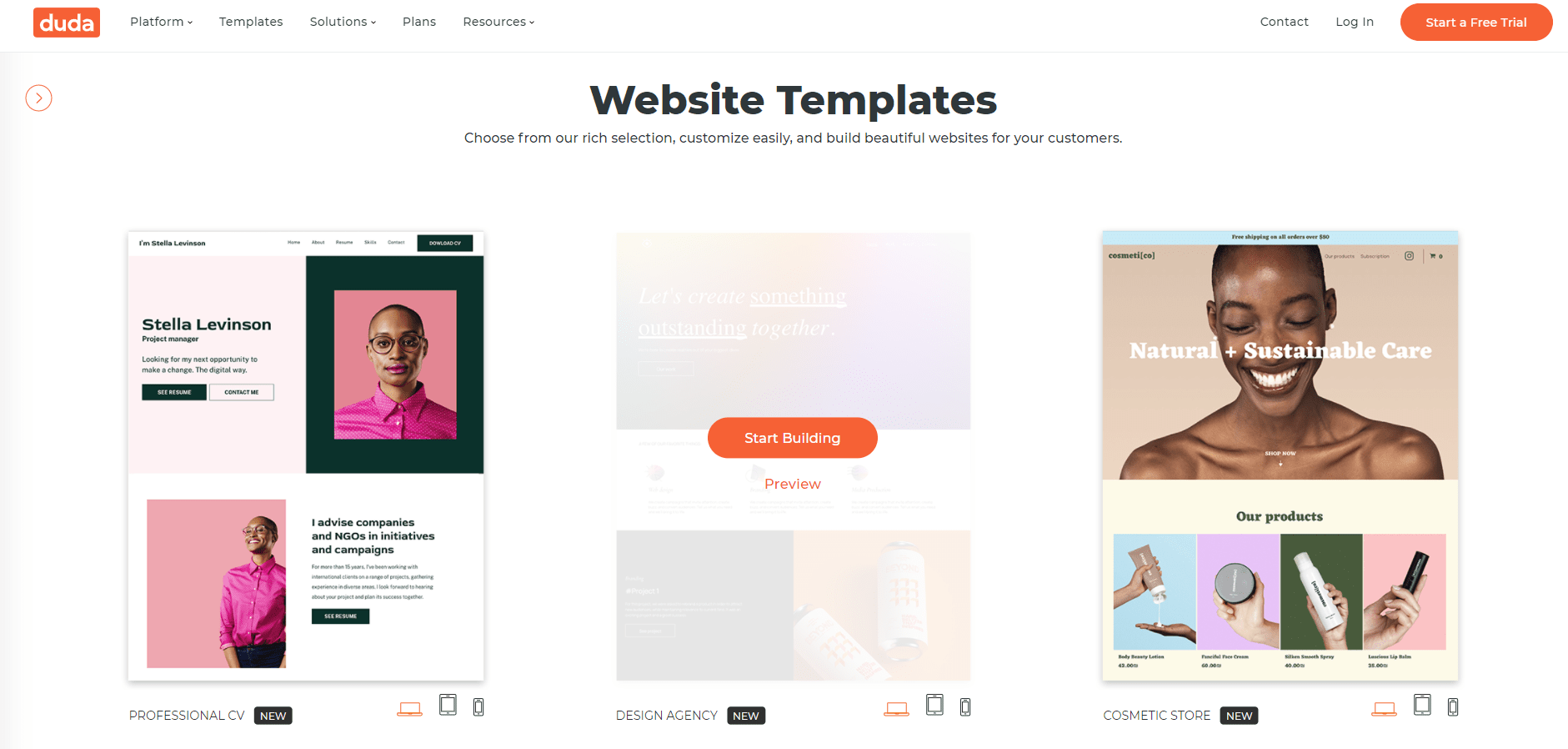 However, as Duda is a closed-source platform, the degree to which you can customize your templates is limited, depending on the tools it provides.
Winner: WordPress is clearly the winner here.
Controls & Customizations of Duda Vs WordPress:
WordPress:
Since you host WordPress on your server, you have full control over all the functionalities. You can completely customize its source code consisting of HTML, CSS, and any other programming language.
Thus, WordPress is an excellent alternative for developers who want every element of their site according to them.
Duda:
Duda also offers you modifications to your content using HTML, and CSS offers tools to modify your template design.
However, your site's content should be according to Duda's terms and conditions; otherwise, your site can be taken down on the violation of their norms.
Winner: WordPress again wins this round.
Scalability of Duda Vs WordPress:
For the healthy growth of your business, scaling your website is essential. Both Duda and WordPress provide the functionality to expand your website with ease.
Duda:
Duda gives you unlimited resources and bandwidth even on its Basic Plan, which means you don't have to jump on a higher plan just because your website is growing.
However, Duda's eCommerce facility is limited. If you want to sell more than ten products, you have to buy an eCommerce add-on for products.
WordPress:
The resources in WordPress are limited in lower-level plans. For unlimited storage, you have to go for WordPress's higher plans.
But if we compare the WordPress eCommerce feature with Duda, then it is more flexible. Using its Business plan, you can sell products without any limit and add thousands of plugins without any extra cost.
Winner: There is a tie between Duda and WordPress in the case of scalability.
Editors in Duda Vs WordPress:
Duda:
Duda's website editor has Drag-and-drop functionality with many advanced tools combined with it. It makes the editing of the website effortless and flexible.
Inside Duda, when you go to the "new section," you will see a wide range of options like FAQs, testimonials, contact us, pricing plans, etc.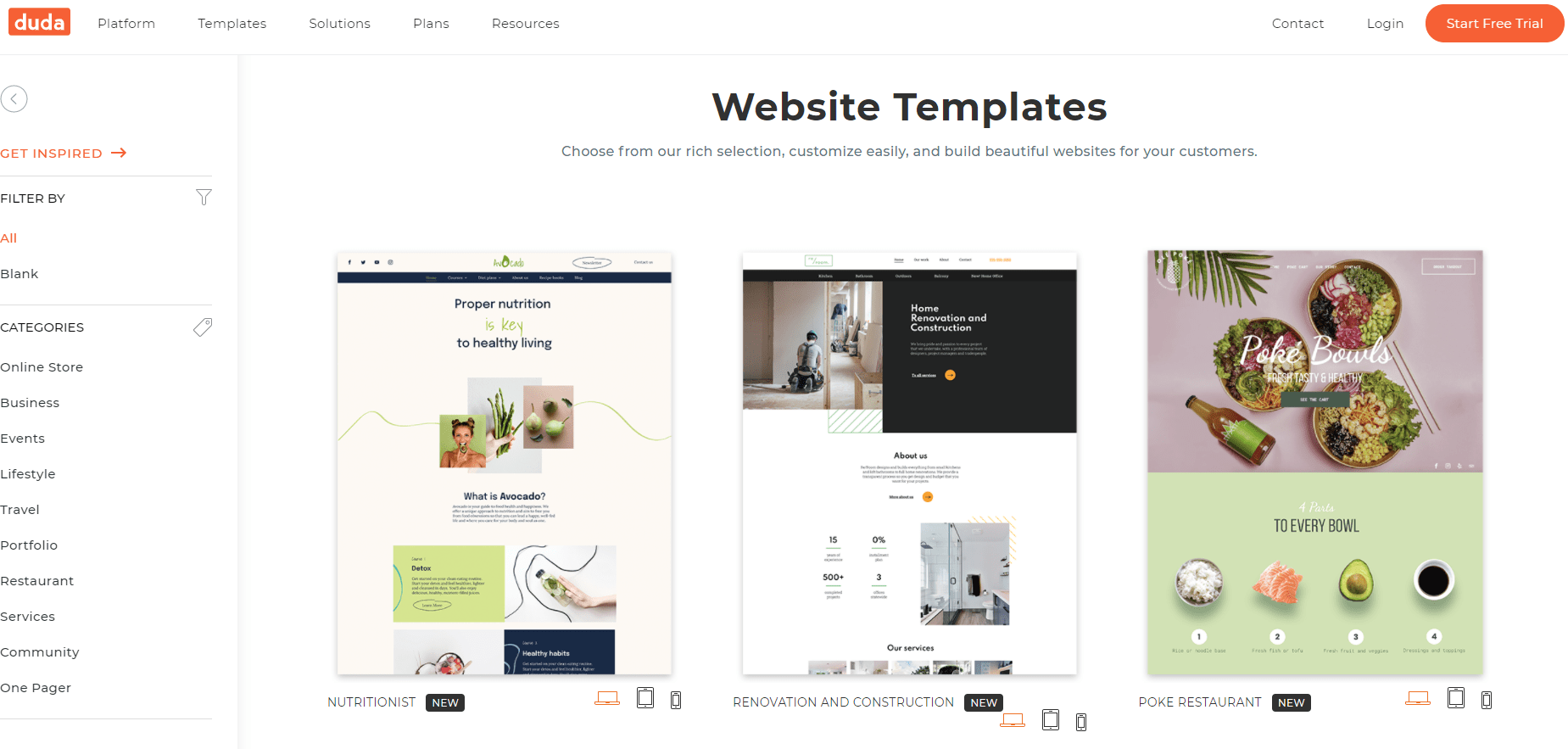 It makes the creation of your web pages easy and quick and allows you to customize your content with ease.
You can also add any number of widgets to your pages with just in few clicks, which includes some primary elements like icons, text, buttons, and titles and some more advanced features including maps, click-to-call, galleries, etc.
WordPress:
WordPress is limited. It does not have a drag-and-drop editor, and for previewing your page, you have to go to a separate tab.
Although you can use a visual editor with WordPress, you will need a plugin like Elementor for the same. And the problem is that installation of plugins is available only with Business and higher plans.
Winner: Duda wins this round with its super easy Drag-and-drop editor.
Duda VS WordPress: eCommerce Features
WordPress:
WordPress does not have in-built functions for eCommerce, but with the help of the WooCommerce plugin, you can quickly add eCommerce competence to your website.
It provides a user-friendly wizard and customization options according to your requirements and preferences.
Additionally, WooCommerce provides hundreds of plugins to expand the functionality of your online store further. You can also integrate any payment gateway with it.
Duda:
Duda provides built-in features for building an eCommerce site with its advanced plans, but the restriction is that you are limited in the use of payment gateways and the features you will get with Duda.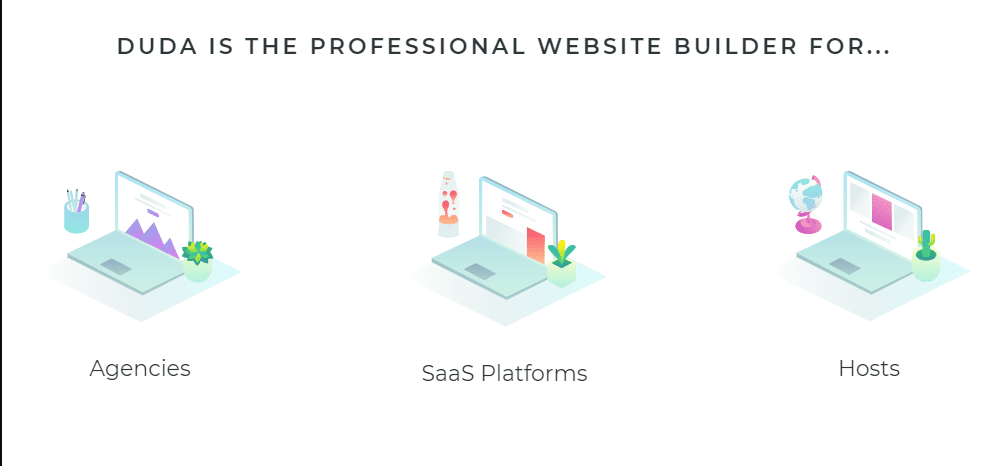 Winner: Naturally, WordPress wins here by providing a more comprehensive range of features for your online store.
Blogging in Duda vs WordPress:
Whatever the type of your website, having a blog section adds extra sparks to it. It is a modern way to add more content to your site and rank high in search engine results.
WordPress:
WordPress was initially designed mainly as a blogging platform, so it inherently has focused tools for blogging. It makes implicit use of tags and categories to add to your blogs using the navigation menu.

Also, WordPress makes it easy for you to go back to a previous version of your post if you don't like the current changes in your post and want to restore it.
It also offers the option of scheduling your posts for a future date.
Duda:
Duda's blogging capabilities are not as extensive as that of WordPress but are still usable. It provides a general layout for the blog posts, which is separate from your post content.
It also limits the visitor's comments on your blog posts. Currently, only registered users with Facebook can comment via the Duda website builder.
Winner: WordPress is the clear winner here
Core and Value-added Features | Duda Vs WordPress:
Duda:
Duda is packed with all the tools and features you require to set up your business website and start running, including tools like email campaign management and social media integration.
But the negative is that you are limited in what you get with Duda. The value-added features that Duda provides consist of targeting a specific group of customers with customized pop-ups, newsletters, messages, etc.
It supports over 55 languages for your websites. You can add tooltips to your images, import content from an existing website, and can take automatic backups of your data.
WordPress:
WordPress begins with primary features for blogging and allows you to expand your website's capabilities using thousands of free and paid plugins available through third-party vendors.
The good point here is that there is no limit on these plugins' additions; you can add as many as you want.
WordPress's value-added features are targeting repeated visitors on your site, support for over 70 languages, custom URL format, site export, easy comment management, etc.
Winner: There is a tie, in the case of features, as they both have some pros and cons.
Duda Vs WordPress: Customer Support
WordPress:
As WordPress is open-source software, it is not that famous for its customer support system. However, it provides many resources for its customers, like support pages and discussion forums. But it lacks chat support directly.
However, you can find support from the developers of many WordPress products. Many guides are also available online to help you out at any point in your website's development.
Duda:
Duda is closed-source software, it provides a dedicated support team for its customers that offers email and live chat support. Additionally, they provide other resources like webinars, workshops, guides, and forums to support their customers.
Winner: Both Duda and WordPress offer support using different ways. Duda offers it directly, while WordPress offers it through the developers of their plugins and themes.
FAQs On Duda Vs WordPress
🤷‍♂️ What is a Duda?
Duda is a leading web design platform for web professionals and agencies of all sizes, with powerful team collaboration and client management tools for building and managing websites at scale.
👉 Is Duda any good?
Duda may not be the best website builder out there, but it's still a solid choice – especially if you're a freelancer or agency looking to build multiple sites quickly and easily. It's pretty unique in its client management features, helping you to create a professional service. Where Duda really shines is its designs.
🙋‍♀️ Who uses Duda?
Duda is most often used by companies with 10-50 employees and 1M-10M dollars in revenue.
🤔 What is WordPress used for?
WordPress is a web publishing software you can use to create a beautiful website or blog. It just may be the easiest and most flexible blogging and website content management system (CMS) for beginners.
🤷‍♂️ Is WordPress for free?
WordPress is released under the GNU General Public License (or GPL), which means anyone can download, edit, customize, use, and even sell the code as long as they release it under the GPL license. The software itself is free but you might end up paying for Hosting. Premium support.
Quick Links:
Conclusion: Duda Vs WordPress Comparision
In this comparison of Duda Vs WordPress, clearly, Duda is the winner as it is affordable, highly scalable, and much more flexible.
But it does not make WordPress any less worthy of using as your website builder.
In the end, the decision depends on your business requirements, and how you want your website to handle different things.
Suppose you have no time for single-handedly watching over every aspect of your website, In that case, you can go for Duda, as it provides some highly efficient out-of-the-box features like content importing, and a drag-and-drop editor that you will not get with WordPress.
However, if you want your website's each elements to be fully customized or just want a simple blogging site without any advanced features and functionalities, then you can go for WordPress.
That's all about Duda vs WordPress.
Now, if you like my review, then please like, share, and comment your words on it.