This article is based on Elementor Alternatives.
Read this full article and find your idol.
One of the greatest and most popular WordPress page builders is Elementor (and its commercial version, Elementor Pro). However, there are alternative solutions available.
You've come to the correct spot if you're seeking the greatest Elementor alternatives. I'll tell you more about the Elementor page builder and show you some of its greatest alternatives in this article.
Why? While Elementor is often regarded as the greatest page builder, it may not be ideal for your purposes. Perhaps you're turned off by their subscription-based pricing strategy, or perhaps you can't discover a feature you need (which, btw, is unlikely).
It doesn't matter; you've come to the correct site if you're seeking Best Elementor Alternatives.
5 Best Elementor Alternatives 2023
Let's start the series of alternatives and know about them closely.
1. Divi Builder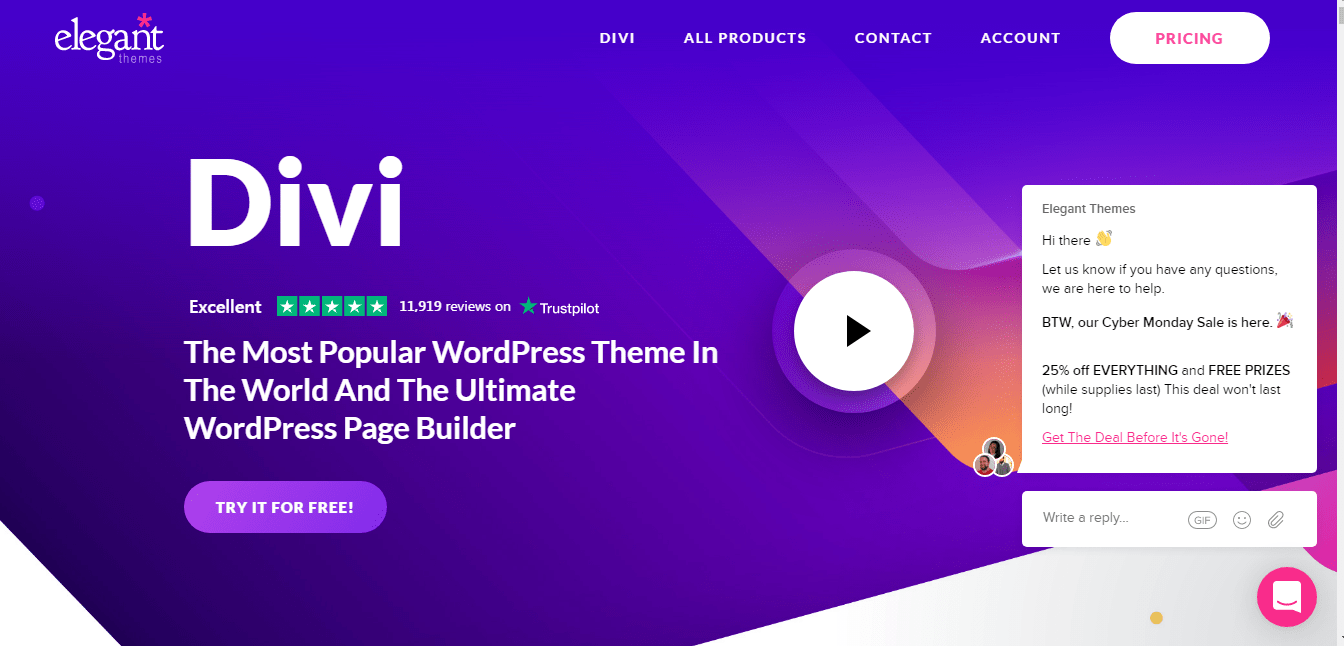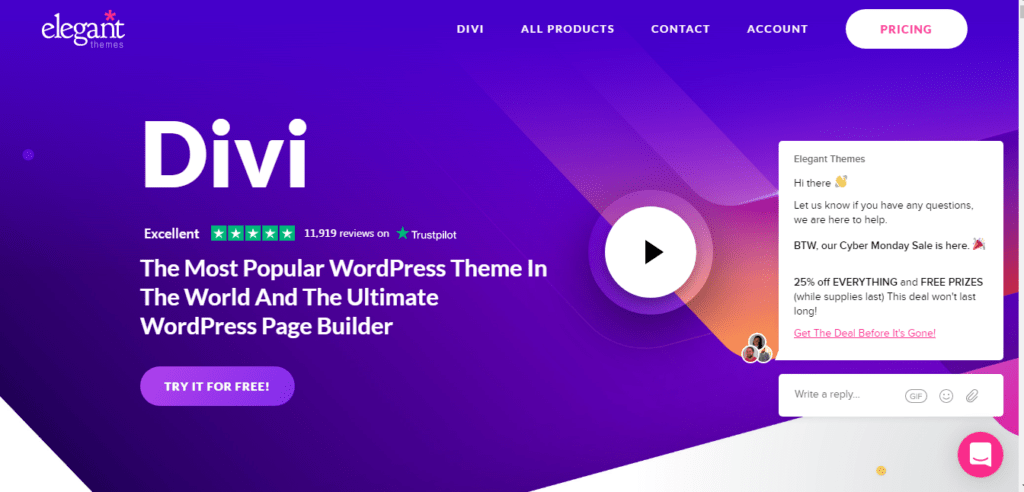 Divi Builder is the most powerful page builder available. In terms of strength and popularity, they also offer the Extra magazine theme and two WordPress plugins (Bloom & Monarch), but nothing compares to Divi Builder.
Divi Builder is a powerful WordPress page builder that might be intimidating at times, particularly if you're a complete newbie. It's jam-packed with all the tools you'll need to build great websites without knowing how to code.
That's undoubtedly why Divi is so popular among web designers and company owners. Divi page builder is a visual editor that replaces the regular WordPress post editor. It's ideal for agencies, freelancers, and ordinary website proprietors.
Key Features:
Visual designer with drag-and-drop functionality
CSS control that can be customized
There are several design alternatives available.
Text editing in real-time — just clicks and type.
CTAs, sliders, forms, blogs, and other design components are among the 40+ available.
There are over 800 pre-made website templates available.
There are several transition effects.
There are hundreds of web fonts to choose from.
Images, colors, gradients, and videos for the background
Colors are limitless.
Beaver Builder isn't your standard WordPress page builder plugin. It's a full-fledged design system. It's a kind of engine; a comprehensive toolset that makes creating WordPress websites easier.
It's really simple to use and gives you the ability to alter any aspect of your website like a skilled web developer. It's presumably why businesses like GoDaddy, WP Engine, Hi-Chew, and Crowd Favorite, among others, choose Beaver Builder as their page builder of choice.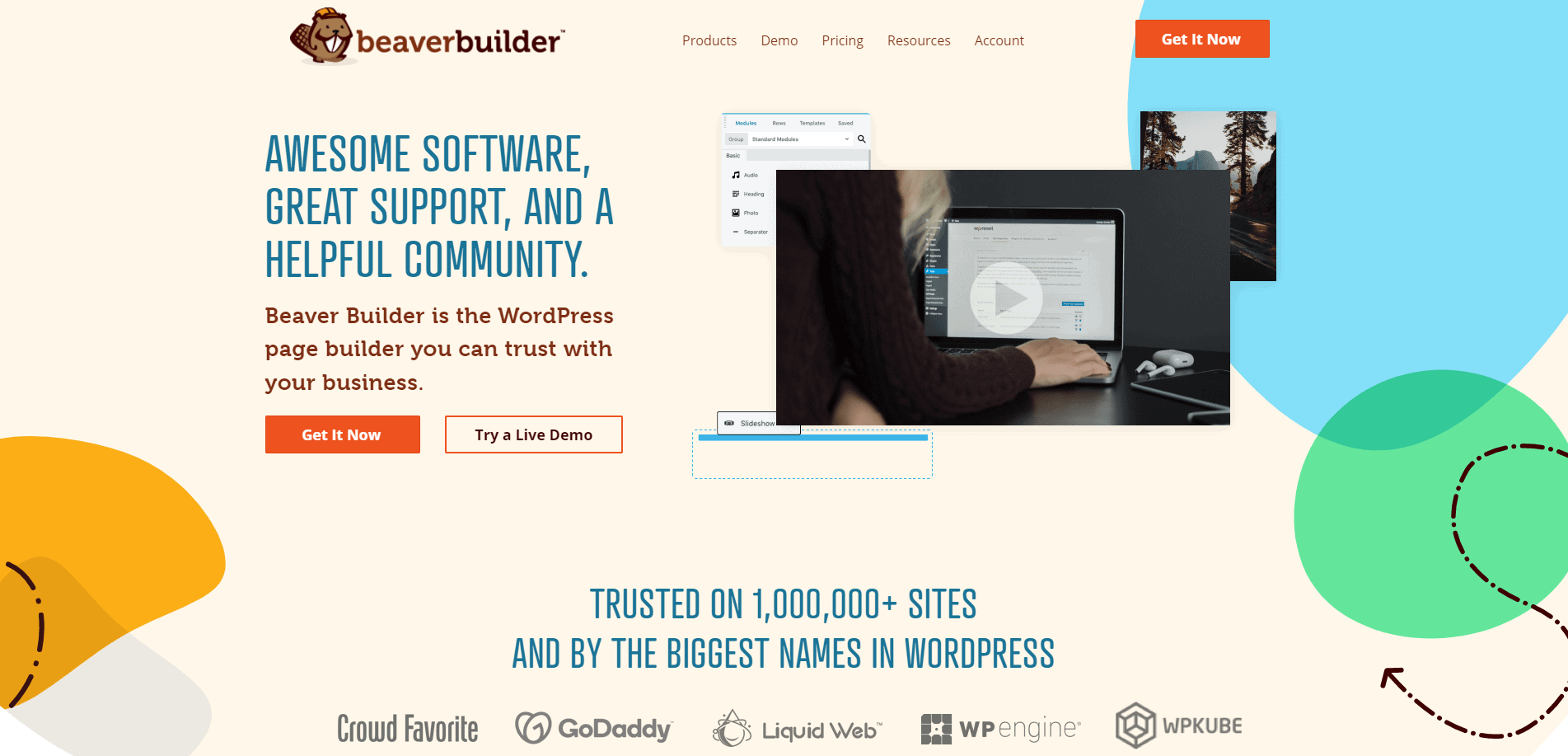 Beaver Builder enables you to create attractive and fast WordPress websites that turn casual visitors into long-term clients. In minutes, not months, you can develop distinctive and bloat-free websites.
Key Features:
Website builder with drag-and-drop functionality on the frontend
WordPress theme Beaver Builder
All WordPress themes are compatible.
Mobile-friendly and responsive
Support for shortcodes and widgets
Translation-ready \sDeveloper-friendly
WooCommerce is fully supported.
SEO-tuned and optimized
Templates that may be reused
29+ content modules built on the Bootstrap framework
3. Themify Builder
Themify Builder provides you with all of the tools you need to build great WordPress websites without having to know how to code. It includes both a backend and frontend editor, giving you even more options for turning your ideas into reality.
They provide a free WordPress plugin, so I tried it out and found it to be well worth the money. You can drag and drop any website under the sun thanks to a simplified visual editor.
Because you can churn out website after website with relative simplicity, Themify Builder is fast becoming a Photoshop designer's go-to tool.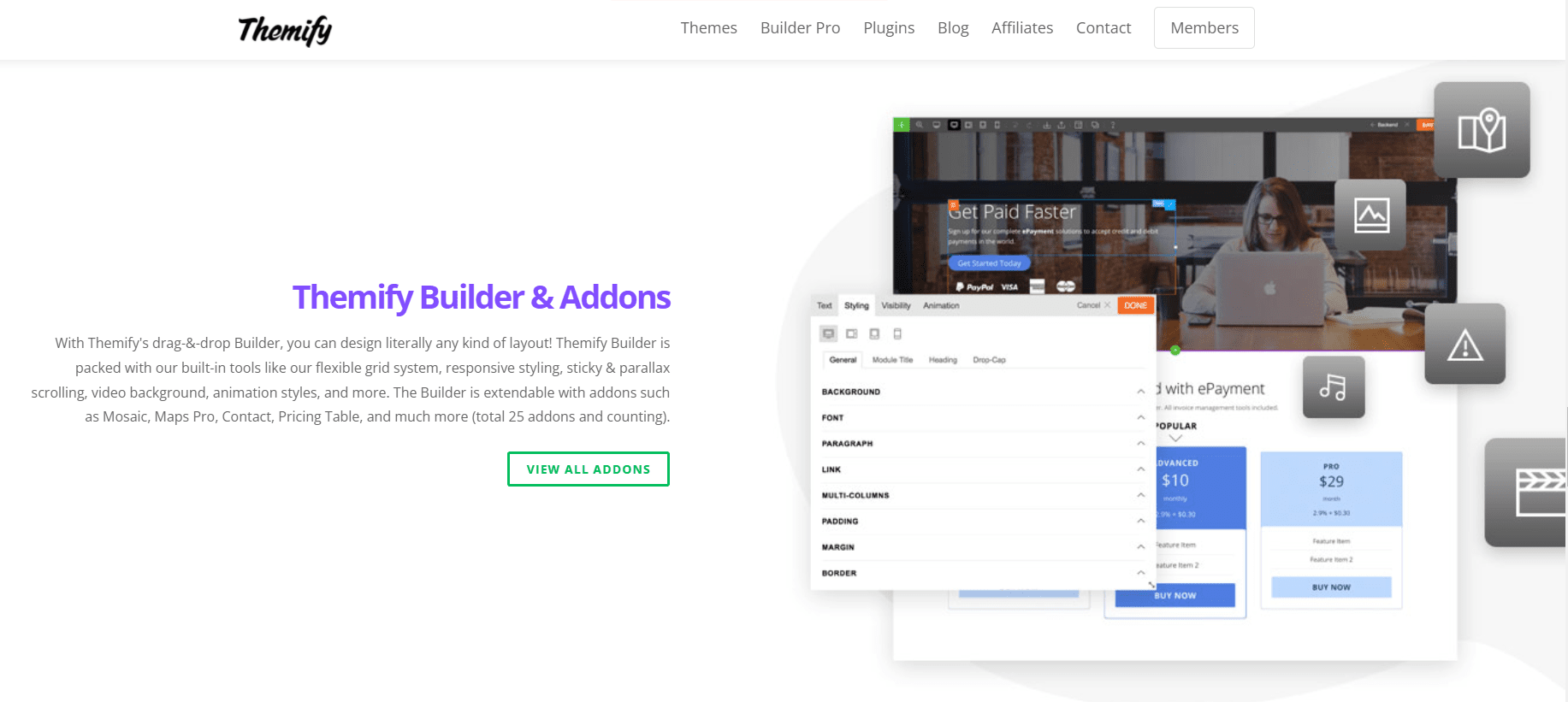 It's a lot of fun to set up and use Themify Builder, but if you get stuck, they're really responsive and provide fantastic instructions.
Although Themify Builder Pro is included with their themes, it also works well with other WordPress themes. It also supports a large number of your favorite plugins, so you know it'll be enjoyable.
Key Features:
Design that is responsive and mobile-friendly
Editing live previews in the frontend
Editing on the backend is simple.
There are plenty of content modules to choose from.
Complete styling control
Slider, parallax, picture, gradient, color, and more backdrop options are available.
There are over 60 animations and effects to choose from.
There are more than 60 pre-made website templates available.
SEO-friendly
Modern WordPress themes and plugins compatibility
4. Gutenberg
Gutenberg, unlike the previous Classic Editor, makes use of content blocks. All you have to do now is add blocks to your post or page.
You can drag and drop blocks around, but it's not as versatile as, say, Elementor. Because Gutenberg is now part of the WordPress core, it is entirely free.
Even yet, it falls short of established WordPress page builders like Elementor and Divi. It, for example, does not provide page templates, which are standard in most page builders.
It's a long way from becoming a full-fledged page builder in terms of capability (at least not yet). Then there's the drag-and-drop functionality we described before.
You can move blocks up and down, but you can't resize them, stack them on top of one other, or make intricate structures. Also, unlike other WordPress page builders, Gutenberg is a backend editor, allowing you to modify your website on the frontend, giving you a real-time preview of your page as you develop it.
You can't use Gutenberg to modify your navigation menus, widgets, or other parts of your website that aren't related to the post/page content you're working on, for example. In a standard page builder, editing such places is not only feasible but also rather simple.
Key Features:
Blocks numbering in the hundreds
Page creation by dragging and dropping
Reusable blocks should be saved.
Patterns for adding features like columns, buttons, and so forth.
Options for undo and redo
Colors are limitless.
The colors for the backdrop are endless.
Capsules should be dropped
CSS classes that are unique to you
Anchors in HTML
Images used in this article
Tags and classifications
Post/page options relevant to the theme
Full-screen viewing mode
All WordPress themes are compatible.
Keyboard shortcuts Numerous add-ons
Thrive Suite is an online toolkit for online companies, large and small, brought to you by Thrive Themes. It includes a really interesting WordPress page builder.
The page builder is lightning quick, ensuring that there are no roadblocks between your concept and the company website you want. Thrive Suite is the easiest visual website builder to use for producing high-converting homes, landing, webinars, product launches, and sales pages.
You'll be creating high-value materials like a copywriting expert in no time. Did you know that Thrive Themes was the first company to provide a frontend editor? Yes, and the visual builder that comes with Thrive Suite is evidence of that.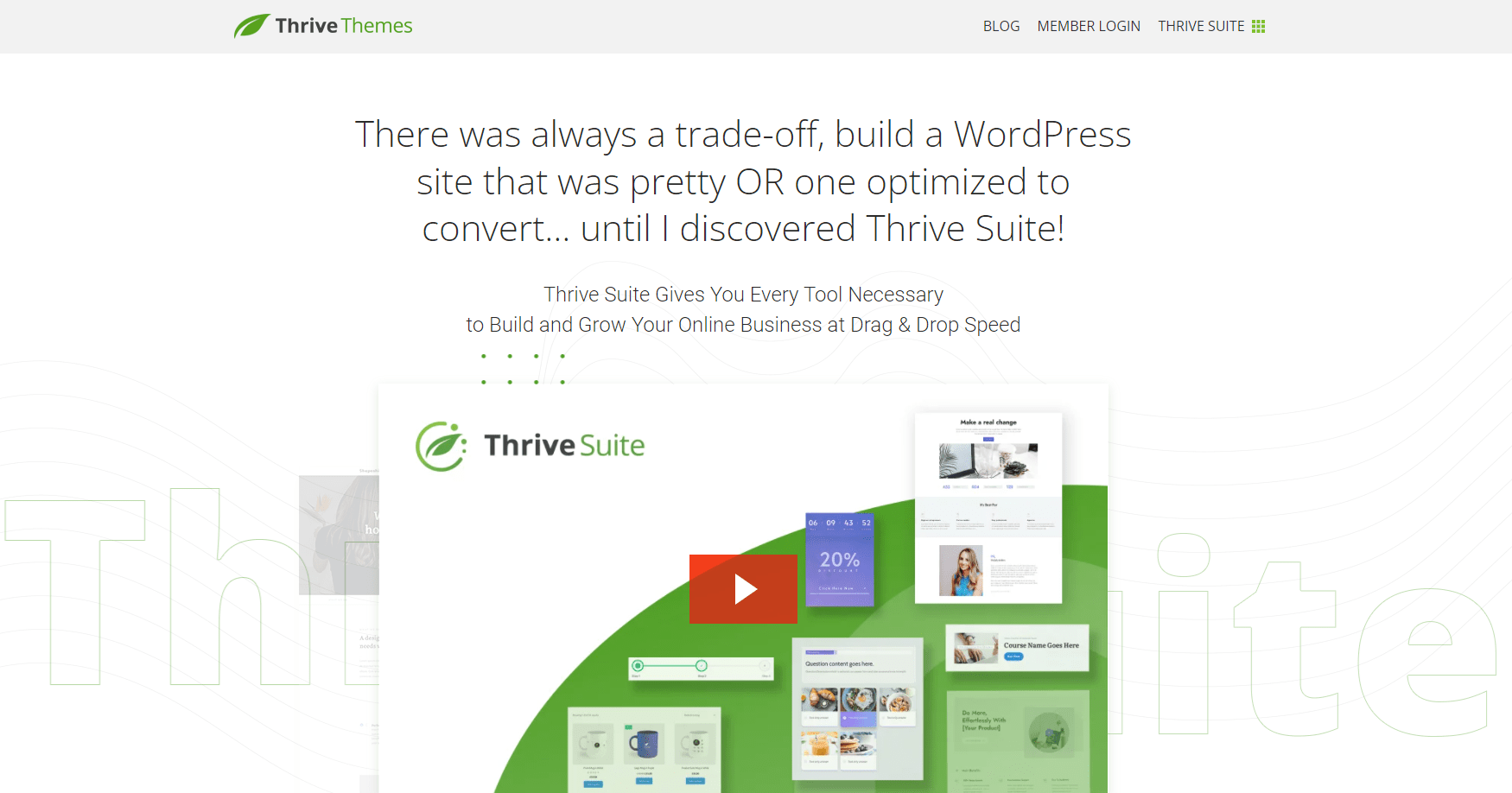 Building your website graphically using the frontend editor is not only quick but also enjoyable. The page builder reflects their philosophy of quick implementation.
That means you can get things done quicker and save a lot of time. You also have access to hundreds of integrations, allowing you to automate your process with just a few clicks. You may use the connectors to operate your company on autopilot after your website is up and running.
Key Features:
269 wonderfully crafted landing page templates that are 100% conversion-oriented
Drag-and-drop builder on the frontend
Blog entries that are well designed
Column layouts that are very adaptable
Text and picture pairings that catch the eye
Font customization to the nth degree
Various backdrop designs
Hover effects that are more advanced
Design that is responsive and mobile-friendly
Animations and actions that are dynamic
Hundreds of conversion-focused construction boxes
Thousands of Zapier and other service integrations
On steroids, lead generation
Quick links:
Conclusion: Best Elementor Alternatives 2023
Today's world is dominated by WordPress page builders like Elementor, Divi, Beaver Builder, and others. A page builder is a WordPress plugin that lets you develop web pages graphically.
Page builders allow you to design a website by dragging and dropping pieces into a canvas, among other things, rather than entering lengthy lines of code.
Elementor is a fantastic WordPress page builder that simplifies the process of developing websites. It comes with a simple visual builder and a slew of unique features.
Nonetheless, it could not be ideal for your requirements. We hope that the above comparison article aids you in your search for the best Elementor alternatives for your company.
Which WordPress page builder is your favorite? I'm going to remain with Elementor and Divi. So, how about you?