This article is on Best HubSpot Alternatives. Read the full article to know about the best substitutes.
If you're an internet marketer, you've probably come across the term 'HubSpot.' Perhaps you used its free tools or enrolled in one of its ever-growing online courses.
HubSpot bills itself as a full-service marketing platform for companies. Email marketing, CRM, CMS, marketing automation, landing pages, lead management, customer assistance, and SEO tools are among the services it provides.
Although its free plan is generous, upgrading to its subscription plans for more features is expensive. When there are HubSpot alternatives with more functionality and lower costs, it's difficult to justify the expense.
Check out our list to see which HubSpot alternatives are suitable for your company.
Are you a web design & development freelancer or agency looking to complete assignments more quickly? Read our expert's Duda Review to get the best results.
5 Best HubSpot Alternatives 2023
Let's jump into the best alternatives of HubSpot and find the idol one as per the requirements.
1. Constant Contact
For email marketing automation, Constant Contact is the finest HubSpot alternative. Small companies may use Constant Contact's marketing automation and CRM software for a low cost.
Customers may use the platform to automate email marketing, eCommerce, websites, and social media marketing campaigns. Constant Contact gives outstanding stats and insights into marketing campaigns to its subscribers.
You may utilize the software's drag-and-drop editor to develop engaging email marketing campaigns, set up an online shop and website, and more using its drag-and-drop editor.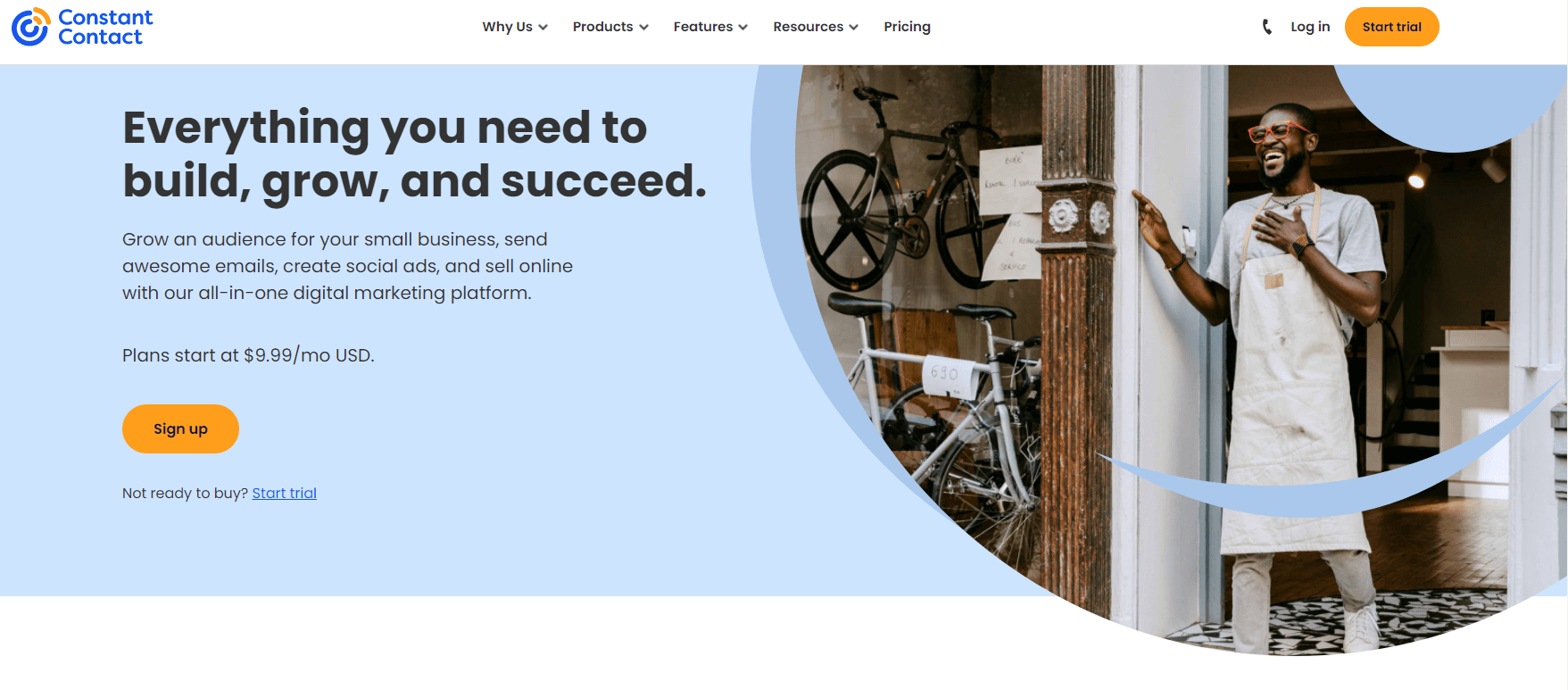 You may use the platform's enormous collection of email newsletter templates, online shop templates, website templates, and landing page templates. Coupons, events, polls, maps, and more widgets may be added.
With Constant Contact's email marketing solutions, you can communicate with your audience more effectively. Create the best email newsletters for your audience with its email template generator.
There is a template for every purpose when it comes to email marketing. Users may choose from hundreds of email templates. Sales promotions, thank you or welcome notes, and product debuts are all covered by templates.
All of the templates are mobile-friendly. Set up welcome emails for new subscribers, trigger email series, contact segmentation, resend emails to non-openers, and grow your email list using email newsletter software.
GetResponse is the greatest HubSpot alternative with Landing Pages and Conversion Funnel. GetResponse is a robust marketing automation platform that enables small companies to send emails, develop landing pages and funnels, and automate their marketing campaigns.
GetResponse now supports 27 different languages. For small companies, GetResponse has one of the greatest marketing automation tools.
It can handle all areas of online traffic management, including traffic creation and conversion, using its conversion funnel tool. The conversion funnel functionality includes a variety of pre-built funnels for various business scenarios.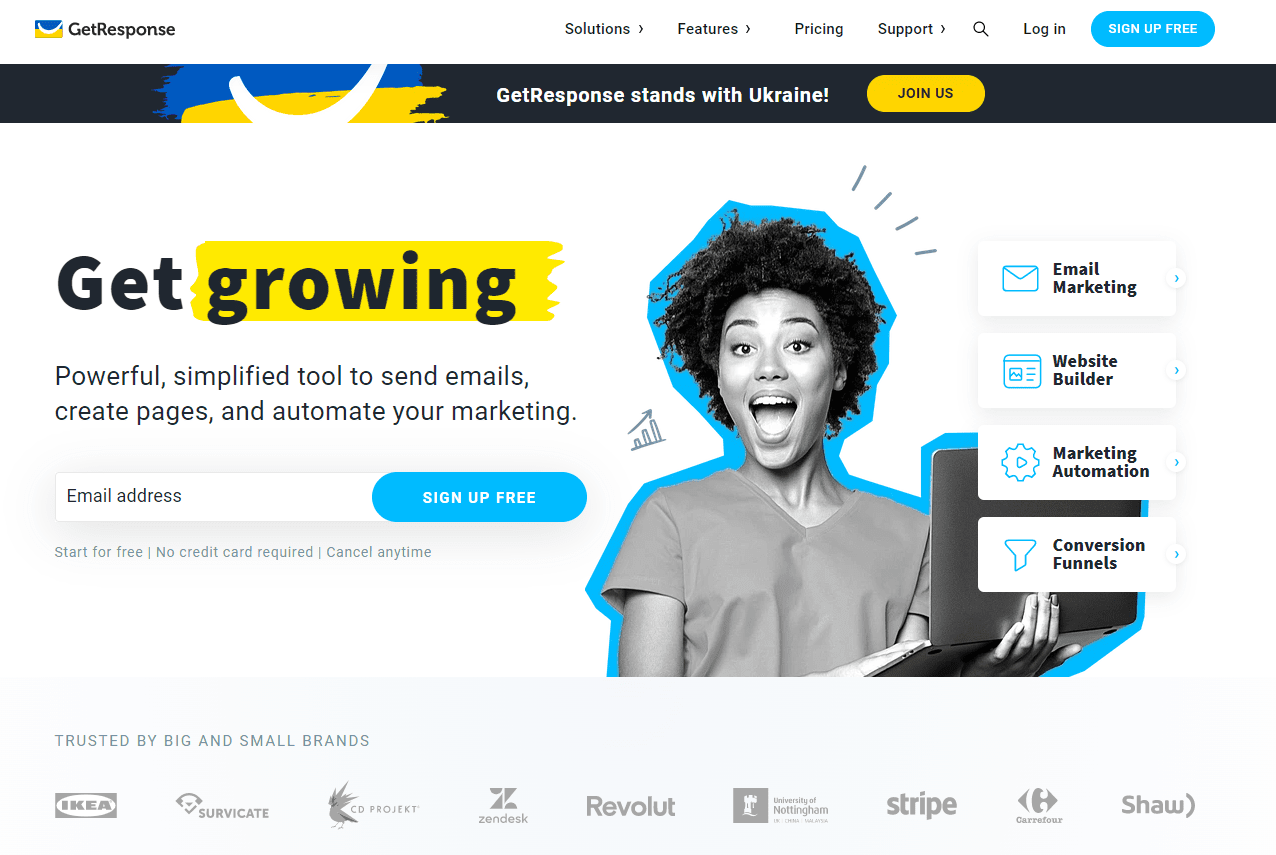 Simple opt-in funnels, lead magnet funnels, sales funnels, and webinar funnels are among them. Users may construct landing sites, email newsletters, and email automation using GetResponse.
Its marketing automation features may be used to sell digital and physical items, create lead magnets, and monitor and retarget abandoned carts.
BigCommerce, WooCommerce, Magento, Etsy, Shopify, and PrestaShop are just a few of the eCommerce platforms GetResponse works with.
For eCommerce Automation, Drip is the finest HubSpot alternative. For its robust email marketing and eCommerce automation tools, Drip is one of the top HubSpot alternatives.
The platform has 6,500+ eCommerce enterprises utilizing its services due to its emphasis on eCommerce automation. Advanced email marketing automation is available with the eCommerce CRM platform to increase conversions to your online business.
Drip makes it simple for consumers to launch an online business and maintain it profitable for years. The Drip board allows users to combine client data from several platforms into a single dashboard.
This act makes it easier to monitor and manage a customer's journey. Drip allows you to follow your leads or customers' behaviors in great detail.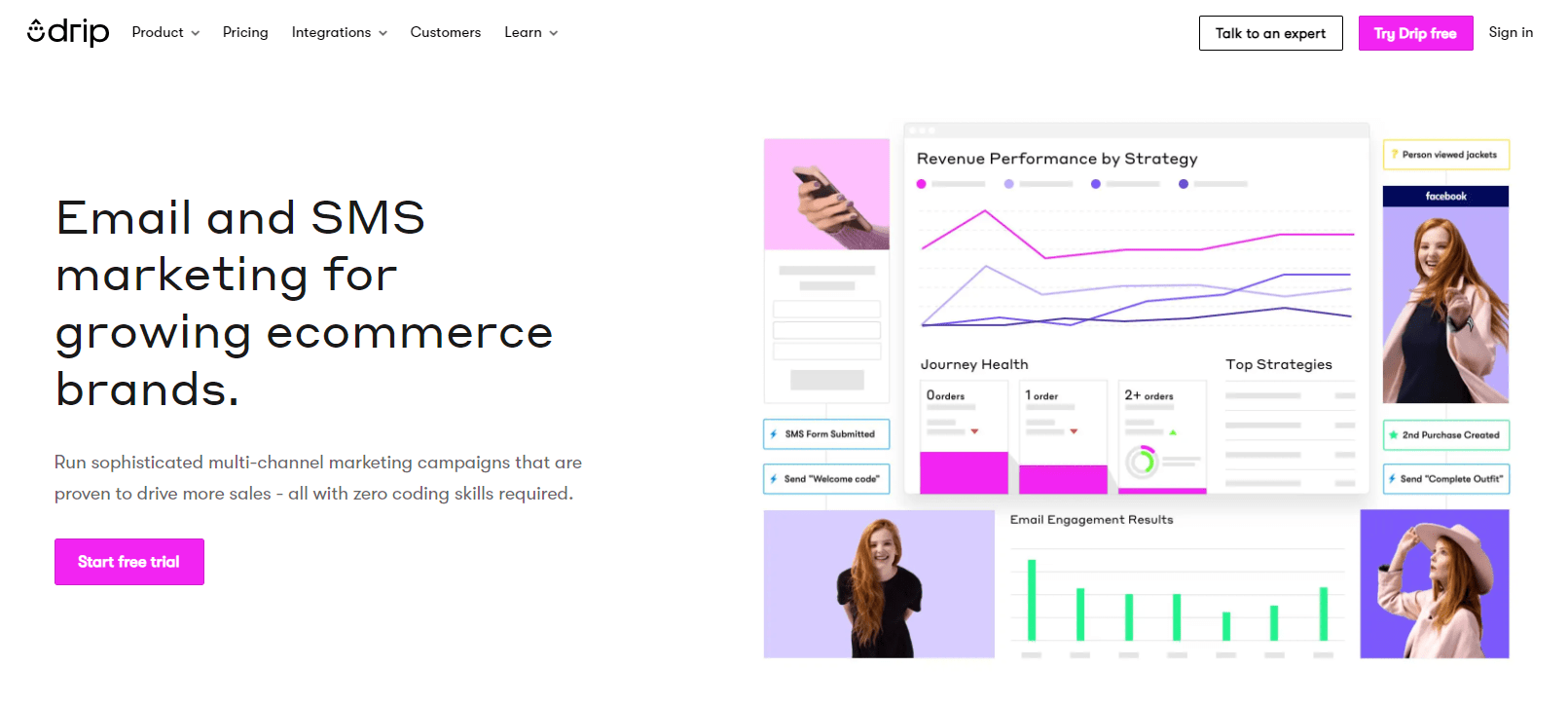 It sends you notifications when visitors come to your online shop or website, make a purchase, or leave their basket. Drip allows you to add custom fields to capture specific information about your consumers.
This information may be used to tailor marketing messages and increase interaction. The tagging function in the eCommerce CRM platform enables you to use tags to categorize your audience list.
You may easily build customized emails for contacts with comparable interests or traits with this tool. Personalization options in Drip automate emails based on client behavior.
When a consumer makes a purchase, the system sends a 'Thank You' message. It sends a different message when they abandon carts.
Drip works with Shopify and Shopify alternatives like Magneto, BigCommerce, and WooCommerce, as well as other eCommerce platforms. You may also link your own shops to Drip if you're not using one of these eCommerce systems.
CRM Software for Small Businesses that is Simple to Use and Cost Effective. Pipedrive is a simple and cost-effective CRM solution for small businesses.
Users may customize the platform with a variety of features. Despite the many features, the platform is simple to use even for non-techies.
Users may use Pipedrive CRM software to track leads, schedule follow-ups, and examine pipelines. Small firms may use the software's extensive set of capabilities to close more leads and increase sales volume.
Pipelines may be monitored, organized, and customized to match your sales cycle. Pipedrive CRM software is used by over 90,000 companies.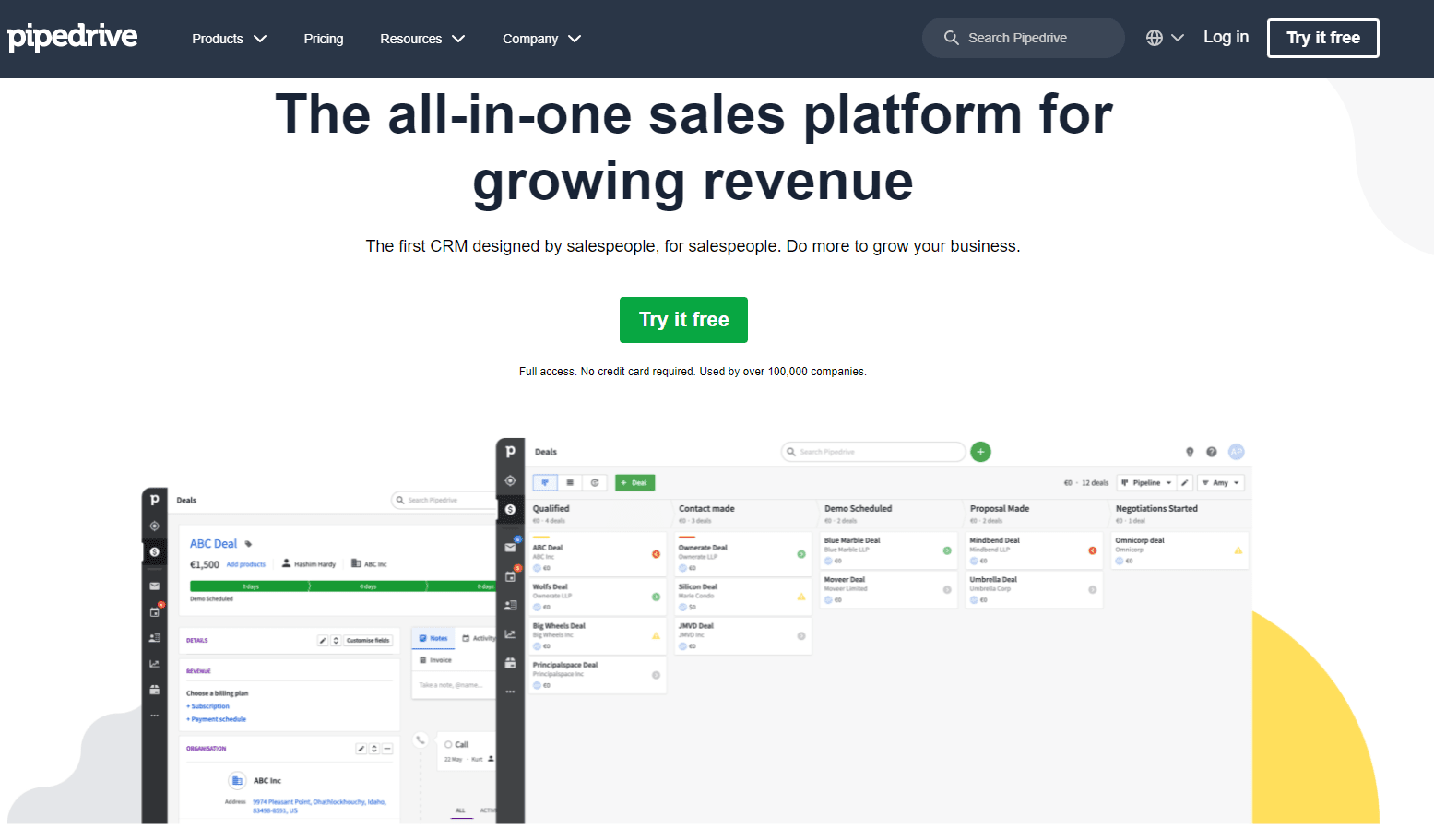 One of its main aspects is team cooperation. The program may be used by small firms to improve sales team cooperation on leads and deals in their pipeline.
With this function, you can create objectives for your teams and get feedback on their progress. The Pipedrive mobile app enables access to its services more conveniently at any time.
The software is available for download on both the iOS and Android platforms. The app provides a complete account of your daily actions, including discounts.
Pipedrive provides comprehensive company performance analytics and reporting. Users may modify their measurements and track their progress against their objectives using the program.
You and your team will save time and energy by not having to do common tasks manually. There are solutions available to automate the normal processes of your small company.
5. Zoho CRM
For small businesses, Zoho CRM is the finest HubSpot alternative with the greatest all-around features. Every internet company needs the services provided by the software.
Salesforce automation, marketing automation, process management, customer relationship management, customization, and many more features are included. The Zoho CRM remote work solution allows sales teams to interact and collaborate without having to meet in person.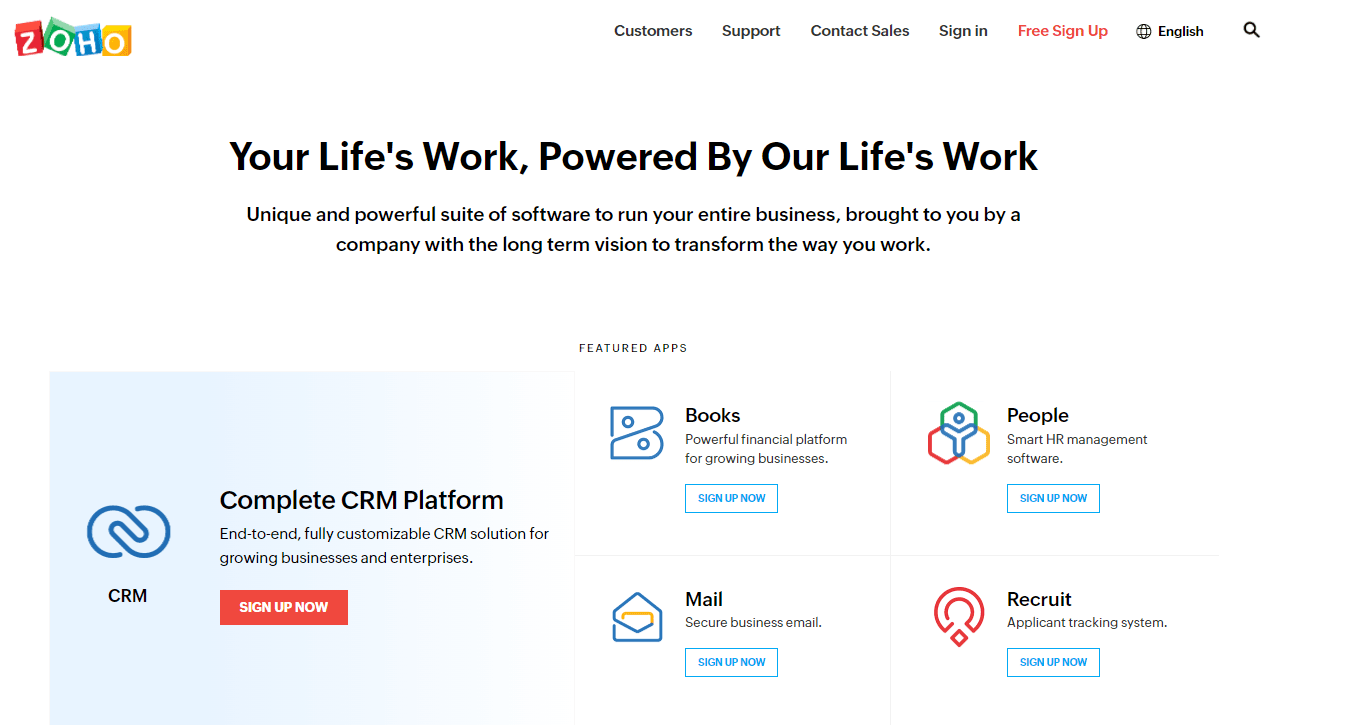 It helps firms automate typical sales, support, and marketing processes that suck up valuable time with its sales force automation. Capture leads, score leads and follow up on leads using its lead management tool.
With its customer management tool, you may strengthen your customer interactions and learn more about them. You can automate your processes to complete activities quicker, allowing your company to focus on the consumer.
Businesses may create leads and run customized email marketing campaigns using its marketing automation tool. The Google Ads connection in Zoho CRM allows customers to monitor their Google Ads campaigns more effectively.
Customers may use the customer segmentation and lead nurturing tools to develop targeted marketing campaigns that boost conversion and ROI.
Quick links:
Conclusion: Best HubSpot Alternatives 2023
HubSpot is maybe the most well-known marketing and sales automation tool. However, this does not mean it is the greatest option for your small company.
A variety of HubSpot options are available to meet your company's demands. It's not easy to choose the finest marketing and sales automation software for your company.
To make an educated conclusion, you must assess your company's requirements, size, and available money. When you've figured out what your company's requirements are, choose the best HubSpot replacement from these 5 options.