In this blog, I am going to show you how to download Krrish 3 for Windows Phone and Windows 8.
Here is a feast for all Bollywood fans as well as for gaming lovers. The most looked upon movie of this year has now been released and with the big success of the movie, follows the way the big success of its intense graphics game.
Which is now available on Windows Phone and Windows 8. I have a Windows 8 PC, so when I downloaded the game, I thought it would just be a simple game with low-end Graphics and bad response ( I did compare it with a game that was launched for RaOne).
But trust me guys this Game is just as awesome as the movie itself, all the four stars of the movies (Krrish (Hritik Roshan), Kaaya (Kangna Ranaut), Kaal (Vivek Oberoi), and Frogman) doesn't even look a hair different from what they seem like in the movie.
Gameplay Review:-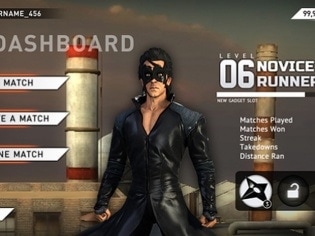 The Game has really intense Graphics and you can easily compare it to any other high-end game maybe like N.O.V.A.3 or Final Fantasy 4. The game just runs smoothly and has no lag whatsoever.
Even one of my friends who uses Lumia 920 downloaded this game and I just took a small hands-on, so that can write a true review of the Game Play- The Game looked way more awesome on the Lumia 920 than on my PC, the graphics were near as perfect and the gameplay was smooth with no lag whatsoever.
But I did notice that the game drained the battery a lot when I started playing a game, the battery was 98% and after exactly one game ( around 15 mins gameplay) the battery was reduced to 86% and the phone also became significantly hot.
So the people who are a bit more concerned about the Battery may not consider this game as their cup of tea. After a bit more research about this game, I did also learn that the Gameplay may get a bit laggy and annoying on low-end phones like Lumia 520, because of their significantly low GPU.
You May Download the Game from HERE.
Krrish 3 game is available for free download, but is a timed exclusive on Microsoft Platforms – Windows Phone 8 and Windows 8. SO just go ahead and download this amazing game and enjoy playing it.
The movie actually performed really awesome in the theatres and I am pretty sure that this Game will do the same on Windows App Store. The game is being considered as one of the best games made in India ( Well also staring an Indian SuperHero 😉  )
http://www.youtube.com/watch?v=kO2vLU2p1ys
Quick Links-