After reading my Elementor Pro Tutorial, you would not require to hire anyone else for your wordpress site development. I have discussed the tricks and tips that I found during my 10 years+ of experience in Elementor. 
Click on the link to know more about Elementor- https://megablogging.org/elementor-review/
Elementor Pro is the professional version of Elementor with advanced features and different designs and templates to build your website efficiently.
What is the crucial mania digital presence of any business should include? A website. Businesses who might think being just on Instagram or Facebook could help them to reap numerous benefits are wrong.  
Besides, giving them detail about your business will allow them to know about you. Then, I got to know about Elementor and its upgraded version Elementor pro.
However, I have already launched my website with the help of Elementor. Some advanced features of Elementor pro have helped to make it more attractive in my visitor's eyes and in accomplishing many different marketing tactics.
Elementor Pro
Anyhow designing a website is always an interesting thing. It allows you to explore everything from designing templates to generate more traffic. Whereas, I upgraded from Elementor free version to Elementor pro as soon as I realized it has more advanced features. I'm going to help you out with Elementor Pro Tutorials.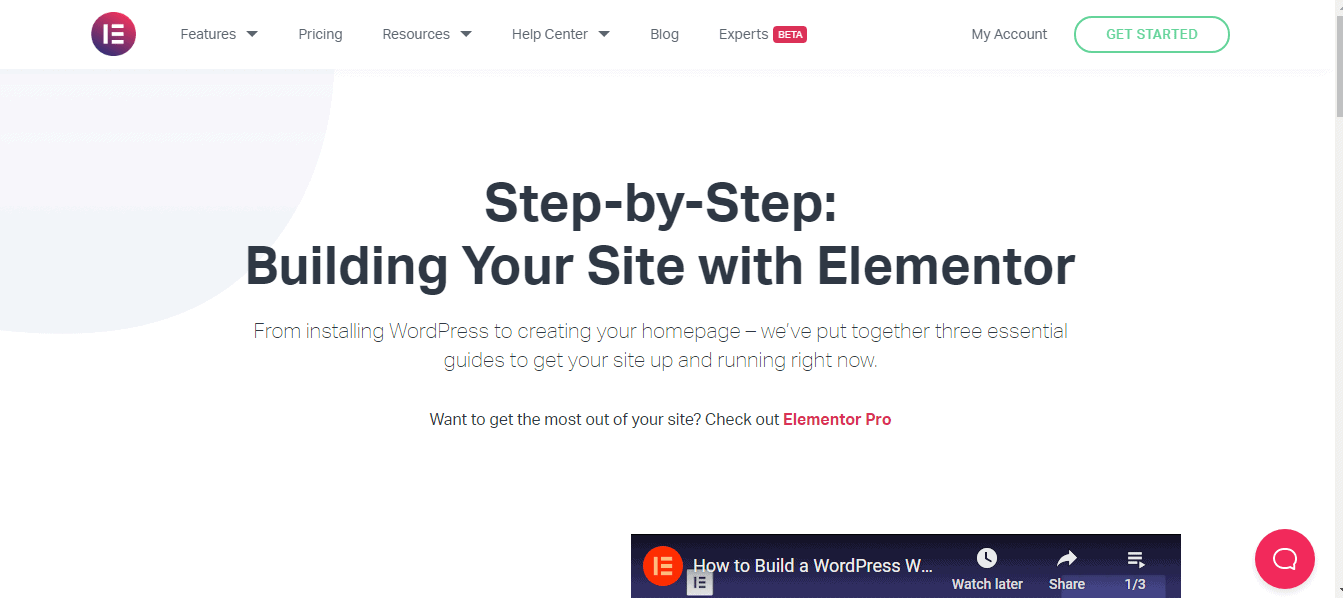 Though, Elementor Pro is the addition of Elementor only. It includes many professional tools that will help to foster the speed of any business. I forget to tell you that my business is none other than developing websites of startups, businesses, etc.
My clients are satisfied with my services but soon realized my switching on to Elementor pro helping them to gain more reviews and clicks amaze them. I would like to give a brief about the features then will move into their details.
Pro allows you to customize your theme builder page and navigation menus, design forms, and integrations easily; use professional templates on your website.
Besides, Elementor pro tutorial videos are available on the website so that users can easily examine the features. A bonus tip for the users, it is important to install both Elementor free and pro to garner the benefits of advanced features of a pro. 
Key features
Elementor pro provides the clients with the best feature and makes it an exceptional tool. All these will help you in running the software smoothly.
Installation of Elementor pro
You need to select a pricing plan from the pro page and then you will get a mail with your login.

After login, you can get my Elementor pro account.

From here, you can download the plug-in, and after you will get a zip file, which you can just, upload it on a website where free Elementor is already installed.

You need to install plug-in first in Elementor free then you can install the pro version easily. 

In the last step, you need to activate your license key that you can find in your account.
Drag and drop builder
Who doesn't like fun? I think everyone must and if your work includes fun who will deny. Similarly, Elementor pro allows in building, creating, and designing websites easily while discovering new and exciting things.
Besides, one can easily select any text and move them effortlessly to the new location. Users can do live editing on the website only.
This will save their time of editing and again moving it to the location. Drag and builder will help you in building pages within a couple of minutes with any trouble. While using the feature I discover that it fosters the workflow by instant changes done while editing. 
Header and footer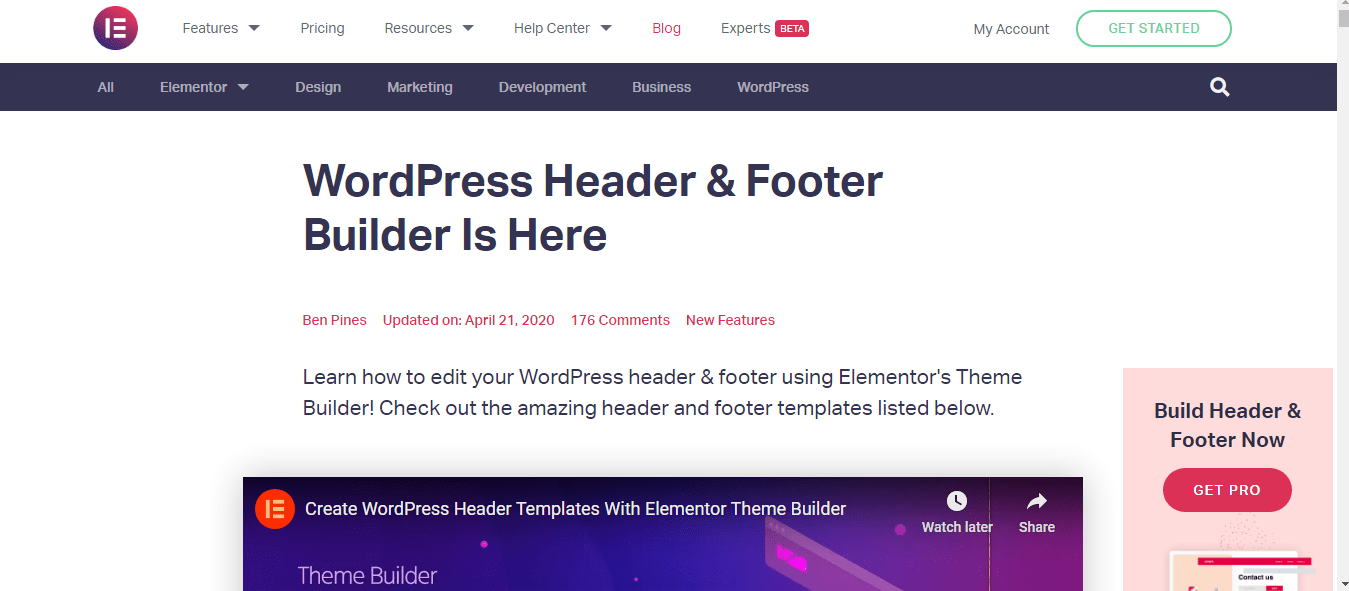 Elementor pro allows you to use different headers and footers to different pages and posts. Instead of using header and footers on the WordPress default theme users can design according to the needs by customizing them.
This feature will completely give a different outlook to the website. Besides, you can broaden your designs reach with Elementor's visual editor.
For example, you can use this effectively by adding buttons that will help in launching contact forms or pop-ups, CTA to your footer, minimum landing pages and order pages, temporary promotional messages, a lot more.
I love this feature as it allows me to customize headers and footers as per my needs. 
Working with dynamic content
Okay, this feature is amazing in all ways. It allows you to create content for once and use it everywhere. As before, it is limited to static pages but now you can use dynamic templates to create a framework.
This will help you with the project pages too. Users can also apply it across their websites like featured images, product title, post, author box, post info, site title, and so on. When I came across this feature, I was happy to use this as it saves me a lot of time.
Also, I don't need anything like plug-ins as dynamic content can be used without coding. 
Designing product page and archive page for a webshop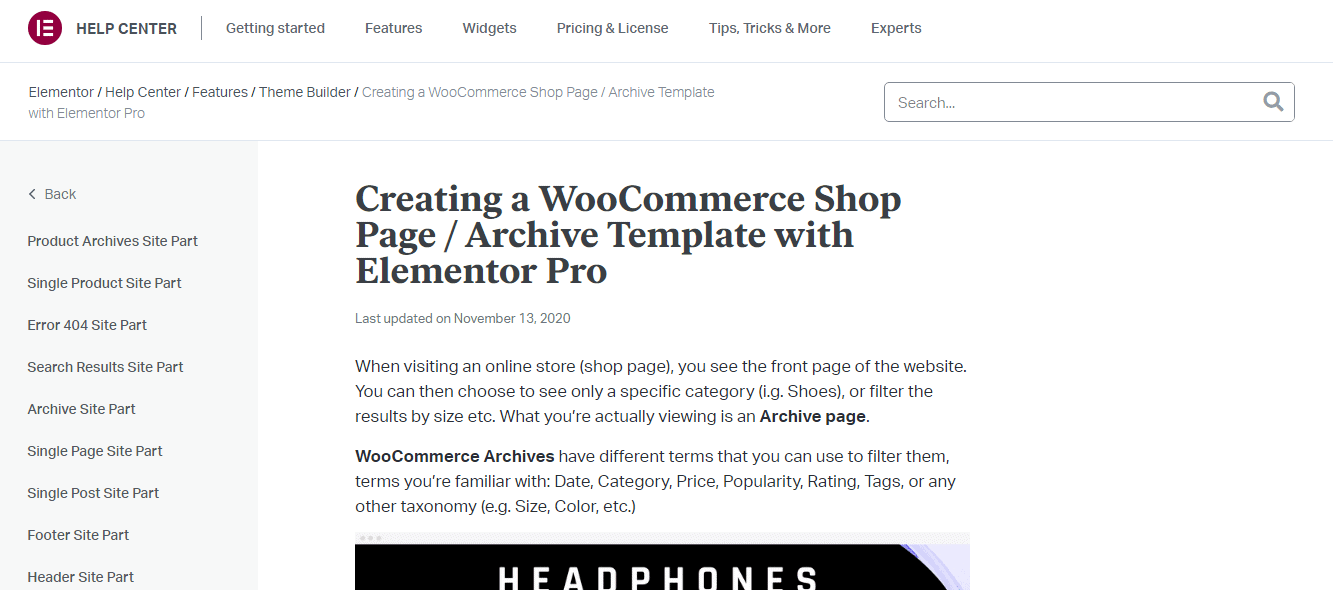 Designing a product page and archive page is a great idea to go with. All you need is pre-installed WordPress, Woocommerce, Elementor free and pro both. Because without free pro it will not work efficiently. To install the pro version I have to mention the steps above.
Moving to our product-designing feature you need to select a template or create one.
I will suggest you go with ready-made templates as making one from scratch will consume more time whereas, modify will be easy to go with. After editing or designing, you can add colors, product image, price, title, and so on.
Now there's an option that arises with a name of typography via which you can change the font and other parameters like family, description, etc. Try to make your description short and crisp and in the end, don't forget to add to the cart. 
Signup form for the email list
Being the less time-consuming people find filling these forms useful. Since, by collecting emails ids they will send the daily updates, news, and other information as well directly to the visitors' inbox. This technique of collecting the mail ids is always best.
Users can make email capture pop-ups with Elementor pro and put it on the website.
Whenever someone visits a website, they first need to fill an email ID. Well, making them attractive is also important. Users can either use the templates given or create one from scratch. After you need to add automatically, close, or submit to your pop-up.
Ensure that it will not show again if a visitor is still on the website. This action may put the wrong impact or irritate the visitor.
Role manager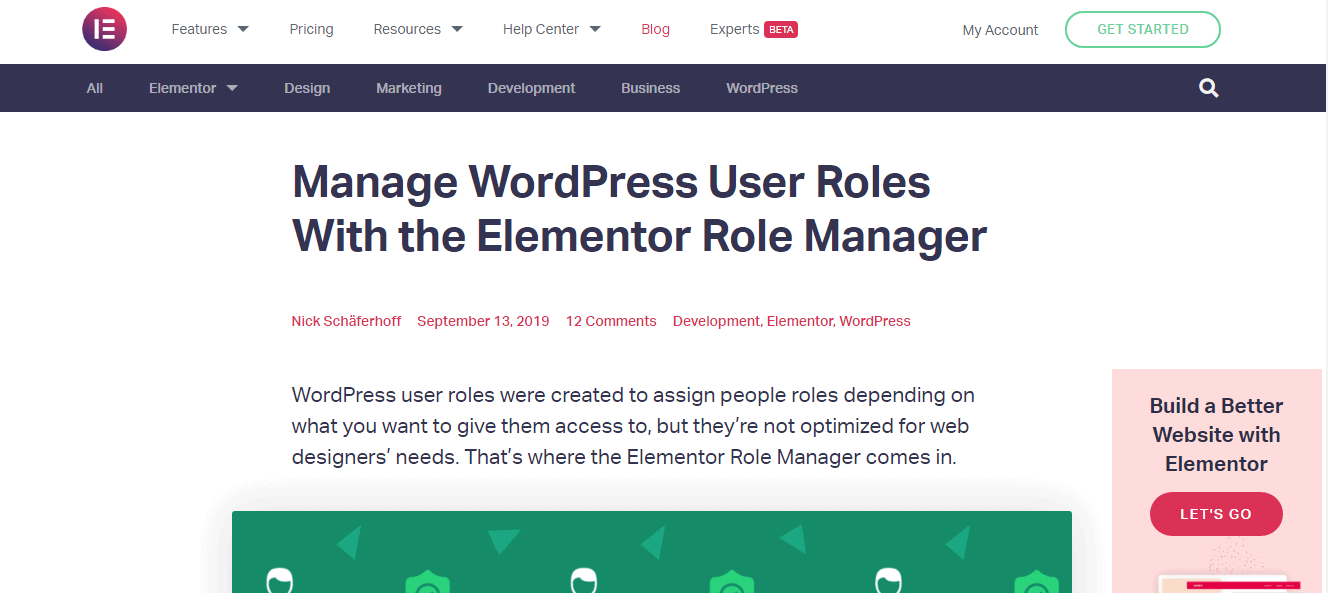 The role manager allows you to limit the editing capabilities of your clients so that they cannot mess up the design that you made in elements. WordPress has an in-build default feature of role manager that users can set up who can access the website.
Maybe a person or client wants full control or to control only some features as not all clients know how to use properly.
The roles are classified as a super administrator, editor, administrator, author, subscriber, and contributor. These users' roles need to be assigning properly to keep your website safe and private.
To ensure no outsider comes and posts any image or does editing these roles are necessary. Well, I also allow access to some of my clients as per the need and ensure that nobody else will be able to operate it.   
Pro templates and blocks
Did you ever designed any templates, posters, or creative things?. Might be yes! I think you must have got to know that it is a tedious job but don't worry we know how to tackle this problem. To people who know how to create one or don't even have any clue about what it is.
Elementor pro provides 200+ professionally built templates like for real estate, photography, portfolio, gym and fitness, flooring, and many more. You don't need to hire any designer or some other person to make it more beautiful you can also make it.
It just needs some minutes to go through all the templates and select or edit according to your preferences. I'm sure you will end your beautifully made page like I always do. 
Security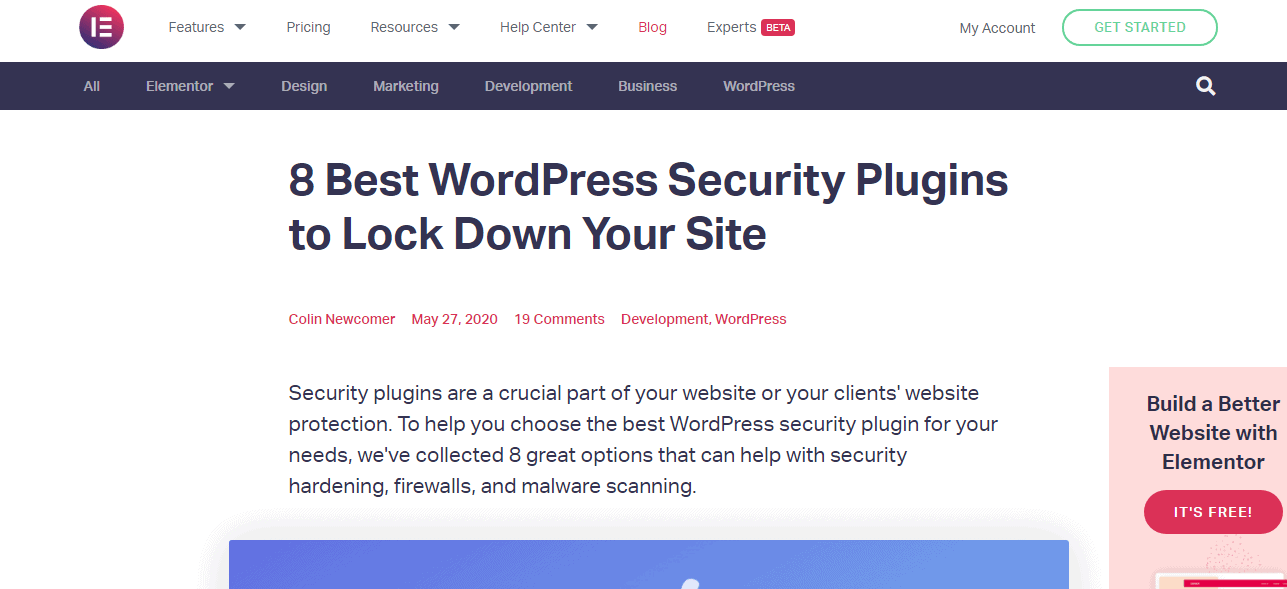 When it comes to the website, I'm pretty sure everyone is worried about safety. Is using this software safe or not. Yes, security is the first concern of everyone Elementor pro takes the responsibility to secure every website or plugin.
Elementor's professional and expert team will ensure the safety of data and websites.
They are taking many measures to ensure full safety to your websites such as a continuous monitor to examine issues if any, etc. if they find one, they first try to find the threat and try to fix it as soon as possible.
For security purposes, they already mentioned in the changelog to maintain an account to receive any alert related to security.
Consumer support
Elementor Pro has full consumer support to its users and people anytime. It provides its support 24*7 ensuring that people don't get disappointed with the services.
It provides access to different mediums as tutorial videos, live chat with experts, FAQs, blogs, articles, documentation, ask the community, and phone services.
The main aim of providing different means is that it will help people to get assistance when any expert fails to connect at the very moment or any technical issue from the backend.
Well, you need to worry about FAQs, tutorial videos, and ask the community will help you more in setting up or installing the software. Through this, you will know the common problems faced by people. 
Pricing plans
Elementor Pro has three pricing plans that will help you to choose according to your requirements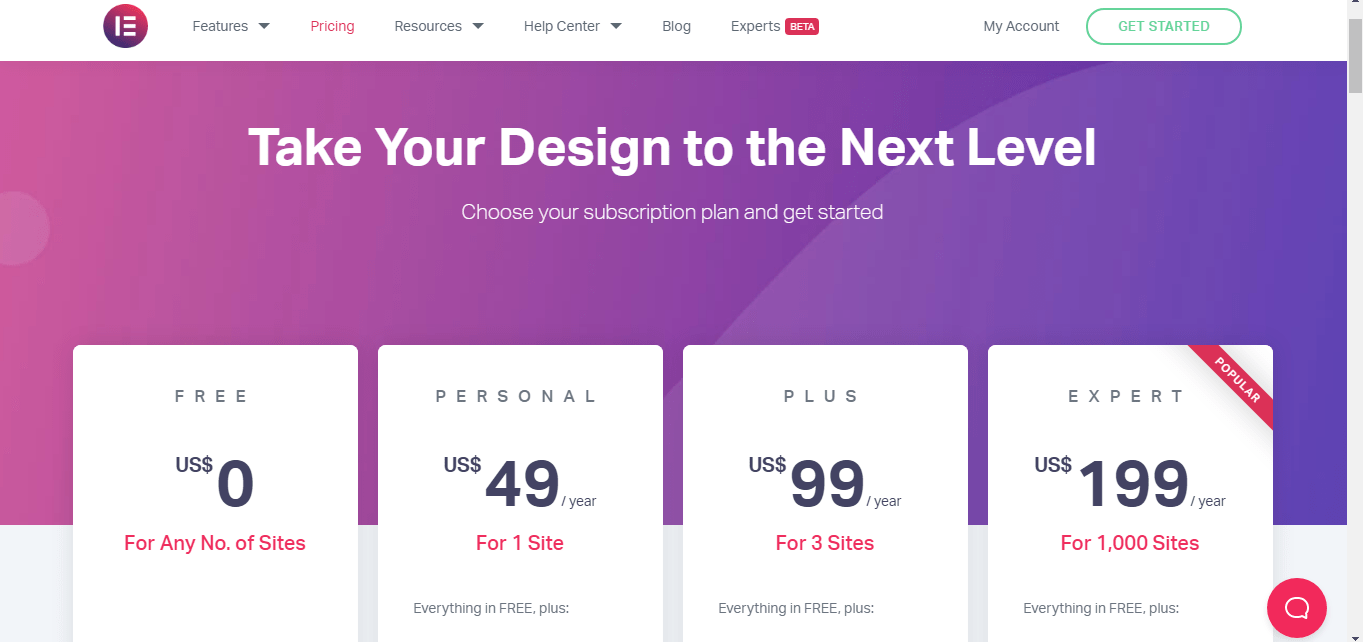 Personal $49/year
In this plan, the user can only create one website

Provides 300+ templates help in designing page

Theme builder( header and footer, blog post layout, etc.)

Email popup builder

Consumer support

I year updates
Plus $199/year
In this plan, the user can create 3 websites

Provides 300+ templates

Theme builder

Email popup builder

I year consumer support
Expert $199/year
Users can create up to 1000 sites 

All the features are available 
Well, all the pricing plans include all the advanced features offered by Elementor pro. Thus, my business is to create websites for my clients so I preferred to go with an Expert plan. It is excellent as all the features are easy to use.
Till now, I'm confident enough about the purchasing decision. 
User Review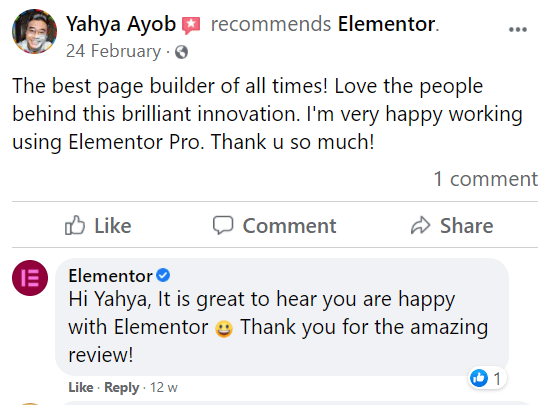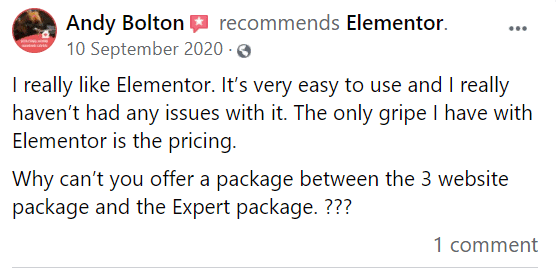 Quick Links:
FAQs on Elementor Pro Tutorial
🤷‍♀️How users can make a profit with Elementor pro?
If you are a company making numerous websites for clients, then you must know this. I suggest you choose an Expert pricing plan of $199/year. For this, you can ask your clients for daily maintenance of $20/month so for a year it constitutes $240/yr. Likewise, if you have a good number of clients then you will recover your amount easily.
☞What would happen if I deactivated my Elementor pro account?
If you deactivate your account, then every feature you are using on your website will stop working. Though, features of Elementor free will still work in the same manner as before. There are no changes in that.
🙋‍♂️How dynamic content templates work?
Well, it is quite easy or very easy. Before, people had to work in a static template that means they are limited to using the same content. However, in dynamic one can easily create content and use it anywhere. To understand in depth you can read the above features.
📁What are some of the advantages of Elementor?
Professional widgets and features at a glance. Templates and blocks of superior quality Create shapes visually and combine them smoothly. Theme Builder enables you to completely modify your theme. With Elementor Pro Theme Builder, you are no longer limited by the limits of your theme.
✉️What is the best add-on for Elementor?
There are a lot but if you're an Elementor user looking to augment the core page builder's functionality with creative components and widgets, Essential Addons is worth a try. Additionally, Essential Addons includes robust customer assistance in the form of live chat and ticket support to help you resolve any problems.
📎 How to get an Elementor plugin to add on free?
Here are some of the free Elementor plugins that you can make use of – Hotel Booking & Elementor Integration StylePress for Elementor Header Footer Elementor Elementor Addon Elements AnyWhere Elementor Press Elements
📌Elementor Review (Hands-On in 2021): Is it the Best WordPress Page Builder?
Yes, it is. Elementor is famous for a reason - it is unquestionably one of the finest page builders for WordPress. If you wish to try it out, you may do so by downloading the free version from WordPress.org. Then, upgrade to Elementor Pro to unlock all of Elementor's feature
⁉️Do I need a WordPress theme if I use Elementor Theme Builder?
Yes. If you choose the Elementor Hello theme as a starting point for your theme builder, your site will be completely bloated-free. Elementor Hello is just the minimal essentials for powering a WordPress site. From there, you may utilize your theme builder to add just the features you want, without adding any unnecessary baggage.
⏳What's the difference between Elementor (free) and Elementor Pro?
The free edition of Elementor provides an infinite number of design options. However, Elementor Pro equips you with additional professional tools that streamline your process and increase conversions and revenues.
Conclusion: Elementor Pro Tutorial 2023
Moving on to the concluding part of the article, we'll see whether you should upgrade the premium or not. Firstly, Elementor pro includes both the free features as well as upgrades, so I would prefer to go with a premium one where one can reap all the benefits.
Secondly, it has features that will somehow save your time like pre-built templates, blocks, theme builders, etc. I'm using this software and would continue to use it because my clients are highly satisfied with the services and features.
These features have helped them a lot in gaining more clicks on the website and attracted more people to buy from their sites. I have used every feature on my website too.
Of course, you should try it and explore how elements help make the website a sharp image in the visitor's eyes. Besides, it is speedy, intuitive, and packed with lots of advanced features that will foster your business. 
Still, not sure which you should use then you should definitely try Elementor free to know how effective the pro version will work. 
In the end, I tried to give you a transparent structure of what Elementor is, how people can use it, and to which extent it helps businesses to gain importance. All, the things are in front of you to make your decision wisely.  
Elementor Popular Videos
Elementor On Social Media
Page Builder Summit 2021 (@summit_camp) is starting tomorrow! Get your FREE ticket and talk to over a 35 industry experts including @bpines1 . Excited to be sponsoring this great event. See you there! 💻🎉https://t.co/gDtFpUJLBH

— Elementor (@elemntor) May 9, 2021
Step aside and welcome our April 2021 Showcase. 🏆🌷 This month we applaud 10 design agencies from all around the globe. This diverse collection accounts for the Elementor web creation talent around the world. 🌎 https://t.co/bwwOUDQCuu

— Elementor (@elemntor) May 19, 2021