Page builders have been around for a few years now, and they have made it possible for anyone to create beautiful web pages without needing any coding knowledge.
Page builders are a boon for all naive web designers. It gives easy access to design pages effortlessly by drag and drop builders without the need for coding knowledge. 
However, most of the page builders available today are either too basic or too complex for what you need. It's only when you start using them that you realize how limiting they truly are.
Read here our WPBakery vs Elementor to find the better WordPress page builder.
What is the difference between WPBakery and Elementor?
What is Elementor? 
Elementor is a website builder that permits users of WP(WordPress) to design and edit, build their websites by using the drag-drop feature, with an inbuilt responsive way. It is a software company that provides website development services.
Elementor was founded in the year 2016. The company's headquarters are in Israel.
Elementor is made accessible in over 50 languages and is considered to be the 6th most used plugin all over the world with over 5 million installations. Elementor is considered to be an open-source based platform and offers its services to the top 1 million websites in the world.
Elementor is the website builder that provides high-end designs for your web pages and preliminary capabilities.
Whether you might be a web designer exploring a way to attain perfect websites or a marketer trying to find a way to make your dealings online, Elementor has everything you need, it meets all the basic requirements for building an amazing website.
There is a lot to know about Elementor and for that, you can read our detailed Elementor Review.
What is WPBakery?
WPBakery is the most popular page builder that works on WordPress, this plugin provides front-end and back-end editors which are considered to be its unique features.
With the help of this page builder, you can get access to control your website and design the layout with the drag and drop technique. To use and access, this page builder is easy and doesn't require any technical and programming knowledge.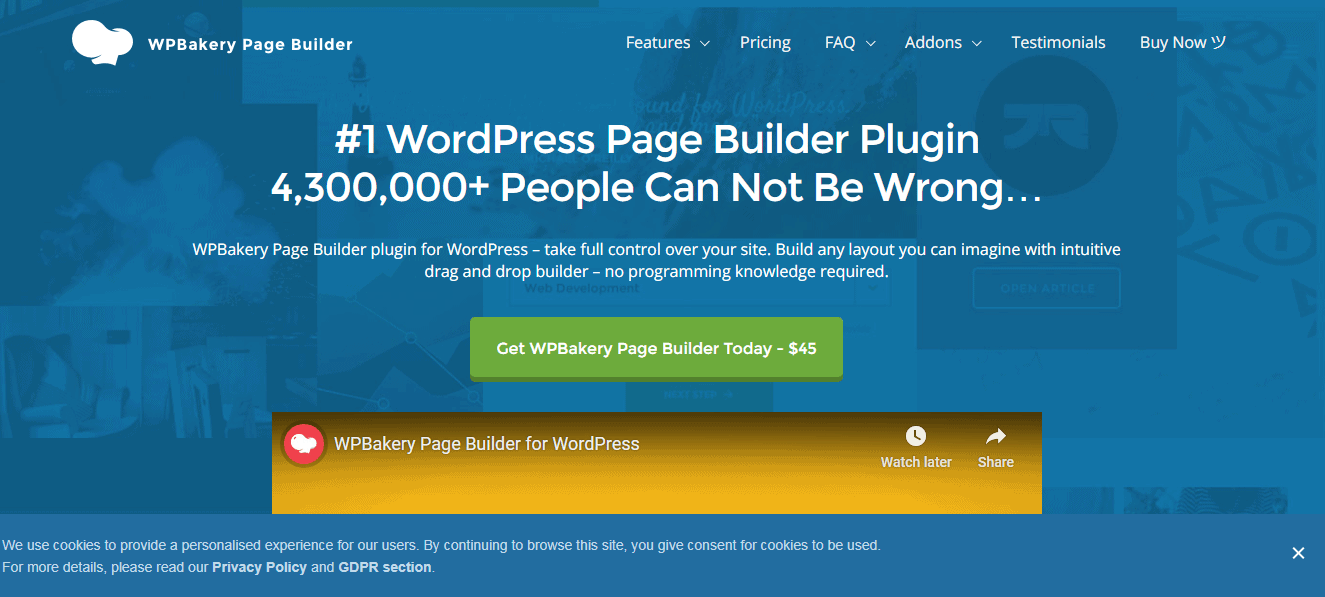 WPBakery provides many other helpful elements which help the newbies to handle it easily. So if you are a person unfamiliar with web designing then this page builder will be of good help to you.
Key Features: Elementor vs WPBakery
Elementor Page Builder Features: 
Elementor contains many unique and simplified features which help the users to create simple as well as complex layouts with varied design and functionality choices. You will be able to create pages quickly within no time.
It aids the users to save their effort and also time. Here you can get a brief about the key features provided by Elementor. So just go through this if you want to know more!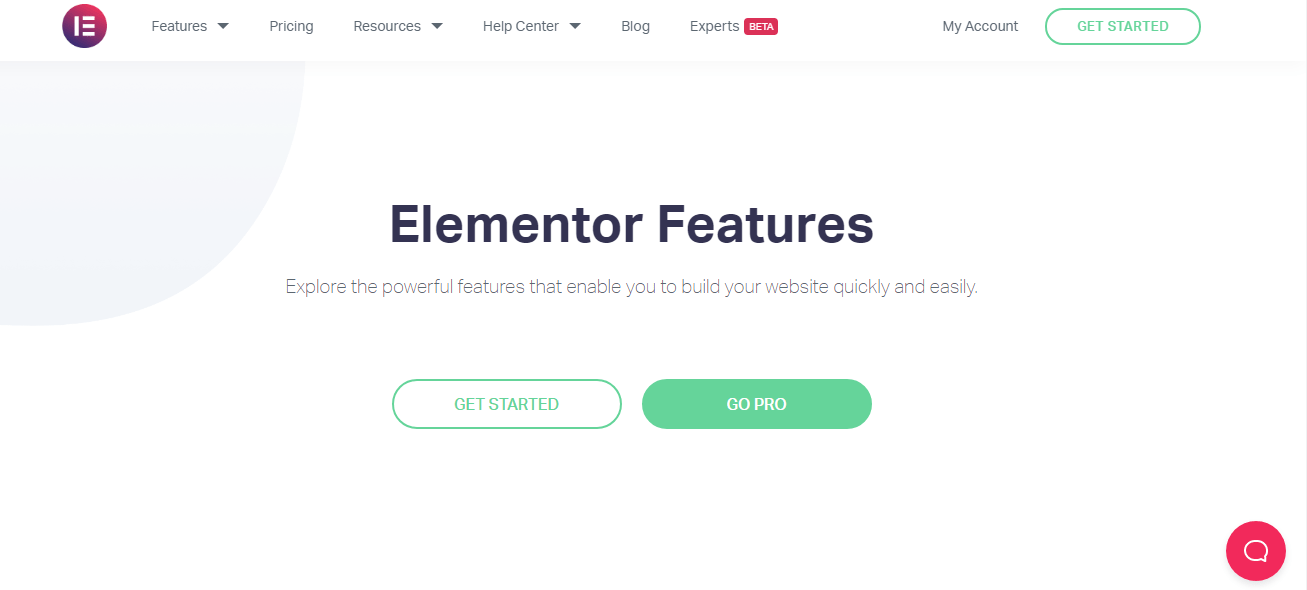 Huge Widgets Library
Widgets Library is considered to be one of the vital features of Elementor. Elementor provides almost 30 widgets without a premium version for free of charge, and you can add up more widgets with a premium version.
You will have to create and design a full-fledged page even without upgrading to the premium plan.
Easy and Quick Interface
If you look at the interface of Elementor you will acknowledge that it provides such a simple and easily understandable interface. This kinda interface will help you to understand it better and faster.
An easy interface is what the naive users wish for, and Elementor provides it without any limit.
Live editing
This feature is also found in several other page builders, but every so often they fail to present the website's live display. Whereas Elementor provides a quick interactive design that aids in making the process of editing a lot easier.
Freemium Pricing
One of the prominent factors to include among the key features of Elementor is its pricing. Well, it is not exactly free of cost, but you can call it a freemium model.
Elementor also provides a pro plan, but you will be able to access more than 80% of the features even without a pro version.
Undo/Redo ability
This particular feature helps you to undo the things when you accidentally delete the whole row or if you wish to fix something. Other page builders save the revisions of your work, but these do not serve as the best choice when you delete something accidentally.
WPBakery Features: 
WPBakery is considered to be a unique plugin that helps you in managing the content of your account and content. It also aids in designing page layouts in a short amount of time without any coding skills and technical knowledge.
WPBakery provides variant features to make it simple for naive users.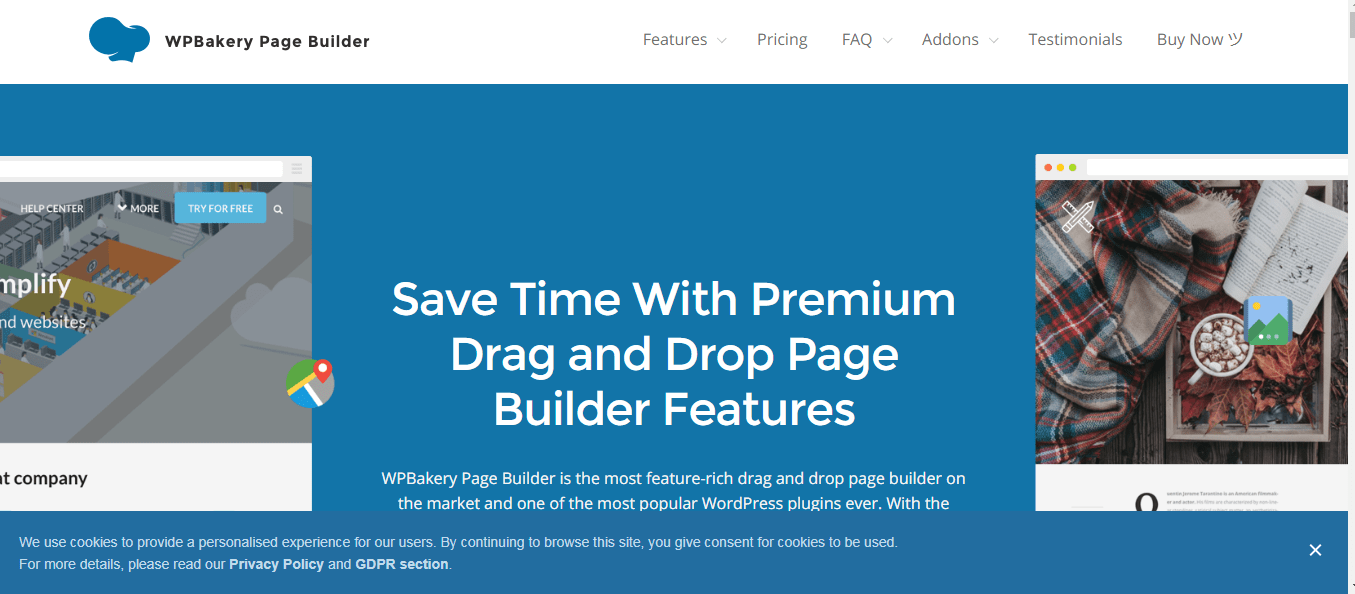 Intuitive Frontend/ Backend editor
You will be able to experience good inline editing which aids in editing a page layout simply and easily. You can instantly view the changes and alters you make in the layout using the most famous WYSIWYG editor.
Multiple Themes
WPBakery is a page builder that has the ability to work with any kind of WordPress theme. This implies you do not need to alter from one build to another if you want to switch your theme.
Without the need to understand new tools for each of the wp-websites, WPbakery makes it easy to work.
Downloadable Templates
Are you looking for unique templates which work well with your page layouts? Here you have WPBakery page builder which presents a unique template feature with professionally pre-designed layouts. You can get access to download any templates and use them to create and design your website in no time. 
Responsive WP Websites
WPBakery will take heed of the responsiveness of your website instinctively, so you need not worry about it. This page builder will instantaneously adjust your website to various gadgets, and you even have a choice to view it from the browser window.
Create Own Layouts
This feature particularly in this page builder gives you access to twitch colors, backgrounds, padding, and various other choices to fix with your website identity. It is considered to be a time-saver feature in this page builder.
Editing options
The main aim of a page builder is to provide easy access to use, and the interaction should be quick and smooth going. And, they should be able to give you access to view changes you wish to make. 
These are the basic requirements that most of the plugins provide. Among Elementor and WPBakery, Elementor provides you with an easy user-interface whereas you will find WPBakery a bit tricky to access, but once you get used to it, you will find it easier.
Elementor
Elementor provides front-end editing which is of basic importance in editing. It also gives you responsive editing that lets you view the pages as they will be seen on the page interface and add additional modifications.
Elementor also allies to edit and save templates at your convenience.
WPBakery
WPBakery is considered to be the slowest plugin regarding front-end editing, but it provides you with a backup that works as an alternative tool. WPBakery offers you back-end editing which is a substitute for front-end editing, it is a unique editing feature provided by WPBakery. 
WpBakery is even slower than Gutenberg editor or their clock editor.
Winner: Elementor
Among Elementor and WPBakery page builders, Elementor is considered to have easy access that is easy to handle. Whereas WPBakery has a unique back-end editor which few of the users find easy.
So regarding which one serves better, you have to check it out based on your interest.
Setting controls
As you know, most of the plugins provide some standard-setting options. And these setting controls will provide you good enough options to create and design numerous websites.
And here there is an important suggestion for you guys, it is always better to design and fix your theme or branding as a measure of overall settings so that the constituents of your work get well with your website.
Elementor
 Elementor offers various basic control settings. Elementor allows you to use selective elements at your convenience. It also provides some tools which provide default styling. It has a ready-to-use translation element. Elementor also provides access to global settings.
WPBakery
WPBakery is one of the page builders that provide a wide range of options and unique elements along with all the basic requirements. WPBakery gives you the access to use selective elements as other page builders do.
It offers ready translation settings and provides inbuilt or default styling methods. It also provides you global settings which are of basic importance.
Winner: Tie
Both Elementor and WPbakery provide setting options in their own way, both of them have a bit similar setting control system. So there might not be any notable difference even if you choose either of them regarding the setting control.
Integrations
Elementor Integrations
Elementor integrates with a number of major tools, including email marketing CRM, social networking, and others. Some integrations of Elementor are:
Facebook SDK,
HubSpot,
Zapier,
MailChimp,
ActiveCampaign,
Discord,
Drip,
Font Awesome 5,
Slack,
MailerLite,
GetResponse,
Campaign Monitor,
ConvertKit,
ReCaptcha V3, and
Custom Icon Libraries.
WpBakery
It Integrates with +500 add-ons and +15 predefined web page layouts.
Elementor is a page building plugin that replaces the basic WordPress editor with a live frontend editor, so you can create complex layouts visually, and design your website live, without having to switch between the editor and the preview mode.
Quick Links:
FAQs On Elementor Vs WPBakery
☞Are there any alternative options for Elementor ?
If you are a person who is having similar doubts, then don't worry, here is your answer. Yes, there are many alternatives. For example, there is an alternative option for these page builders and it is known as beaver's builder, it also has the ability to perform similar activities that WPBakery and Elementor does.
🥇 Will I be able to edit the blog pages using Elementor?
If you are a person trying to find out if you can edit your blog pages using Elementor then worry not, because you can . Yes, you can edit them and you will require a theme builder to do the editing work.
🏆 Is there any option to include WPBakery page builder in your theme?
You can include WPBakery page builder into your theme. You will be able to know how to do that once you acknowledge the theme integration system, which is provided by WPBakery.
🙌 Does It Come With a Money Back Guarantee?
They provide a 30-day, no-questions-asked money-back guarantee on their Services. If you are dissatisfied with their Services, you may seek a refund and discontinue using them within that time period. You retain ownership of software distributed under the GPLv3 license.
🤔How Much Does Elementor Cost?
$49 per year is an attractive amount to pay to upgrade to Elementor's pro edition. It costs just $99 for a three-site license and $199 for a 1,000-site license. All WordPress users may install the free version of Elementor to get acquainted with the plugin's capabilities and limitations.
What is the difference between WPBakery and Elementor?
Elementor has the same options for columns, rows, and elements. WPBakery has different options for each of these categories. You can add custom CSS to Elementor elements. With WPBakery, you can only add custom classes.
👉 Is Elementor faster than WPBakery?
Yes, Elementor is exceptionally faster than WPBakery.
💥 Can I use Elementor and WPBakery?
Yes. You can also use Elementor and WP bakery together.
Conclusion: Elementor Vs WPBakery 2022 | Which One Wins The Battle?
As per my user experience, out of these two, Elementor is considered to serve as the safest choice. Elementor has a reasonable set of features that are easy to get access to and easy to handle. Elementor also contains an intimidating free version so that you can check it out and try it. Even though it has only a finite number of features.
Whereas, WPBakery stands out as one of the most popular page builders as it was the earliest plugin. It has many intimidating features which make it difficult to opt and choose among the features. If you wish to create and build an exclusively advanced website, then you can try it out with the help of WPBakery. 
As mentioned earlier to choose better among the two you will just need to explore both of them individually and then see which one will suit you better.
Elementor Popular Videos
WPBakery On Social Media 
Elementor On Social Media
Page Builder Summit 2021 (@summit_camp) is starting tomorrow! Get your FREE ticket and talk to over a 35 industry experts including @bpines1 . Excited to be sponsoring this great event. See you there! 💻🎉https://t.co/gDtFpUJLBH

— Elementor (@elemntor) May 9, 2021
Step aside and welcome our April 2021 Showcase. 🏆🌷 This month we applaud 10 design agencies from all around the globe. This diverse collection accounts for the Elementor web creation talent around the world. 🌎 https://t.co/bwwOUDQCuu

— Elementor (@elemntor) May 19, 2021