You wake in the morning, turn on your PC, and start working on your web page. You need a tool to help you with all the Website work, and you stumble across Elementor.
Who is bringing you about the new Elementor Pro Pricing to make all that research a little joyful?
What is the cost of Elementor Pro? Does Elementor Pro offer any discount? If you have these questions, you are in the right place. In this article, we have discussed in detail the pricing plan of Elementor. Let's find out more.
There is a lot to learn about Elementor, and you can do so by reading our comprehensive Elementor Review.
Yes, it is!
So, as I mentioned earlier, that is what happened to me; I started a web page and am managing it; it has been wonderful thus far, and I assure you that it was only possible with the assistance of Elementor.
You know when you're working on your website and suddenly notice how normal and average it looks? That won't be an issue with Elementor around! – Pricing for Elementor Pro
What is Elementor?
Elementor is a page builder tool and plugin. Elementor's unique feature is that it is a drag-and-drop plugin builder.
Still need help understanding? Let's say you own a website and want to make it as distinct as possible. You can now do this with one-of-a-kind content, odd-looking pages, or both!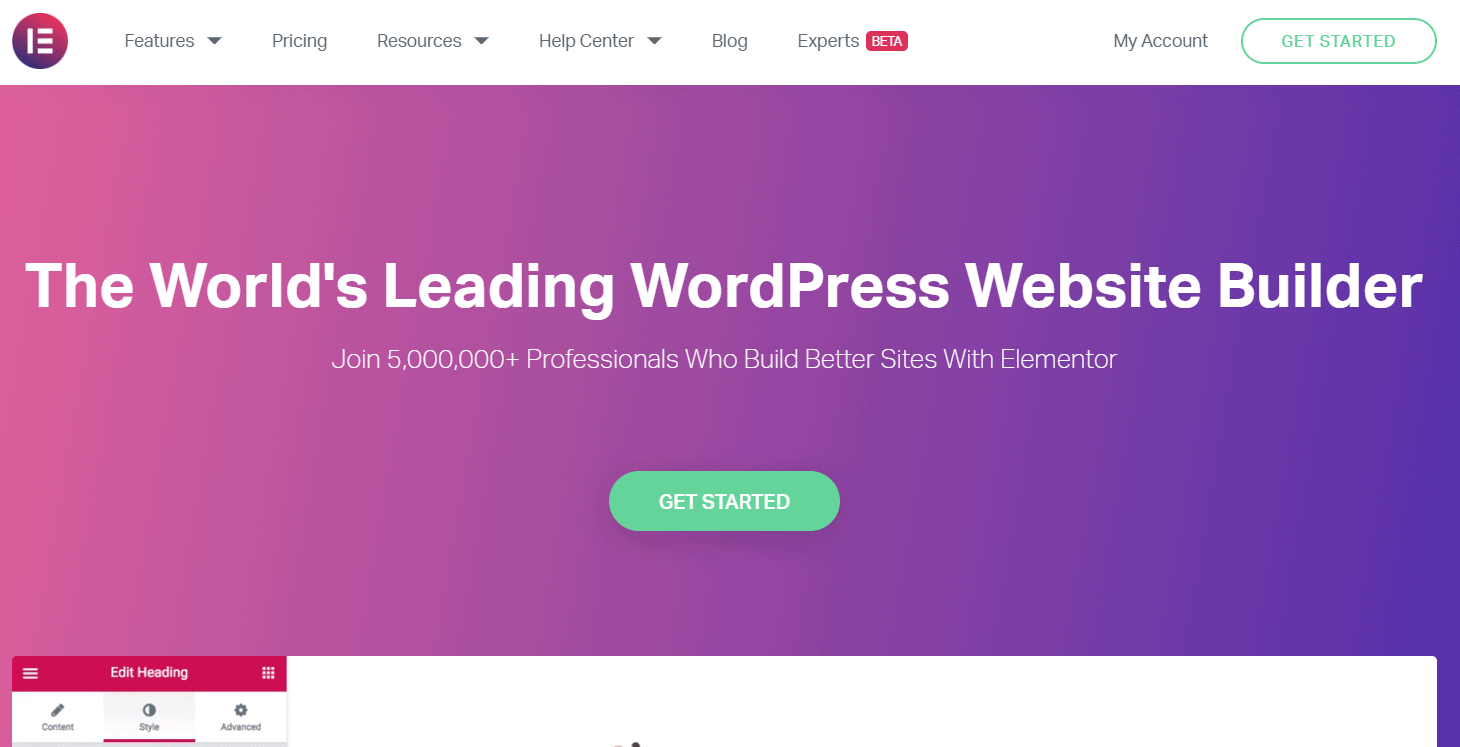 Yes! On the other hand, you need to learn how to manage any site-building work. This is where Elementor comes in to help!
This tool enables you to be creative with the skills you already have to create some incredibly beautiful pages for your websites!
Also, this is the best option if you are in a position where you have a small budget and hiring someone to help you out is not possible.
Oh, and if you're using a different WordPress theme, that's no problem. Yes, Elementor allows you to keep your current design while reaping the benefits of Elementor's features!
How much is Elementor Pro Pricing?
Elementor has a free version that you can use. WordPress.org has a free Elementor page builder plugin available for download.
Well, there is a pro version with three plans because we don't want you to be confused, do we?
So, there is another version in which you can choose to pay for everything, and then there is a free version with a limited number of features.
Let's discuss the things the free version offers, shall we?
The free version allows for unlimited use on multiple sites
Includes a convenient drag-and-drop option for editors
The editing is responsive and user-friendly
Offers a variety of basic widgets and templates (over 40 and 30, respectively)
Now, let's talk about all the extras that come with the pro version. But remember that the pro version has five different plans, so let's take a quick look at them.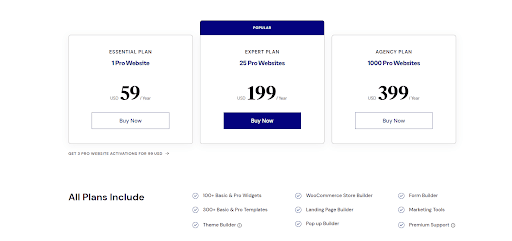 Here are the new pricing plans for Elementor Pro: 
Essential Plan: 
The annual cost of $59
Valid for a single website
Access to 100+ widgets
Access to 300+ templates
Includes 10+ template kits for use throughout your website
Includes a theme built specifically for your website
Includes a builder for customizing WooCommerce pages
Includes a builder for creating pop-ups
24/7 support and updates are available throughout the year.
Advanced Plan: 
This plan will cost you about $199 per year. 
You can use the plan for only 25 websites. 

The number of widgets can go up to 90+. 

The number of templates can go up to 300+. 

You also get around 10+ template kits to use for your entire web page. 

A builder that builds themes just for you! 

Also a builder for your WooCommerce. 

Another builder for all those popups you possess. 

Elementor's expert's network profile.
Agency Plan: 
The plan

costs $999 per year.

You can use it for up to 1000 websites.

Offers access to 100+ widgets and 300+ templates.

Includes 10+ template kits for building your web pages.

Includes a theme builder and a WooCommerce builder.

Also includes a popup builder.

Includes 24/7 premium support and updates throughout the year.

Access to Elementor's expert's network profile

$999 per year.

You can use it for up to 1000 websites.

Offers access to 100+ widgets and 300+ templates.

Includes 10+ template kits for building your web pages.

Includes a theme builder and a WooCommerce builder.

Also includes a popup builder.

Includes 24/7 premium support and updates throughout the year.

Access to Elementor's expert's network profile
Why do I Recommend Elementor?

If you've already peeked at the Elementor pricing section, you might wonder why you'd need a coupon when using Elementor's features for free.
Are there features of the Elementor Pro that appeal to you? It could be something as simple as the pro-panel, or it could be premium themes or widgets.
Who doesn't want to save a few dollars when they buy something?
Yes, Elementor Pro is relatively inexpensive compared to similar platforms. Still, by saving that extra money, you can invest in additional plugins or integrations to propel your site to the top of the rankings.
Enjoy the benefits of Elementor Pro at a low cost and create a high-quality page without breaking a sweat!
Before I delve into the secrets of Elementor, let me refresh your memory on the incredible features that Elementor has to offer.
Features Of Elementor Pro 
The Digital System
Customize fonts and global colors easily, applied to any part of the website from a single location
Manage the whole system from a single place
Shortcuts
Use shortcuts to streamline simple tasks and save time
Drag and Drop
Easily move elements around with the drag-and-drop feature
Templates
Save and use templates from the library for added convenience
Drafts
Continue working on a page while keeping it published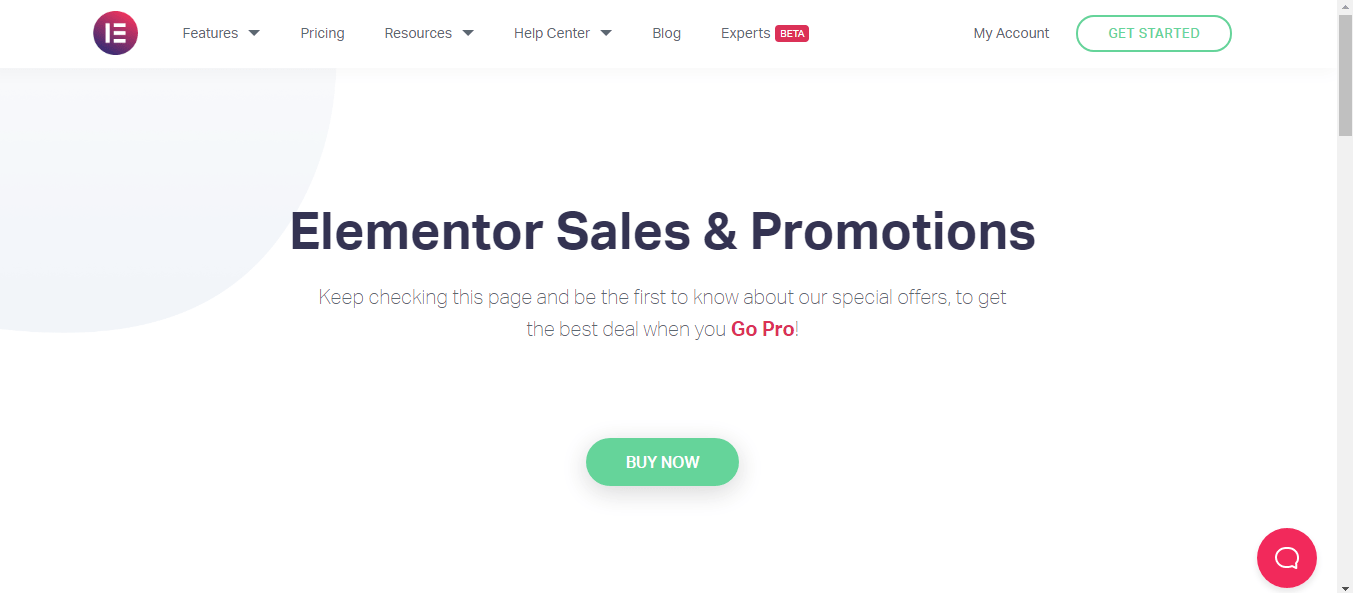 Inline Editing
Edit content directly on the screen for easy content creation
Dividers
Divide content using the shapes available for a visually striking design
Icons
Use SVG icons for lightweight and flexible design options, customizable in size.
Device Size
Create margin and padding size for all the devices you would like to work on
Preview
Preview the font you set to see if it goes with your content and is the right one.
Elemento Pro Pros and cons
FAQs on Elementor Pro Pricing
Is Elementor Pro worth getting?
Elementor Pro is worth the money. Start with the free version if you are starting with website builders and have yet to try Elementor. Once you get a feel of Elementor, you will know better if you need to upgrade.
Is Elementor Pro lifetime?
Elementor does not offer any lifetime subscription yet. There might be some chance to do this in the future, but they have constantly denied it due to their revenue model.
How much is Elementor pro renewal?
The renewed price is the same as that of the Yearly pricing of Elementor Pro.
Do I have to pay for Elementor every year?
Yes. Your licence will automatically renew each year. This ensures you'll get premium support, Pro templates, and updates.
Do I need Elementor Pro with Astra Pro?
There is no need to use both of them. If you like building things from scratch, then use Elementor Pro.
What is the difference between Elementor and Elementor pro?
With the standard version of Elementor, you can edit the content part only. But with the pro version, you can edit everything on your site, including headers, sidebars, footers and custom pages.
What happens if you stop paying Elementor pro?
Elementor's free version code is continually updated to introduce new features, correct problems, and address security concerns. If you cancel your Elementor Pro auto-renewal, you will no longer have access to our support team, updates, or premium templates requiring renewal.
What if Elementor pro expires?
If Elementor Pro expires, you will lose access to privileges and premium support.
When it comes to other WordPress plugins, how well does Elementor corporate?
Elementor is compatible with *almost* every plugin, notably major ones like WooCommerce and WPML.
Does Elementor offer a demo version?
Nope, Elementor does not offer a demo version. However, something that Elementor does offer is a money-back policy. You can decide to get a refund if you aren't too happy with the tool within the first 30 days of your subscription.
Do I need to know HTML/CSS to use Elementor?
No, you don't. That is the best part of Elementor.
Quick Links:
Conclusion: Elementor Pro Pricing & Plans 2023
Isn't this the end of the discussion? So, no worries. Let me end this article by expressing how happy I am with Elementor and how excited I am about the new plans I discovered that have some amazing features at a reasonable price!
While Elementor is not cheap, it is one of the best options available, and I can assure you that the money is well spent!
Even if you are a beginner or someone who isn't a beginner but has yet to learn how to make your page look appealing, Elementor is your saviour!
Of course, Elementor is one of many you must use. But believe me, I am the pickiest person out there, and I have tried other platforms, but only Elementor has been worth sticking with.
So, for those who want to believe me, this tool is simple and makes everything else easier to work with.
As for those who do not want to believe me, I would say the same, only with an addition, "do not take my word for it. Try it yourself!".