Are you looking for an unbiased Comparision GeneratePress vs Astra? You are at the right place, but let me ask you few questions.
Finding a good WordPress theme for your website is hard. There are thousands of themes to choose from, but not all of them are right for your business. Some look great in the demo but don't offer enough customization or features that you need.
Others may have a lot of bells and whistles, but they also slow down your site and make it hard to find what you want on your website.
In this article, I will be talking about their features, layout customization, pricing plans, and pros and cons. I hope these tips will help you and gain you a few more profits. Let's get into a detailed review for further information. 
In this comparison article we will talk about:
Some of the best features of GeneratePress and Astra. 

What are its ease of use, support, and modules? 

Pros and Cons.

Which one offers better pricing GeneratePress and Astra.

Finally, we will see which one is better for you.
Astra is the fastest growing theme of all time and that sounds pretty impressive. GeneratePress is a lightweight theme that offers free plug-ins to the user but if you want to explore more advanced features then you should purchase the premium plans of both for better layout design and customization.
GeneratePress vs Astra 2023: Which is better GeneratePress or Astra?
GeneratePress
Astra
Astra is one of the most popular WordPress themes available and it's not surprising as it allows you to have a website up and running in minutes.
It also integrates with all major page builders and add-on plug-ins for pricing the basic theme is free.
With the pro version costing $59 per year and an agency, the bundle is available too at a higher price but the company regularly offered discounts.
As for notable features, there are lots of pre-built templates giving you an out-of-the-box website that's ready to go.
The layout settings include options to adjust your headers, footers, and sidebars and it also has special settings for WooCommerce that you don't find in many other themes.
Also, the pro version has a powerful mega menu and mobile header features. For the speed test results, the GeneratePress metrics gave us a performance score of b 76%.
GeneratePress vs Astra – Is It Worth It?
When comparing free versions, GeneratePress will get you much further than Astra, which is more of a demonstration. Both themes have demos, but they take a different approaches to them.
Astra's demos have a distinct design style. Whereas GeneratePressn websites are all fully built out and offer more variety. It is up to you to decide which design is superior.
It's safe to say that Astra is geared toward developers, whereas GeneratePress is geared toward the general public. That is not to say that a developer would not choose Astra; it is simply the primary user type for which they are designed.
Some GeneratePress Advantages
Theme Truly Built For Performance
Developers Love The Hooks & Filters
People Love Their Support
Extensive Documentation
GeneratePress vs Astra Features: Is Astra the best WordPress theme?
User Interface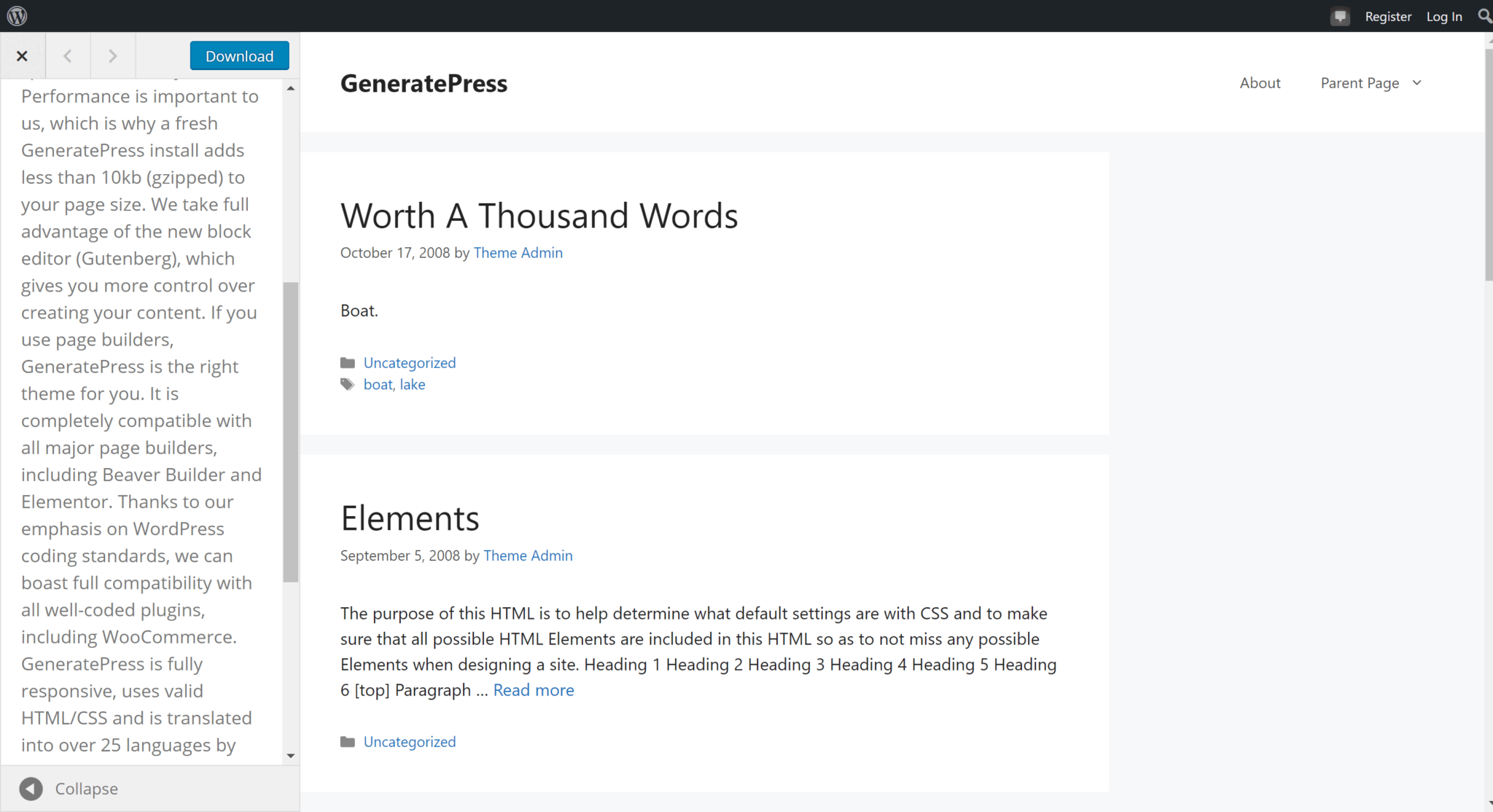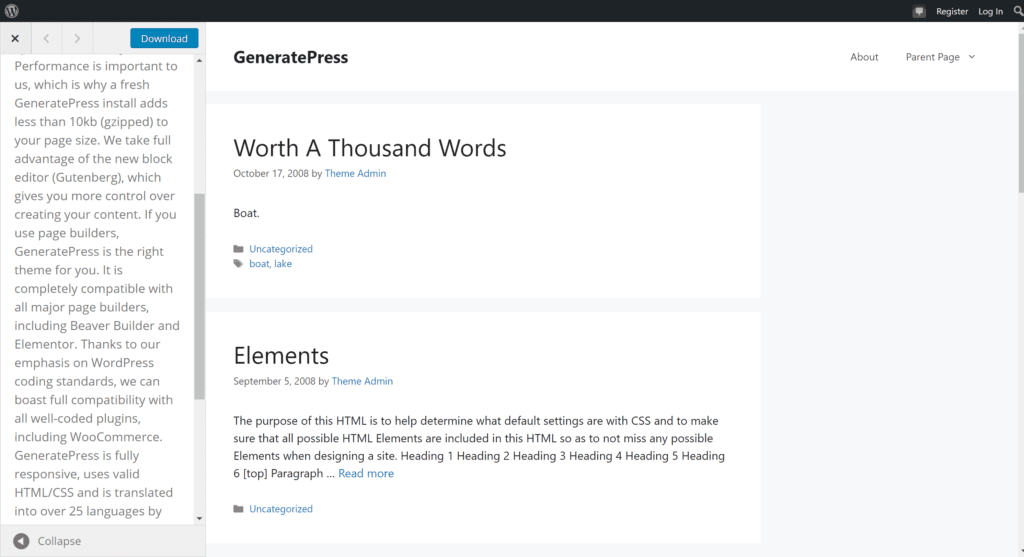 Verdict 
Both have site plug-one which allows you to import complete website demos, and tweak them as build professional themes: it can be used to improve and make easier template search options. Ability to make your favorite templates as well. 
Pricing: GeneratePress vs Astra
GeneratePress has only one pricing plan you can either go on a yearly plan which costs $49 or get the lifetime plan for $249. With Astra, there are three pricing plans.
Astra Pro is compatible with the GeneratePress Premium and it costs $59 and the lifetime membership costs the same as GeneratePress.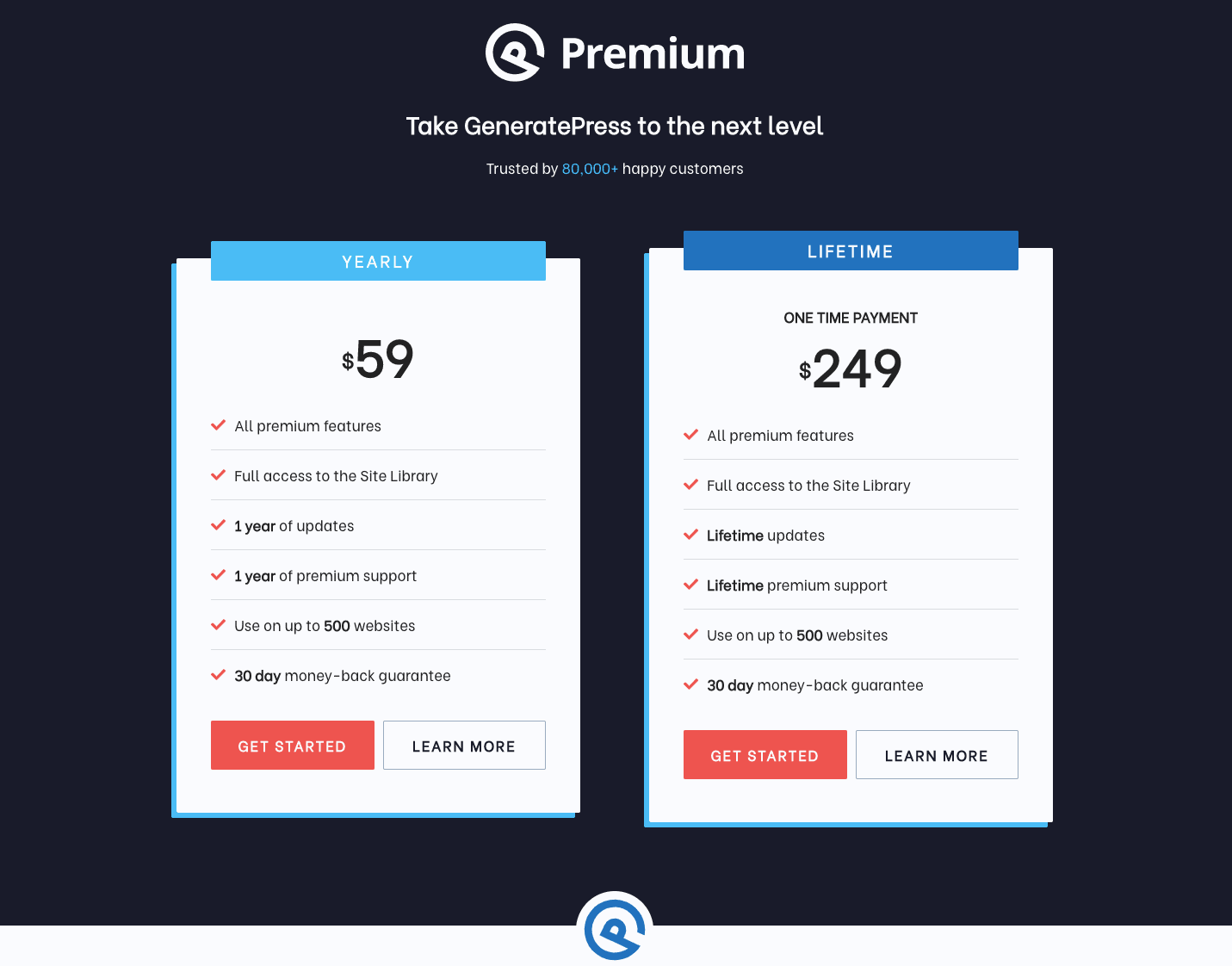 If you use Eliminator or Beaver builder you can get a mini agency bundle for $169 per year and they have a plan specifically for agencies that costs $249 per year.
So, if you want to get either of these themes you can go through the pricing plans for further details for the latest updates, deals, and discounts.
Verdict
If you ask me, both pricing plans have affordable plans for a year.
But I feel Astra is a bit costly when compared to GeneratePress.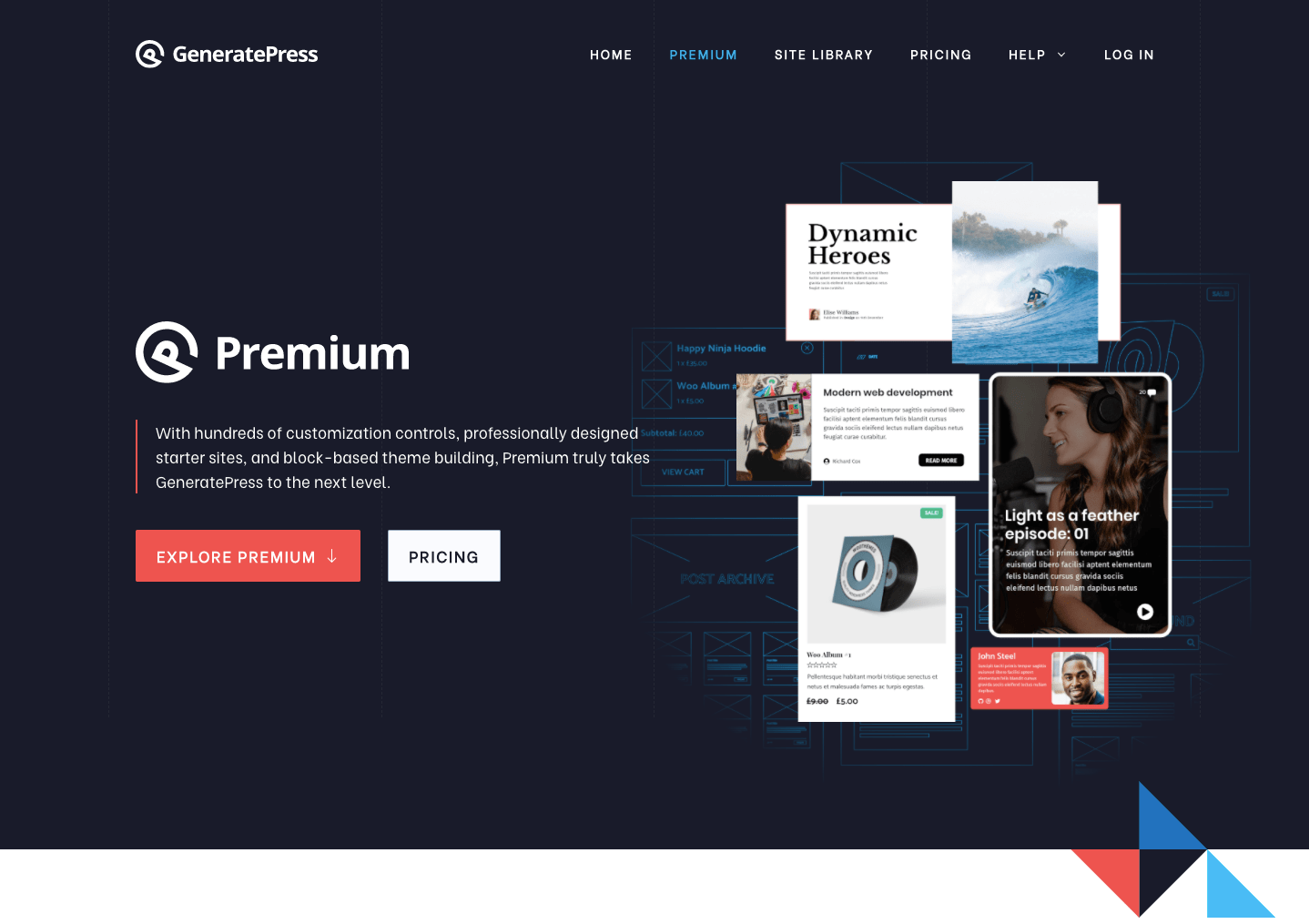 Premium
Astra Pro theme comes with all this extra functionality which includes White-label which is handy if you're building websites for clients.
The features include site layouts, advanced typography, mere colors, spacing control which gives you greater control over each element spacing padding and margin, and much more.
The pricing of Astra theme pro is very reasonable. It costs $59 per year and you can use it on an unlimited number of websites.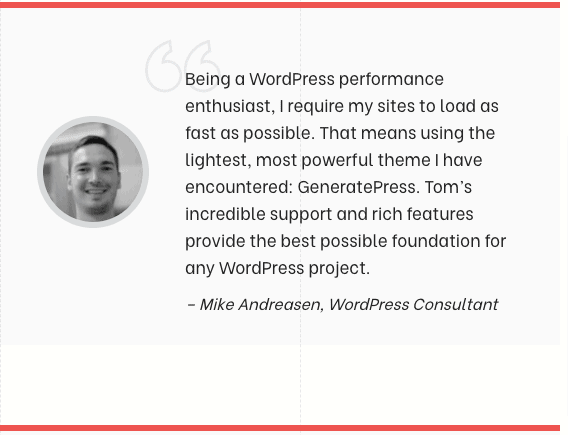 GeneratePress is much like Astra you can see greater control over color typography. The features include site library elements, WooCommerce integration menu, the spacing of colors, and a feature that I haven't seen in all the themes which I think is very interesting.
It's this disable elements feature which enables you to turn off various theme elements on specific pages throughout your website which is brilliant because you can turn off certain elements that you're not using on a web page and improve the performance, and the loading speed of that page. 
Verdict
Astra and GeneratePress both have amazing pricing plans: free and premium. But what makes it unique and stand hard from anyone else is – the fact that both of them Astra and GeneratePress both have amazing pricing plans and unique features which can be used by anyone who wishes to try it out for free or either premium plans.
But if you ask me about premium plans you can make use of a lot for your website when compared to the free version. It also has a 30-day money-back guarantee which makes it all the more interesting to try it out. 
Layout and Style Customisation
Is GeneratePress a good theme?
It has one of the greatest ratings in the WordPress repository, with 848 out of 858 reviews giving it a 5-star rating, and it has more than 200,000 active installs.
GeneratePress is one of the most popular themes currently available (as of this writing). It is obvious that this concept is hiding something up its sleeve.
Astra vs GeneratePress: Performance & Speed
Both GeneratePress and Astra stand out in the theme industry due to their speed and performance. Both themes are lightning fast!
Both themes were designed to be light and entertaining. In those aspects, they are among the best themes in the industry. WordPress installations using GeneratePress or Astra take less than a half-second. They're both fast and perform admirably, so there's not much of a difference between the two.
WINNER: Both themes perform similarly.
Astra vs GeneratePress: Design and Layout
Astra and GeneratePress both use a modular approach to theme options. You can turn on and off features that you want to use or disable in order to improve the performance of your website.
Both of these themes use the WordPress Customizer to provide theme settings rather than a separate theme options panel.
The layout options are organized logically in the Customizer and are easily accessible with a single click. Astra's free version has more features than GeneratePress. So, if you don't intend to upgrade to the paid version of either theme, Astra is the better choice because it offers more in almost every department than GeneratePress for free.
The Primary Menu is one such example. As the final item in the primary menu, Astra allows you to include a widget, HTML/text, or Button. However, without the use of custom HTML, there is no way to add a button to the header area in GeneratePress.
GeneratePress vs Astra — Layout and Style Customization
When we were comparing the free features to the premium features, we touched on this topic a little bit, but now let's delve deeper into the layout and style customization possibilities that are available in both themes.
Both Astra and GeneratePress provide a large number of possibilities for customization, which is one of the reasons why both of these alternatives are so often used.
The fact that there is such a wide variety of choices makes this part of the chart particularly difficult to analyze (especially if you have the premium version). To delve into each and every one of the features, you would need a whole booklet all to yourself!
In most respects, Astra is somewhat ahead of the competition in terms of the sheer amount of features.
However, for the majority of scenarios, either theme can provide you with all of the solutions that you require. When it comes to some of the more specialized functions, the majority of users probably won't even notice any change at all.
In addition, GeneratePress is more adaptable in some areas, but Astra's lead does not extend to all aspects of the competition.
For instance, GeneratePress provides a greater number of predefined header layouts than Astra does with its upcoming header/footer builder, which is presently in beta at the time that we are writing this comparison. However, this will soon change.
Compatible with page builders such as Elementor
Both Astra and GeneratePress are completely compatible with page builders. In fact, Astra claims to be a page builder theme. If you're using a page builder, such as Elementor, you can let the theme handle global options like colors and typography while the page builder handles the rest of the design of your blog.
You can also use Elementor to create a custom header and footer for your blog, which will replace your theme's header and footer. In practice, the sky is the limit.
Astra's page builder onboarding is more user-friendly. When you activate the site-library importer plugin, it will ask you whether you want to use a page builder or none (the default editor), and it will present you with starter templates based on your selection.
To summarise, Astra has more starter templates and is compatible with more page builders than GeneratePress.
GeneratePress, on the other hand, is more geared toward the Gutenberg editor and includes some unique theme-building features that I will reveal later in this comparison.
Color customization
Both of these themes are nearly identical in terms of color modification. Both of these themes feature the same color selection control on the customizer page.
You may alter the color of every component of your site with color pickers, from widget title color to footer link color. For non-coders, any visual aspect may be changed without touching a single line of CSS.
I would still recommend GeneratePress because it allows you to fine-tune the colors of form elements, slider elements, and menu components.
If your demands are more sophisticated, you may always use the custom CSS section that both of these themes include.
Page Builder Integrations
Astra is one of the best themes to use with page builders. Even the custom plugins are incredibly impressive and have ultimate add-ons such as extend Elementor and Beaver builder. The page level aside from the page builder can be defined as custom layouts and sidebars as well as enabling or disabling certain elements like the title, sidebar, footer, and more of a specific single page. 
GeneratePress is just like Astra where it supports both the Elementor page builder and beaver builder as well as the others.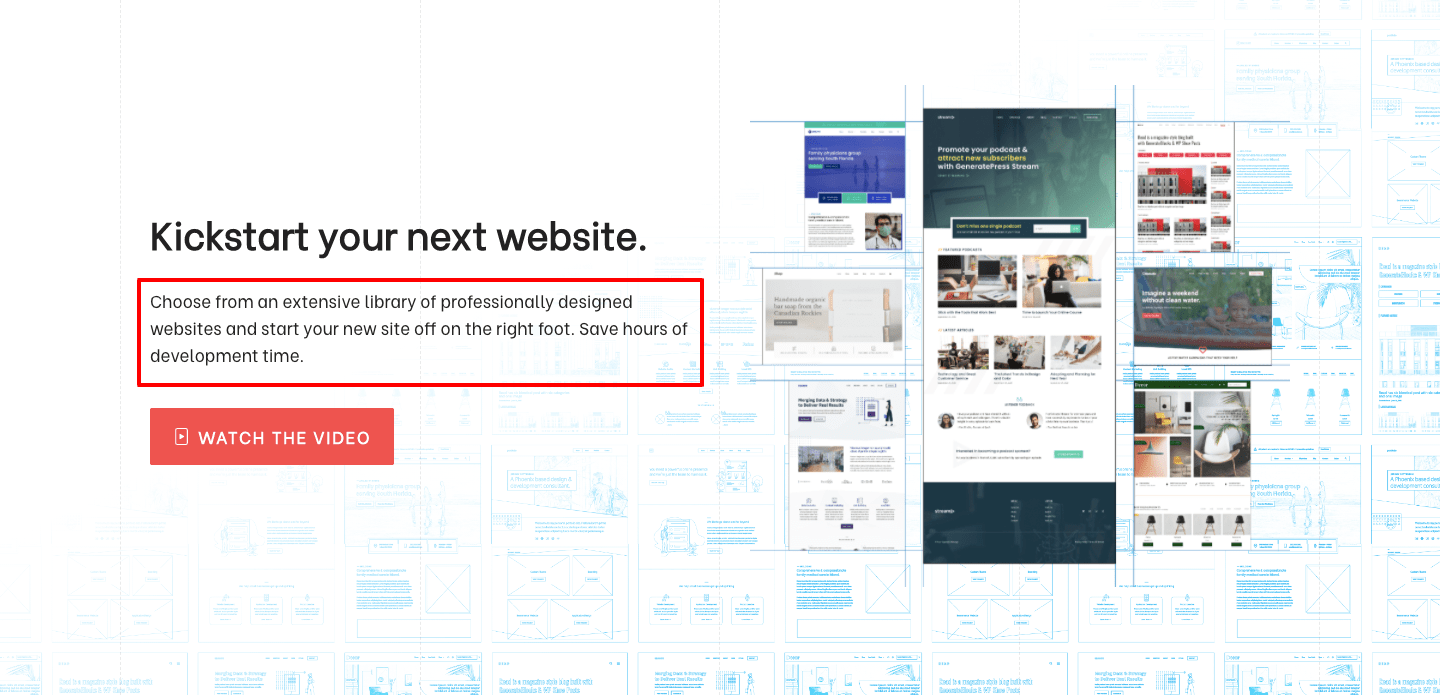 Their site library consists of demos that are built either in Elementor or beaver builder or on their own mini-page builder called sections which can be accessed by activating its premium sections module. 
Verdict 
Astra is the clear winner as it shows support and advanced integration with Elementor and beaver not only via its large site library but also via its ultimate add-ons.
GeneratePress on the other hand is very compatible with major page builders but they don't specify which. They also offer many page-level customization options for the layout and sidebar as well. 
Developer Compatibility
Astra comes with custom hooks that developers can use to insert custom code snippets in different areas of the theme.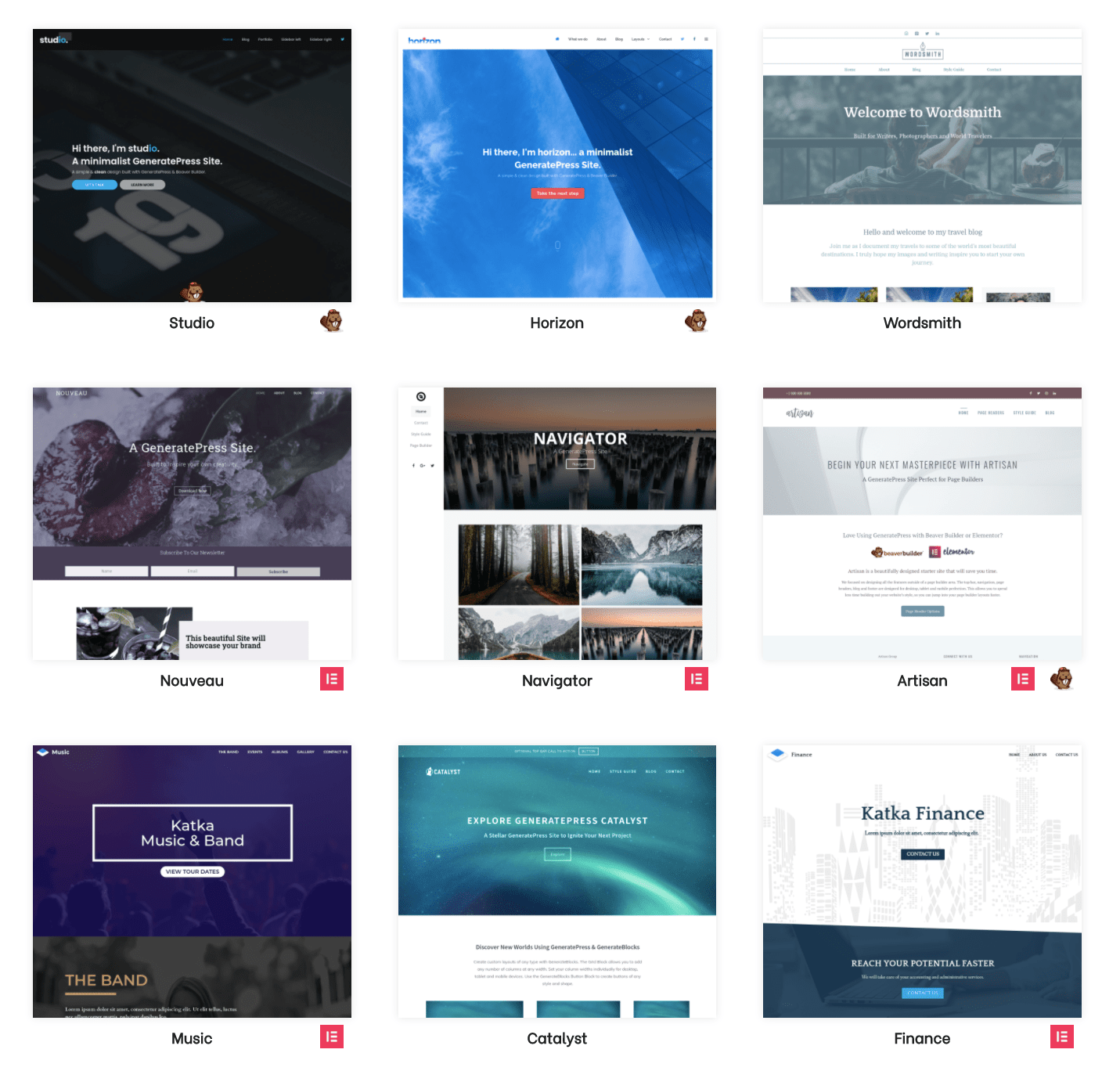 GeneratePress comes with tons of hooks and filters that let you insert custom content and code snippets in various parts of your website. 
Verdict 
The compatibility between them is a tie where both themes offer tons of hooks and filters that give you the freedom to make changes to the theme. 
E-commerce Integration
Support and Documentation
GeneratePress support is awesome. Now in terms of support depending on how complicated your questions are both Astra and GeneratePress will usually reply within 24 hours but both do not have live support and both have documentations where you can refer to New Astra support using the ticket system while GeneratePress uses the forum style support.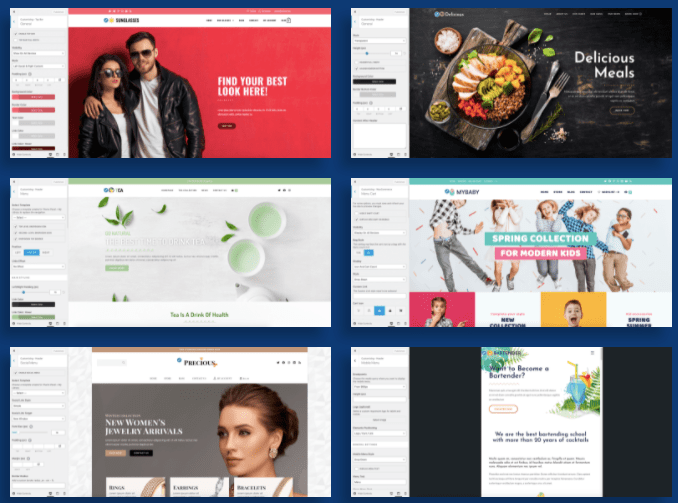 Personally, I prefer the forum style because usually, I do not need to contact the support after all they have probably answered the same question on the forum. 
Verdict
This way I can solve my problems much quicker. That's the advantage of having an open-style support system but of course due to the lack of functionality of GeneratePress sometimes you still have to contact the support and they are really good at understanding your questions if you provide visual representation with the same goes for Astra.
Astra Pro Premium Wp-theme
The Astra theme is now installed on over 1.653.898 websites. Astra PRO costs $ 59, which is a very reasonable price for such a good theme. While installing the theme, we notice how simple the demo installation is.
We run a few speed tests and discover that the theme loads extremely quickly in our browser, even with a large number of modules enabled. The theme easily wins the race for the highest rating for WordPress themes, which naturally draws attention.
Everyone is clearly praising this theme, and no one is criticizing it. Check out the image below, there are 3537 ratings and only a few negative ones (that must be haters). Everything else is nearly perfect.
WooCommerce Support
WooCommerce is one of the most widely used e-commerce platforms, with more than 31% of the top one million websites utilizing it.
As a result, a premium theme should feature or integrate with this widely used plugin, and both GeneratePress and Astra do not disappoint.
Both themes have extensive WooCommerce-specific layout and customization options, allowing you to adjust and control your store's colors, background, layout, typography, and more.
In truth, many things are present in both, so we'll only focus on what makes each theme unique.
Astra's WooCommerce features are one-of-a-kind.
All of Astra's WooCommerce customization options are centralized, providing you quick access to everything you need to personalize your store.
The option to change the metadata structure of your product is one of the capabilities available only in Astra. By clicking and dragging, you can, for example, show or hide certain elements or reorder them.
Another standout feature of Astra is the WooCommerce off-canvas sidebar. A similar feature exists in GeneratePress, but it is a global one.
GeneratePress Unique WooCommerce Features
When it comes to WooCommerce options, GeneratePress is a tad disorganized. There are settings under Colors, and another under Typography, among other things. However, this is due to the fact that GeneratePress organizes options by category rather than by area.
Fortunately, the tiny navigation menu, which we've already seen, allows you to quickly move to different alternatives. The usual WooCommerce customizer choices, however, are not included in this.
When it comes to WooCommerce integration, there are only a few minor differences between GeneratePress and other plugins.
The majority of these are toggles, such as the option to show a secondary image on hover, show a flash sale, show product count, show sorting, and so on. While Astra can potentially handle most of these, GeneratePress gives you more control over them.
Astra and GeneratePress addons
The only add-on that is currently available for GeneratePress is called GenerateBlocks. It makes your Gutenberg editor more versatile and helps you develop amazing web pages without the need for any other page builder plugins to be installed on your site.
You may make gorgeous websites with the help of the blocks that are packaged with GenerateBlocks.
These blocks include containers, grids, headlines, and buttons. In addition, you will be provided with some pre-made templates that you can use to construct the various blocks on your website, such as the page hero, post meta, post navigation, site headers, and so on.
Astra further comes with a few add-ons, both free and paid for.
GeneratePress comes with built-in tools that allow you to reset the customizer and import and export the settings for the customizer.
It is lacking in functionality such as customizer search, custom Typekit fonts, bulk edits, and other similar functions. These features will save a significant amount of time.
Add-ons such as Ultimate Addons for Elementor and Ultimate Addons for Beaver Builder are available for purchase through Astra. You have the option of purchasing Astra's growth bundle, which costs $249 per year if you want to expand the capabilities of your page builder with these add-ons.
The best add-on plugins are available for Gutenberg.
This is a free plugin that comes with a variety of block elements that may be used to improve the amount of creative freedom available in the basic Gutenberg editor.
When compared to GenerateBlocks, UAG provides access to more complex building blocks. These include things like post layouts, pricing lists, info boxes, timelines for posts and content, and a great deal more. To view all of the blocks that UAG has to offer, go here.
There is a wide variety of scalability and personalization options available for each of these blocks. Please be aware that you will not receive any templates to assist you in the design of these blocks.
Installation Process Astra vs GeneratePress
How To Install GeneratePress In 6 Easy Steps
The installation of GeneratePress is very easy.
1. The First Step Is, to log into your WordPress Go To The dashboard.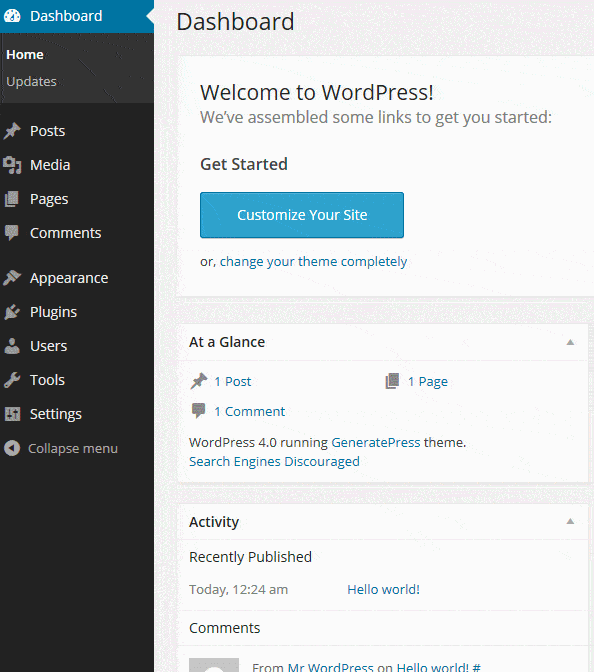 2. Then go to "Plugin> Add New" in the left menu.
3. At the top, you will see an Upload Plugin at the top, browse and select the GP-premium.zip file, click that button.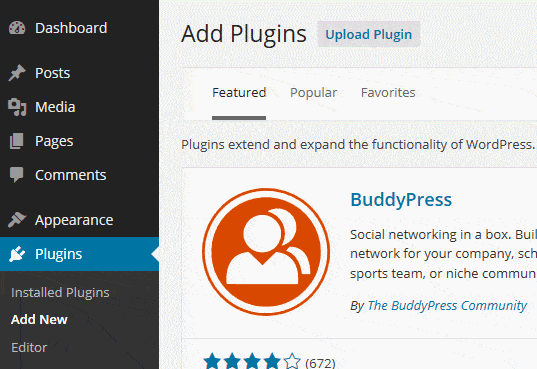 4. If You have a zipped plugin you can install it by uploading it here, see the below image

5. In the Search Topics bar, enter:
6. You will see GeneratePress and you will see some of our sub-topics.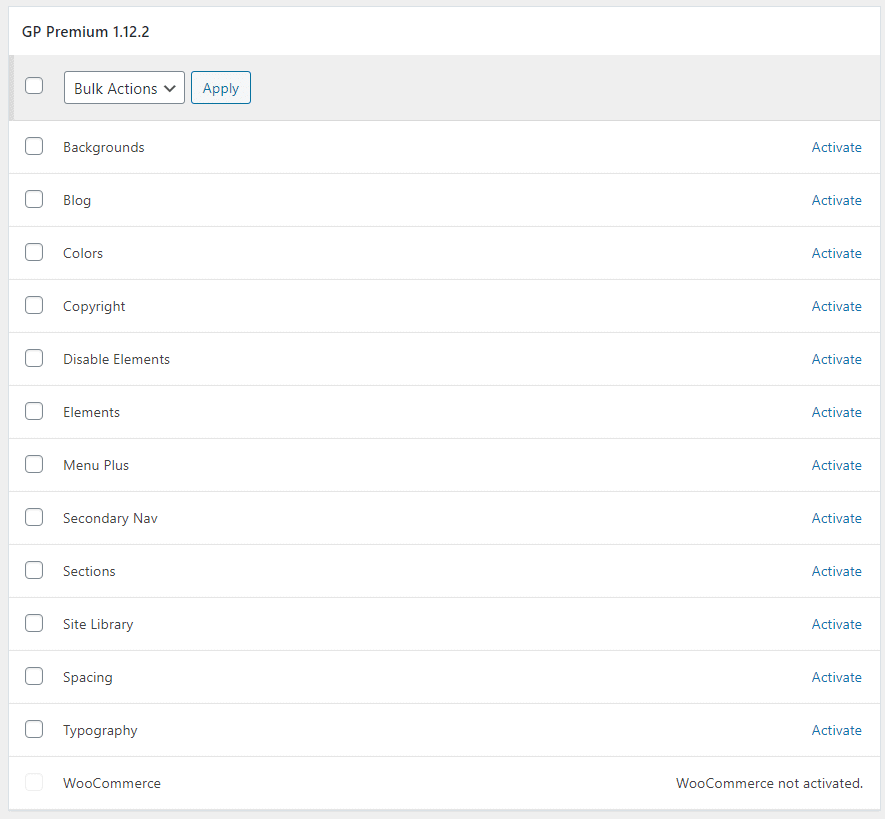 7. The Final Step is to Click on "Install" and then enable.
How To Install Astra In 5 Easy Steps
1. The First Step Is to Log into your WordPress dashboard.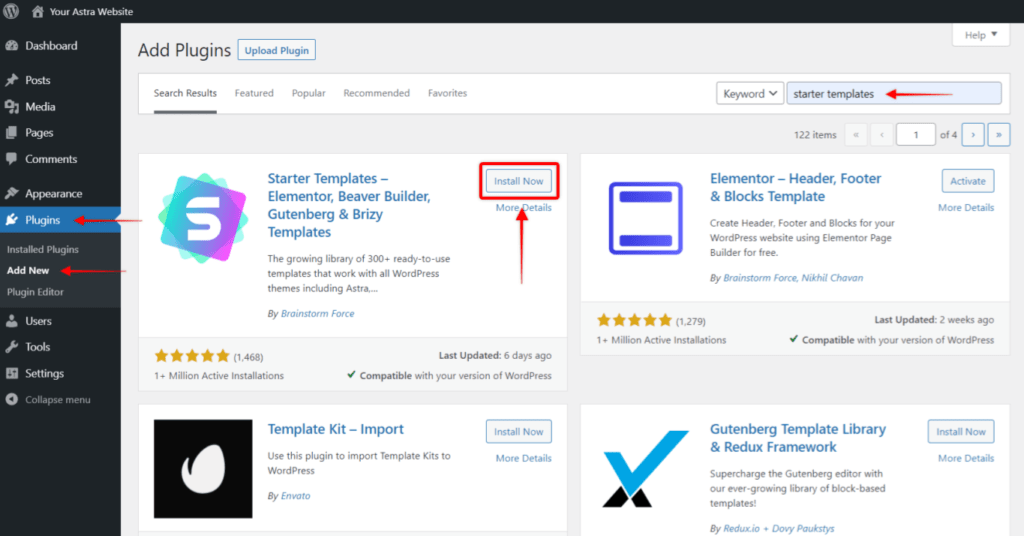 2. Now Go to Appearance, Then Click On  Themes, And then  Add New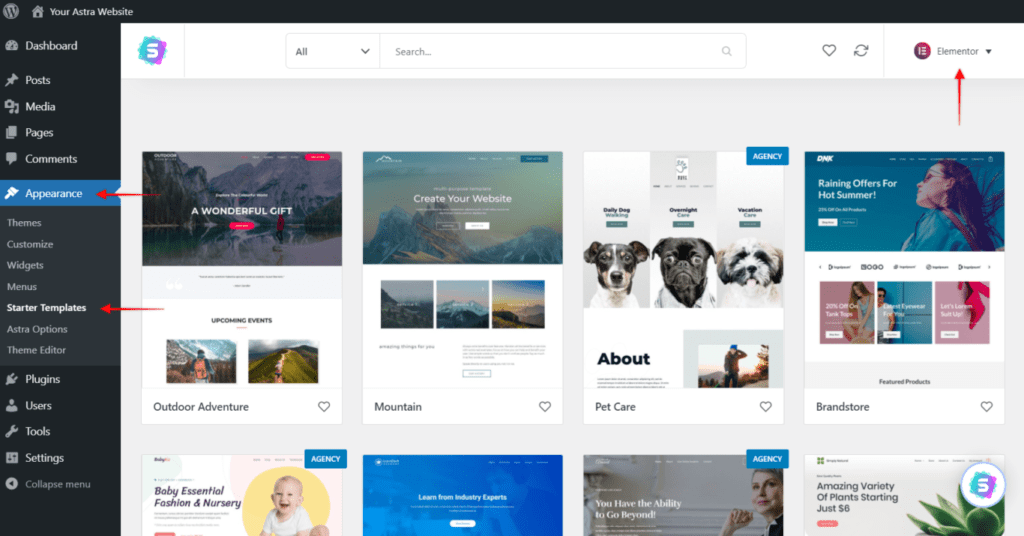 3. On The Search Bar Research – Astra, And Find The Theme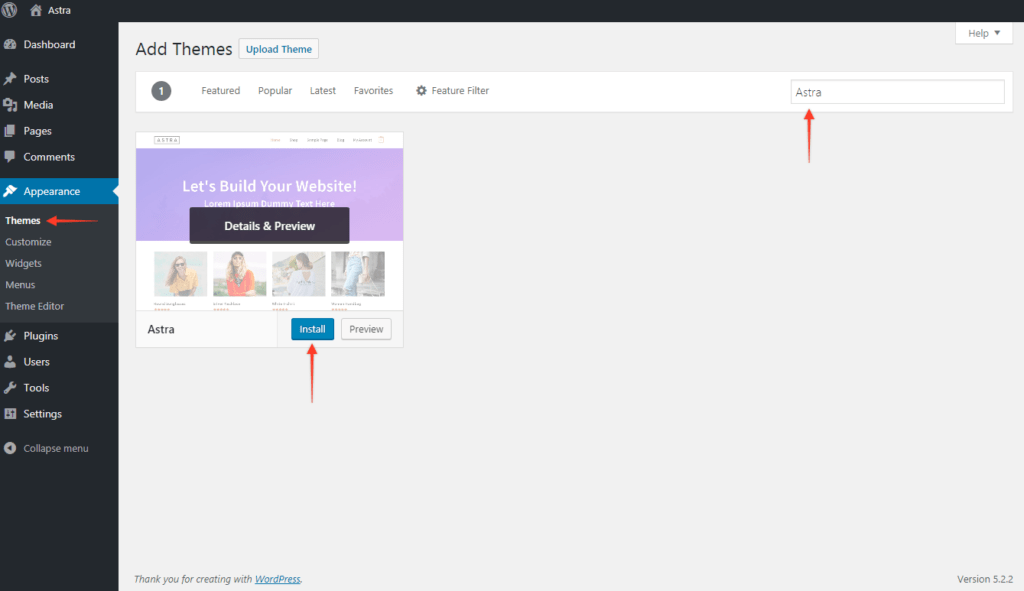 4. After that click on Install Astra, which you can see in the below image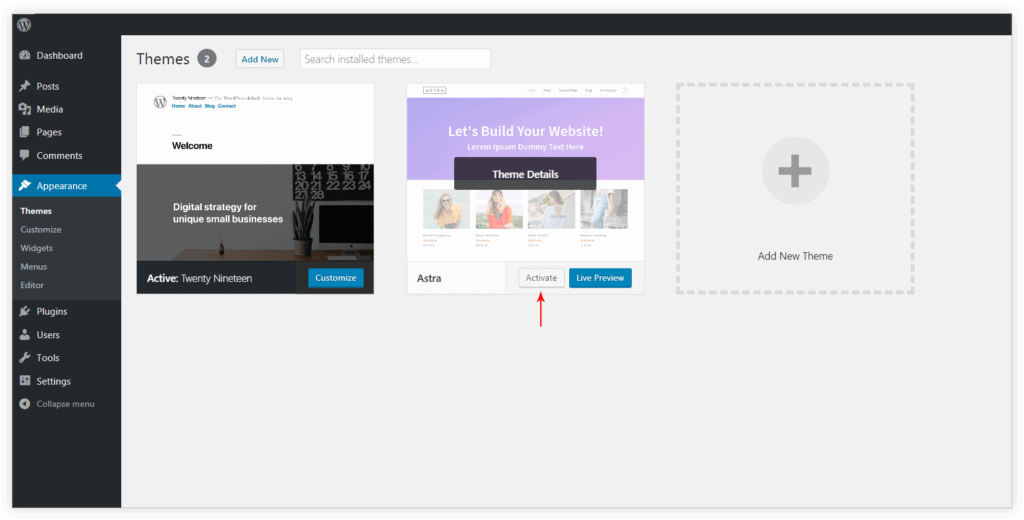 5. The Final step is to Activate and launch your Astra theam
Astra vs GeneratePress: Ease of Use 
Verdict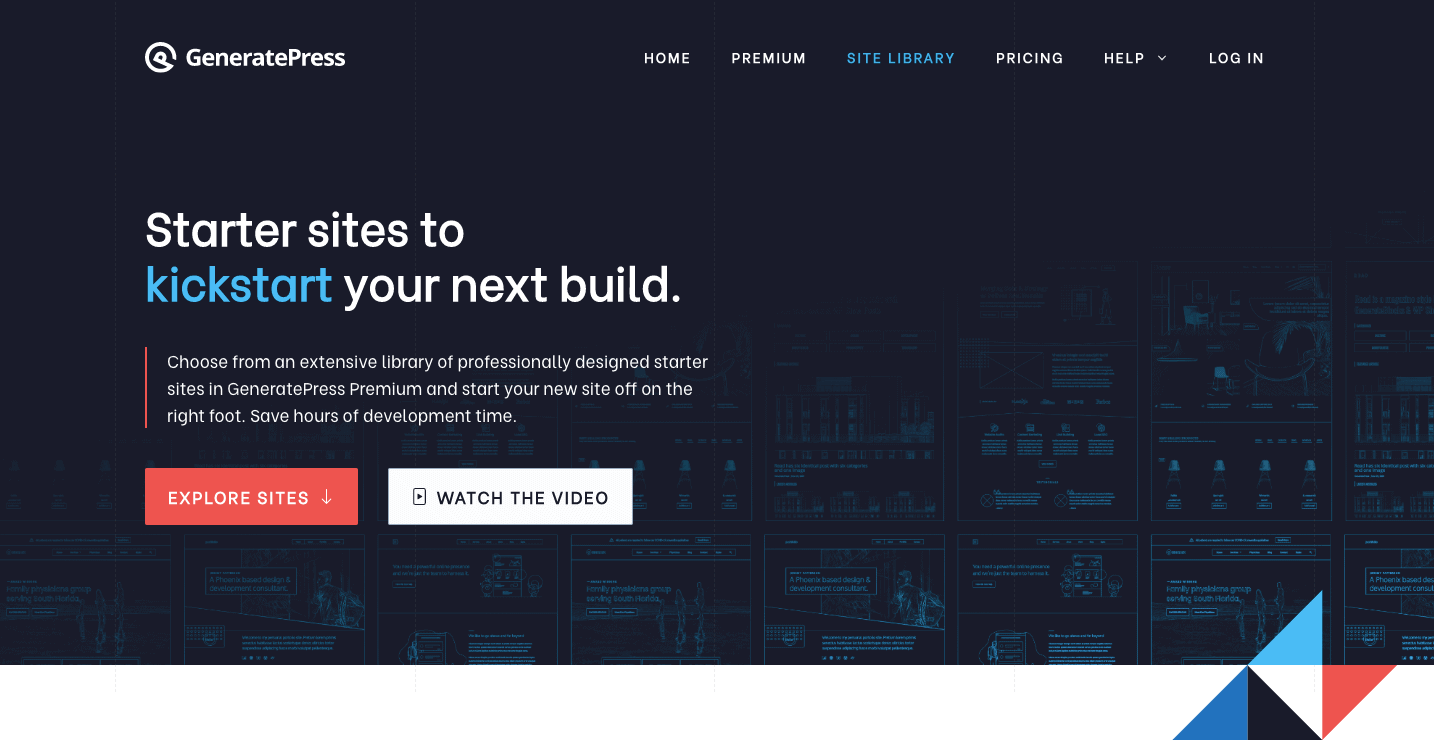 Astra and GeneratePress are very easy to use and simple to understand. Both of them have advanced features according to their pricing plans.
The users can choose either to use or use both of them for making the best use and to have a clean design style. Astra is built out of websites that offer more variety and GeneratePress speed is given top-most priority. 
Astra vs GeneratePress: Support
GeneratePress support is awesome. Now in terms of support depending on how complicated your questions are both Astra and GeneratePress will usually reply within 24 hours but both do not have live support and both have documentations where you can refer to New Astra support using the ticket system while GeneratePress uses the forum style support.

Personally, I prefer the forum style because usually, I do not need to contact the support after all they have probably answered the same question on the forum. 
GeneratePress vs Astra: Pricing Plans
GeneratePress Pricing Plans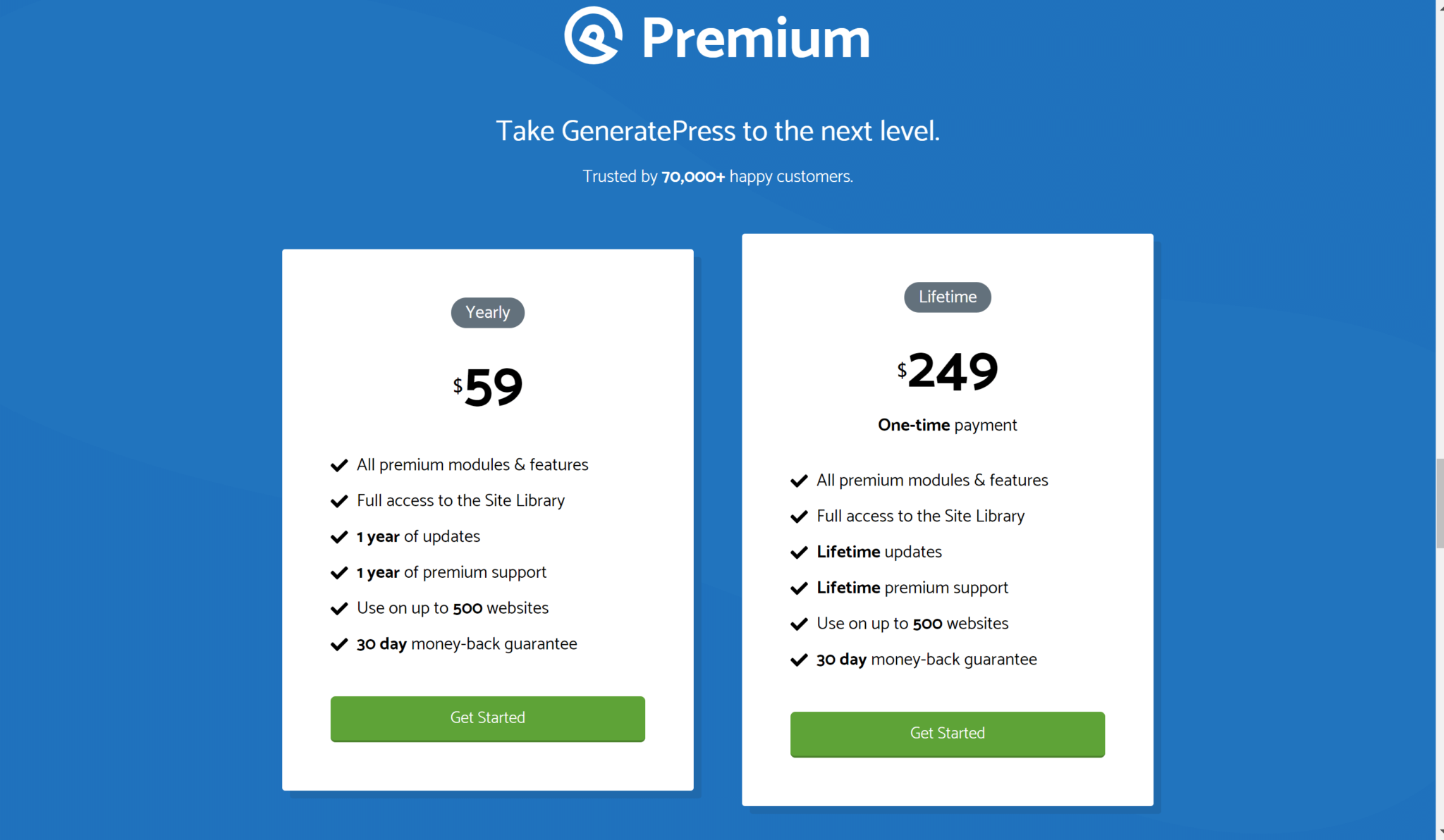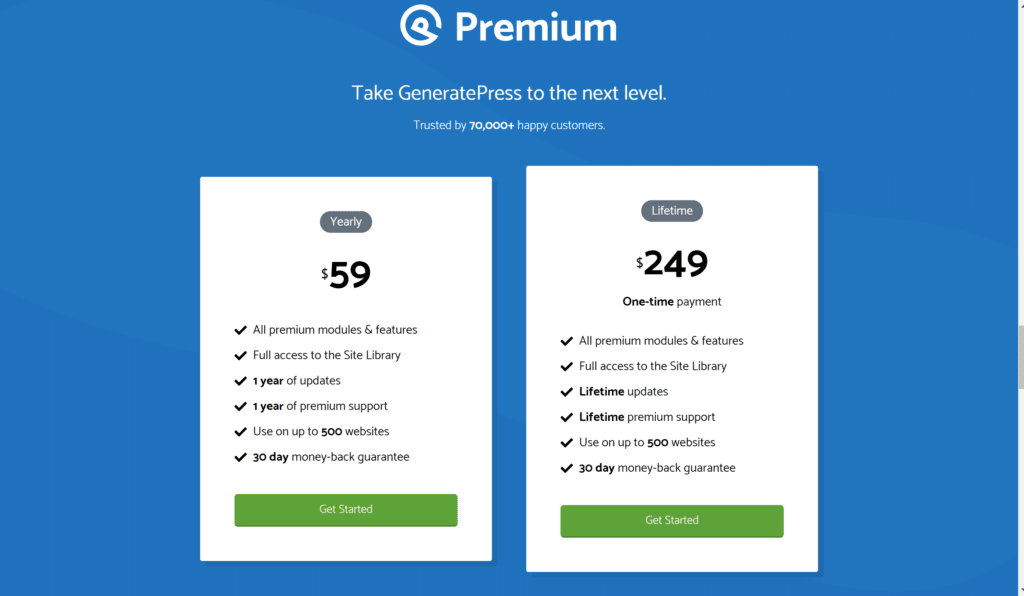 Astra Pricing Plans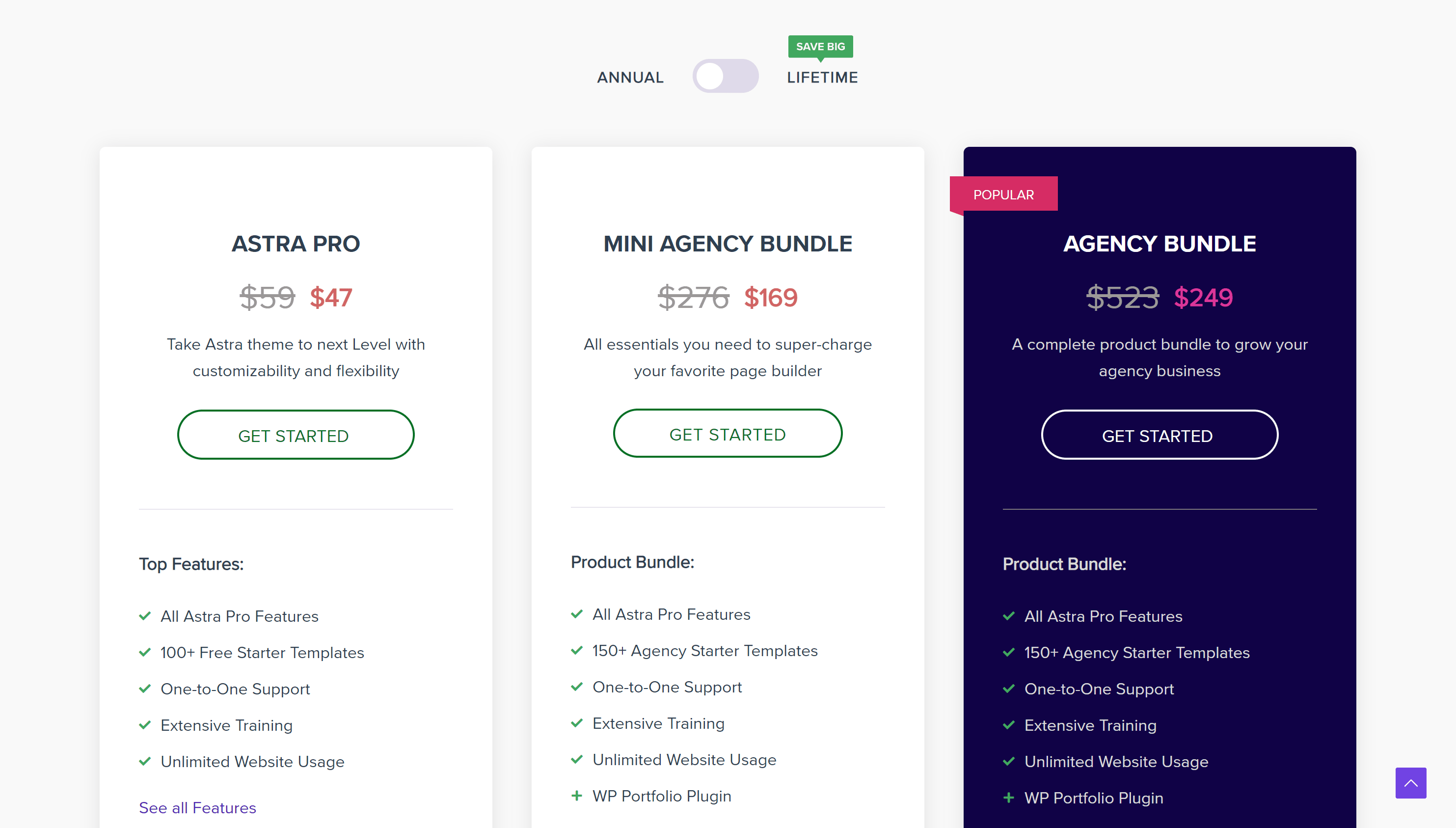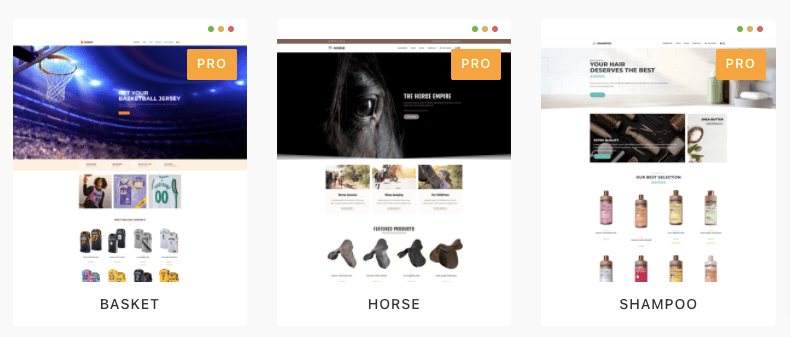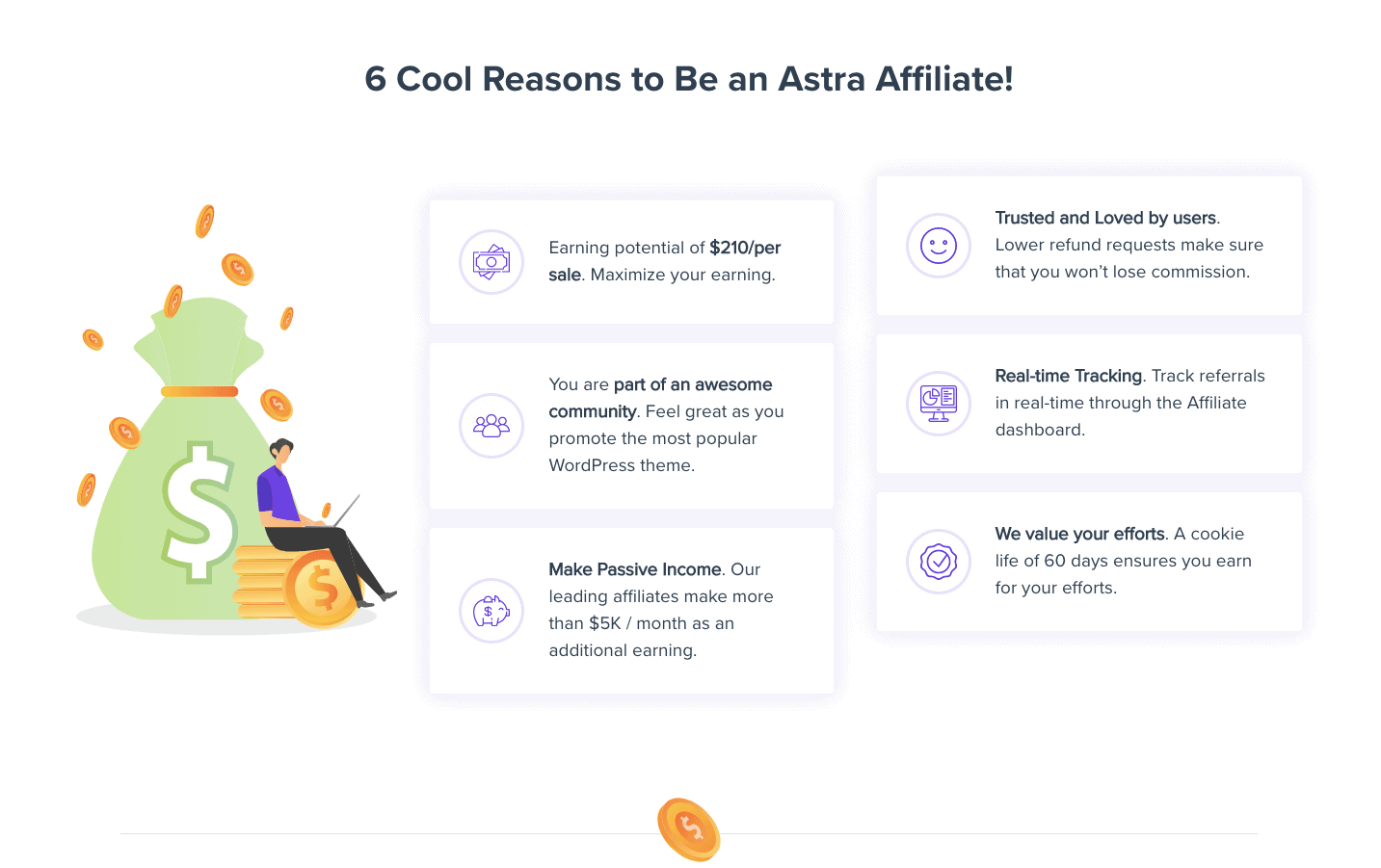 Ecommerce Integration
WooCommerce compatibility and built-in capabilities are available in both GeneratePress and Astra. Astra also has a specific Easy Digital Downloads module, whereas GeneratePress lacks any such functionality.
Astra, on the other hand, has better WooCommerce integration and more WooCommerce-specific capabilities. As a result, Astra is likely to be a better choice for WooCommerce stores, however, GeneratePress would suffice in most cases.
Astra, for example, has:
Shopping cart with a dropdown menu

WooCommerce sidebar that appears off-canvas

Quick view of products built-in

Checkout without distractions or two-step check-out (read our guide on WooCommerce checkout pages)

An eye-catching indicator for things for sale.

There are numerous Customizer options available to control your particular items and catalog.
A handful of those features, such as the distraction-free checkout, are matched by GeneratePress. However, in terms of WooCommerce integration, Astra is clearly ahead.
GeneratePress vs Astra: Pros and Cons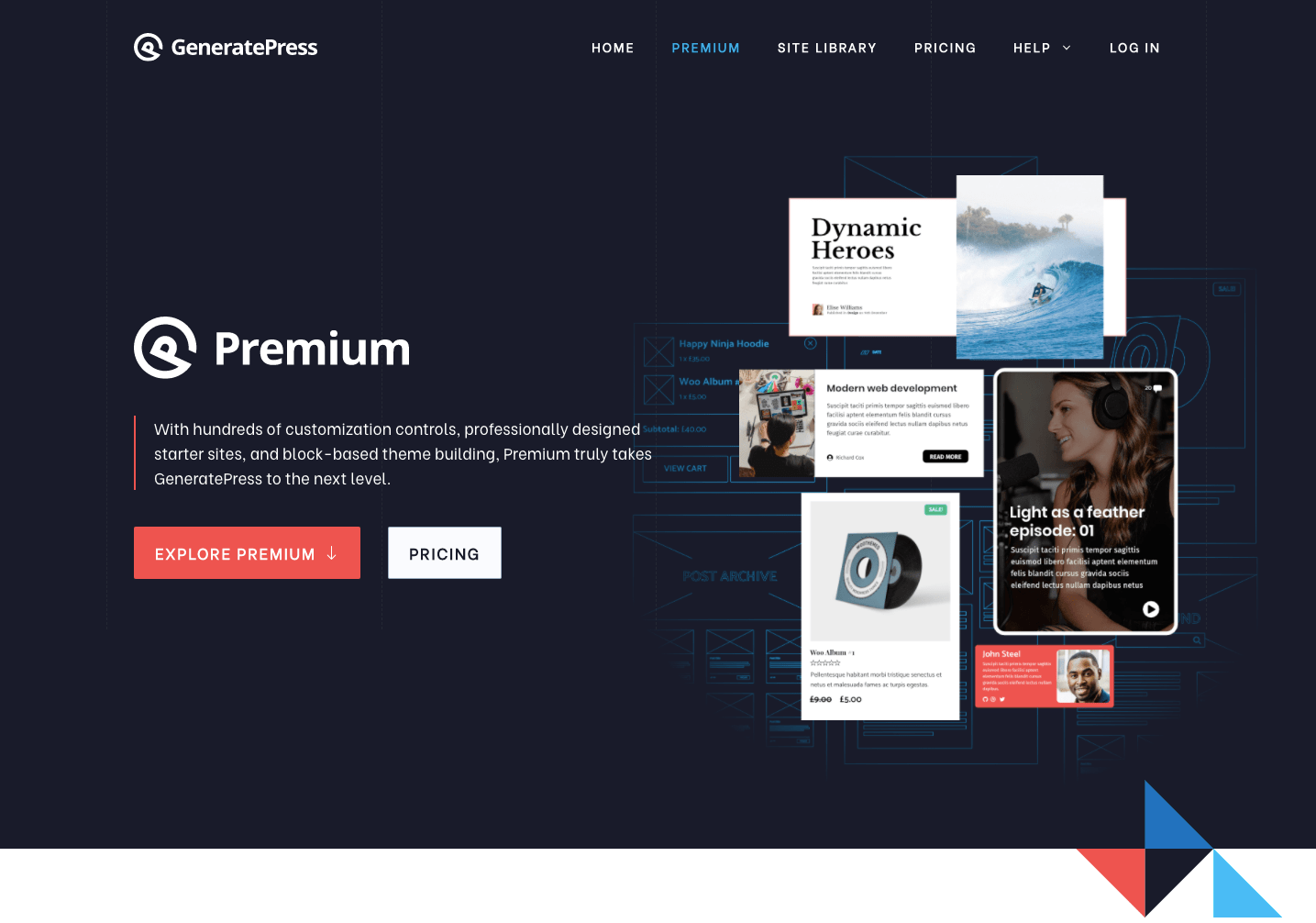 Pricing: GeneratePress vs. Astra
Both GeneratePress and Astra provide free and premium editions on WordPress.org, with paid versions unlocking more capabilities.
When it comes to premium options, the prices are practically identical. The main difference is that Astra's premium Agency themes come at a higher price.
In their free versions, modules, guidance, and a number of additional services are not available.
GeneratePress Pricing Plans
GeneratePress allows the following payment methods:
A year of assistance costs $59. You can subscribe for a 40% discount after your first year.
Lifetime support and upgrades are included in the $249 price.
You can utilise both choices on an unlimited number of websites.
Astra Pricing Plans
The two premium theme pricing options for Astra are the same:
A year of support and updates is $59.
Lifetime support and upgrades are included in the $249 price.
You can utilise both choices on an infinite number of websites.
On renewal, Astra gives a 20% discount.
GeneratePress vs Astra Real Customer Testimonials And Reviews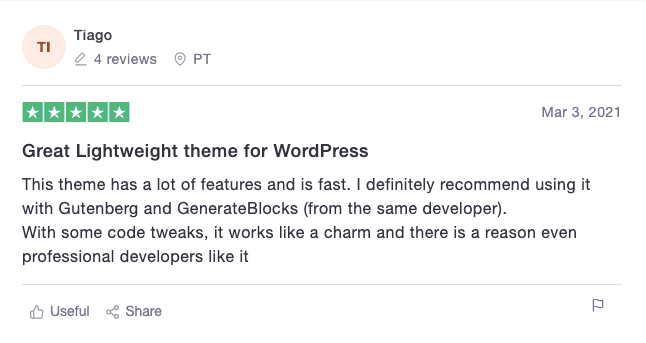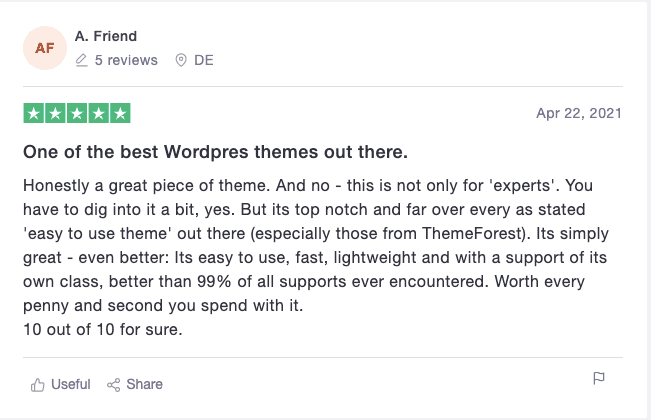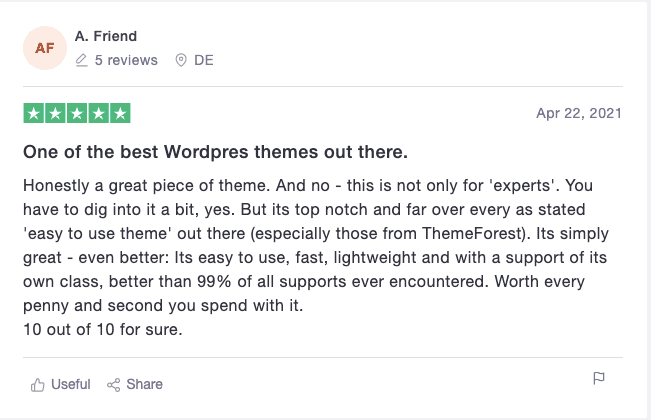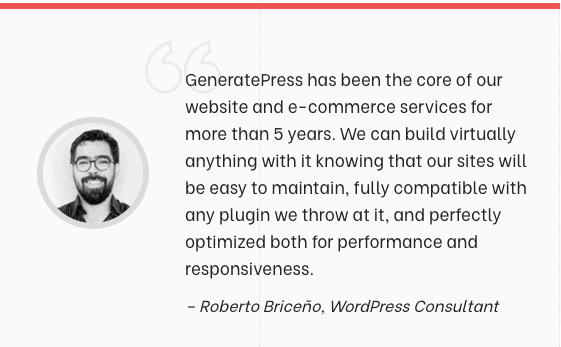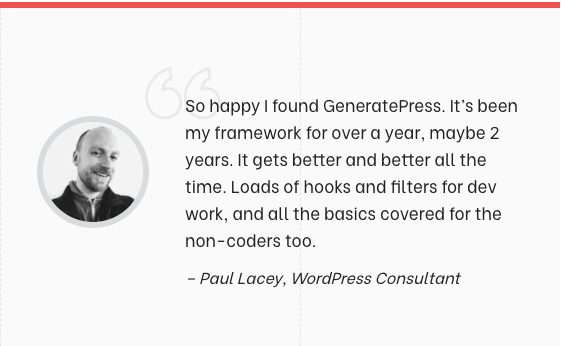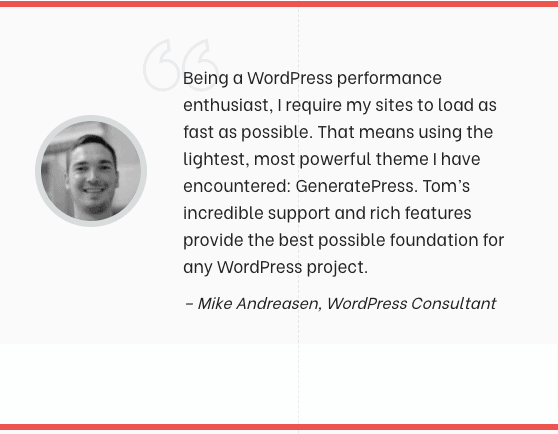 GeneratePress vs Astra Reddit
Blocksy is not the quickest or the slowest of the classic themes, but it is beautifully constructed and covers all the bases.
Blocksy is an e-commerce platform, while Kadence is a component of a broader ecosystem called Liquid Web. Kadence's design isn't quite as polished as Blocksy's, however. Because less animations are used, it has a slightly improved performance time.
Because it is one of the fastest classic themes, GeneratePress has garnered a lot of attention from SEO bloggers and people who build specialized websites. It leans more toward the minimalistic functional style, and if you want more creative freedom, you will either need to write some code yourself or upgrade to their pro version.
Astra is sort of in the middle of GP and Kadence. Although I've never used Ocean WP, I seem to recall that it was one of the original all-purpose themes.
Quick Links:
FAQs On GeneratePress Vs Astra | What is the fastest WordPress theme?
✅ What is GeneratePress Theme?
GeneratePress is a lightweight theme which is a multi-purpose WordPress theme. It keeps its focus on speed and usability. You can use GeneratePress to build your website or to build a blog, magazine site, or e-commerce site. You can use various integrations to build a blog or a website. You can use various custom, designs or layouts to style and customize your blog site or eCommerce site for a better purpose. It is simple to use and easy to understand. It is pretty affordable as well.
💼 Which one is highly recommended?
If you ask me I like both of them. They both are easy to use, simple to understand and they both are lightweight WordPress themes. They are pretty affordable though Astra is a bit expensive all-in-all it allows you to build a blog site, an e-commerce site for your business which helps in gaining profits. They both have great integrations where you can customize, style, and design using a free plan or a premium plan for your sites. The plans have advanced features which in turn helps you out a lot to configure and design your site.
✅ Can I use Elementor for free?
Yes, you can use Elementor for free because it is an elementor website builder which is open source. It is the perfect plug-in to be extended and integrated further. Moreover, GeneratePress uses this Elementor as a plug-in. It is the leading website and page builder which has a drag-and-drop editor, advanced design features, and full open-source approval. It is faster and it has a live design and the professional features are out of the box which also has responsive live editing.
💥 Can I disable the modules that I no more need?
Both of them provide a modular approach. You can disable the modules you don't need.
🏆 Which theme is more popular?
Both of these themes are equally popular. However, Generatepress is more popular because of its low cost.
🎉 How compatible are these with page builder plugins?
Both of the themes work well with page builders like Elementor, Beaver Builder, and others.
🤩 IsAstra a good theme?
Astra is a good theme for any website as it is a multipurpose WordPress theme and it is the winner of this comparison too. Astra has grown tremendously in the months since its inception and is a great fit for most websites.
🥰 Is Astra the best WordPress theme?
Astra is probably the best WordPress theme out there. Not only does it have a lot of cool features, but it also has very little bloat and great performance, as well as great integration with other tools.
🧐 Which theme is more popular?
GeneratePress and Astra are equally popular. GeneratePress is becoming increasingly popular because of its low cost.
🥸 Should I buy Astra Pro?
It would be advisable to invest in Astra Pro as it has extensive WooCommerce integration, meaning it comes with a huge ecosystem of WooCommerce plugins. It has a solid foundation for faster loading, high conversion, and the best shopping experience in an eCommerce store.
🥏 Are Astra themes fast?
Astra has quickly become one of the most popular WordPress themes for good reason. Thanks to the detailed configuration of the WordPress Customizer and a large number of importable demo pages, it is free, quick, and easy to adapt to different use cases.
Conclusion: Which is better GeneratePress or Astra?| GeneratePress or Astra 2023?
I use Astra Pro and GeneratePress Premium.  I have been using Astra Pro Premium since it came out and I use it to access many websites and I did use it on my main blog but I have recently switched to
GeneratePress on my main blog and the reason for that is down to preference as I say the two themes Astra Pro and GeneratePress Premium are very similar.
They are both very lightweight themes. They are both superbly coded as there's not much difference there when it comes to performance.
The Astra Pro custom layout Vs GeneratePress Premium elements is a thing and Astra Pro definitely wins hands down in that area but for me creating these custom layouts was a one-off so for me personally the lack of integration with eliminator in this area is not a big thing.
In Short
Now to conclude between choosing Astro and GeneratePress I think it's going to come down to what you want to use it for.
If I want access to ready-made websites I will probably lean towards Astra because you do have a huge library and it's constantly growing and the themes really are nice.
In any case, when it comes to blogging, you might not use a template and just start from scratch so you might not be needing that. What drags you towards GeneratePress is actually preferable to me it seems just that little bit nicer.
I tried the GeneratePress free theme and within 10 minutes I bought the Premium. That said I'm not walking away from Astra as I say it depends on what kind of website one needs and what the purpose is going to be. 
GeneratePress – Using the generate_menu_bar_items hook
GeneratePress – Block Element Content Template Demo 2: Using multiple templates
GeneratePress theme and GP Premium plugin Installations
GeneratePress Block Elements
GeneratePress – Block Element Content Template Demo
GeneratePress – Container options
How to Improve Google Core Web Vitals for Your WordPress Website WIth GeneratePress And Astra
Do you want to boost your website's search ranking, reduce bounce rates, and increase conversions? You'll have to deal with one common factor. That is what user experience is all about (UX).
User experience has always been crucial in online marketing, but now that Google's Core Web Vitals are live, it's much more so.
Google's Core Web Vitals makes measuring and improving user experience simple for website owners. They're also now a search ranking element, therefore it's critical to run a Core Web Vitals test on your site and address any issues that come up.
What Are Google Core Web Vitals?
When you go to the doctor, they will take your vital signs. This is a collection of vital signs that show how well your body is working. With Core Web Vitals, it's the same concept.
The Google Core Web Vitals are a set of critical metrics that may be used to assess how well your website is performing in terms of providing a positive user experience, with a focus on loading speed.
Google's Core Web Vitals now consists of three important performance measures. While many factors influence online vitals in general, Google believes that these three are particularly essential.
The Largest Contentful Paint LCP is a metric that measures how quickly the largest piece of content on a website that displays above the fold (the section of the website that is instantly displayed on your screen) becomes accessible to viewers.
To bring it down even further, a paint is the appearance of things on a screen. This might be a video, a picture, or even just some words.
From the user's perspective, LCP is used to determine loading speed. Even though your website loads quickly in general, if the most important piece of content takes a long time to appear, a visitor may still view the site as slow.
Delay in the first input
When a user performs an action or interacts with your website, FID is a measure of how quickly your website begins to process events. This involvement could range from simply clicking a link to completing a contact form.
When a user clicks on a link, for example, the period between clicking and the browser initiating a response is known as the First Input Delay.
This delay should be no more than 100 milliseconds. FID is poor and requires major improvement if it lasts more than 300 milliseconds.
Cumulative Layout Shift
CLS (Cumulative Layout Shift) is a visual stability metric. As new items are added to the page as it loads, various elements may move about. Users may be confused by these abrupt changes in layout.
For example, a user may attempt to click a link on your website but instead, click another element on the page due to a layout shift.
CLS is determined by multiplying the displaced element's distance traveled by the portion of displaced space. CLS scores should ideally be less than 0.1, and anything more than 0.25 should cause concern.
Get Started Optimizing Your Website for Core Web Vitals Today
Google's Core Web Vitals have made measuring and optimizing your website for some of the most important UX metrics simples.
Test your website using the steps outlined above, and then utilize the suggestions to improve it where necessary.
Optimizing your website for faster loading, greater visual stability, and more interactivity can improve user experience, promote the lead generation, offer you a competitive edge, and boost your bottom line.