In today's technological world, the traditional teacher-centered classrooms and teaching methods are slowly fading away.
When infinite knowledge rests on our fingertips, the teaching methods are expected to speak to social media language and rise to the standard. In this post we are going to tell you how to setup BuddyPress plugin step-by-step.
There are many large social media platforms where you can start a public platform to express yourself, communicate with like-minded people, educate others, and do much more. 
You can find everything about BuddyBoss in our detailed BuddyBoss Review —https://megablogging.org/buddyboss-review/
Communication with like-minded people has now become essential for success in the modern world. Platforms like this give you an opportunity to build a network. A network where ideas and knowledge can be spread freely among its members. A network built for the sake of knowledge, a network to quench your curiosity. 
But these platforms give you a tight space with all the terms and conditions and regulations. Automattic has created BuddyPress to help those people who are done with the monolithic social media forums and need a fresh start.
Let your creativity run wild. Let more people recognize your talent. Do more than any other social media. 
Here is BuddyPress for you. In the duration of this article, you will learn all about it and how it can help you and your brand or organization in the long run!
Support third-party extensions.
Profile editing and customization are basic
BuddyPress is a plugin for the number one blogging site WordPress. This plugin adds a layer of social networking features that you may be familiar with from other gigantic social media.
What is BuddyPress?
BuddyPress is a plugin for the number one blogging site WordPress. This plugin adds a layer of social networking features that you may be familiar with from other gigantic social media. 
Automattic has owned BuddyPress since 2008. BuddyPress was in development for over a year, and they had planned to call it "ChickSpeak" Well, so glad they didn't.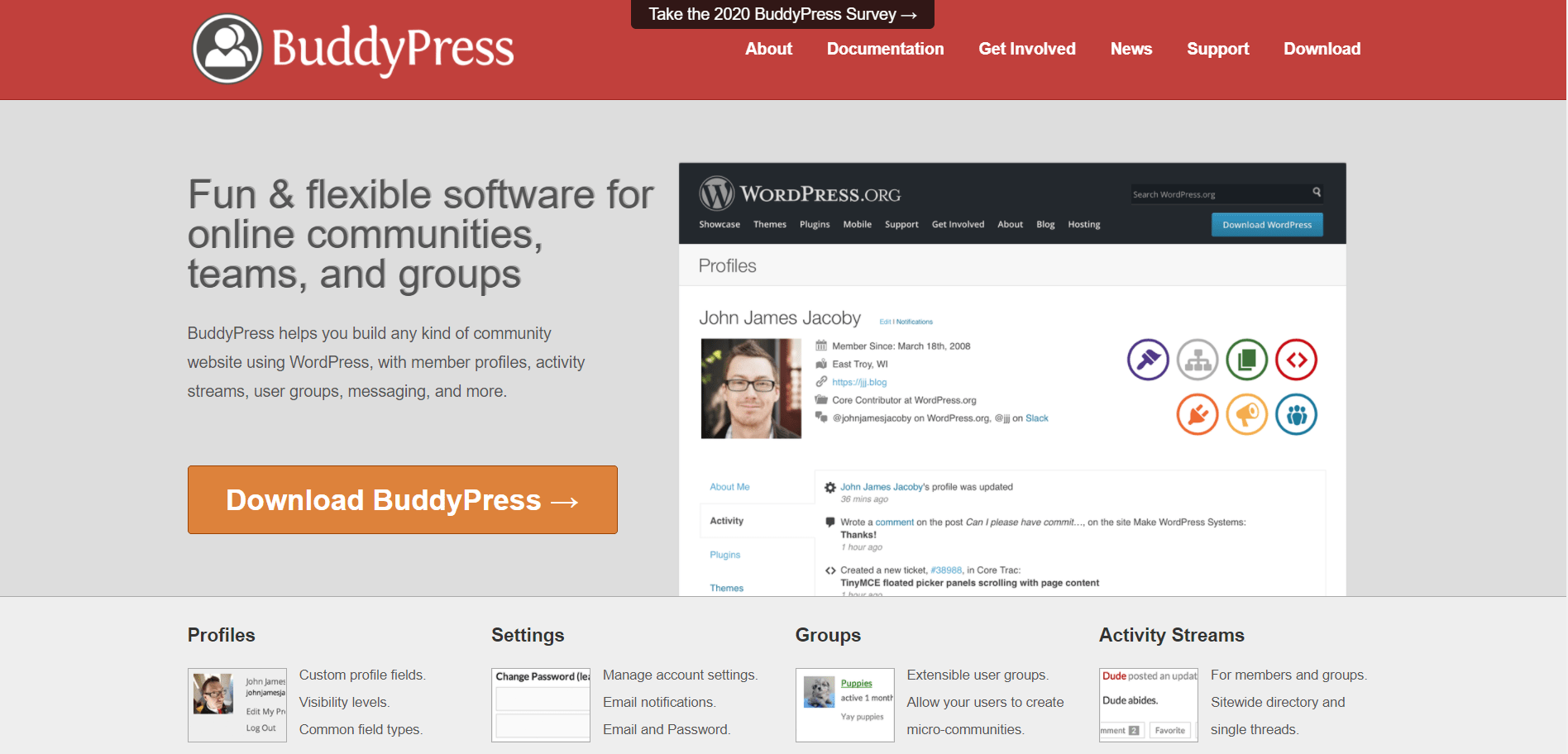 The WordPress founder Matt Mullenweg called the BuddyPress "Facebook in a box" It helps WordPress user to transform their account into social network platforms.
And to further support that analogy, it also has a feature where you can invite friends from other social networks to BuddyPress. 
This means the bloggers can be more social, and that brings them closer to the readers. These features are mainly used by schools, companies, and other similar communities for better communication and to start their social network.
More features:
You can create a Facebook or Instagram a wall, develop groups, send messages, start collaborations, and so much more. They have even added a status update option and photo album.
I told you, most of these are familiar. You can also take advantage of the numerous add ons, widgets, and many themes to modify your network.
People love BuddyPress for its simple integration, easy-to-use format, and extensibility. Also, this makes it easy for the blogger to analyze the feedback and comments.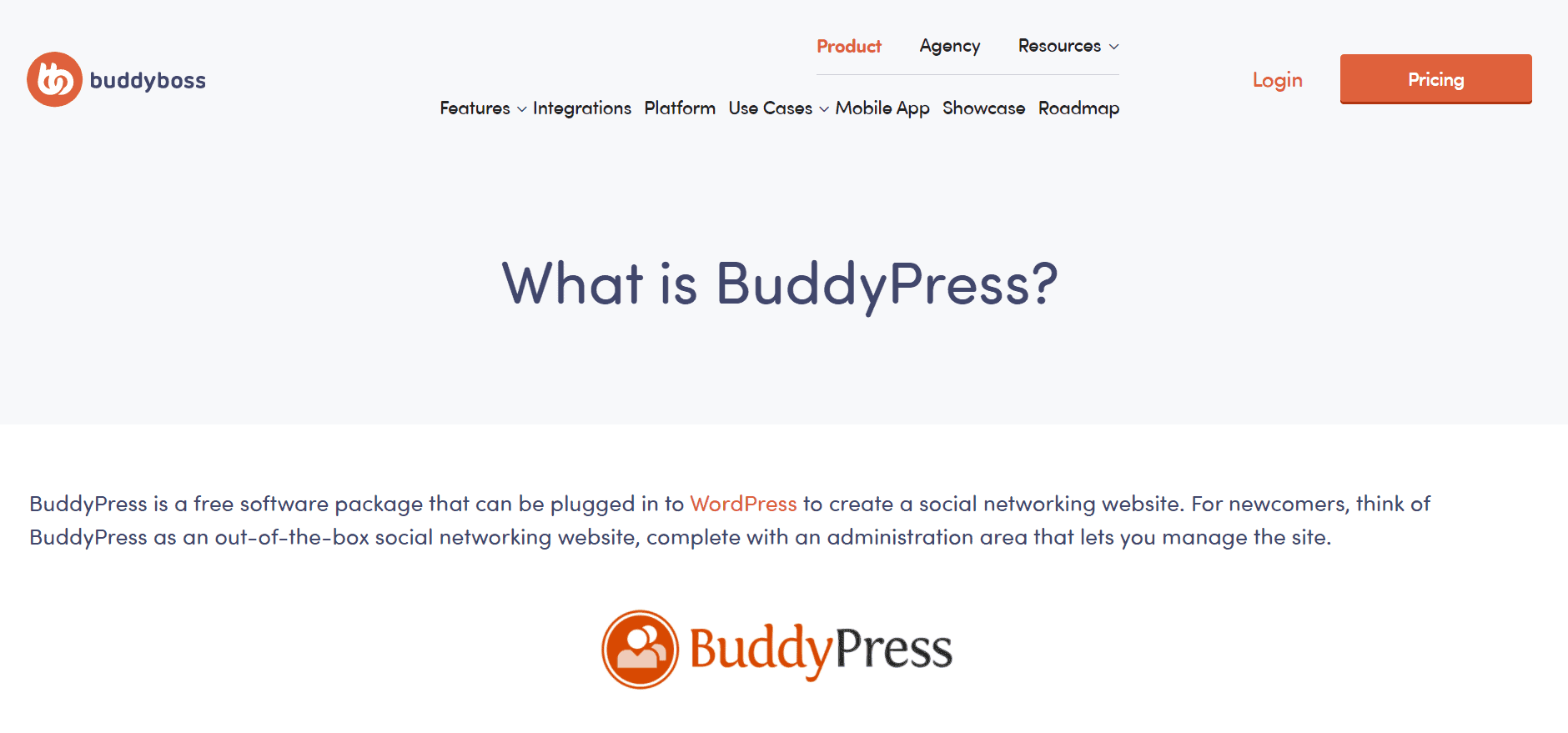 The Facebook Connection integration allows the users to sign into BuddyPress using their Facebook ID. This way, followers can easily find their site.
This integration of social media platforms will boost the use of BuddyPress. There is the chance that in the future, this application may spread to different forums reaching a wide variety of people.
The one problem that BuddyPress currently has is that to install this, you must have the WordPress MU, which is a bit complicated to set up and use as compared to the traditional one. Read further to know more about BuddyPress.
Boosting All Businesses
This is what I call the BuddyPress Advantage!
It is useful for all types of business streams, whether it is small, medium, or large businesses of Enterprises or freelancers.
Takes very little time to create small communities of social groups if you are familiar with the basics of WordPress.
Mature product, lots of add-ons, and plugins with a large user base. 
With BuddyPress, you can create groups with your category people and help them to grow together.
It is ideal for the sites of online learning and you can easily depend on it.
Buddypress is known for its great popularity for its great amount of quality information and support service.
Additional exclusive features are readily available which works out with almost all WordPress themes.
Many default pages have already been automatically created and it also readily shows few sample pages.
When BuddyPress is combined with other plugins like Learndash or other LMS, it provides amazing benefits that enable other features of memberships groups achievements their courses and certificates.
How to Set up Buddypress?
Have you ever tried to install plugins in WordPress? If the answer is yes, then you are not going to face any problem while installing Buddypress. If the answer is no, we are here for aid.
It is time to visit the dashboard of WordPress, tap on the Plugins, and within the following step, you'd be selecting the Include Unused option.
Nextly, you'll be at the BuddyPress button. An essential result, select the Install option to start the procedure of installation, and after that, press Activate.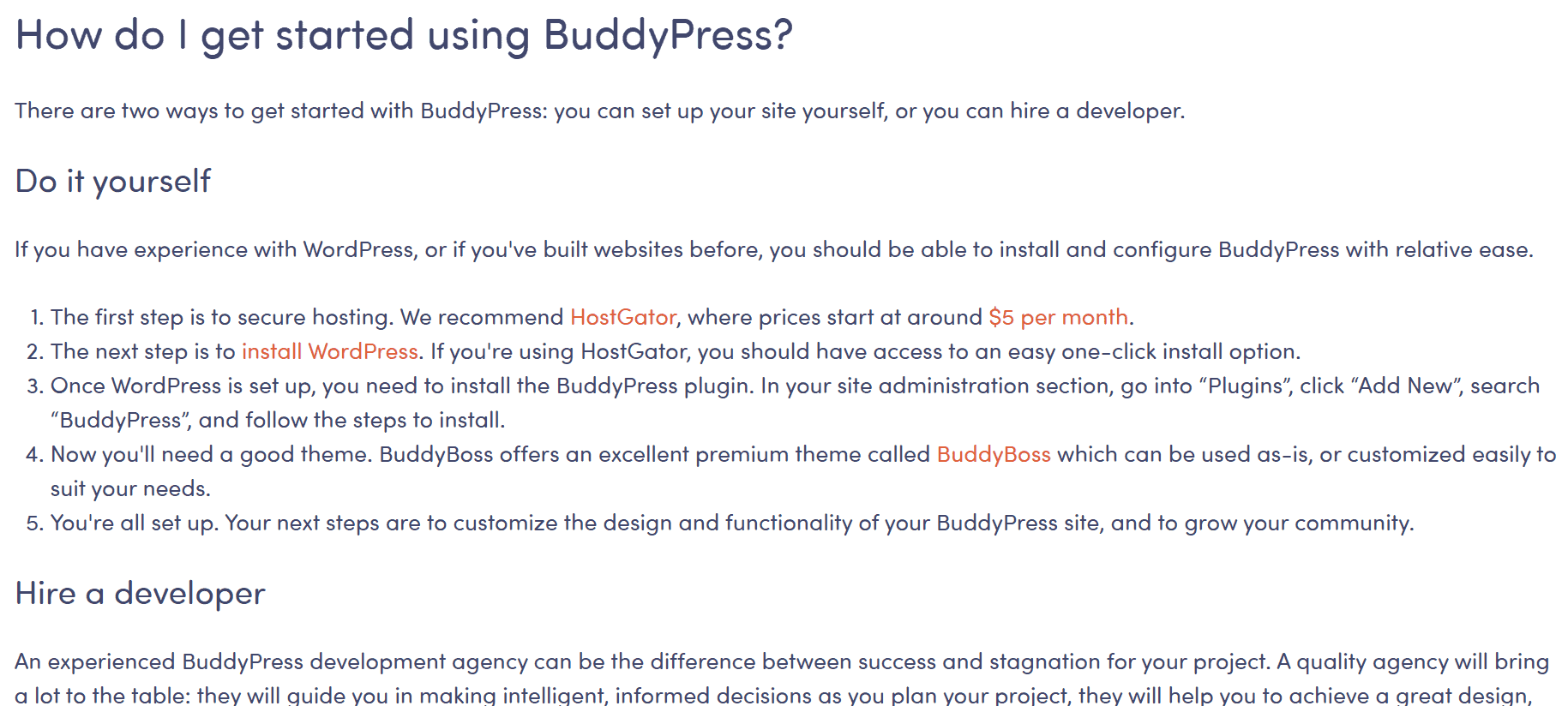 You may presently see a few links that are going to assist you with setting up and overseeing your profile. Now we are getting to alter the settings of WordPress according to our needs. Tap on the Begin button, and you'll see the settings page of Buddypress. Usually, we have three primary areas to focus on
Enabling/disabling the components according to our needs

Setting up pages

Modifying some fundamental settings
Let's talk about all three of them, taking one at a time:
Step 1. Enabling/Disabling the components
Under this step, the client gets the liability to enable the components according to their needs, and their choices.
The BuddyPress Center and the Community Individual components are the only two components that cannot be disabled since they are exceptionally crucial for it to work legitimately and expertly.
Other components that can effortlessly be enabled/disabled by choice of clients are:
client's extended Profiles -clients can customize their profiles.

Account Settings – Permits clients to alter their account settings and notifications.

Friend Associations – Let clients make associations with each other.

Private Information via texts – Empowers private information between users.

Activity Streams – Worldwide, individual, and gather movement streams, coordinate posting, and @mentions.

Notifications – Inform individuals of relevant activity with a toolbar bubble and through email.

User Groups- Permits clients to organize themselves into particular open, private, or covered-up segments with separate movement streams and part postings.

Site tracking – this feature allows the user to keep a record of the latest post and comments from your site.
You can choose among them, depending on what you want for your site. It's moreover simple to empower specific components at a later date. When you are done choosing the components that you need for your website, click on save settings.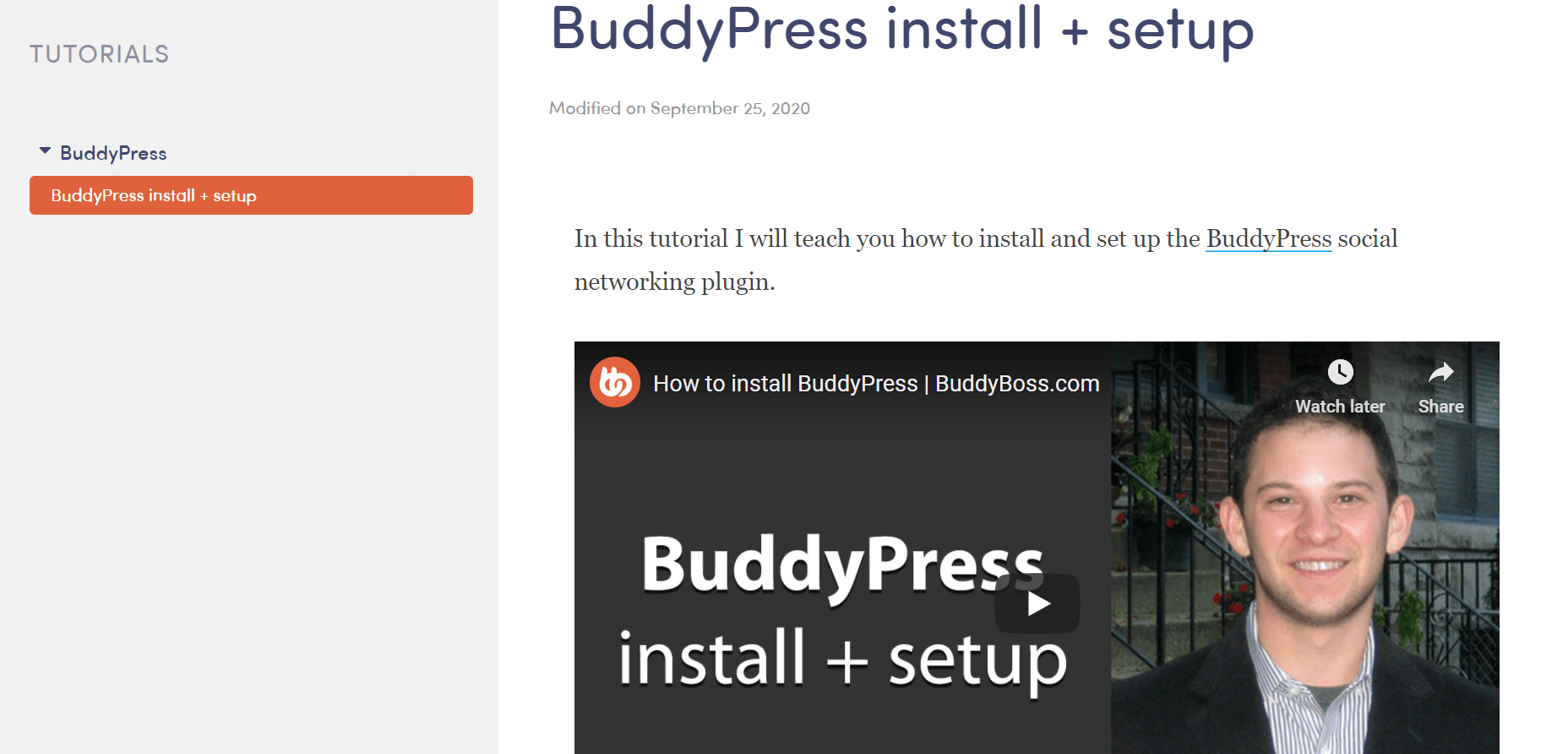 Step 2. Page Setup
In this step, you have to create those pages that BuddyPress uses, i.e., registration/activation.
We do have already created and designed pages, but manual page creation is a must for activation.
After that, enable the user registration option. For that, go to Settings, then tap on the General tab and allow anyone to register.
For a closed community, add new people manually.
Go to dashboard, press on Pages, and then tap Add new. Make a blank page, "Registration," & one called Activation. Don't need data for those pages, as BuddyPress will naturally show the appropriate content that should be on those pages.
Once pages are made, go to Settings and then tap the BuddyPress tab. Then, Pages Tab.
Under registration, choose pages you just made for registration & activation. Click on Save Settings.
Step 3 – Changing Buddypress settings.
You are done with most alternatives having been set up genuinely; now, you can alter the option in settings. Go to the options bar in settings.
Here you'll be able to design different configurations concerning client profiles and fundamental settings. Select the options that are important and beneficial, and Don't forget to Save Settings!
BuddyPress – pros and cons
Pros
Flexible: Buddypress is convenient and easy to access, which is a flexible and powerful one. You can totally depend on your specific needs and can add additional functionalities.

Extensions: It also has a feature to support third-party extensions. This helps the owners to have engaging interactive and functional communities on their sites.
24/7 support system of the community: Buddypress will always have people who are readily willing to offer help to all the queries and provide the best solution which will be raised by the users.
Specific groups: It provides more specific groups with smaller circles to engage while still being a part of a large community.
Showcase individuality: It also provides students to interact and show the individuality of their interest in the specified groups.
Notification system: It has a sound notification system that will help the students to remember the upcoming lessons, assignments, and quizzes.
Text base: Buddypress also enables the students to have their inbox where they can send or receive both private and public messages so that they can have a chat with their instructors in private with questions or can have a talk in the inbox with everybody for their group projects or assignments.
Cons 
No built-in chat: You will have to log in every time and click on the profile to write the texts.

Profile editing and customization are basic: You'll have to be creative and edit more to make changes as BuddyPress provides basic edits and samples of various profiles.

No built-in media uploading: This means that the users can't upload photos to updates and statuses.

Activity updates are similarly crippled: There are no text editors as such, so users can't even add. Inline hypertext link.

We will have to know at least the basics to use this: A lot of developers are unfamiliar with the platform. Also, very few are aware of how to use it gracefully and build with this software.
Options other than BuddyPress
Buddypress is the first option a WordPress user will consider when it comes to creating a social network on WordPress. It has got widespread users and many downloads.
It also has a large number of plugins, themes, and extensions to make your experience an excellent one. This will work with most of the WP themes.
It is a little hard to believe that you will get all these cool features completely free, right?
But if you want to consider other options for one or the other reason, you can find many alternatives to building a social network in WordPress.
These alternatives provide almost the same features as that of BuddyPress but also some features making them unique. The top 10 BuddyPress alternatives are:
1. Peepso
Peepso ishas a free version and a premium version. Also has many free plugins like Peepso Moods, Tags, and Peepso location. The best attraction Peepso offers is that it allows the users to add moods in the status. Also, you can add widgets for pictures, vlogs, and others.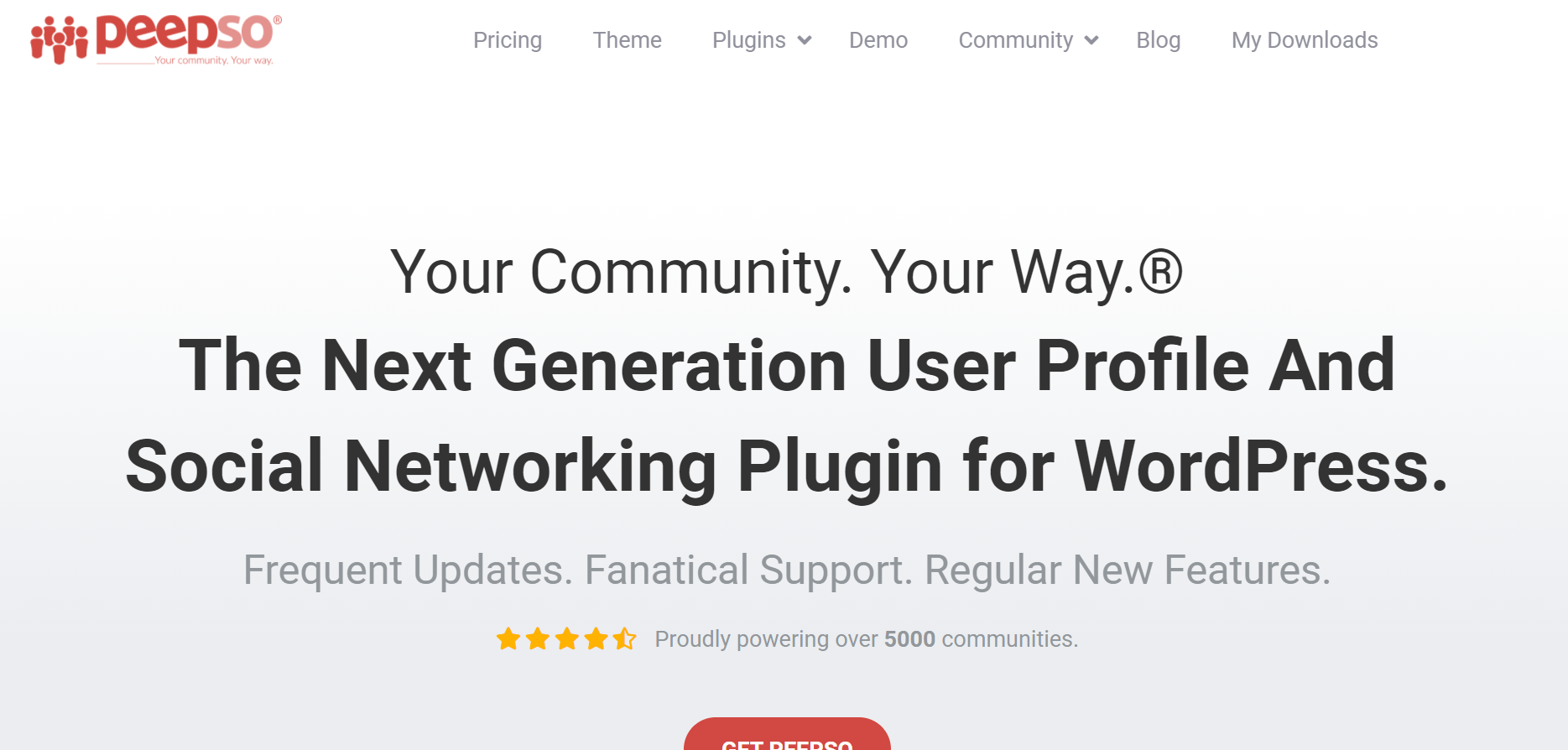 2. Ultimate member
This alternative has many attractions like providing content restriction, front– end user–profiles, and Custom Fields. Compared to other alternatives this is very lightweight. Many extensions are available that can add to the functionality of the Ultimate Member.
3. User pro
This is another one of the WordPress plugins that allows the user to build a social community. The features offered by User Pro are password reset, customizable profiles, promoting specific users, and multiple templates to show members list.
4. bbPress
One excellent attraction bbPress provides is that it offers a discussion platform. At the same time, many members can join in. bbPress keeps things simple while offering many great features.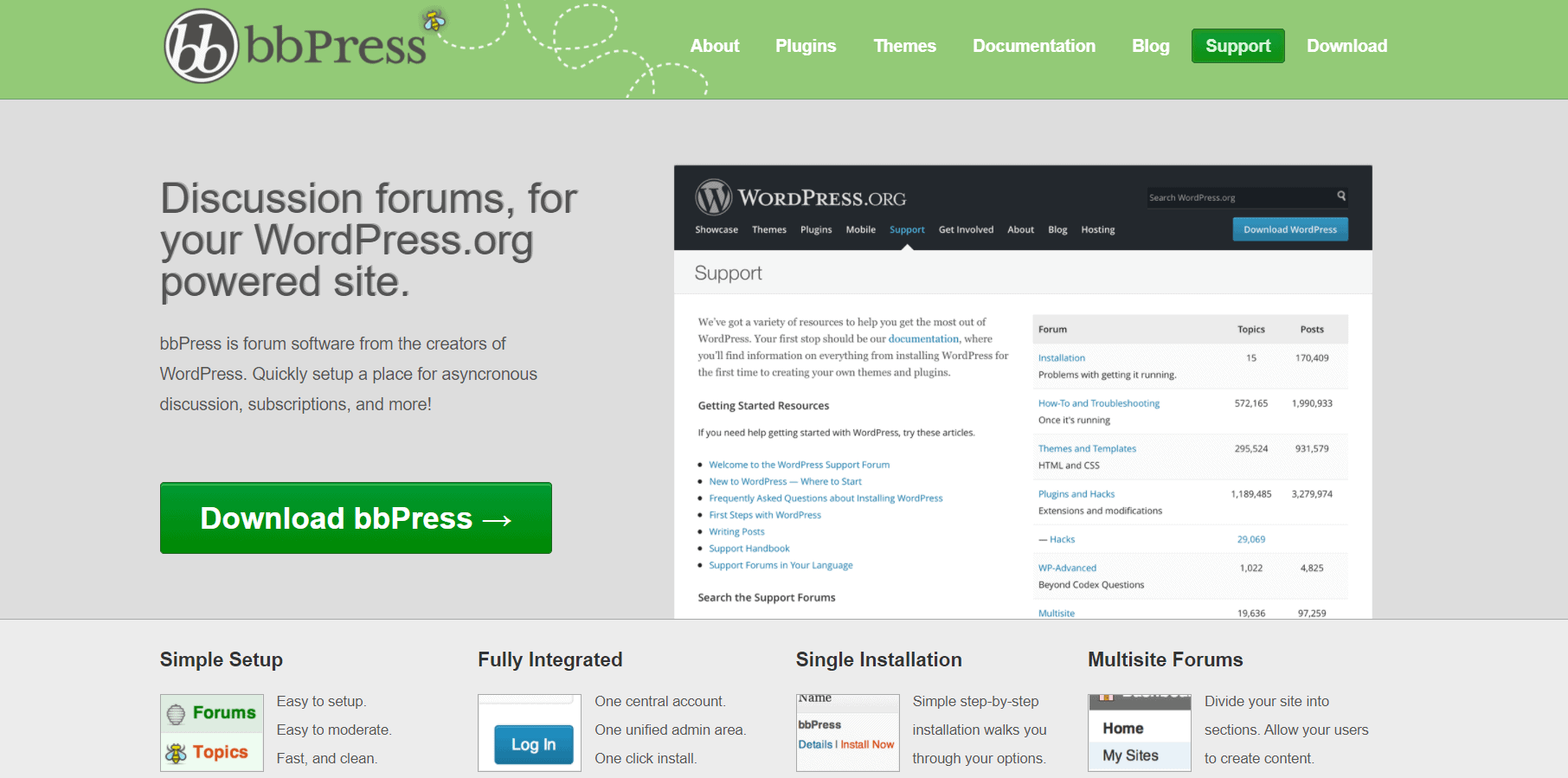 5. Nextend Social login
The feature that attracts the crowd to Nextend Social Login is that it allows the users to login using their social profile (Google, Facebook, etc). This saves the user loads of time as they can avoid registration, waiting for emails, or remembering all the passwords.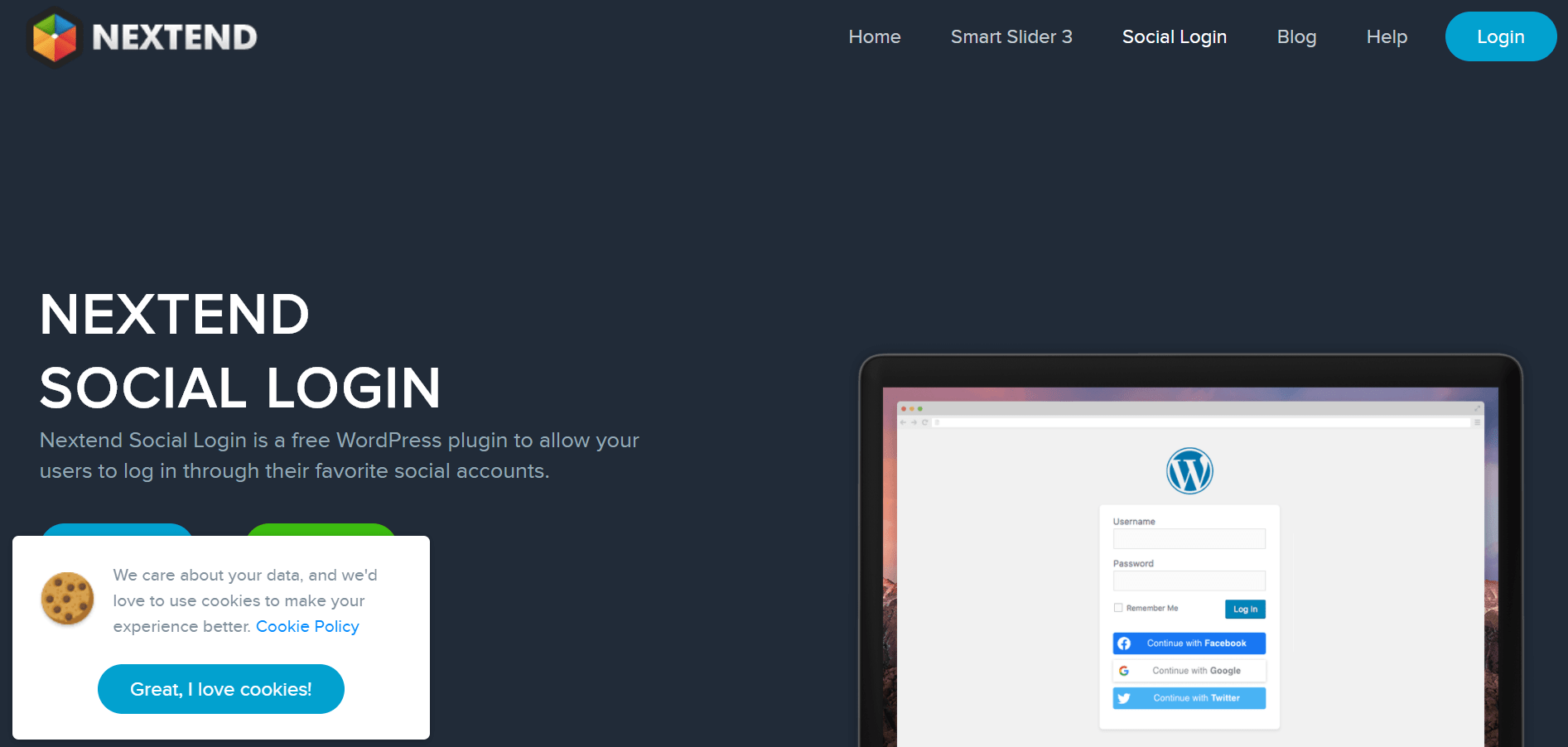 Although these are all alternatives to BuddyPress they do not necessarily match up to the same level as BuddyPress in terms of all their features. 
Pricing
Buddypress has a free trial and is completely free even further after the trial but if you choose additional packs, it includes adding more groups to your social community and then the charges apply for the premium and the starting price would range from $99 and so on. 
Global competitors who used BuddyPress with their respective prices to succeed. 
Product name.                Pricing
Dotclear                             free
Jekyll                                  free
Windows Live Writer     free
Webnode                          $3.95
Site blog                            $7.49
Case study
Student Nepal: The state of Nepal used Buddypress and made it available to all the students in Nepal only and became the first online community of students to answer the queries and gave advice about different courses in colleges 
University of Lincoln: Clear best example of who used BuddyPress can be seen in the blog site of the university of lincoln.
Total wellness challenge: they made the best business out of membership profiles of a fitness challenge and Wellness community. specialty is, they have made this as a fun system which helped participants to keep focus and motivated such as points for making healthy nutrition choices and much more.
Study church: they use different plugins along with BuddyPress and created modernized disciplines where participants can engage with a subjective religious study using lessons, questions and answers, discussions, and more.
Quick Links:
FAQs On How To Setup BuddyPress Plugin
👉 How can BuddyPress be installed?
Go to your WordPress dashboard. Now click on Plugins-Add New- (search for and find) BuddyPress. After installing it, you will be directed to the BuddyPress welcome screen, which will then show you the next set of instructions to start and manage your community. You will be asked to activate your BuddyPress components, set up your pages, and tweak your Buddy page account.
👉 What are some of the other plugins that can be installed for Buddypress sites?
With 14 header styles, 16 custom schemes, and so many other creative features to make your site stand out, Youzar is a popular Buddy press plugin. Another choice is Buddychoice Wall. As the name suggests, this allows you to put up posts, like, and also comment on other users' posts. This is very similar to Facebook. For an active blogger who wishes to create a community of content creators, BuddyPress User Blog is a good option. Several plugins are available and which have been designed to meet specific interests such as Location Autocomplete, UserPro, BuddyPress Member types, etc.
👉 How to install Buddypremember-online Pro?
Log in to WordPress as administrator-open Plugins panel from Plugins menu- from the Add plugin option- click on Upload plugin-upload the zip file and install it. Note: if you already have the free version, then you need to deactivate it before installing this.
Conclusion: How to Setup BuddyPress Plugin?
As can be seen from all the information provided above, BuddyPress is an essential tool for anyone looking to put their WordPress site onto a bigger platform with a broader reach.
With the world becoming smaller and connected with the advancements being made in technology, it becomes all the more imperative to be a part of a community or network.  With features similar to that of social media platforms like Facebook or Instagram, this software makes networking a whole lot easier. 
The user can choose and update a profile photo of their choice; they can form links with other users by befriending them and also join groups with individuals having shared interests.
 You can also send private messages to each other and can also opt for email notifications when a message arrives. 
It also sets up Forum Discussions for the users to engage in conversations and discussions on a topic of interest.   An added advantage of BuddyPress is that it also allows you to explore more features and functionalities that can be added.
So that you can customize your site exactly the way you want it, too, with all the necessary tools at the tip of your fingers.  This can be done simply by choosing to add more plugins to your BuddyPress sites.
Each plugin will be tailored to provide the specific customization that you wish to see. With such useful and attractive features, Buddy press certainly comes across as a promising choice, and the reviews that users have provided after their experience gives others a more substantial reason to have it installed right away for their WordPress site too.