In this article we have featured Leadpages Pricing, read our full article to know the details. Leadpages is a world-class website builder and landing page software that includes a plethora of design, publishing, integration, and analytics features. While the platform has everything a marketing/sales/CRO professional might want, some may believe that the Leadpages cost could be better.
If you're dubious (or curious about just how much Leadpages cost), keep reading. In this in-depth Leadpages review, I'll go over all you need to know about this famous online experience builder.
Leadpages Pricing: LeadPages offers three price options: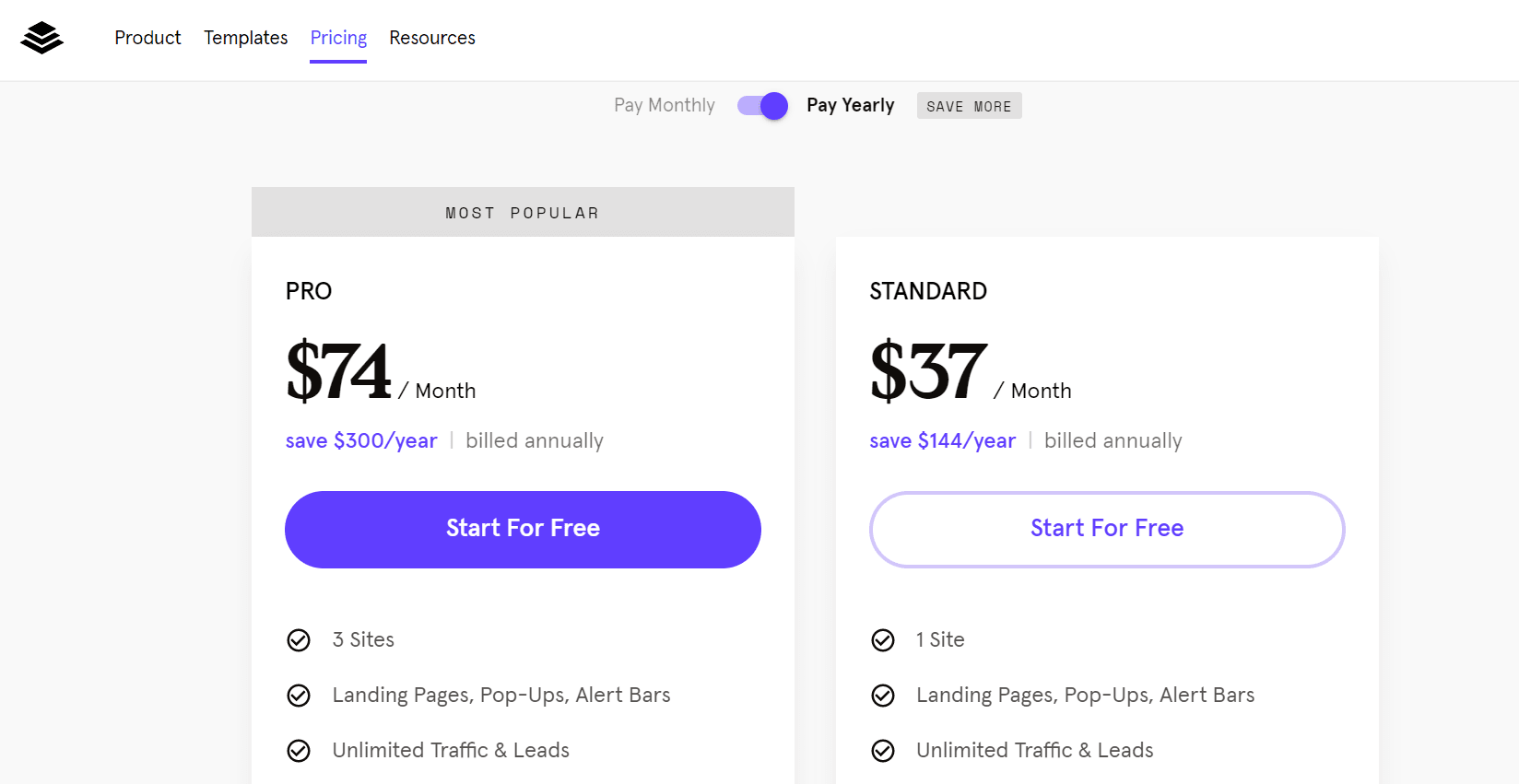 Regular – $49.00 per month
$99.00 per month for Pro
The Standard Plan
LeadPages Standard costs $49.00 a month (or $37.00 per month if paid annually) and includes 1 site, unlimited landing pages, pop-ups, and alert bars, unlimited traffic and leads, free hosting, lead notifications, and 40+ integrations. The free custom domain functionality is only accessible as part of an annual subscription.
As you may be aware, this plan restricts your access to all LeadPages features. It is great for small enterprises that want landing page builders as well as a website builder for their websites.
Restrictions
The constraints at this basic rate begin with your domain availability — with the Standard Tier, Leadpages limits you to using their functionality on one domain. When you upgrade to Pro, you may use three domains, while the Advanced plan allows you to use 50 domains.
Because many of you will be working on one firm and one domain at first, this shouldn't be a problem. The inability to use the Leadpages Checkout function for online payments is a significant limitation at the Standard Tier.
Direct sales from landing pages on Leadpages are only available to Pro and Advanced Pricing Tiers. A/B testing, which is essential for optimizing your landing and sales pages, is likewise confined to the upper levels.
Pro Plan
The LeadPages Pro plan costs $99.00 per month (or $74.00 when billed yearly) and includes three sites, unlimited A/B testing, online payments, email triggers, links, and ten opt-in text campaigns, in addition to everything included in the Standard plan.
It provides you with access to all of the tools you need to make sales, test, and improve your website.
Once again, a free custom domain is only available on a yearly basis. This package is excellent for medium-sized enterprises searching for powerful website builders with a variety of features.
The Advanced Plan  
The Advanced plan includes more specialized capabilities and is intended for multi-employee businesses such as marketing firms. A one-on-one call to a Leadpages staff member is scheduled to get you started with the program.
They also give 5 sub-accounts for your team members that you can link to your main Leadpages account.
This tier only offers more extensive integrations with renowned marketing platforms like Salesforce and Hubspot, and your LeadDigits text message allowance has been increased from 10 to 50 campaigns. At the Advanced plan level, support is also prioritized, with priority phone, chat, and email interaction.

Which Is the Better LeadPages Pricing Option for Monthly Plans vs Annual Plans?
If you're just trying it out or aren't sure how long you'll need this product, the monthly payment plan is a good option. This method is also appropriate for people who need extra operating capital but do not want to freeze big sums of money.
However, if you want to use this instrument for a longer length of time and paying a bigger sum right away isn't an issue for you, an annual payment plan is a preferable option.
A yearly payment plan will also help you save money by lowering the overall cost of the instrument. to get the latest discount you can check LeadPages Coupons & Promo Codes
Leadpages Customer Support
Leadpages Customer Service It wouldn't be fair to publish the current rating in this Leadpages review because there aren't many reviews on Facebook.
But consider this: Leadpages offers the most comprehensive library of content that users can access at any moment. Leadpages also hosts weekly group coaching sessions as well as webinars/workshops on occasion.
Furthermore, if you choose the Advanced plan, you will be able to take advantage of 1-on-1 rapid calls that will assist you in setting everything up. Finally, you can contact their support team via their contact page if you have any questions.
All Leadpages plans include the following:
[BRAND NEW] Site builder for Leadpages
The only online website builder that enables you to simply design a website that converts visitors into customers while requiring no coding on your part.
Unlimited landing pages
Your account not only gives you access to free hosting on a Leadpages domain, but it also gives you complete creative freedom when it comes to generating landing pages.
Unlimited leads and traffic are available.
In contrast to the other companies, we won't ever put a halt to your expansion or charge you additional money for it.
Unrestricted access to pop-ups and notification bars
You may collect contact information from any website you control by utilizing pop-up forms and sticky bars, which are both easy and efficient methods.
Quick loading times for pages
With industry-leading page load speeds, you can boost conversions and provide a better experience for your visitors.
Notifications of potential leads
Do you not yet have access to the email service? You may receive new subscriber query data delivered directly to your mailbox by configuring automated notifications to be sent to you.
Mobile responsive pages
Each page that you create with Leadpages is optimized to look fantastic on any platform, including desktop computers, tablets, and mobile phones.
Lead magnet hosting & delivery
With our built-in lead magnet distribution system, you can immediately distribute digital items to subscribers who have purchased them.
SEO capability
You may optimize your website for organic search using metadata fields that are simple to modify and a broad variety of templates that are optimized for search engine optimization (SEO).
Analytics performed in real-time
Tracking the success of your website's pages, landing pages, and content is made simple for you, allowing you to make adjustments as you go along.
40 Integrations and Counting
Connect with tools that you are already familiar with, such as MailChimp, Google Analytics, Infusionsoft, and WordPress, among other options. Plus over 1000 other applications are available through Zapier.
GDPR compliance
Your query data from Leadpages is treated in a safe environment and in compliance with the standards of GDPR. Any opt-in form may also have a checkbox for active consent added to it quickly and easily.
Conclusion: Leadpages Pricing 2022
Every blogger should prioritize developing their email list, and Leadpages is the perfect tool for doing it. It's one of the most user-friendly blogging tools I've come across this year.
I now spend less time working on my website and developing landing pages. I didn't have to spend a lot of time reading tutorials or contacting the company's support personnel. And it's assisting me in increasing the number of subscribers to this blog.
I appreciate tools like these because they allow me to spend more time writing and less time gazing at WordPress's backend. So, yeah, Leadpages is worthwhile for me.