Hello! 👋 Are you looking for an easier way to make awesome web pages? Well, you're in luck because I'm here to introduce you to some of the best Leadpages alternatives! I'm always looking for simple tools to help me with my online business, so I know how important it is to find the right one.
Imagine this: excellent choices like Instapage, Systeme.io, ClickFunnels, GetResponse, Thrive Architect, HubSpot, Mailchimp, Unbounce, OptimizePress, and Sendinblue.
Each one has its own unique features and is easy to use. They also come with different prices, so they're suitable for people who know much about marketing and those who are just starting out.
You can try out Instapage's easy design, Systeme.io's all-in-one features, or ClickFunnels' flexibility. These choices can help you make web pages that get people interested.
Let's explore these options together and find the best one to replace Leadpages! 🎉📈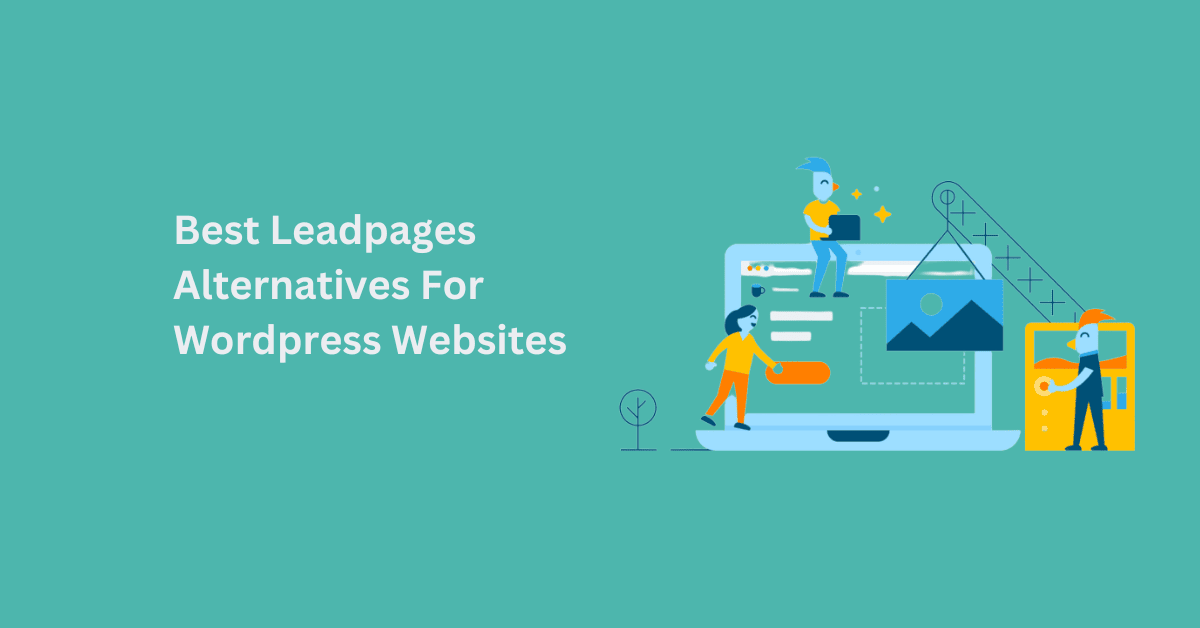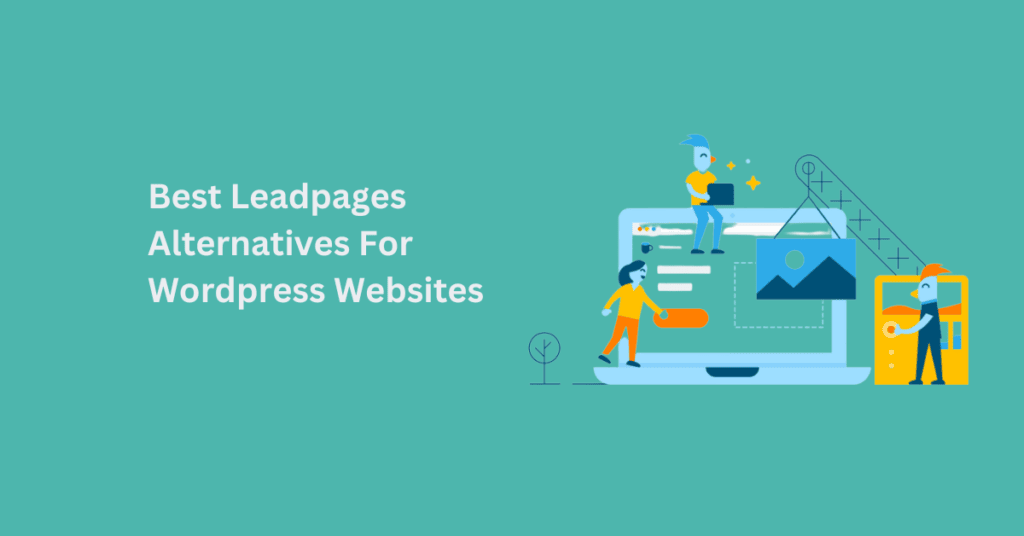 About Leadpages
LeadPage is One of the most popular tools for creating landing pages. It helps businesses to overgrow by taking the guesswork out of collecting leads and driving sales.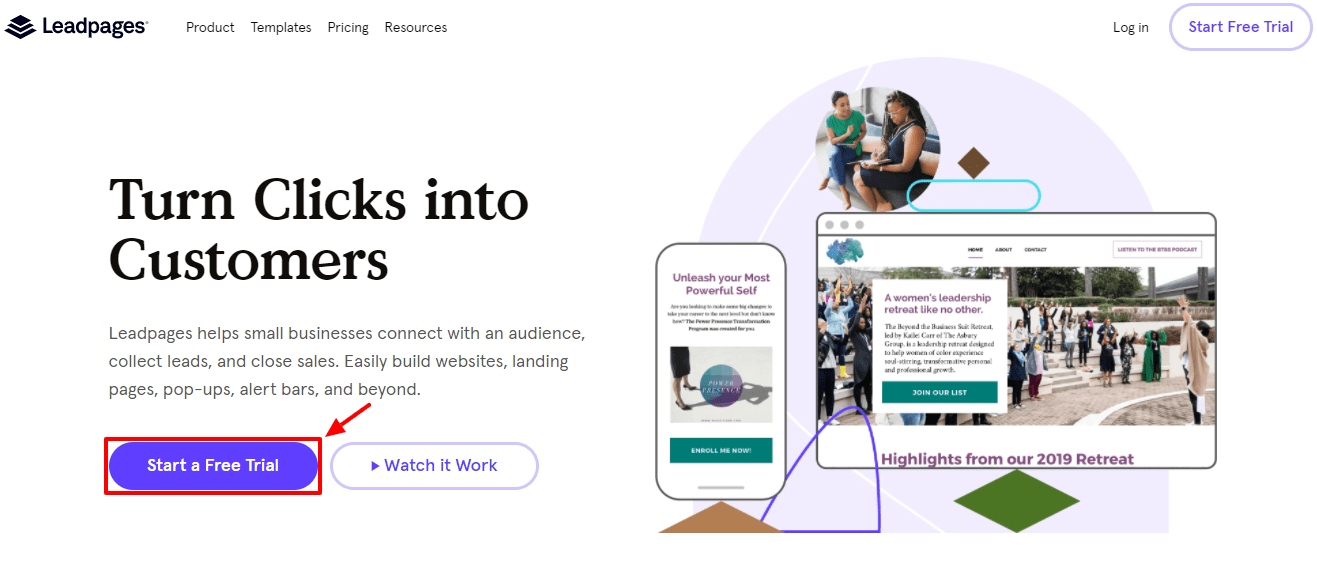 Leadpages is an online tool that you can use to collect email subscribers. It also offers hundreds of ready-made landing page templates for various applications that you can customize and publish in minutes without the help of a designer or programmer.
Leadpages combines the effectiveness of pre-designed landing pages with the flexibility of a drag-and-drop builder, making it easy to modify or add elements to the page.
You can customize, edit, and rearrange page elements, knowing the page will look great across all devices.
What Are The Pros And Cons Of Using Leadpages?
The Pros
Now, let's take a closer look at the notable strengths of the platform:
Wide Selection of Mobile-Responsive Templates: Leadpages gives you access to more than 200 templates designed for mobile devices. This makes it easy to create pages that look great on smartphones and tablets and are attractive and valuable.
User-Friendly Drag-and-Drop Builder: The platform has an easy-to-use drag-and-drop builder that makes it easy for people without advanced technical skills to create and customize their landing pages and websites.
Effective Integration: Leadpages is excellent at integrating with other tools and platforms in a way that doesn't slow down your process or hurt your marketing efforts.
Robust Conversion Tools: Leadpages has a set of tools designed to increase conversion rates, such as trigger links and pop-ups that stand out.
Trigger Links: People can quickly join webinars, email lists, or sub-lists by clicking these links. All you have to do is copy and paste the trigger link into your broadcast emails. With just one click, prospects can sign up right away.
Pop-Up Builder: Leadpages lets you use eye-catching pop-ups to make opt-in forms on your website. You can make exit-intent and timed pop-ups, set trigger events, and do more. The process is made more accessible by the drag-and-drop layout, which lets you make appealing opt-in forms in minutes.
Comprehensive Analytics: Leadpages has thorough analytics that give real-time information about your pages' performance. This includes earnings, total views, individual views, conversions, and conversion rates. You can make data-based decisions to improve your marketing plan with these insights.
Integration with Other Analytics Tools: The platform also works well with famous analytics tools like Google Analytics, Hotjar, and Meta Pixel, making it easier for you to gather and analyze data. This interface allows you to track and understand how users interact and behave.
The Cons
Now, let's explore some of the drawbacks of the Leadpages platform: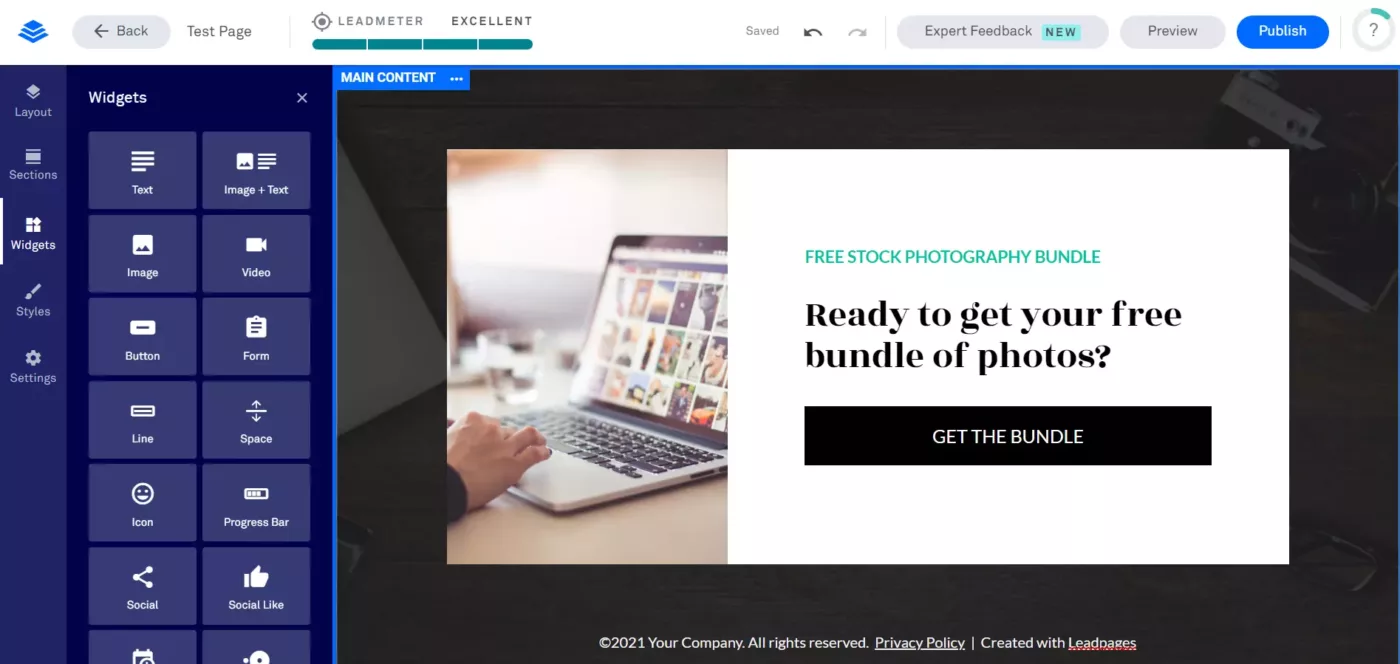 Limited Editor Flexibility: Leadpages' editor is relatively basic, offering little flexibility in terms of widget placement. Widgets can only be put in certain places, which limits your ability to create pages creatively.
Mobile Layout Constraints: Leadpages has a responsive preview, but it doesn't let you change the style for mobile devices as much as it could. Because of this restriction, it can be hard to give your mobile pages the exact look you want.
Missing Features: The editor misses essential things like payment buttons, sliders, and intelligent areas. These lost parts can make it hard for users to create landing pages with specific functions and looks.
Pricing Discrepancies: Leadpages has two different price plans:
Standard: Prices range from $37 per month (if paid once a year) to $49 per month (if paid every month).
Pro: Prices range from $74 per month if you pay annually to $99 per month if you pay each month.
There is a big difference in price between the two plans. Notably, the Standard plan doesn't offer unlimited A/B testing, essential for power users and marketing companies that want to test different versions of a page to improve its performance. This may make it less appealing to people who need more advanced business skills.
In short, Leadpages is easy to use and works well with various tools, but it also has some big problems. There aren't many ways to change things in the designer, there are limits to how mobile layouts can be made, and the price is pretty high, especially when you look at the features you get.
Best Leadpages Alternatives in 2023
1. Instapage 
Instapage is a cloud-based creation tool for website landing pages. It integrates with the most popular email services and marketing providers. It offers memberships to users with over 195 ready-made templates. 
Instapage is a powerful tool. It surpasses the WordPress page builders that many bloggers are accustomed to using.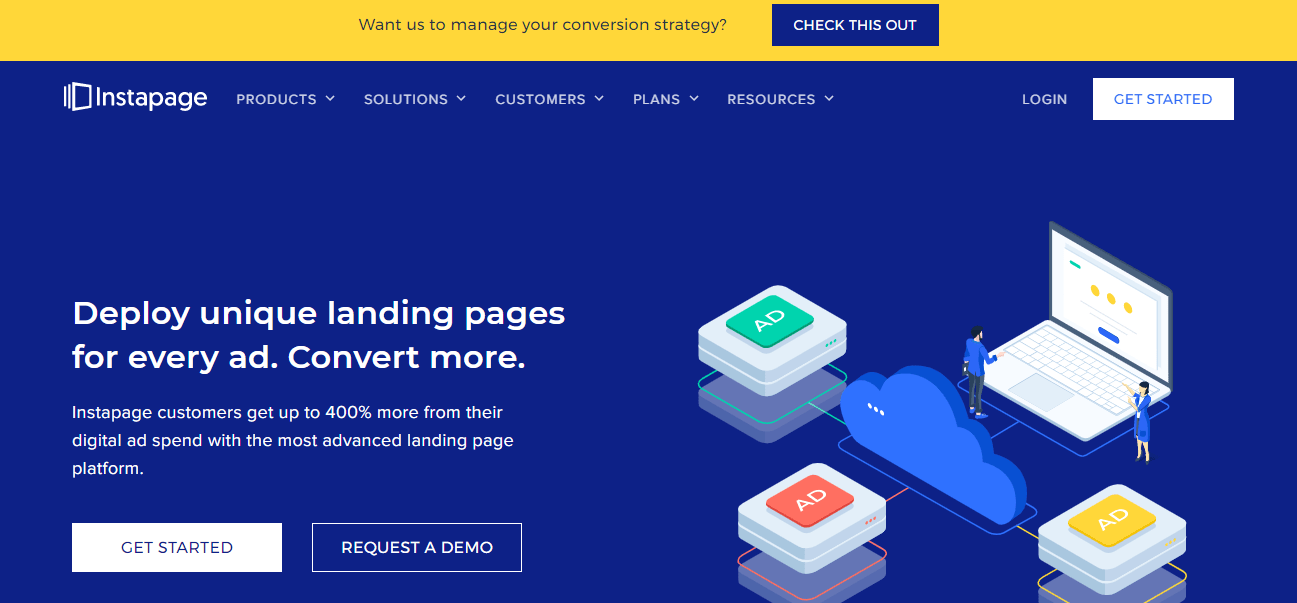 The landing page builder is robust and user-friendly, making it accessible to novices. I love its flexibility, allowing you to place items anywhere on the page.
I particularly appreciated how A/B testing and conversion targets were incorporated directly into the landing page builders.
They appear to be an integral part of the design process rather than an afterthought added to a completed page.
Lastly, the publishing options make it easy to use the landing pages you develop regardless of the sort of website you own.
It is not the least expensive tool. But if you desire a robust, optimization-focused landing page builder, I do not believe you will be disappointed.
Instapage Analytics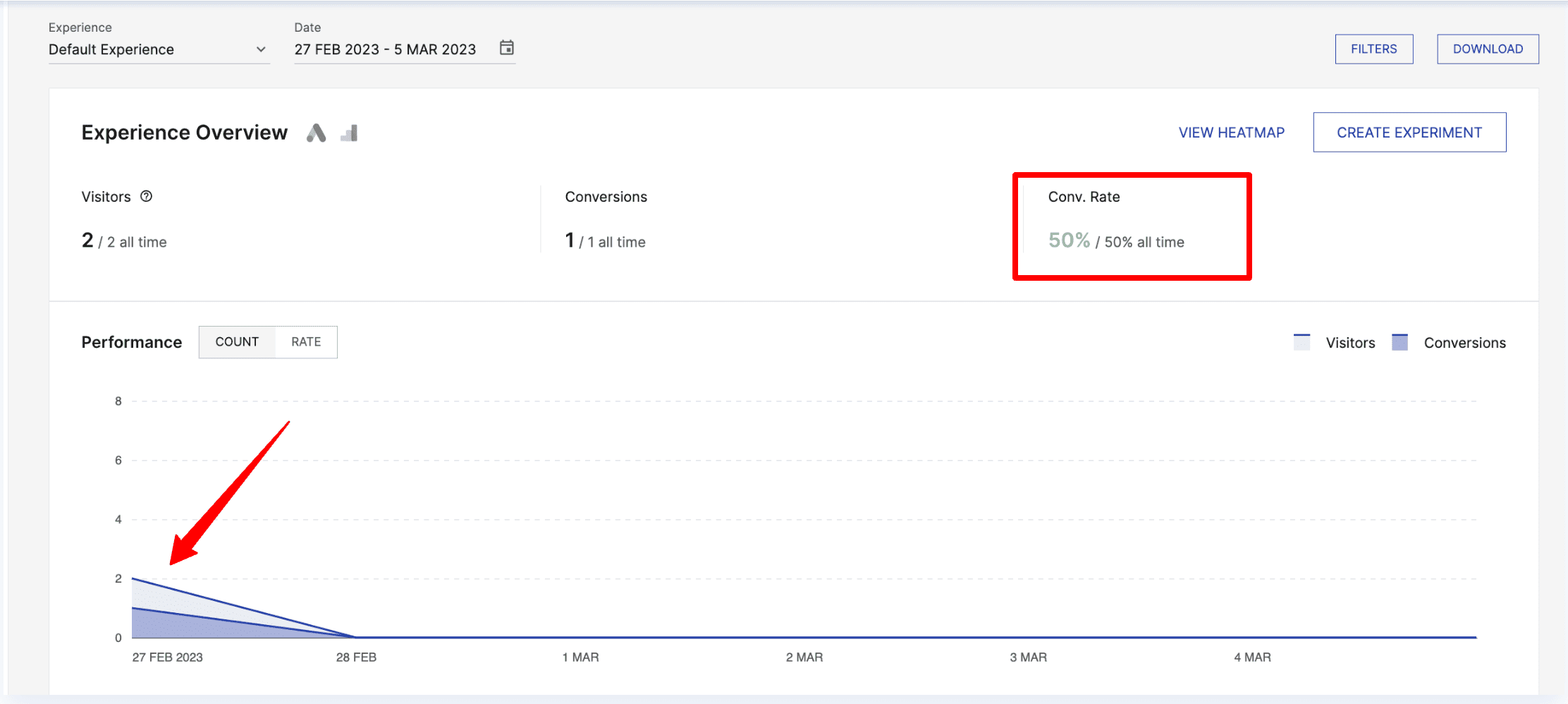 Instapage stands out by enabling analysts to filter down user activity data.
Some domains available for filters include –visitors (whether all or particular), devices (whether used on a desktop or a mobile or all), and traffic (whether blended, paid, or organic).
Instapage Customer Support
Instapage follows a hybrid of two customer care models—direct inquiry type and question & answer type.


The official customer help page of the company also provides tabs such as "Request for a demo," "Get support," and "Media Requests," among many others, to allow the user to get friendly and comfortable with the services.
Instapage Pros & Cons
It is a cloud-based creation tool for website landing pages. The software features a drag-and-drop builder that makes it easy for anyone to create landing pages.
Pros:
It integrates with the most popular Email services and marketing providers.
Any Instapage membership offers users over 195 ready-made

landing page templates

.

It is used for better editors and templates.
It is used for blank templates for complete control.
You can start from scratch and make beautiful WordPress themes and landing pages. You can use the drag-and-drop editor to create the layout however you want and see the changes in real time.
Cons:
It has high-end pricing, which costs $199 per month.
Leadpages has far more integrations.
2. Systeme.io 
Systeme.io is very popular in France and just launched in the US. It is designed for Entrepreneurs and small business owners. Complete integration in the all-in-one platform makes a whole differentiation from Leadpages.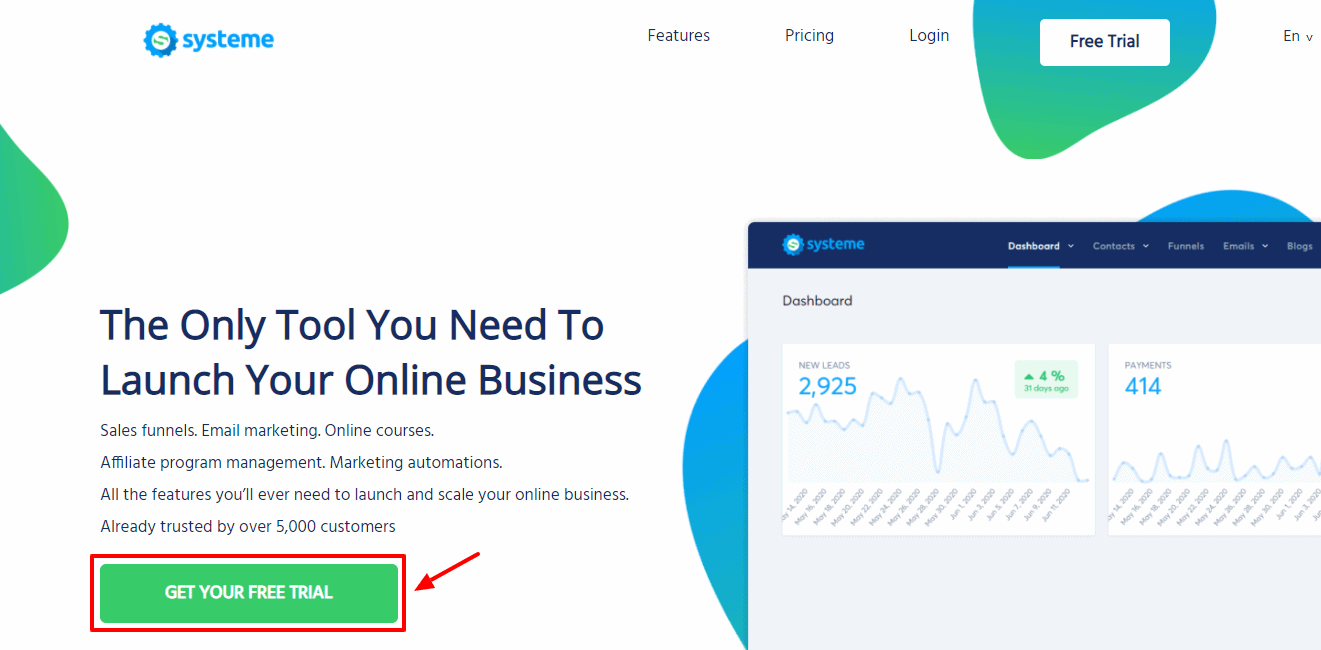 Systeme.io is an all-in-one marketing platform that lets you build websites, make sales funnels, handle contacts, do email marketing, automate your business, create membership sites, and teach online courses.
System.i0 Features:
The drag-and-drop landing page builder and the ready-made

landing page templates

make it easy to create high-quality landing pages.
The drag-and-drop builder lets you make your website and blog.
With just a few clicks, you can complete a sales process with opt-in forms, sales pages, upsells, downsells, automated email marketing campaigns, and thank-you pages.
With their email marketing tools, you can make marketing programs, set up marketing automation rules, and look at how well your marketing works.
The same drag-and-drop builder feature makes it easy to make course content, and you can give access to your content slowly or all at once.
Make a program for affiliates and connect it to your email list, membership sites, and payment system.
 Systeme.io Pros & Cons
It is designed for entrepreneurs and small business owners. It is an entirely integrated All-In-One platform, which differs from LeadPages.
Pros:
It offers a sales funnel builder to create an email list and send unlimited emails, and you can launch a blog, create a membership, manage affiliate programs, and so much more.
It is super easy for anyone to use.
Cons:
It generally differed from how many email subscribers they included in it.
The pricing differed from one plan to another.
Systeme.io Customer Support
Systeme.io is proud to offer 24/7 customer support. They provide informative Q&A sessions and welcome customer feedback.
Systeme.io Analytics & System Tracking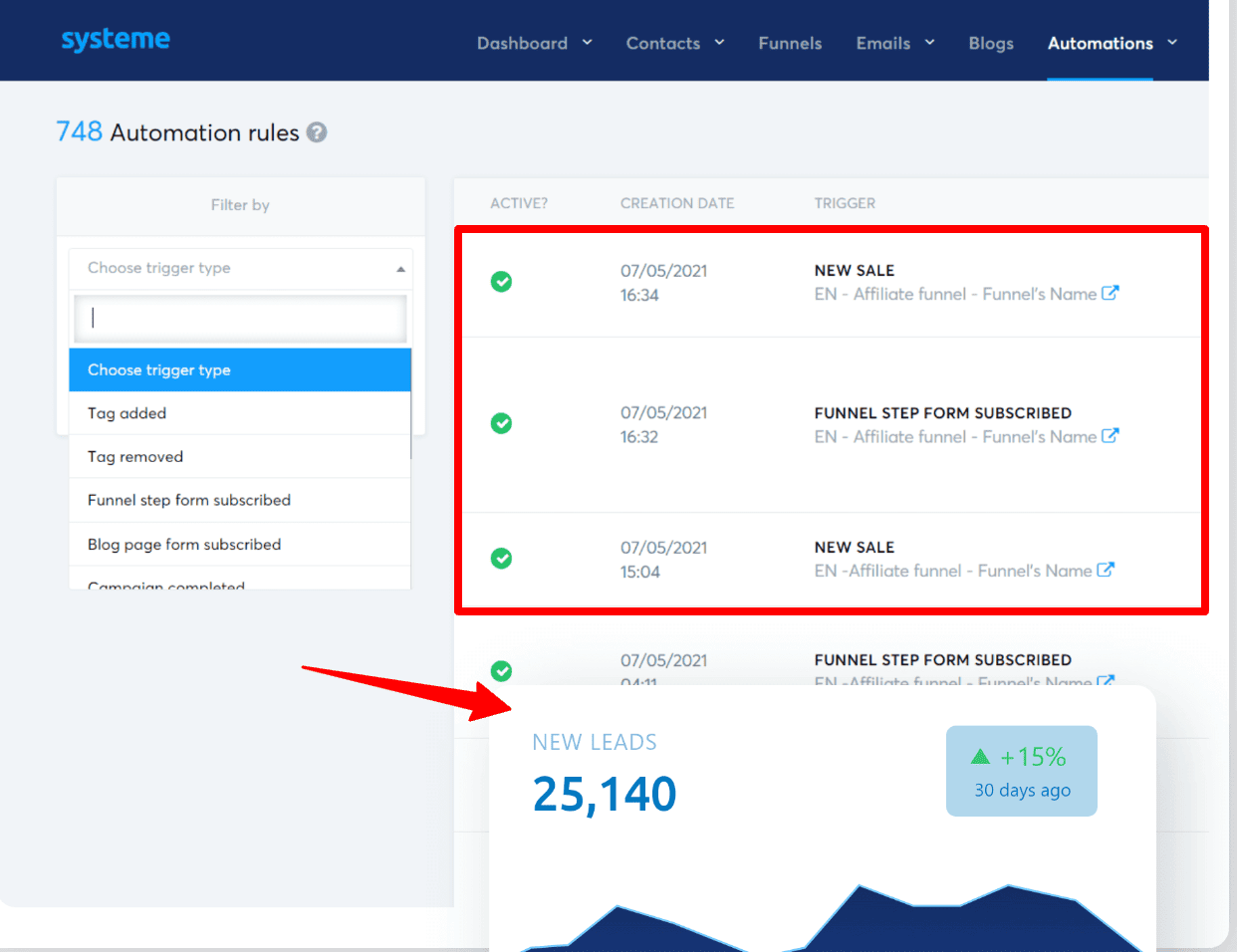 One of the main analytical features Systeme.io offers is its marketing automation services, wherein all informed transactions regarding commissions and payments are done after being processed by the advanced system itself.
Also Read: Kartra Page Builder Review 
3. ClickFunnels
ClickFunnels is an easy-to-use online system that helps business owners create landing pages using a sales funnel builder.
It is considered one of the best landing page builders available.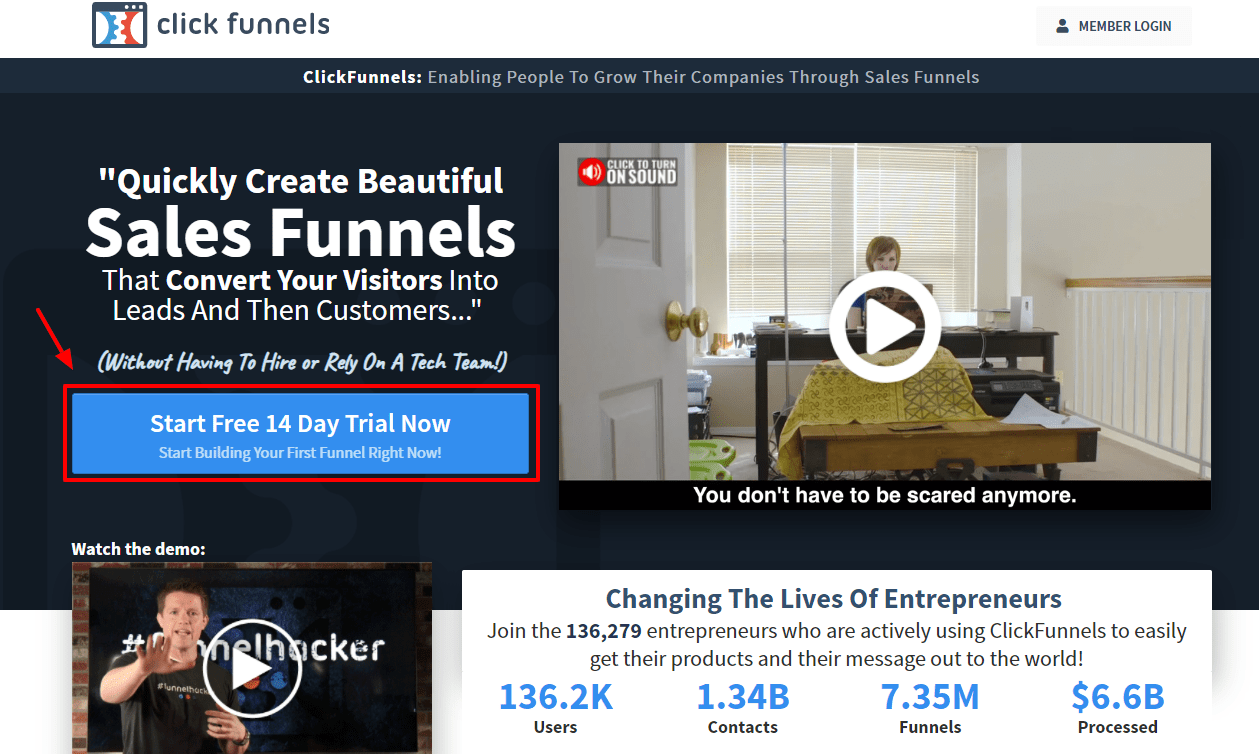 With this tool, you can manage email, social media, text, sales funnels, landing pages, and affiliate programs from one platform to turn your ideas into a well-designed sale and convert website traffic into loyal customers.
ClickFunnels Pro & Cons
Pros:
It gives the entire business complete growth.
It helps in sales funnel templates.
It has excellent capabilities with text, email marketing, and social media.
Cons:
Click funnel pricing is a bit expensive.
If you want more features, you have to buy them for $300 Per Month. That is not worth it for smaller companies.
It has a learning curve.
ClickFunnels Customer Support
ClickFunnels has adopted a much more traditional yet direct customer care service system.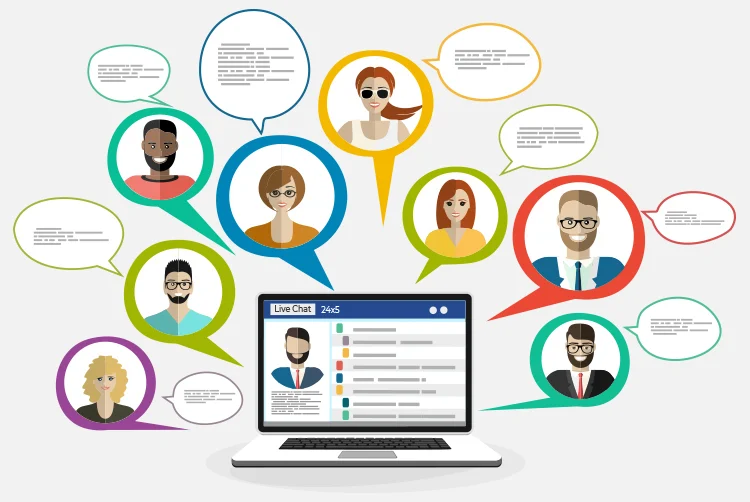 With a direct hotline and email, only a call and click away, the organization doesn't kick around the bush, but straight-off sits down for business.
Click Funnels Analytics & Tracking
ClickFunnels has successfully managed to mark its spot in the online market by allowing its entrepreneur community with booming business provisions such as conversion tracking—among other tools like reporting & statistics pages.
4. GetResponse
Like MailChimp and AWeber, GetResponse is an email marketing platform. GetResponse offers marketing campaign options like landing pages, sales pages, webinars, and eCommerce. It's ideal for freelancers and small enterprises alike.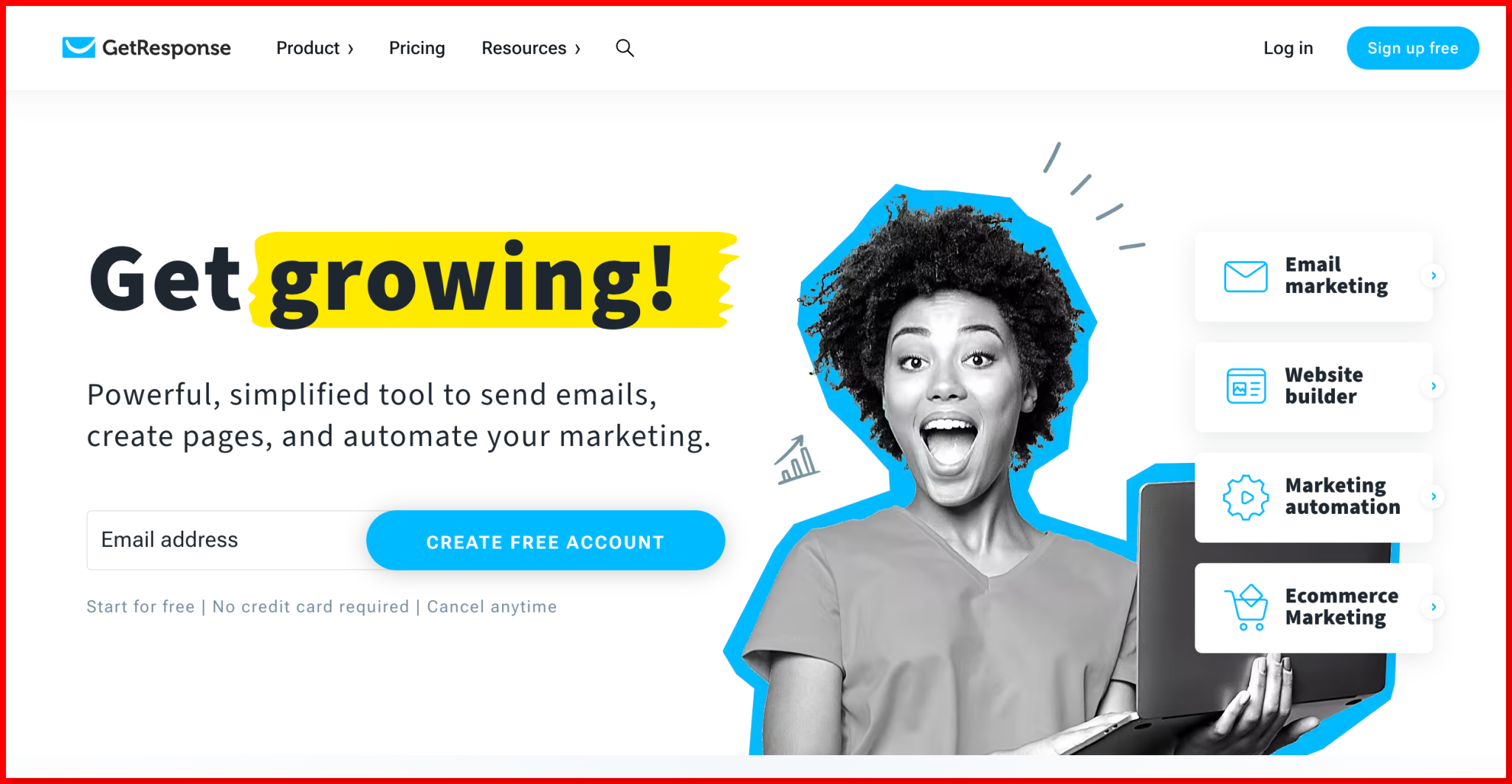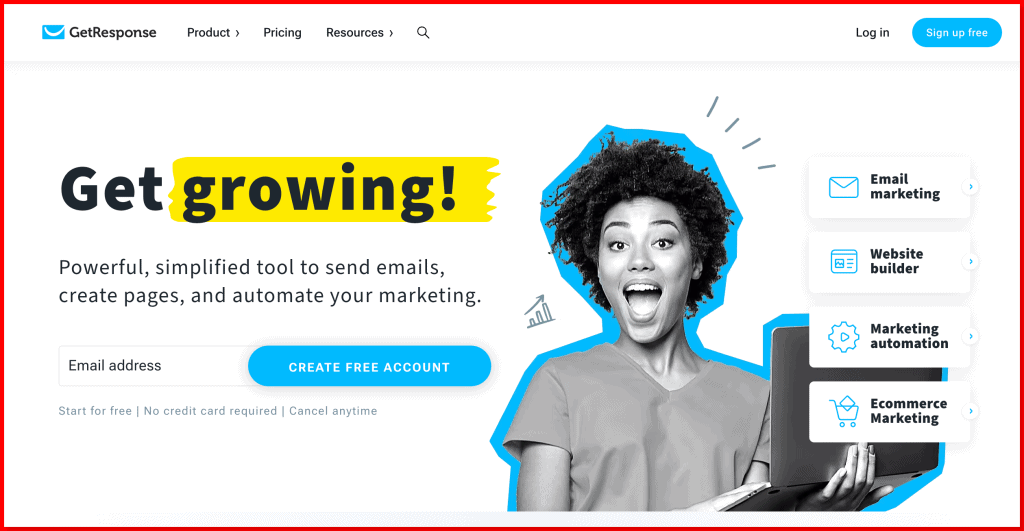 According to the company, with the recent shift in emphasis, GetResponse aims to be more of an "all-in-one" Internet marketing and eCommerce solution than a "conventional" email marketing tool.
In addition to email marketing tools, GetResponse now offers a landing page builder, chat features, eCommerce features, Webinar hosting, landing pages, and automated sales funnels, in addition to its email marketing capabilities.
In addition to email marketing tools, GetResponse now offers a landing page builder, chat features, eCommerce features, webinar hosting, landing pages, and automated sales funnels, in addition to its email marketing capabilities.
Email marketing features
Customizable auto-funnel tool
List management
Analytics
Instagram & Facebook Ads
e-forms
+150

landing page templates

Marketization
GetResponse can automate the whole customer journey, from acquisition through order fulfillment. It helps you increase sales, ROI, and overall internet marketing success. All without a sweat.
Pros
Free 30-day trial (no credit card required)
A blank template for creating your own landing pages.
Affordability
Cheaper than competitors if you choose the "Basic" plan
Discounts for paying for one or two years in advance
Good integration options
Cons
The learning curve, however, they provide training materials
The landing page builder might be improved.
5. Thrive Architect
Thrive Architect is a good choice for marketers and a landing page builder for many people.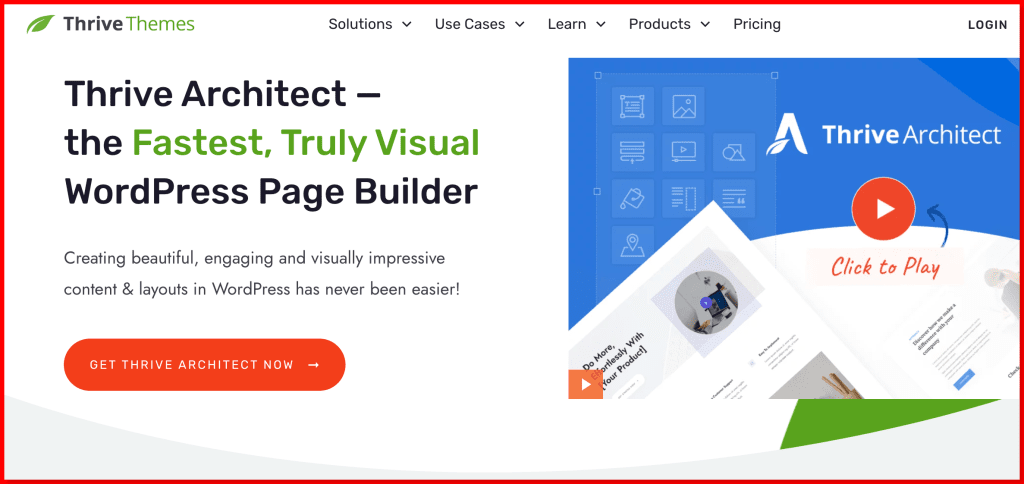 In general, as a landing page builder, Thrive Architect does an excellent job. Landing pages are easy to make because they come with templates and easy-to-use software. The pre-made elements also do their job.
Thrive Architect Pricing Plans:
You won't find a better value for a WordPress page builder than this. At only $67, it includes lifetime updates. It's almost worth buying just to try it out.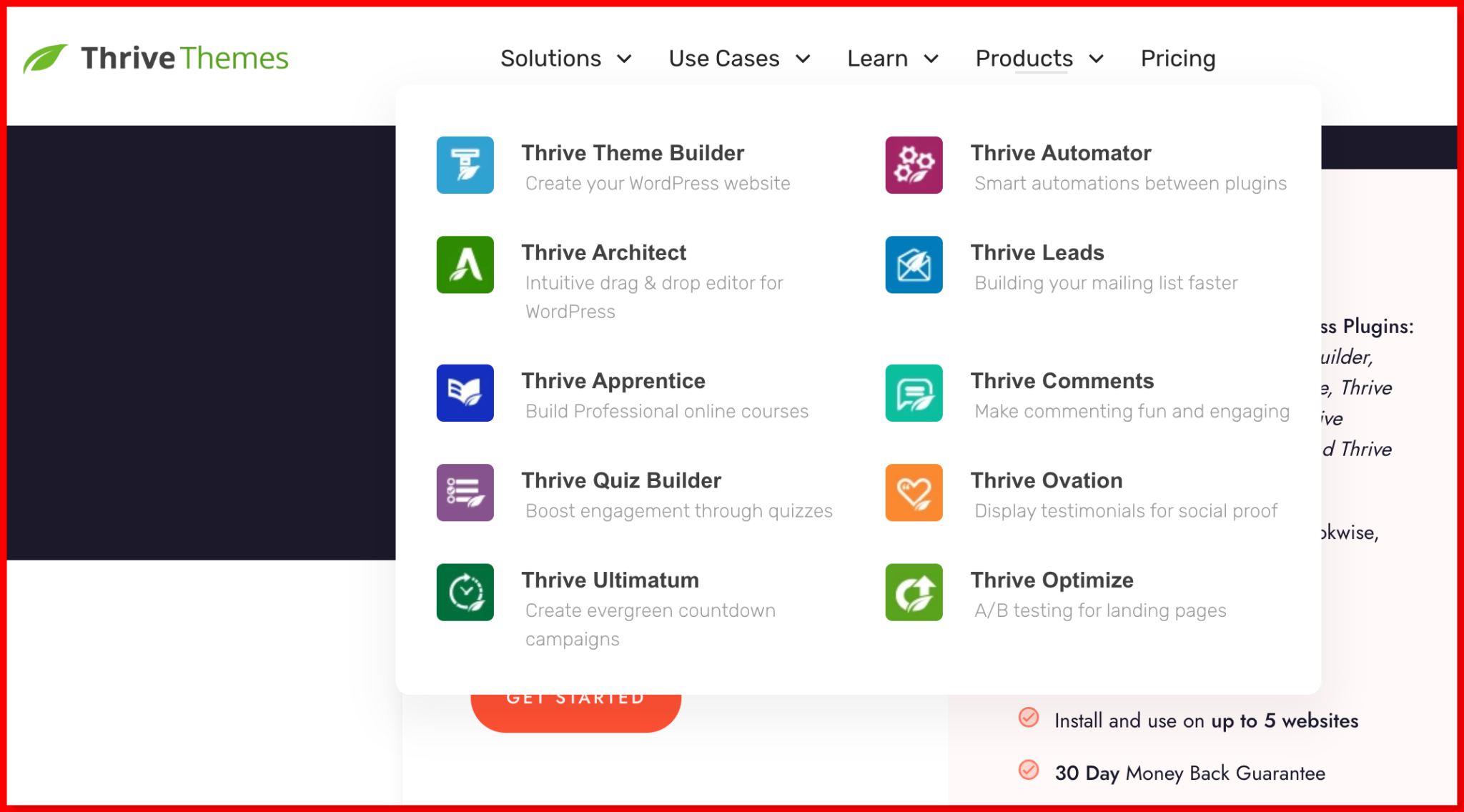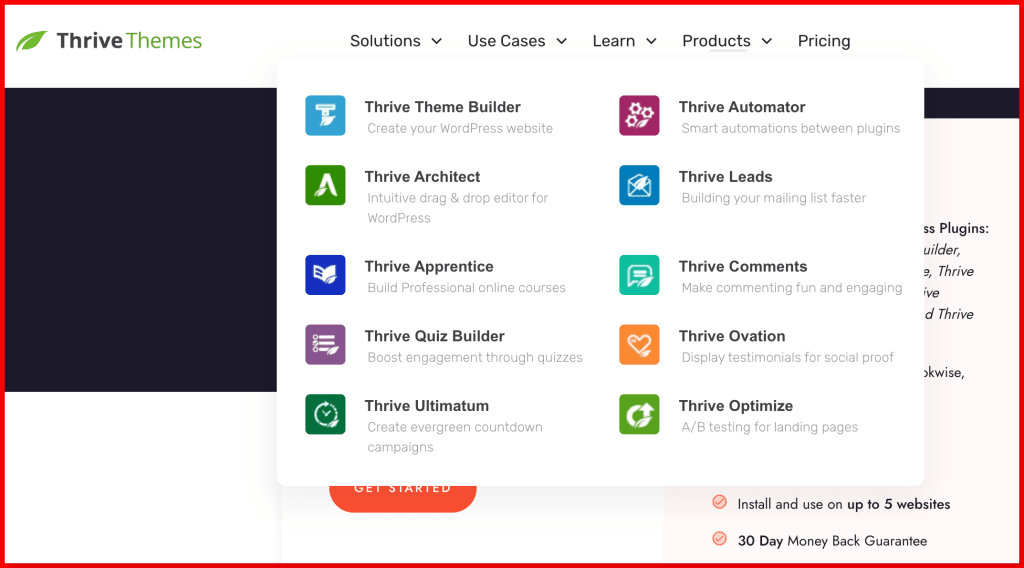 This is an excellent choice if you enjoy their landing page builder and trust their plugin but cannot use their vanilla page template and are interested in acquiring additional material for one or up to 25 of your websites.
6. HubSpot
HubSpot is a customer relationship management (CRM) platform that brings together in a single location everything growing businesses require to provide the best possible customer experience for their customers.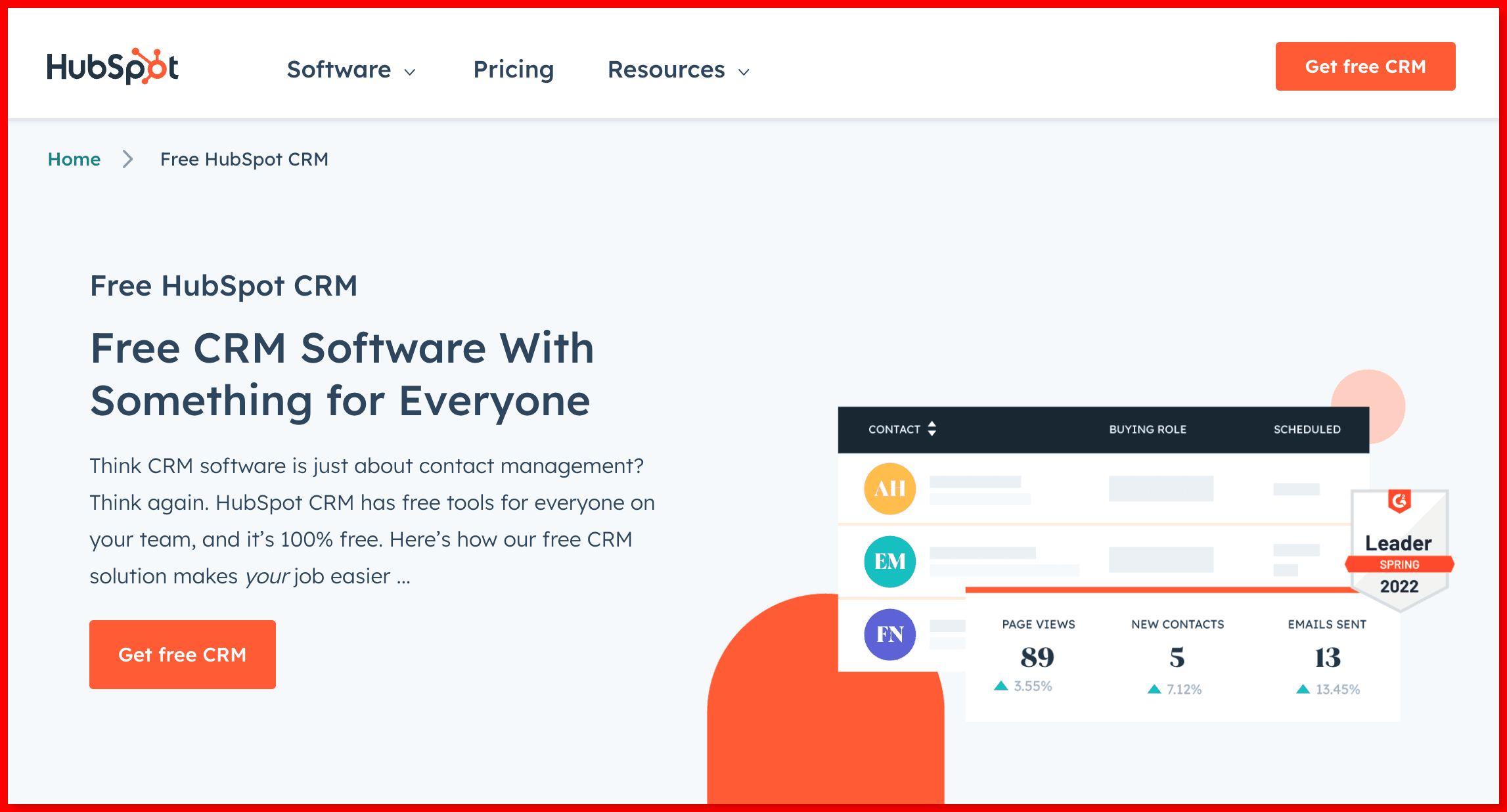 The solution is created, not cobbled together, and it helps teams thrive by providing them with tools that are effective on their own but even more so when used in conjunction with one another.
The following are among HubSpot's 5 Hubs:
Marketing Hub
Sales Hub
Center of Service
CMS Hub
Center of Operations
You can purchase any of these products alone or acquire them all simultaneously as a component of an integrated customer relationship management (CRM) platform.
HubSpot's features
The Marketing Hub is a marketing automation platform that enables you to create landing pages and streamline your marketing approach. You may use this tool to save time.
The page builder lets you make landing pages with styles that work well on mobile devices.
The drag-and-drop builder helps you to create compelling landing pages and lets you make pop-ups, individual forms, or forms that are part of a website.
Email marketing: Make marketing programs, divide your list into groups, and run A/B tests to increase the number of people who click on your links.
Blogging feature: Write blog posts to bring more people to your website.
Lead tracking tools: Sort your contacts and keep in touch with them.
Marketing automation: Automation tools like processes can help you scale your digital marketing efforts.
HubSpot Pricing
The HubSpot Marketing Hub allows users to pay monthly or yearly, with the latter option resulting in a 10 percent discount on the total subscription cost.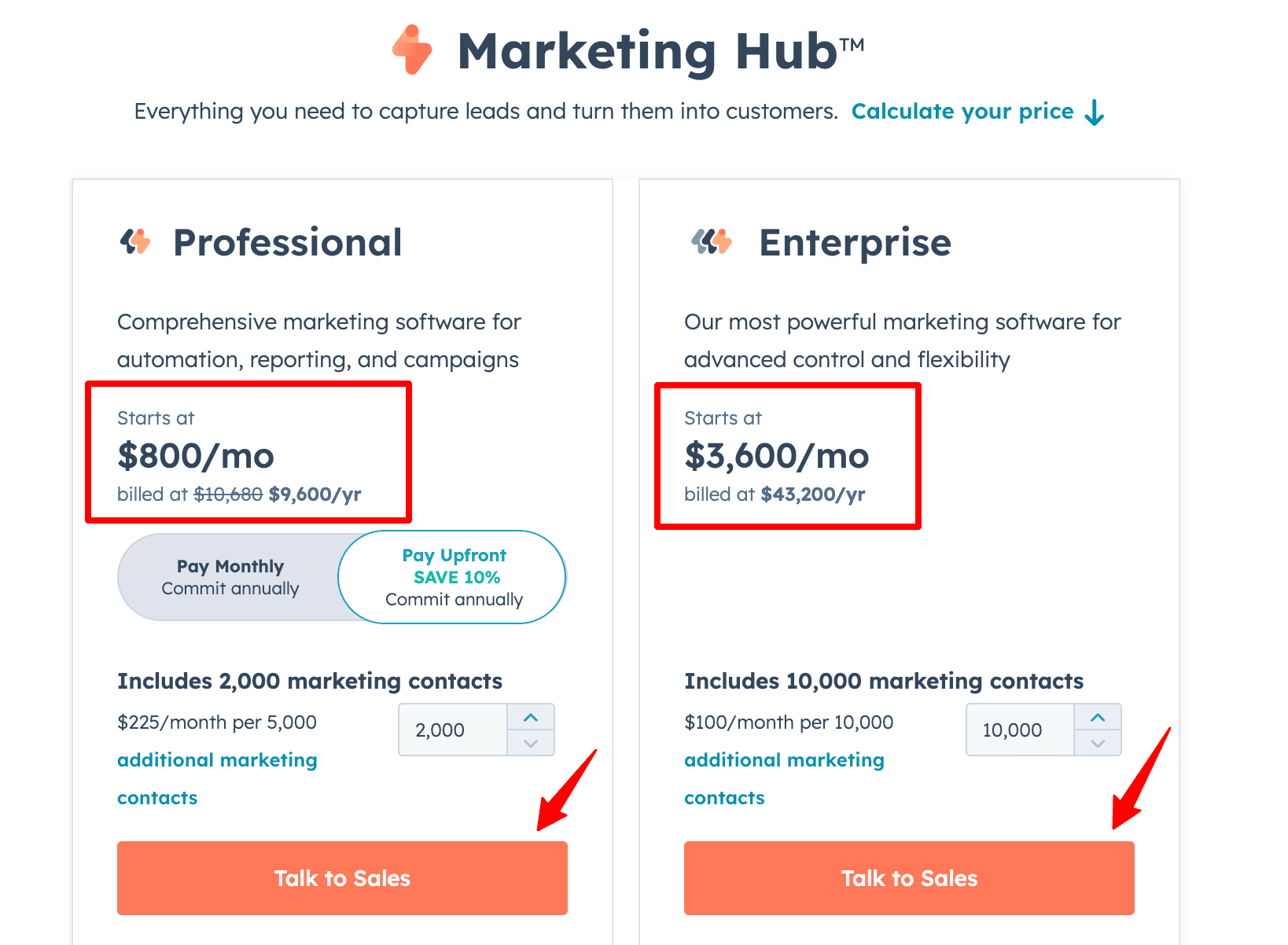 The following is a list of the monthly prices:
The Starter plan is $50 per month and includes 1,000 contacts.
The professional plan costs $890 a month and consists of 2,000 contacts.
The Enterprise plan costs $3,200 per month and consists of 10,000 connections.
7. Mailchimp
Mailchimp is now capable of much more than just sending emails.
They have developed a comprehensive set of marketing tools that is geared toward assisting small businesses in getting their digital marketing initiatives off the ground and running.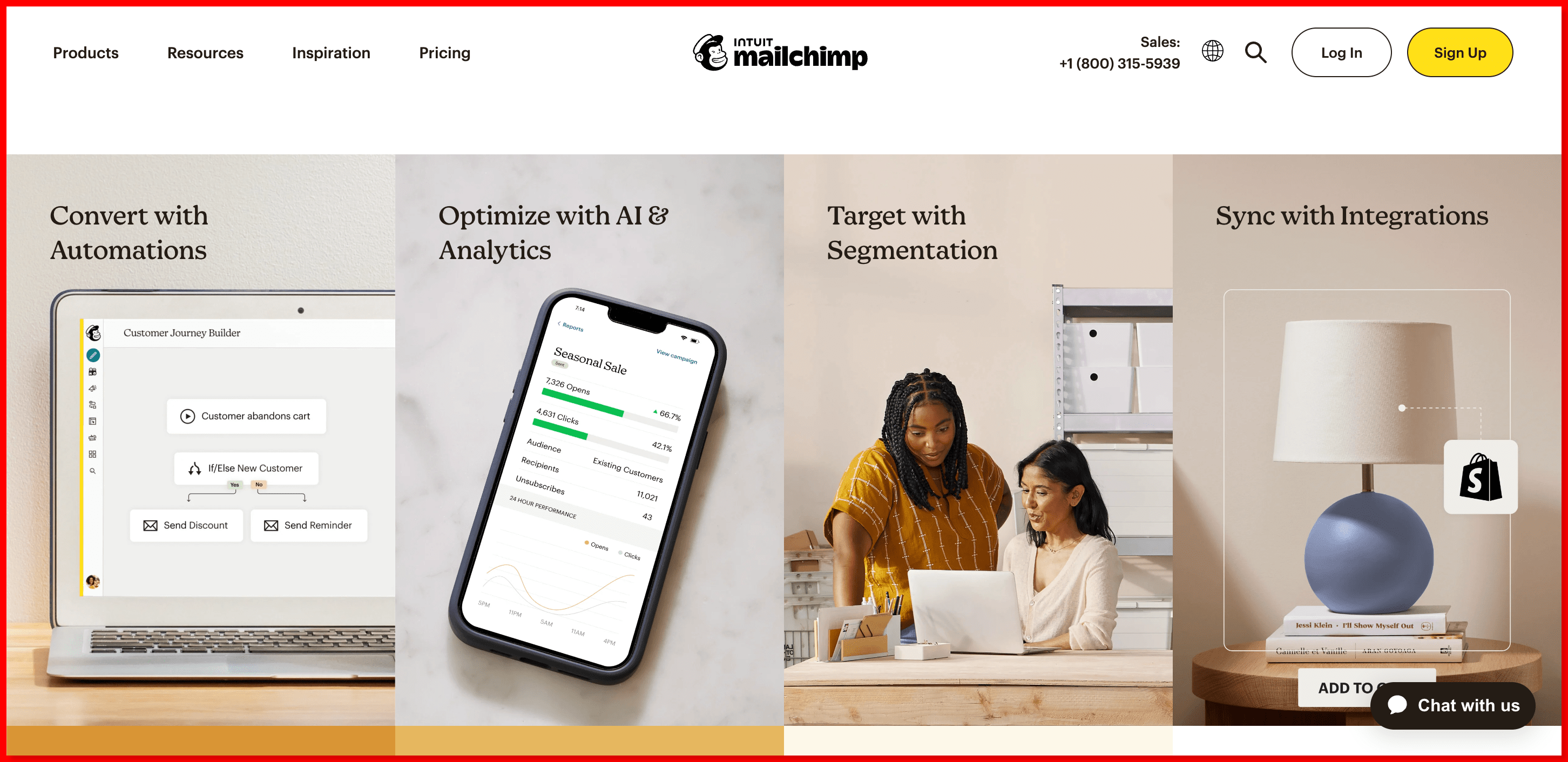 The landing page builder they provide is compatible with the advertising, email, and social media tools they provide.
Price: Free, up to a certain point in time. The starting price for a paid plan is $11 per month.
Pros:
Ease Of Use
Email Editor
Marketing Automation Tools
Segmentation
Personalization
Analytics & Reporting
Cons:
High-cost subscription plans
Unfavorable way to count subscribers
8. Unbounce
Landing pages help businesses increase conversion rates, generate leads, and attract more consumers.
If the objective stated above is not being met by the landing page builder you are using, it is in your best interest to look for a more capable alternative.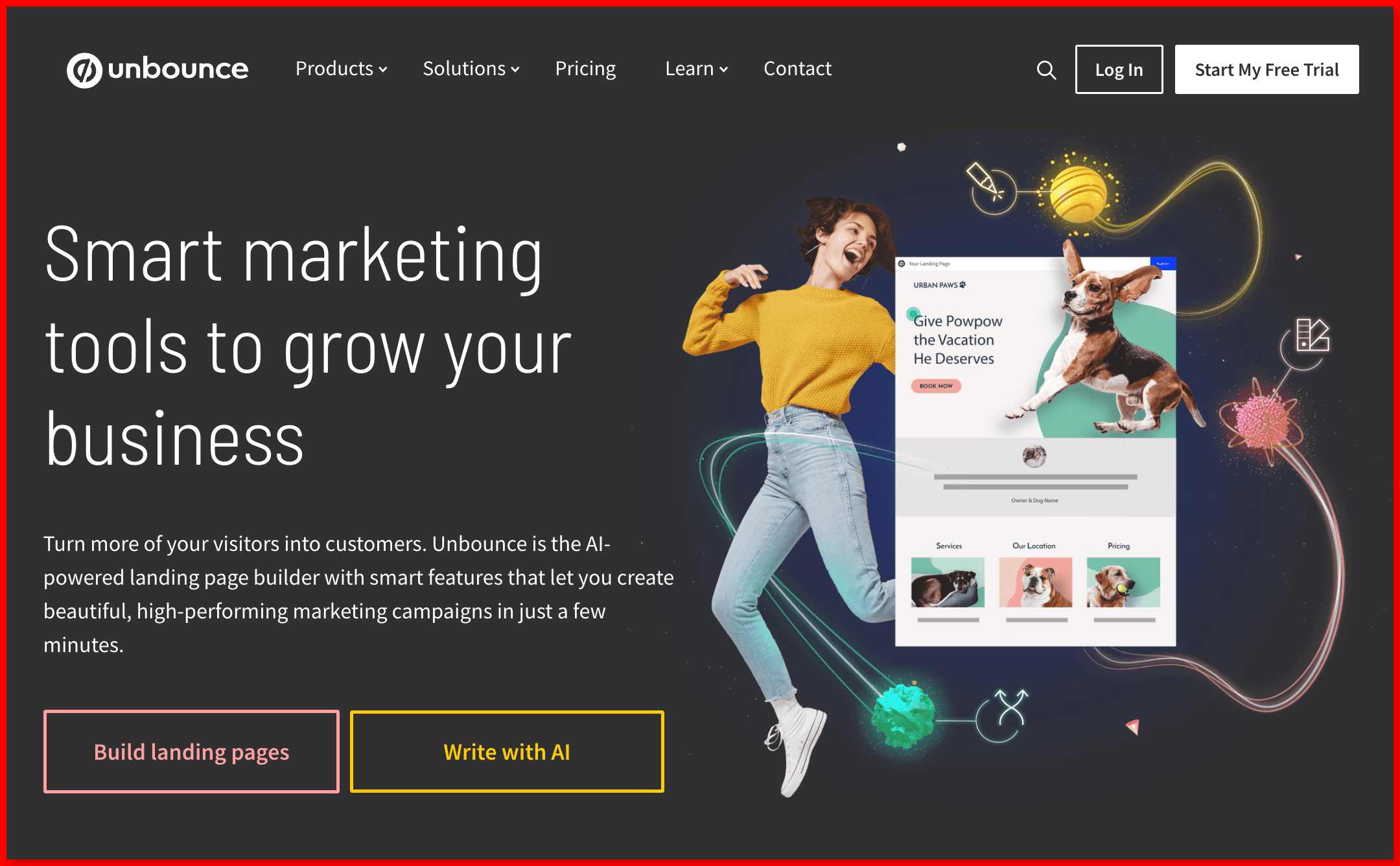 And here's something else you should know: it's pretty unlikely that things will get any better than Unbounce.
Unbounce is a tool that helps you quickly create optimized landing pages for conversions.
Additionally, Unbounce makes it simple to deploy pop-ups and sticky bars, which can increase your engagement with visitors who fall inside your target demographic.
Plus, you won't have to write a single line of code to accomplish everything. To get the most out of the platform, you don't need prior knowledge of HTML, JavaScript, PHP, or any other type of technology.
Unbounce Pricing Plans:
Essential, Premium, and Enterprise are the three service tiers available from Unbounce. If you pay for Essential annually, the monthly fee is only $79.
With this purchase, you can access 75 landing pages, 8 popups, and 8 sticky bars. A monthly fee of $159 will be assessed for access to the Premium service.
You can now access 150 landing pages, 16 popups, and 16 sticky bars.
The monthly fee for Enterprise is going to be $399. You will receive 375 landing pages, 40 popups, and 40 sticky bars in exchange for that amount. In addition, each service tier comes with its unique set of integration possibilities to choose from.
9. OptimizePress
OptimizePress is an advanced marketing plugin for WordPress that can be used to make professional landing pages, sales pages, sales funnels, membership websites, online courses, event pages, and more.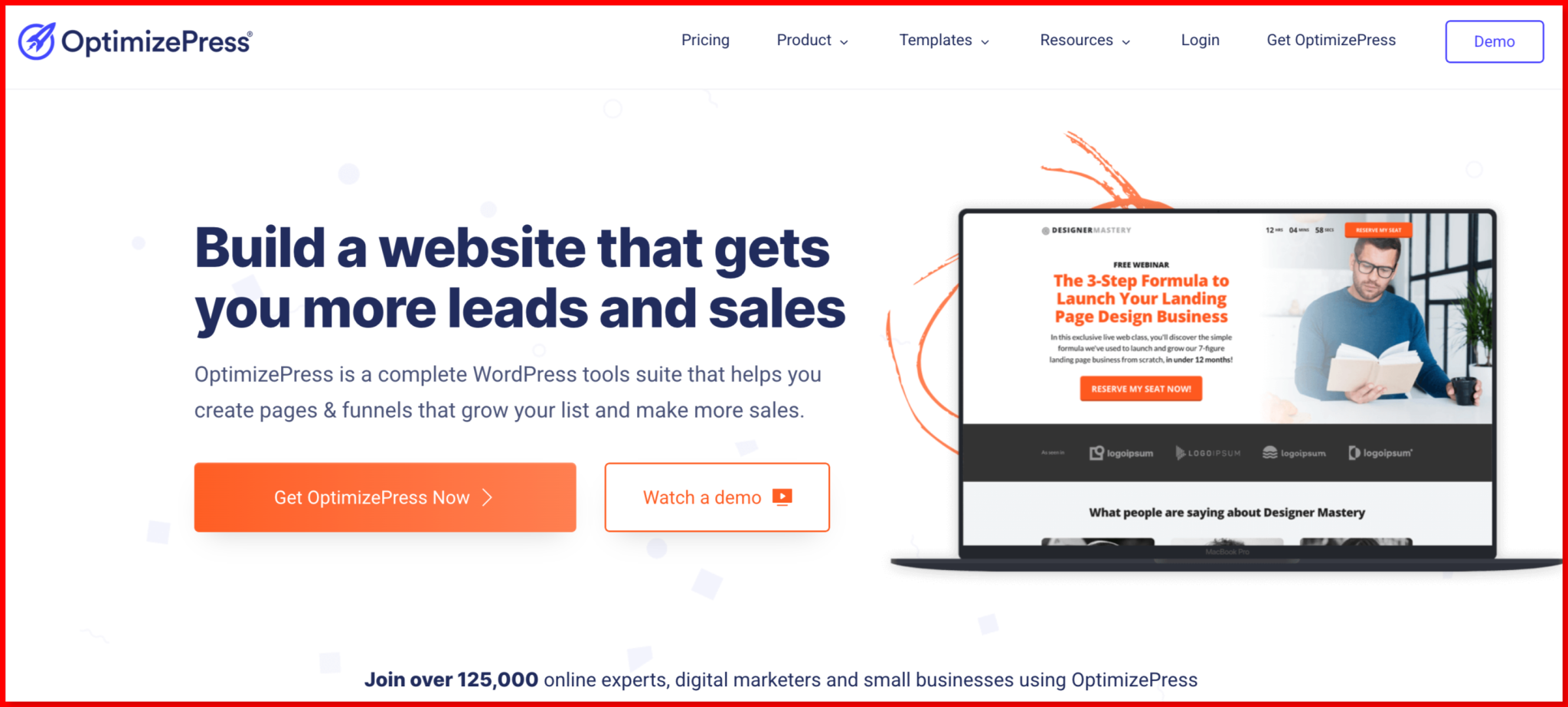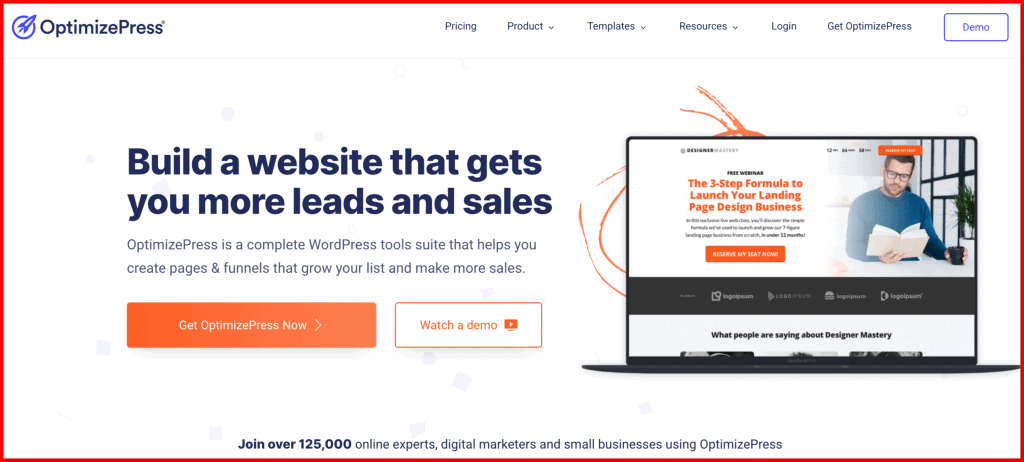 OptimizePress has hundreds of beautiful pre-made templates that make it easy to build pages and websites. Each layout can be changed using an easy-to-use drag-and-drop editor.
You can use the plugin to make sales pages look great and convert, or you can make whole membership sites with opt-in pages, paywalls, drip-fed content, payment integrations, and all that good stuff. One cool thing about this plugin is that it can do as much or as little as you need.
OptimizePress Pricing Plans:


OptimizePress is a premium WordPress plugin with a base price of $99 per year, with additional costs of $149 per year for the Business edition and $199 per year for the Suite.
Although it is not the cheapest plugin you will find, it falls somewhere in the middle of the pricing ranges for plugins, and you do receive a lot of value for the money you spend.
10. Sendinblue
Sendinblue is an email marketing platform with tools for advertising, lead generation, email marketing, SMS marketing, and CRM all in one place.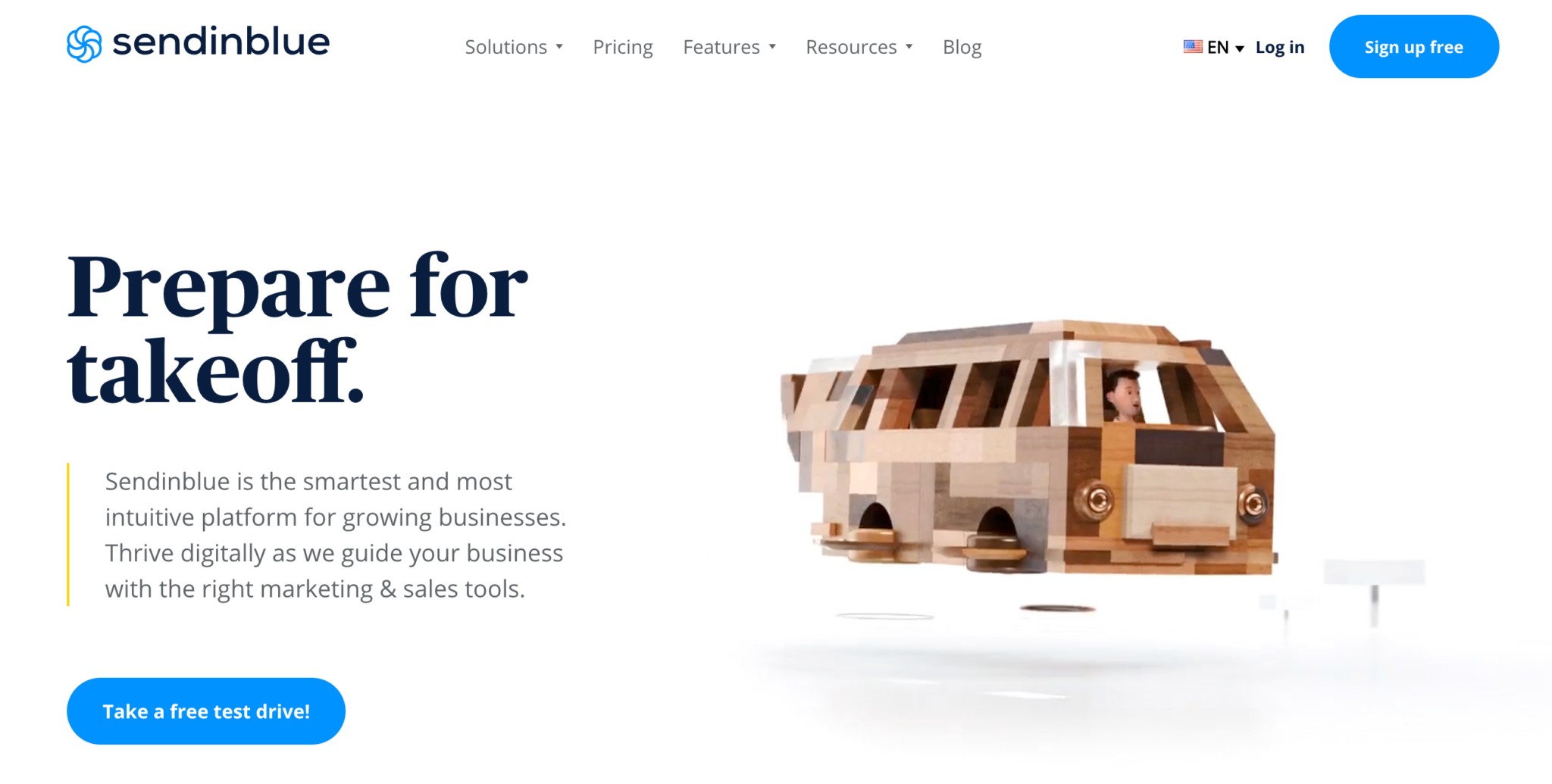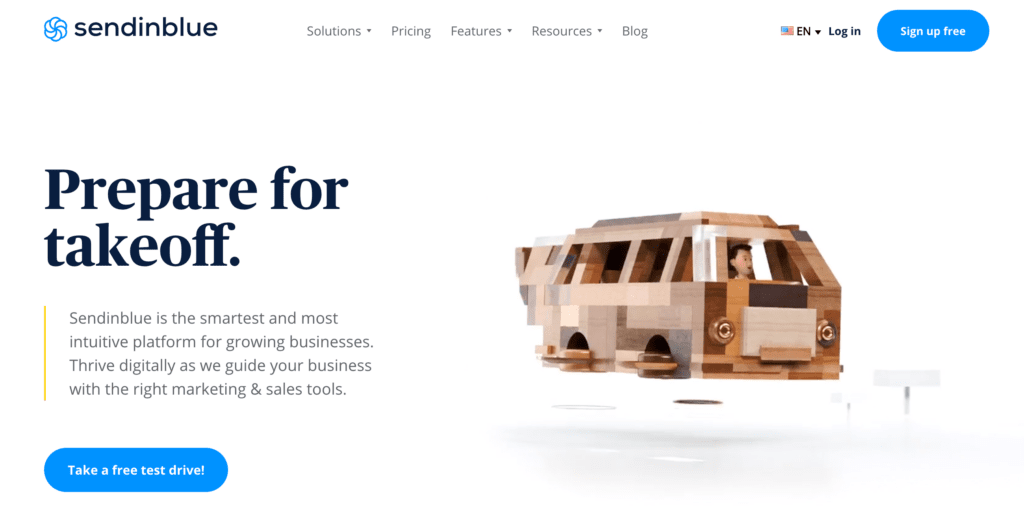 These features help you communicate, make your marketing more personal, and get more people to buy from you. Sendinblue also has a form and landing page builder that you can use by dragging and dropping the elements you want.
If you don't want to start from scratch, Sendinblue has several landing page templates that you can change to fit your needs.
Sendinblue features
Segmentation and A/B testing.
Bulk SMS marketing campaigns.
Transactional SMS
Marketing automation workflows
Reports and Analytics
Opt-In Forms
List Management
Email Segmentation
11. Landingi
Landingi is an excellent option for Leadpages because it has many valuable features. Landingi is known for being easy to use and flexible.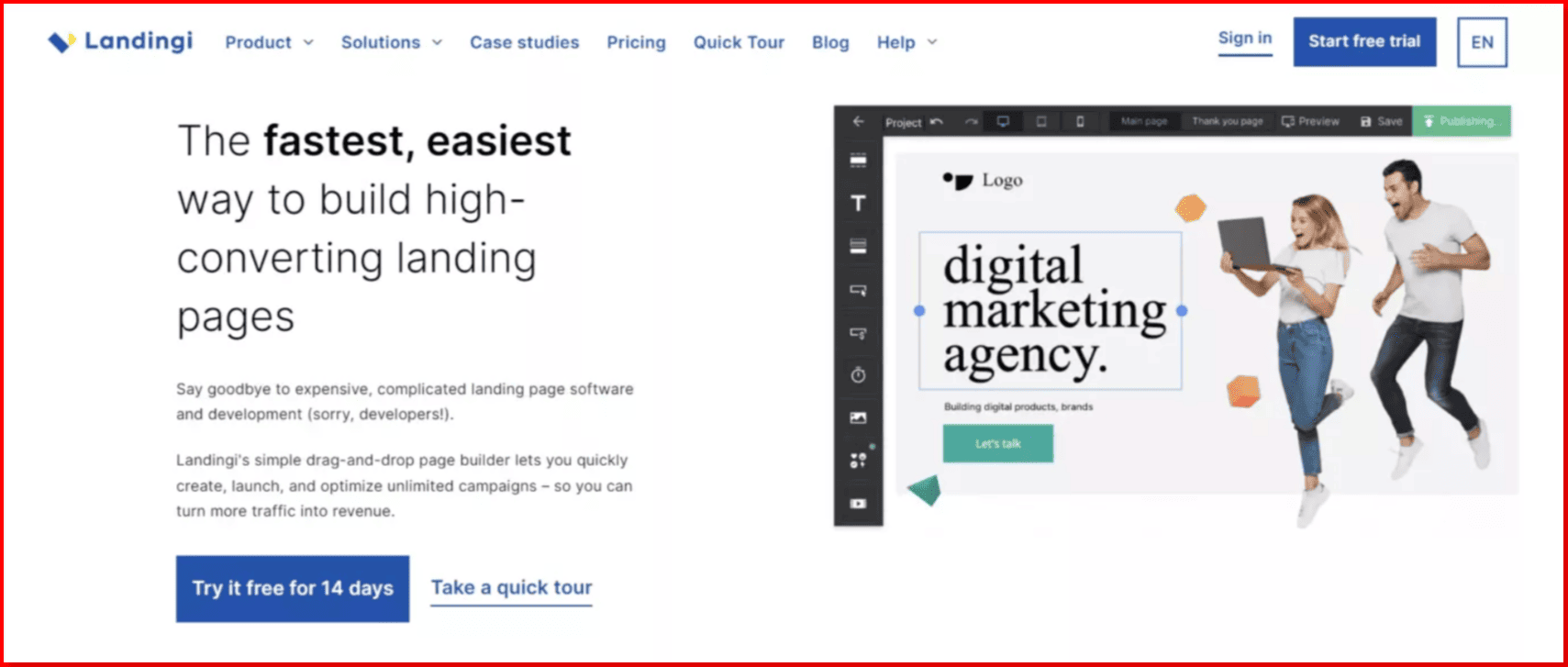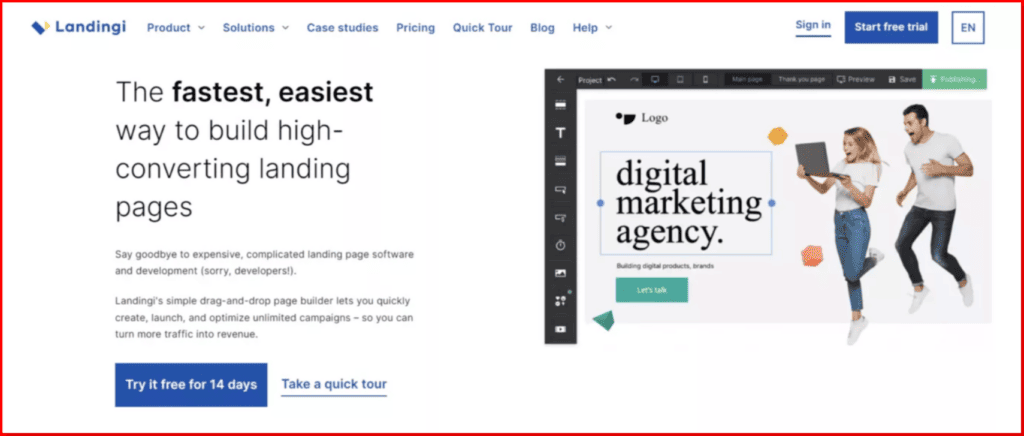 It has over 300 landing page templates, an easy-to-use builder, and seamless connections with popular marketing tools like HubSpot, Salesforce, and Intercom.
One of the most significant differences between Landingi and its competitors is how easy it is to use. Happy users have said this on G2. Here are a few user reviews that show how easy the platform is to use: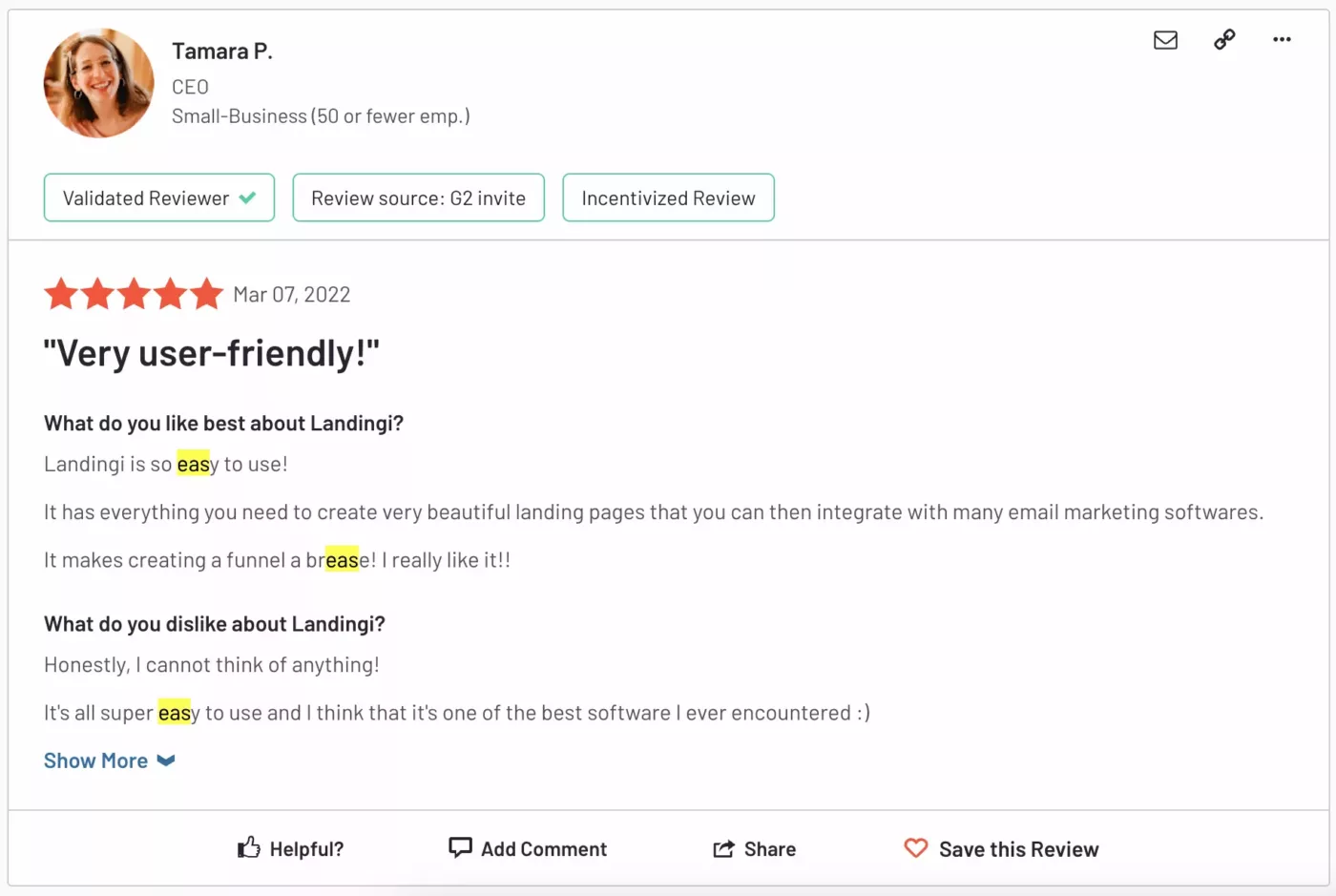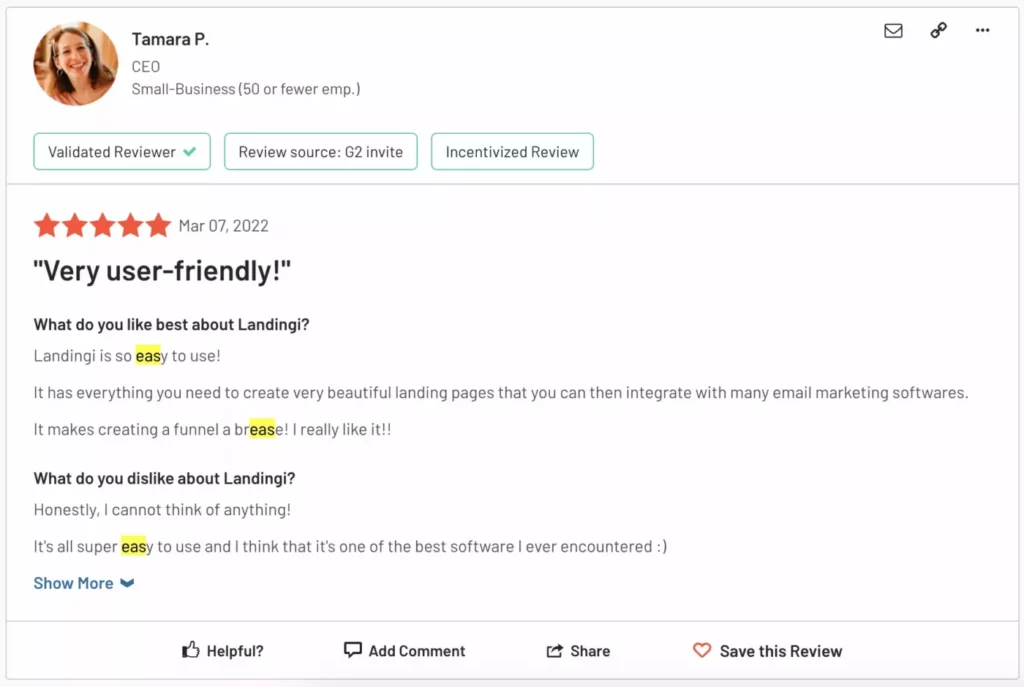 Craig D., Director of Client Services for Computer Software, liked how easy Landingi was and its many features. He said a high-quality landing page could be made in less than 15 minutes.
Dale R., an owner in the hospital and healthcare industry, said that the drag-and-drop features are tremendous and that Landingi makes it easy to build landing pages and get email leads.
CEO of Small Business Tamara P. said Landingi was "super easy to use" and one of the best software options she had seen.
Landingi features
Landingi's drag-and-drop builder, known for being accurate and easy to use, lets users make and start landing pages quickly. Landingi's most essential features are:
Section Templates: Landingi gives you section templates to make your page look better and work better.
Smart Sections: The app has intelligent sections that let you change things even more.
Mobile Views: Landingi ensures your landing pages are set up for mobile devices.
Customizable Templates: You can choose from more than 300 customizable landing page themes in an extensive library.
Versatile Formats: Templates can be used in more than just landing page forms.
SSL Security: All your landing pages have SSL security, keeping your info safe.
Exceptional Support: Landingi has excellent customer service to help you when you need it.
In summary, Landingi presents a compelling alternative to Leadpages, characterized by its user-friendliness, extensive template library, and seamless integration option. Its intuitive drag-and-drop builder simplifies the landing page creation process, making it an attractive choice for businesses and marketers.
Quick Links:
FAQs On LeadPages Alternatives
💥 Is ClickFunnels better than Shopify?
Both these tools have their own specialization. If you are looking for an all-in-one marketing solution, ClickFunnels is the right choice. If you just wish to market the products, Shopify can be the choice.
✅ How do Leadpages work?
A platform provided to raise landing and sale pages easily. It becomes more user-friendly with a "drag–and- drop" feature or just by using a template.
🎉 Can I Create More than One Form on a Page with a ClickFunnels?
Yes. You can create more than one form on a page with the ClickFunnels account.
🏆 Do you need a website for ClickFunnels?
ClickFunnels is a great alternative for any small business that doesn't have a traditional website. This software allows you as an online business to sell your products.
💼 Where the Leadpages landing pages can be used?
It can be used all over your Facebook, Google, and LinkedIn to have your marketing campaigns.
🔥 Is there any free trial with Leadpages?
Yes, there is a free trial version of 14 days. They do not have a free version, and the first plan of Leadpages starts at $25.00 per month.
Final Verdict: LeadPages Alternatives 2023
So, after checking out these alternatives, I've got to say that Unbounce and ClickFunnels stand out as my best options. They're super user-friendly, and I love how customizable they are.
Unbounce makes it a breeze to design eye-catching pages, while ClickFunnels allows me to create different types of pages that suit my marketing needs. They have other price plans, so I can choose the best fit for my budget.
Whether you're an expert or starting out, Unbounce and ClickFunnels have you covered. They've definitely won me over with their simplicity and versatility.
So, if you're ready to take your landing pages to the next level, I highly recommend trying Unbounce and ClickFunnels.
If you have any questions, feel free to comment below. I'm here to help and do my best to answer your questions. Happy page designing! 🚀🎉