Amazon sellers need to be able to track all of their expenses in order to make a profit.
It can be hard to keep track of all the different fees that Amazon charges, and it's easy to lose money without realizing it.
Sellerboard offers a dashboard that tracks and analyzes Amazon profits, taking into account all expenses. With sellerboard, you can drill down into every product, fee, variation, and any period of time.
You can also use the "Money Back" reports requesting reimbursements from Amazon for lost and damaged products.
Throughout this blog post, I will provide a comprehensive overview of sellerboard as well as an explanation of a few key features.
Sellerboard Review 2023: What Is Sellerboard?
Most Amazon FBA (Fulfillment by Amazon) sellers can use this tool. Just because it's hard to figure out how much money you're making when you use FBA.
There are a lot of fees involved, including storage fees and inbound shipping fees. Most of the people who use sellerboard do FBA. Some of them, on the other hand, do both FBA and FBM.
So, many sellers are starting to ship their own products or join programs like Prime By Seller. In addition to FBA, they also do FBM for this reason.
In addition, to drop shipping, some sellers make money through online arbitrage. So, there aren't really any rules about what kind of business works best.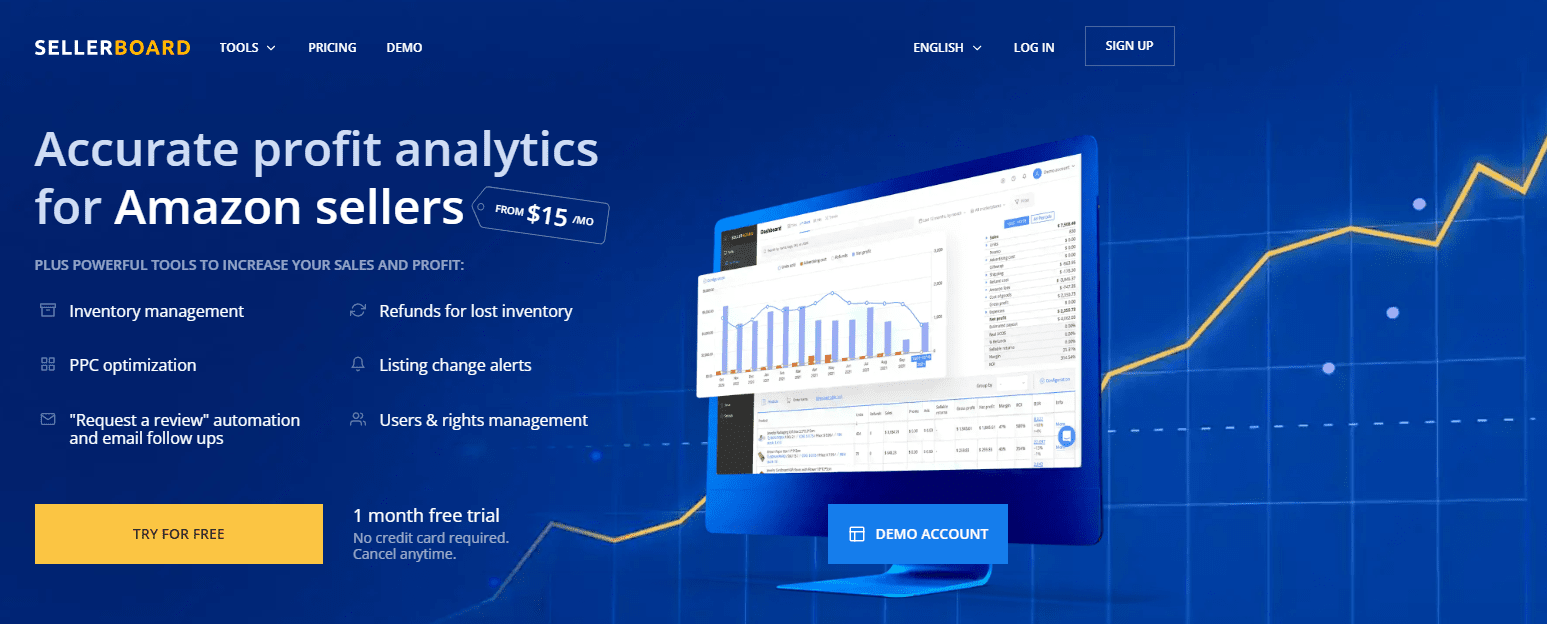 Also, it's not just about figuring out how to make more money; the real point is to help you make better business decisions based on data. And, of course, the main sign is how much money the business makes.
We all know that Seller Central has a lot of numbers and reports, but it can be hard to figure out what you actually make, especially in real-time.
So there is a way to download a few reports, combine them, and use Excel to figure out how much money you made. The software is for all sellers, from those who are just starting out to the most experienced.
There's no point in buying a profit analytics tool if you only sell one or two products on a daily basis. It's easy to figure out how much money you're making.
But if you have a few more sales, a second product, or maybe even different versions of the same product, it gets harder and takes more time to figure out how much money you made.
So it makes sense to look at a few tools for analyzing profit, and sellerboard is one of them.
How to get started?
First of all, when you sign up, you have to give sellerboard permission to use your Seller Central. It's pretty easy to do; all you have to do is click on one link, which takes you to Amazon.
Then, you have to make sure that the third-party app, sellerboard in this case, is a registered developer at Amazon and has permission to access your data.
After that, the sellerboard will begin to load the data. It takes a few hours and your sales information from last year. But if you have a very large account, it might only be for 6 months.
Usually, though, it's for a year.
Sellerboard Alerts
Sellerboard will send you alert notifications whenever your listing changes. If you click on the bell icon in the top right corner of the sellerboard dashboard, you can easily see all new notifications: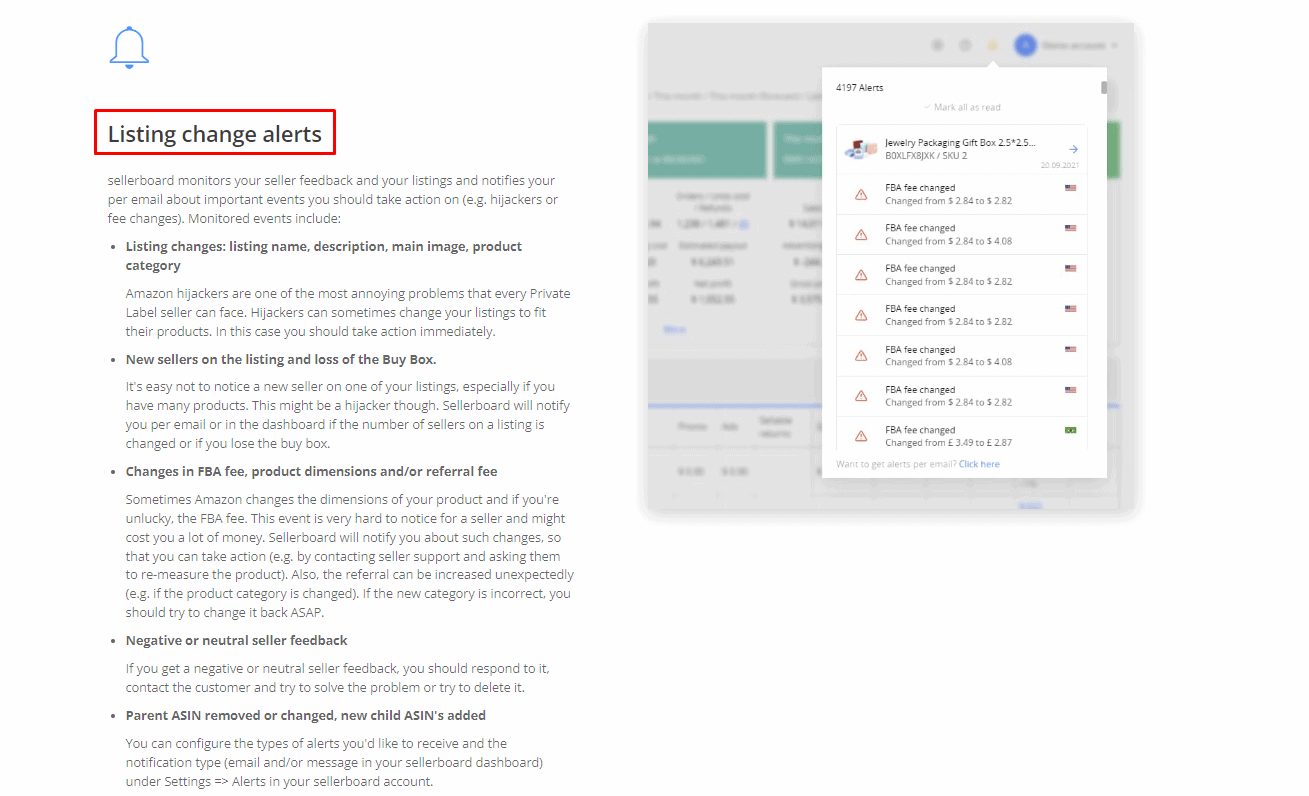 You can set up how you want to be told about changes. For instance, you can get alerts when:
Brand changed

The buy box is lost

FBA fee changed

Category changed

Commission changed

Listing text changed

Listing closed

Dimensions changed

Listing closed

New lowest price offer

New parent or child

Listing title changed

The main image changed

Negative merchant feedback

Stock alerts

The number of sellers/SKUs on a listing changed
So, if you check the box in the first column, the sellerboard tool will let you know, and if you check both boxes, you will also get an email telling you about the change:
Shopify & eBay Integrations
A lot of people who sell on Amazon also sell on Shopify or eBay. Because of this, sellerboard made a feature that lets all sales data from different channels be tracked in one place.
The interface is a lot like what you get when you use sellerboard to sell on Amazon. Sellerboard will send an order placed on eBay through Amazon's multi-channel fulfillment.
So you might see "FBA fulfillment fee" on your eBay sales data from time to time.
On the products tab, connect a certain product to an Amazon SKU to set up multi-channel fulfillment. Then, sellerboard will figure out the shipping costs for you.
Sellerboard PPC dashboard
In the PPC dashboard on sellerboard, you can see how much money you made from your Amazon PPC campaign by calculating your daily ad spend and profit. On the right, you can see a full list of all of your PPC sales:
Amazon won't give you all PPC sales data, neither through Seller Central nor the API. Through PPC campaigns, we can see how much money we make, but we don't know which products we've sold.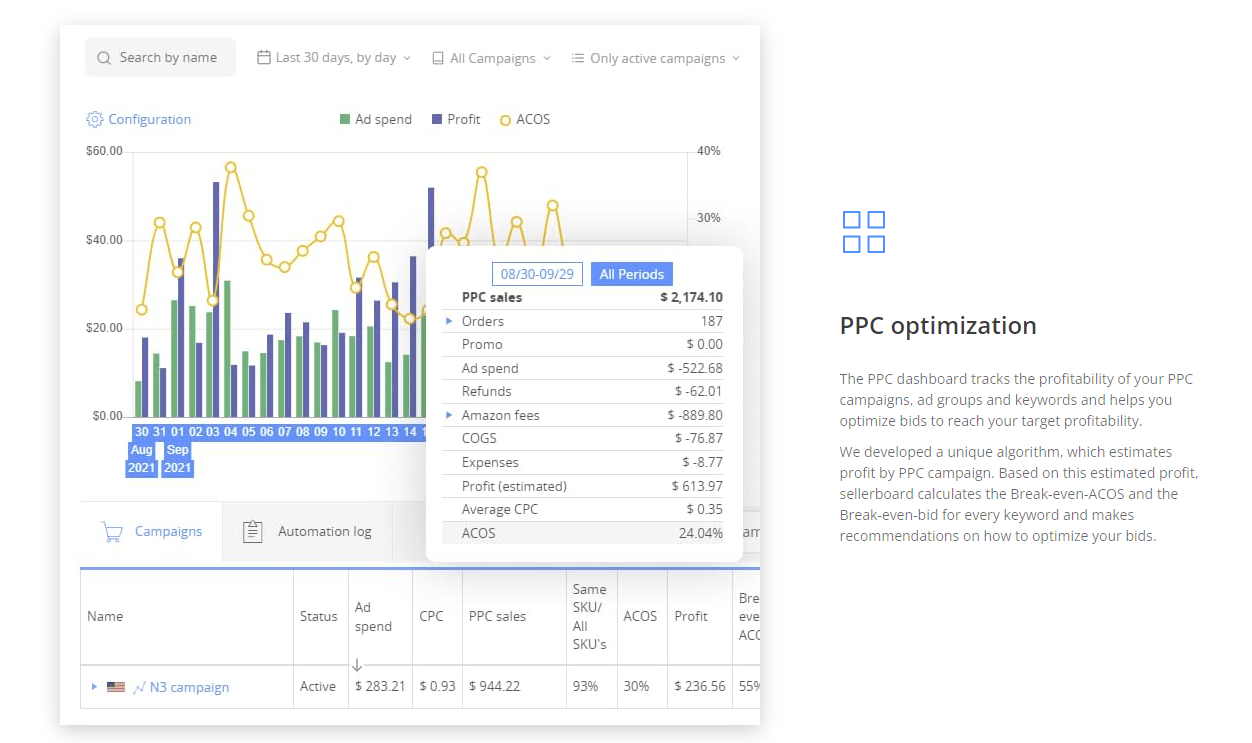 Because of this, the numbers on the sellerboard's dashboard are estimates that are constantly being calculated by an algorithm. In the end, you get an estimate of how much money you made from your PPC campaigns:
Just below, you'll see a list of your PPC campaigns. You can figure out which Amazon Pay-Per-Click (PPC) campaign and even keywords brought you the most sales.
You will also find your ACoS data, your CPC, and your recommended bids. In fact, recommended bids are done automatically.
All you have to do is click "Edit," turn on automation and let sellerboard figure out how much to bid. But it won't automatically work for your products. You have to do this by yourself.
Sellerboard Amazon Dashboard
This is a real-time summary of how much money you've made or lost.
We call these things "tiles," and you can get a quick look at how you're doing today by looking at the top.
How was your day yesterday? How are things going this month? And compare it to what the sellerboard thinks will happen, as well as the last month. And often, this setup can be changed. Here, you can choose different sets of these tiles or set up any time period.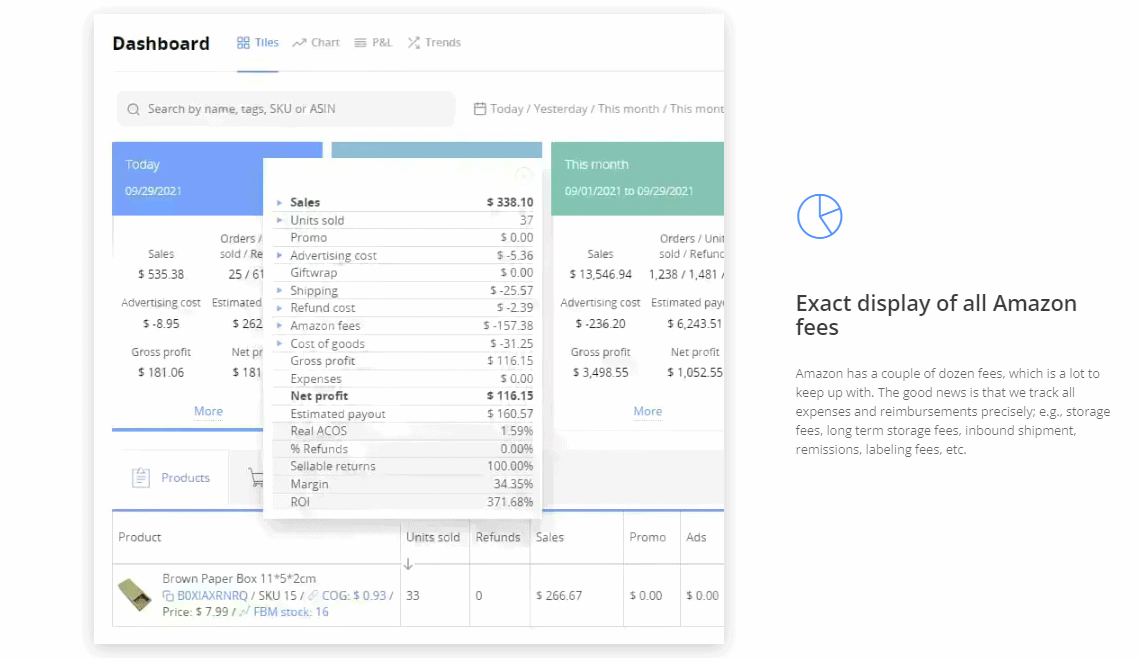 Anyone can go to sellerboard and view this account by clicking the "Demo" button. Keep in mind that this isn't real data—marked—but it's they tried to make it look like it was.
You can look at almost every marketplace and product from the sellerboard dashboard.
Refunds and calculating your profit
For instance, let's say you sell something in March. The item is then sent back two weeks later.
When calculating your income for March, you normally should account for the item you sold that was returned later, right? You might still have to deal with it even after you determine your monthly profit and make some decisions based on it.
So, what needs to happen is that when an April return comes in, the cost of this return needs to be fixed or subtracted.
By "cost," we mean the price of the item itself, if it was broken, as well as any fees that aren't refunded or that are charged to the seller when the item is returned.
So, we need to take all of these numbers away from April's financial result because a return that came in April makes our profit in April smaller.
So first, we take the amount Amazon refunded to the customer. When a return is made, Amazon immediately sends the customer the full amount back.
After that, a few things happen. So, if a customer sends an item back to the Amazon warehouse, Amazon opens the return package, unpacks the item, and decides, "Is it good or is it broken?"
And then there are things like "Refund promotion" or the commission. In short, this is a good one. If we sell an item on Amazon and they charge us a 15% commission, and the item gets sent back, Amazon gives the 15% commission back to the seller.
"Product costs" are last but not least. Basically, this is what happens: if the customer breaks the product or unpacks it in a way that makes it no longer sellable, we have to account for the cost of goods or the cost of this item.
But, of course, not every product can be sold again when it comes back. This is something that Sellerboard does automatically. It looks at every transaction to see if Amazon thinks the product is sellable or not, and this number is kind of added back into the calculation.
Profitability Analytics
So the next thing we want to show is a closer look at the product. When you click on one of these tiles, the list at the bottom gets new information. And you can see how many you've sold. 
"Group by parent" is another option. So, if you want to see how many products you sold and how much money you made, no matter which version you sold and how many, you can do that here. 
If you do not do that, you can still find out how many units were sold, how many sales were made, and how much net profit the exact SKU contributed to.
And if you click on this "More" link, you'll see a detailed list of all the different fees, refund costs, Amazon fees, and other things, just for this one product.
So, as you can see, we can drill down into every single SKU and look at every type of fee. 
Profit and Loss Dashboard
And last but not least, this is a table that shows how much money was made or lost. The data is pretty much the same, but the way it is shown is a little bit different.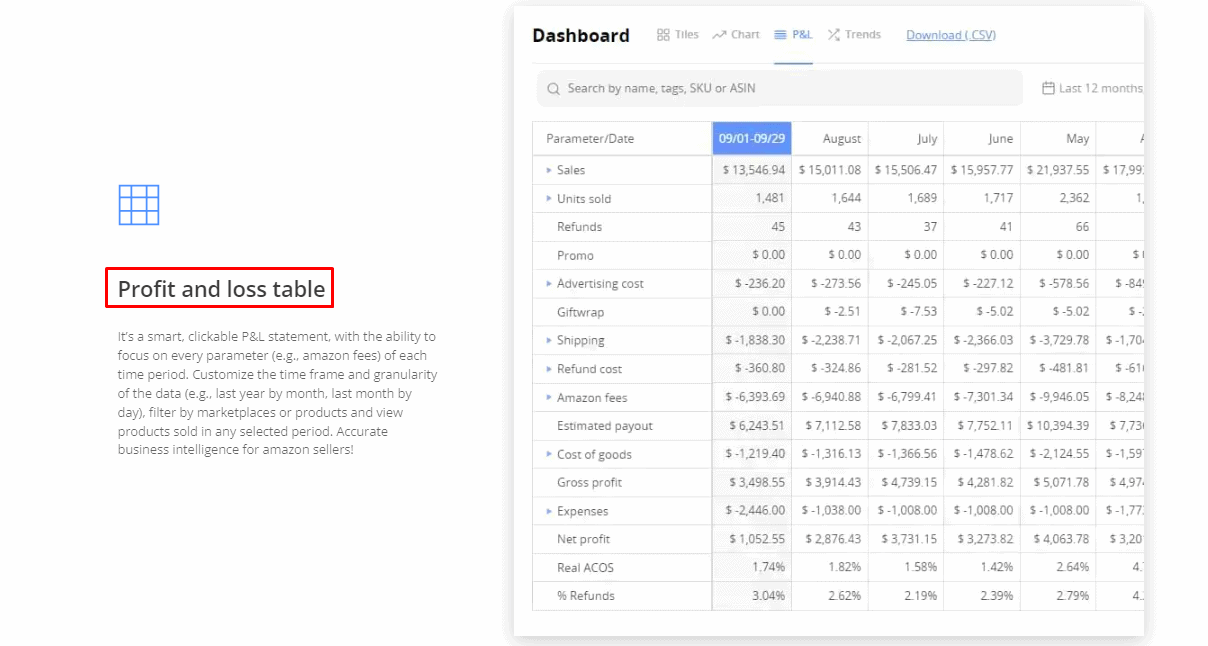 Here, all the numbers are shown in a table that you can interact with. And here, too, we wanted to show aggregated data on top and specific data, like data by SKU or by product, on the bottom. So, you can click on every column in this table.
Expenses
You can look at your products and see for each one how many units you sold, how many returns you had today, your gross profit, your margin, and your return on investment (ROI).
So, you can use things like ROI to sort. More important than the profit margin is the return on investment (ROI).
Also, the dashboard has a stock module in case the unit is running out of supplies. If it's red, you can move your mouse over it to see a summary of the stock.
Basically, the stock module lets you enter your production time and shipping time from China to your prep center (if you have one) or directly to Amazon.
Then, the tool will make changes, reorder, and restock. You'll get a message when it's time to order this product again.
You can also change the appearance of the columns. One important parameter, in this case, is the percentage of refunds. You can turn it on and keep track of how many refunds there are.
For instance, if 13% of people return your product, that's a very bad sign. So make sure you keep an eye on this KPI and take action if it starts to look strangely high. Go to your seller central and find out why people are sending you money back.
Under FBA in the report, you can see why the customer sent the item back. So make sure that everything about your product is good.
Grouping products inside sellerboard
Also, we want to talk about how things are made. Your products can be put into groups, such as by marketplace. Then, you see how many items you've sold in each marketplace.
Seller Central also lets you switch between marketplaces, but you can't see them all at once. With sellerboard, you can see a list of all marketplaces and get a good look at each one.
The tool shows data for each marketplace, such as how much you sold and how much it costs to advertise, how many refunds there were, and what the return on investment (ROI) was for this marketplace.
If you want more information, you can click "More" on the right side of the dashboard to see all of the Amazon fees for this marketplace.
If you have more than one private label brand, you can see how each one is doing here, including how many units you sold, what the brand's net profit was, and what the return on investment (ROI) was.
Here, you can pick any time period and sort the data by product. Labels are often used for this, so you can only find products with the same labels in the dashboard.
Profit by-products
Here is a chart that you can click on each month. You can click on any month and then see your profit analytics on the right:
All of the fees are broken down by old fees, and here you can learn more about each one. This way, you can pretty much get to every time period. This chart is also configurable, which means you can choose which data to show.
The third one is a Profit and Loss (P&L) table, which is the last but not least one. So, here you see the same information again, but this time it's in a table. This table is also smart, so everything on it can be clicked on.
You can expand results again, like Amazon fees, to see all kinds of fees and compare them, for example, to the monthly storage fee.
In the example below, it's clear that the storage fee or subscription fee is always the same for incoming transport or disposal. If you click on any time period here, you can get more information about the products and group them in any way you want.
Adding cost of goods
So, let's show you how to put in the cost of goods for the products. You can basically see all the items and how much they cost. There are two ways to add the cost of goods: 1) Do it as a constant number.
The box costs €1.79, and whatever you put in there will be used for the whole history.
If you change it now, this number will still be used for all past orders, but sometimes the cost of goods changes over time because a supplier gives you a different price or because shipping costs are higher or lower than they were before.
The second way to add the cost of goods is to enter the cost of goods by time or even by batch. If you choose "By period batch," a pop-up window will appear where you can enter the cost of goods.
Basically, you can put in all the parts of your prices, like making, shipping, inspections, and other things like that. You can also put in the price per unit or per 1000 units.
If you shipped 1,000 items and put a higher number here, like €350 for 1,000 items, the tool can figure out how many items you shipped or how much they cost in total. It can pick from different times here.
"Account for the rest of the stock from the last batch" is one more thing. In short, this is how we know how much you still have left from your last order.
So, from this date on, you know exactly how much things will cost. You can set the price for your new batch by clicking it. In short, you can put in how much your goods cost by period and by batch.
And if you change this, it will also affect orders that were made before you made the change, so orders that were made two or six months ago. We also have a little Margin calculator right here. It tells you, "Okay, this is how much we make with this product."
Please keep in mind, though, that these are just estimates. In fact, this is how sellerboard works: they look at every single transaction.
They download your transactions report, look at every single transaction, and figure out what the selling price was and what fees you or Amazon actually charged you.
Then they add up all of these prices and divide by the selling prices to get the profit. So, we don't figure out the profit or margin for one sale and then multiply that by the number of sales.
Instead, we look at each transaction. This is important because both the selling prices and the buying prices change, so we need to know them very accurately.
Tracking your stock
Sellerboard keeps track of your stock and lets you know when to reorder or refill. It can also tell you how much your stock is worth. So, how much money do you have basically locked up in these things?
By figuring it out, the tool gives you an estimate of how many sales you make per day. If you click on it, you can set it up however you want.
Let's say it takes 35 days to make the item and then 10 days to ship it from China to your Prep Center, maybe because you're using air freight, and then you want another 10 days.
If you don't use the prep center, you can just open the box and choose to ship it directly to an Amazon warehouse. Then you only have these two options.
You can use these settings for all of your products if you want to. But you can also change them one by one because the time it takes to make each product is different.
Additionally, Sellerboard can let you know when it's time to reorder. But if there are only 10 items left in the Prep Center and you've already placed an order, the tool won't tell you it's time to place another order because you've already done so.
So, it keeps track of your sales and lets you know when you need to reorder. This is very important because Amazon will let you know when it's time to restock, but by then it's usually too late.
Money-back reports
Basically, you probably know that Amazon can sometimes lose or damage your inventory, or that a customer can return an item and get refunded for it, but never actually send it back.
Amazon will usually give you money back in these situations. So if they break 100 things, there is a 90% to 95% chance that they will pay for them.
But sometimes something goes wrong with the FBA system and you don't get paid back. You can look for cases like this and then make support tickets. And money-back reports are made for just that.
So basically, all you have to do is download the report from this page. It's an Excel file, and this report will tell you how many items are missing for each ASIN.
Autoresponder
Auto-responder is basically a tool for setting up email campaigns, which you can do with it. Using this feature, you can automatically send emails to your customers asking for feedback and reviews.
As long as you follow the rules for buyer-seller messaging in Amazon's Terms of Service, you can set up campaigns here and apply them to all of your products or just some of them.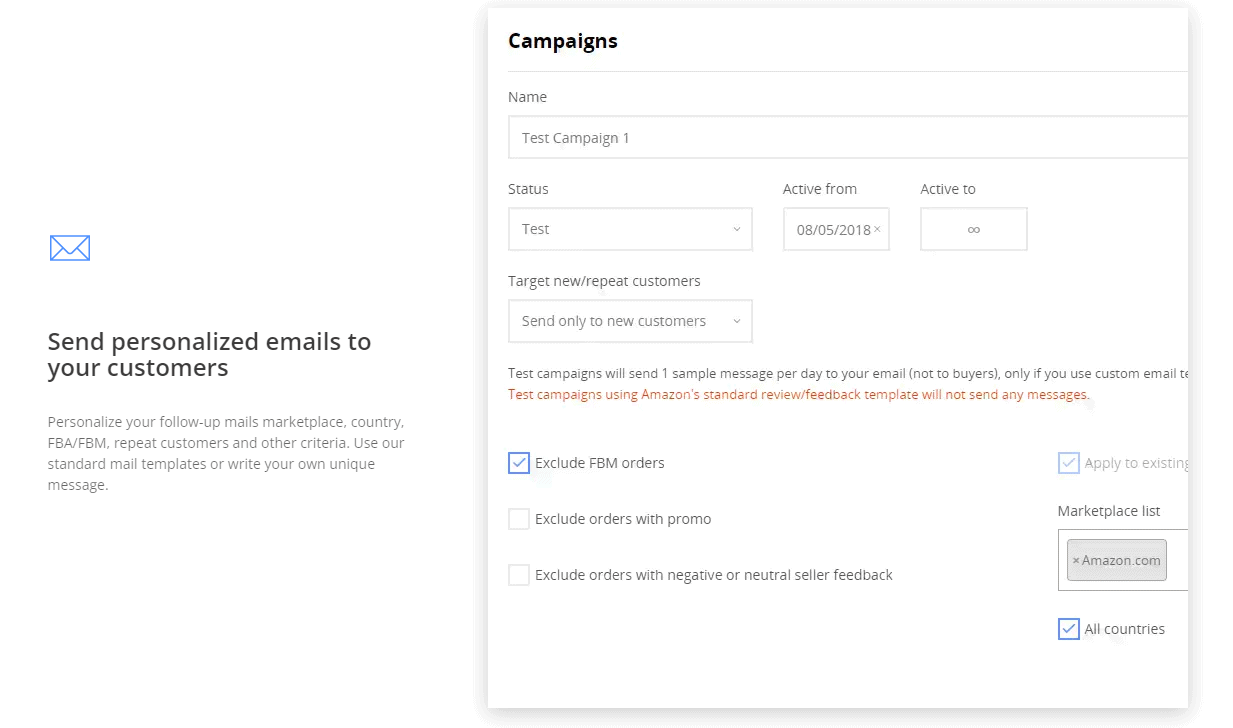 There is an automated message template for it on Sellerboard, which you can set up by filling in things like the first name or short name of the product. You can also ask for an evaluation.
Right now, instead of making your own "Request a Review" email template, you can use a standard one. This way, you won't get in trouble if you don't follow Amazon's rules for communication. It's up to you to decide which of these two you'll go with.
Quick Links:
Conclusion: Sellerboard Review 2023
With Sellerboard, you have access to a huge number of reports and data that will blow your mind.
As with any tool with a lot of features, the best way to learn more about sellerboard is to use it with your own Amazon account.
When you put in information like "Cost of Goods" and "Monthly Expenses" and see how that changes the overall profit, it may show you ways to cut costs and make more money.
A 60-day trial is available on Sellerboard (no credit card required). But because you are part of The Selling Family, the trial has been made twice as long for you.
Once you've made your account, it's very easy to set up sellerboard. For them to use MWS, they need a professional selling account, just like any other third-party service.
This is how sellerboard can see your sales reports and other information from Amazon. If you want to learn more about a certain feature, there are even video guides inside the sellerboard.
Give sellerboard a try to see if it can help you make more money with your business, and let us know how it goes.