In just a few years, social media has become a vital part of our daily lives. Many of us can't fathom our lives without being constantly linked to the internet right now. But have you ever searched MOOC sites for online social media courses to help you advance your career? In this article, I have shared the "Top 3 Online Social Media Courses"
The intricacies of social media are vital to keeping in mind in every situation, whether it's to remain in touch with friends, follow our favorite celebrities, or for job purposes.
There are a number of specific approaches and ideas that, when applied with purpose, can help you achieve your business objectives quickly.
That is precisely what this post will address. The important aspects are explained in detail in the online social media courses listed.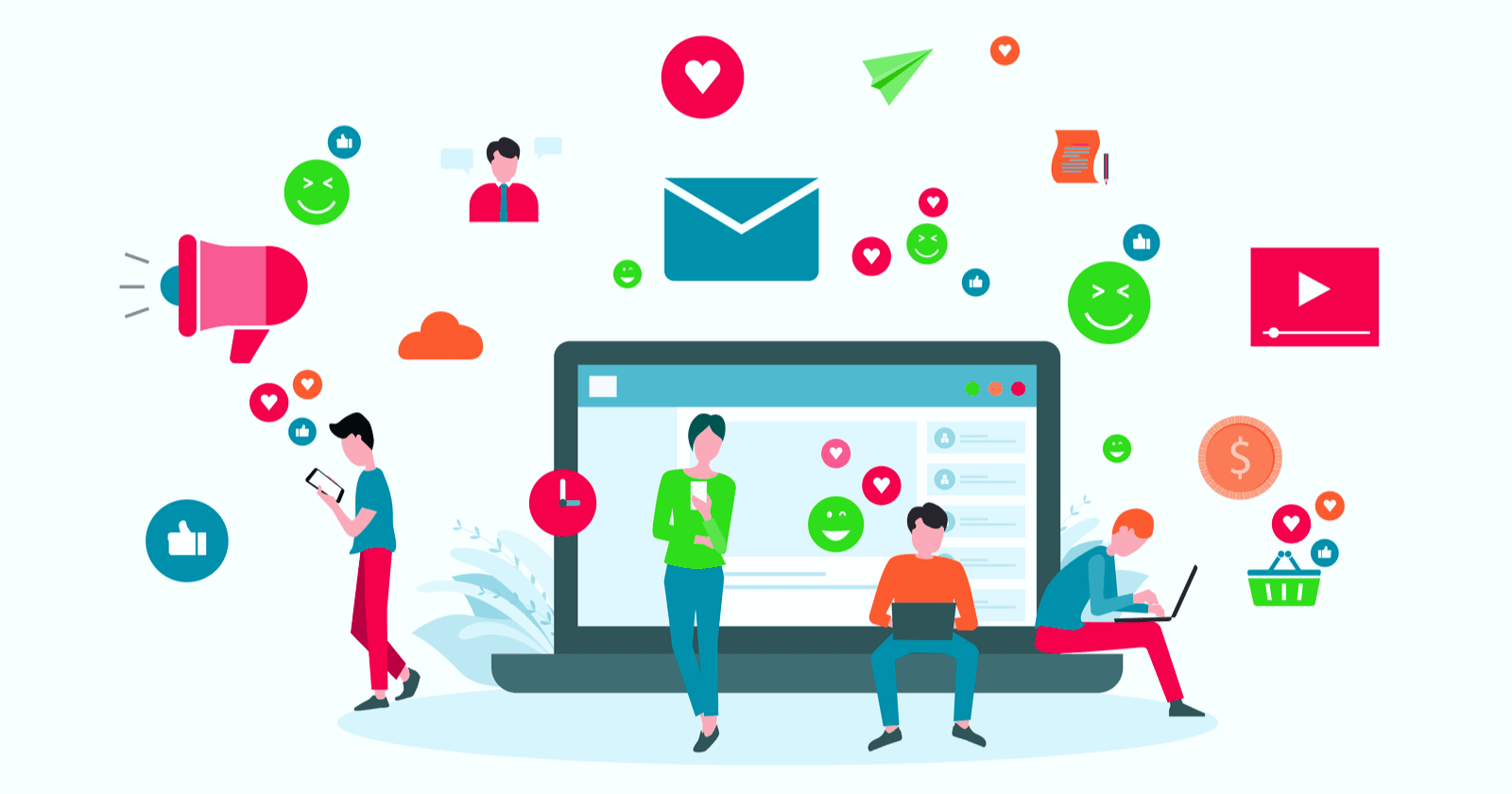 It's hard to choose the greatest LMS platform. Check Teachable it's a good choice
Why You Should Consider Online Social Media Courses?
Because, as previously said, social media is ubiquitous and used by practically everyone on the planet, it's no wonder that many people have begun to use it to launch and expand careers and even businesses.
From freelancers promoting themselves to corporations establishing a connection with their customers, social media provides a wealth of chances for almost anyone.
As a result, social media marketing experts are in high demand. To put it in numbers, the position is predicted to rise by roughly 6% by 2029, which is more than normal, according to the Bureau of Labor Statistics.
As you can see, becoming a social media marketing specialist can lead to a variety of exciting employment prospects. Of course, you may always apply what you've learned to your personal accounts to become the next social media sensation.
We chose the online social media courses we'll look at today based on their ratings and popularity, as well as the topic covered in the lectures. As a result, you can be confident that the learning materials contain all of the most relevant industry secrets to help you advance your career.
If you're concerned about the trustworthiness of the MOOC platforms that provide these courses, be assured that you'll be in good hands.
The online learning sector is now led by Udemy, Coursera, and Skillshare. Millions of students throughout the world use these course providers because of their high-quality content, competent teachers, and low rates.
Furthermore, if you're looking for university-level programs, Coursera and Udemy have you covered, as they're not only frequently recommended by colleges, but a number of them have partnered with the platforms to make high-quality education more accessible.
Top 3 Online Social Media Courses 2023
1. Powerful Social Media Marketing For Beginners (Udemy)
It is necessary for everyone to begin somewhere. While it may appear intimidating at first, all you have to do is take the first few steps and you'll be running in no time.
Fortunately, you have all of the tools you'll need to take off in one spot. Udemy's online social media course, Powerful Social Media Marketing For Beginners, promises to provide you with only the most useful skills to succeed in the field of social media marketing.
The syllabus's fascinating content was what made this social media marketing course stand out to me. While you'll learn about all of the important aspects of social media marketing – such as branding, project scheduling, and strategy creation, to mention a few – the program begins with a unique introduction the course.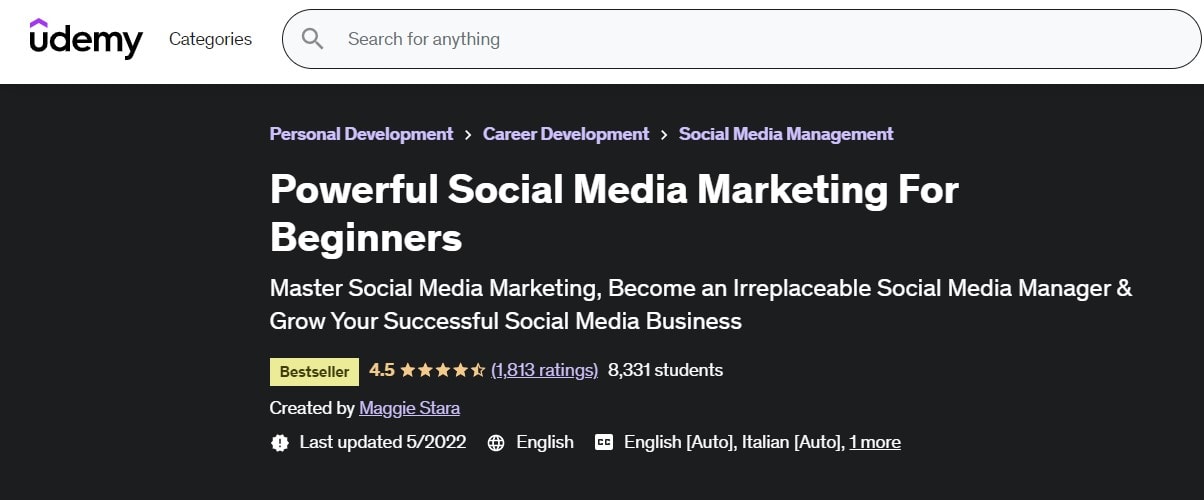 The first section of the curriculum focuses on developing a positive mindset, including creating clear personal goals, increasing productivity, and a few more tips and tricks to assist you along the road.
There aren't many social media marketing seminars available online that involve self-reflective lectures like this. However, it can make the remainder of the curriculum much less daunting.
After all, if you set your mind to it, you can accomplish anything!
This is all thanks to Maggie Stara, the course's instructor and a successful freelancer who specializes in social media marketing.
Maggie built this online social media course based on the most common questions students have, as well as the most crucial skills to have when working in the field. She was inspired by her own problems learning the ins and outs of social media marketing.
The course is divided into eight sections, each of which covers a separate subject, making it easy to keep on track and avoid becoming overwhelmed by too much material.
With 9 hours and 48 minutes of video content that you may watch at your own leisure, this is also the longest online social media marketing class listed in my post.
If you're doing the program while studying or working, this is ideal because you won't have to worry about spending sleepless nights trying to figure out what Maggie is talking about.
This online social media marketing course, according to students, is ideal for novices. Many others commended Maggie for putting together an easy-to-understand program that has enabled newcomers to social media marketing to grasp even the most difficult ideas.
This is, without a doubt, the most expensive program on the list in terms of cost. It may appear to be a little pricey at €139.99 for the entire program, but it can be a terrific investment in your career and future.
2. Social Media Management – The Complete 2019 Manager Bootcamp (Udemy)
You can go one of two ways when it comes to working with social media. Some people opt for all-encompassing marketing, while others opt for more specialized social media management.
If you choose the latter, Udemy's online social media management course, Social Media Management – The Complete 2019 Manager Bootcamp, is a great place to start!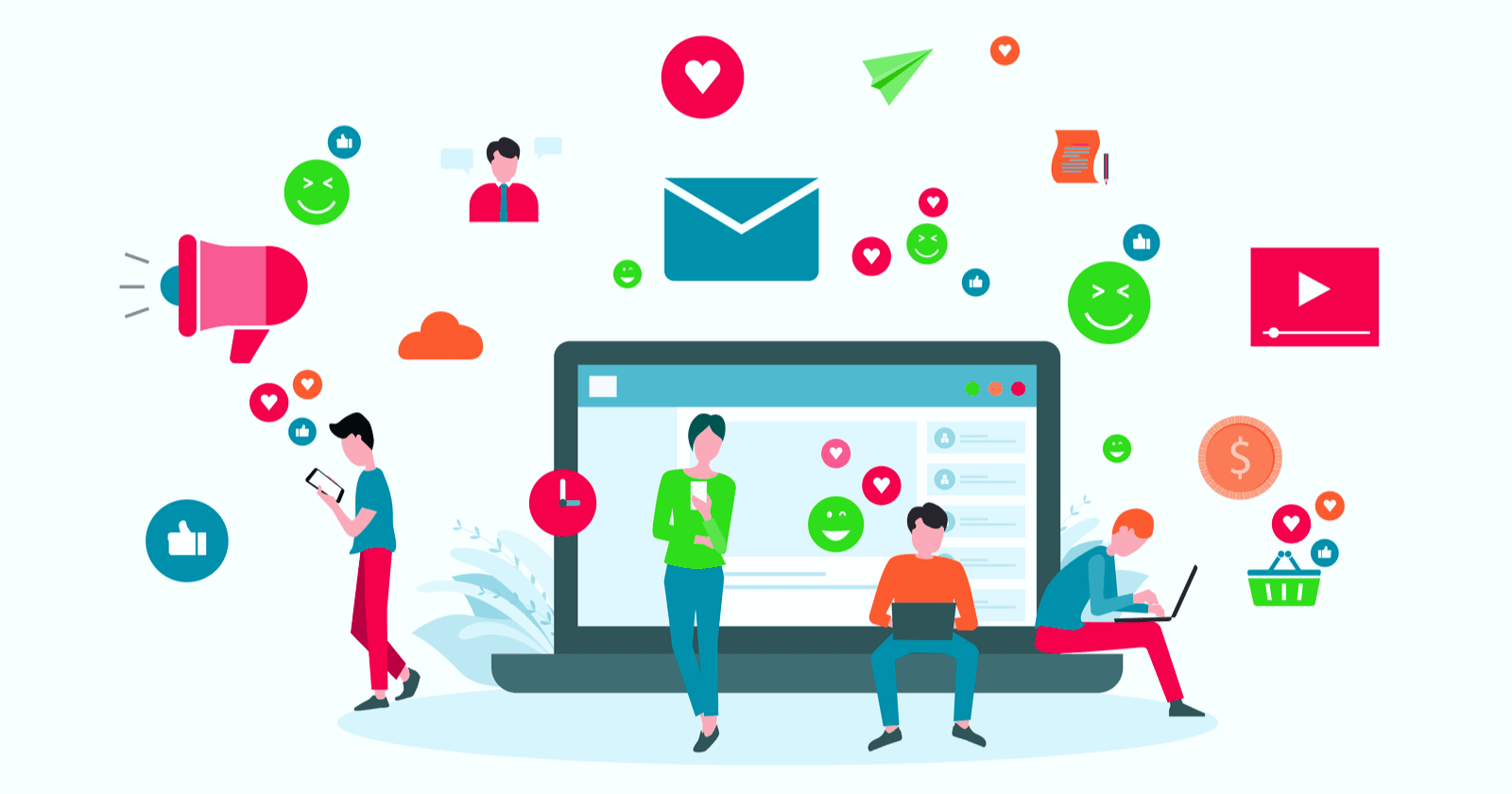 Don't be concerned now. To be a good social media manager or even to attend this course, you won't need to know every social media platform in existence like the back of your hand. All you need is a working knowledge of most platforms and a can-do attitude.
This online social media course goes on every aspect of the subject from beginning to end. From an overview of the many platforms in use and which types of content are most effective, through more advanced growth tactics and customer acquisition methods. This is excellent if you have no prior knowledge in the industry, as it makes things really straightforward even for novices.
Lottie Mosley, a freelance social media manager, and content writer devised and teaches the program. Lottie knows what works and what doesn't, having worked with both one-person enterprises and industry behemoths like Google. She is eager to share her knowledge with others.
As a result, the syllabus is quite extensive, with 7 hours and 48 minutes of material to cover. However, each topic is broken out into its own segment, making it much easier to navigate through the 88 lectures.
This is one of the greatest online social media courses for beginners, as I previously stated, and the students seem to agree. According to reviews, people who took the course found it to be fascinating, practical, and well-paced, making it an excellent choice for anyone interested in pursuing social media management as a career.
When it comes to cost, this program is in line with the average for similar online social media courses. The program, which costs €89.99 for the entire class, provides excellent value for money.
3. Instagram Marketing 2022: Complete Guide To Instagram Growth (Udemy)
With 1.386 billion daily users, Instagram is the fastest-growing social media site today. Given this, it's no surprise that the platform has grown in popularity and power as a marketing tool.
Those looking to grasp the administration of one of the most active social media platforms are in luck because Udemy's online course Instagram Marketing 2022: Complete Guide To Instagram Growth contains all you'll need for a successful career.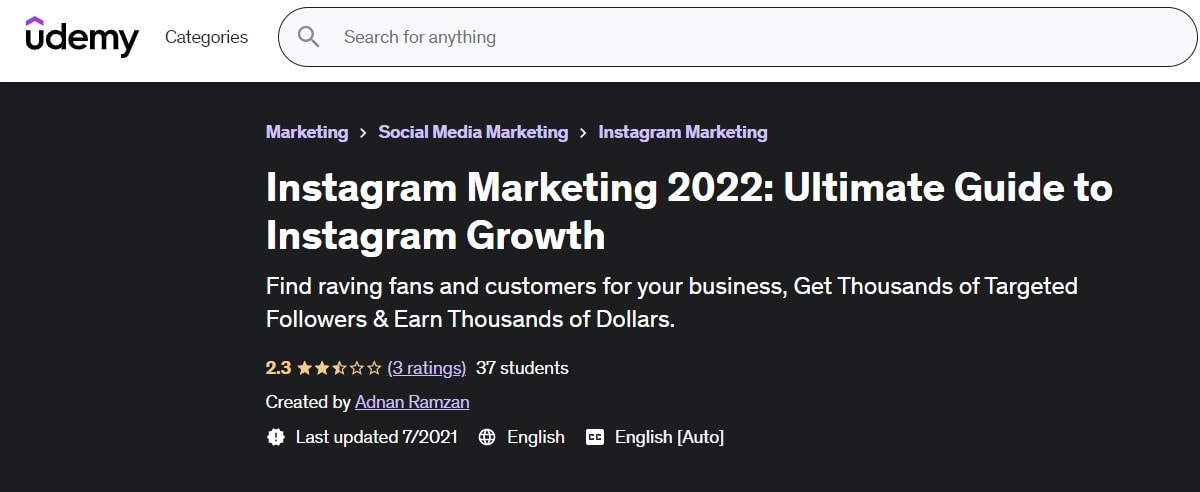 While many Instagram-related online social media courses emphasize a more aesthetic approach to the subject, this curriculum is far more technical and theoretical. This is the online course for you if you want to learn the exact what, why, and how of social media marketing.
The syllabus covers the algorithm, Instagram Ads, content monetization, and much more, as well as how content is created and what to keep in mind while doing so.
Being a social media manager, particularly on Instagram, necessitates the capacity to adapt to a variety of scenarios, a love of entrepreneurship, and a desire to assist others in achieving their objectives. These are the attributes that motivate Benjamin Wilson, the author and instructor of this social media marketing course, to share his knowledge.
Benjamin is a professional entrepreneur, as he likes to call himself, and has to experience developing marketing plans for a variety of platforms, from Instagram to Amazon, so you're in excellent hands.
Because the course is focused on a single social media platform, you will have fewer factors to consider when working. Benjamin, on the other hand, took sure to cover every aspect that could be useful to you, so you can be assured that the 7 hours and 40 minutes of content are jam-packed with useful information.
While some courses may make you feel like you're listening to a pre-recorded audiobook with no interaction from the teachers, this is not the case with this program. Benjamin is praised by several pupils for establishing a constant relationship with them and answering any and all issues that arise.
This is especially crucial for individuals who are just beginning to study since it creates a secure and supportive environment in which considerable development can be made.
The curriculum is slightly more expensive than the other online social media courses discussed in this post, costing €99.99 for the entire package. That being said, this is unquestionably a worthwhile investment!
Get a Huge Discount On the greatest LMS platform
Quick Links: