What is Content Management System (CMS)? If this is your question too then you jumped into the right article. Below we are going to read about CMS and its various terms.
You will find everything related to this and we will make sure that you end up getting all the knowledge about the same. So let's get started.
What Is Content Management System (CMS)?
A content management system (CMS) is software that creates, manages, and edits website content. Create and edit websites without coding or technical experience.
Rather than learning HTML, CSS, Javascript, and other technologies from scratch, a CMS may manage the fundamental foundation for you. Your content is saved in a database and displayed on your website using a presentation layer.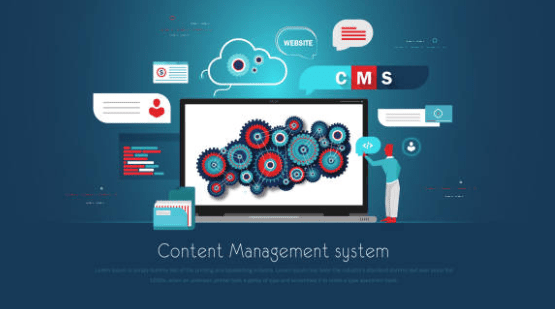 Also, numerous contributors may collaborate on the same webpage. These options allow you to design your website as you like.
What Is The Working Of CMS?
Consider this example to better understand a content management system. A content management system (CMS) powers more than 65% of websites. Consider creating and publishing a web page.
To upload without a CMS, you'll need to write at least a static HTML file and a CSS stylesheet. To update a piece of content, you must manually download the files from the server. Making the same thing with a CMS is much more complicated.
To write material, WordPress offers a user-friendly interface. As a matter of fact, this interface is quite similar to MS Word. Uploading and managing multimedia files are examples of similar tasks.
You'll need an FTP client or the cPanel file manager to upload and alter photos without a content management system. That's all possible using WordPress's media library. That doesn't mean a CMS is just for backend admin tasks.
It not only allows you to create and publish material but also modifies how it appears to users. In actuality, a content management system includes two primary parts:
You can add and edit the content on your website using a content management application (as we discussed above).
Backend operation that pulls and stores content from CMA and then shows it to visitors.
This pair of programs work together to make website upkeep simple.
Why Use A CMS?
A CMS is used by over 66 million websites. Because a CMS has many benefits over alternative methods to publish and manage digital content.
1. Teamwork
A CMS enables numerous users to edit, schedule, and contribute material to a website. Its browser-based interface allows users to access it from anywhere in the globe (provided they have internet access!).
2. Usability
A CMS helps non-techies easily produce and manage content. Users may contribute text, photos, and other material using a WYSIWYG editor without knowing CSS, Javascript, or HTML.
3. For SEO
The finest CMS systems have SEO-friendly features and extensions. You can do a lot with these built-in and third-party tools.
4. Templates
Most current CMS systems provide a decent range of predefined templates to alter your website's appearance and feel. Some designs even include contact forms, social network icons, and call-to-action buttons.
Examples Of CMS
There are several possibilities for establishing a website using a CMS platform. Let's look at some prominent CMS examples.
WordPress
Magento
Wix
Joomla
Drupal
Quick links:
Conclusion: What Is Content Management System (CMS)?
A content management system (CMS) is a must-have for anybody wishing to create sophisticated websites without the need for technical expertise.
A content management system (CMS) may undoubtedly assist you in expanding your online presence, especially when you consider the advantages highlighted in this article.
So choose one to get started with and use it to create a website that you can be proud of.