If you have a website, you might want to earn from it, right? Ads are a way to do that. But there are so many networks out there. Which one is the best for you?
In this article, I'll list the top ad networks that publishers love. By the end, you'll better know which network to choose. So, are you ready to learn more?
Let's get going!
Top 10 Best Ad Networks For Publishers 2023
Here is a list of the finest ad networks to assist publishers in picking the best one for them:
PopAds is a high-quality advertising option that stands out from others.
PopAds is a great platform for website owners as it offers unique benefits that surpass its competitors. One standout feature is the prompt and hassle-free payment system, ensuring website owners receive their earnings promptly.
This is particularly advantageous as it minimizes waiting time and allows for more efficient financial management.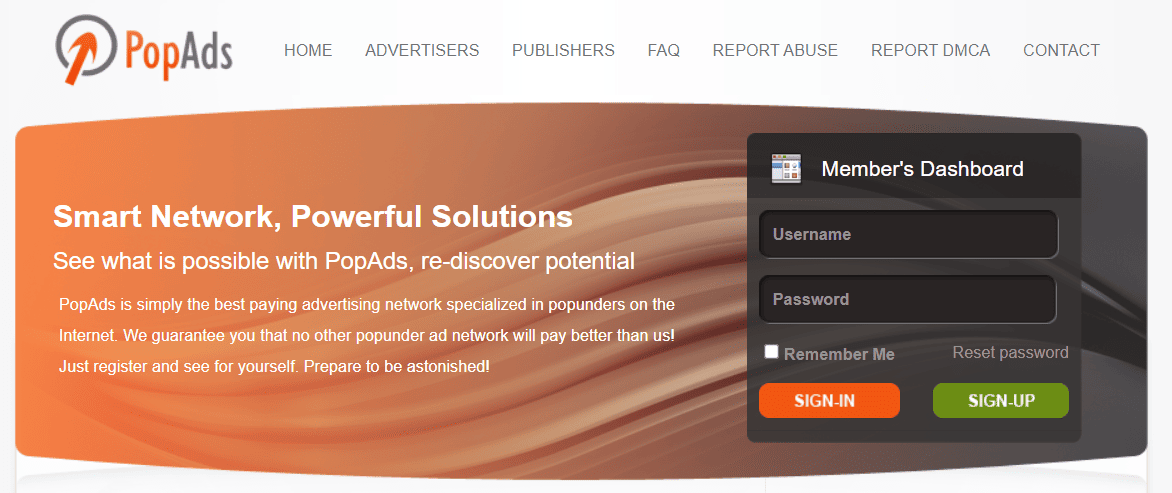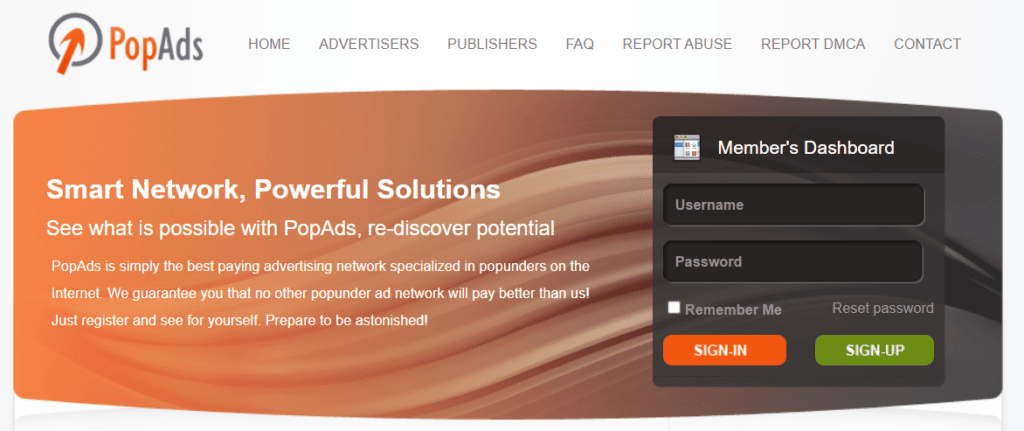 What's nice is that PopAds doesn't make website owners have a certain amount of visitors before they can use it. This is different from the usual rules.
So, PopAds is a good choice if you want ads that are better and get paid quickly. It's different because it doesn't make you have a certain number of visitors first.
Popads Best Features:
Immediate Payments: Get earnings on demand for swift financial access.

No Traffic Minimums: Inclusive platform for publishers of all scales.

Bird Control: Easily regulate minimum bids for pop-under ads.

Stable CPMs: Consistent rates above $4 showcase reliability.

Global Advertisers: Partnerships with advertisers from 40+ countries.

Premium Quality: Distinction in the realm of pop-under ad networks.

Publisher-Centric: Empowering publishers with control and opportunities.

Reliable Reputation: Resilience, stability, and excellence define PopAds.
PLISTA is a standout in the world of native advertising, and it's all thanks to using data smartly. This ad network is unique because it relies on data to make native ads work better.
When website owners choose PLISTA, their website becomes part of a system that recommends content.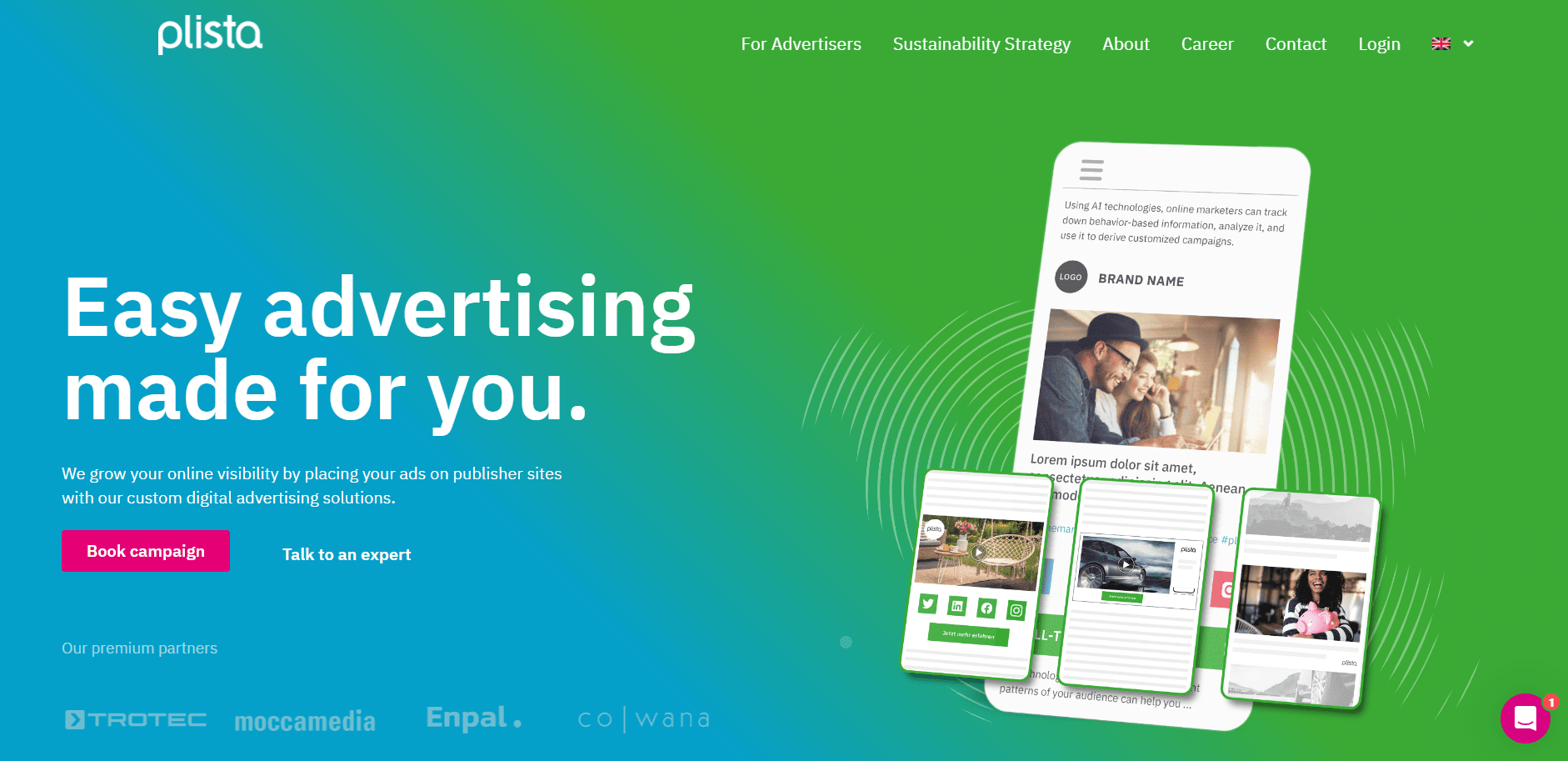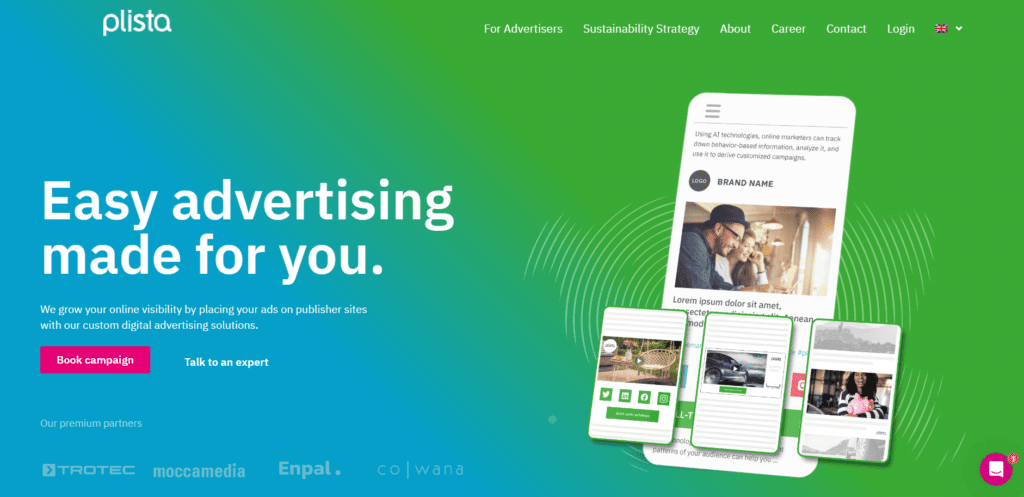 This leads to ads that match the content and look natural. PLISTA offers many benefits to website owners, showing how much they value new ideas and growth.
Even though PLISTA is growing quickly, it's already in 11 countries. It works with about 12,000 website owners and reaches around 60 million people.
What makes PLISTA unique is how they pay attention to website owners, which stands out as they get bigger.
Plista Best Features:
Data-Driven Excellence: PLISTA excels in native ads through data precision.

Targeted Integration: Content recommendations boost ad impressions and engagement.

Global Presence: Expanding across 11 countries, reaching 60 million users.

Personalized Support: Dedicated experts help publishers maximize revenue growth.

Native Ad Prowess: PLISTA leads with tailored content and native ads.

Publisher Collaboration: Partnerships with 12,000 publishers for mutual success.

Data-Powered Impact: Precision for engaging native ad experiences.

Expert Partnership: Dedicated professionals amplify publisher revenue growth.
Infolinks is really good at showing ads to the right people. They're really precise in how they do it, making sure ads reach the right audience.
But Infolinks isn't just for advertisers. It's also a special place for promotions on more than 25,000 websites.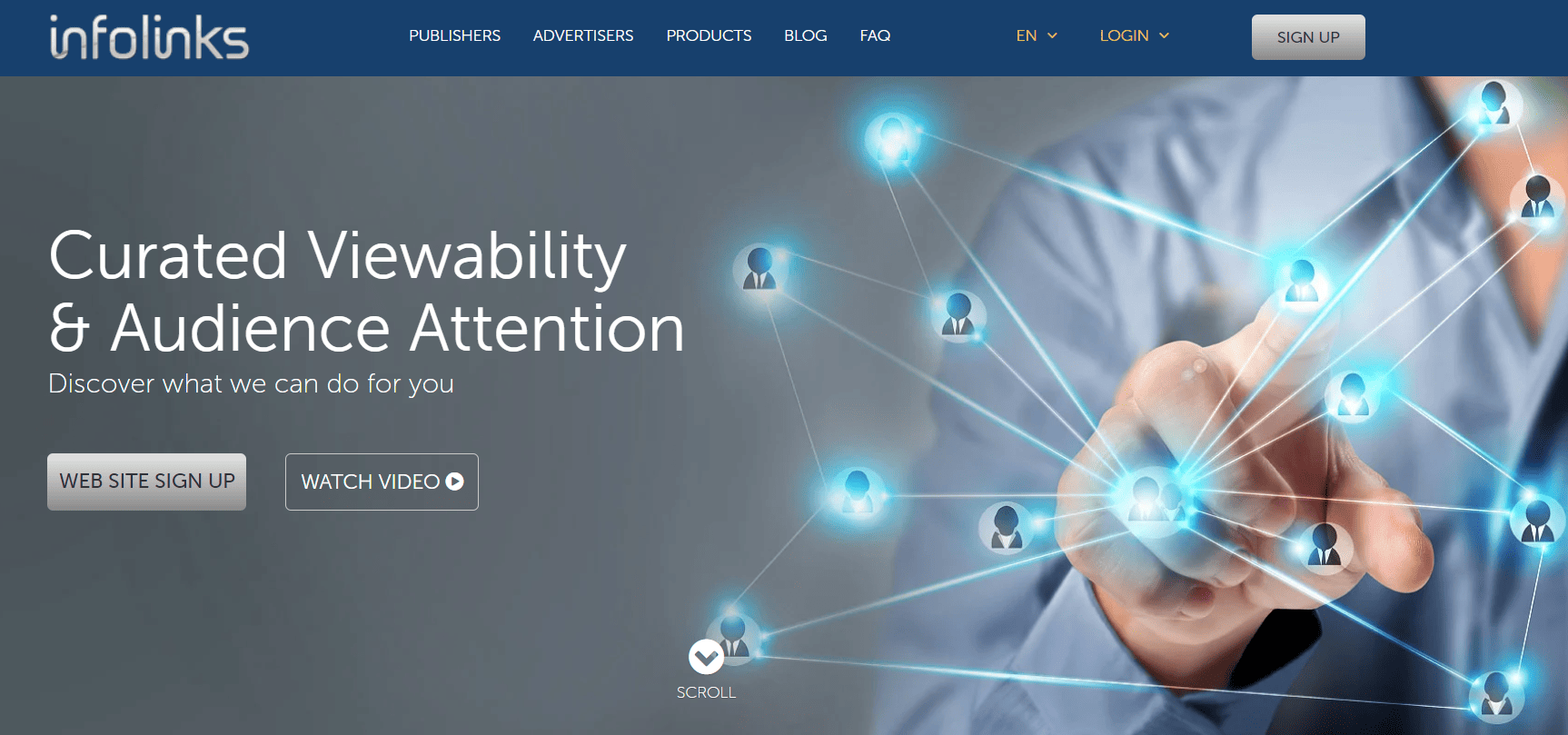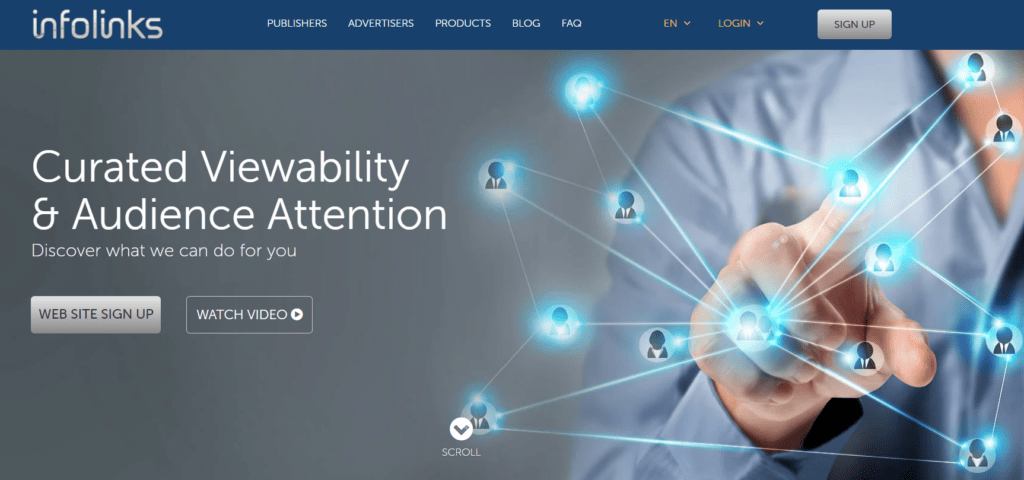 Infolinks reaches a huge network of over 350,000 websites and gets more than 1.5 billion ad views every month.
This is a big advantage for both the people showing ads and those seeing them.
The best part about Infolinks is how big it is, which means it can reach many people and have a big impact.
Infolinks Best Features:
Contextual Precision: Infolinks excels in laser-targeted ad placements.

Exclusive Reach: Over 25,000 publishers offer prime ad exposure.

Global Network: 350,000 websites, 1.5 billion monthly ad views.

Scale Advantage: Unparalleled reach for both publishers and advertisers.

Intent-Focused: Contextual links enhance user engagement and resonance.

Seamless Experience: Advertisements blend seamlessly, reducing intrusiveness.

Dynamic Impact: Catalyst for publishers, advertisers, and user interactions.

Precision Advertising: Crafting messages to match users' interests for impact.
GroundTruth is a big name in advertising that focuses on where people are. This makes it perfect for website owners who want to show ads to specific groups of people and make money.
They offer different help methods, like letting people set up their own ad campaigns. This helps with the changing world of online ads.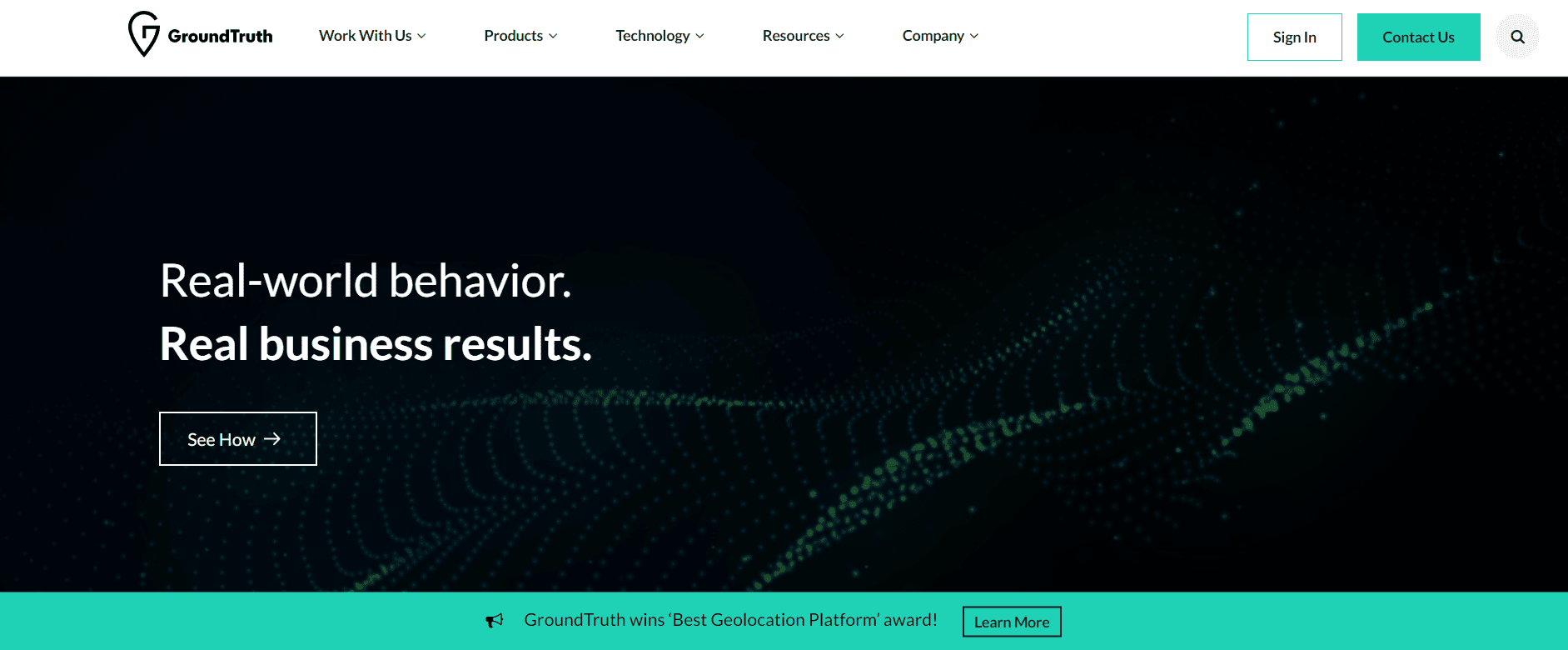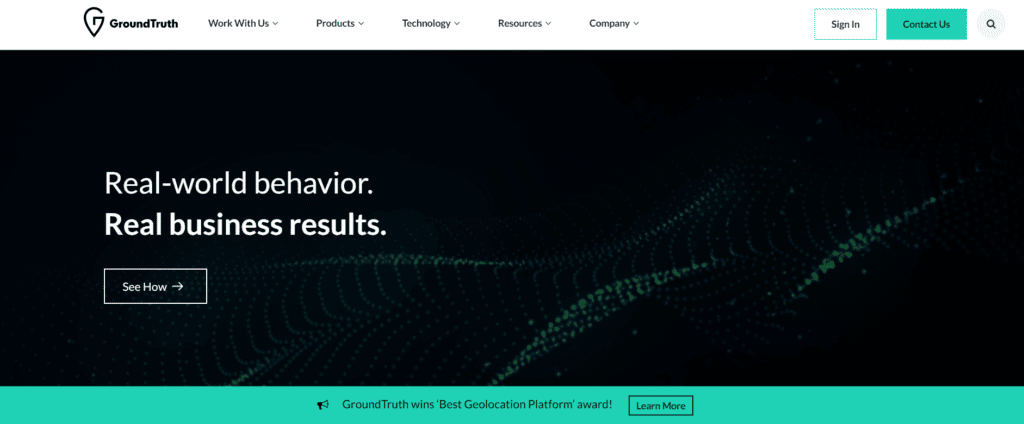 If website owners want to display ads based on location, GroundTruth is an ideal option due to its unique ad network.
This is great because it helps website owners create ads that mean a lot to the people who live in those places. This can make people more interested and likely to take action.
So, if you're a website owner looking to connect with people in specific areas, GroundTruth is an intelligent option. They can help you make ads that people in those areas like and respond to.
GroundTruth Best Features:
Location Focus: iGroundTruth excels in location-based advertising strategies.

Tailored Audiences: Ideal for publishers with specific city or regional niches.

Self-Serve Campaigns: Empowerment through user-friendly ad campaign management.

Geographic Precision: Targeting localized audiences for enhanced engagement.

Brand Success: Case studies showcase effective services, benefiting publishers.

Audience Connection: Forge potent links with location-relevant content and ads.

Revenue Potential: Partner with prominent brands for higher publisher earnings.

Location Impact: Elevate ads' effectiveness, benefiting both publishers and brands.
Epom is a standout in the business of advertising across different channels. What makes Epom special is that it uses smart tools for buying and selling ads automatically.
In a world full of different ad networks, Epom is unique because it offers many solutions.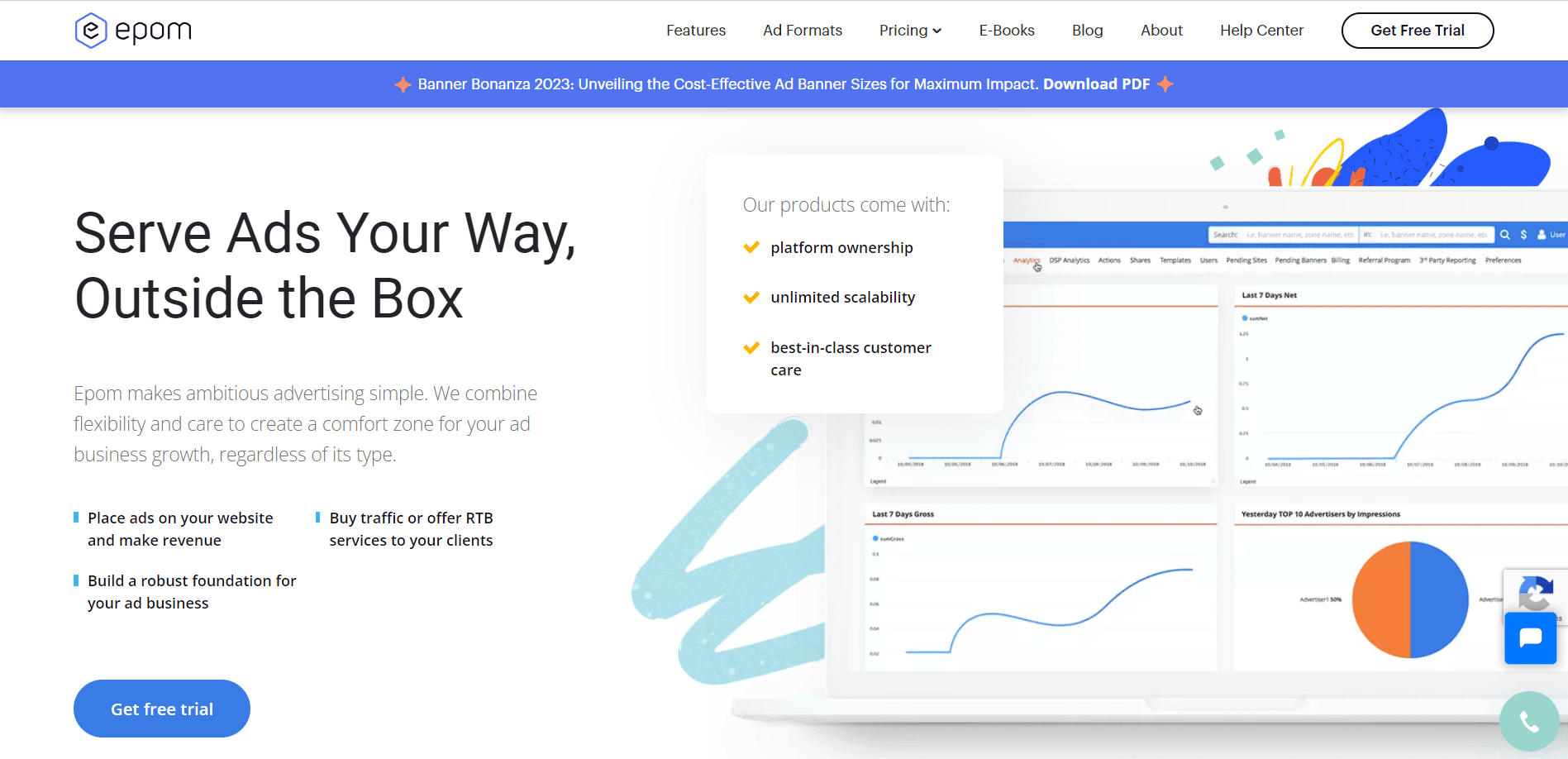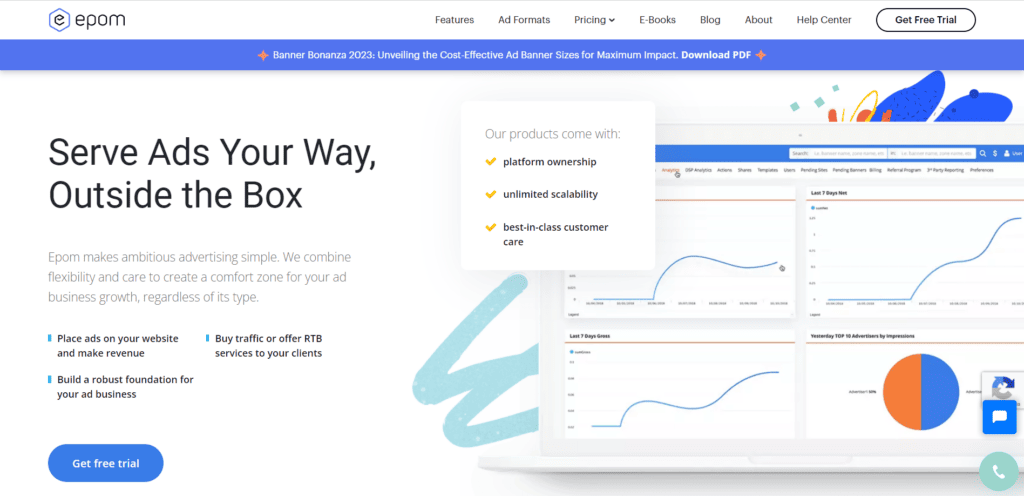 It works for different kinds of website owners and companies. Epom has tools that are great for both new and big website owners.
One thing that's really cool about Epom is that it provides detailed data in real-time.
This helps website owners get useful information about their ads. Epom's tools can help both small and big companies grow.
Epom Best Features:
Cross-Channel Excellence: Epom excels in diverse business advertising strategies.

Programmatic Power: Incorporates advanced buying and selling tools for efficiency.

Comprehensive Solution: White-label ad servers and DSPs cater to agencies.

Real-Time Insights: Advanced analytics benefit both enterprises and newcomers.

Innovative Edge: Development of new ad formats boosts potential CPMs.

Versatile Appeal: Ideal for agencies and publishers of all levels.

Growth Catalyst: Analytics-driven strategies empower publishers for success.

Revenue Amplification: Novel ad units contribute to higher publisher earnings.
Dianomi is a great choice for website owners in finance or fintech fields who want to explore advertising.
What makes Dianomi stand out is that it's focused on the financial world. It's not like other ad networks.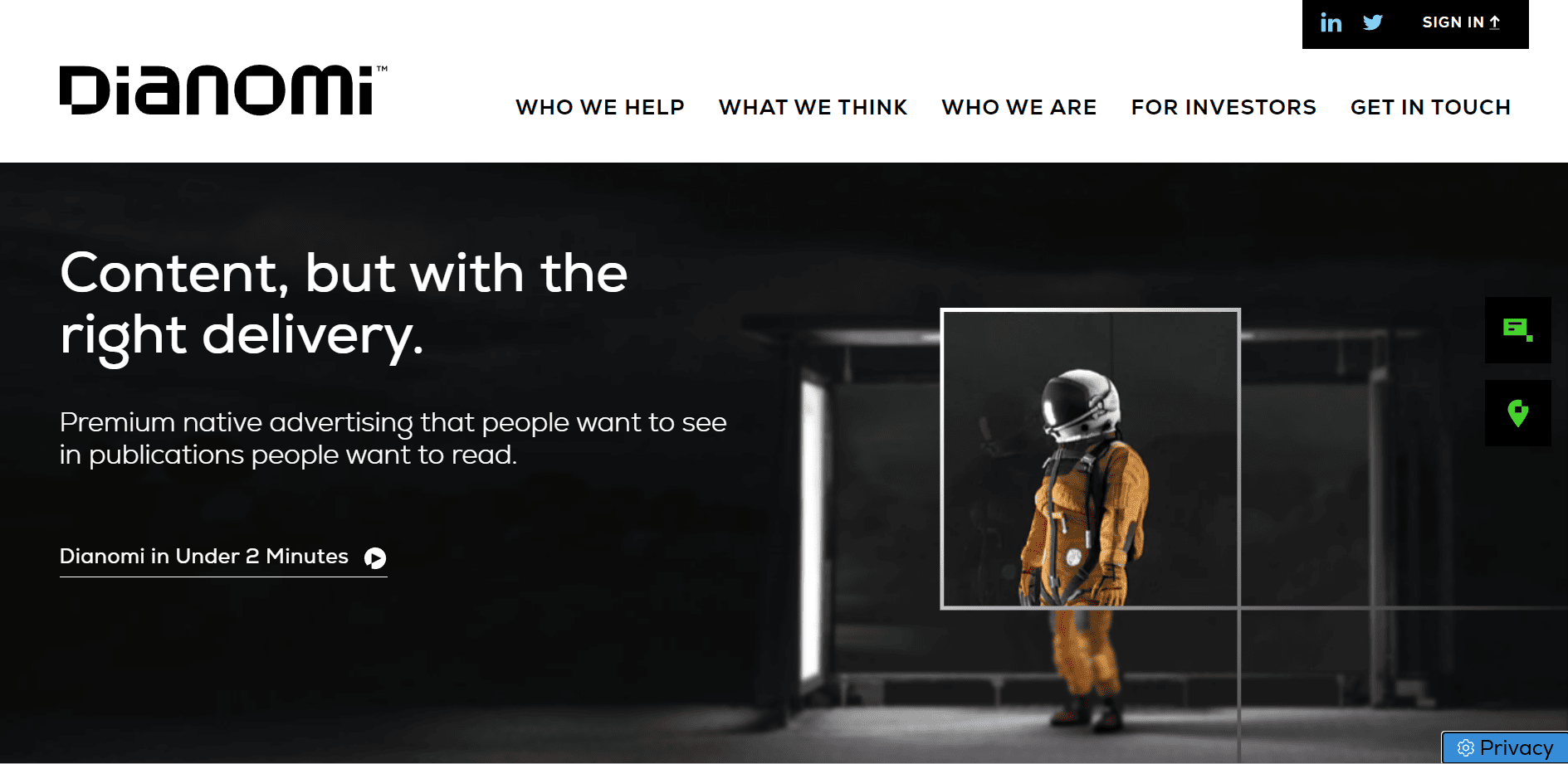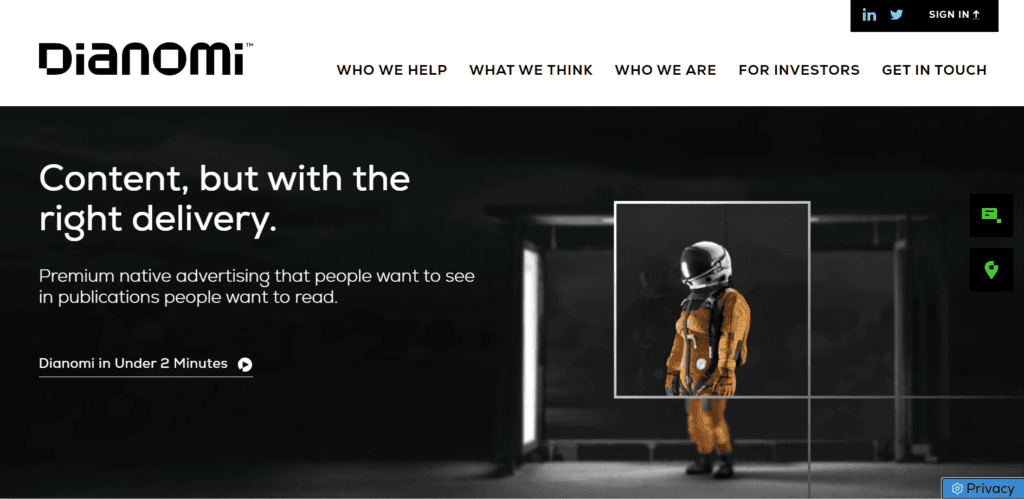 Dianomi offers more than just native ads. They also have special ad campaigns that can be sold directly to businesses.
This is a smart move because it can help website owners in finance make more money from ads.
These special campaigns can boost earnings, giving website owners a real way to improve their finances.
Dianomi Best Features:
Finance-Focused: Ideal for finance and fintech publishers seeking targeted ads.

Native Expertise: Specializes in direct-sold native ads for financial advertisers.

Performance Boost: Direct-sold campaigns elevate publishers' ad revenue potential.

Premium Connections: Align with esteemed publishers for enhanced credibility.

Niche Monetization: Tailored campaigns for finance and fintech platforms.

Strategic Partner: Elevate revenue and reputation in the financial realm.

Fintech Advantage: Specialized ads, premium associations, and revenue growth.

Credibility Boost: Align with Dianomi for premium publisher relationships.
Adsterra is a strong player among ad networks, helping website owners turn their visitors into money.
What's interesting is that Adsterra doesn't follow the usual rule of needing a certain number of visitors. They let all kinds of website owners join, even if they don't have a lot of visitors.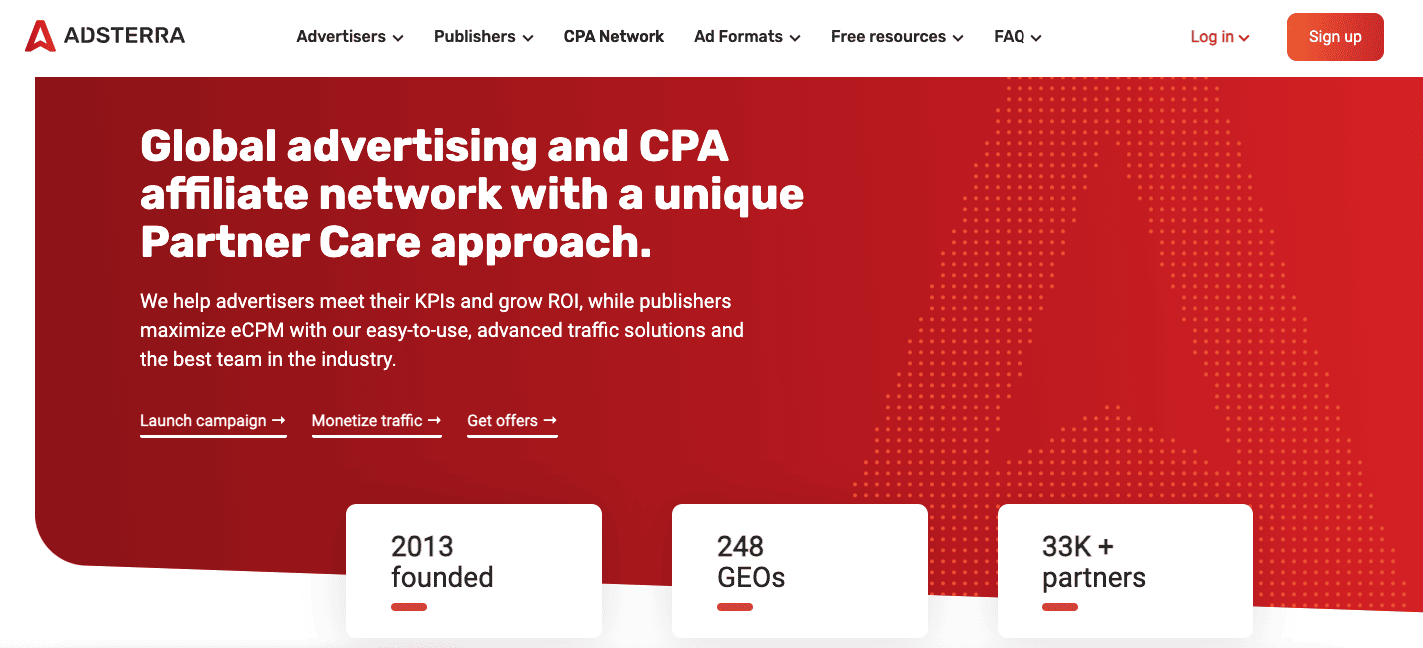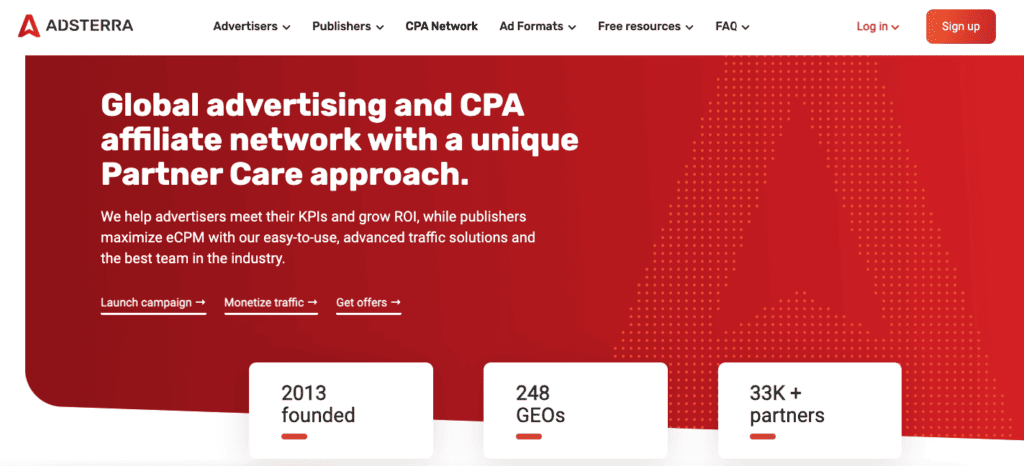 What sets Adsterra apart is that they promise to use all available spaces for ads. This means they help website owners make the most money from their ads.
Other networks might not do this, but Adsterra does it consistently, which makes it really good for website owners who want a steady income.
Adsterra Best Features:
Inclusive Platform: No minimum traffic requirement, accessible to various publishers.

Versatile Ad Formats: Varied options for effective monetization strategies.

100% Fill Rate: Every ad slot is maximized for revenue potential.

Payment Diversity: Supports multiple methods for global accessibility.

Low Payout Threshold: Starting at $5 for swift revenue access.

Revenue Assurance: A consistent 100% fill rate ensures optimal earnings.

Traffic Flexibility: Welcomes publishers with varying visitor counts.

Seamless Monetization: Adsterra empowers publishers without high traffic demands.
AdRoll is a big player in the marketing world, especially for online stores.
It helps online stores do a lot of different marketing things to sell more products and make more money. One big thing about AdRoll is how many people they can reach.


They use smart technology and a lot of data to attract big and popular brands. This means they can help website owners make a lot of money.
What's great is that AdRoll is really focused on getting things right and being effective. This makes it an attractive choice for online stores looking to increase sales and profits.
AdRoll Best Features:
eCommerce Expertise: AdRoll empowers brands to boost product sales.

Targeted Efficiency: Publishers benefit from sales-driven ad impressions.

Premium Connections: Aligns publishers with eager, premium advertisers.

Sales Potential: Every ad impression is primed for impactful conversions.

Data-Powered Precision: Automation connects with 70% of shoppers.

Billion-Daily Reach: Over 1 billion ad recommendations are generated daily.

Publisher Profit: Scale attracts brands and premium prices for inventory.

Sales-Oriented Synergy: Seamless connections for profitable ad conversions.
Amazon Publisher Services is a strong player in the advertising world. They give website owners two main options to use their big ad network.
The first option, called the Unified Ad Marketplace, is really good for smaller to medium-sized websites. It's easy to use because it works like Google Ad Manager.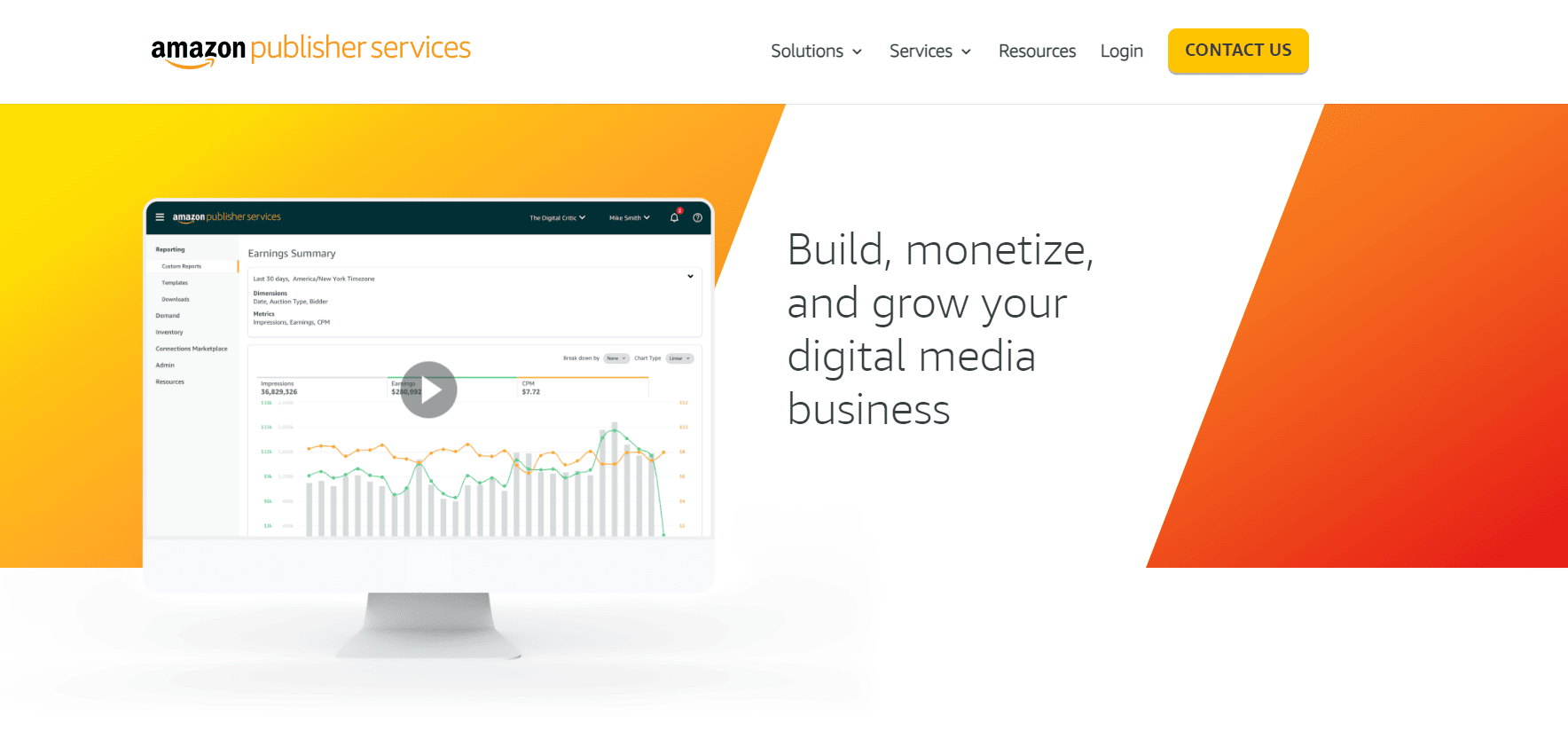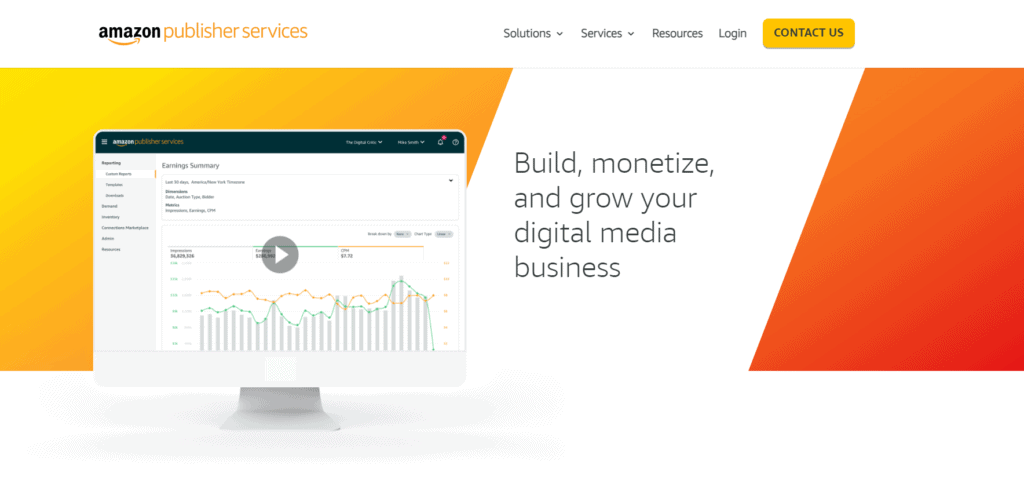 Amazon has a lot of power in the advertising industry, and they have good connections with different platforms that help websites show ads.
This means website owners can use Amazon to connect with lots of buyers all in one place. It's convenient because they don't have to use different channels to reach different buyers.
Amazon Publisher Services Best Features:
Amazon's Reach: Robust relationships grant access to diverse buyers.

Dual Pathways: Unified Ad for smaller, Transparent Ad for larger publishers.

Simplified Access: Unified Ad via Google Ad Manager ensures convenience.

Extensive Network: Amazon bridges publishers and multiple buyers effortlessly.

Tailored Solutions: Options for various publisher sizes and needs.

Exclusive Entry: Transparent Ad Marketplace for invited larger publishers.

Streamlined Setup: Unified Ad setup managed via Google Ad Manager.

Ad Diversity: Connect to multiple buyers and amplify publisher impact.
Google AdSense is not just any ad network; it's a top player in the field.
It's more than just a network because it's the main way that website owners put ads on their websites.
Google AdSense has a big impact on helping website owners. It's a powerful tool that they use.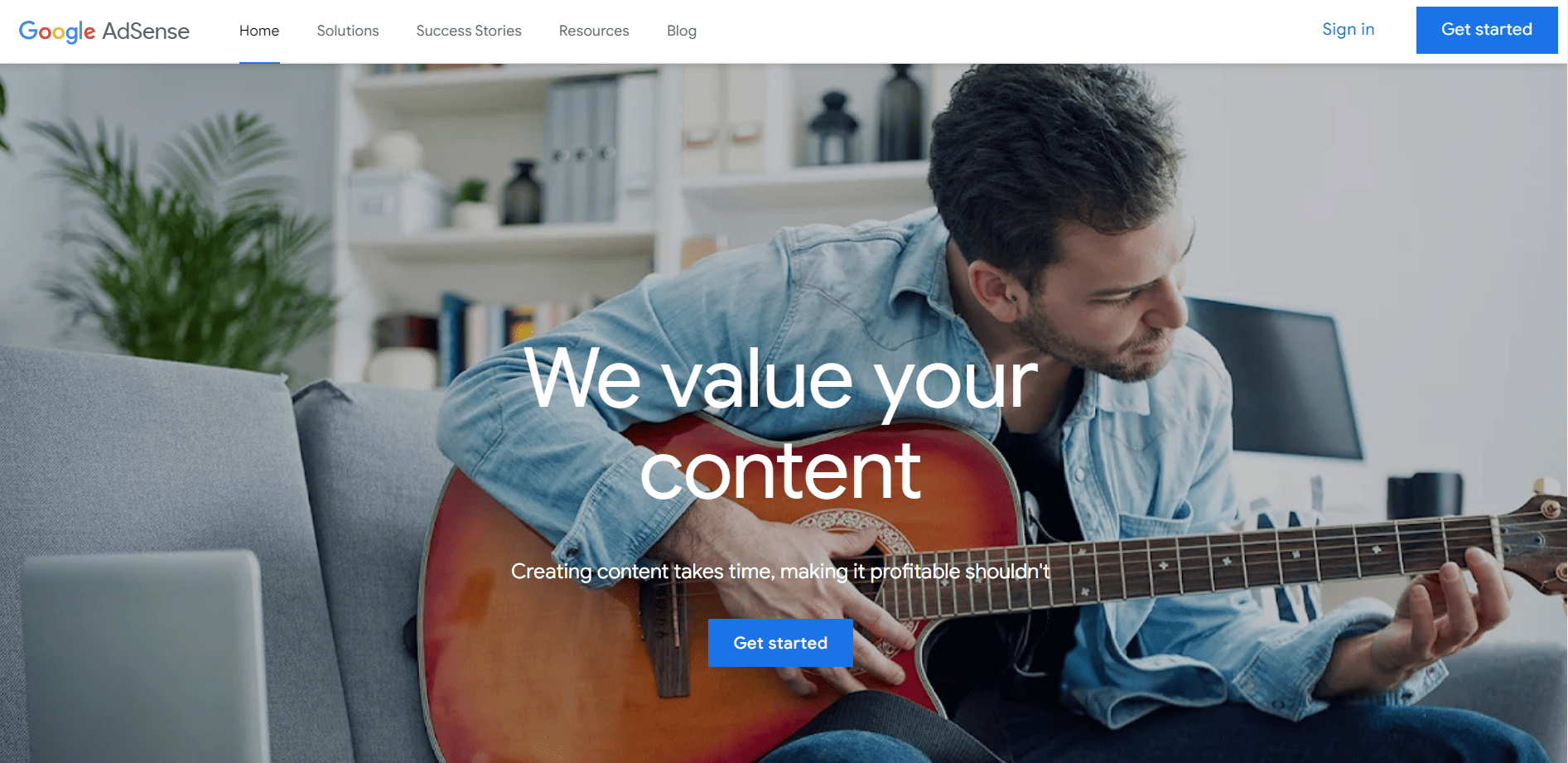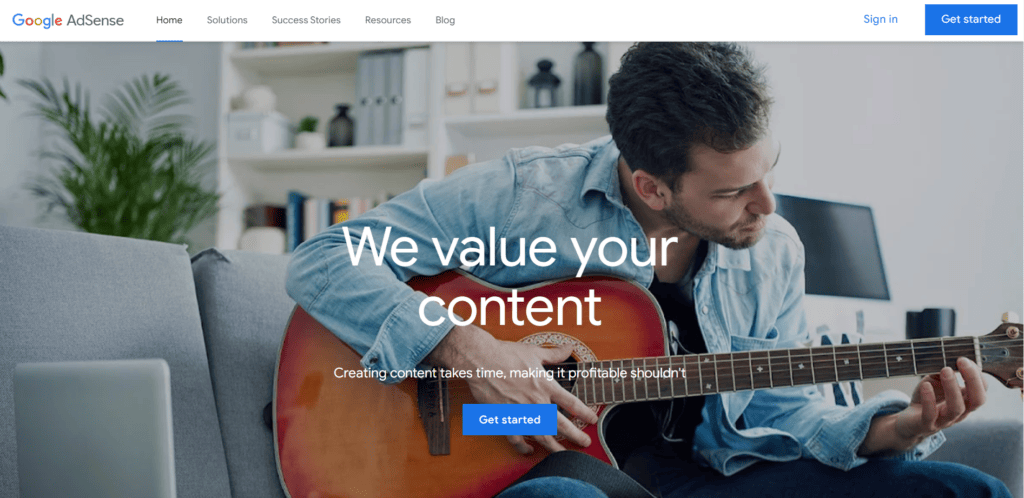 Google is well-known in many industries, and this includes advertising.
Google AdSense is a really important tool because it connects advertisers and website owners all over the internet and on mobile devices too. It's a big bridge that helps both sides.
Google Adsense Features:
Premier Position: Google AdSense dominates as the top ad network.

Core Integration: No. 1 choice for publishers to add ad inventory.

Earnings Insight: Estimator reveals potential gains with AdSense inclusion.

Transformational Impact: Google's influence elevates web and mobile advertising.

Quality Assurance: Rigorous ad screening upholds content excellence.

Customization Power: Adaptable ads align with brand aesthetics and audience.

Seamless Embedding: Implementation simplified with a few lines of code.

Empowering Platform: Google AdSense empowers publishers through transformative integration.
Quick Links:
Conclusion: Best Ad Networks For Publishers 2023
The connection between publishers and ad networks is really important these days.
We've looked at different options in this exploration of the "Best Ad Networks for Publishers." Each one is good for different needs and goals.
From showing ads that match content really well to making new kinds of ads, these networks help website owners make money and keep their visitors interested.
For website owners, picking the right ad network is a big deal. It can change how much money they make and how much people like their website.
No matter if you write about specific topics, sell things online, or share news from around the world, the networks we talked about can help you earn money and make visitors happy.
By choosing a network that fits with your content and who comes to your website, you can grow and succeed in the digital world.