We've seen and used WordPress for business development and studied its various plugins that bolster income and meet sales requirements.
All these plugins are an efficient way to boost WordPress functionality and give the user the most out of its performance. In this post we are going to tell you all about free BuddyPress Themes to use.
But one thing missing from this seemingly trade-oriented setup is the feeling of a community. Customers with very similar needs are the ones who often approach a particular business.
They are invested in what it has to offer and coming across like-minded people they can relate to, stimulates a healthy society and thus a more substantial customer base.
A robust community standing your business, not only furthers community relations but helps you connect to your target audience and afford exceptional customer support. 
If you're looking to get more info on BuddyBoss then check out our detailed BuddyBoss Review.
About BuddyPress
We are familiar with social media platforms that build communities and inspire the assembly of similar people. BuddyPress is a similar software that fosters communities for your website.
With the BuddyPress plugin, you can take your business beyond just the marketplace and site. All popular features that come ingrained into social media applications are available with BuddyPress. Users can create profiles, chat with each other, join groups, participate in activities, and also post regular status updates. 
A platform such as BuddyPress can be used to establish spaces for universities, colleges, and schools as communal networks for campuses. It can be used to devise niche grids for specific audiences, as a communication tool for business organizations and focus groups for various products and services. 
What is BuddyPress?
In definition, BuddyPress is a plugin that can be integrated into WordPress as an add-on to its features. It cultivates community relations with almost the same features as other online community-building software.
With its interface, you can build any kind of community website with a variety of elements and themes. You might think about why you can't do the same with Facebook or other networking applications that nurture communities.
With BuddyPress, you don't have to worry about security or privacy. You create the website and build a community yourself without interference and are in complete control of the members, the content, the themes, and the design. And what's more? It's Free!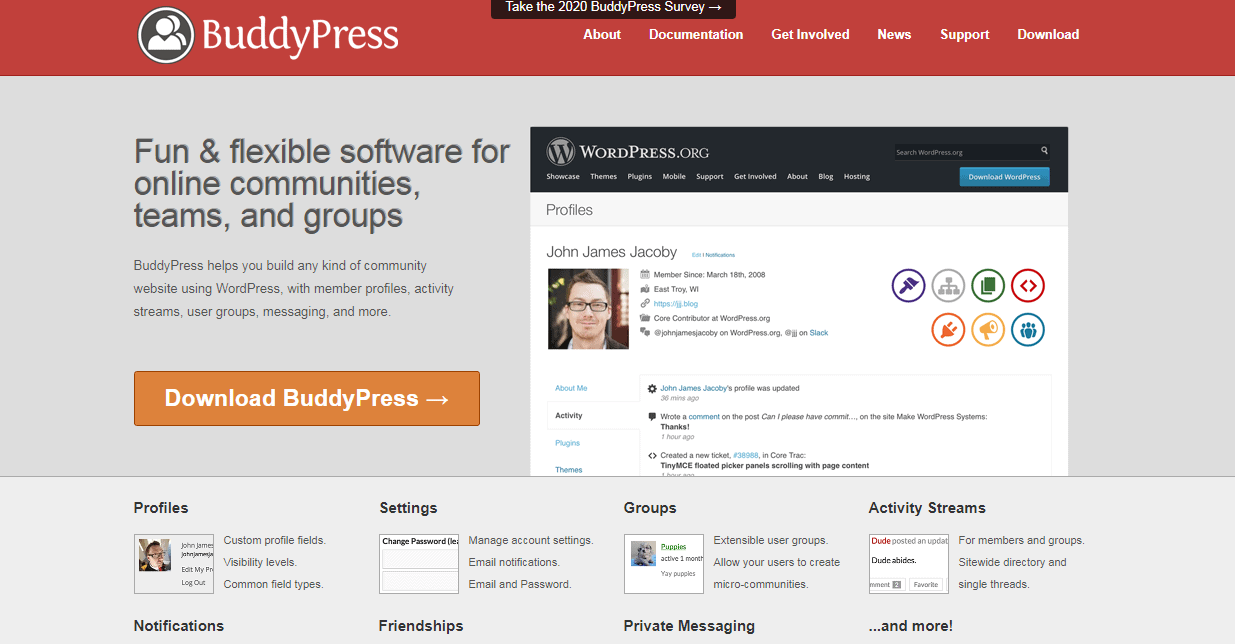 Getting started: Depending on the level of your expertise, you can either decide to build the website yourself or hire an expert. To DIY, all you have to do is, find a secure hosting platform, install WordPress, then the BuddyPress plugin.
After this, once you choose a theme, you're all set. You can then customize designs and choose from various features BuddyPress has to offer. 
With the BuddyPress plugin, you can take your business beyond just the marketplace and site. All popular features that come ingrained into social media applications are available with BuddyPress. Users can create profiles, chat with each other, join groups, participate in activities, and also post regular status updates.
Benefits Of BuddyPress Themes 
Adaptable interface: Although a plugin, BuddyPress is user-friendly and impactful. It conforms to user requirements whether they want to avail premium characteristics or essentials.
Personal profiles: Not unlike raving social media platforms, BuddyPress allows you to create your profile, all the while deciding how public you want to make it. A very beneficial feature for those who aren't very publicly open. 
Micro-communities: We're no stranger to divisions in large groups. As a part of a group, people often find people as like-minded as them and converge into smaller groups while still being privy to the larger body. BuddyPress allows for just that. For more personal concerns, people who are part of a community can form more specific smaller groups that address their issues.      
Intimate contacts: BuddyPress is all about bringing complementary people closer together. As part of a community that you have chosen, you can find more exclusive connections, chat with them privately, and enhance your experience.
Third-party extensions: For the lack of some features, BuddyPress allows third-party integrations that add on to the characteristics and augment the plugin. 
Community Support: Community is all about building each other up. When developers need support, the BuddyPress community is always available to aid its customers with insightful solutions. Moreover, as part of a community, people help each other out.  
Top 10 Best Free BuddyPress Themes In 2023
1. Evolve Theme 
Evolves is a versatile theme Plugin that comes with a wide or boxed customizable configuration and impressive colors. Its efficiency relies on its multiple setting feature and an amazing ratio of whites and blues in its display.
It is built upon two firm technical pillars, namely- Twitter Bootstrap and Kirki Framework, which makes it more feasible and efficient in its functions.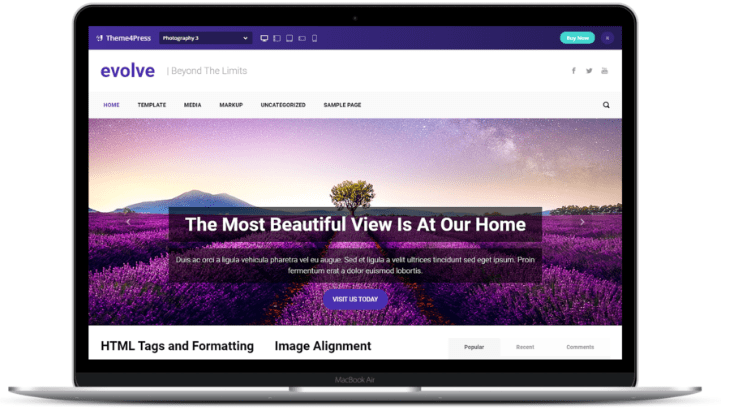 It doesn't matter what kind of webpage you require; the flexible feature of Evolve enables you to design according to your wishes and requirements. It comes along with the SEO optimization component and default page, which involves the perks of google maps.
The key features are as follow:
Pre-designed one-click demos

header layouts,13 widget areas, and 3 unique sliders

12 social media links for more public reach

Four elements for custom front page builder

Parallax Slider 

3 blog layouts with multiple edit options,

Extensive  support WooCommerce, BBPress, BuddyPress 
2. Whitedot Theme
If you need a swift yet full-fledged theme, then Whitedot is one of the best options available. Though nippy, it has not compromised on any of its visual features. It works well even for both the small screens of a mobile phone and Widescreen TV monitors. 
The display has a clean and well-finished look utilizing trendy coding available. It is both feather-light and rocket-fast in its performance and efficiency. It has scrubbed off the substantial useless features promoted by multi-purpose themes. 
It is the first choice of most developers of BuddyPress, WooCommerce, WPML, bbPress, orLifterLMS and is compatible with most page builders like Beaver Builder, Divi, or Elementor. Last but not least, It is a WordPress theme entirely integrated with Schema.org microdata.
3. MesoColumn Theme
If you have multiple websites, blogs, or e-commerce, and you are not sure which theme to choose? Then you might want to consider this theme. With unlimited color choices, you can play and experiment with the display of various sections of your site.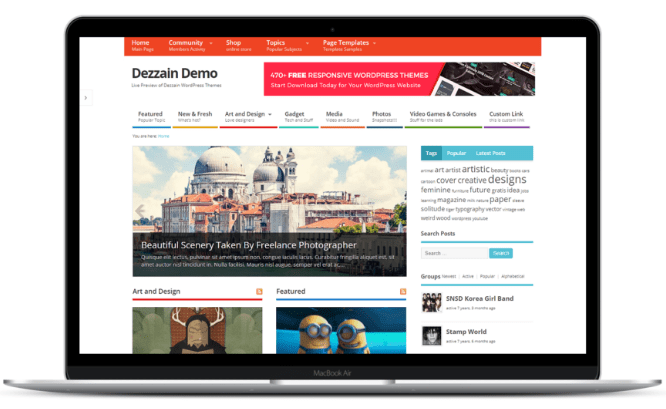 It has a one-click installation attribute along with multiple social integrations for reaching out to a considerable range of audiences. It has a very responsive layout because of HTML5 and CSS3 built-in features. It is friendly with desktop screens, mobiles, tablets, iPhones, and iPad.
It is compatible with popular WordPress plugins like BuddyPress, BBPress, Jigoshop, and WooCommerce. It has no such language barrier; it provides translation tools for converting your content to your preferred dialect. 
It allows the user to make the most by deploying the features of the drag and drop page builder, adding google or any other advertisement codes,schema markup support, 6 banner advertisement, and many more. 
4. OceanWP Theme
OceanWP helps you create professional-looking and classy websites. It is mostly preferred for any community website. It is a multi-purpose theme that allows you to personalize it with multiple widget options. You can also access the free import extension on just a single click.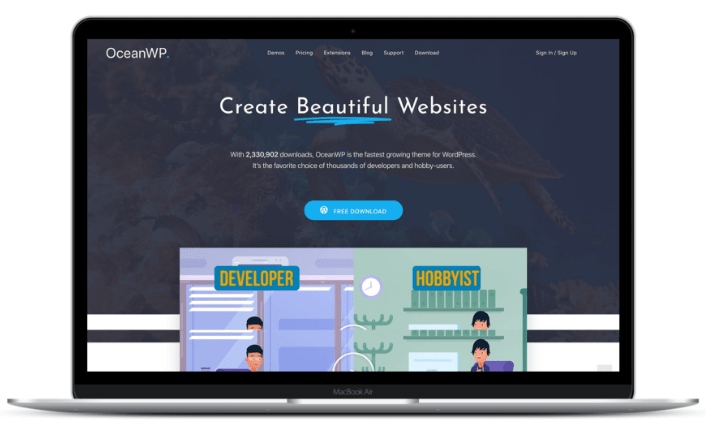 It is specially designed for being a responsive theme. It is compatible with WooCommerce, bbPress, and BuddyPress WordPress plugin. It can work on any device of your choice; moreover, you can also edit the settings from a mobile or tablet. 
The translation tool is also available as it targets global clients. It is RTL ready and provides the best SEO Base Built-In services. It is in demand among the developers for its light-weight, extendable, and extensible codebase.
5. EmmetLite Theme
The EmmetLite theme is a responsive WordPress theme with a smooth design with a proficiently designed for corporate and portfolio websites.
Emmet is well equipped with a page builder and has solely integrated with WordPress Customizer. Emmet Lite works idealize with major WordPress plugins like WooCommerce, bbPress, BuddyPress, and numerous others.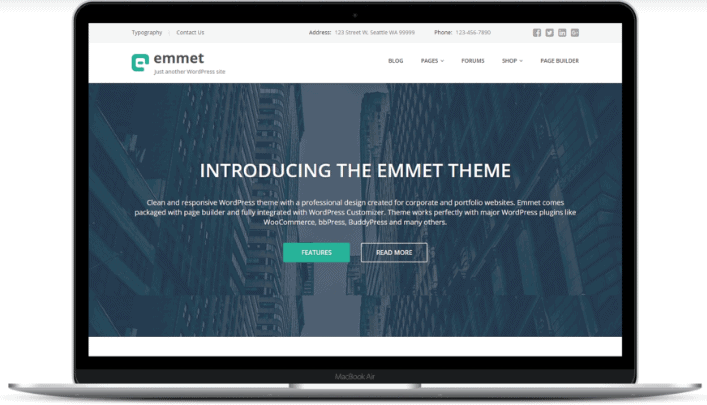 It has visual composers, which eases the hideous task of fashioning eye-catchy layouts and fantastic customizable pages. It includes unique features of shifting or Hiding Front Page Sections and Classic and Grid Blog Layouts.
It has a well-prescribed range of color variations to complement individual business designs. It requires no coding or specific information for setup.
6. SocialMag Theme
SM is a responsive magazine theme, well designed to serve the purpose for small companies or start-ups, software and web developers, online shops, or bloggers.
Creating awesome looking magazine substance promoting in just a matter of a few clicks. It is focused mainly on sharing media and building online communities. 
SocialMag collaborates with recent WordPress websites and aids them in getting online magazines that make an awesome  advanced trade topic! You are at your liberty to decorate your web-magazine with innumerable fonts availed to you.
Header Video, Included substance area, brickwork frameworks with different formats, advertisement administration, header formats, complete box-width templates, colors schemes, custom boards, magazine slider, destination page, text format, different sidebar formats, text style choice, social sharing, trendy social media hashtags, easy communication system along with 7 integration and styles, well-organized contact directories, custom advertisement segments for associate advertisements and Google Adsense.
 SocialMag is compatible with  WooCommerce, BBPress, BuddyPress congruous. It has the advanced feature SEO integration that highlights the theme as customizable and simple for your site.
7. Customify Theme
Customify is an inherent and flexible WordPress theme with various top-notch features like header and footer builder, importable pre-made websites, customizable page builder, and SEO optimization. It's user-friendly customer support and lightning-fast performance makes it one of the favorites.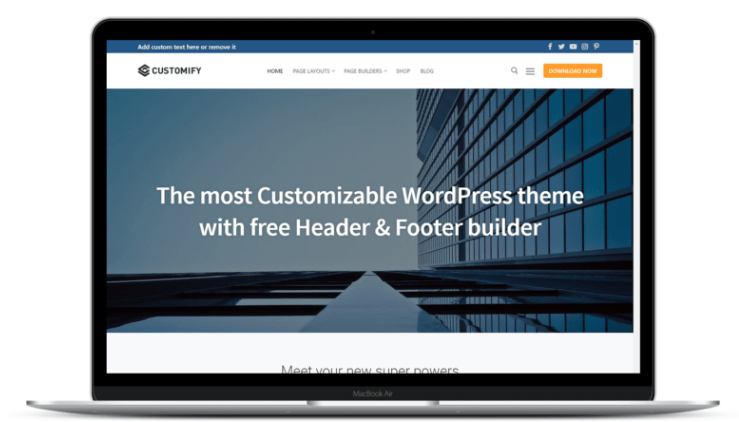 About the design, there are 3 distinctive demos for distinctive purposes. But in common, the demos have a clean, well-organized plan. It can show pictures flawlessly despite having diverse sizes.
The demos have decent and classy looking neutral colors like grey and light blue. But you can change those according to your wish to make your website as colorful as possible.
8. Square Theme
Square is a basic theme that can be used for multiple purposes. This theme is best compatible with small businesses. It even comes with a minimal and simple look. It enables you to create your online store on the website by offering WooCommerce compatibility.
It is SEO friendly and goes well with RTL. The best part about this theme is it is compatible with all the devices and browsers. Also, unlike others, it is highly mobile-friendly. You can customize with live preview using this theme. It has utility value in business, photography, digital agencies, blogs, and magazines.
9. Ward Theme
Ward is a very special WordPress theme, it offers customers with great features to create and customize configurations on the page layout, using it you can adjust websites width, enhance your background and a lot more. This excellent feature can be easily used with BuddyPress and also bbPress.
10. Make Theme
Make is an influential WordPress theme and it has a drag and drop maker and extra hundreds of customizer choices, which one can utilize to skillfully stamp your site.
Further, you can decide from hundreds of Google Fonts and also upload custom backgrounds pages. It is available totally free of cost and is compatible with great WordPress plugins including the amazing BuddyPress.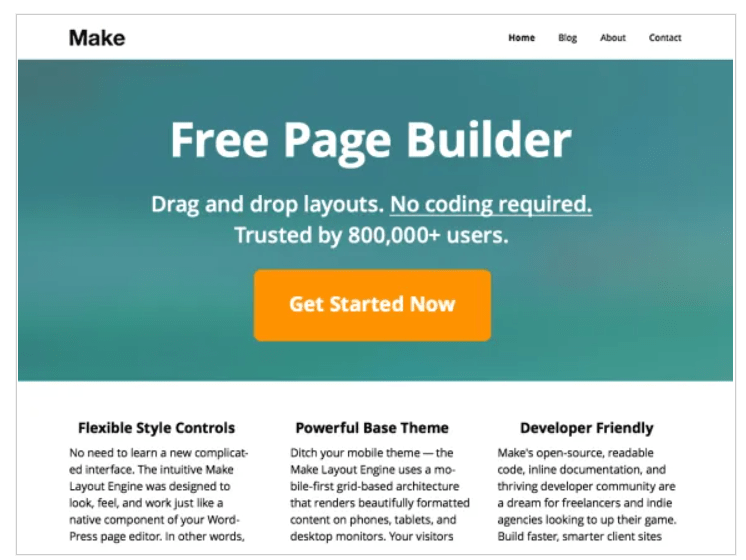 All the WordPress themes that were explained above are amazing themes that offer multiple features to allow you to build a social network site of your imaginations.
Similarly, all these themes are compatible with BuddyPress so there are no odds of any issues occurring by any chance.. You can clearly select the one that matches your purpose and give your community site a modern and exceptional glance with these WordPress BuddyPress Themes.
Pricing
BuddyPress is a software that can be used free of cost. They also provide a system wherein the user can choose to use the application as a trial which is again free before committing to this software. However, several other themes function within BuddyPress which are operating under packages that are priced.
Pros and Cons
Pros
The most important pro of Buddypress is its flexibility. It is too powerful regardless of being a plugin. With its seamless adaptability and flexibility, you can work to your full extent. You can choose to use the core tools as well as the additional functionalities, according to your requirement.
This is an important feature of BuddyPress which gives it an upper hand. Although BuddyPress has a lot of functions covered, no software can be perfect, right? But in this case, BuddyPress allows third-party extensions so that the owners can have a wholesome experience with more interactive communities.
BuddyPress allows a decent level of profile customization. You can make the profile as well as customize its visibility as per your wish. Due to this, the users can choose to show only those details about them which they feel are important and must be shown.
BuddyPress allows the users to create groups inside of groups. Due to this, a more personalized and interactive experience can be gained. Also, the members can be a part of the larger community as well as parts of many smaller communities to enhance and facilitate the exchange of ideas more comfortably.
Although the groups are constituted of like-minded people, BuddyPress does understand that not all things can be said out loud in public. At some point, people need to speak individually. Understanding this perfectly, BuddyPress has provided the facility of private messages. You can also have chats with people outside your groups. All you will have to do is add them as friends.
The communities formed on BuddyPress are so created that they offer the best advice and insight to every problem posted on there. You can reach them directly through the community page. There, the developers either ask for a solution or provide it themselves.
Cons
BuddyPress does not have any paid employees. All the employees work here part-time and have fully paying jobs elsewhere. All of them volunteer here.
Due to the lack of some major features, a lot of third party plugins have to be used on the platform. Holding all of them together on a website is a tedious job. Updates of some plugins might break some other plugins. Also, managing that many license keys become a monotonous job.
It does not have an inbuilt text editor. So, even a simple job like adding hyperlinks becomes difficult.
Quick Links:
FAQs on Free BuddyPress Themes
How do I use a BuddyPress plugin?
BuddyPress is a software that is used more than often in social networking. They help in adding features to the software. Since this software already faces hiccups in providing basic features, the plugins act as a very important part of the user manual of any BuddyPress customer. BuddyPress helps in building a meeting space for your company or your school, a sports team or another such community in which meeting in a group whether private or not is necessary to fuel ideas and organization.
Is it possible to customize your profile on BuddyPress? If yes, How?
Yes of course! Go ahead, change the order of your menu on your profile. If you would like to use another order of the menu on the profile, you will have to create a bp-custom.php in the directory of your plugin. After this, rename the menu item on your profile. Add this line – 'pre type= "PHP" and rename it to whatever your choice maybe! For the last step, remove the menu item!
Is BuddyPress good?
BuddyPress is the best and easiest way to create a social community for the WordPress sites that you generally use. Although BuddyPress comes with all the necessary features, it is not good enough to start a social community and therefore plugins are used.
Conclusion: Best Free BuddyPress Themes 2023
Going through this long series of detailed explanations about the Free BuddyPress theme, you can easily realize the worth of it. BuddyPress facilitates us with these free themes. All the themes have their own unique feature. You will obviously find at least one of the themes suitable and covering all your needs. 
Visitors can be easily retained if they find a website more compatible and attractive. So adding custom themes is worthwhile in the long run. And after all, you don't even have to pay for these themes unless you want more advanced features. 
These themes are customizable and fabricated specially for the ease of the ones who are reluctant to hire expensive web-developers. It has to be the best option available for WordPress Users, even though they are just a beginner or a small start-up business.
Here, you can add different features to your website, or simply omit them. The color coordination and even the template design is your choice. Just a bit of an issue arises when there is some technical glitch. 
So what are you waiting for, go choose an amazing template of your choice?