Are you tired of being blocked from accessing certain websites? Or maybe you want to keep your online activities more private? If you're facing these difficulties, don't worry – I've got a solution for you!
Proxy SwitchyOmega is a handy Chrome extension that can help you overcome these challenges and browse the web more freely.
Proxy SwitchyOmega is like a secret tool that allows you to switch between proxy servers effortlessly. This can help you bypass restrictions and keep your online identity hidden.
So, if you're ready to take control of your browsing experience, let's look into the step-by-step guide on how to use Proxy SwitchyOmega on Chrome.
What is SwitchyOmega?
SwitchyOmega is like your personal proxy assistant for web browsing. It's a browser extension designed to simplify the process of managing proxies.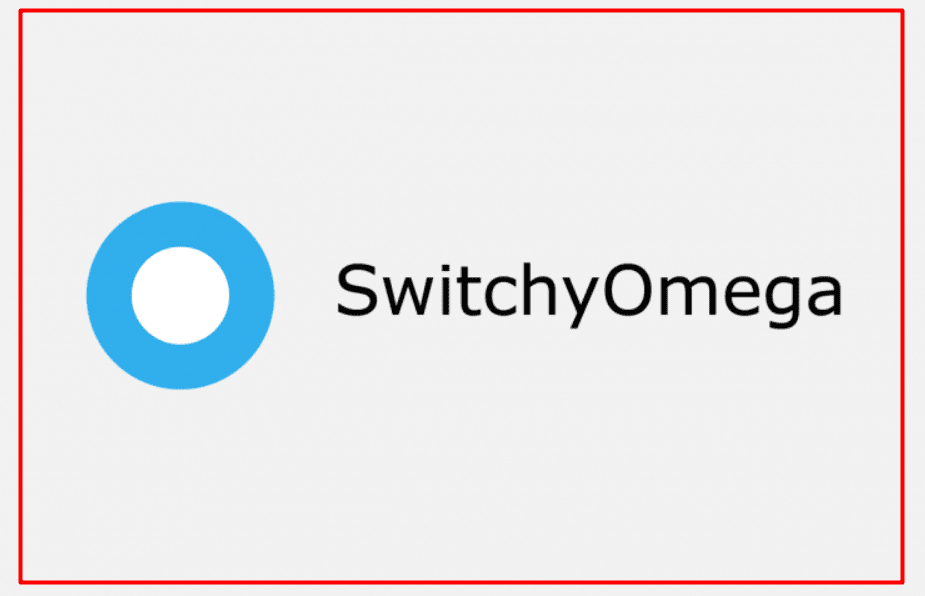 Imagine it as a user-friendly version of the proxy settings menu – no more digging through complicated browser configurations. With SwitchyOmega, configuring and toggling proxies with its intuitive interface becomes a breeze.
Initially developed for Google Chrome, SwitchyOmega has gained immense popularity, boasting over 1 million users. And if you're a Firefox enthusiast, there's an experimental version available, too, with around 41,000 users.
Just note that the Firefox version hasn't seen updates for the past three years. SwitchyOmega is here to make proxy management effortless and accessible, catering to Chrome and Firefox users.
Can SwitchyOmega Keep Your Online Browsing Anonymous?
SwitchyOmega's primary function is to assist in browser configuration. However, if you're hoping it will single-handedly grant access to geo-restricted content or enhance online anonymity and privacy, that's not quite the case.
That is unless you pair it up with proxies. If you're unsure where to find these proxies, no worries – we have your back. 
Step by Step Guide on getting SwitchyOmega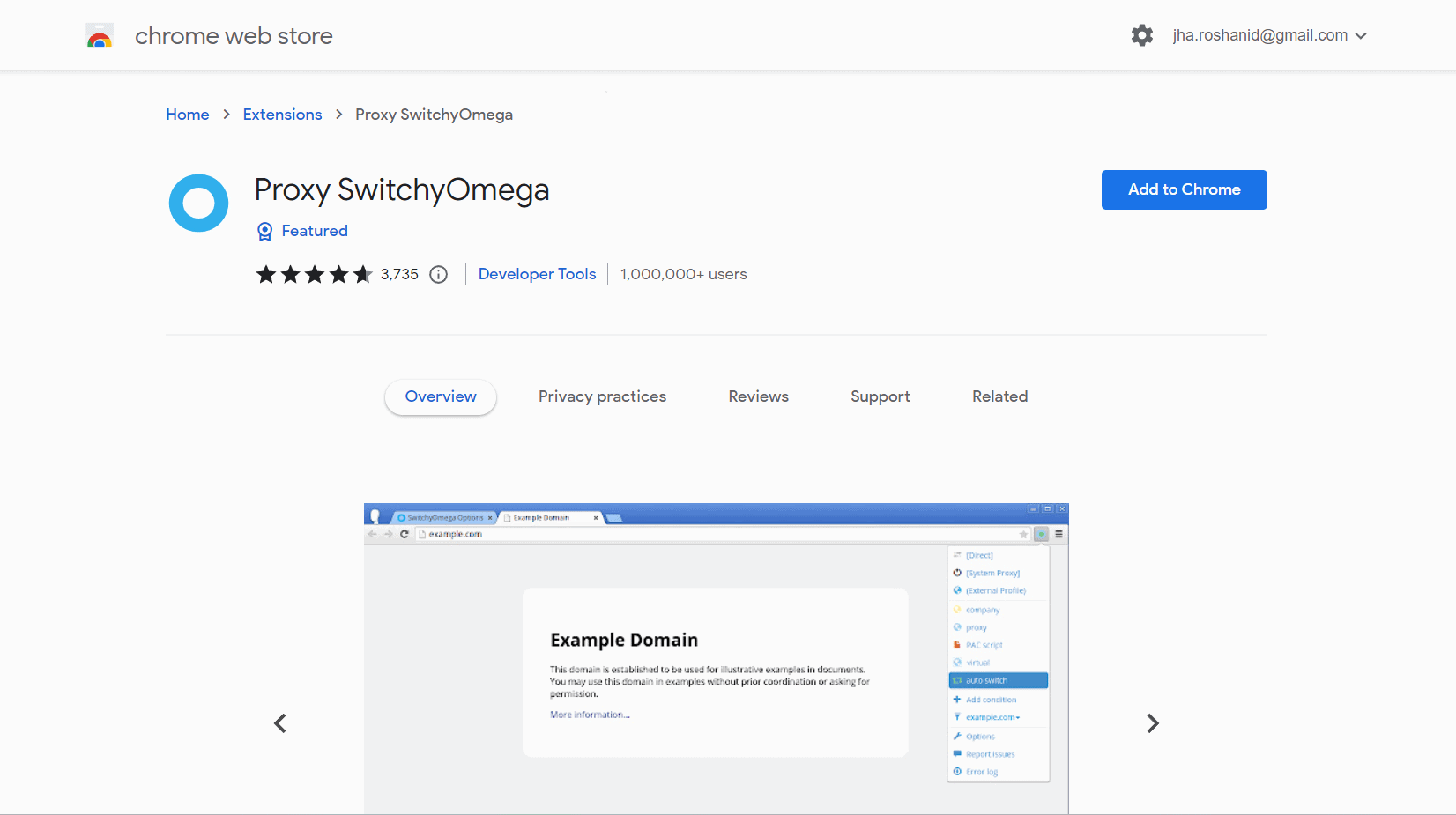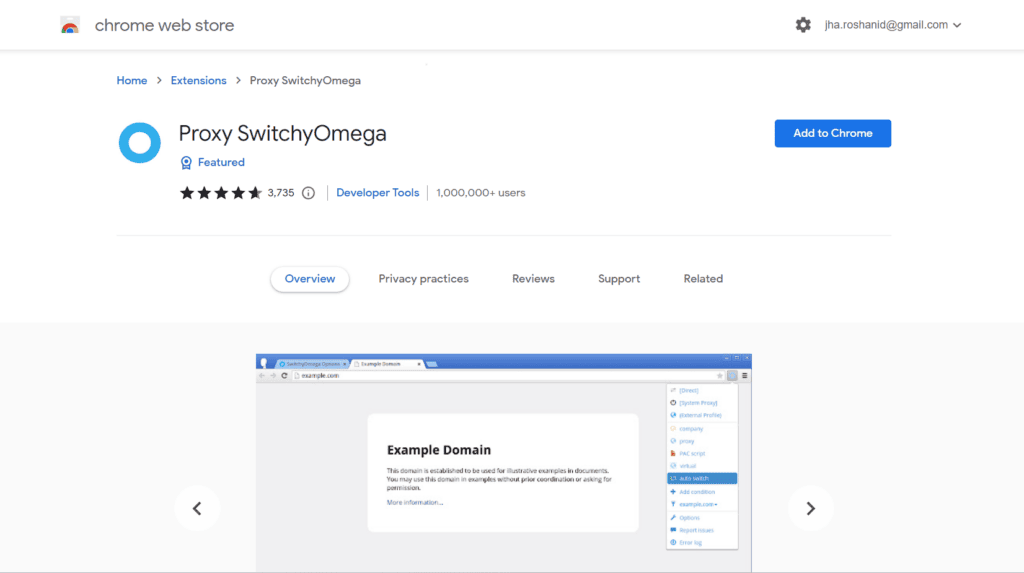 Step 1: Download and Install the Extension First, you'll need to get the Proxy SwitchyOmega extension. You can find it on the Chrome Web Store and install it like any other browser extension.
Step 2: Access Extension Options After installation, look for the extension icon in the top right corner of your browser (it looks like a puzzle piece). Click on it and choose "Options" from the following dropdown menu.
Step 3: Create a New Profile Now, head to the "Profiles" tab in the options. Click on "New profile" to get started.
Creating a Proxy Profile:
Choose "Proxy Profile" as the type.

Fill in a name for your profile.

Select the protocol you'll be using (usually HTTPS).

Enter the IP address or DNS hostname of the server you want to use.

Input the port number.

If you need to, enter your username and password for authentication.
Creating an Auto Switch Profile:
Choose "Switch Profile" as the type.

Name your profile to identify it.

Understand the different condition types:
Host Wildcard: Matches URLs in a domain.

URL Wildcard: Matches URLs with wildcards (* and ?).

URL Regex: Uses regular expressions to match URLs.

(Disabled): Temporarily disables a condition.
Choose the appropriate condition type from the dropdown.

Provide the specific details for the need.

Select the proxy profile you want to use for this condition.
Step 4: Don't forget to click "Apply Changes" after setting up your profile to save your changes.
Step 5: Activate Your Profile Once you've configured your profiles, it's time to implement them. Click on the extension icon again to see your newly created profiles. Click on the one you want to use.
Step 6: Verify Your Setup: To check if everything's working as intended, you can check your IP address. Simply search "What's my IP" on Google or use a website that provides this information. This will confirm that your proxy settings are active and your IP address has changed.
That's it! Proxy SwitchyOmega allows you to easily manage and switch between different proxy setups to enhance your browsing experience.
Quick Links:
Conclusion: How to Use Proxy SwitchyOmega on Chrome?
In conclusion, SwitchyOmega offers a convenient and user-friendly way to manage proxies in your Chrome browser. You can set up and switch between proxies with just a few clicks, enhancing your online experience.
While there are alternatives like FoxyProxy for Firefox users and manual proxy configuration, SwitchyOmega stands out for its simplicity and effectiveness.
Whether you're looking to access geo-restricted content, enhance your privacy, or simply navigate the web with different IP addresses, SwitchyOmega has got you covered.
Give it a try and unlock a new control over your online browsing.