Welcome to my unbiased Ultimate Member vs BuddyPress comparison of 2023.
I owe a lot of success to these WordPress plugins so in this Comparison,
We" ll discuss how each plugin helped me succeed and let you make your decision for yourself which is the perfect plugin for your WordPress.
Grab a coffee because you're about to deep dive into the knowledge of both the plugins of WordPress.
But before that, if you want more info on BuddyBoss then you can check out our detailed BuddyBoss Review.
In this article, we will discuss the following topics:
Overview of Ultimate Member and BuddyPress

Unique Features of Ultimate Member and BuddyPress

Few Comparisons between Ultimate Member and BuddyPress

Pricing Packages of Ultimate Member and BuddyPress

Pros and Cons

Conclusion

Frequently Asked Questions (FAQ)
I am going to compare the two best plugins for WordPress and you can decide which one to choose as your best plugin for WordPress. Alright, Let's go into the article. Now go to our in-depth comparison between Ultimate Member vs BuddyPress post.
Ultimate Member vs BuddyPress 2023: Overview
The idea of digitized and creating a website on WordPress sounds cool but how are you going to achieve it?
There are numerous plugins for WordPress which can add new features to your WordPress website as well as extend the functionality of your WordPress.
Therefore, Ultimate Member and BuddyPress both these plugins offer unique features to their users and differ in pricing packages. These plugins are written in the PHP programming language.
Ultimate Member Overview
Ultimate Member was first officially released in January 2015 and it always updates its features within days or weeks.
The major advantage of Ultimate Member users is they get a bunch of options to customize their membership features and they can design their website and add themes to make their profile attractive and beautiful, in addition, to make it compatible with all their needs.
Do You know Ultimate Member is the most popular user profile plugin? Yes, You read it right, Ultimate Member is the most used as well as the most popular user profile plugin. Let's get into the deep dive of its knowledge. 
Unique Features: What Ultimate Member Offer?
Ultimate member offer community/membership features to its users, let's discuss what they are:
 A profile header can build more than one registration form on their website for its users and this unique feature is offered to only Ultimate Member plugin users.
It will display as each user has a unique registration form with all the details of the user has filled the form.
User Profile
It provides different features on User Profiles, first is displaying cover photos.
For eg: If you do not want profile photos, then Ultimate Member can provide an alternative user profile where you can remove your cover photos.
User Bio's
If you want a user to highlight its short description about themselves, you can display the user bios and can hide the user bio feature if you want. 
Important Info of User 
You can highlight the important information of the user, and if left blank, no information of the user will display on the site.
Benefits To Users
You have an amazing feature in the Ultimate Member plugin, you can decide whether a user lands on your home page when he logged in to your website. You can customize this feature according to your preference.

Deactivate/ Delete Account: A profile header approval needs or not if a user wants to delete or deactivate his/her account on your website, or your approval does not require to delete/deactivate his/her account

Reset Password: If a user forgot his/her login details, then the login form redirects them to reset the password.

View Others' Profile: Ultimate Member gives you an option of limiting the access of users to view other users' profiles.
Classifying and Categorizing The Users
A profile header can easily classify as well as categorize the users of its website who have registered on their website and plugin gives you an option to classify them on a different basis. e.g., first name, last name, middle name email address, newest one, older one.
No. of Profile Card
You can display the no. of profiles you have on your website per page or restrict it to display to only the members of the website.
It gives various other options too in the case of Profile cards on the website to the users.
Users Account
Users have an option to control the privacy of their profiles and if they want to display publicly users can display as well as hide their profile to member directories.

Users can update their information details like first name, last name, mobile no., email address.
Permission Access
You have an option on your website in Ultimate Member Plugin to display all the posts/pages publicly or to restrict them from the public. 
You can grant access to users' info to update, change, and make it visible to the public.
 Customer Reviews
 You can keep a 5 star as well as a 10-star rating review system given by users on your website.
Or you have the option of keeping a default review rating system to show on your website.
BuddyPress Overview
Do you know which is the best free plugin of WordPress? It is BuddyPress which is considered one of the best plugins. It was officially released in April 2009. The frequency of updating the features of BuddyPress is within 2 months.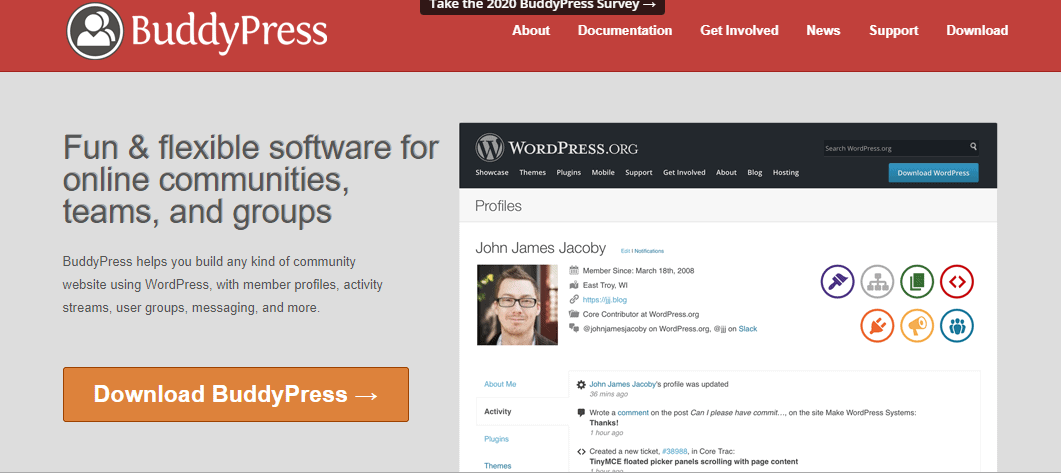 It has almost 2,00,000+ Active Installations.
It gives you limited options to customize according to your needs.
It is a free software package for creating a website. A user does not have to buy a subscription for using the features of BuddyPress. You can update as well as create your content on your website if you are using BuddyPress without paying a penny for it.
Unique Features: What BuddyPress Offer
Let's discuss the unique characteristics of BuddyPress which it offers to its users.
Profile Accounts can be Created and Updated as Well
Users can easily create and update their profile with their short description, profile photos, information details on the website. 
Join Group
A user can join and form groups of common interest on a website, because groups have a wide range of functions, with the BuddyPress plugin. This is a unique feature offered by BuddyPress to its users.
Publish Your Blogs
WordPress is considered as the best blogging and publishing content platform for all budding writers. A user can create blogs on a full-fledged publishing online platform.
Privacy of Messages
BuddyPress allows its users to send private messages like Facebook, and receive notification from other users or when they receive a message. 
Custom Themes
There are various themes available for BuddyPress, Free, and Premium. A user can also design a custom theme which can be compatible to their needs.
Extensible
BuddyPress is an extensible Plugin, and a user can customize the templates of BuddyPress and add styles and fonts to make an attractive layer.
Features Comparison: Ultimate Member vs BuddyPress
To be the best WordPress plugin, each plugin research company should satisfy certain features to be considered as an effective WordPress plugin. In this following portion, I am going to compare Ultimate Member and BuddyPress based on these features and you can decide which one is suitable for you.
Extension
Ultimate Member
Ultimate Member has only a few extensions of their own and which most of them are paid for, and also have amazing extensions but limited with the 3rd party. 

Ultimate Member does not offer free extensions to its users.

Free extensions of Ultimate Member are not of good quality and reliable to use.
BuddyPress
Having a greater extension, BuddyPress is the most reliable plugin and much ahead of Ultimate Member.

It offers free extensions to its users and 500+ extensions are available for BuddyPress users.
Verdict
Based on the comparison of extensions, BuddyPress is the clear winner and more reliable plugin of WordPress because it offers free extensions to its users of the best quality with customized themes.
Ultimate Member vs BuddyPress: Customer Support System
Customer Service is the most important service provided by every company to its customers. Let's compare both the plugins of WordPress based on Customer Service.
Ultimate Member
Ultimate Member provides good customer service to its users, even customers give good enough reviews, it always interacts with its users as well as solve their real-time queries. 

The only major drawback of Ultimate Member based on Customer Service is, they give priority to solving queries to paid clients.
BuddyPress
It has a solid customer system.

BuddyPress does not bias its customers' queries based on premium or free clients, They provide the solutions to its customers on time. 

Time and quality are what every customer expects from the company.

Solving queries and providing the best service to customers, nurture the buyer-seller relationship.
Verdict
Based on Customer Service, both the plugins provide the best service to its customers, but Ultimate Member lags in partial customer service.
Therefore, BuddyPress is the clear winner.
Ultimate Member vs BuddyPress: Integration
BuddyPress Integrations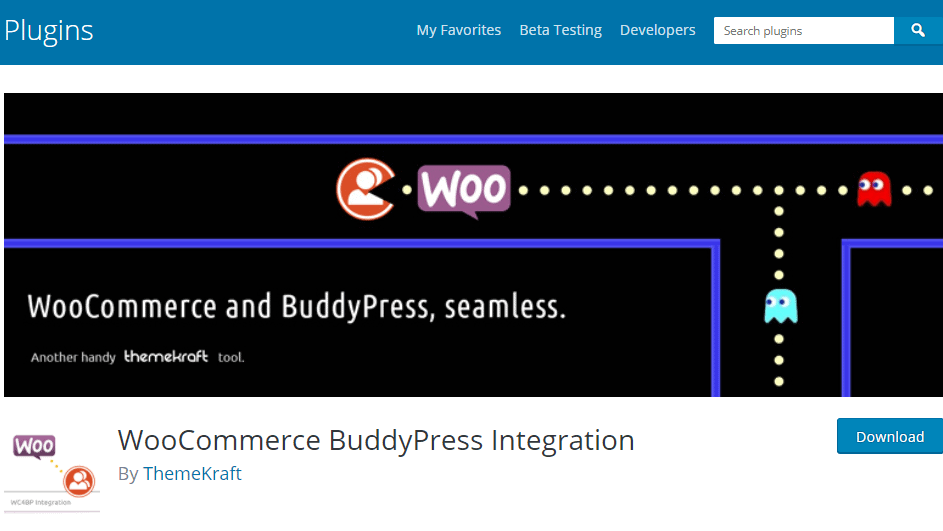 WooCommerce: It is one of the integrations of BuddyPress and the navigation and configuration is easy.

It allows its users to check their payment history and even they can download them from their member profile.
Ultimate Member Integrations
GamiPress: GamiPress is the best integration of Ultimate Member, and it adds new features, activity, events for all the ultimate member users.

JobsBoardWP

ForumWP
Pricing Plan: Ultimate Member vs BuddyPress
Ultimate Member Pricing
They do not offer free services to their users.
Ultimate Member has 2 Pricing Plans for its users.
Extension Pricing Plan
It costs $249 per year. 

They offer customized extensions to its users in this subscription plan.

A user can also request for the refund of a pricing plan within the 30 days of purchasing a plan, after 30 days, no refund will be given to the users. It is the policy of the Ultimate Member.
Theme Pass + Extension Pricing Plan
It costs $299 per year.

In this pricing plan, a user has access to the Ultimate Member theme which they do not get in the Extension Pricing Plan.

If you do not renew the license key, it automatically renews and updates every year for its users.
BuddyPress Pricing
It is a free plugin of WordPress with 500+ extensions available.

BuddyPress offers the old templates and designs to its users.
Verdict
Based on Pricing Plans, BuddyPress is the best choice. If a user is willing to spend a few bucks and money is not the only aim of his success and quality is the main aim, then he can go for the Ultimate Member because it provides the best-customized features and extension to its users in a premium plan and can get the core functionalities of the Ultimate Member.
Pros & Cons: Ultimate Member vs BuddyPress
Ultimate Member Pros & Cons 
Pros
A user get customized themes and features on Ultimate Member

They have a refund policy of 30 days for its users.

 A user can cancel the subscription anytime within 30 days.

The Ultimate member allows you to restrict the visibility of your content,  and allow you to view your content of the website to only logged in users.

You can easily categorize and classify your users on the basis of  first name, city, pin code, last name, mobile phone no., email address

Ultimate Member provides various options of payment to its customers and it is connected with PayPal, Paytm, Payza, and many more.

Customer reviews are good enough and it is a highly recommended plugin of WordPress.

Users can easily add their profile photos to update their profile account on the site.

The solid Customer support system, answer all the queries of their users.

Unique and customized themes in the competitive market.

Users can easily reset the password if they forget their login details, as well as additional description of themselves in their bio.

User experience is good enough in Ultimate Member
Cons
Ultimate Member does not offer much free integration, all are paid features.

This plugin is not suitable for those who cannot spend money on buying premium plans for plugins.

Ultimate Member has a major drawback, i.e., They solve queries of paid clients firstly and then provide customer service to free users.

It charged a lot of money for an extended license. $34 for a regular license and $199 for an extended license of Ultimate Member. 

A customer has to buy an extension pricing plan for core functionalities and customized themes, to join and form groups.
BuddyPress Pros & Cons 
Pros
BuddyPress gives the best customer service, it has a larger team to solve and answer queries of all their customers, irrespective they are paid, users or free users.

It is an entirely free plugin of WordPress, which has customized themes in the free plan

Users can easily update their profile and edit them anytime, anywhere.

Users can create groups inside groups with a common interest and to increase the community of BuddyPress.

It has more than 500+ extensions available for its users, and most of them are free to use.

The community of BuddyPress provides valuable insights and solutions to all users.

It allows its users to send private messages because everything is not to be discussed in the group.

Customer reviews and user experience both are good.

The flexible plugin of WordPress, which covered all the needs and requirements of its users. 

BuddyPress offers extra features and integration to its users for meeting all needs and requirements of the plugin.

Its management tools reduce the stress of users.
Cons
Let's discuss the few drawbacks of BuddyPress, which will be helpful for you to make an informative decision.
The user experience is not good enough.

BuddyPress is a bulky and overwhelming plugin, lacking modern design and features.

Not have modern customized features and themes.

It updates the features not frequently but within 2 months.

The development of BuddyPress is slow, and not so good.

It does not allow users to add their description of themselves in their bio.

It also does not offer attractive email templates with the site logos.
Quick Links: 
FAQs
👉 Can I change the appearance of my profile in Ultimate Member?
Yes, it is possible to change the appearance of your site using Ultimate Member. This can be done by adding your own custom theme and give a unique look to your profile by adding photos, bio, and many more.
👉 Do users need to learn coding to use the Ultimate Member plugin?
No, a user does not have to learn coding to use Ultimate Member. It is easy to use. It is not necessary to have coding language to use all the features of Ultimate Member.
👉 Are these plugins safe to use?
Yes, these plugins are safe to use, as numerous online users have already used these plugins, and gave their reviews themselves. These plugins give you an understanding and attractive look to your website.
Conclusion: Ultimate Member vs BuddyPress 
When it comes to deciding which WordPress plugin is best, we are at crossroads. Both the competitors have their pros and cons and both of them prove to be an amazing plugin of WordPress with extraordinary features, pricing packages, easiness to use, solid customer service.
Ultimate Member provides unique features, with customized and updated modern themes, but all these features are chargeable, whereas BuddyPress also offers unique features in its free plan, but they are not modern updated themes. 
So which one do you choose? That is entirely up to you. You are the one who is at the liberty to choose the best plugin according to your requirements.
If you are willing to spend a few bucks and want qualitative features and top performance with all upgraded, customized themes, then better go with Ultimate Member.
If you cannot afford the Ultimate Member, then choose BuddyPress. Because in the end you are the one who is going to use these services and so it is essential that the plugin you choose fits your needs perfectly.
Make sure your decision does not harm your financial budget.