If you are a beginner to WordPress and looking for a quick, easy way to get started with your first website or blog, Beaver Builder Lite is probably the way to go.
There is no cost to use this Lite version of beaver builder which makes it ideal for beginners or people who just want to have some fun with their design process. If you're looking for something more robust than Wix then Beaver Builder Lite might be right up your alley!
I've previously reviewed Beaver Builder. Click here for more information about Beaver Builder Review.
The free version of this tool is known as 'Lite' and that is what we will be discussing in this article!
Utilizing a drag-and-drop interface makes your life a whole lot easier. Learn more about this tool, unlock your creative juices, and let your full potential shine.
Read about this game-changing new tool here!
Beaver Builder Lite Overview
Beaver Builder can boast to be one of the greatest page builders available on the market today. Best of all you don't need even an ounce of knowledge pertaining to development and coding.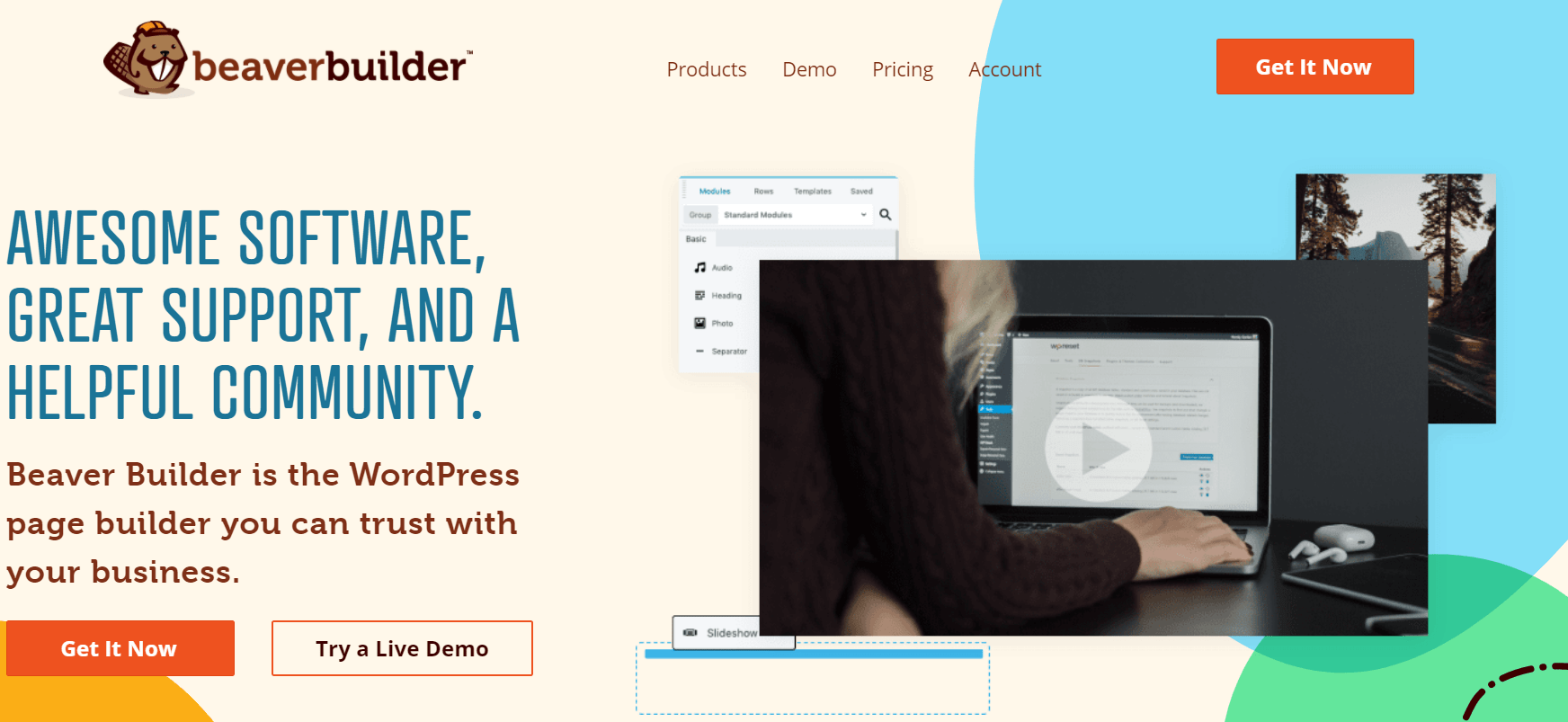 Helps all WordPress users to build their websites a whole lot easier. Beaver Builder provides various modes for users to switch up their views.
Beaver Builders takes every opportunity to improve its user experience. Check out how it does with a detailed list of its comprehensive features.
But in this article, we will be looking at Beaver Builder Lite the free version of this exquisitely brilliant tool. 
You May Also Like This:
Extra Features Offered by Premium Version
The features that were mentioned above are all just features that are available with the Lite version. But as the saying goes, you get what you pay for! The premium version as such offers users a whole range of new options to try out.
I have decided to elaborate on some of these features and simply list out the rest of them for you.
1. WooCommerce Drop-ins
I am sure that most of you are familiar with a WordPress plugin. A WooCommerce drop-in essentially serves the same purpose.

The functionality of the original app is replicated on a smaller scale for the feasibility and facilitation of an easier interface for the end-user and their benefit.
2. Social Icons
Social Media, is the one thing that powers the youth of this generation. Instagram Shares, Facebook Likes, and Twitter Retweets can change your brand in a way like never before.
Just a single positive retweet from a Twitter celebrity can take your brand to the next level overnight.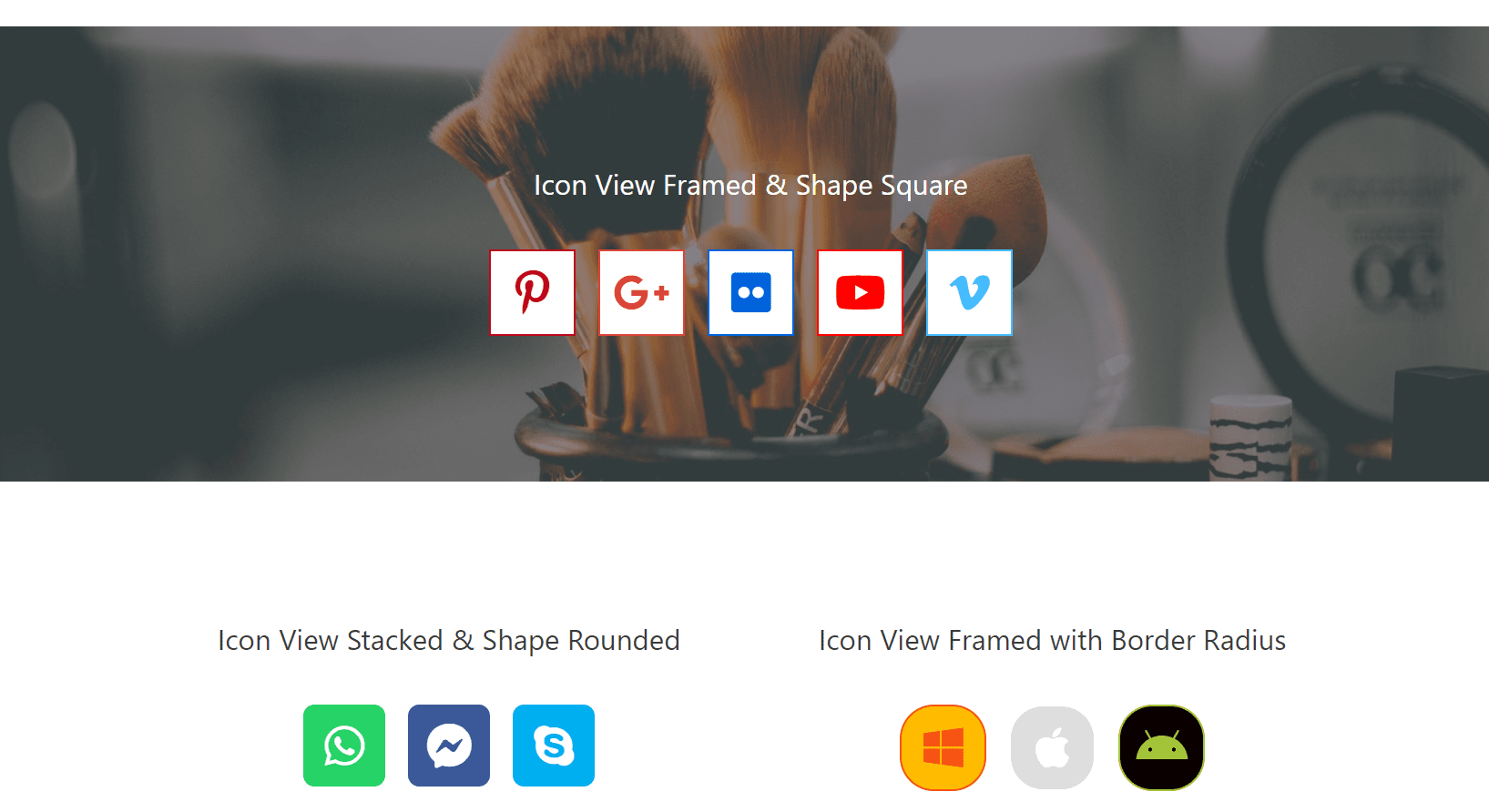 But a single negative comment that goes viral is just as likely to assure the destruction of your brand.
Nonetheless, we must include social icons in our blog posts so that our content can be shared with those around the world and drive more traffic which could in turn lead to even more social shares!
3. Ready-Made Templates
Nothing saves you time like these goodies! They come ready to use all you gotta do is change up some text. But if you would like further customization options this is equally feasible.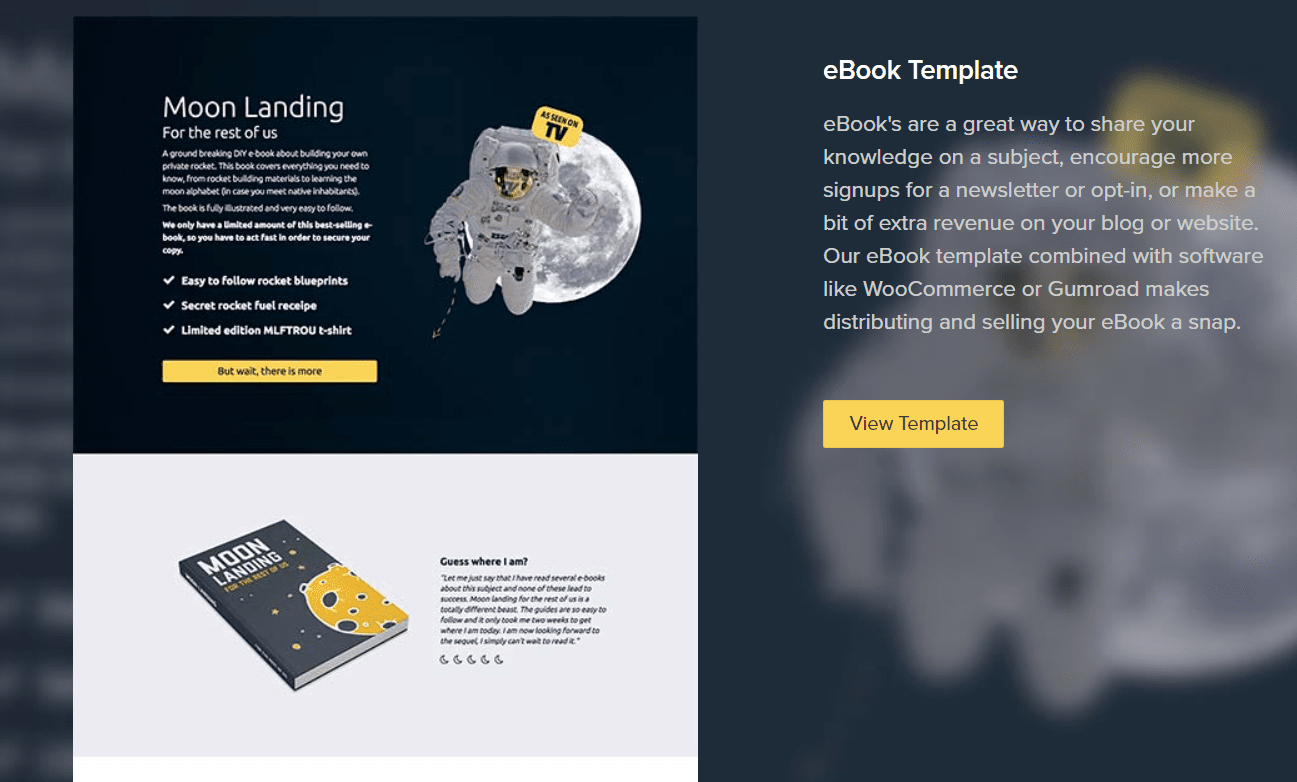 Beaver Builder Templates are of the utmost professional quality and will be sure to drive leads and sales to your brand.
Each template that is provided to you will be perfectly catered not only in terms of design both also in terms of SEO.
4. CTAs
The ever-famous call to action. When a user comes to your website you want to prompt them to do something. After all, at the end of the day, all the traffic that comes to your website must amount to something. It must give you some benefits.

These benefits can be reaped through call-to-action statements. These CTAs must be designed with the user kept in mind the whole time.
CTAs used probably will take your brand in the direction you are hoping to go, as your users are told to take you in that direction!
5. Accordions
What is this fancy word? Will it be able to help my website look even greater? Will it bring about a more professional outlook?
Yes, yes, and yes! It most definitely will! You can use accordions to inspire curiosity within your users. To build up a sense of wonder.
By using the see more options to initially hide a piece of the content users can interact more with the content and hold themselves at the edge of their seats just a second longer as they are teeming with excitement!
6. Pricing Tables
If there is one thing customers appreciate – clear pricing. It is a concept that customers strive to see. When you offer them clear pricing they are sure to reciprocate the favor with brand loyalty.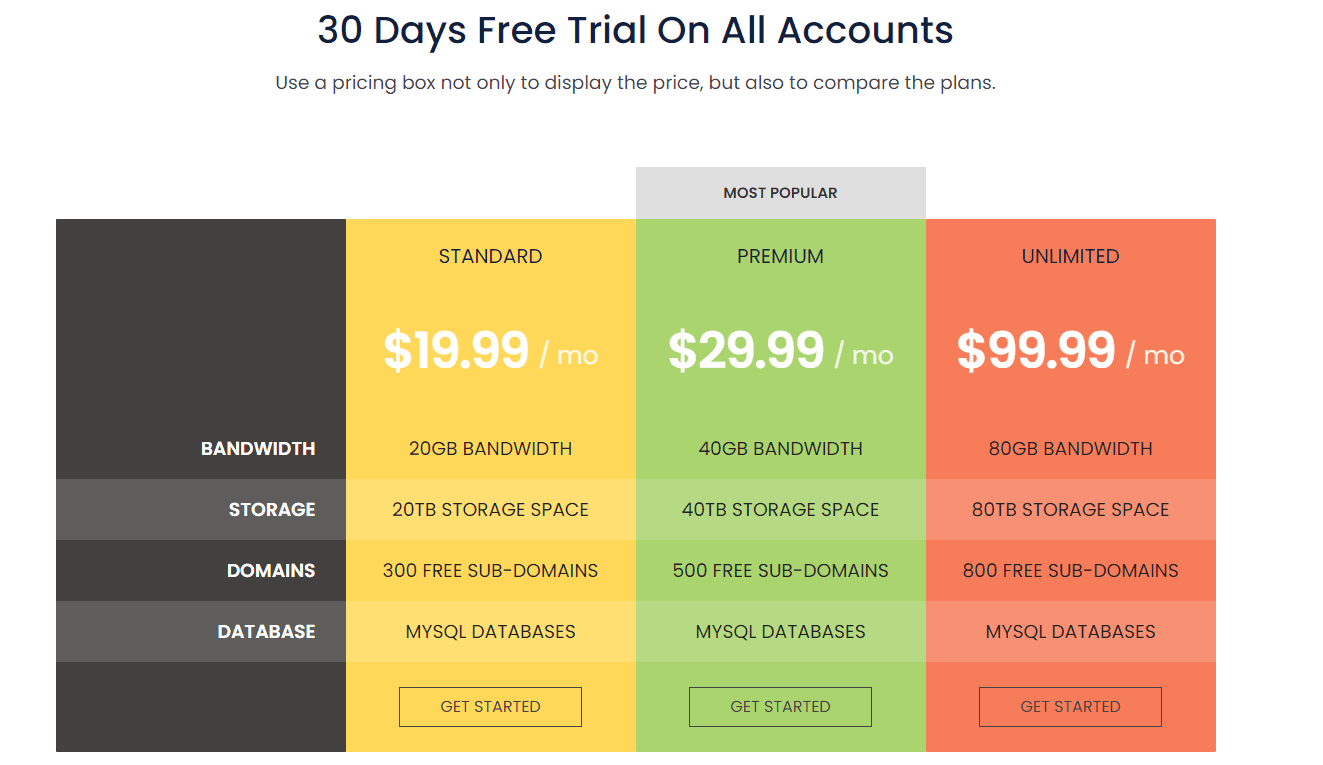 People want to know exactly what is being offered to them at each price range. They want to see exactly what features they will get for the extra money they will be spending from their pocket.
Clear pricing tables are much more likely to generate sales for your product or service.
Pricing of Beaver Builder Lite
This article is about the Beaver Builder Lite but we should talk a little about the pricing of the premium version just so you get a rough idea.
Three plans are available with Beaver Builder:
The Agency Plan is priced at $399 and allows for white Labeling.
The Pro Plan is priced at $199 and does not allow White Labeling
The Standard Plan is priced at $99 and does not allow Beaver Builder Theme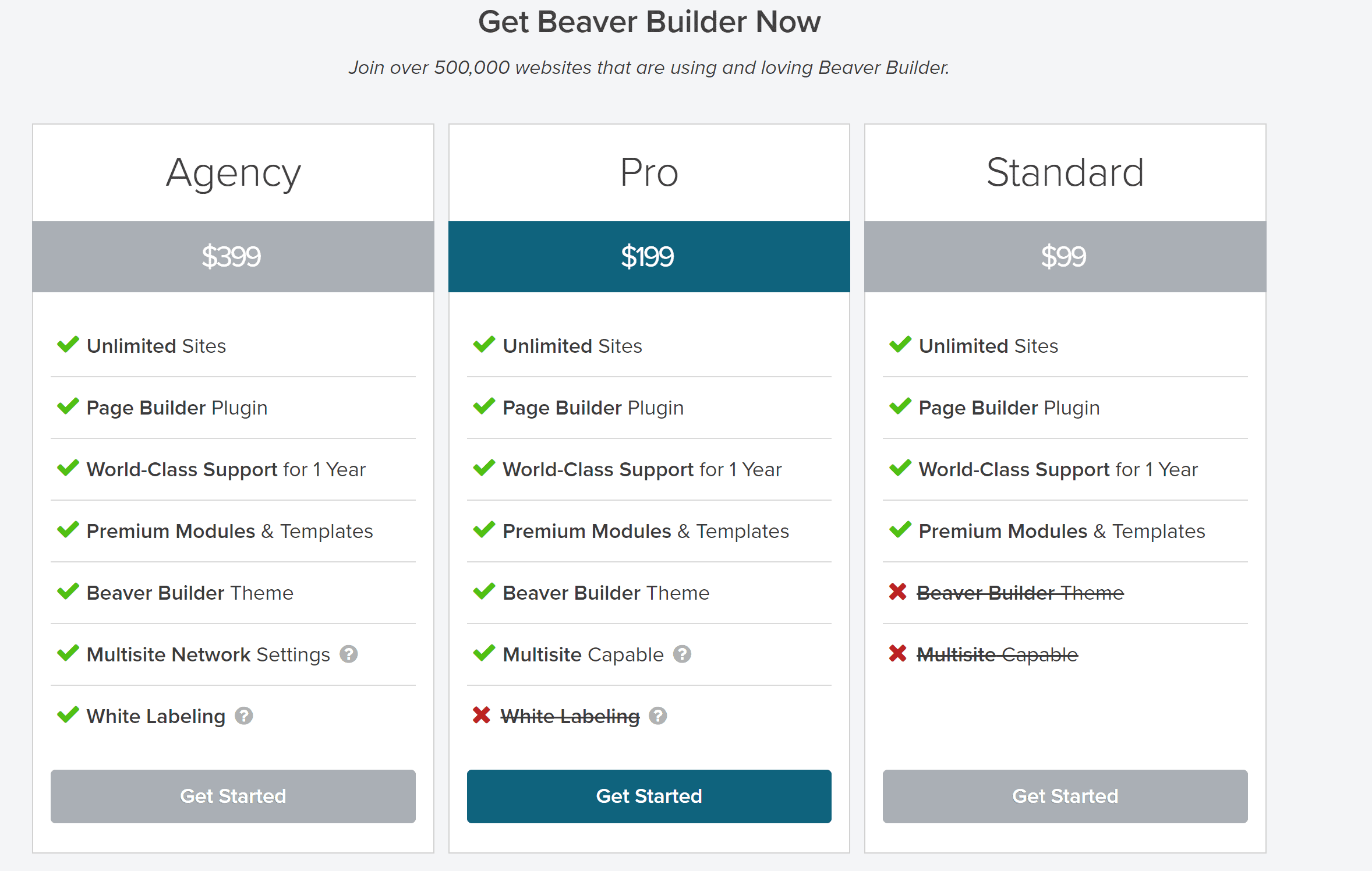 Some common features for all the plans:
Unlimited Sites

Plugin for page development

Excellent Customer Support

Premium Templates

Top-Notch Modules
Beaver Builder Customer Reviews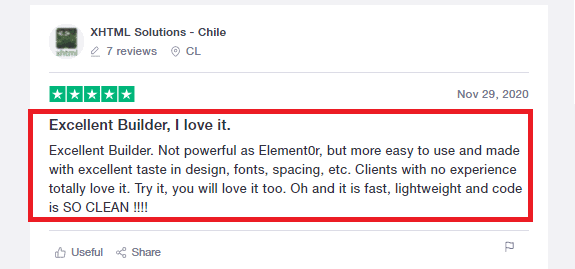 FAQs | Beaver Builder Lite Review
Can I upgrade my Beaver Builder Lite membership as an existing user?
Yes, that's right you can! You can start off using Beaver Builder with the standard plan then as you see better results you can opt for the higher plans, even after you have signed up
What are the refund policies of Beaver Builder?
This is a feature that gives relief to those who are planning on testing out Beaver Builder. It may seem like a daunting venture to place that much on software but it is definitely worth it, and you think otherwise; after purchasing it. No worries, Beaver Builder offers you a refund if claimed within the first thirty days.
Can Beaver Builder Make a website for me?
No. Unfortunately, Beaver Builder does not offer such a service. It boasts only great plugin features and can bring about the professional edge your website so dearly needs through its superior tools. Yet it does not design your website for you.
Does Beaver Builder work with any theme?
Beaver Builder provides hundreds of themes & layouts that are customizable. It is one of the best page builders available in the market that can work with any and every theme.
How does the Beaver Builder Booster plugin work?
As soon as you install the plugin, you can initiate it and the additional modules by actuating on the Beaver Builder dashboard. After you refresh the normal Beaver Builder Interface, you will be able to see all modules accessible on the sidebar of the page. The code of this plugin is designed in such a way that it is compatible with both the WordPress interface as well as Beaver Builder interface. This makes it possible for users to avail themselves of the modules of the add-on with ease.
How to Build WordPress Sites Instantly with WP Beaver Builder?
All you have to do is start working with Beaver Builder. Start making your website using their instructions.
How to Get Started with the Beaver Builder?
The content section of WordPress is distinct from the header, footer, and sidebar. The Beaver Builder plugin enables the creation of layouts according to the content area. Additionally, you may use the Beaver Themer plugin to build layouts in places beyond the content area.
What Can You Use Beaver Builder For?
It is helpful for anyone with a website. It is the industry's finest drag-and-drop page builder for WordPress. It enables you to quickly and simply build stunning websites and landing pages without writing a single line of code. Beaver Builder enables you to work more efficiently, not harder. For all WP Engine clients, It is the perfect WordPress page builder.
Is Beaver Builder SEO-friendly?
Yes, it is. You may certainly construct an SEO-friendly website using Beaver Builder if the other components used to make the website complement each other and are also SEO-friendly. The following is a breakdown of the main components required for SEO success.
Quick Links:
Conclusion: Beaver Builder Lite Review 2023
After reading through this you must have understood all the nifty features that Beaver Builder offers us.
Beaver Builder Lite is surprisingly reasonable in the features that it offers. It can be seen in all pricing options Beaver Builder lets you use it on unlimited websites. 
This kind of generous offering is provided to the users of Beaver Builder Lite. Although it should be noted that the paid plans offer much wider and a lot more often essential features.
But based on the extensive research we have poured into this tool we think the price tag attached is actually quite reasonable. 
Beaver Builder Lite is an easy-to-use drag-and-drop website builder. It's ideal for beginners who are looking to get a site up without the fuss of coding or design skills.
The responsive theme options make it one of the best builders on the market with its seamless integration, which makes updating your content a breeze!
If you're in need of a simple tool that can help build your business online, then we highly recommend checking out this program today!