Have you ever wondered why plugins are used or how they help us?
To put it simply and conceptually, plugins are tools or tiny bits of software that will invariably help you with your WordPress website or platform in terms of saving you the time and effort of editing and writing codes by hand if you are not a coder, designer, developer, or even if you only have a passing familiarity with HTML.
One major idea behind purchasing a combination or bundle of plugins is that it will essentially assist you in creating a template or platform that will assist you in basic areas, such as having a lean, secure, yet creative, and functional WordPress platform.
In this article, you will have an insight into one of the most preferred and renowned platforms, the Beaver Builder Slider.
My opinion on Beaver Builder has previously been shared. To get more information about the Beaver Builder Review click here.
Beaver Builder Slider Review 2023: Overview
Beaver Builder is doing well with the functionalities that it provides to users and has earned the title of being a leader.
Because of the user-friendly and easy-to-use user interface, they are undoubtedly one of the brands most preferred and chosen by most graphic designers and website builders beginners.
They are also often known to be one of the most preferred builders and a plugin/extension of the platform and one of its kind in terms of the plugin relating to WordPress that you would want to go ahead with to get the job done quickly and in a way that you would save yourself time.
Following this, you may want some positive takeaways on the platform that you can all agree on.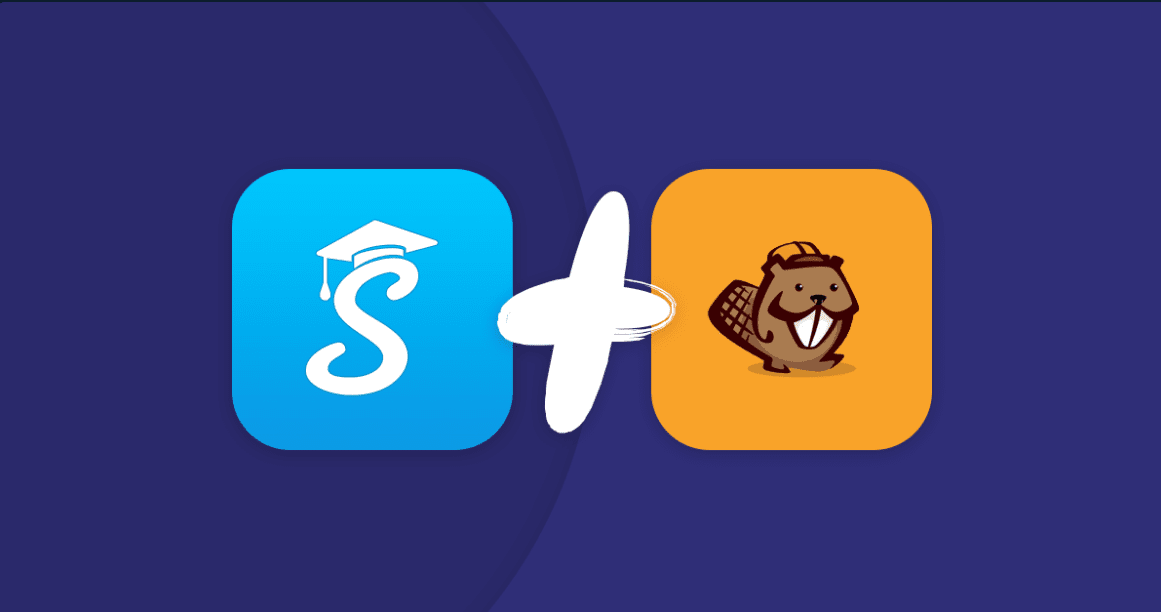 Beaver Builder is an excellent option to create unique content designs, short video clips, or templates for your WordPress website.
It is also one of the most potent premium versions in terms of the tools that they use.
Packed with beneficial features, benefits, and eye-catching advantages, there are a few areas where they would like to focus more attention, which can be accomplished with a specialist plugin that makes the tasks more accessible and more efficient.
Along with their previous and current Smart Slider and Beaver Builder versions, you could also create an attractive slideshow.
If you are a working professional or doing this as a side hustle, create it as a slide show over your website to put out information that can catch the eyes of your audience and ensure that they linger around for a longer time.
Furthermore, the premium version of the software includes four new modules that will serve you well:
Search module

List module

Login forum

Button group module
Ensuring that with these new modules that provide new and extensive features, you would also receive improvements in the existing modules where the platform has upgraded.
You May Also Like This:
Who is Beaver Builder Slider better suited for?
In the real sense, using the platform and its latest versions is for individuals and users who want to use the platform or a template that does not glitch.
As a result, the price charged by the platform is an indefinite charge for the platform's creativity, efficiency, quality, and dependability of the customizable templates.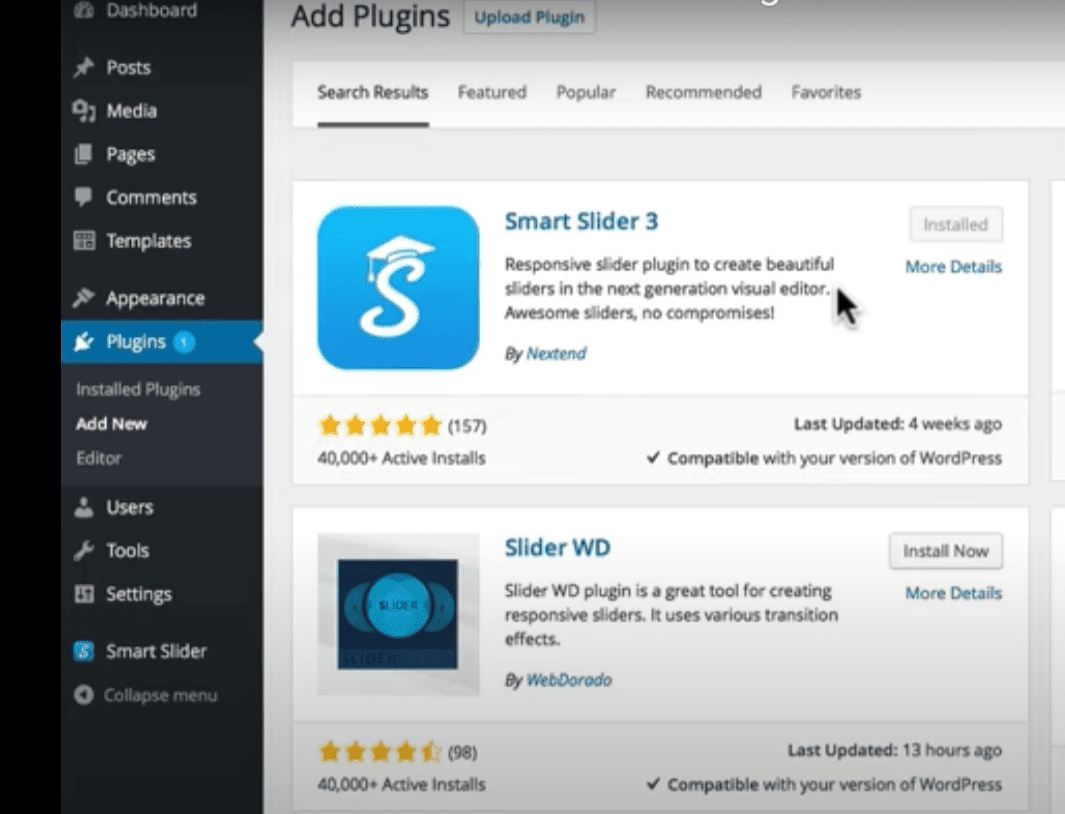 As a result, in this segment, I wanted to take a moment to discuss the possible target audience and the benefits that can be derived from the platform if the right people use it.
With that being said,  I believe several users and individuals can benefit from the platform:
Individuals who have blogs or who have always been managing the web pages of their sites and platforms could derive maximum benefit through it and want to revamp their space.

As discussed earlier, it would also be highly beneficial for designers and website developers who are looking to build sites and pages for their clients could have benefits as well.
However, it is essential to also mention that the platform Beaver Builder is a platform that is entirely user-friendly and ensures that even beginners who are starting could use the platform to ensure that they have a beautiful page that their audience can visit time and again.
Their intuitive page ensures that they have front-end editing, which enables you to enjoy editing, building, and managing your website.
Why Should Sliders Be Used?
After a brief discussion over the platform of Beaver Builder, they specifically have a variant that deals with one of the products named Beaver Builder Slider.
This allows you to create your variety and variant of custom sliders as well as slideshows that you would want to make with your creativity.
This would give easy access to multiple templates that will help you in creating the design that would give you the power to glide through your creative process and have the slides as per your requirements.
The Sliders are a new feature enabling you to put interactive product displays and several other aspects like custom page designs on your website.
This feature is aimed at providing you with an all-around page that will get you more results as compared to a standard page with graphics or pictures.
How to Create Sliders with Beaver Builder?
1. For starters, the free Beaver Builder Slider version is one of the best options if you are a beginner looking for personalization and customization in upgrading your WordPress webpage or those designers on a budget.
However, based on customer feedback, it is recommended that you opt for the premium version, which provides you with a broader range of options rather than having to work with the free version's limited module section.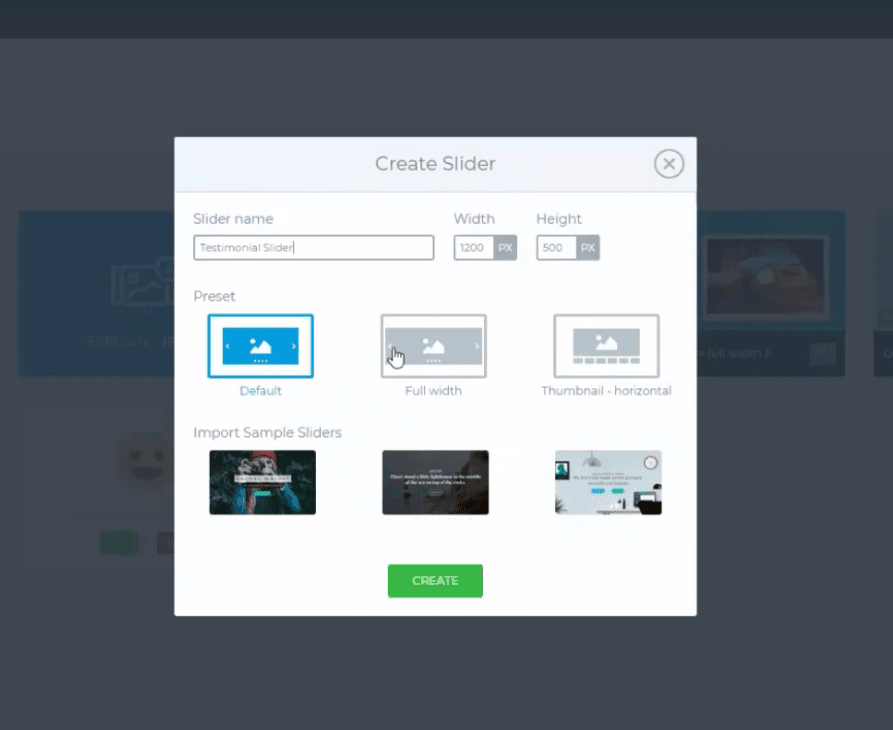 2. If you choose to upgrade, you can create the basic version of slideshows, sliders, and posts, with the additional step of dragging down slider modules on your page to design.
You could define your display properties here if you want properties relating to how the final output should look.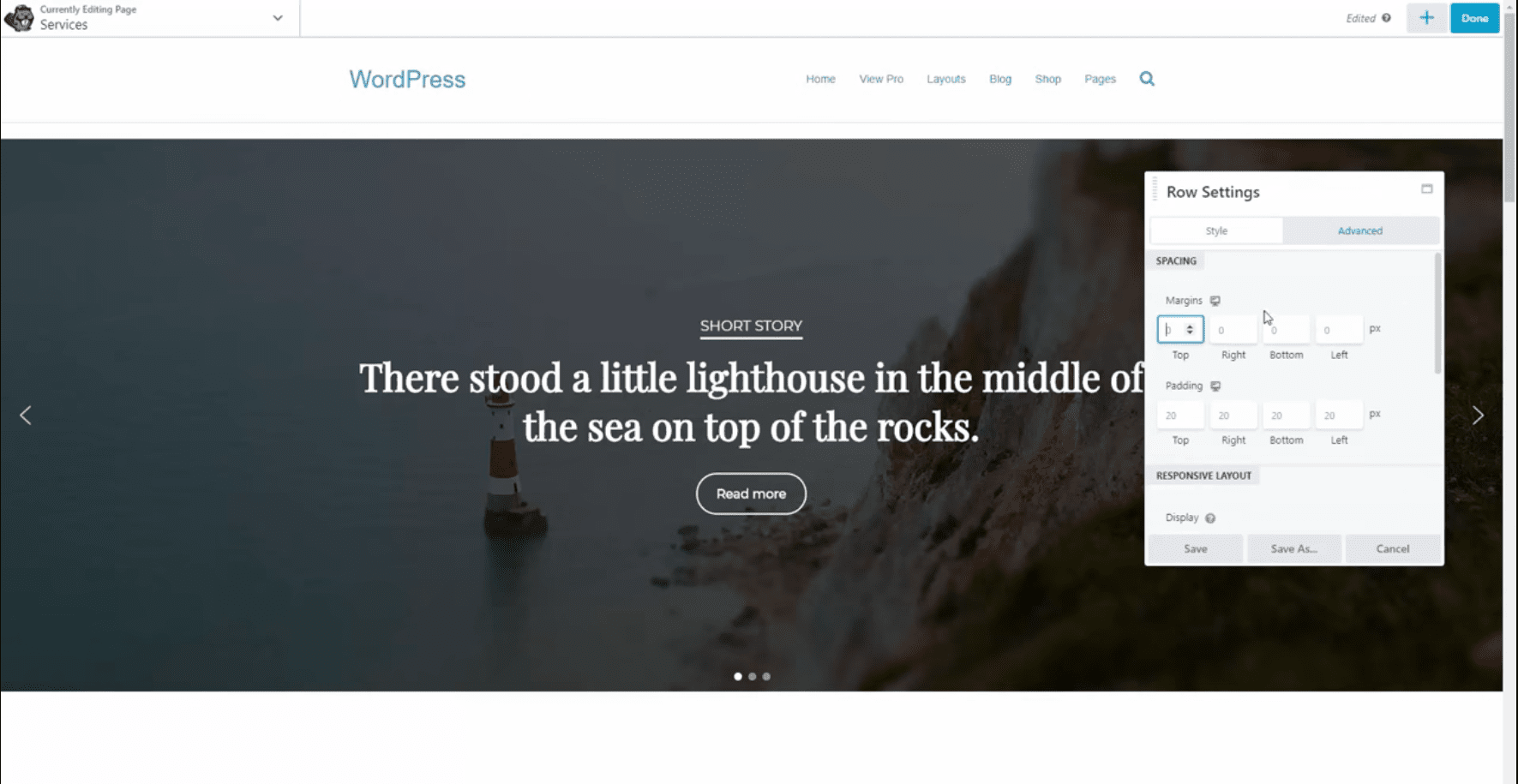 3. There will be a setting option where you can create your content sliders that can combine photographs, videos, and text fonts to customize the message to your audience.
4. Mobile control is an addition that allows you to easily control whether the slider elements are hidden or visible on the devices that are viewing it.
Pricing Plans of Beaver Builder
With the table above-mentioned table, the pricing chart is as follows:
Standard: $99 annual subscription
Pro: $199 annual subscription
Agency: $399 annual subscription
Ultimate: $546

annual subscription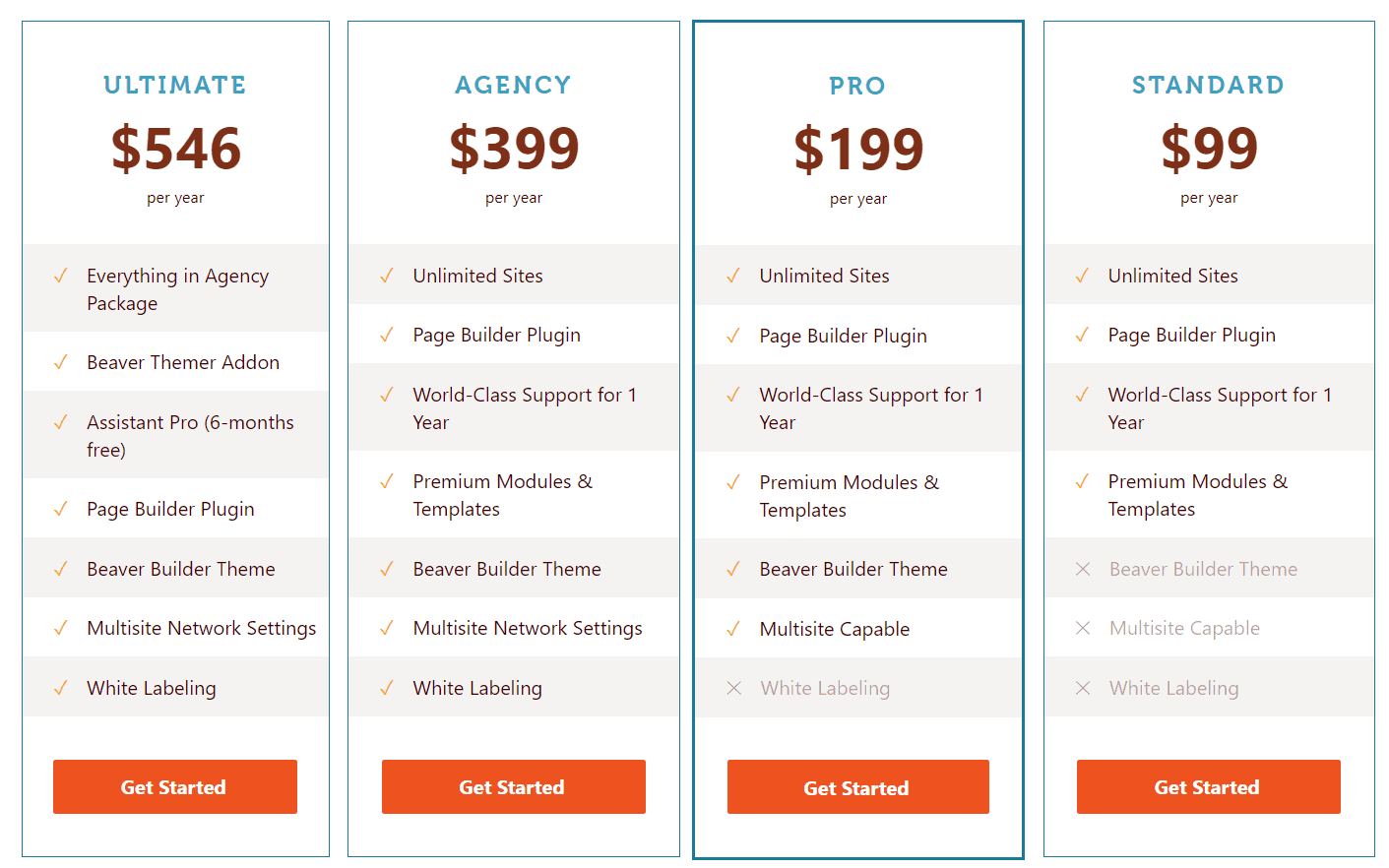 FAQs On Beaver Builder Slider Review 
With that stated, there are some FAQs from current and new users regarding the platform that they want to know more about, so I'll address a few of them:
What is the use of Beaver Builder Slider?
Beaver Builder Slider gives you the ability to create your own variety and variant of custom sliders as well as slideshows that you would want to make with your own creativity and customization.
Are shortcodes supported by Beaver Builder?
Yes! This page builder supports shortcodes. Shortcodes help you to access Beaver Builder along with your other favorite plugins without any issues.
Is Beaver Builder Right For You?
It is. It is an excellent page builder with several unique quirks and features geared toward experienced web developers. It has a slick UI and a respectable template collection, but it falls short when it comes to price.
Is Beaver Builder fast?
It certainly is. It is a drag-and-drop application based on the Bootstrap framework that promises to be quick and lightweight.
Is Beaver Builder SEO-friendly?
Yes, it is. You may certainly construct an SEO-friendly website using Beaver Builder provided that the other components used to make the website complement each other and are also SEO-friendly.
Quick Links:
Conclusion: Beaver Builder Slider Review 2023
I hope that by writing this article, I was able to provide you with a brief overview of the platform and the services it offers.
Overall, I wanted to shed some light on this very beautiful platform if, in general, an individual or an experienced professional is interested in creating an aesthetic and a creatively custom page that includes unique, creative, yet advanced slideshows.
Having to use the platform Beaver Builder as well as Smart Slider together may be the solution you've been looking for.
Installing or considering installing their free version alongside the premium version while building your unique and handsome WordPress website.
Choosing this platform would be an innovative and efficient way to upgrade your content and website in just a few clicks and minutes regarding your time and energy.