Hey there! 
If you've used Elementor, you might be definitely in need of the Elementor addons and plugins. 
Well, Elementor plugins are pretty popular in the market, with over 5 million professional users. Elementor itself is a highly-rated page builder that powers around 7% of all WordPress websites out there.
I have used 100s of plugins and addons in my application of Elementor page builder. Because it comes with so many features and benefits. 
However, some Elementor Addons might be free while many come with a paid license. 
In this article, I will list such best Elementor Addons and plugins that enhance the functionality of this page builder. But, first look for the criteria that I used to select the best Elementor AddOns. 
 What did I look for in selecting Best Elementor AddOns? 
Out in the wild, you'll come across a number of Elementor Addons. However, not all of them live up to their intended functionality, and some even fail to work.
Here are the criteria that you should look in: 
Number of Widgets/Functionality: The first thing that I consider is the number of widgets in the add-on and what functionality it is going to offer.  More widgets mean a greater variety of features and customization options for your website.
Price: The next thing that I take into account is the cost of the add-on and whether it fits my budget. Also, make sure to determine if it offers good value for the features it provides. 
Modules: Check what modules or elements the add-on offers. These modules can enhance the functionality and design options available to you within Elementor. Keep in mind that these modules should have the option to enable or disable.
Performance: Consider the performance of the add-on. It should not slow down your website or cause any glitches. Opt for add-ons that are optimized for speed and efficiency.
Compatibility: While many add-ons work well with most themes and plugins, there are some cases where compatibility issues may arise. For instance, if you have two plugins that do the same thing, they could conflict with each other and cause certain features to malfunction
To avoid any complications, it's a good idea to do some trial and error on a staging or test website before going live. This allows you to observe how the plugins behave without affecting actual users.
Now, let's hop on to my list of favorite Elementor Addons. 
Crocoblock 
Crocoblock takes your Elementor experience to a whole new level. With its extensive set of features and functionalities, it empowers you to create stunning websites with ease.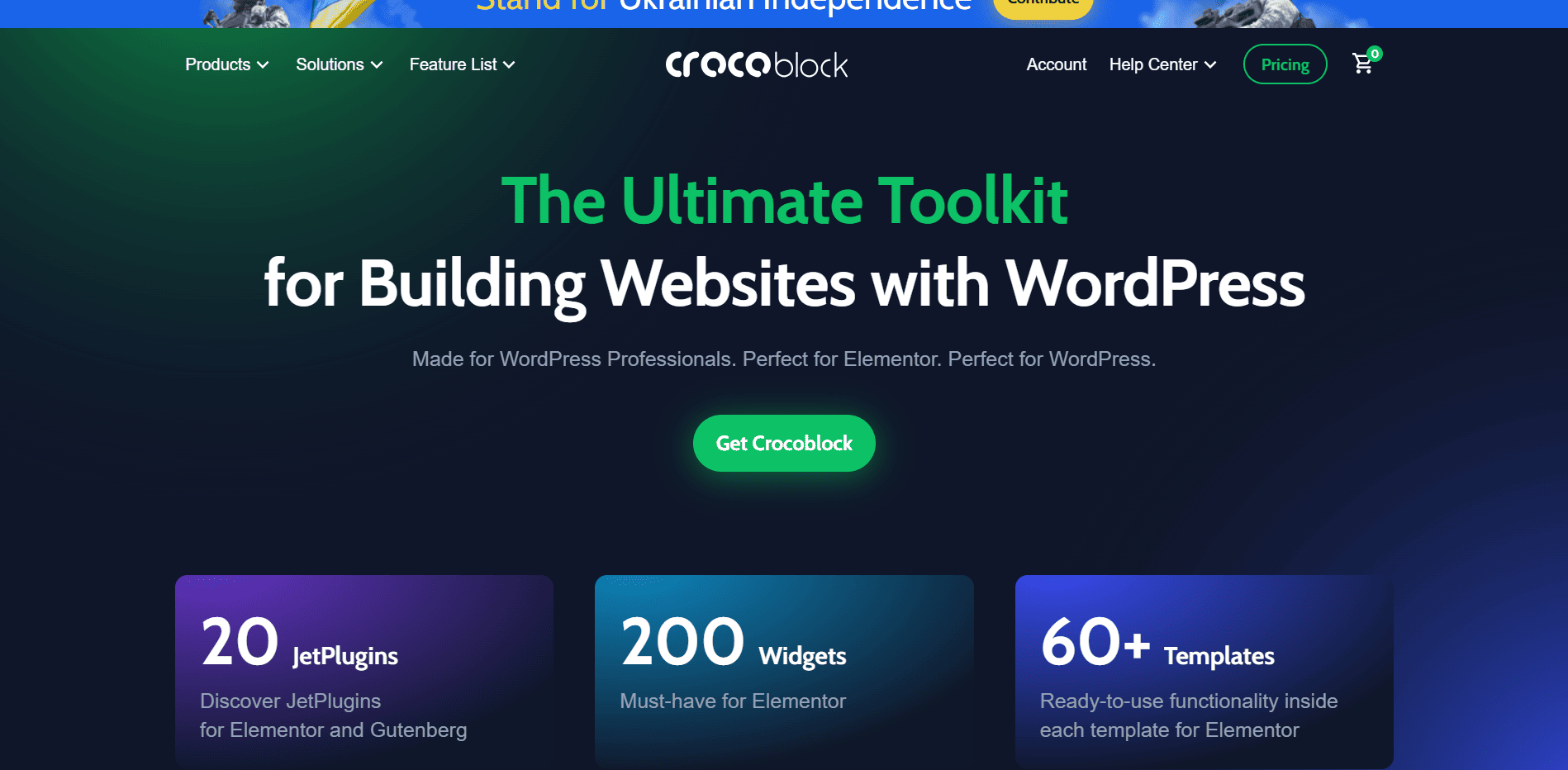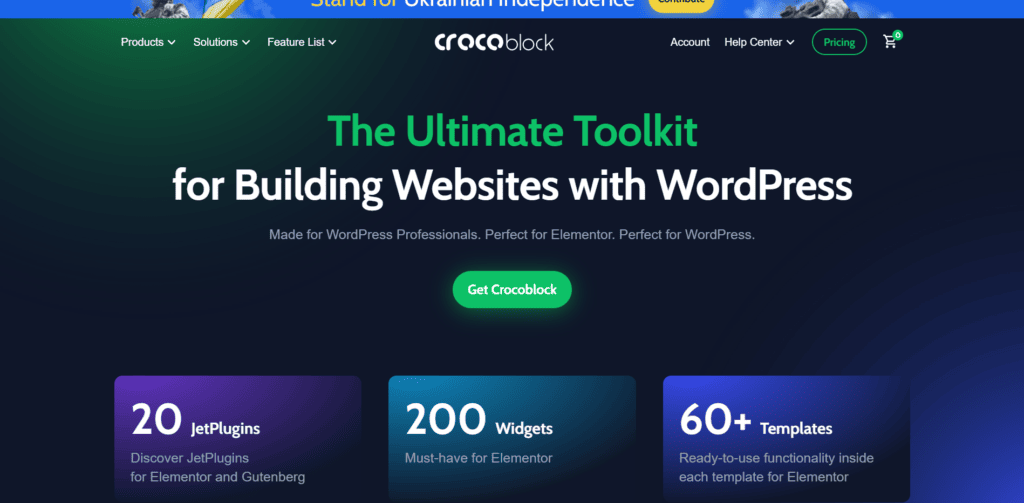 I really like that Crocoblock gives you a bunch of ready-made templates and design elements to choose from. It makes it a lot easier to get started on building your website, whether it's for a business, online store, or personal portfolio.
But that's not all. 
Crocoblock also offers a vast collection of unique widgets and dynamic content modules. These widgets allow you to add interactive elements like sliders, pop-ups, forms, and more, making your website more engaging and user-friendly.
Another thing I really appreciate about Crocoblock is that it works well with other plugins. You can use it with popular ones like WooCommerce for making online stores or JetEngine for creating custom post types and categories.
Features: 
Here is the list of plugins that work great with Crocoblock: 
Jet Engine: With this toolkit, I can quickly and cost-effectively build a dynamic architecture for my website.
Jet Smart Filters: These advanced ajax filters allow me to easily filter custom post types, posts, and WooCommerce products on my site.

Jet Booking: I can add booking functionality to my rentals and booking website with this plugin, making it convenient for visitors to book appointments.

Jet Appointment: This plugin simplifies the process of scheduling appointments on my website, and it seamlessly integrates with WooCommerce for managing payments.

Jet Woo Builder: With this plugin, I have complete control over customizing every aspect of my WooCommerce store, enhancing its appearance and functionality.

Jet Theme Core: I love that the Jet theme core plugin eliminates the need for Elementor Pro, as I can create templates just as effectively using this powerful tool.

Jet Form Builder: This plugin enables me to create front-end post-submission forms effortlessly. The best part is, it's available as a freemium add-on, so I can access its core features without any additional cost.

Jet Block, Jet Tab, and Jet Element: These add-ons provide me with extra elements in the Elementor editor panel, allowing me to build more intuitive and user-friendly interfaces.
ElementsKit
ElementsKit add-on is an absolute game-changer! It offers a delightful blend of power and simplicity, making website creation an absolute breeze, even for non-coders like me.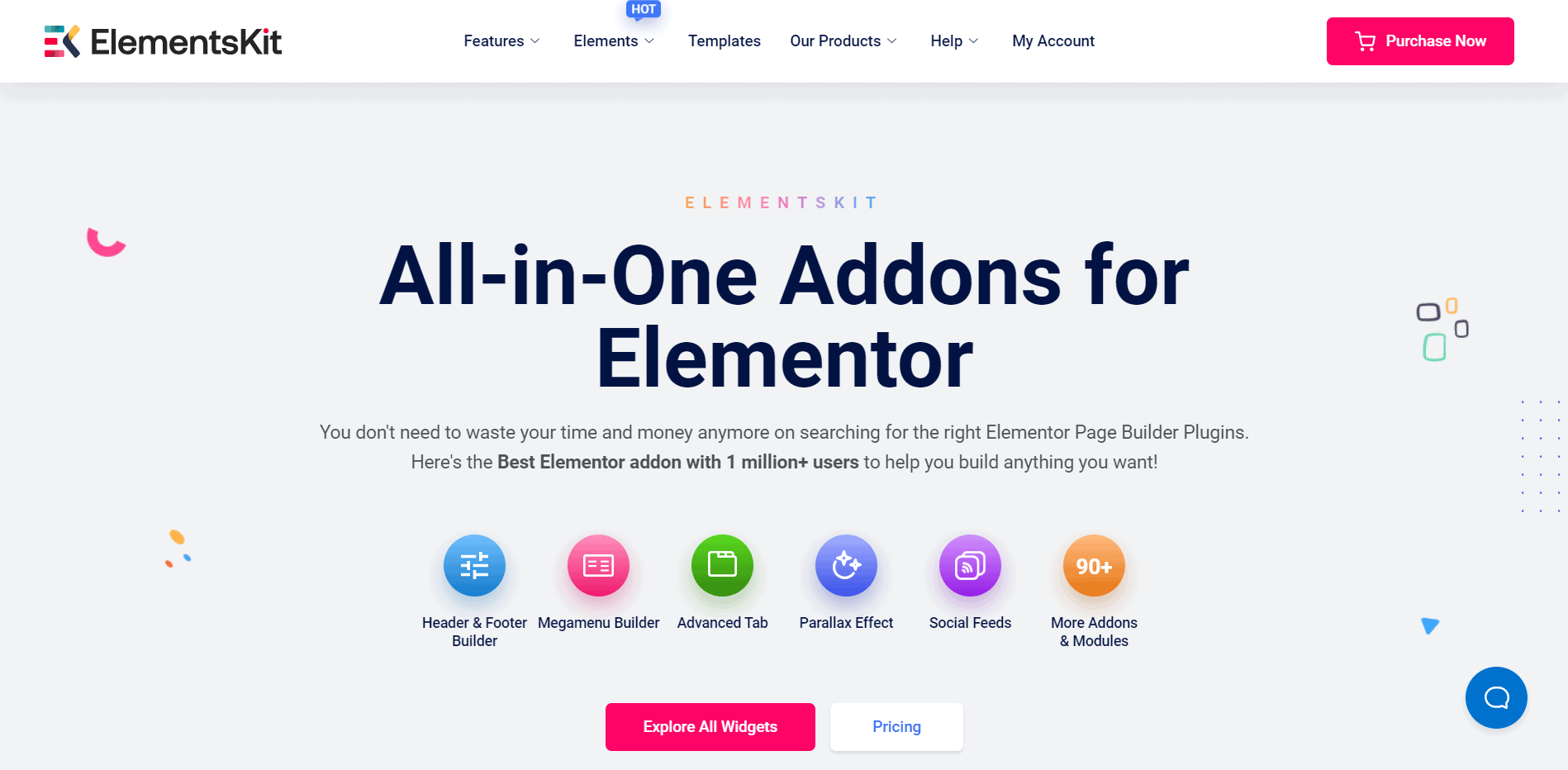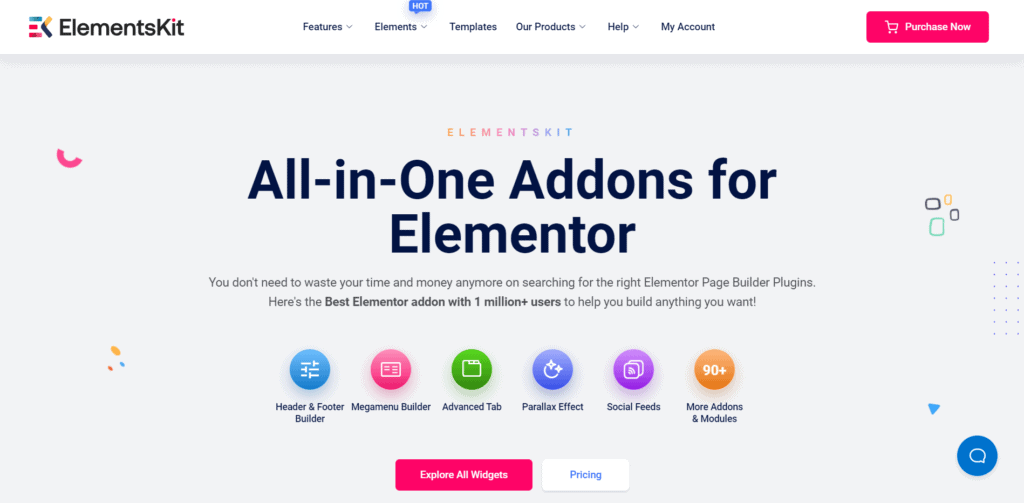 With its fully customizable and beginner-friendly page builders, I can effortlessly craft stunning web pages within minutes, thanks to the intuitive drag-and-drop functionality.
What I truly love about ElementsKit is the level of control it gives me. I can easily manage every module and widget, enabling or disabling them with a simple click from the Backend. 
It's like having the power to sculpt my website exactly the way I want it, with just a few strokes of my keyboard.
The developers behind ElementsKit are committed to providing the best experience for their users, and it shows. Not only is the installation process seamless, but the support they offer is exceptional. 
Features: 
Here are the quick features of ElementsKit: 
Most comprehensive modules:

ElementsKit brings together a wide range of comprehensive modules under one hood, including the Header Footer Builder, Mega Menu Builder, Layout kit, and more.

Vertical Mega Menu:

ElementsKit allows you to style your Vertical Mega Menu with options for customizing Content, Icon, Badge, Position, and more.

45+ Pre-designed Header & Footer Templates:

Choose from a diverse set of pre-designed templates for your website's header and footer, including Classic, Vertical Menu, Black with Social Icon Shadow, and many others.

55+ Free and Premium Elements:

ElementsKit offers a vast collection of both free and premium elements to enhance your websites, such as Image Accordions, Hotspot, WooCommerce Product List, Vertical Menu, and more.

500+ Ready Sections:

Discover over 500 ready-to-use sections categorized by various types, including About, Archive, Call to Action, Client, Contact, FAQ, and many more.

30+ Ready Pages:

ElementsKit provides a combination of ready-made pages for different purposes, such as Homepage, Landing page, FAQ Page, Services Page, and more.

250+ Widget Presets:

Take advantage of the extensive library of widget presets, including Dual Button, Call to Action, Facebook Feed, Social Share, and many others.

WooCommerce Widgets:

ElementsKit offers dedicated WooCommerce widgets like Woocommerce Product List, Product Carousel, Category List, Mini Cart, allowing you to enhance your online store's functionality.

One Page Scroll:

Experience exclusive navigation styles with ElementsKit's One Page Scroll feature, offering customization options for positioning, color, and Tooltip Typography.
The Plus AddOns 
If you're seeking fresh and innovative features to enhance your Elementor experience, The Plus AddOns is definitely worth exploring.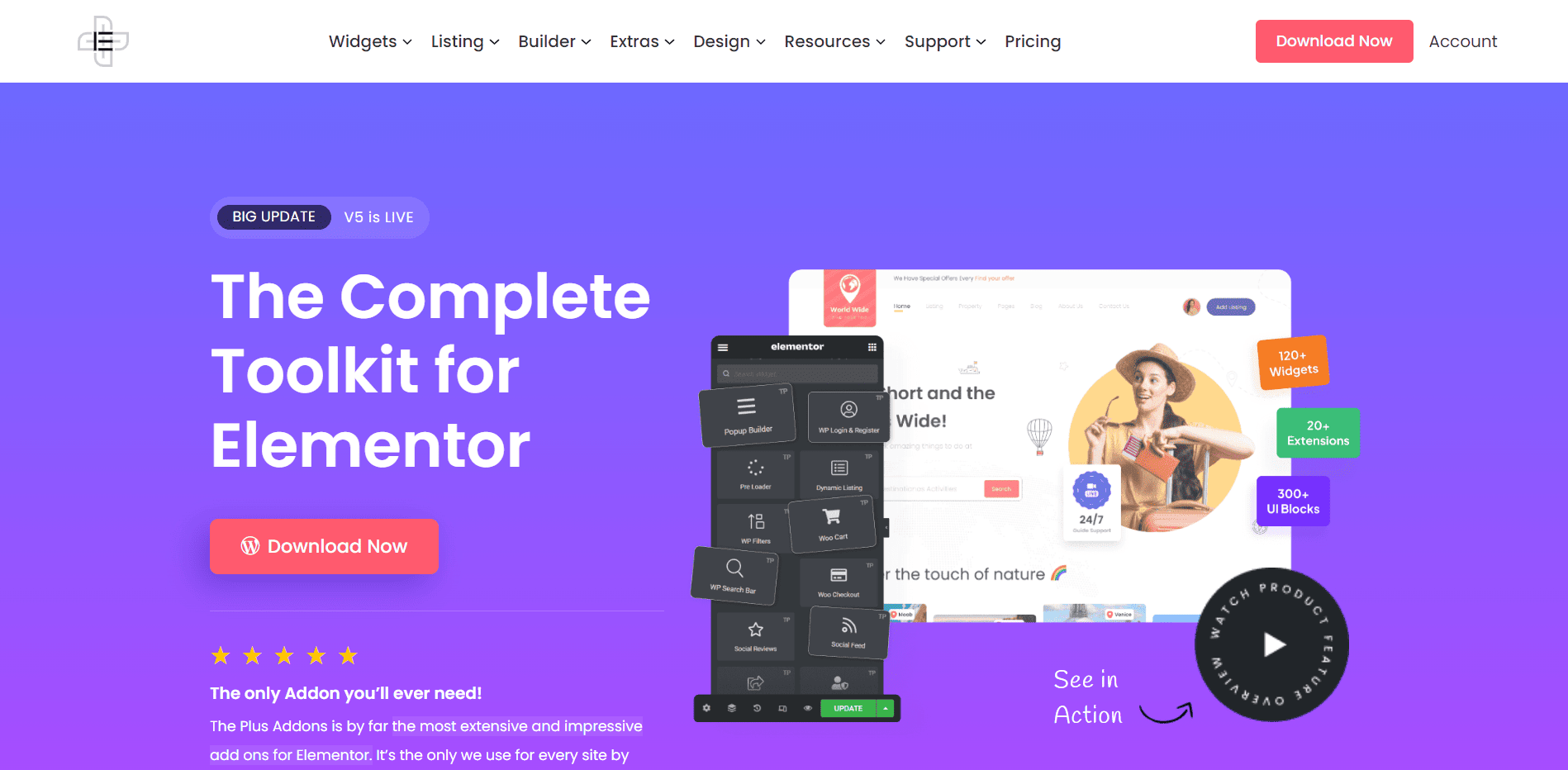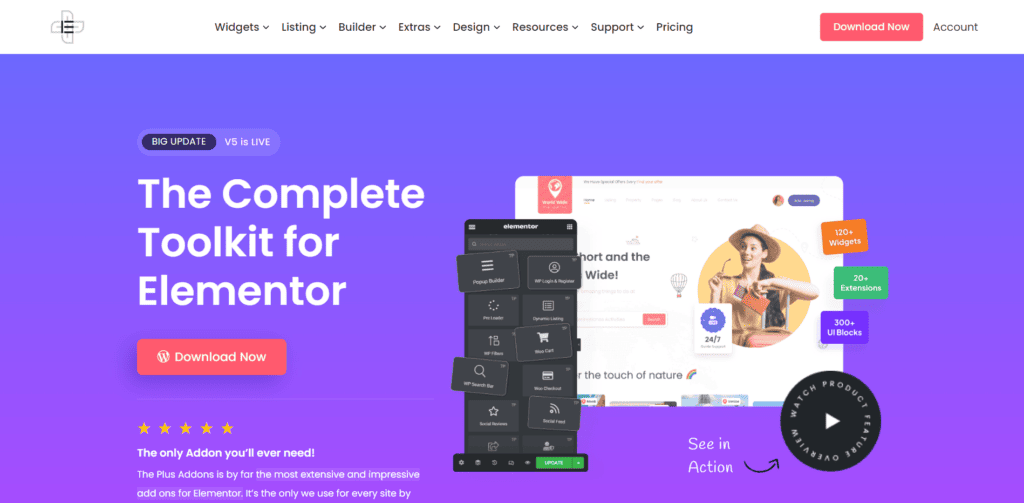 With over 80 new widgets specifically designed for Elementor, such as Timeline, Ad banners, Carousels, Pie charts, and Hotspot, you'll have a plethora of options to create unique and engaging web pages.
The Plus AddOns provides 18+ pre-designed templates that serve as a great starting point for building visually stunning and captivating websites. 
Whether you're a beginner or an experienced designer, The Plus AddOns opens up a world of possibilities to elevate your web design projects to new heights.
Features: 
The Plus AddOns is the ultimate feature-rich addon for Elementor, specifically focusing on design elements. It offers an extensive collection of design elements, making it the go-to choice for enhancing the visual appeal of your website.
Here are the quick features: 
Sticky columns

Tilt 3D effects

WooCommerce Compatible

Ease of use

Extremely fast

Coding standards
Essential Addons for Elementor 
 If you're looking for my personal take on Essential Addons for Elementor, I must say it's a game-changer.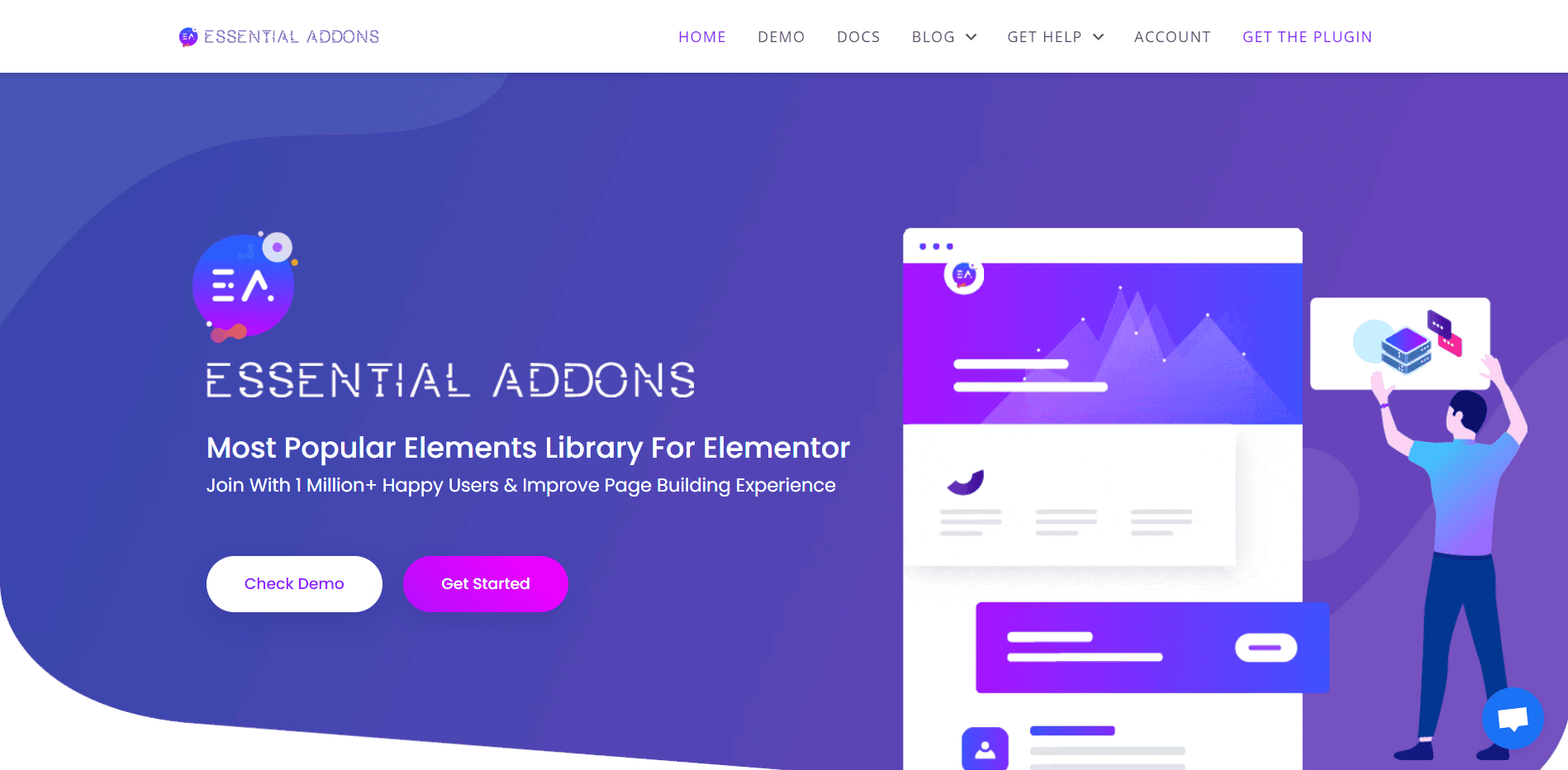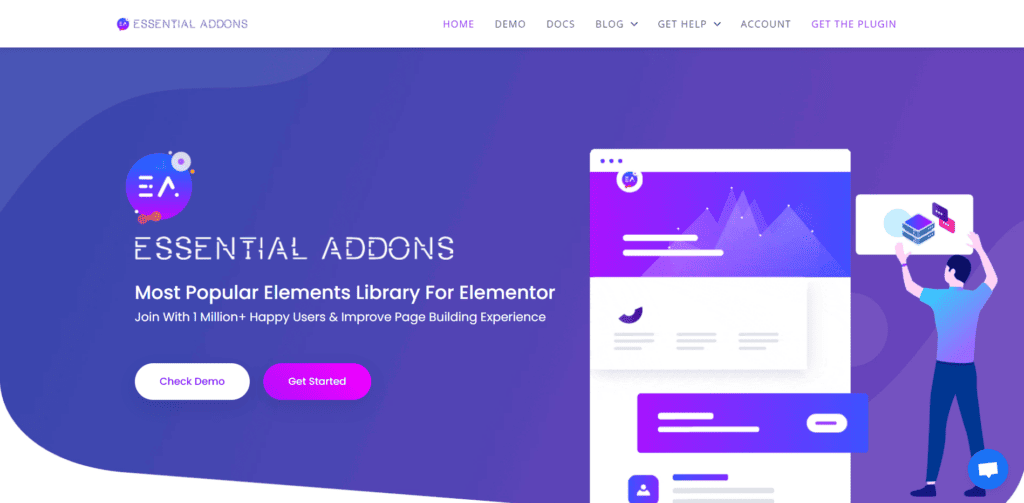 I've had the pleasure of using it extensively, and it has truly enhanced my web design experience with Elementor.
What sets Essential Addons apart is its vast collection of additional elements and features. It's like having a treasure trove of widgets, extensions, and templates at your disposal. From eye-catching blocks to interactive widgets, Essential Addons offers endless possibilities to make your website stand out.
I particularly love how user-friendly it is. Navigating through the addon is a breeze, and the integration with Elementor is seamless.  The drag-and-drop functionality and intuitive interface make it easy for even non-tech-savvy individuals like me to create visually stunning and functional websites.
Features:
Here are the quick features of this plugin: 
65+ Elements

100 ready-made blocks

7+ Extensions

Completely Customizable

Unlimited Activation

Elements control option

Free and pro extensions

Premium Support
Premium AddOns 
Whether you're a seasoned professional or a beginner like me, this add-on has everything you need to create stunning web pages that truly stand out.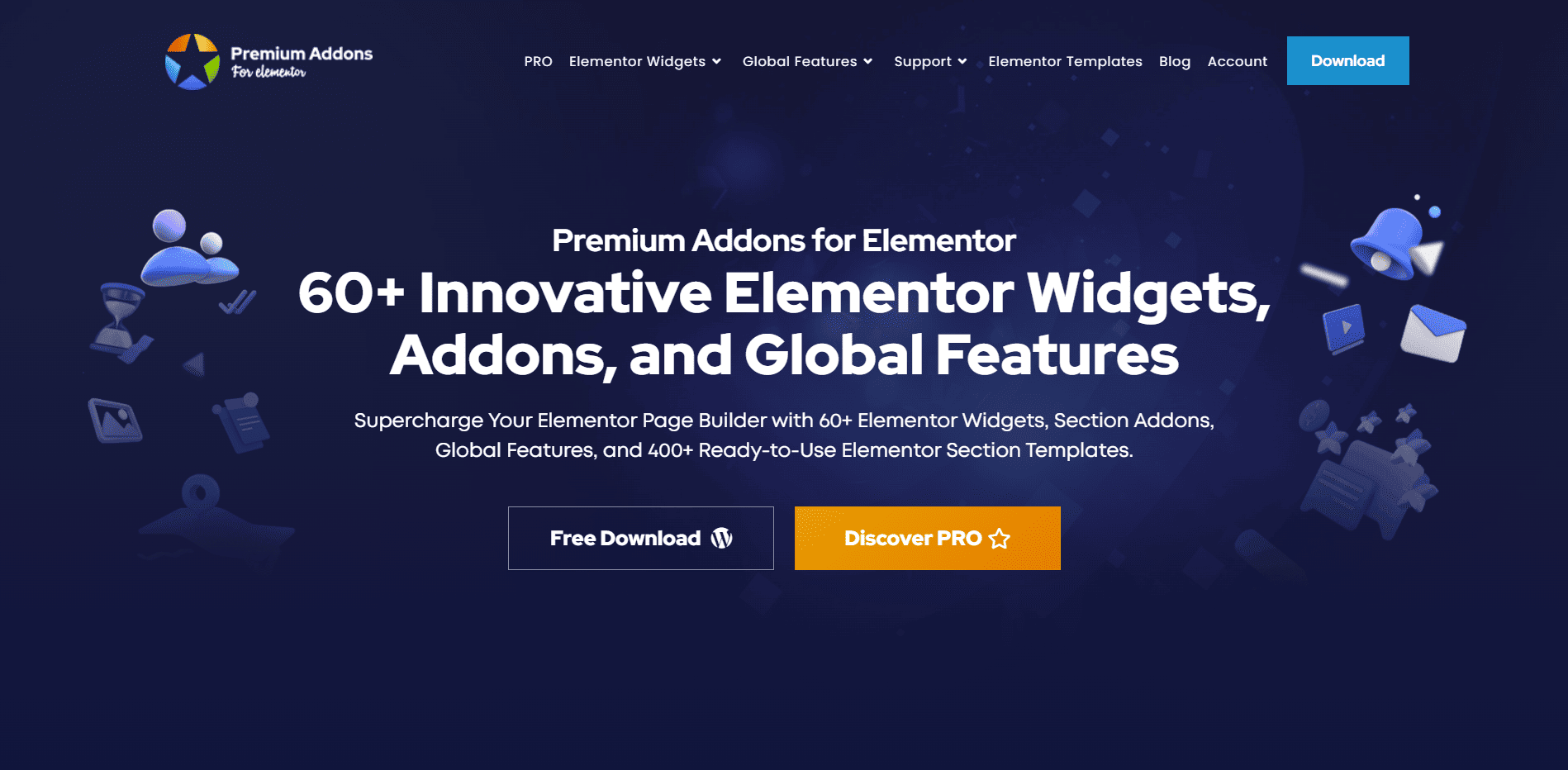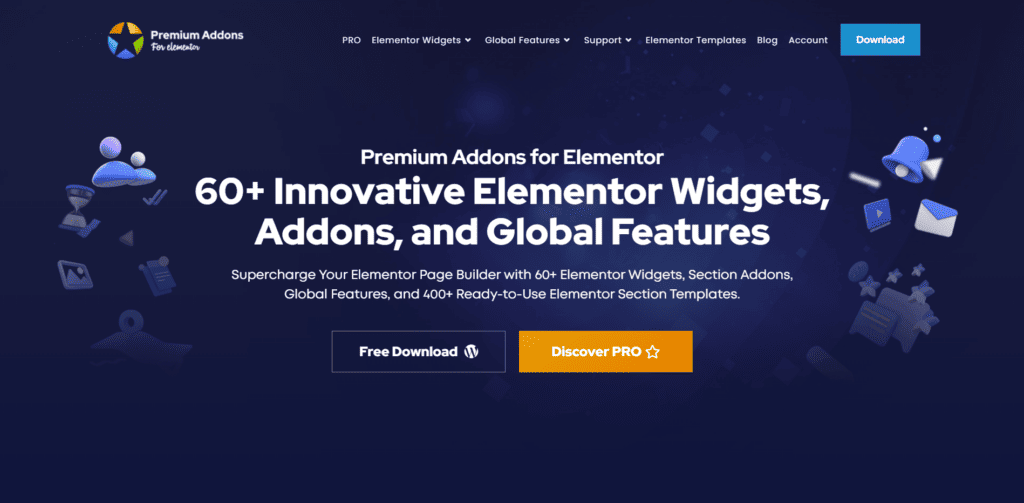 One of the things I love about Premium AddOns is its extensive collection of elements. From advanced widgets to stylish buttons and dynamic sliders, it provides a diverse range of options to enhance the visual appeal of your designs. 
I was able to effortlessly add interactive forms, eye-catching pricing tables, and other attention-grabbing elements to my web pages, elevating the overall user experience.
What truly sets Premium AddOns apart is its library of pre-designed templates. These templates are not only visually appealing but also cater to different industries and design styles. It saved me a ton of time and effort by providing ready-made designs that I could customize to fit my needs. 
Features: 
Here are the quick features of Premium Addons for Elementor: 
Ready-made templates that are purely customizable

50+ widgets and add-ons including:

Carousel Widget

Blog Widget

Image Layers Widget

Image Accordion Widget

WPML ready

Lightweight and modular
Piotnet Addon
When it comes to enhancing the power and flexibility of Elementor, Piotnet Addons for Elementor (PAFE) is the addon pack I turn to without hesitation.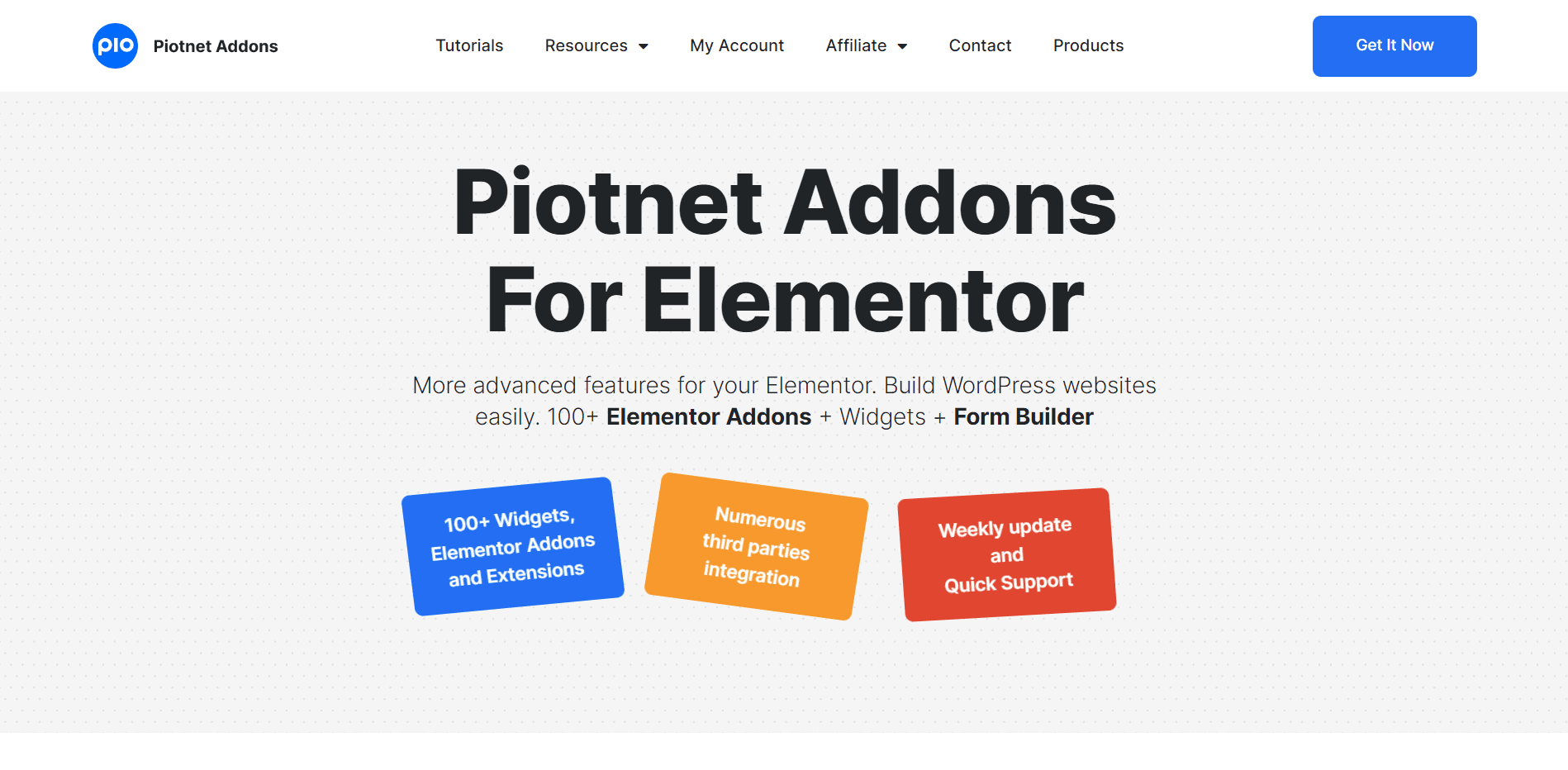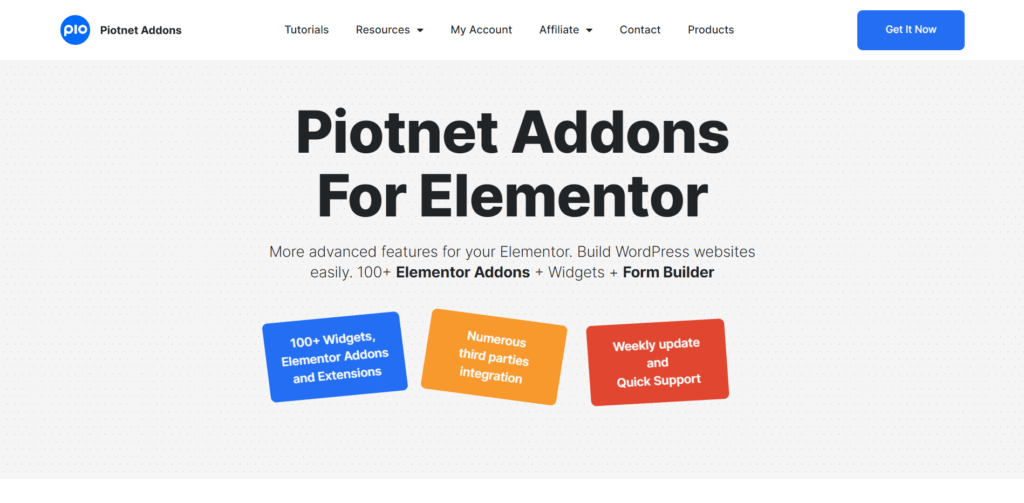 PAFE offers an impressive array of features, including 6 widgets, over 45 extensions, and a robust form builder that takes web design to a whole new level.
One of the standout features of Piotnet Addons is its comprehensive form builder. 
With the ability to create dynamic forms with conditional logic and calculated fields, I was able to craft highly interactive and personalized forms that catered to specific user inputs. 
This level of customization empowered me to create forms that were not only visually appealing but also highly functional and efficient. What sets PAFE apart is its focus on extending existing widgets to make them more flexible and versatile. 
With Piotnet Addons, you get access to widgets like Accordion, Tabs, Modal, Gallery, Sticky, and Pricing Table. These widgets provided me with an enhanced level of control over my designs, allowing me to create engaging and interactive content that captivated my audience.
Features: 
Now, look at the most extensive features of Piotnet add-on: 
Piotnet and Dynamic.ooo are the only addons for Elementor that allow you to easily create nested repeater fields on your templates, simplifying the process without technical complexities.

Piotnet form builder enhances the Elementor form widget, allowing you to create highly attractive and engaging forms that encourage users to click the submit button.

The multi-step form widget in Piotnet Addons enables the creation of beautiful forms using image radio buttons, enhancing the visual appeal and user experience.

Piotnet form builder offers advanced payment integration capabilities. While Elementor Pro has two integrations (Paypal and Stripe), Piotnet Addons goes a step further with three options (Paypal, Stripe, and Mollie), expanding payment options and possibilities.

With Piotnet Addons, you can create more appealing, multi-step forms, offering a significant upgrade from the form-building capabilities of Elementor Pro.
Woolentor Add-On for Elementor
WooLentor is a powerful add-on that extends the capabilities of the popular Elementor page builder plugin, enabling you to design every aspect of your WooCommerce store.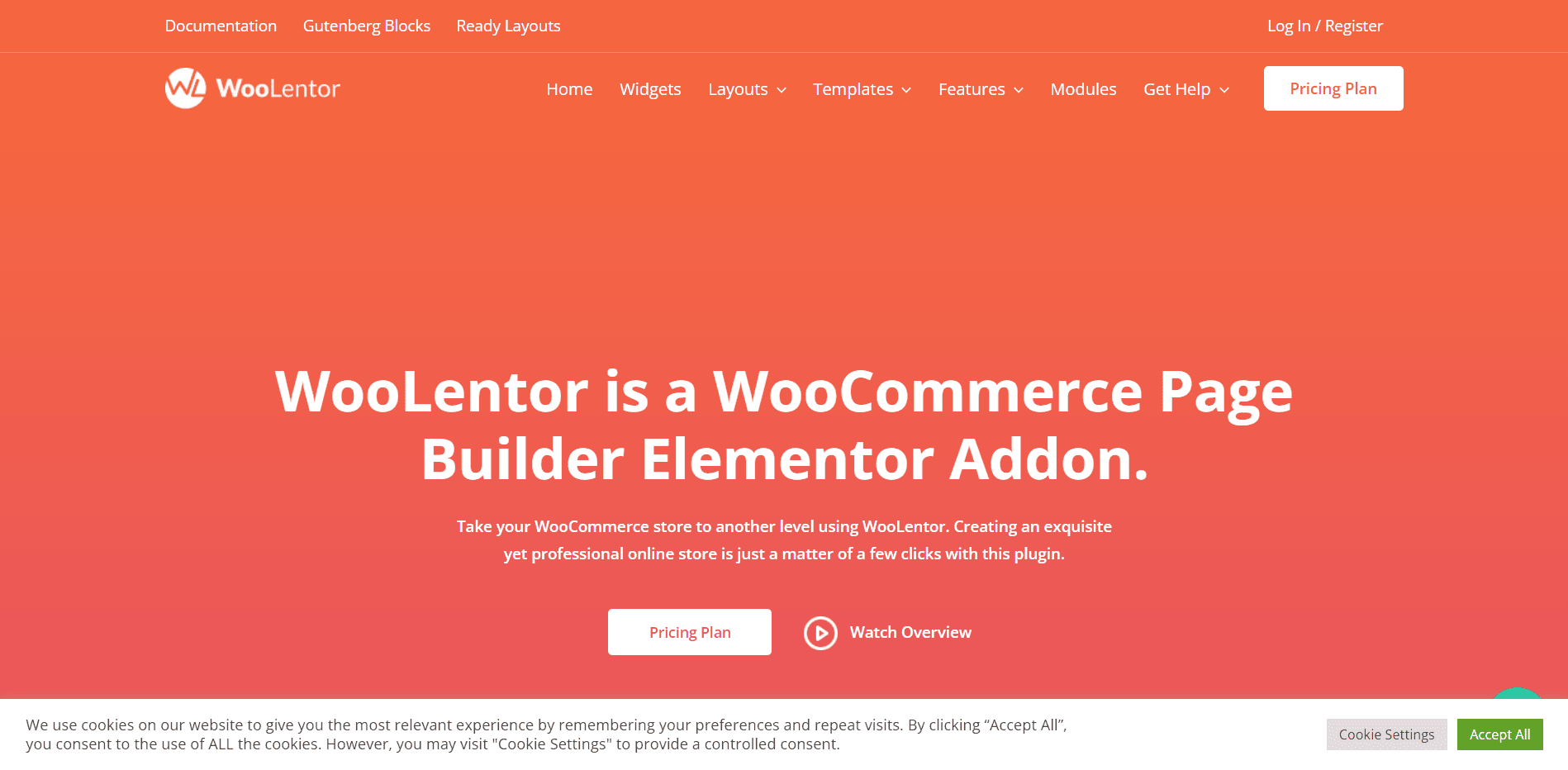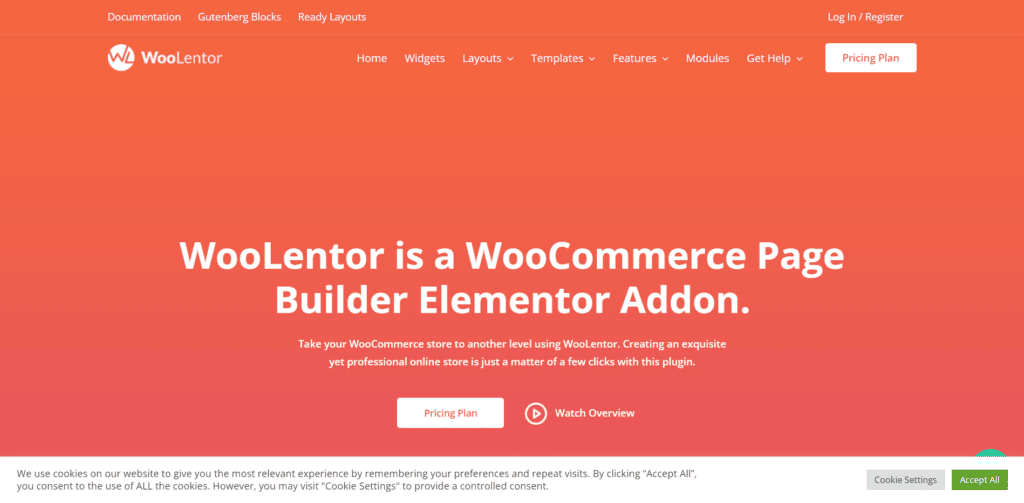 With Woolentor Add-On for Elementor, you have full control over the look and feel of your online store, from product pages and shop archives to the shopping cart itself.
With Woolentor Add-On for Elementor, I was able to design visually stunning product pages, shop archives, and even the shopping cart itself, all within the familiar and user-friendly interface of Elementor. The 41+ dedicated widgets for WooCommerce provided me with endless possibilities to showcase my products and create an engaging shopping experience for my customers.
What impressed me the most were the additional features Woolentor Add-on. 
I was able to incorporate sales notifications, special promo banners, suggested prices, and other elements that added a touch of professionalism and helped drive conversions. It truly helped me make money and maximize the potential of my online store.
Features: 
Let's look at the best features of Shoplentor: 
Woolentor extends the functionality of the Elementor page builder to design every part of your WooCommerce store.

Offers 41+ dedicated widgets specifically designed for WooCommerce, including product titles, images, descriptions, upsells, cross-sells, and related products.

It allows customization of product pages, shop archives, and shopping cart design within Elementor.

The plugin enables the addition of special features like sales notifications, promo banners, suggested prices, and other elements to enhance the shopping experience and drive conversions.

Further, it provides complete control and flexibility in designing every aspect of your WooCommerce store, ensuring a visually appealing and cohesive design throughout the entire shopping journey.
LiveMesh AddOn for Elementor 
Livemesh Addons for Elementor is a dynamic and feature-rich addition to the Elementor page builder. It brings a plethora of extensions and functionalities that are typically available only in premium plugins, making it a valuable asset for enhancing your Elementor-powered websites.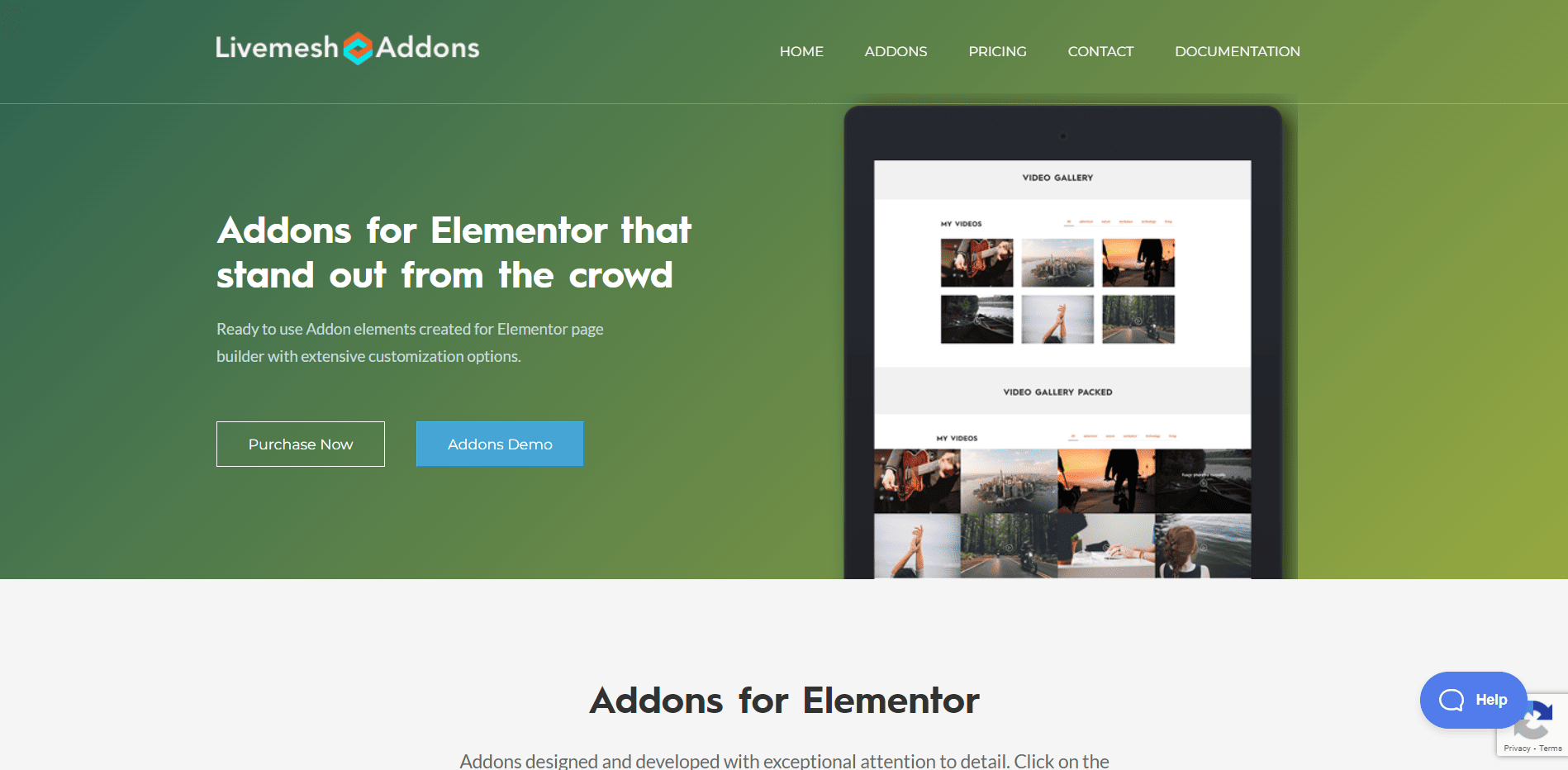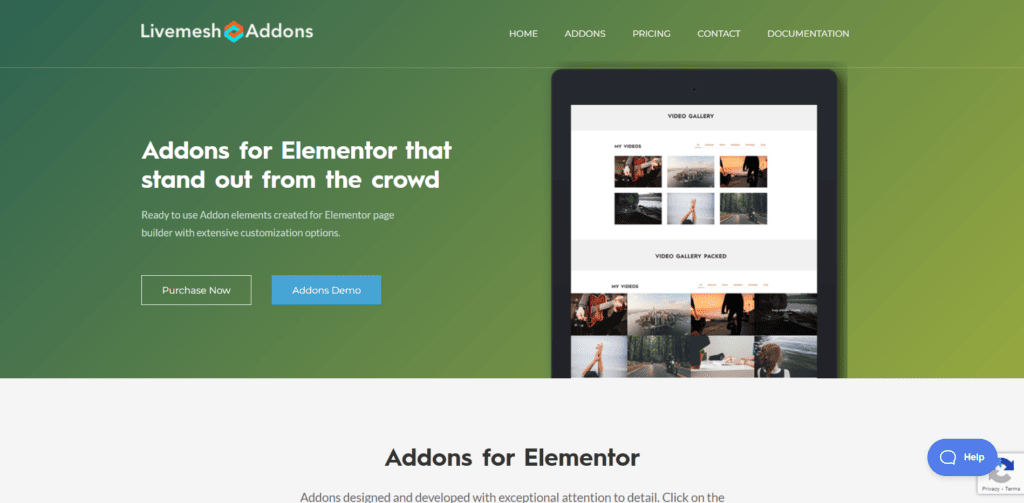 With Livemesh Addons, you gain access to an extensive range of features that expand the capabilities of Elementor. These additional extensions empower you to create visually stunning and highly functional web pages with ease. 
Whether you're looking to add advanced animations, create custom post grids, incorporate beautiful pricing tables, or integrate interactive maps, Livemesh Addons has you covered.
Features:
Listed here are the quick features of LiveMesh: 
25+ Addons

Premium quality Addons

Lightbox Support

Image Gallery

Dedicated Support Forum
Conclusion 
If your focus is on building advanced, data-driven websites, Crocoblock emerges as a top choice. Its comprehensive set of tools and extensions enables you to unleash the full potential of Elementor and create highly dynamic and interactive websites.
For those seeking a balance between design and functionality, both Elements Kit and The Plus Addons deserve your attention.
 These add-ons provide a rich selection of elements and features that allow you to create visually stunning websites while also incorporating dynamic and interactive elements. If you lean towards a preference for dynamic website creations, The Plus Addons should be your go-to choice.
Lastly, let's not forget about the limitless possibilities that Elementor Pro offers. With its powerful features and intuitive interface, it remains a favorite among designers who strive to create captivating websites. 
The combination of Elementor Pro and the addons mentioned in this article ensures that you have all the tools necessary to bring your web design visions to life.
I hope you will get all the benefits that I have mentioned. Oh and do not forget to take this Elementor Pro discount  that offers a 20% saving. 
Also Read: