Are you tired of hearing about the endless debate between Wix and Weblium?
Well, fear not! I, a naive website creator, decided to explore both platforms and share my journey with you.
As I clicked away, I was relieved to find that the debate was not between Wix and Weblium but rather between me and my keyboard as I tried to figure out which buttons to press. Ah, the struggles of website creation!
Wix wowed me with its drag-and-drop interface and tons of customizable templates, while Weblium amazed me with its AI-powered design suggestions.
After much deliberation( yes!! It took me a Couple of Americanos with extra coffee Shots😉) but I finally chose Weblium as my champion, thanks to its sleek designs and mobile responsiveness.
I have shared more about it in my in-depth Weblium Review. 
But hey, don't just take my word for it.
In the rest of this article, I'll dive into a detailed comparison of Wix and Weblium, so you can make your own informed decision and have a few laughs along the way.
Bottom Line Upfront:
What is Wix?
I have to admit, I had always underestimated Wix as a basic website builder suitable only for personal projects or casual fun. I didn't think it could deliver the professional web presence I was looking for.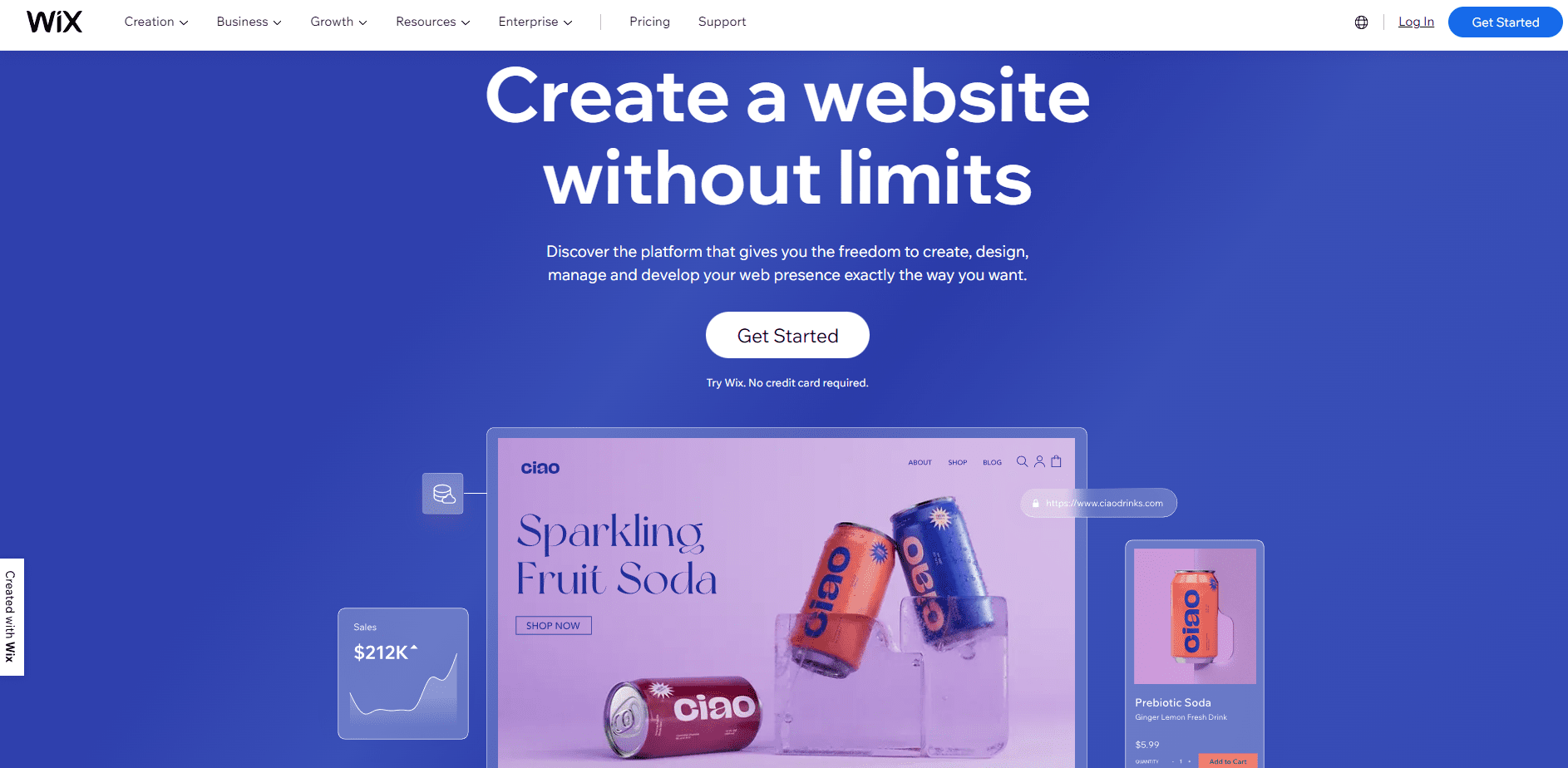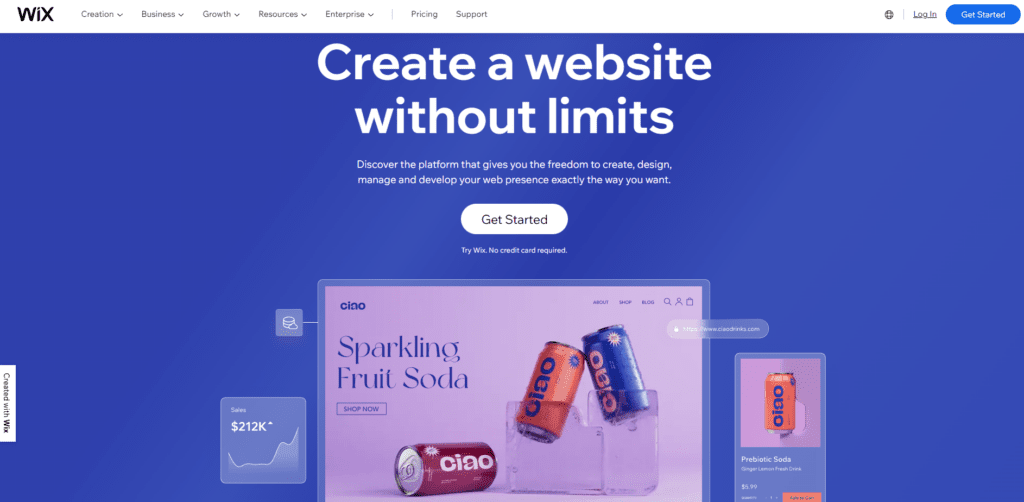 However, I'm not one to shy away from admitting when I'm wrong, and in this case, I was very, very wrong about Wix.
Wix is a powerhouse website builder that combines ease of use with robust functionality. It has proven to be an ideal solution for small businesses in need of a unique and user-friendly website management platform.
One of the most impressive aspects of Wix is its user-friendly interface. Even without any prior experience in web design, I found it incredibly intuitive to navigate.
Trust me, I'm far from being an expert in this field, yet I was able to build a stunning and highly functional website in just an hour. And I'm not alone in my success.
Wix boasts over 200 million users across 190 countries, and this number continues to grow steadily. Talk about a fast learner! I'm sure Wix is so impressed, they'd give me a medal if I asked.
This popularity can be attributed, in part, to the attractive free plan that allows users to create fully functional websites without spending a dime.
What sets Wix apart is its commitment to accessibility.
With support for 19 languages, including English, French, and Korean, Wix ensures that users from diverse backgrounds can easily create and manage their websites. This multilingual approach makes it an appealing choice for individuals and businesses worldwide.
While Wix's ease of use is a significant draw, it doesn't sacrifice functionality. The platform offers a wide range of features and tools that empower users to create professional and visually appealing websites.
From customizable templates to drag-and-drop functionality, Wix provides the building blocks necessary to bring your unique vision to life.
Furthermore, Wix offers a vast selection of apps and integrations that enhance the functionality and versatility of your website.
Whether you need e-commerce capabilities, advanced SEO tools, or social media integration, Wix has you covered. Its app marketplace provides a wealth of options to enhance your website and tailor it to your specific needs.
Here's a quick explainer video for Wix:
What is Weblium?
In my exploration of website builders, I came across Weblium, a platform that offers a straightforward and intuitive website-building experience. With its easy-to-use admin panel, customization options, and a variety of content blocks, Weblium provides users with the tools to create their own unique websites.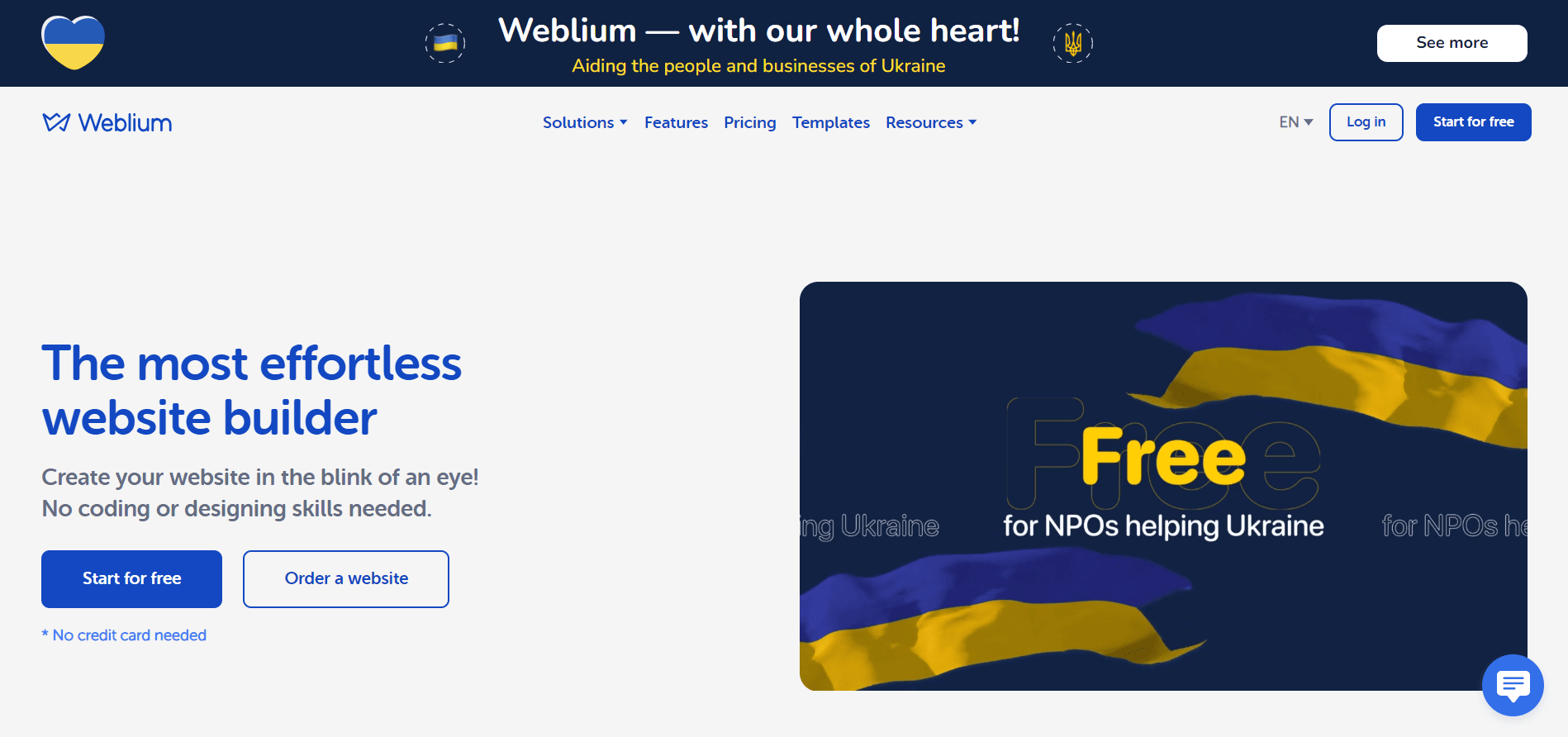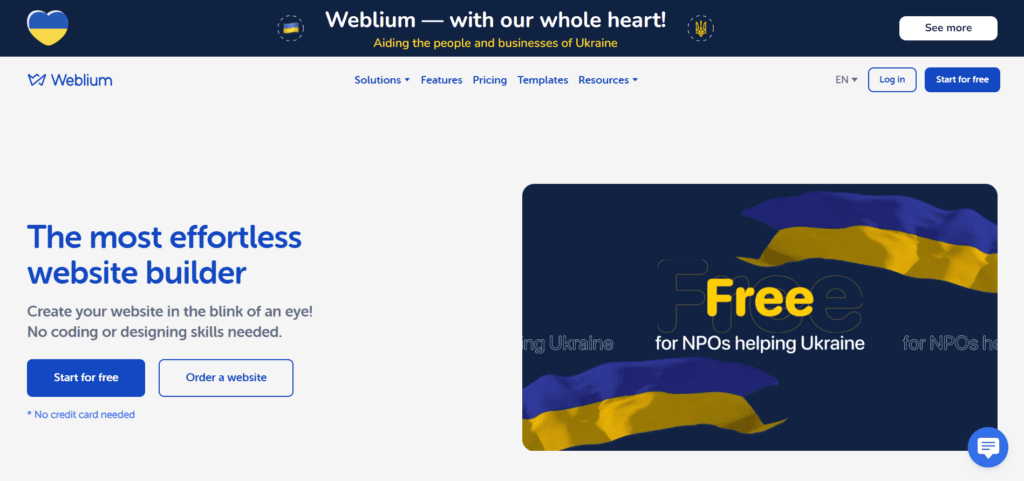 One aspect I found particularly helpful is the smart design supervisor.
This feature automatically updates the website and publishes changes in real-time as you make them. It eliminates the need for manual refreshing or republishing, ensuring that your website is always up-to-date with your latest modifications.
When it comes to adding content blocks, Weblium provides a block library with over 200 options to choose from.
Whether you need a photo gallery, an FAQ section, or any other type of content block, you can easily find and incorporate it into your website. Talk about a one-stop shop!
You can find everything you need for your website, except maybe a cup of coffee. This extensive library ensures that you have the flexibility to create a website that suits your specific needs.
Weblium constantly strives to improve its platform by regularly launching new features and enhancing existing ones. As a user, you can stay informed about the latest updates through the "New" and "Coming Soon" labels displayed on the dashboard.
This commitment to innovation ensures that you can take advantage of the latest tools and functionalities to enhance your website.
Additionally, if you're short on time or prefer to have professionals handle the design process, Weblium offers an in-house design studio.
Available in both English and Russian, this service can provide you with a design concept to review in under three days. While I didn't personally test this service, the website claims to offer a convenient option for users who want a professionally designed website without the hassle.
Check out this explainer video from Weblium: 
Wix Vs. Weblium Comparison
Website Building Interface: Drag-and-Drop Functionality
Both Wix and Weblium employ a drag-and-drop interface, allowing users to easily add and arrange elements on their websites without any coding or design experience. Wix's drag-and-drop editor is known for its user-friendly nature, offering over 500 customizable templates.
On the other hand, Weblium's interface provides a more sophisticated level of customization, allowing for precise control over the look and feel of the website.
Pricing and Plans: Affordable Options for Different Budgets
Wix offers a range of pricing plans to cater to various budgetary needs. They provide a free plan with limited features, as well as premium plans starting at $16 per month.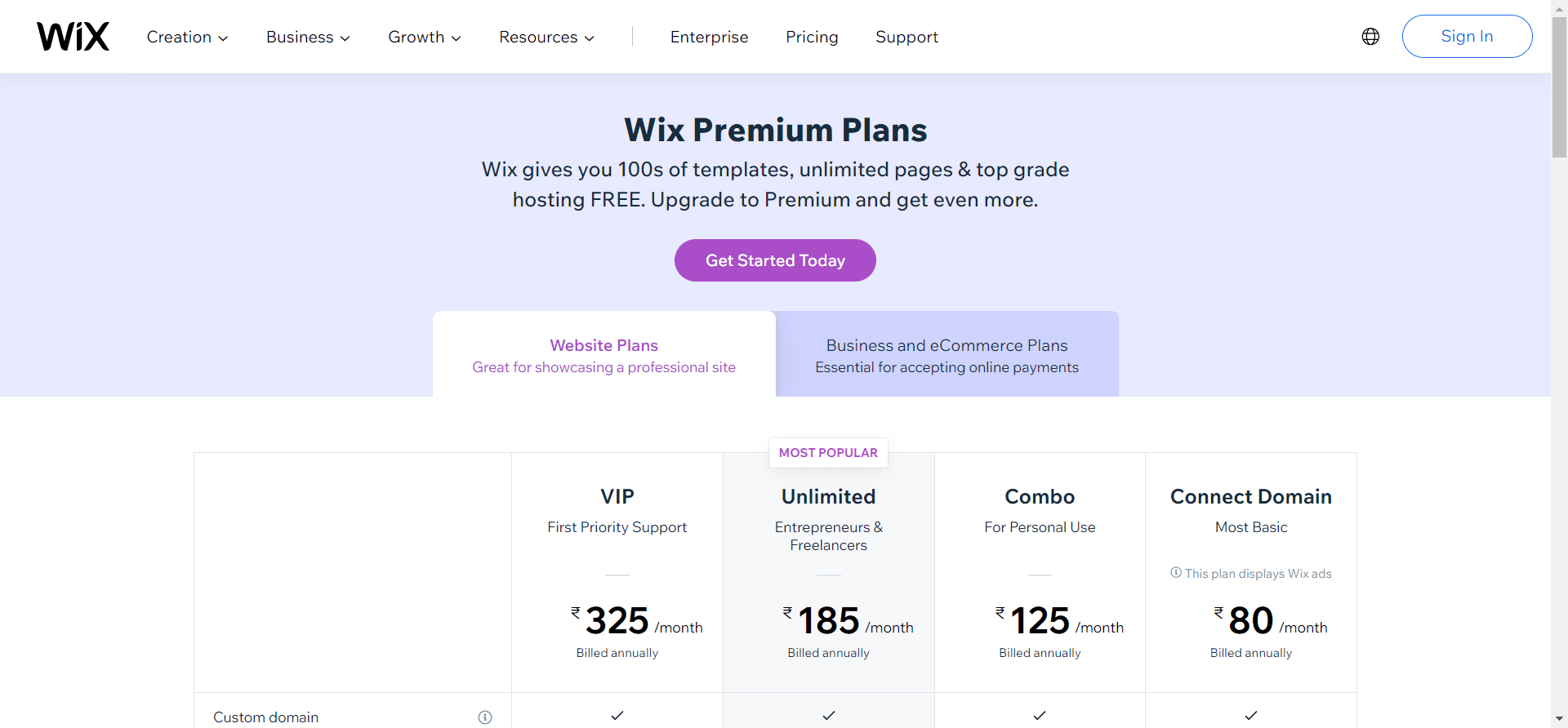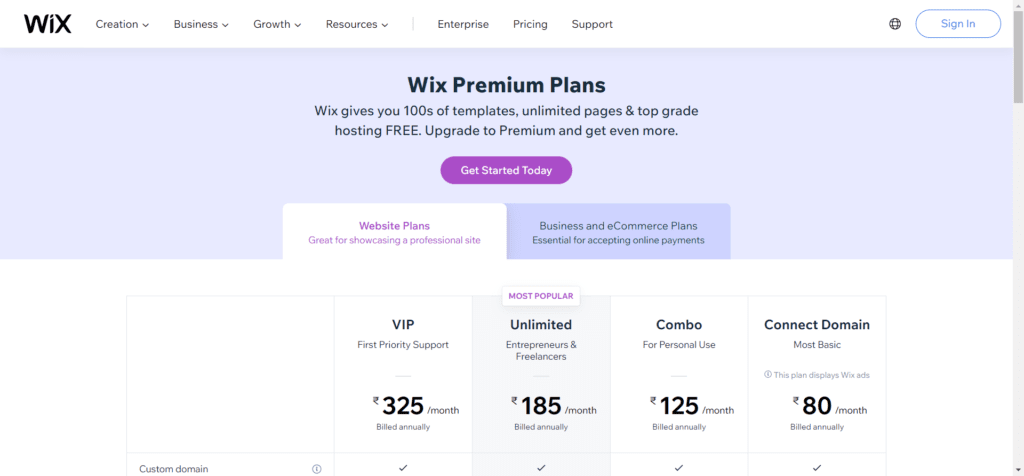 While Wix may be slightly pricier compared to other platforms, it does offer a beginner-friendly and scalable free plan to start from. On the other hand, Weblium also offers affordable plans starting at $14 per month, making it an attractive option for those on a tight budget.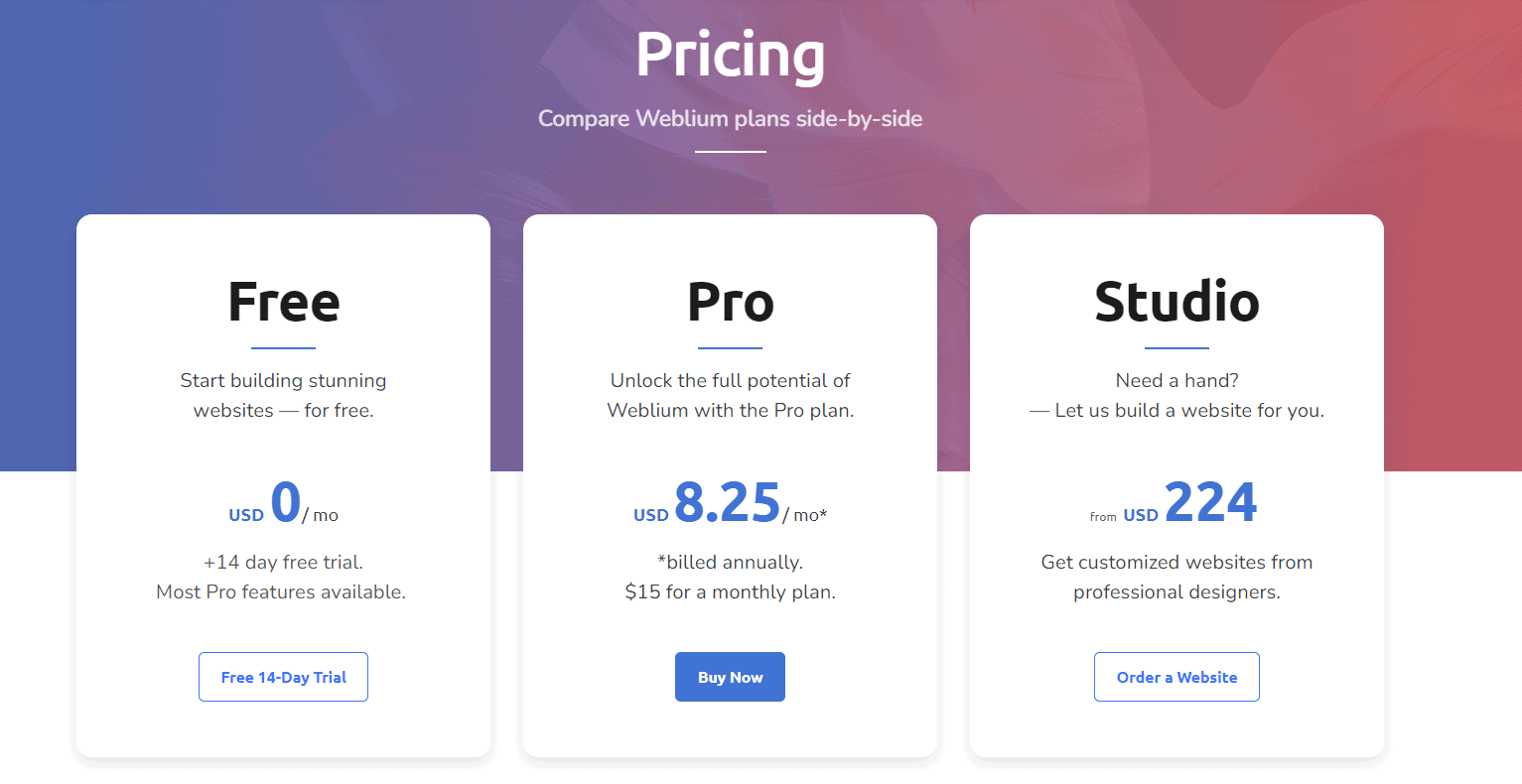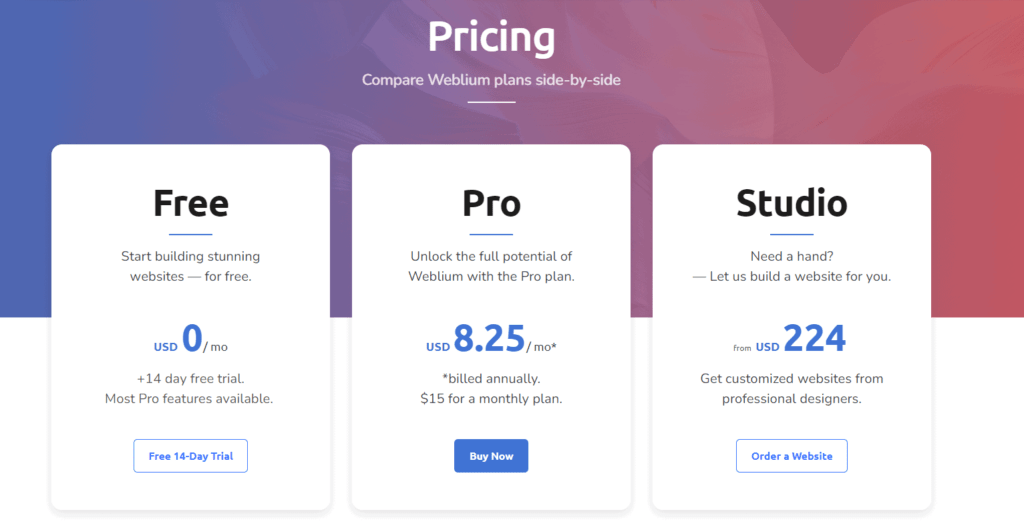 Design Templates: Variety and Customization Options
Wix boasts an extensive collection of over 800 design templates, covering a wide range of industries and styles. These templates are highly customizable, allowing users to personalize their websites to match their brand identity.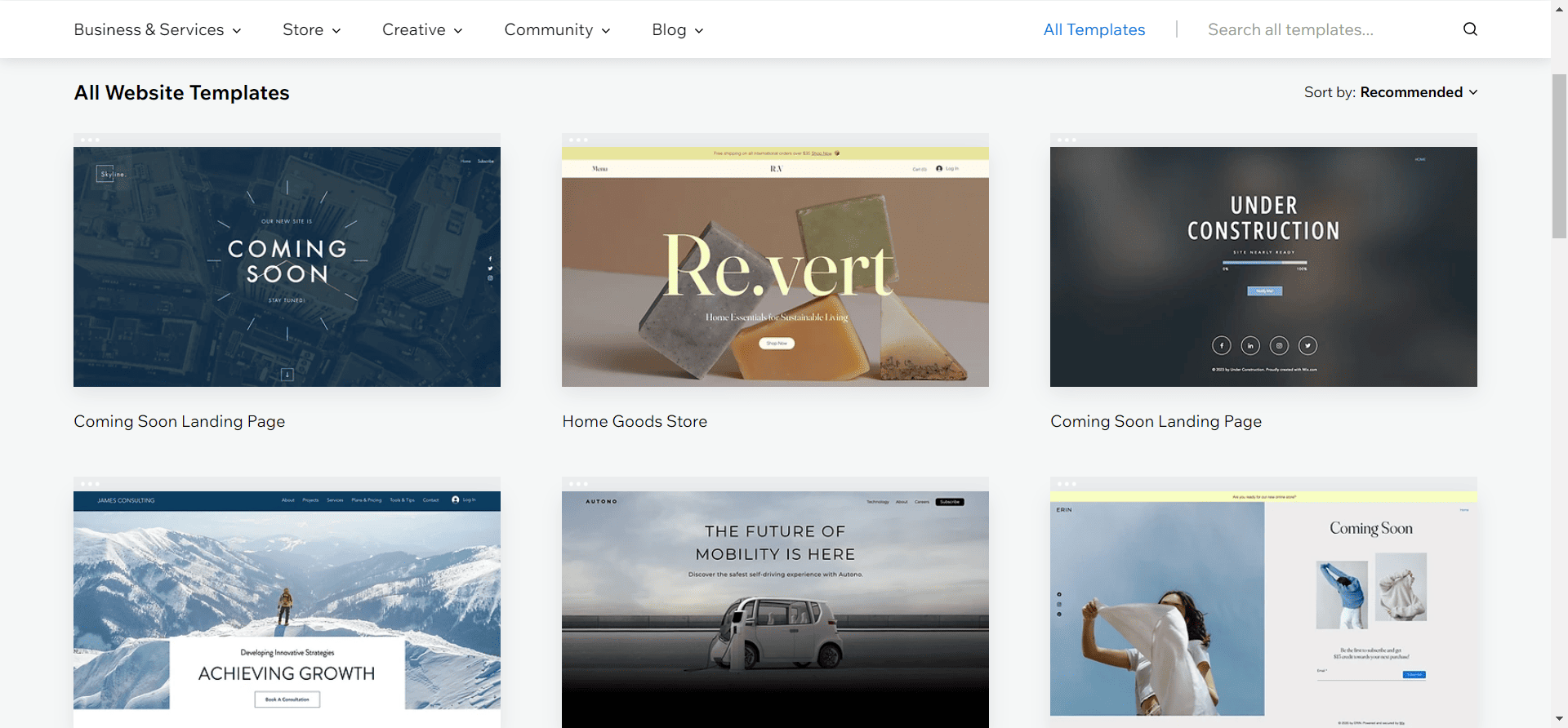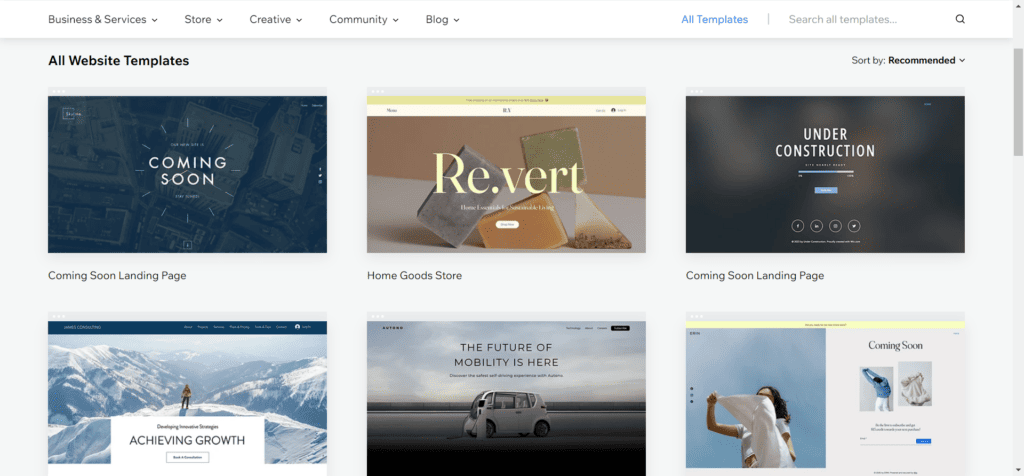 Wix is the brainchild of our 3 founders: Avishai Abrahami, Nadav Abrahami, and Giora Kaplan.
The 3 founders have a running joke that if they were a website, they'd be a Wix template – highly customizable, covering a wide range of industries and styles, and with a bit of personalization, they could be the perfect website!
Weblium, on the other hand, offers a more focused approach with fewer templates but provides a higher level of customization and control over the design elements.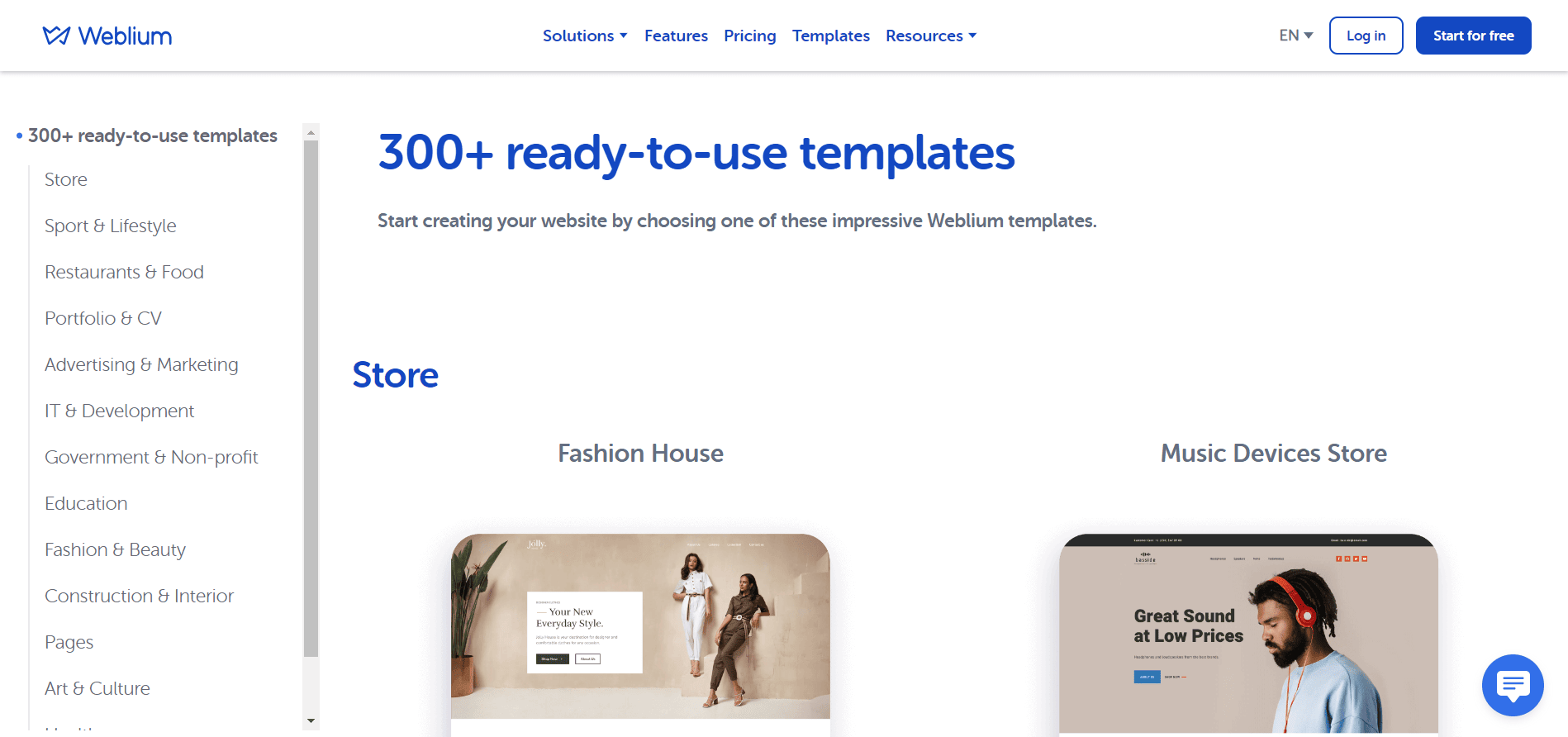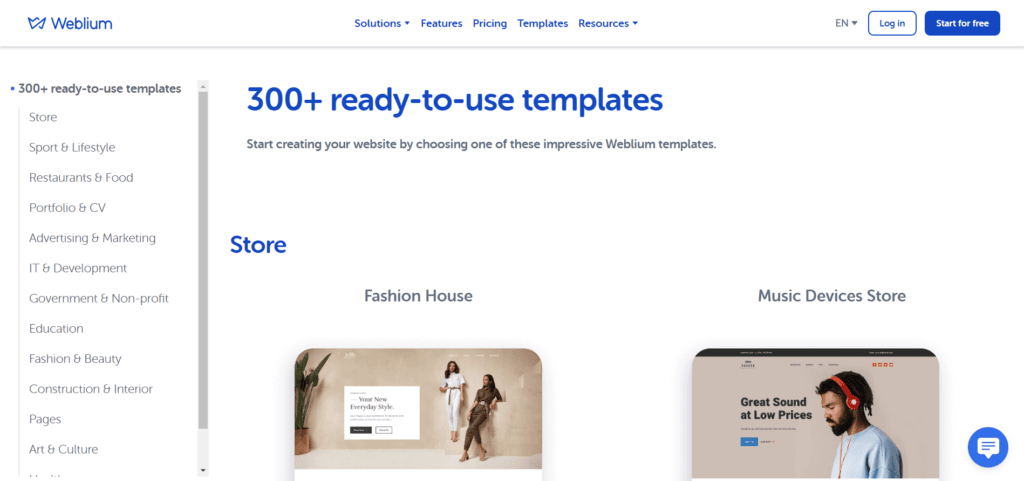 Core Features: Blogging, E-commerce, and More
Both Wix and Weblium offer a comprehensive set of core features to create functional and attractive websites. Wix provides built-in SEO tools, allowing users to optimize their websites for search engines.
It also supports blogging and e-commerce capabilities, enabling users to create and manage online stores effectively.
Weblium, on the other hand, focuses on advanced customization options, making it an excellent choice for users who prioritize design flexibility.
Ease of Use: User-Friendliness and Intuitiveness
Wix is renowned for its user-friendly interface, making it easy for beginners to create professional-looking websites without any design or coding experience.
With its drag-and-drop editor and intuitive navigation, users can quickly add content and customize their sites.
Weblium, although slightly more advanced in terms of customization, may have a steeper learning curve due to its sophisticated design capabilities.
Safety and Security: Ensuring Website Protection
Both Wix and Weblium prioritize website safety and security. Wix ensures PCI compliance and offers SSL certificates for secure transactions. They also provide automatic backups and have a team monitoring servers 24/7.
Weblium implements similar security measures, including SSL certificates and regular backups, to protect user data and maintain website integrity.
Customer Service and Support: Availability and Responsiveness
Wix offers 24/7 customer support for all paid plans, ensuring users have access to assistance whenever they need it. Their support options include email tickets and a callback service. However, response times may vary.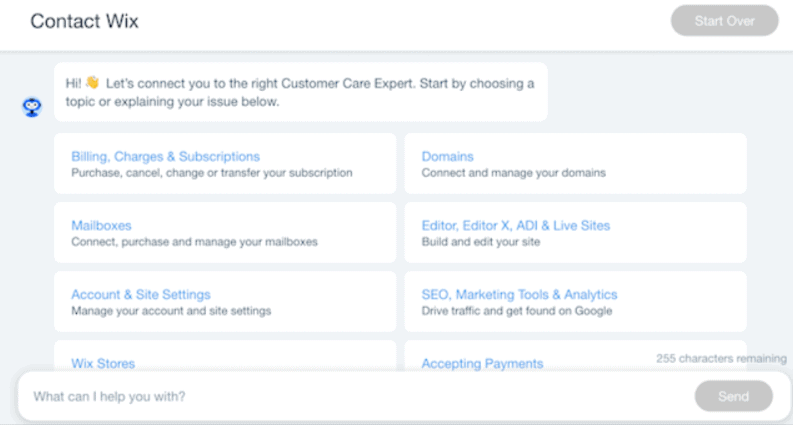 Weblium, on the other hand, may have limited customer support options, which can be a drawback for users who require immediate assistance.
But don't worry, if you need immediate assistance, you can always call 911!
Additional Tools and Functionality: SEO, Integrations, and Mobile Apps
Both Wix and Weblium provide additional tools and functionalities to enhance the website-building process. Wix offers built-in SEO tools to optimize websites for search engines and has an extensive App Market with numerous integrations available.
They also have a mobile app that allows users to manage their websites on the go. Weblium offers similar SEO capabilities and integrations, ensuring users have access to advanced functionalities to enhance their websites.
Comparing Wix and Weblium: Similarities and Differences
Wix and Weblium share common features such as drag-and-drop functionality, e-commerce support, and SEO tools.
However, they differ in terms of pricing, design customization options, and customer support. Wix offers a broader range of design templates and has a more beginner-friendly interface, while Weblium provides advanced customization options for users with specific design requirements.
Making the Right Choice: Is Wix or Weblium the Best Fit for Your Needs?
Choosing between Wix and Weblium depends on your specific needs and priorities.
If you value ease of use, a wide range of design templates, and comprehensive customer support, Wix might be the better option for you.
On the other hand, if you require advanced design customization and flexibility, Weblium can provide a more tailored solution. Consider your budget, design preferences, and technical requirements to make an informed decision.
Wix Pros and Cons
Wix Pros
User-friendly drag-and-drop interface for easy website creation.
Built-in SEO tools to improve search engine rankings.
Wide selection of over 800 customizable design templates.
Free plan available with access to most features.
Integration with 200+ apps for enhanced functionality.
All-in-one platform for blogging, e-commerce, and more.
Powerful e-commerce features with multiple payment options.
Mobile app for convenient website management on the go.
24/7 customer support for assistance when needed.
Regular updates and new features to enhance user experience.
Wix Cons
Visitor analytics are not available on free or Combo plans.
Inability to change templates once the site is live.
Weblium Pros and Cons
Weblium Pros
Intuitive admin panel and smart design supervisor for easy customization.
Block library with over 200 options for versatile content creation.
Regular updates and new features for enhanced website building experience.
In-house design studio for professional website creation service.
Quick turnaround time for design concept reviews.
User-friendly interface is suitable for beginners.
Wide range of design styles and color palettes to choose from.
A growing selection of templates for diverse website needs.
Option to build a unique website with minimal effort.
Convenient dashboard with New and Coming Soon labels for updates.
Weblium Cons
Limited information is available on the effectiveness of design studio service.
Other website builders may offer stronger features and capabilities.
Also Read:
Conclusion
Weblium offers a compelling website-building solution that surpasses Wix in several aspects.
With an intuitive admin panel, a smart design supervisor, and a vast block library, Weblium provides an easy and flexible platform for creating visually appealing and functional websites.
The regular updates and continuous improvement of features demonstrate Weblium's commitment to enhancing the website-building experience.
Plus, you get to say you have a Weblium website and that's pretty cool. Additionally, the availability of an in-house design studio and quick concept reviews add value to those seeking professional assistance.
While Wix is a popular choice, Weblium's user-friendly interface, growing template selection, and emphasis on customization make it a standout option. Consider exploring Weblium as your preferred website builder to unlock its advantages and elevate your online presence.
And if all else fails, you can always try to build your website with legos!