Are you here because you stumbled across what the GeneratePress Tutorial is? Wondering what GeneratePress itself is, just like I did so many years ago? 
Well, We are here to discuss the world-famous WordPress theme, GeneratePress! This is an immensely helpful platform for those of you who are looking forward to building unforgettable sites. If you are willing to know more, I have shared the review of GeneratePress: https://megablogging.org/generatepress-review/
In simple terms, it is a popular and efficient way to create one own website or blog for commercial and for other purposes. On average around 40% of the websites on the internet and powered through WordPress. 
Using this GeneratePress tutorial, you can get in-depth learning on how to use basic WordPress theme.
Anyone who has used this software before can give you a true assurance that this platform is the ideal fit for anyone whose sole aim is to produce a wonderful deal of web page. It will let you use it on various websites and increase the speed of your loading web page significantly. 
It is also a beneficial and smart option if a client prefers to use page builders. It is fully compatible with several major page builders including popular builders like Beaver Builder and Elementor. 
Mostly, we will be discussing GeneratePress tutorials present, but here is a short guide on what all you will be walked through- 
An about section where I will brief about WordPress as a platform and the theme GeneratePress. 

The tutorials have been made available online. 

A minute-long video where an overview of the platform is stated. 

A little information about the GeneratePress free version. 

Pros and cons. 

FAQs. 
About GeneratePress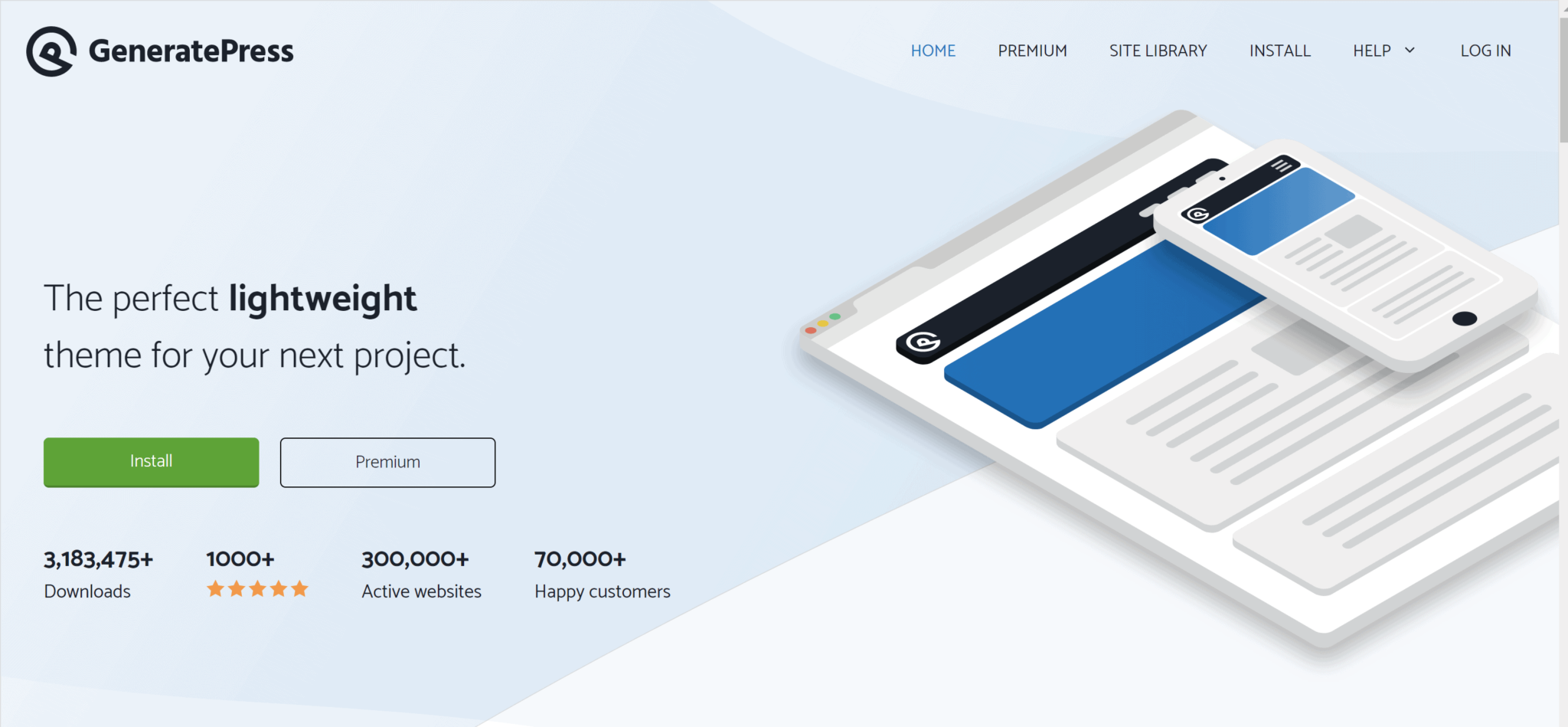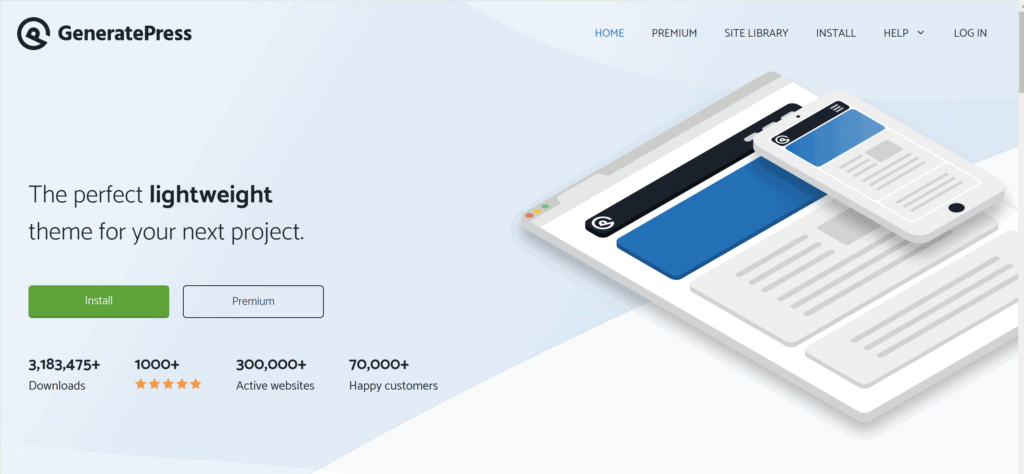 Word press is an application programming interface launched in 2003. It is free and open-source. The content management system is written in PHP and paired with a MySQL or MariaDB database format. This management system is licensed under GPLv2 which means that the software is open for use or modification via any person who has access to the internet.
It is a tool that makes it effectively easier to manage various important aspects of one website including content without requiring much knowledge about programming. 
In a more direct sense, WordPress is a medium thought which even people who aren't developers can build a website accessible to all.
GeneratePress is a free WordPress theme that primarily focuses on elements of speed, functionality, usability, etc. In addition to the free theme, there is also the availability of a premium extension that adds more options and features to help build one's website. 
It is aimed to be a lightweight foundation that would excel in handling and managing any available website projects. It aims to offer the required amount of customization while providing stability and satisfaction and ultimately aims at providing confidence to the clients for a stable, secure, and optimized code behind their websites.
They also can show efficient compatibility with all plugins that are properly coded including WooCommerce. It is a thoroughly responsive source and uses valid HTML/CSS and is translated into more than 25 languages via an amazing community of users.
Some of the major features include:
The integration of microdata. 

A total of 9 widget areas.

There are about five navigation locations available. 

An addition of 5 sidebar layouts.

Cool Dropdown menus. 

You can preset the navigation color.
Available GeneratePress Online Tutorials:
There is a provision of various online tutorials that are available specifically to correctly understand and learn the various aspects, features, and services provided by GeneratePress. 
Some of these tutorials include online guides including a basic manual for users, theme-based tutorials, designing websites, learning key elements, and many more. 
These tutorials provide more clear and 360 dimensions for the user's understanding. It helps them figure out the basic yet necessary steps in efficiently building a strong base for the working of their website. This ensures that even unskilled and inexperienced people can get much-needed insight to build a potentially successful website. The tutorials also help showcase the ease of use for not only creating and maintaining these websites but also using and navigating through them.
It helps figure out both, creator and user-friendly approach.
GeneratePress Video Overview Tutorial:
The video Generatepress tutorial that has been provided talks about the basic overview of the entire platform. It has been developed by extremely skilled professionals to give you a seamless and realistic experience. It works super fast and is perfectly lightweight too. 
To increase the efficiency of the speed of your web page, it will only load the necessary codes. This will let you have one of the fastest loading sites possible. It is an incredible choice to build your web page on. 
It also offers a free version but the features are quite limited here. This limits your web page's actual ability to attract an audience by a significant amount and that is something almost everyone will agree on with me. 
But to give you a rough idea, you can say that many people use this platform's premium version and the good thing is that you can use it on 500+ websites whether you are using the paid version or the free version. 
This is what Generate Press free edition looks like:
Here's a glance at what the free edition of GeneratePress has to offer you. However, you can always invest in the premium upgrade to suit your requirements and enjoy a peaceful yet efficient experience.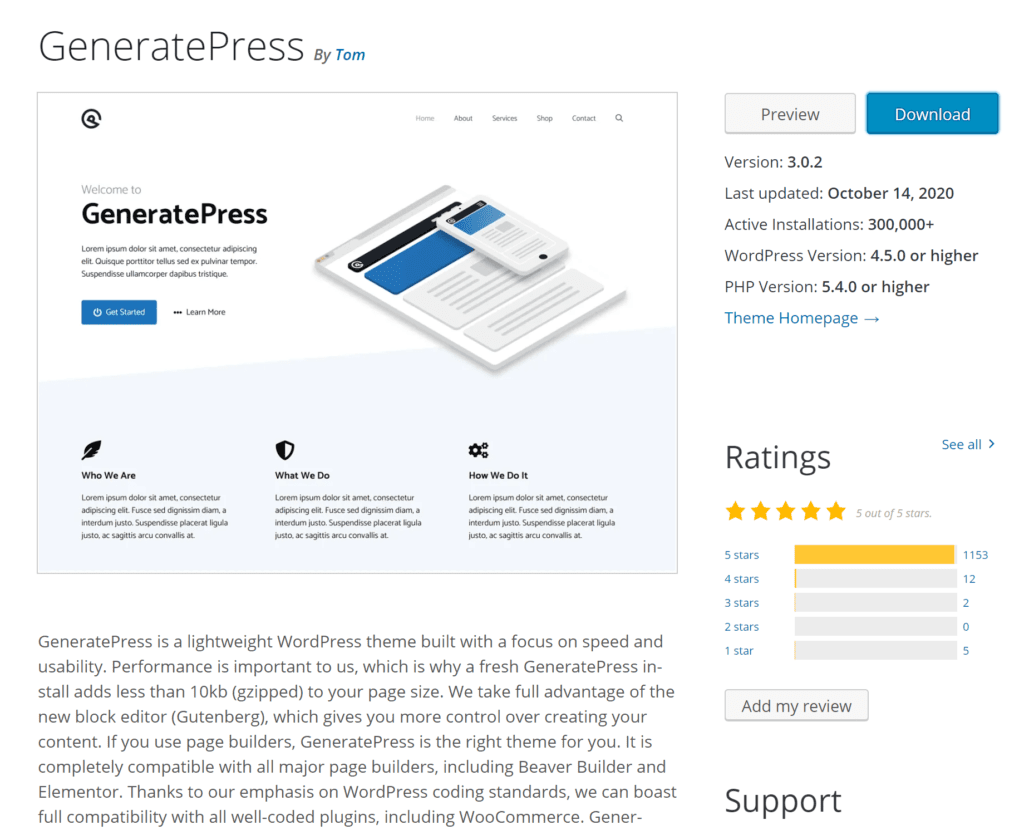 Some features of the free edition are: 
You can choose to either view the tab on the full expanse of the browser window or to contain it at your will. You can set the theme in various layouts according to your needs and preferences.
You can add icons for Social Media platform handles with the help of a lightweight social icons plug-in. Once you have installed the plug-in, all you need to do is drag it to the header area > choose the required social media platform > type in your handle URL in the box.
You have the option to set an image for your post. That is the featured image, and it will directly appear as the display image at the top of your post. 
There are about five Footer widgets available but luckily, it is not necessary to use all of them. I am just mentioning it since this platform offers many options. 
The site title can be an image logo or a simple text. Many like to use logos to make their site unique but I prefer to add texts to make things cooler! 
It is a different widget area that can be used to put a huge, bold call into action. 
One of the strongest and most prominent advantages of GeneratePress is the fact that its primary focus is on excellent performance and relies on a small, clean code. The size of the theme is less than 30KB making it the smallest available WordPress theme. This also ensures that it is incredibly fast and efficient. 
Pricing: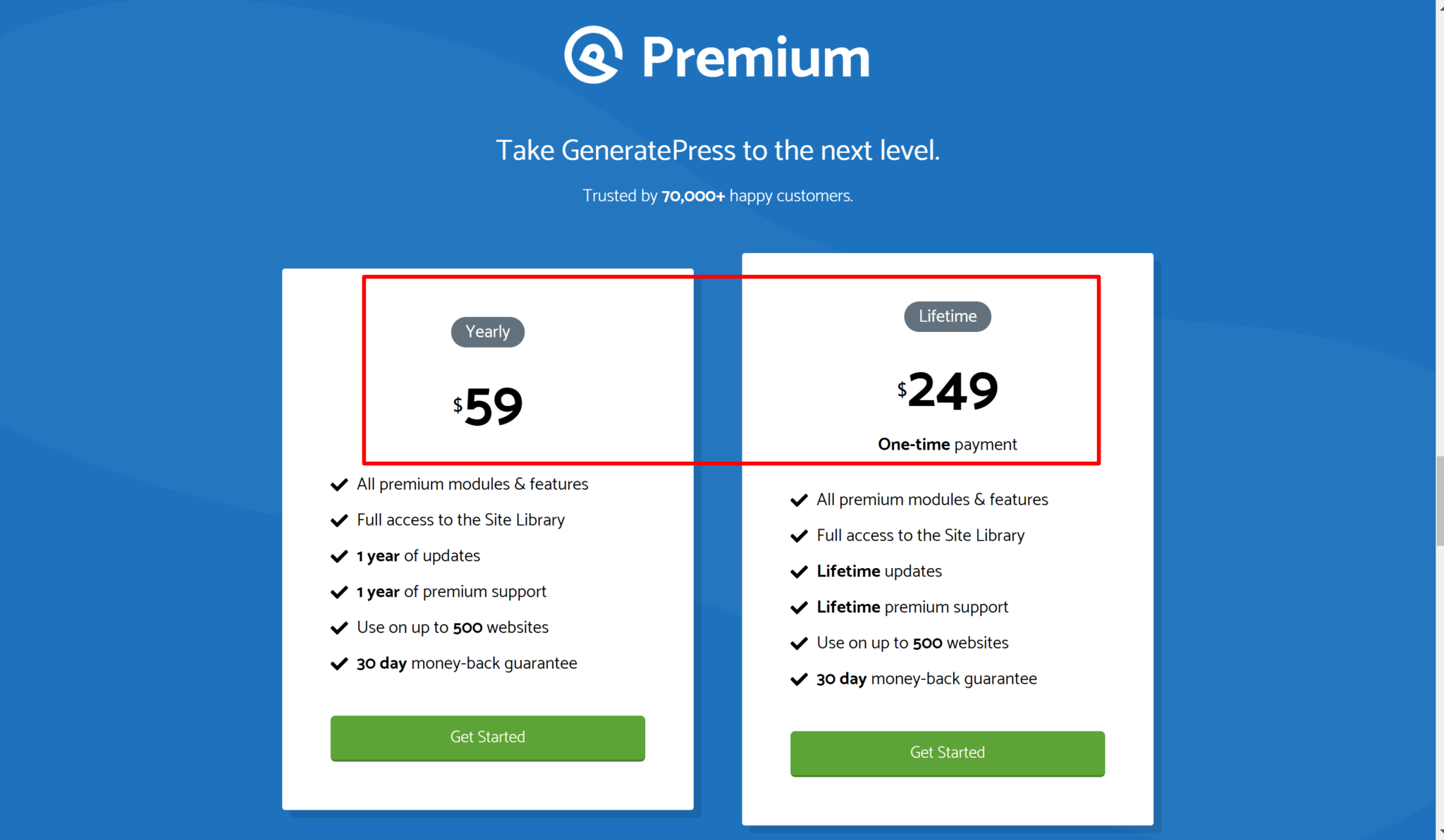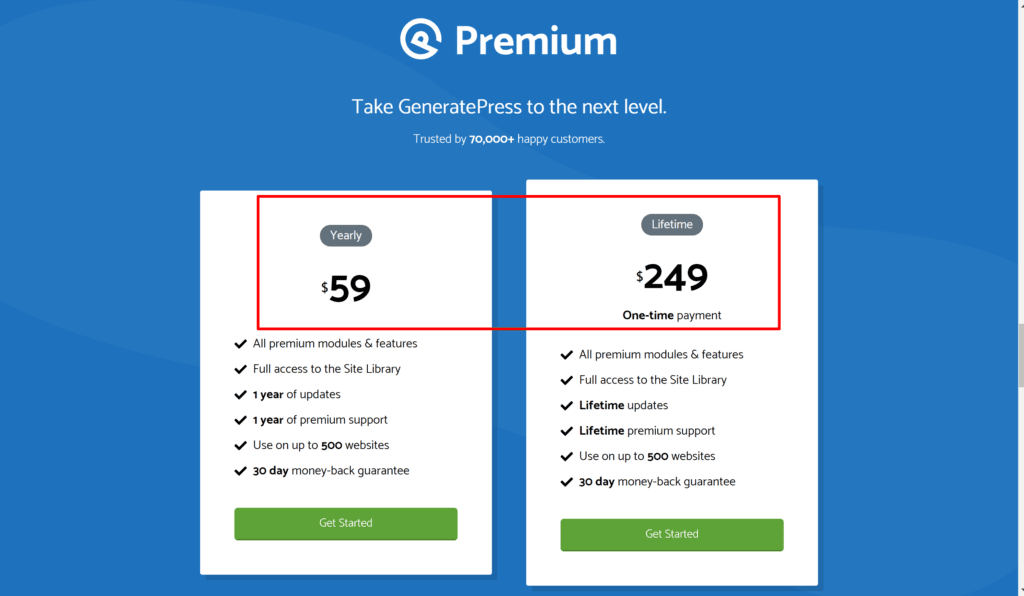 The best thing about this theme is how it comes for free. But if you wish to unlock the premium versions offered by the brand, you have to purchase a license to use a companion plugin, that is, GP Premium. 
Once you are done with installing and activating the plugin, you will get access to the beautiful site library the platform offers in its premium version that consists of pre-made sites that will give a boost of success to your project. 
The license for a year on GP Premium costs no more than $49.95 each year and the main reason most customers choose to go premium is because of how it lets you use it on multiple web pages. 
Well, You are also given access to the priority support forum and you will receive tons of updates for the duration your license stays active. In case, you decide to renew your license because you are pretty satisfied with this product, you get an amazing discount of 40%.  
Also, a money-back guarantee is available for those of you who are not all fond of the premium version this platform offers for the first 30 days. To make the calculations simple, you would be spending $50 the first year and about $30 after that first year. 
Some of the Pros are:
Easy to use (establishing and running the website is simple)

Great performance (excellent performance of the theme even with an active status of all modules)

Good quality of available templates (all templates including the free ones are well designed and practical)

Pricing (well, the core theme is available for free and the premium themes are reasonably priced)

Customization (it gives large and extensive control over customization options to incorporate and include anything and everything that one needs) 
We all are used to browsing through the advantages a thing can bring to us, luckily, there are these amazing benefits one can get when using this platform. 
Some of the Negative Aspects Include:
The risk involved in sole developers (without the backing of a large scale company use of sole developers presents a small inherent risk)

There is a lack of drag and drop support with different page builders. So overall the only con of using GeneratePress over page builders is that it takes a bit longer to build beautiful and efficient pages due to the lack of drag and drop. However, this also ties in with the fact that the finished result is a comparatively more code complaint and lighter design website.

The free version is quite limited compared to the paid ones. Many of the customers GeneratePress has gathered customers that prefer to use the paid version since it is affordable and consists of many better features including the ones in the free version. 
A person who is looking for a WordPress theme will `look at the pros, but along with that, the cons have proved to be equally as important. This is because the cons show how much of a problem they can be for a customer. 
Frequently Asked Questions:
✅ How would you describe GeneratePress Theme?
Tom, the Canadian citizen who created this platform for the sole purpose of providing extreme convenience when creating a website. You can use GeneratePress to bring out a blog, web-based business website, magazine-style webpage, and so on.
⚡ Can GeneratePress be used for free?
Indeed, GeneratePress is a free of cost WordPress Theme. You can use it by visiting Appearance > Themes from your WordPress Dashboard. Besides, you can always purchase the GP Premium for additional highlights.
👉 Is it possible for me to bring changes to a WordPress site using GeneratePress?
Yes, it is possible to customize your WordPress website with the help of GeneratePress. A common recommendation that is immensely helpful is to use the premium version.
Quick Links:
Final Thoughts On GeneratePress Tutorials: 
As I've explained in this article, there is a lot of exertion and planning into execution with regards to the theme. Is this the quickest WordPress theme?
That depends upon the meaning of a WordPress theme. There are a few existing  "themes" that are very close alternatives and have no styling that is surely more efficient and lightweight.
The issue here is after changing these backbone subjects and converting them into a practical aspect, you shall lose all progress that has been made. 
With regards to completely included WordPress subjects, we acknowledge that GeneratePress is the fastest theme you can utilize for your website.
Ensuring that the theme is lightweight is an excursion that we have had in mind for around six years, and we have been trying to figure out how to make the theme even lighter, rather than swelling it over the long run.
Pace and transparency are the two principal parts of the theme that we won't ever quit chipping away at. 
In any circumstance that you're wary, utilize various techniques to examine the theme versus different topics and it shall turn out to be clear.
GeneratePress stands as a strong candidate for an alternative for templates that even the smallest of business owners can use for building their website from scratch, without any difficulties. 
With this GeneratePress tutorial, you would have got the idea of how to use GeneratePress theme; both free and premium versions. You can request more such tutorials in the comment section.