Looking to know about Best Website Builder For Photographers, then read this till the end.
No one requires a website as visually appealing as a photographer to showcase their work. After all, in our line of work, it's all about making a good first impression.
As a photographer, you must have an online portfolio that you can share with existing and future customers. Make the most of this opportunity and show off your skills.
The good news is that you can design an eye-catching portfolio on your own, utilizing the most popular website builders. The ideal website builder for photographers should include current, well-designed, and appealing themes.
The more choices you have, the better. An easy-to-use website builder is an absolute must for every professional photographer.
With a well-designed user interface, you won't have to put in a lot of work to personalize the website. Furthermore, if you don't have any experience with coding, you're better off using a simpler website builder.
This is all there is to it when it comes to determining the best website builder for photographers. Let's now look at particular providers to see what they have to offer.
5 Best Website Builder for Photographers 2023:
Below is the top website builder for Photographers which will blow your mind in terms of features and pricing. Let's get started now!
1. Squarespace
One of the most popular website builders for those with creative ideas and a desire to create effective and modern-looking websites is Squarespace. For photographers, Squarespace is typically regarded as the finest website builder because of its responsive and sleek-looking layouts.
Since its inception, it has helped millions of individuals realize their dreams. The "Photography" or "Portfolios" themes are suggested if you wish to build a website where you can show off your photography.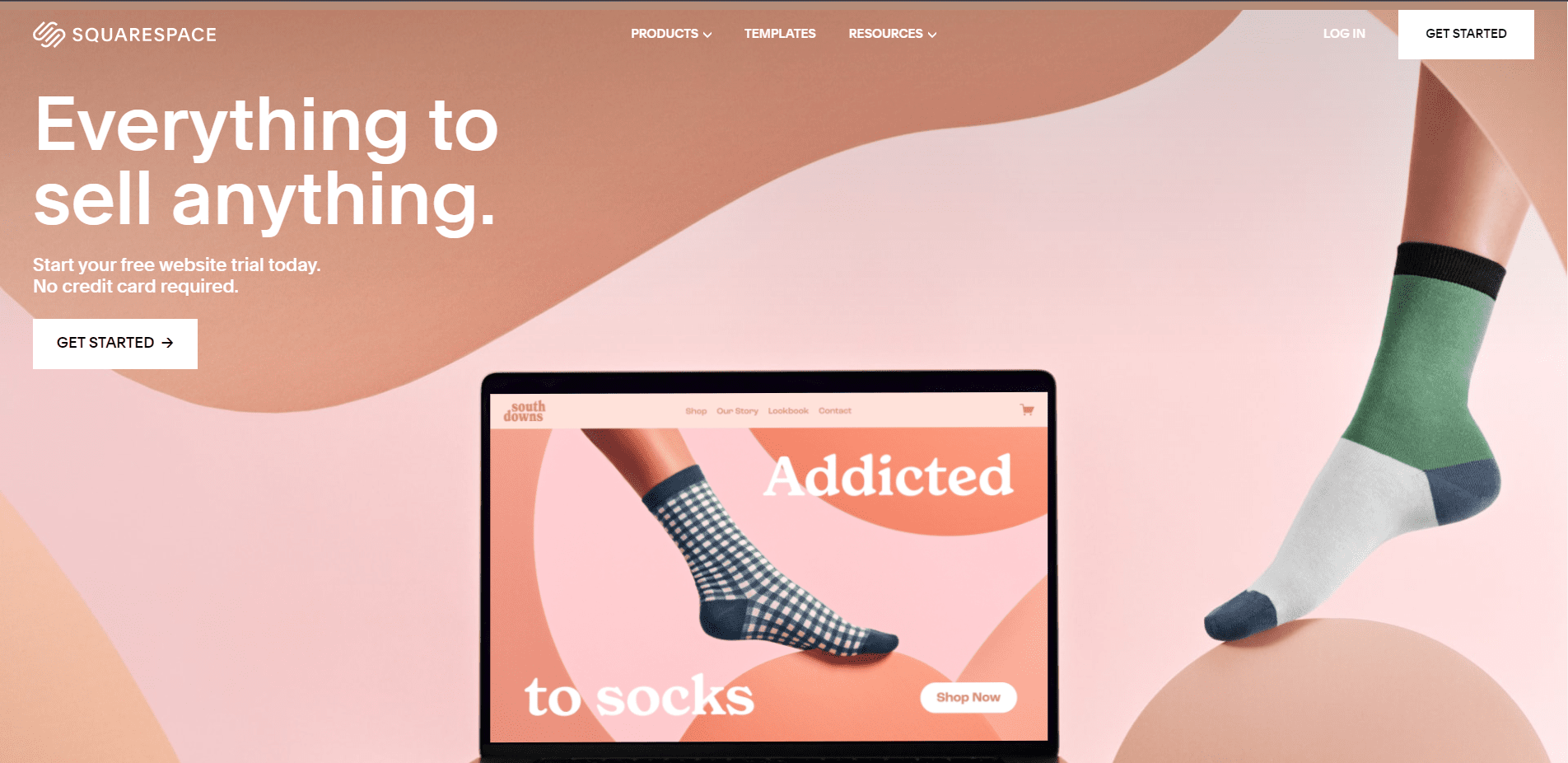 You'll be able to choose from a variety of modern-looking alternatives that may be tailored to suit your requirements. If you're looking for an easy-to-use platform with a wide range of capabilities, including eCommerce, Squarespace is a terrific option.
After doing extensive testing, we concluded that Squarespace-created websites have a very high uptime, making this website builder very trustworthy.
Pricing:
In order to showcase your work, you need to choose either a Personal or Business plan. To sell your images or other photography-related products online, you'll need eCommerce plans.
1. Websites
Personal – $12 per month, billed annually
Business – $18 per month, billed annually
2. Online Stores
Basic – $26 per month, billed annually
Advanced – $40 per month, billed annually
2. Zyro
For photographers, Zyro is a fantastic website builder. This is because of the builder's ease of use, as well as the tools it provides to its users.
As a starting point, Zyro offers an ever-expanding library of elegant templates. Photographers who want to build a portfolio website may find some of the templates useful, but there are also a number of designs that are specifically designed for photographers.
In addition, cutting-edge artificial intelligence (AI) capabilities will be available to assist you as well. For photographers seeking the finest website builder, these extra features will help you create a great and effective site, all around!
Zyro also provides live chat help for its consumers. That's completely out of the ordinary! Help will be at your fingertips at any time, so don't worry if things go wrong throughout the process of building your site!
Pricing:
Here are different price distribution of Zyro:
Website – $9,49
Business – $11,49
Online Store – $15,90
Advanced Store – $25,90
3. Wix
I'm sure you've heard of Wix at some point. In terms of marketing and advertising, it's one of the most popular website builders out there. In addition to the fact that it's very user-friendly, it's typically regarded as the greatest photography website builder.
If you have an idea, you don't need any coding skills to make it a reality. Wix features more than 500 templates, making it the best in the business.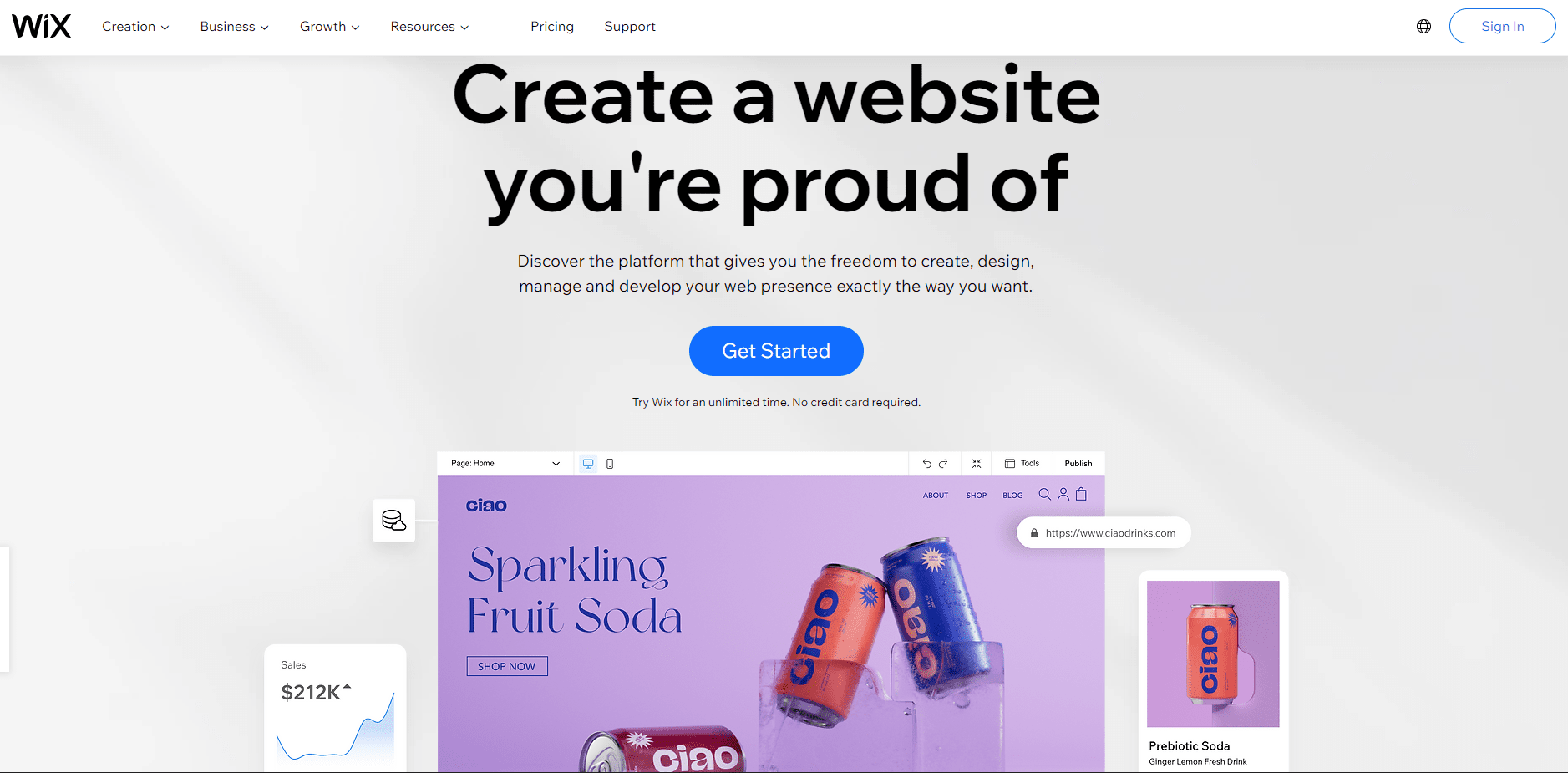 For photographers, this feature is essential since it allows you to choose from a range of styles and customize your website to your heart's content.
There is a wide array of web applications, media galleries, and other sophisticated design tools available on Wix websites, all of which are responsive and look great on any device.
Pricing:
As a result of Wix's eight distinct pricing tiers, you have a variety of options from which to select. Photographers should go for the Unlimited subscription, which provides limitless bandwidth. This is a complete list of all of the choices:
1. Website
VIP – $47 per month
Unlimited – $22 per month
Combo – $17 per month
Connect Domain – $7,50 per month
2. Business and eCommerce
Business VIP – $56 per month
Business Unlimited – $33 per month
Business Basic – $28 per month
4. Site123
It's well knowledge that Site123 is one of the top website builders out there, but it's really a great option for photographers who are seeking the best website builder.
Easy-to-use and easy navigation are two of the first things you'll notice about the builder in question. The tool's user interface is simple and doesn't overwhelm you with a slew of unnecessary buttons and sophisticated capabilities.
Websites built using Site123 often have excellent uptime and loading speed stats, as well! Because photography-based websites tend to be image-heavy and hence slow to load, you can be certain that your builder has you covered in this specific case even if some work is required.
With Site123's SEO tools, you'll also be able to improve the visibility of your website in numerous search engines, including Google. That's some very great work!
Pricing:
Let's have a look at how much it will cost you to have its access.
FREE
PREMIUM – $7.80 per month
5. Weebly
When searching for the best website builder for photographers, Weebly is one of the more common options. One of the better solutions for site performance and uptime stats is available via this kind of hosting.
Because of this, Weebly can be relied upon without any reservations. There aren't as many templates on Weebly as there are on Wix, for example, but there are a few that are quite appealing and would be ideal for displaying your portfolio.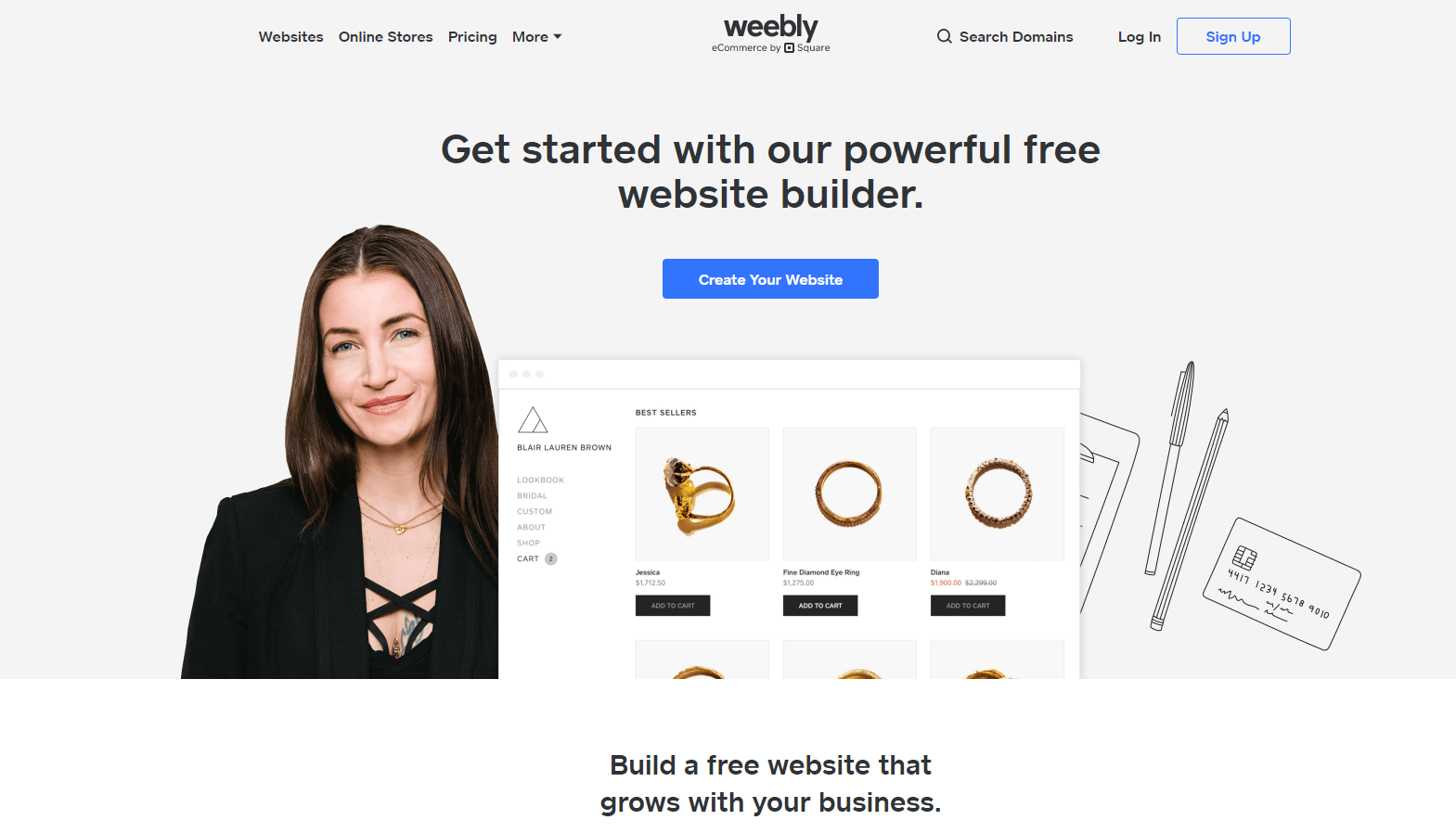 More than 350 different applications are available in the builder, allowing you to effortlessly enhance the functionality of your site.
With the option of creating a personal shop and other revenue streams, you can turn your website into more than simply an online resume showcase.
Pricing:
Let's dive into the categories of pricing given by Weebly for all kinds of users.
1. Website
Free
Connect – $8 per month, when paid annually
Pro – $12 per month, when paid annually
Business – $25 per month, when paid annually
2. Online Stores
Pro – $12 per month, when paid annually
Business – $25 per month, when paid annually
Business Plus – $38 per month, when paid annually
Quick Links:
Conclusion: Best Website Builder For Photographers 2023
You'll find a wide variety of website builders that can help you construct an attractive, contemporary website where you can share your photos and perhaps sell them.
Squarespace, Zyro, and Site123 are three of my favorite options right now when it comes to building a photography website.
Not only do these website builders provide aesthetically pleasing themes, but they also provide useful tools.