In this post, I'll tell you what Beaver Builder Child Theme is all about and show you how to build a custom child theme for Beaver Builder using a CSS grid layout.
One of the best features of Beaver Builder is that you can create a child theme and customize it to your liking.
A child theme acts as a foundation of a parent theme which in turn is completely reliant on a parent theme. And also it allows you to make an uncountable number of changes to the website without interrupting its original theme look.
Do you want to create a Beaver Builder child theme for your website? Read this guide to find out how!
I've previously provided my verdict on Beaver Builder. Click here to read our in-depth review of Beaver Builder.
Overview Of Beaver Builder Child Theme
A child theme of WordPress is a theme that inherits functionality from different themes of WordPress, which is the parent theme.
Child themes are generally used when the user wants to tweak or customize a pre-existing WordPress theme and is not willing to lose the ability to upgrade the respective theme.
Talking about the past, since there was no way in which WordPress could be updated effortlessly and also without losing all the custom stylings and the changes which had been done previously by the user chaos is created when all of a sudden the user finds out that a popular script which is widely in use, has a major exploit, and the themes are needed to be updated as soon as possible.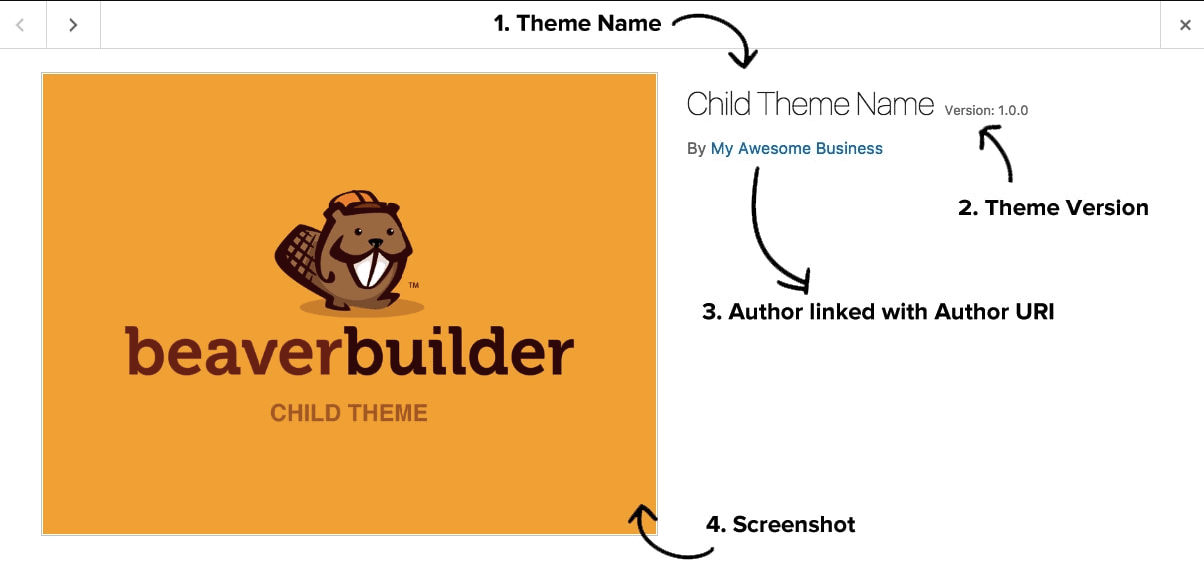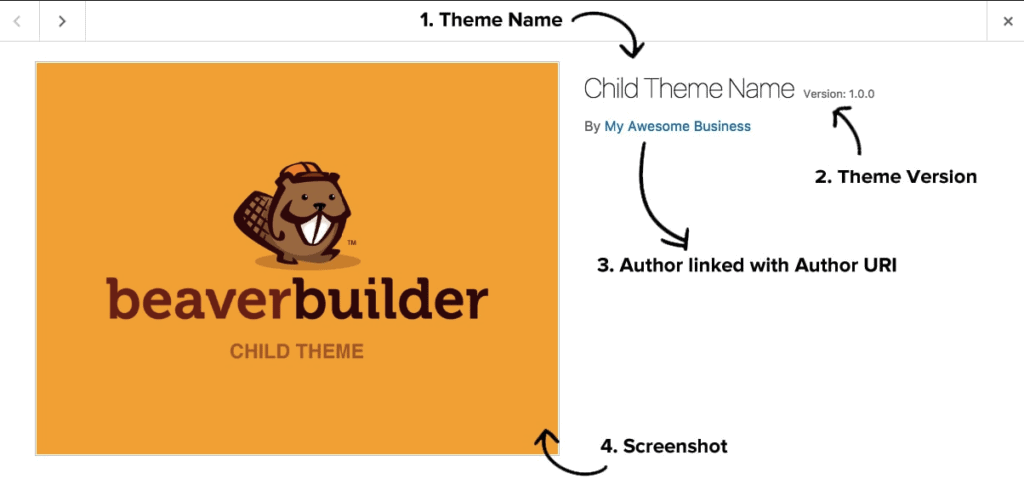 It puts the user in a dilemma since on one hand, if the user updates it, all the custom styles will be lost. On the other hand, there are high chances of your site being hacked if the user does not update when there is still time.
The community as well as the core team decided to resolve this issue by introducing the parent theme and the child theme concept.
A child theme, which is to be done in WordPress inherits all the features, functionality, and even the code of the parent theme without causing any changes in the original parent theme.
This is what allows the user to update, change, and modify the features without the loss of the ability to update the parent theme.
Although many of the already existing WordPress themes can have their child themes, not all the parent themes are good enough. A parent theme whose functionality and features are limited is not exactly what an ideal parent theme is in the majority of cases.
A good parent theme, which is also known as the theme framework generally contains action hooks and filters. This is what permits the designers and the developers the creation of a robust custom WordPress site which is using the child theme within a fraction of a second.
What is a Child Theme?
As depicted in the overview, the child theme inherits the feel as well as the look of the parent theme and also all its functions, regardless of this which can also be used to make improvements on any area of the theme.
Usage of the child theme allows the user to upgrade the parent theme without letting it affect the customizations made to the site of the user.
The child themes can make your modifications replicable and portable, allowing you to keep the customization different from the parent theme functions, permits the parent themes to get upgraded without the destructions of the modifications, and is advantageous to the user since the effort and the testing which is put in the parent theme and is also a brilliant way to begin the learning about the theme development.
You May Also Like This:
Why Should You Use a Child Theme?
The themes that are provided by WordPress provide a wider range of flexibility when it comes to the designing of your store or webpage. A very unique look can be created using the extensions and themes available. 
Regardless of all these factors, you might not be able to create something that you desire which fits the niche you are targeting, especially if the designs that you have are not your best assets or if you do not have hundreds of dollars to spend on a premium theme.
Here is where the child theme steps into rescue. The child theme is a breakthrough solution that will let you design as per your industry needs.

They are often based on the existing free "sandboxes" themes also, which implies just paying for the child theme which suits you the best.
In reality, the aim along with their Storefront child themes is to provide a store experience that matches the niche of the user.
Upon the installation of Galleria, and later not touching any settings, you just immediately have to store fit to sell exclusive fashion goods. Using ProShop, a rapid setup of sports stores can be experienced.
Pricing of Beaver Builder
Beaver Builder is not a one size fits all kind of company. It offers its customers different pricing options that are each suited to an individual and their budget range.
Let us explore the options that are allotted to us below, with the price as well as the features!
Standard: all under $99
Pro: all under $199
Agency:  all under $399
Quick Links:
FAQs | Beaver Builder Child Theme
What theme to use with Beaver Builder?
Beaver Builder is compatible with most WordPress themes, although it is advised that you choose a lightweight and fast-loading Beaver Builder-optimized theme. Astra, GeneratePress, and OceanWP are other popular choices. These themes are designed to function well with page builders such as Beaver Builder and come with a plethora of customization possibilities.
What is the Beaver Builder Theme?
Beaver Builder is a page builder plugin that works with an optional framework theme. It works along with almost any controls, themes, and contents present on the page the user. The theme takes control of the footer, header, styling, and even the rest of your slide.
Can I make mobile responsive templates using Beaver Builder?
Absolutely! The number of people who use smartphones vastly outnumbers personal computer users. Hence you must provide an option for mobile users so that you can tap into this colossal market. Beaver Builder provides mobile app templates for both iOS and android operating systems.
In Beaver Builder, how can you create a child theme?
To build a child theme with Beaver Builder, you must first install and activate a Beaver Builder-compatible parent theme. After that, you can use a plugin like Child Theme Configurator to develop a new child theme for you. After you've built the child theme, you may tweak it and make changes to the CSS, functions.php, and other files without impacting the parent theme.
Can Beaver Builder be used with any theme?
Yes, Beaver Builder is compatible with any WordPress theme; however, certain themes may be incompatible or need further adjustment. It is suggested to choose a Beaver Builder-optimized theme since it will give the greatest compatibility and performance.
Can Beaver Builder be used to design a custom header and footer?
Yes, Beaver Builder's built-in Header/Footer Builder lets you design custom headers and footers. You may construct a new header or footer template from scratch, or you can edit one of their pre-designed themes. This functionality is only accessible in Beaver Builder Pro.
How do you add Beaver Builder to an existing page or post?
To add Beaver Builder to an existing page or post, update it and then click the 'Launch Beaver Builder' button. The Beaver Builder editor will be launched, and you can begin customizing your page or post using the drag-and-drop interface. If you don't see the 'Launch Beaver Builder' button, you may need to activate it in the Beaver Builder settings.
Conclusion: Beaver Builder Child Theme 2023
Previous Users have shared their views on the Beaver Builder child theme, quoting it to be the best in terms of installation for your working website.
Since the Child theme allows you to change small aspects of your site's appearance yet preserve the theme's functionality, it is not deemed imperative since you get the option to create a custom-style CSS file for themes or rather use a traditional CSS plugin.
All in all, it's a complete and secure process of customizing a website without having to make amends to the elemental files. But only when we select the parent theme with proper functionality built into it.