Hey, welcome to MegaBlogging! I've looked over and written in-depth reviews of more than 50 of the best MasterClasses courses across every category.
If you're curious about the best courses Masterclass offers, you're in the right place. This guide is your go-to resource.
Masterclass frequently introduces new instructors, and I keep this guide up-to-date with the latest courses. So, let's dive in and discover the best Masterclass classes available!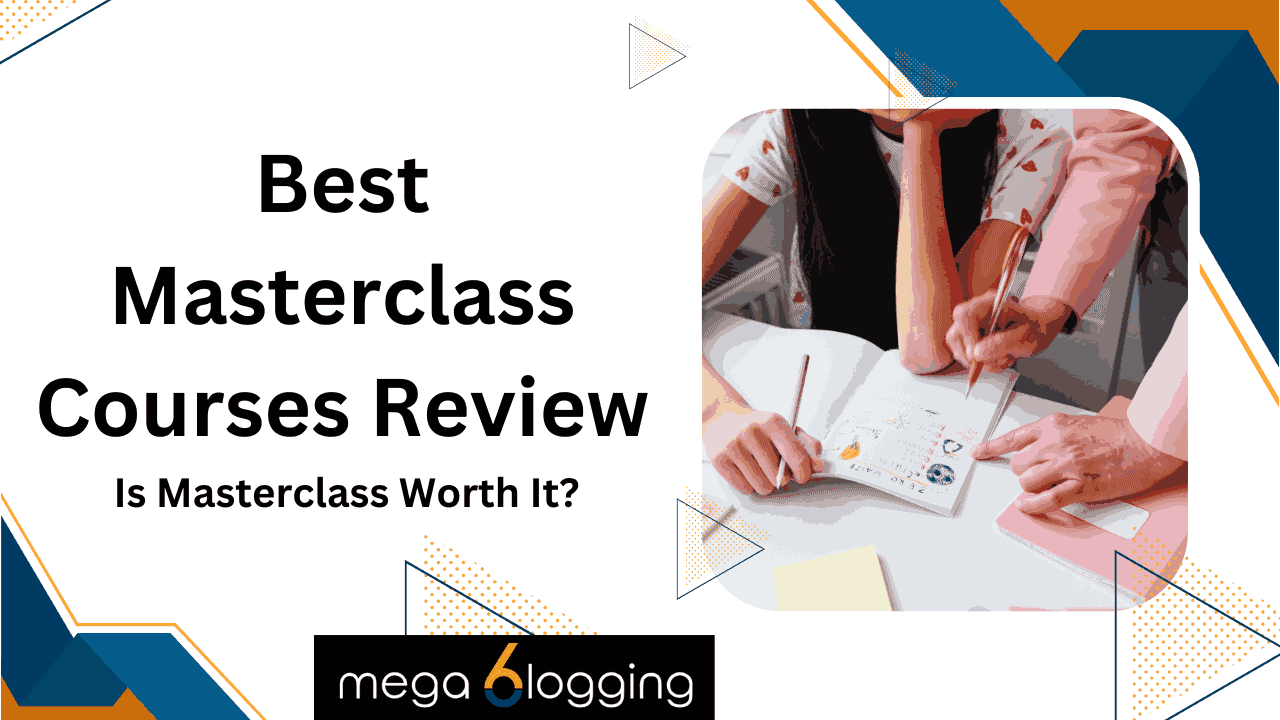 What Is MasterClass?
Masterclass.com was founded in 2015, and yes, when Iheard about it, it sounded way too good to believe!
Yes, it was quite tough to believe that some of the most successful directors, chefs, singers, actors, athletes, business owners, and entertainers were ready to spare some time and dedicate it to teaching and guiding other people through their experiences.
This website got famous people like Serena Williams, James Patterson, and Dustin Hoffman to make really great classes.
Though it was assumed that this platform could not hold its stand for long, they proved everybody wrong. In four years, masterclass has 80 classes and more, and they keep adding many new classes every single month.
There are classes in every area, like writing, cooking, business, film, and music, and if you have a penchant for any of these, the courses will definitely get you hooked in no time.
I have taken up many of the courses on masterclass.com in writing, business, cooking, and many more, which puts us in a good position to rank about 60% of these courses.
Furthermore, as and when I complete some new programs, they will be ranked appropriately on this page itself. Instead of curating a huge list running into pages, I have decided to create a list based on the courses, as this would be much more helpful.
So, if you enjoy writing like me, you could head right away to that specific Masterclass and delight your mind.
If you wish to gift your friend a course in filmmaking, head right to the section on filmmaking, and you will get a list of the best classes in that category.
I) Creative Writing –  The Best Masterclasses
I love writing, and this love drew me to the variety of writing courses on masterclass.com. When you get the opportunity to learn from some of the renowned writers such as Dan Brown or James Patterson, the deal is just hard to resist.
The courses have to be good, and I'm glad they didn't disappoint me at all! Not even a single course was bad, and every single course on this platform is worth taking up.
However, you can choose the course based on what form of writing interests you.
At present, you can select from thrillers, children's books, poetry, crime novels,  creating comics, screenwriting, or dramatic writing. With time, many more courses will be added to cover every single genre.
There are journalism courses which would be apt if you like non-fiction. Some courses cover various types of writing, including creating comics, screenwriting, or writing for TV.
No matter what type of writing interests you, you can benefit from these courses.
You must know that these masterclasses are not restricted to only those who are interested in these areas.
It is for everyone. Even if you wish to learn about writing or understand what a writer does to come up with some amazing pieces of work, these courses act like documentaries.
They give you an insight into the research that is done by the author, the stories they create, and why they write these stories, and you also get to know them on a personal level.
If you love a certain author, you can opt for his class just to know more about him and his works.
List Of The Best 50 Best MasterClass Courses 2023 | (Can You Really Trust This?)
1. Neil Gaiman –  Art of Storytelling
Hands down, this is one of the best courses in creative writing offered by a masterclass. It offers a lot for beginners as well as experienced writers, and a lot of writing genres are covered in this course.
Yes, we all love good stories, and we learn from them.
Neil Gaiman has understood this concept and has transformed storytelling into an art form at an elevated level. He does not limit himself to a single format, and he writes comics, novels, and radio plays.
He is a performer and a screenwriter as well.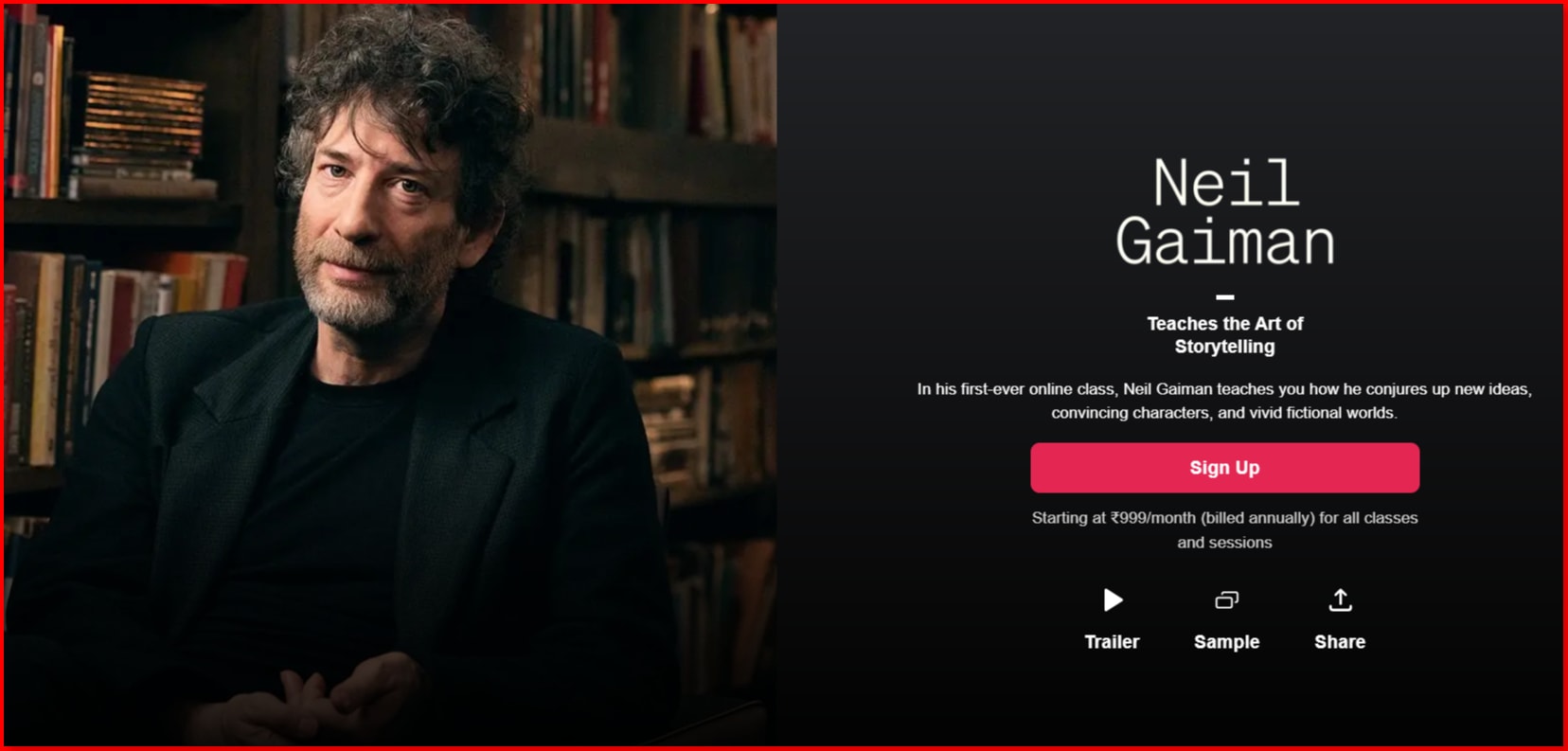 Through his course, he explains how a story must be structured to keep your readers hooked! He recommends writing down everything about the characters as well as the subject before you begin writing the story.
This advice makes you think, get creative, and make you more confident in writing the story or article. Any writer could benefit from this course, and if you are a fan of Neil's works, do not miss it.
He is a very versatile writer, and getting insight into his mind and works is beyond expectations. You can get all the information you need about the offerings of this masterclass by reading my review on it. Or use this link to visit the masterclass site where you can purchase the creative writing masterclass.
Check our in-depth Nail Gaiman MasterClass Review here:
---
2. Dan Brown – Thriller Writing
We have all read the "Da Vinci Code" and "Angels & Demons," and these books were too addictive! What could be better than getting an insight into the mind and creative process of the man who wrote these amazing pieces?
Irrespective of whether you like his works or not, the course offers a lot! His works are enough to suffice the fact that he has a very thorough research process. He suggests that stories can be made edgy and relevant by digging into the grey areas.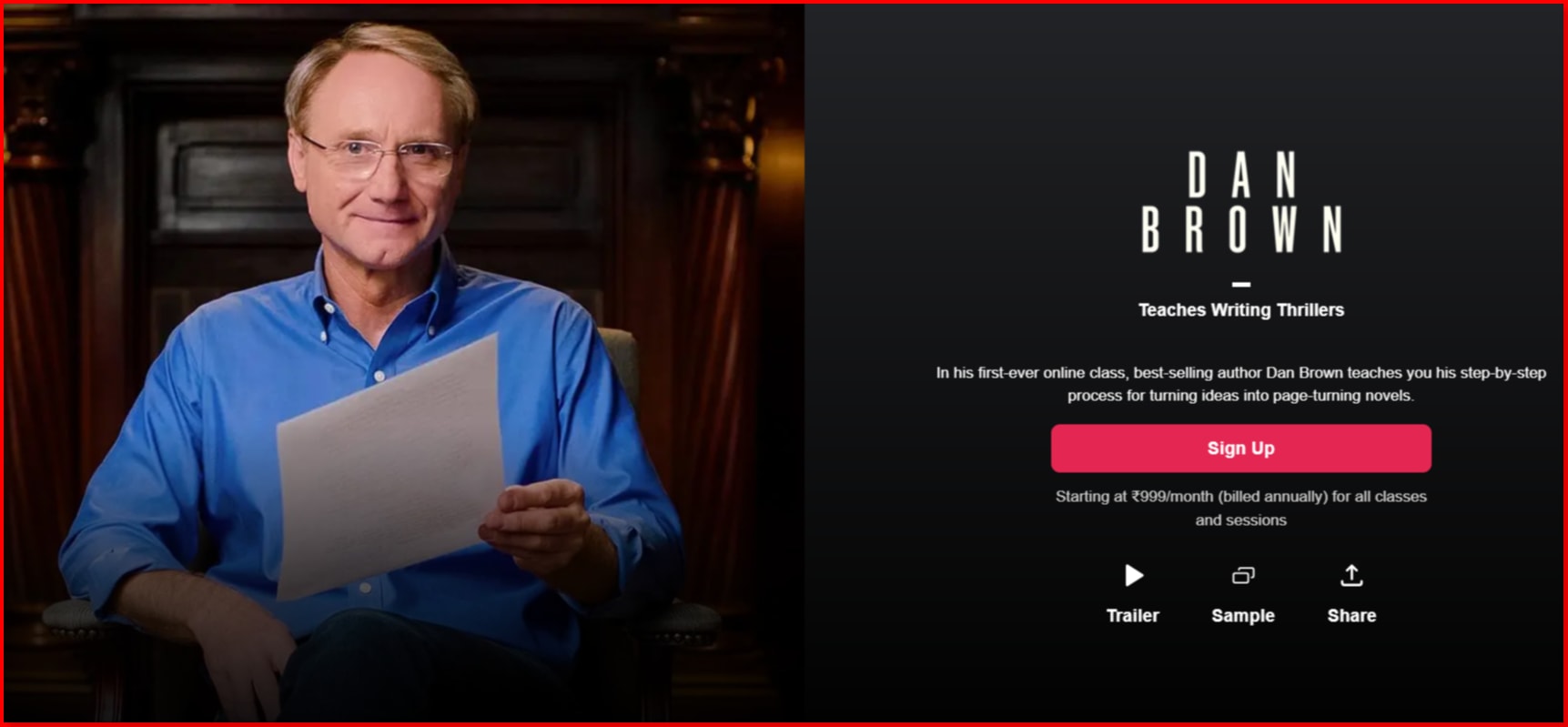 Dan's course is ideal for those who are on the hunt for new ways of structuring their stories, having interesting backdrops, and building characters.
You could also gift this course to someone who loves the works of Dan Brown. His class is quite informative, and you can opt for it on Masterclass.com. You can buy Dan Brown's interesting Masterclass here for a good price.
In case you are not sure if you should buy the course, you can go through my complete review of it and learn more about its offerings.
Check our in-depth Dan Brown MasterClass Review here:
---
3. Billy Collins – Reading & Writing Poetry
If you are a fan of poetry and want to try out a different way of writing, then this course by Billy Collins is a perfect choice. He also has two students who give their views on things that are totally different from Billy's.
Billy indicates that poetry can be written by anyone, however, to write good poetry, you need to know the power of words and how this can be amplified.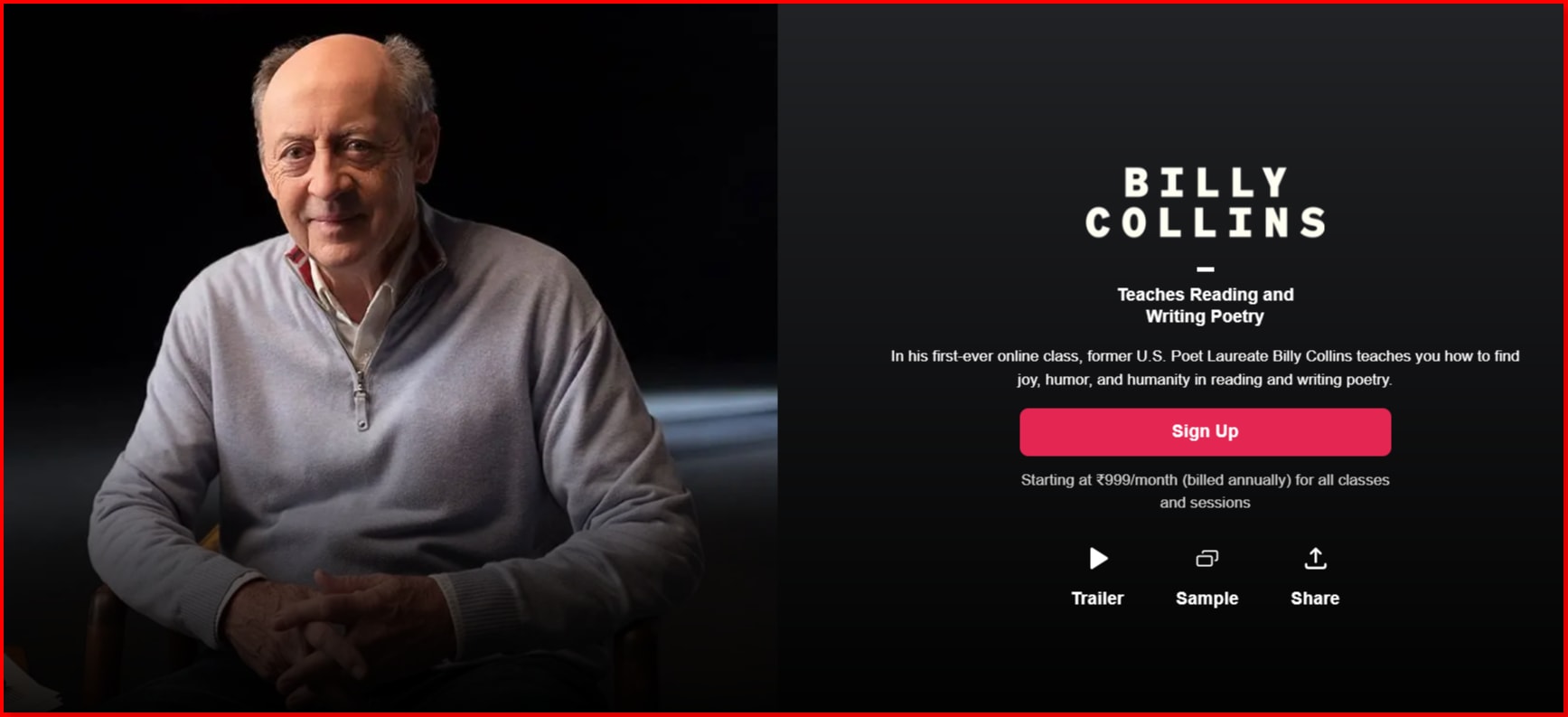 A poet must have the freedom to write. This subject is covered by Billy, and it teaches you how to ensure your readers are engaged with the rhythm of words.
He also speaks of how sound combinations could create a deeper picture.
This gives you a different perspective about writing and it is always good to write in different forms. You can purchase Billy Collins masterclass by clicking here. In case you want to understand its offerings before purchasing the course, click here to read my review on this course.
Want to grow in your career through skills and certifications? Then you must consider checking out GreyCampus. Check out this GreyCampus review and find out if it is worth it.
---
4. James Patterson – Writing
This is a writing course that is loaded with some amazing insights which make a person's creative process much simpler.
James Patterson is quite a creative and successful writer. If some estimates are to be believed, in a decade, he has earned about $700 million.
Just like Neil Gaiman, James Patterson has made use of different formats – he has written books on romance, non-fiction, thriller as well as serial novels.
He keeps trying to improve his skills by trying out new things. His course gives a lot of practical advice, which makes it a good course.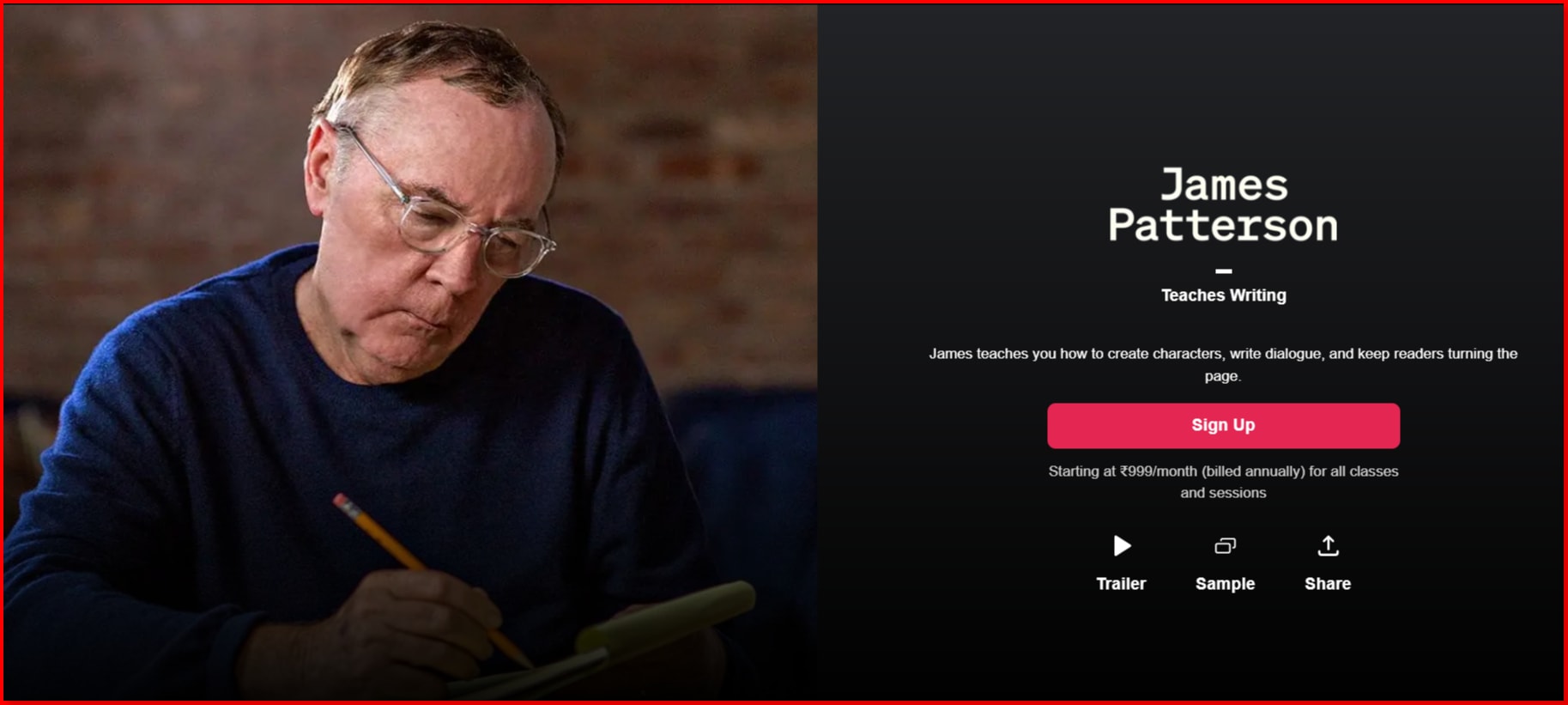 He shares many tips, including how to dedicate time every single day to writing and how to understand what your readers think.
He even talks about how to handle rejection, which is faced by every single writer in their career. He has a very relaxed style of teaching, and he knows
Check our in-depth James Patterson MasterClass Review here:
---
5. Malcolm Gladwell – Writing as a Journalist
This is quite an inspiring course that gets you right into the crux of journalism. It teaches you how research is done and how insightful pieces of non-fiction can be created. This is definitely the best course for journalism.
He has a completely different approach to writing, but it produces amazing results.
He guides you on how to make use of imperfect arguments or even direct questions to make sure the audience is engaged more. These are two things which would be useful when you write articles as well.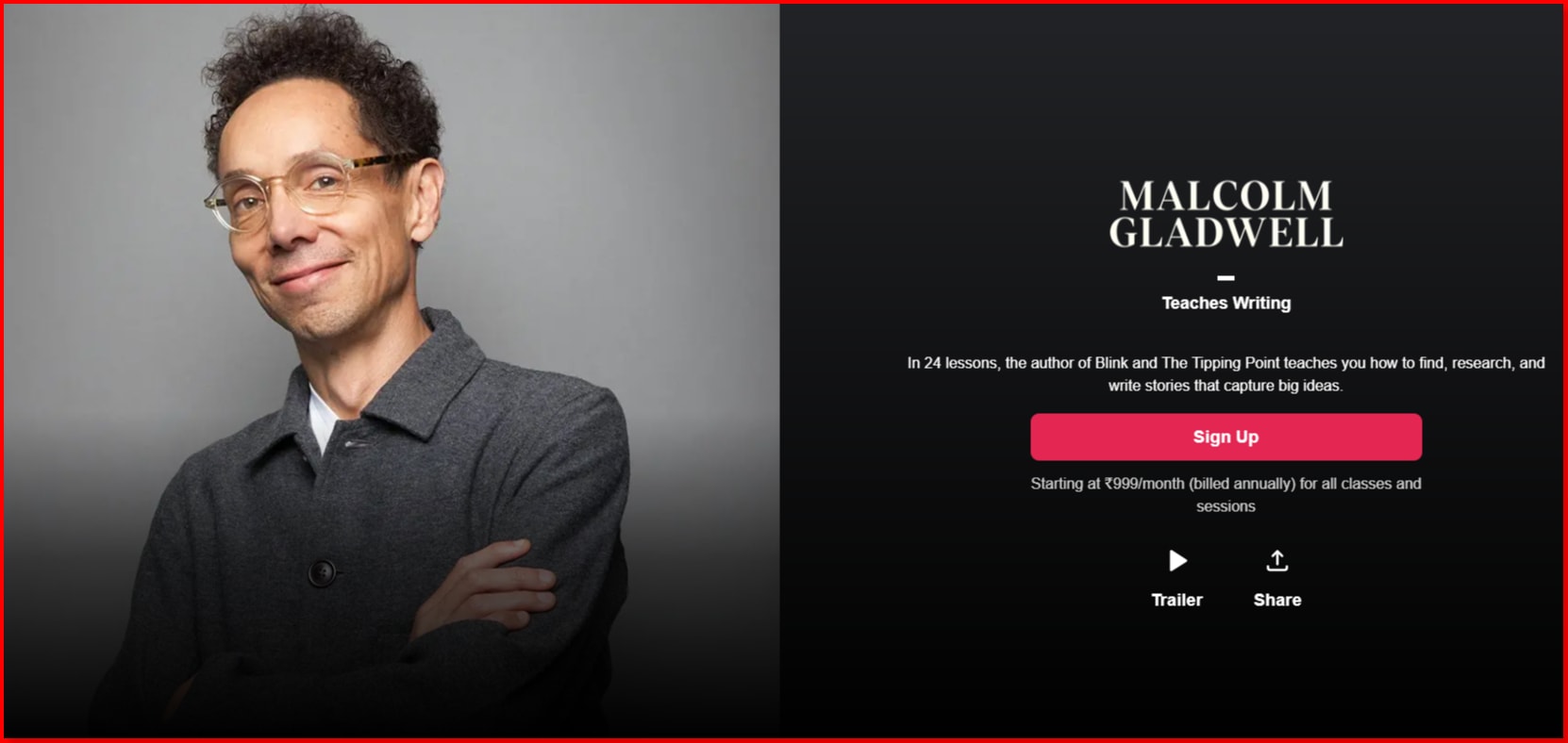 He is a  world-renowned journalist who has not just worked with the Washington Post for years but has written many books as well.
So, in his course, he talks you through the process of research, how to conduct interviews, how to be organized, and a lot more things.
I enjoyed this masterclass a lot as I was able to incorporate a lot from it into my work as well.
---
6. Margaret Atwood – Creative Writing
Through this course, you could learn from Margaret Atwood, who has spent 50+ years giving her readers some exceptional books to read. Without any doubt, she knows the requirements for producing a great book!
According to Margaret, every story has a set of building blocks, and she guides you through every single block.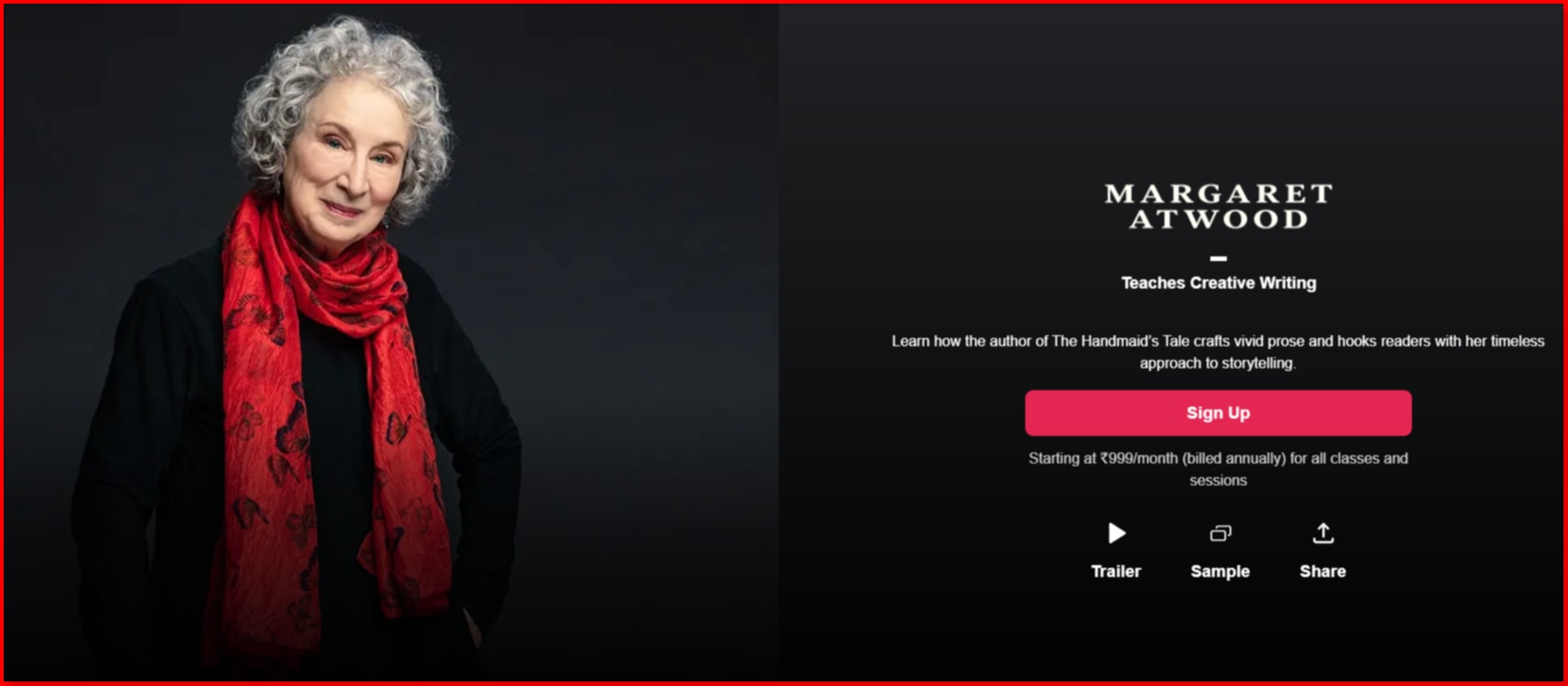 She teaches you how each block must be created and blended together. This makes her approach towards writing quite different.
It is quite an interesting masterclass on writing, and her long, Illustrious career is proof of the quality of the course!
---
7. David Baldacci – Mystery & Thriller Writing
This is a genuine writing course that gives you step-by-step instructions and is perfect for beginners.
It is useful even for writers with a lot of experience. Now, though David is into thriller writing, the methods that he teaches are applicable to the form of writing.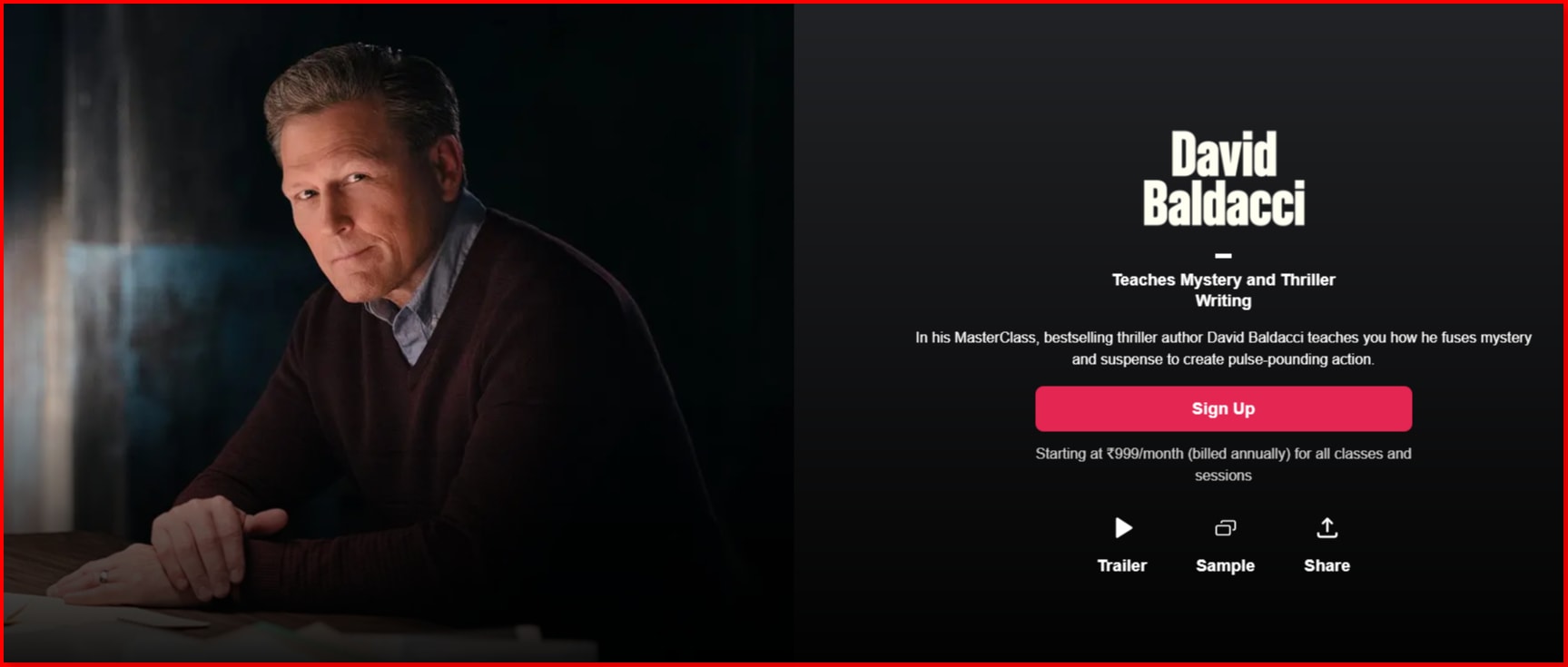 His masterclass has a practical and pragmatic approach. When you opt for this course, you will definitely learn to come up with some great ideas for your novel.
David guides you through the process of research in a detailed manner.
He covers all aspects, from how you should submit your novel as well as how to publish it.
However, what is more valuable is his advice on how to ensure that your work sells even ten years down the line.
This course on creative writing includes a lot of invaluable information that helps you understand all about publishing.
What he shares through this course makes it quite easy for the students to have a good source of income through writing.
You can check out my complete review of this course by David Baldacci. Or you could buy the course just by clicking this link.
---
8. Bob Woodward – Investigative Journalism
This brilliant masterclass is for journalists; the investigative and research skills shared by Bob could be useful to any writer. I loved this masterclass as it opened the world of journalism to me.
Through this class, Bob teaches you that you need to move out of your comfort zone.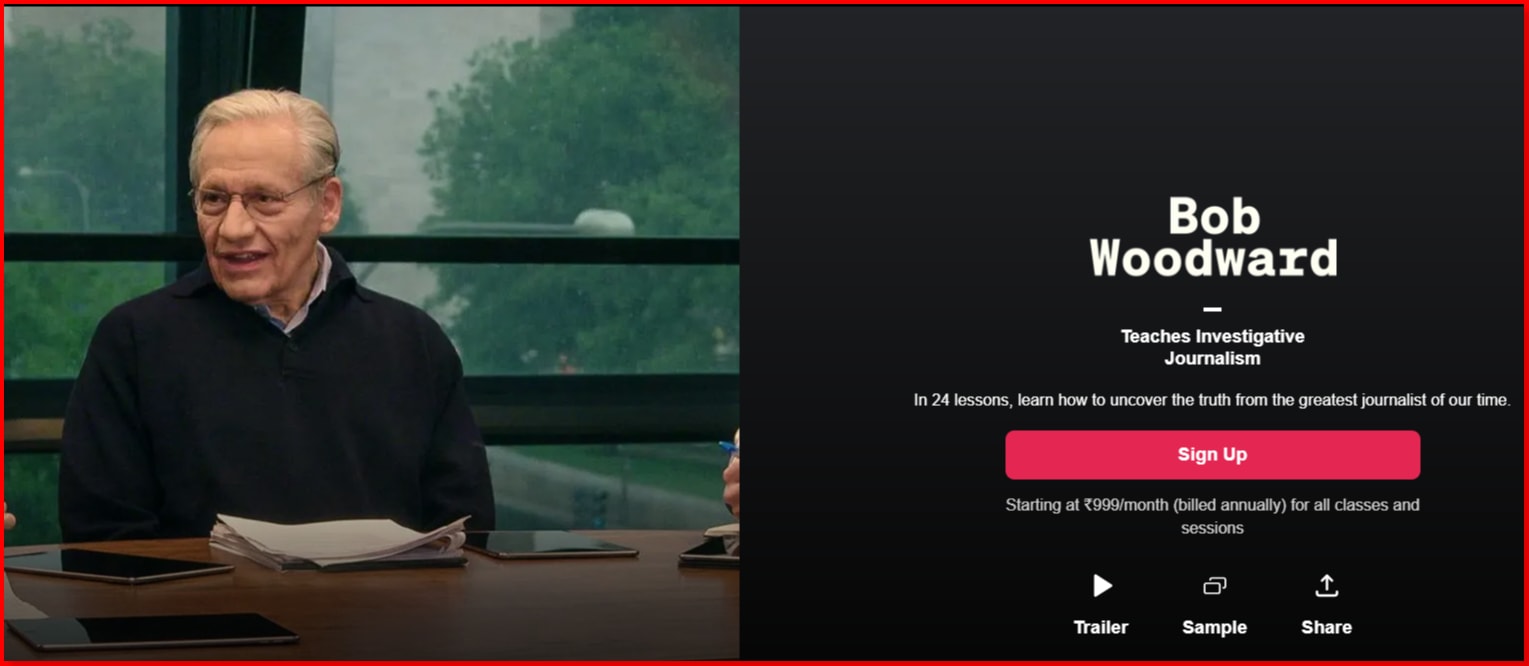 He also enables you to understand that this not only lets you go deeper but also helps you understand the subject on a very different level altogether. The important point that is covered is how the best stories are uncovered.
If your writing needs you to interview many people, this point is very valuable.
The interview he conducted with Trump is still remembered by many.
This is the link that takes you to my complete review of the Bob Woodward masterclass. By clicking here, you can purchase this course.
---
9. Joyce Carol Oates – The Art of Short Story
In this course, you can learn a lot from a very creative writer who pushed the boundaries constantly and came up with some very unique storylines.
Joyce Carol has written about 50 novels or more, so when I understood that the course was on writing short novels, I was quite surprised.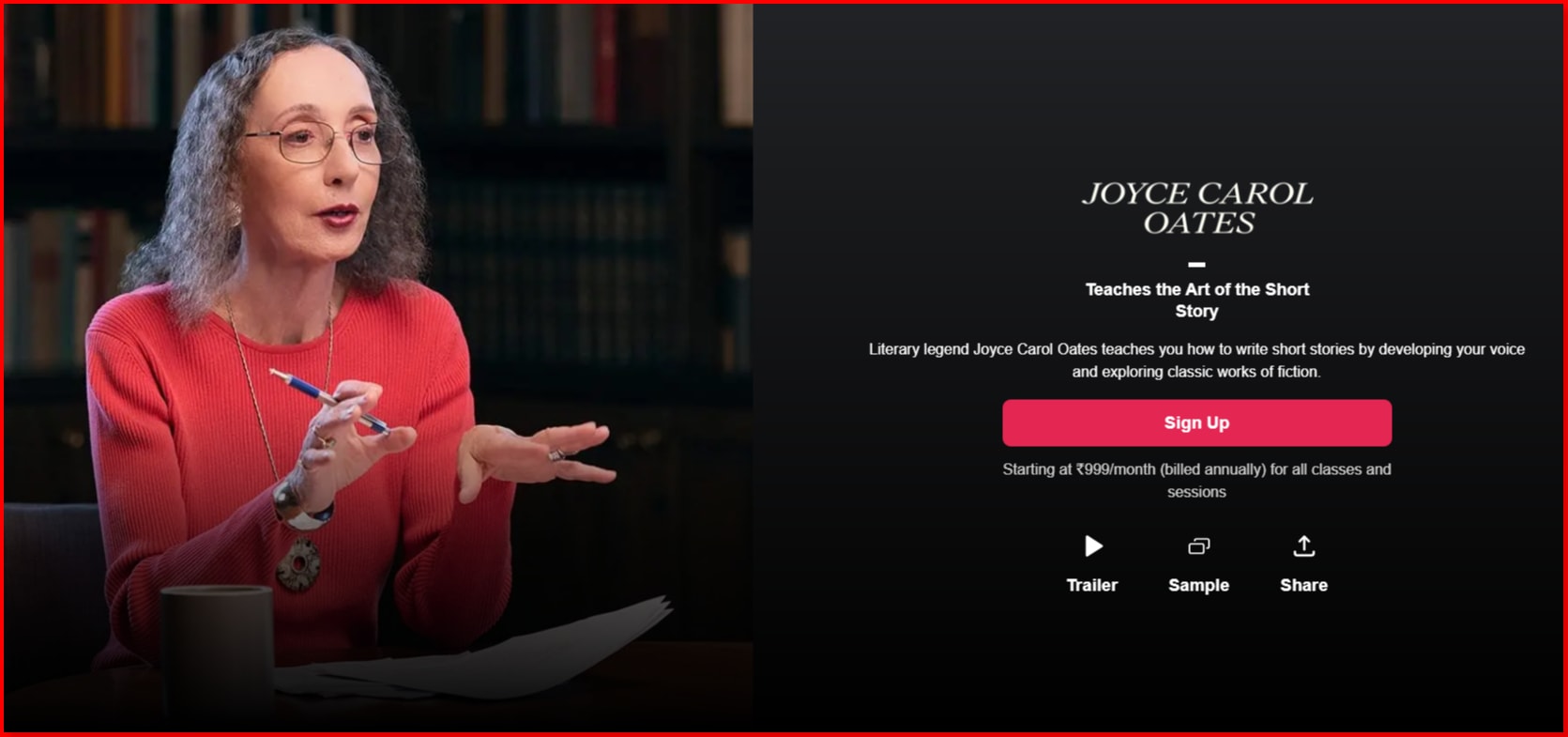 The course was very good. I liked her style of teaching, and the course also offers a free workbook.
Joyce also teaches one to explore and push the boundaries. She also shares tips that cannot be found in any other course.
For instance, a simple tip of keeping a journal can help you become a better writer as well as can be a great inspiration. Click here to buy the course or check this link for a complete review of this course.
---
10. Judy Blume – Writing Masterclass
This is an amazing course for anybody who wants to write a book but assumes they are not quite good at writing a book.
Judy writes fiction for young adults as well as children. So, if these are your genres, this course will teach you a lot.
However, anybody can benefit from Judy's masterclass as she is a great teacher who believes that a book can be written by anybody.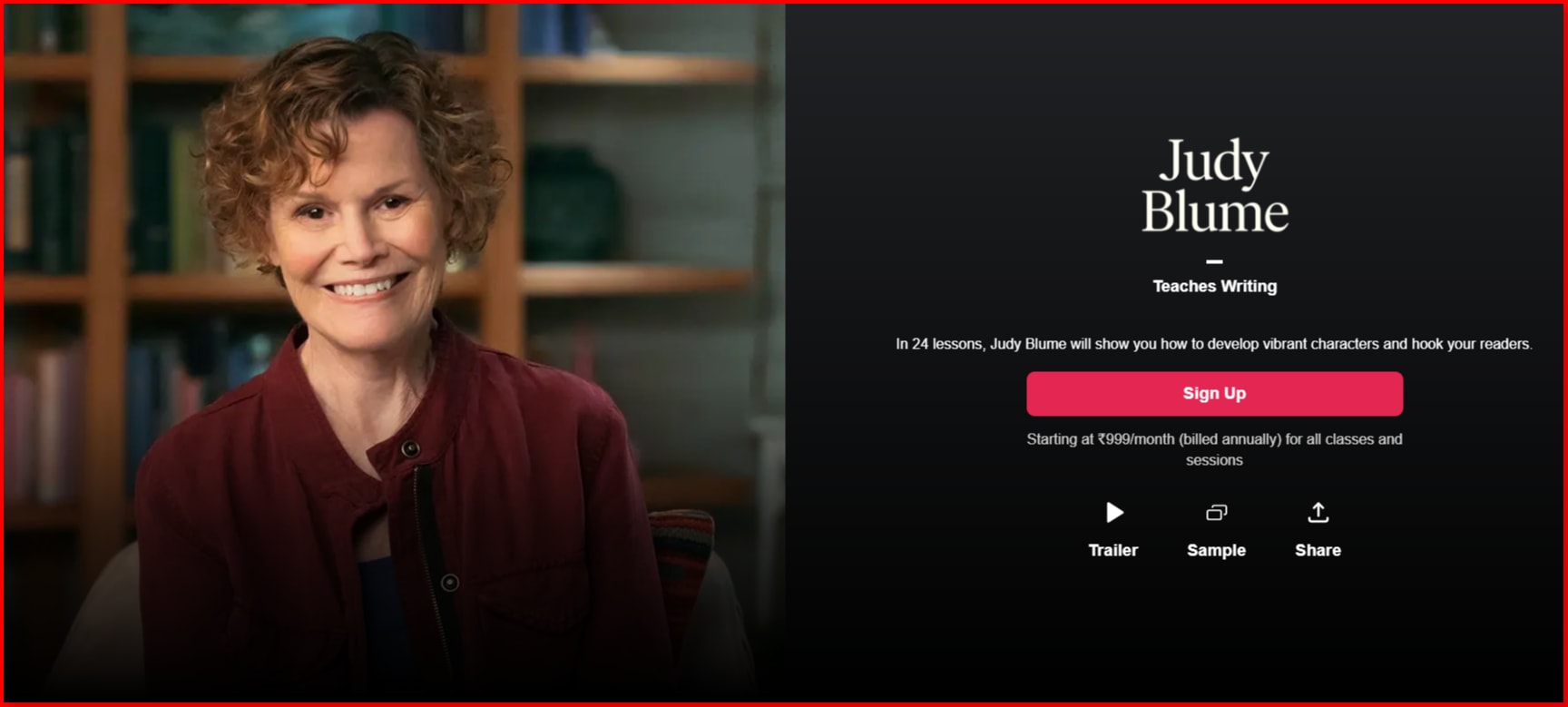 All that is required is to take action, work on her advice, and be perseverant. We all must have had some unique experiences, which need to be harnessed. You can buy Judy Blume's masterclass by clicking right here.
You can also learn more about Judy's offerings through this course by reading my full review.
---
11. RL Stine – Writing Masterclass
This is one of the best writing masterclasses for new writers. This is an excellent course for all those who wish to write books on children's fiction.
RL Stine's masterclass on writing is similar to a buffet loaded with many writing techniques, and this is what makes the course interesting.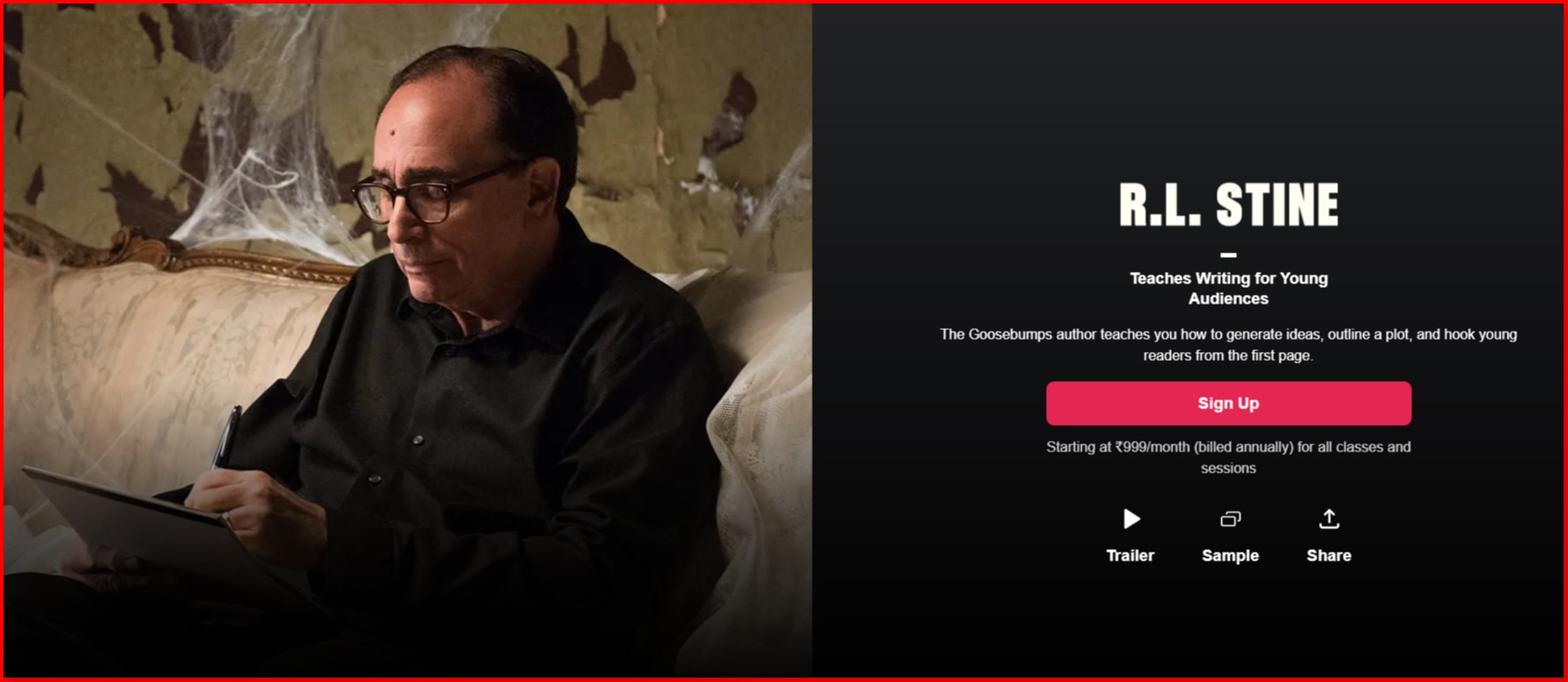 He gives you the details of how one can get inspiration, how to lay out your plot, how to create your characters, and how to write your book. He does so for many genres, including horror novels and children's books.
The course includes some great, unique tips that help you hook your readers right from the start of your novel. I also found his guidance on prose and dialogue very useful.
---
II) Masterclass Cooking Course: The Best Courses
The biggest course on Masterclass.com is definitely the one on culinary arts. As I write this humongous yet informational post, there are 13 masterclasses in culinary arts on this platform.
You could learn about wine appreciation, how to bake some amazing healthy meals, how to master the barbecue, and masterclass.com will ensure you are not disappointed.
So, if you purchase an all-access pass on this platform, you will be treated to a culinary delight! You can be a part of all these amazing 13 courses.
This all-access pass lets you take up every single course on this platform, and this is available at the price one would pay to attend two separate courses on masterclass.com.
You can read more about the all-access pass and how it works from the Masterclass.com website.
So, in the section on culinary art, I have ranked various courses from the best course to the last:
1. Thomas Keller – Teaches Cooking Techniques
This course is the best available for every cook! It teaches you the basic skills required to cool any type of food. This definitely was my favorite class among all the cooking masterclasses.
I have spent some time watching a few cooking videos and managed to prepare a few basic meals, and this made me feel that I cook perfectly fine! However,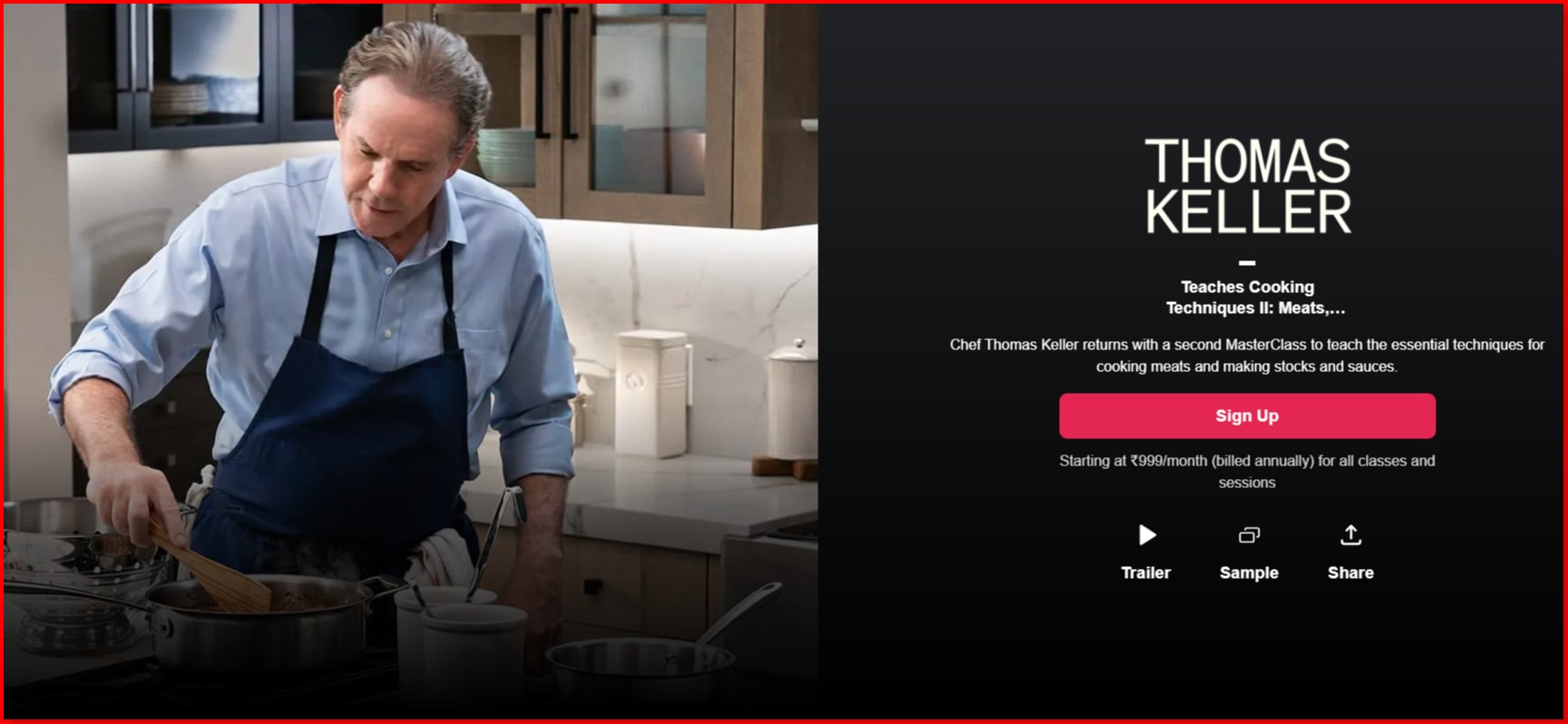 Thomas Keller, in his very first masterclass, gives you a list of various cooking methods, roasting, pureeing, and a lot of tips and tricks to create delicious food.
The best part about this course is that he also teaches some very important topics, such as storing the ingredients, how to source them, and the equipment that is needed in a kitchen.
Definitely a good course to start from if you are a beginner. For those who are experts and love cooking,
this course is a delight, as you can improve your techniques and skills and become a great cook! You can find out more regarding this masterclass on cooking by reading my review of the three masterclasses of Mr. Keller's. Or simply click here if you wish to check the price of the course.
Check our in-depth Thomas Keller MasterClass Review here:
---
2.  Gordon Ramsay – Teaches Cooking
This masterclass is a great way to introduce a person to cooking and gives you all the methods of perfecting the skills needed by a chef.
His restaurants have a total of about 16 Michelin stars, which speaks volumes about his work.
The food he cooked could be served at an elite dinner party or even a simple family gathering.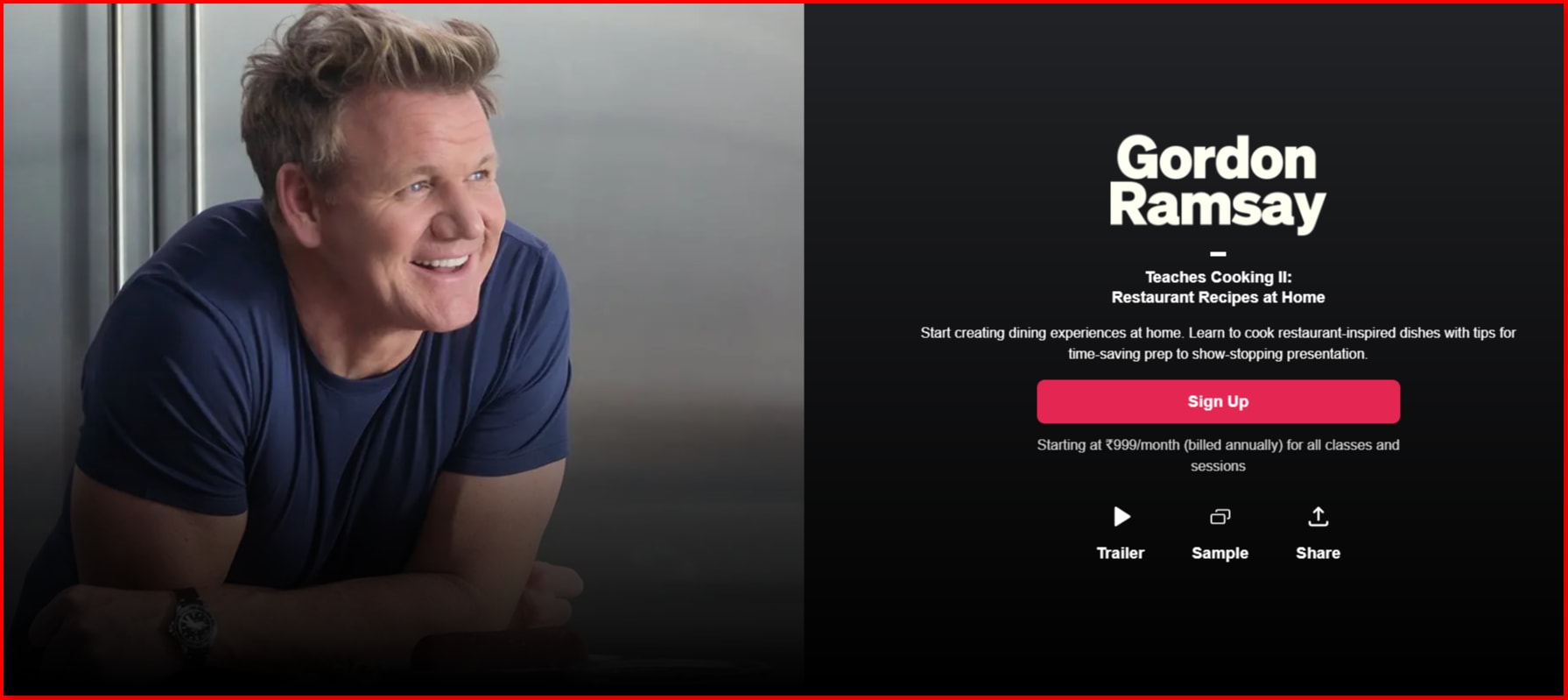 Gordon Ramsay has created a couple of courses for this online learning platform.
The one discussed here is the first course, where he aims to teach the basic and essential kitchen skills.
For instance, you can learn how to cut a whole fish or a whole chicken. The process is simplified and put across to you.
He also teaches you knife skills and the essential equipment one must have in a kitchen.
It comes as a surprise that his first course includes 13 unique recipes! Yes, and it does include the famed dreamy scrambled eggs.
It is a great course for beginners as well as professional chefs.
You can find my review of this entire course by clicking here.
Furthermore, if you are interested in the cost of this course and check the available videos, just head to this page.
---
3. Thomas Keller – Meats, stocks, and sauces
Once you have checked out the beginner courses, which teach you the essential skills and show you what equipment your kitchen must have, you can very well move on to some other courses.
If you are a meat lover, you would definitely want to source the best ingredients that are fresh and of good quality.
Thomas Keller, through his second masterclass, takes you through all that you must be aware of regarding selecting the meat, storing and preparing it, and cooking it as well.
Yes, this is quite a tough aspect for most of us – selecting the meat and cooking it the right way. This is where this workbook offered with the course is exceptionally useful and has many tiny details that help you make the best use of the meat that you purchase.
Now, Keller's courses can be quite long which are quite detailed. For instance, the course takes you through poultry, pork, lamb, and beef cuts and gives you a detailed explanation of the different dishes that can be created using them.
Keller also teaches you about 10 different cooking techniques as well as 14 sauces that complement the meat-based dishes.
The course has a dozen or more recipes as well.
Though there are many other courses on cooking with meat, Keller is the best!
If you need additional information, before you buy the course, just read through my full review on this course as well as the other 2 cooking masterclasses of Keller.
You can find out more about the course and its price by just clicking here.
Check our in-depth Thomas Keller MasterClass Review here:
---
4. Dominique Ansel –  French Pastry Fundamentals
This is the perfect course for the ones who love baking and have a sweet tooth! If you love baking special cakes and pastries for your family and friends, stop right here and dive right into this course.
All the lucky souls who have visited a French patisserie will be well aware of how beautiful and delicious their cakes are.
Yes, they are a treat to your eyes and a feast to every sense. With Dominique's masterclass, you will be able to prepare the delicious Eclairs, macaroons, madeleines, croissants, Kouign Amann, and Mille-Feuille recipes with ease.
He also breaks down the skills required for every pastry, which is great as you can use these techniques to create different kinds of cakes.
For instance, you could opt for the sponge base which is gluten-free, and his mini Swiss meringue recipes for creating some amazing cakes.
It teaches you the basic skills and gives you the recipes that you always dreamt of creating.
If you wish to read more on this course on the masterclass and all the amazing pastries you learn through it, you can check out my full review. Also, if you click right here, you can get all the details of the course and the price.
Check our in-depth Dominique Ansel MasterClass Review here:
---
5. Alice Waters – Teaches Home Cooking
This course is the perfect one for home cooks, for those who prefer eating organic produce.
Alice Waters is a chef with many awards to her kitty and runs the Chez Panisse located in California which has been awarded the Best Restaurant by Gourmet magazine.
If you want some homely recipes, then this masterclass will help you out.
Her course begins with the sourcing of organic food. In the initial videos, she teaches about storing and preserving whatever you purchase so that you can make the best use of it.
Even though I do not follow this way, I learned a lot more than I expected from this course.
The recipes shared makes use of ingredients that make the food delicious, nourishing as well as affordable.
However, the ingredients are available only during seasons and hence you can prepare the dishes she does only at particular times in a year.
Though we might not follow this all the time, you will end up sourcing local products more often and eating a lot of seasonal food. Alice supports and recommends the use of organic produce as well as meat.
You can go through my review of Alice Waters's course here.
Or you can visit the website Masterclass.com and get all the details you need about the course and its price.
---
6. Wolfgang Puck – Teaches Cooking
If you are a beginner, Masterclass has numerous courses that will help you out, one of which is that offered by Wolfgang Puck.
This is a practical course on cooking which that has a few unusual subjects inclusive of vegan recipes.
Well, if you have never heard of him, you have missed out a lot!
His dishes can be recreated easily and the stock he prepares is way better than what Keller teaches!
The best part of this course is he teaches you to train the palette, which is a skill that is not found in all people.
There are many vegan dishes included in this course. He also covers the basics of meat and fish preparation. Also, he teaches you how you can improve the family's favorite food with a few ingredients.
Yes, if you love offering your guests some special drinks, you can
make use of his videos on cocktails. This is a complete package for beginners.
You can go through my review on Wolfgang Puck masterclass, and click this link to get pricing details.
---
7.  Thomas Keller – Seafood, Sous Vide, Desserts
This course is one of the very unusual cooking courses available on Masterclass.com.
This course covers Sous Vide cooking and it appears that Keller loves this unusual cooking technique. I am sure you must have never heard or even tried it out,
just like me!  The subject was quite new to me and I was curious to know if these techniques could really be applied at home!
Keller does a good job of explaining how this cooking technique can be implemented without purchasing any special equipment.
Now, about sous vide technique forms 20% of the course and the rest of the course focuses on fish! If you love to experiment with fish and love seafood, this is a very extensive course which you must not miss.
He gives you a lot of tips on how to prepare the fish and how to cook it easily. You must check out the technique of salmon de-boning which is the easiest method.
However, the section on desserts is not very appealing and there are just a few recipes. You could check out the French pastry course by Dominique Ansel. You can check the whole review of this course here before you buy it.
In case you want to know the price and the course details click on the link here.
Check our in-depth Thomas Keller MasterClass Review here:
---
8. Aaron Franklin – Texas-Style BBQ
We all love barbecues and if you do, this is the best course to learn all about selecting the meat, preparing and storing it as well as cooking the meat well.
His barbecue restaurant is quite legendary and from the time it has been opened, they always sell out of brisket.
In this course, Aaron shares the recipe of the famous brisket as well! The barbecue skills that he teaches are quite useful when you have barbecue nights and you have to cook for a crowd.  He teaches you right from lighting a fire, carving the meat, and serving it at the correct temperature.
Aaron also teaches you to choose a good smoker and what are the equipment required. When it comes to the smoker, he teaches you how it should be set up, how to choose the wood, and get the fire at the right temperature.
This is the perfect course for all barbecue fans! To know what my views on this course are, click here. To know the price and course details, click the link here.
Check our in-depth Aaron Franklin MasterClass Review here:
---
9. James Suckling – Wine Appreciation
We all know that good food definitely tastes a lot better when it is paired with the correct wine.
But, how do we understand which wine has to be paired with a particular food?
This masterclass is the ideal one that shows you exactly that.
All the wine buffs out there must check out this course.
James Suckling, a famous wine critic, shares various tricks in this masterclass, which teaches you how to select the right wine. He also explains the way to have your wine cellar and learn the process of making wine.
He also teaches you how to read through a wine list, which is quite handy if love a glass of wine at restaurants.
Read my complete review on this course here or click on this link to know the pricing and videos available in this course.
Check our in-depth James Suckling MasterClass Review here:
---
10. Gordon Ramsay – Teaches Cooking II – Restaurant Recipes
Now, the standard recipes at restaurants are generally for the advanced cooks, however, they have been presented in a very simple and easy way that can be followed by anyone.
This masterclass has dishes for vegetarians as well.
This is Gordon Ramsay's 2nd masterclass and has a lot of ideas for dinner parties.
If you are interested in learning some advanced cooking techniques, then this is the perfect masterclass for you.
This masterclass is a bit shorter in contrast to his first, however, he has included 13 complete meals that have step-by-step instructions.
In short, it teaches you 25 new dishes. Furthermore, you also learn cooking techniques that were not covered in the first course. Though the recipes have been selected for dinner parties, Gordon teaches you how to modify them for a good family meal.
My favorite part is where he shares amazing tips on using leftovers, which ensures you do not waste any ingredients, a few of them could be quite expensive.
His poached eggs in red wine with mushrooms and asparagus is a dish that can be cooked quickly. He also considers people having certain dietary needs and he has included a few good vegetarian options as well.
If you wish to know more about this course, click on this link.  For pricing and other details, just click here.
---
11. Massimo Bottura – Modern Italian Cooking
Oh Yes. We love all the Italian food and this is exactly the course for all those who love to get creative in their cooking. His restaurant has been voted the best restaurant in the world for the year 2018.
Massimo Bottura is a genius in cooking and transforms classic Italian dishes into a better dish.
You could learn to prepare various sauces as well as mayonnaise through this course.
He teaches you how to prepare fresh pasta and make use of it in many ways.
You must try his panettone souffle which is divine and not as tough as it sounds!
This course also includes ways to transform leftovers into some delicious meals which is the requirement in every household.
His best classes are those which show you how you can substitute an ingredient for another.
If you wish to upgrade your cooking skills and experiment, definitely try out this course.
This link takes you right to the course on the Masterclass website.
However, if you wish to know about the course in detail, you can click here to read my detailed review.
---
III) Acting Masterclasses – The Best acting courses
If you are a film buff like me then masterclass gives you the opportunity to find out the reasons behind the great performances put forward by your favorite actors.
Now, this is something that cannot be resisted by anyone.
For instance, I do not act, neither do I have plans of heading in this direction in the near future, yet, I have gone through all the acting courses on the masterclass and I have enjoyed them a lot!
Hence, ranking these was a bit tough. So this is my list of best courses in acting on this platform:
1.  Natalie Portman – Acting
If you wish to learn about the techniques of playing real people, then the best class would be that of Natalie Portman.
She is one of the youngest actors who has set aside some time to create a class and share their skills and experience.
This is an excellent course which gives you a lot of classes on acting.
With the help of demos and case studies, she guides the students, which is a great way of learning.
Her way of teaching you how to act well is quite similar to that taught by other actors, however, it is less detailed. But, Natalie aces in the area of how to play real people.
This aspect is covered in detail and in a very innovative manner. f you are a budding actor, click here to buy the course. In case you wish to know more about the course, read my review here.
Check our in-depth Natalie Portman MasterClass Review here:
---
2. Helen Mirren – Acting
This class offers detailed instructions covering acting for films, TV as well as stage.
This is quite a long masterclass. Helen Mirren began her career with the Royal Shakespeare Company. She has won a lot of awards – Emmy, Academy, Tony, and many others.
Though her course has a lot of information, she isn't a natural at teaching. However, she offers a lot of information which is invaluable.
Helen explains why actors should avoid taking up roles that do not suit them and how it is a mistake.
She advocates all those who play Shakespeare, and she explains why, during the masterclass.
It is amazing to see how she makes use of props as well as character clothes to create an impact.
Her masterclass has a lot of insights. This class is definitely worth considering.
You can buy this course by clicking this link. Or, you could also read the review on Helen Mirren´s masterclass, before you purchase it.
Check our in-depth Helen Mirren MasterClass Review here:
---
3. Samuel L Jackson – Acting
This course is best suited for character actors and those who love Samuel Jackson´s work.
The course starts by going through the process of character creation. Right from the physicality to dressing up to how to speak, every aspect is covered.
He also gives you a few collaborative working techniques. Furthermore, various practical skills such as breaking down a script as well as growing your career in acting are shared through this course.
Samuel Jackson has put a lot of information into this course and you can read the review here. Click this link to buy his masterclass course.
Check our in-depth Samuel L. Jackson MasterClass Review here:
---
IV) Masterclass filmmaking courses – The Best courses for Directors
Now, this is simply amazing! There are a lot of Oscar-winning directors who have created masterclasses on this platform!
Though not into film making, I just could not resist taking advantage of these exceptional courses offered in film making on this platform.
All the courses are quite interesting and if you have some favorite movies, you would definitely be curious to know how it was created, wouldn't you? Or you would even love to listen to the creative process of a director.
So, I have listed a few of my favorites, which are:
1. Mira Nair – Independent Filmmaking
This filmmaking course has a different approach to the art form. There is a lot of guidance offered which aims at independent filmmakers, and it also deals with big-set filmmaking.
I think that the filmmaking masterclass by Mira Nair is the best of the lot on this platform.
This is because of her teaching methods which are quite engaging and she shares some unusual insights.
She has a very innovative approach to filmmaking. When she has a tough task on hand, she turns to her crew on the set. For instance, she asks them to get in some props.
A single innovative move helped her create a very unique look for the scene of a big Indian wedding and also allowed her to stay within the budget. It is quite interesting to learn how she makes use of music and color.
Her course has a lot of quirky ideas that work!
She is a successful filmmaker and has been able to attract audiences from all over the world. Click this link to enjoy her masterclass on independent filmmaking or you could check out my review on her course as well.
Check our in-depth Mira Nair MasterClass Review here:
---
2. Jodie Foster – Filmmaking
Jodie Foster's masterclass is apt for the students of filmmaking. It also is quite useful for those actors who wish to get a better insight into the expectations of a director.
If you are amongst this lot, this course will get you sorted. The course is a bit tough to follow than other courses, however,
it is a great masterclass that has a different perspective on the process of filmmaking.
The reason behind this is that Jodie has been an actor since the start of her career. However, this is a plus point, as the course considers aspects that are not considered in many other filmmaking masterclasses.
I like the way in which Jody walks you through the process of preparation. She puts a lot of effort into this stage. If you get the preparation right,
it enables you to remain on track, be within the budget and get things done within the time.
If, as a filmmaker, you are struggling with any of the above, Jodie's course will help you out.
Click here to get Jodie Foster's masterclass on masterclass.com. You could read the full review to understand the course better.
Check our in-depth Jodie Foster MasterClass Review here:
---
3. Ken Burns – Documentary Filmmaking
This is an amazing course for all documentary makers of different levels. Even the Non-fiction writers or university students who are conducting research on this could benefit a lot from this course.
You need not worry if you aren't a documentary filmmaker,
as you will be able to learn much more than expected from this class.
The sections on fact-checking and research are quite good.
Students will benefit from their learnings in this class, irrespective of which subject they are into.
If you want advice on how to create voice-overs or use music, this class will offer you much-needed advice. During his career, Ken Burns has used every cinematic device available,
during his career, to enhance his stories regarding history as well as real-life. You can find a detailed review on this masterclass here or you can click here to buy the course.
Check our in-depth Ken Burns MasterClass Review here:
---
4. Spike Lee – Independent Filmmaking
This delightful masterclass takes you into Spike Lee's world and offers a lot of practical advice.
The course is quite engaging and if you are a fan of Spike's films and his work, this course will not disappoint you. Spike covers all that you must know, whether you are an experienced director, an amateur, or just a fan!
His course could also help a lot of budding actors. Spike has been quite successful as he finds a story that resonates with himself. He has passed on this advice in his course as well, which is quite a sensible one.
The best part about him is that his films do not have any kind of formula, and you never know what comes next.
In his masterclass, Lee explains how this is done and also shows you the ways in which you can evolve either as a creator or a filmmaker.
He even covers the topic of film financing as well, other than picking the cast and creating a storybook. This masterclass will benefit any independent filmmaker. Just click this link to know more about the course's price and to purchase it.
Check our in-depth Spike Lee MasterClass Review here:
---
5. David Lynch – Creativity & Film
This masterclass by David Lynch is loaded with information related to filmmaking, making the best use of your time, and getting creative.
In case you do not have a lot of time, this course is a great one to start off with, as it is a bit shorter than other courses, but does not compromise on the information.
This masterclass focuses on creativity. David shows you how time must be created in your life so as to allow the free flow of your imagination. This gives you all the ideas required to create some interesting films.
Keeping in mind the films of David, I expected this course to be disorganized and a bit bloated.
However, it was just the opposite of what I had expected.
David is a great teacher and has structured this course quite carefully. This course will not take you through the complete process of film making. For instance, the course does not cover film financing or casting.
But he gives you some unique advice on how a sound score is to be created, how to create the storyboard, and how to deal with failure.
You can read more about this course on my in-depth review, and you can use this link to purchase David's masterclass.
---
V) Business masterclass – The best courses
Who doesn't like to start a business of his/her own? We all dream to start something one day and also excel in that, but the mere thought of how to go about it shatters the whole dream and one gets back to the monotonous life.
But not any longer, if you wish to be an entrepreneur one day, then start preparing for it now with the best masterclasses available.
However, right now, these is what I think are the best business-related masterclasses.
As you will see, I have included those courses that teach skills like leadership that any entrepreneur needs to become successful.
1. Sara Blakely – Self-Made Entrepreneurship
You will definitely enjoy this masterclass if you are keen on understanding how to start your own business and make it grow.
The course begins with Sarah talking about her journey and she makes quite a bold statement by saying that every single person has at least an idea that can be transformed into a business.
Yes, I hear you! It is quite tough to believe this statement.
However, as the course advanced, I did realize that she was right.
I was happy with the way she taught about capturing these ideas and working on them. She also encourages the student to get started!
She explains that you can begin small, and grow the business organically.
I love this course and it is amongst the best courses available anywhere.
If you apply a single aspect of what is taught by Sarah to your business, your career, or your life, you will find this masterclass worth every penny.
All those budding entrepreneurs can click here to join this masterclass and benefit from it.
---
2.  Bob Iger – Business Strategy & Leadership
This masterclass is for all those who intend to become a competent business owner and also achieve a great work-life balance.
Bob Iger, was the CEO of one of the biggest firms in the world – The Walt Disney Co. when he created this masterclass.
Through this class, Bob shares how he has the energy as well as time to run one of the biggest companies in the world.
He covers many vital processes like how to identify growth areas, how to acquire businesses, and how to create harmony when your business expands.
This is a great course and has been structured to apply whatever you learn irrespective of whether you are just starting your business or run a billion-dollar business.
Head to masterclass.com if you wish to take up this course.
---
3. Doris Kearns Goodwin – US Presidential History & Leadership
This is one masterclass that shares the lives of some of the greatest presidents of America and how they became great leaders.
I took up this course and expected a lesson in history with a couple of tips on leadership fit in.
However, the course took me by surprise and was completely different than what I expected.
Doris explains through this masterclass the ways of living and working off some great Presidents of America like Lincoln, Teddy Roosevelt, and JFK.
She also demonstrates how strong partnerships were formed, how they worked with enemies during the crisis, and how teams were built teams to lean on.
She also talks about the various means in which they communicated with their voters, teams, other leaders as well as the world. Though it is not a favorite class, I enjoyed the class. You can get enrolled in this class by clicking here.
---
4. Anna Wintour – Creativity & Leadership
This course is apt for all those who lead a team, especially a team that has to be creative.
Since 1983, Anna Wintour has been heading Vogue. She explains how you can ensure your business keeps up with time and remains relevant.
Her course concentrates on building and leading a strong team that ensures the business evolves and grows.
She shares the use of process mapping to keep things moving ahead and to keep track of everything around you.
Check out the link to take the class which is quite interesting.
Check our in-depth Anna Wintour MasterClass Review here:
---
VI) Music masterclasses – The best courses for producers or composers
Most of the masterclasses available on this platform are created by musicians, singers, music producers, and composers.
These courses offer a lot of training ideas, methods, and do not fail to inspire.
Additionally, they give you an insiders' view of the lives and work of some of the biggest music stars in the world. Listed below are my list of top courses:
1. Hans Zimmer – Film Scoring
This is a great class for all those who are film fans as well as those who wish to know more regarding the traditional approach of film scoring. Hans Zimmer is has worked on mainstream movies, for instance, Gladiator.
He has a very traditional approach in contrast to that of Danny Elfman, so you will learn something different in this course. He was amongst the first to merge electronic music with the traditional orchestra.
In this course, he takes you through aspects like how to know the characters of the film and creating music for every character.
He also covers technical skills required by a film composer such as scoring to pictures as well as under dialogue.
This course gives you an insight into films as well as music composing. Click here to know more about the course details and the pricing.
Check our in-depth Hans Zimmer MasterClass Review here:
---
2. Danny Elfman – Music for Film
This is a music course for the film scorers. However, any composer or musician can learn a lot from this course. Danny has a very unique approach that makes this a good option for film scorers.
I have no interest in music, yet this course has changed the way I watch movies and has added value to my experience.
The subject is quite interesting and engrossing. As I went through this course, I loved the manner in which Danny guides students on how a story can be told using music and how it reinforces what is seen by the viewer.
He is a skilled composer from whom you have a lot to learn.
His video on the workflow as well as time management was quite helpful to me. You can buy this masterclass course by clicking here.
---
3. Deadmau5 – Electronic Music Production
Deadmau5 covers the areas of performing, djing along electronic music production.
The masterclass is quite technical, yet very entertaining. This is your opportunity to learn from a music producer who's amongst the highest paid in the world and is way too good to let go off.
In this course, he demonstrates that you just need time and patience to compose some great electronic dance music. You do not a lot to get started. Personally, this course inspired me a lot.
A have a few friends who produce music and they loved the course too.
Even areas like how to start your career in the industry of music is pretty impressive. You can check out the details of the course and its pricing by clicking here.
---
4. Armin Van Buuren – Dance Music
This is quite a lengthy masterclass and is a necessity for all those who are serious regarding the production of electronic music, irrespective of the genre. this course is amongst the longest on this platform and is all about creating as well as producing electronic music.
However, Armin also covers crucial subjects such as creating a home studio as well as selecting the right equipment.
He has included all that a music producer must know, in this course. Read my detailed review here and click here to purchase this course.
---
5. Timbaland – Producing & Beatmaking
If you are a big fan of beatboxing, this course is quite good. Even those who do not know about this and are not fans of this concept, like me, would be happy once they have taken the course.
Timbaland is a great teacher and is quite easy to follow, keeping aside his ramblings.
He takes you through various subjects such as layering beats, the addition of toplines, chord progression, as well as manipulating the vocal samples.
I loved the portion where he explains how he makes use of everyday sounds and it is quite amazing to see what he does with these simple sounds.
You can check out the course pricing over here and check this link to read my full review.
---
VII) Musicians and Singers – The Best masterclasses
This platform of learning is amazing as you get to see some of the very prolific singers as well as musicians, who are world-famous, setting aside some time to pass on their knowledge to others.
The experience is simply priceless! I would love to see a lot more in this category, and for now, this is my list of best courses:
1.  Tom Morello – Electric Guitar
This is quite a remarkable masterclass that gives you detailed information for those electric guitar players who are experienced as well as those who are beginners.
He is a great teacher who is innovative and a very experienced guitar player.
He loves whatever he does and gives you examples of blues scales, finger exercises, and how riffs are built. In case you wish to create some of your very own tracks, then this guitar course gives you all the required details.
Check the course pricing right here and check out my complete review as well.
---
2. Christina Aguilera – Singing
All those who intend to learn singing or even give live performances must take up this masterclass.
At present, this is the sole masterclass in singing which is available on Masterclass.com and I hope more are added to this category.
Christina has covered this subject pretty well. However, what is not covered is how to get started in this industry.
Her classes focus on improving performance when you have learned to sing well. Check out my review to understand more about this course and you can purchase this masterclass by clicking here.
Check our in-depth Christina Aguilera Masterclass Review here:
---
3.  Itzhak Perlman – Violin
All the violin players and violin lovers, this is a must-have course for you! Irrespective of the level at which you play, you will definitely love this masterclass.
I love the manner in which Itzhak Perlman ensures that this course is meant for one and all.
0
For instance, when he takes you through the different bow techniques, there are techniques that even beginners can use. He also explains how one must read the music and how to memorize it.
What is important is that he also points out the common mistakes made by players which could lead to some bad playing habits.
He also shows you how these can be avoided. Click this link to buy the course.
---
4. Carlos Santana – The Art & Soul of Guitar
This course is for those guitar players who wish to change some things, experiment as well as learn more about the instrument.
It gets tough to understand Carlos initially as he rambles a bit.
However, once you are used to him, his class could improve the way you play the guitar to a great extent. An important thing you learn in this class is the development of your unique playing style.
Carlos has a very unique style of playing the guitar which explains the influence by music from different cultures.
A fan of Carlos Santana and a guitar player will love this class. Click here to buy this course.
Check our in-depth Carlos Santana Masterclass Review here:
---
VIII) Sports masterclass – The Best Courses
The world of sports can be quite captivating. However, we rarely get to see what happens behind the scenes.
Very rarely do we get the chance to hear it from the athletes directly.
This is where you could opt for a sports masterclass.
Being able to just sit and listen to some of the greatest sportspeople such as Serena Williams and learning about their journey itself is informative as well as inspiring. It is much better than a documentary or an interview for 30 minutes.
I have understood that every athlete has a different approach and a different journey which has led to their greatness. So, here is my list of some of the best sports courses on Masterclass:
---
1. Daniel Negreanu – Poker
This poker masterclass by Daniel Negreanu is great for experienced players as well as beginners.
The course teaches you to sharpen the mental game by using many strategies. The course is great to increase your return on investment.
He explains how you could invest in yourself and build the required skills and become the best player in the game of Poker.
Irrespective of the need to just improve your game or to know more about the game, this masterclass is the best one available. Click the link to get your hands on it right away.
Check our in-depth Danial Negreanu Masterclass Review here:
---
2. Phil Ivey – Poker Strategy
Another course in poker is by Phil Ivey which is quite easy to follow. It is good for beginners and has some tips even for seasoned players.
Phil Ivey is one of the famous cross-over players and if this interests you, this is the right course you should be investing in.
The strategies shared by him help you irrespective of whether you intend to play tournaments, play online, or play in some big cash games.
He guides you on the toughest concepts in a thorough and swift manner and it consists of preflop strategies, elite bluffing strategies,
understanding the game of the mind, and judging bet sizes.
So, if you wish to learn about poker and the various strategies from the master himself, simply click here.
---
3.Simone Biles – Gymnastics Fundamentals
This is the best masterclass for all the budding gymnasts as well as their parents.
It provides great insight into all that is needed to make it big in this competitive sporting field.
This class teaches you the importance of being organized, focused, strong-willed, and maintaining a balance in life.
.00
Simone is very young in this field, but to reach where she is today, she had to go through a lot.
She shares the lessons she learned due to her perseverance and hard work. Now, this is a gymnastics masterclass, where step-by-step instructions are given for
the basic foundation moves as well as the advanced moves.
She also covers the floor work, uneven bars, the vault, and the beam. You can enjoy her masterclass by clicking here.
---
4. Misty Copeland – Ballet technique & Artistry
This beautiful masterclass is ideal for all ballet dancers regardless of the level.
Even fans can enjoy this course as it isn't very complicated. This course can be an eye-opener for all those who have never tried ballet.
It has been categorized by Masterclass as a sport
which is surprising and is great for ballet dancers as they are fit and strong just like any other athlete.
In this class, Misty takes you through the warm-ups, and the main ballet moves.
Her approach is quite different and if you enjoy ballet, this course can be quite interesting.
I feel that this masterclass is great for all those who are interested in ballet – those who love watching ballet and those who are performers as well.
It could be the ideal present for any young dancer. If you wish to purchase it, click on this link right away.
---
IX) The Best masterclass for An Entertainer
The entertainment world can be very fascinating, and I was glad to find Masterclass.com covering this subject too. There is one course which really stands out :
---
1. Penn & Teller- Art of Magic
Who hasn't been a fan of Penn & Teller? It would be difficult to find one.
Wouldnt it be exciting to learn the tips and tricks from them and fool them on their own show?
Yes, it is very much possible by learning the iconic tricks by the iconic magicians themselves "Penn and Teller".
This is a very entertaining masterclass and can be enjoyed by a fan or a magician.
It is a course that has a lot of fun and gives you an insider´s view of the world of a magician. The world of magic was completely closed, however, it is opening up these days.
Penn & Teller teach a student to perform the eight iconic tricks in magic and they also teach you the skill of misdirection.
You are also taught about performance skills which can be useful in your daily life. I loved the card tricks which are great for social gatherings.
Learning these tricks also helped me improve my focus. You can click the link to treat yourself to this entertaining masterclass of Penn and Teller.
---
X) The Best Photography Masterclass
Photography is a great pastime and it also has the potential of becoming a full-time profession.
When I became aware of the various photography courses on masterclass.com, I had to take them to understand which was the best.
---
1. Annie Leibovitz – Photography
This masterclass on photography has been designed for photographers of different levels and teaches them to be creative and innovative. Annie has always been thought of, to be a portrait photographer.
However, once I took up this course, I was able to understand that she is beyond that.
All she needs is a single photograph to tell you a story! This is quite a special skill that is quite difficult to recreate.
However, with Annie's help, you could learn to do that too.
Annie Leibovitz's masterclass on photography is available when you click on this link.
---
XI) The Best Masterclass on beauty, lifestyle, and Fashion
There are courses in Gardening, interior designing, and self-expression, however, one class in this section that was quite good is the makeup masterclass by Bobbi Brown.
---
1. Bobbi Brown – Makeup & Beauty
This is a great masterclass on makeup and beauty which could benefit any woman or beautician or makeup artist. The course is quite comprehensive yet not lengthy and complicated.
Bobbi Brown has helped women enhance natural beauty with the use of makeup and
she has been doing this for 20+ years. In this class, she shares all her techniques which can be modified to work for any skin tone and every age. She also explains on how to deal with issues when using some old-school techniques of makeup application.
The best part about this course is that she begins with the basics.
For a person who has not used makeup at all, this course will be very helpful.
Her course begins by teaching you to understand your skin type, your face shape, as well as your undertone. She teaches you how to use only the makeup that is needed and fit it in with your plan for that day.
The course will also help you buy only those products that you need and avoid spending on products which do not suit you.
This course is definitely worth spending on. Click here to purchase this course.
---
Which courses on Masterclass are the Best Overall?
If your goal is to learn without bothering about the subject matter is, then there are 4 courses which I would recommend totally.
I found these courses to be quite inspiring, interesting, or entertaining.
(i) Penn & Teller – Art of Magic
This course was quite entertaining and not every day do you get to learn the tricks of magic.
The course is quite an entertaining one and they teach you the most iconic tricks of magic, card tricks, and many more. It teaches you to stay focused and incorporate the skills you learn in your daily life as well.
(ii) Sara Blakely – Self-Made Entrepreneur
This is a very inspiring and practical course so far. Sara shares strategies that can be applied by anyone and it can be used by anybody irrespective of whether they are a start-up or a billion-dollar business.
(iii) Aaron Franklin – Texas-Style BBQ
Aaron pays a lot of attention to detail which is quite great. He covers all that you must know about barbecues – selecting, storing, preparing the meat. The workbook provided is just excellent.
Additionally, he has captured everything on film so beautifully that you can actually see what he does and how he does it. This is a great course for all barbecue lovers who love having barbecue nights!
(iv) Mira Nair -Independent Filmmaking
This course by Mira Nair, a filmmaker who has been able to appeal to people from all over the world is amazing. It is loaded with a lot of information, examples, and the course is quite easy to follow.
The course is also very entertaining and informative. She has a different approach to filmmaking which is also very refreshing.
---
Masterclass.Com Courses Detailed Review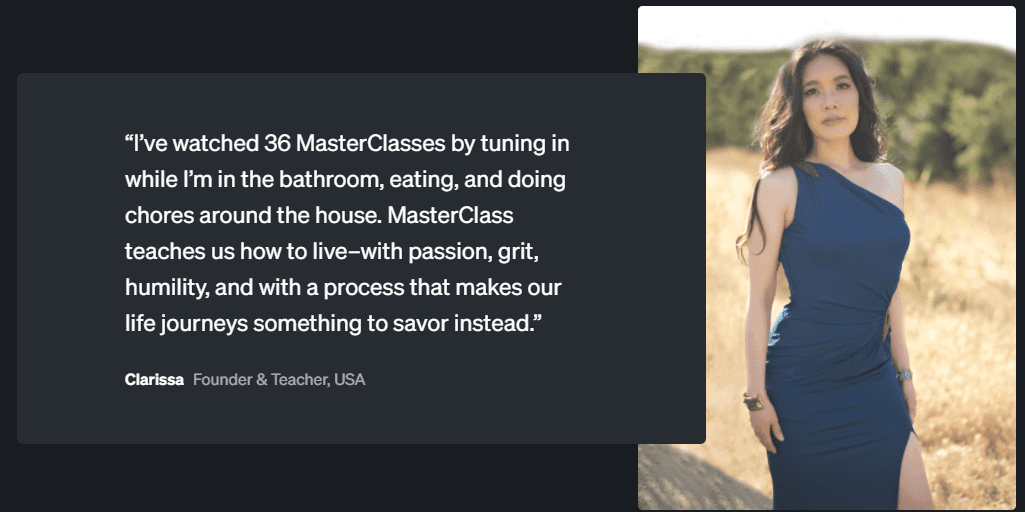 Quick Links:
FAQs | Masterclass.Com Courses Detailed Review
💁 What is a Masterclass?
Masterclass has some of the best A-class teachers like Bob Iger teaching business, Aurel Stein teaching writing, and the list continues. Just demand a course and they have in their list along with the best teachers.
🤑What is the pricing of masterclass ?
Masterclass All-Access Pass is billed at $180 and comes with a 30-day moneyback guarantee.
📺 Where can I watch?
With MasterClass, you can learn and be inspired anytime, anywhere, including your smartphone, personal computer, Apple TV, Amazon Fire TV, and Roku streaming media players. You can even download your favorite lessons and watch on the plane or listen during your commute in audio-only mode
🤷‍♀️ How does the 30-day guarantee work?
Our goal is to make sure that you have the best learning experience possible. If MasterClass isn't for you, then email us within 30 days of the date you purchase your subscription, and we'll offer a full refund.
Masterclass.Com Courses Detailed Review 2023
Why should everyone treat themselves to some of the courses at masterclass.com?
I must tell you that post taking the courses from the MasterClass, I have become a big fan of this platform of online learning.
I have the all-access pass which has given me access to all the courses related to cooking, photography, business, sports, etc. It has broadened my perspective, taught me many new skills, and has also helped me get out of my very own comfort zone. If you too want to get this pass, use this Masterclass Promo Code.
Some of the courses are very inspiring and many teach you the qualities needed to move ahead in life and make it big.
Some of the courses help you hone your cooking skills whereas some help you enhance your business and leadership abilities. It is a great way to learn about areas like Magic, Ballet, Poker game strategies, cooking up Italian food, etc.
The best part is that all the courses are informative, entertaining, and fun!
I have benefitted a lot from these courses on masterclass.com and I am sure you will experience the same as well!
You can follow masterclass social media handles, like Facebook, Twitter, Instagram, Linkedin, and Youtube here.