WordPress page builders are both hated and loved. They are here to stay, regardless of your viewpoint. But you're probably reading this because you've already decided to go into the world of page builders.
The pricing gap between Elementor and Divi is the most significant.
The free version of Elementor is available, and the Pro version costs $49 a year for one site. For limitless websites, Divi costs $89 per year (or $249 for lifetime membership). Divi is the only theme that comes with a lifetime license that allows you to use it on an unlimited number of websites.
Divi vs Elementor 2023: Overview
About Divi
Divi is one of the popular WordPress themes as well as a high-quality web page builder developed by Elegant Themes. It was made 12 years ago in the USA and has now grown into a proficient web page-building tool.
Divi is known for its powerful visual editor and comprehensive capabilities. This is a premium web page builder plugin with a free trial version available.
About Elementor
Despite the fact that it was only released in 2016, Elementor has quickly become the most popular web page builder. It's an Israeli software business that makes it simple for WordPress users to update their websites.
We have also shared the Elementor Review and for you to if its worth it.
Ease of use: Divi vs. Elementor
Divi was created for folks who wished to create beautiful websites without having to know how to code. Div features a drag-and-drop feature that web designers adore.
It has recently changed its focus to visually attractive by offering an almost infinite amount of features and layouts. This, however, has harmed its user-friendliness and made it slightly more complicated. Before beginning the web page design, you should take some time to learn more about its features.
Elementor also offers a drag-and-drop interface that makes it a breeze to work with. Elementor, like Divi, does not require coding and can be used by a complete novice to produce gorgeous web pages. It has right-click options and keyboard shortcuts, making it extremely user-friendly and accessible.
Elementor vs. Divi: Versatility
Despite the fact that both Elementor and Divi are effective theme builders, Elementor lacks a theme. Divi comes with both a plugin and a theme to provide users with much better synchronisation.
However, there are numerous external plugins for Elementor that can handle this problem.
Divi vs. Elementor: Creating Mobile Pages
Smartphones are used by almost 4 billion people worldwide, much-outnumbering PC internet users. To tap into this large potential user demographic, it's vital that the website you're constructing is mobile-friendly.
Divi may be used in conjunction with a third-party plugin called Divi Mobile to develop mobile-friendly websites. It has a lot of features, such as hamburger icons, header control, sub-menus, and so on.
Despite the fact that Elementor does not require a third-party plugin, Divi offers far more adjustable and enticing choices for mobile viewers.
Elementor vs. Divi: Performance & Speed
All the functionality in the world will be useless if your website takes a long time to load. Fast-loading web pages are essential for any website's success.
Faster loading websites are not only more SEO friendly, but they also make your website visitors pleased. In addition, as compared to a rival, browsers are more likely to spend longer time on a website with faster page loading.
Elementor was found to be marginally faster in multiple speed tests conducted by various external organisations. This should come as no surprise, given the number of functionalities available on Divi web pages.
This will make the page larger and take a little longer to load. Divi, on the other hand, is no slouch and performed admirably in all of the tests conducted.
Conclusion: Elementor just barely beats Divi in this contest because of its lighter weight and speed.
Pricing Battle: Divi vs. Elementor
'Elementor is free to download and use, and there are no subscription fees. This makes it a godsend for individuals looking to create a website on a shoestring budget.
Elementor Pro, on the other hand, is required if you require features such as a theme builder and a pop-up builder. There are three different ways to buy Elementary Pro: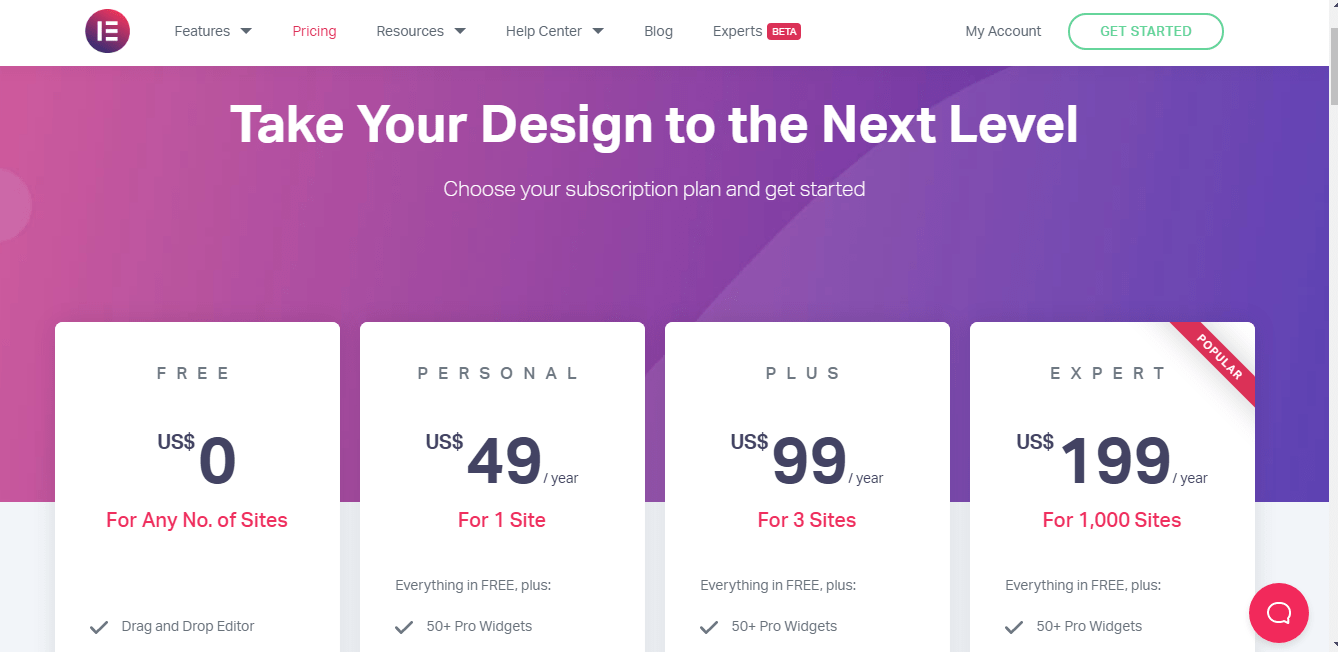 The personal package is the most cheap plan at $49 per year, and it includes all of Elementor Pro's features for one website.
The plus package, which costs $99 per year, allows you to use Elementor Pro to construct three websites.
$199 per year plan — With this expert option, you can create up to a thousand websites with Elementor Pro, which is effectively unlimited.
There isn't a free version of Divi available. However, if you decide Divi isn't for you, they provide a 30-day money-back guarantee. Divi is available with two different pricing options:
The $89 a year membership gives you access to Divi's services for an infinite number of websites.
$ 249 for lifetime access – This is a tempting deal that allows you to create an infinite number of websites for the rest of your life.
If you want to earn a living designing website, this is the option to go with.
Conclusion: Which is better Page builder? Elementor vs Divi
No one was able to strike a knockout punch in this fight between Divi and Elementor. Despite the fact that Elementor won the majority of the rounds, Divi has its own advantages. The winner would be determined by the user's viewpoint.
If you're looking for a page builder for the first time, Elementor is the way to go. But if you're a seasoned pro who wants a lot of options, Divi is the way to go.